Feeling overwhelmed by the choice of scuba masks? 
Finding quality scuba gear is individual and comes down to your preference. 
When searching for the best scuba masks, you'll want to ensure that you choose clarity, comfort, value for money and a reputable brand.
I recently moved the Fourth Element Scout Mask up my list, but it's a closely-contested battle with a number of other trusty masks available.
I have tested and researched countless masks and decided on the best. Let's take a look at the best scuba masks.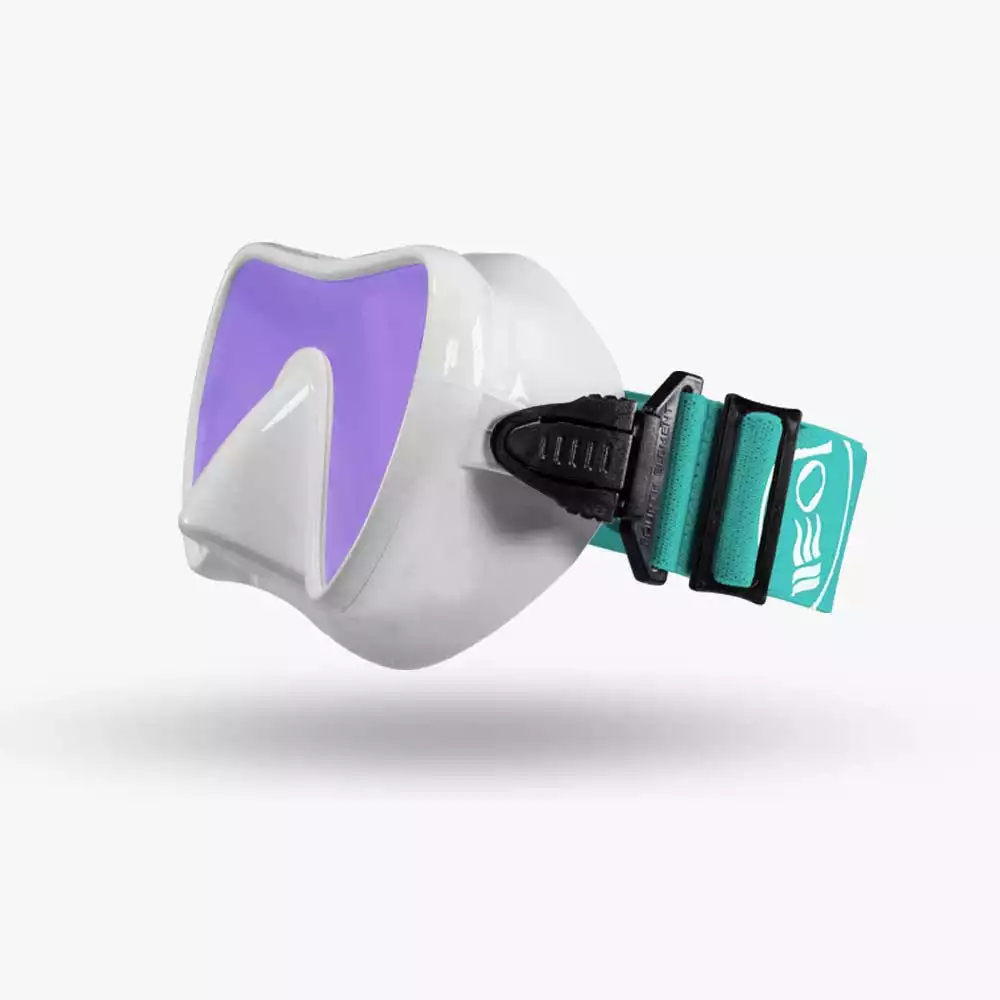 I've been testing the Fourth Element Scout for almost a month now, and it's already my favourite mask.
The frameless mask is known for being fully customisable and offering an enhanced view. This is conducive to an incredible underwater experience, delivering maximum visual acuity.
Something unique about the mask is that you can choose your lens from four options: shield, clarity, enhance and contrast. It provides peripheral vision with its large field of view.
In addition to all the features of being a lightweight mask, having a comfortable elastic strap and a great field of view, Fourth Element is also an eco–conscious brand that uses recycled material.
It doesn't leak and is comfortable for all face shapes.
Find out more about their lens options and the soft silicone skirt in my full Fourth Element Scout review.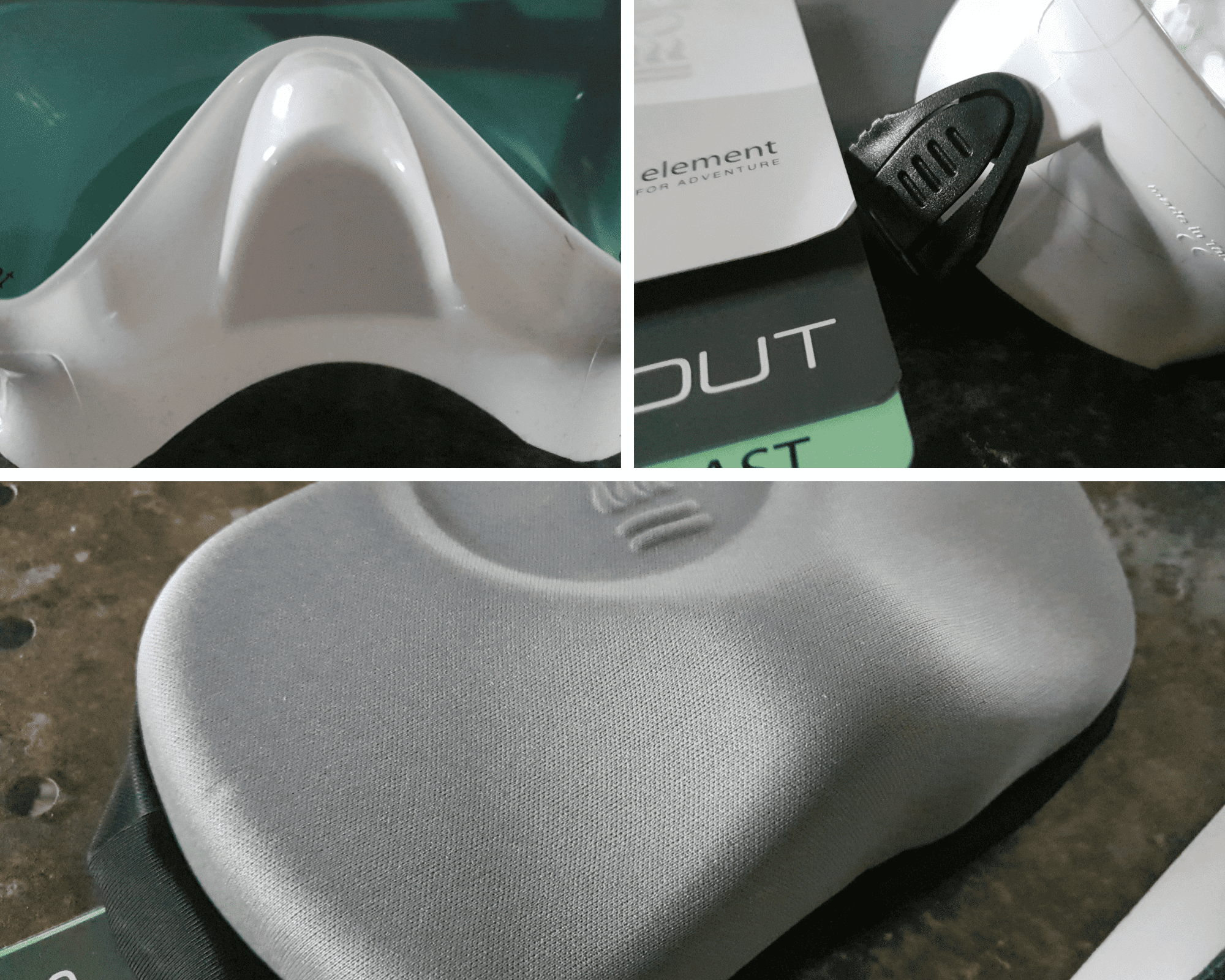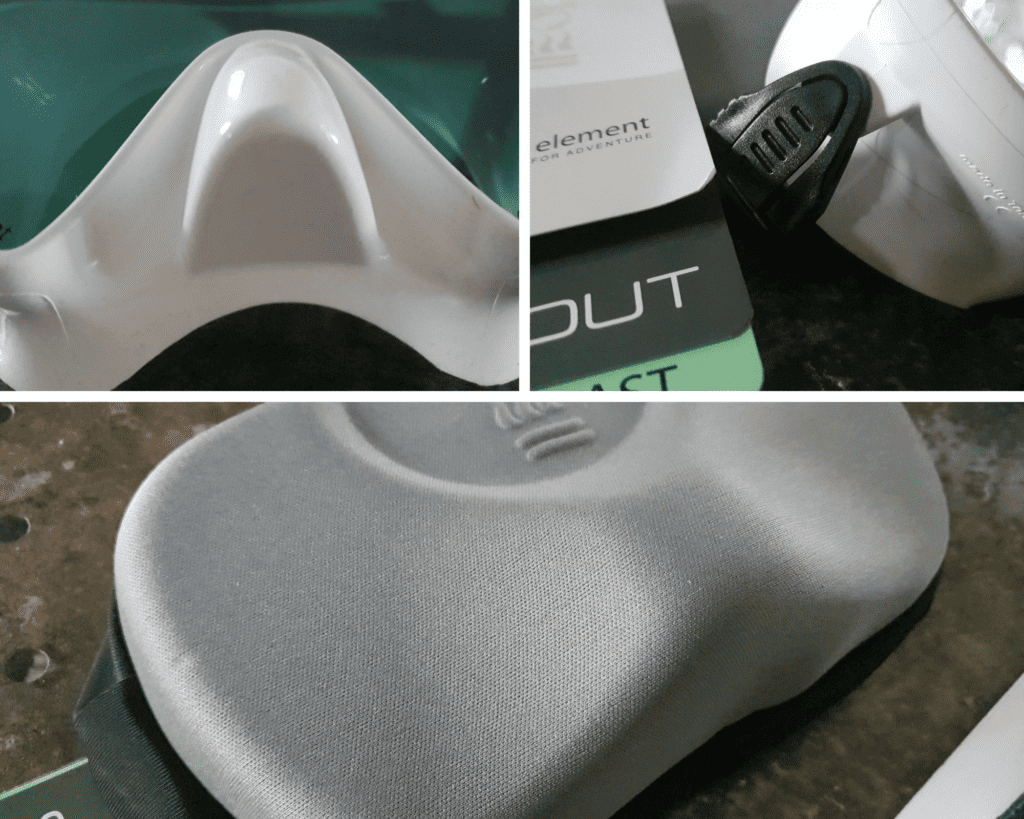 MY PICK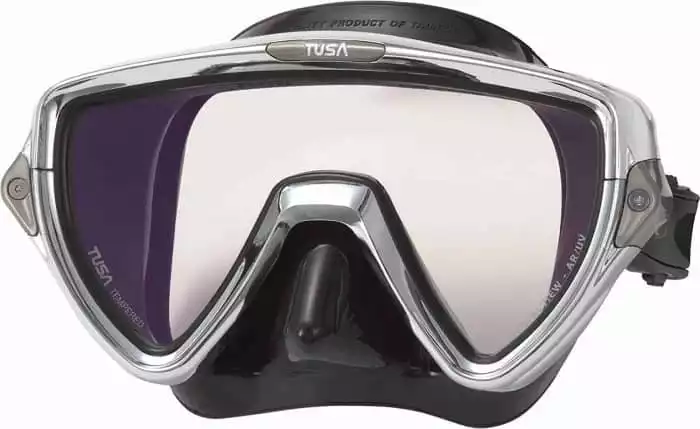 Tusa Visio Pro Dive Mask
Pros:
Seamless design

Comfy skirt

Fits variety of face shapes

Colours, contrast and quality are enhanced unbelievably underwater

100% protection from harmful UVA & UVB rays
Cons:
Not compatible with prescription lenses
Check Price at MDS
Check Latest Price at Scuba.com
We earn a commission if you make a purchase, at no additional cost to you.
Before recently opting for the Scout, I used the Tusa Visio for over two years and still occasionally go back to it.
The Tusa Visio Pro mask has nailed its features, making it a safe bet for divers of all levels.
It provides great clarity in every type of light. It's lightweight, showcases a beautifully mounted chrome design on the frame and has a Quick-Adjust Buckle System making life that little easier when adjusting 'on the fly' (even when wearing gloves).
The lens is a standout feature of the Visio, with ultraviolet (U/V) coating up to twenty layers thick and proprietary anti-reflective (A/R) lens for protection. This offers a great field of vision, clarity and contrast underwater, even when there's low visibility. Plus, the lens provides protection against harmful UV rays.
I dive into the famous CrystalView optical glass lens in my full review of Tusa Visio Pro.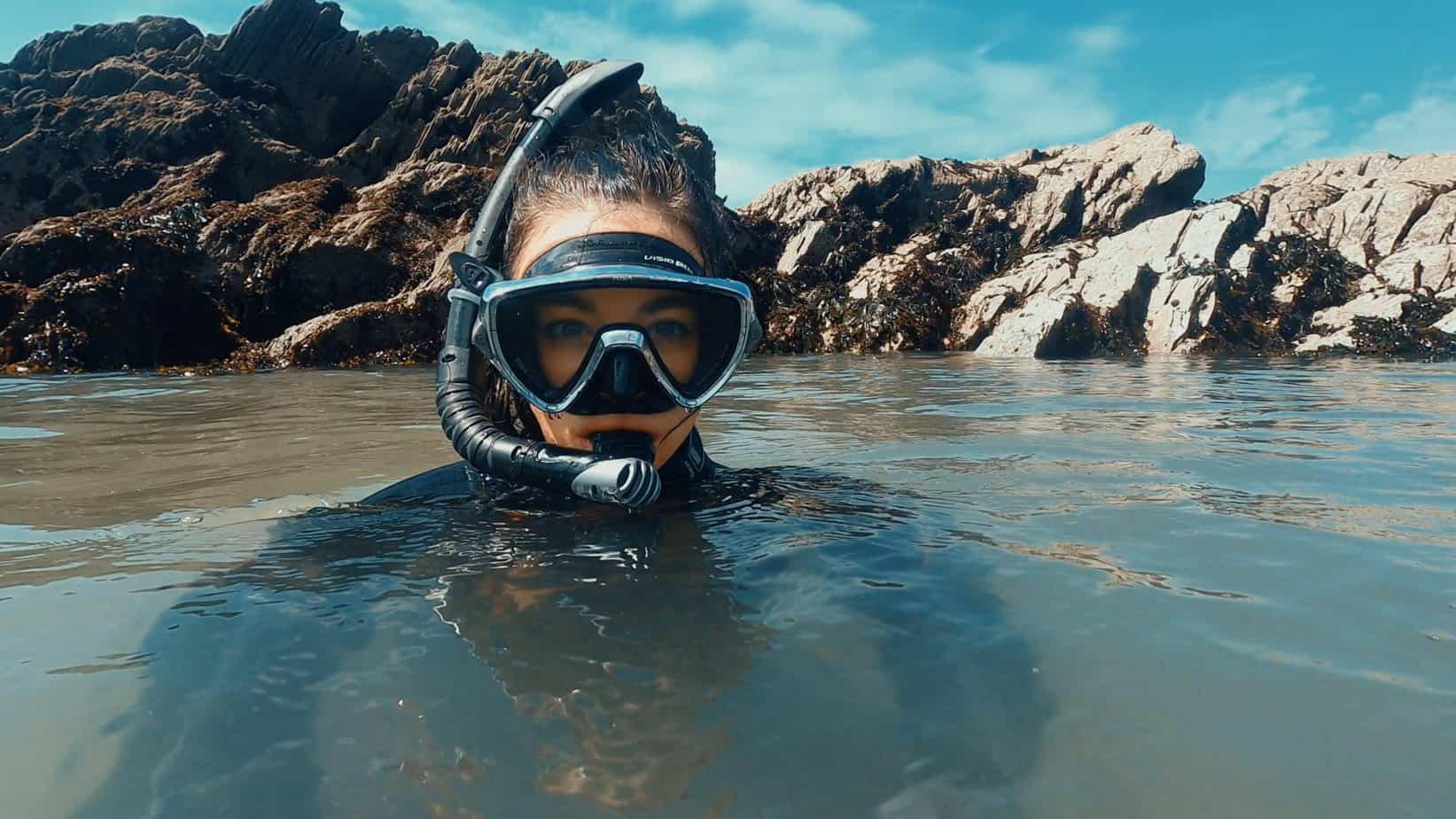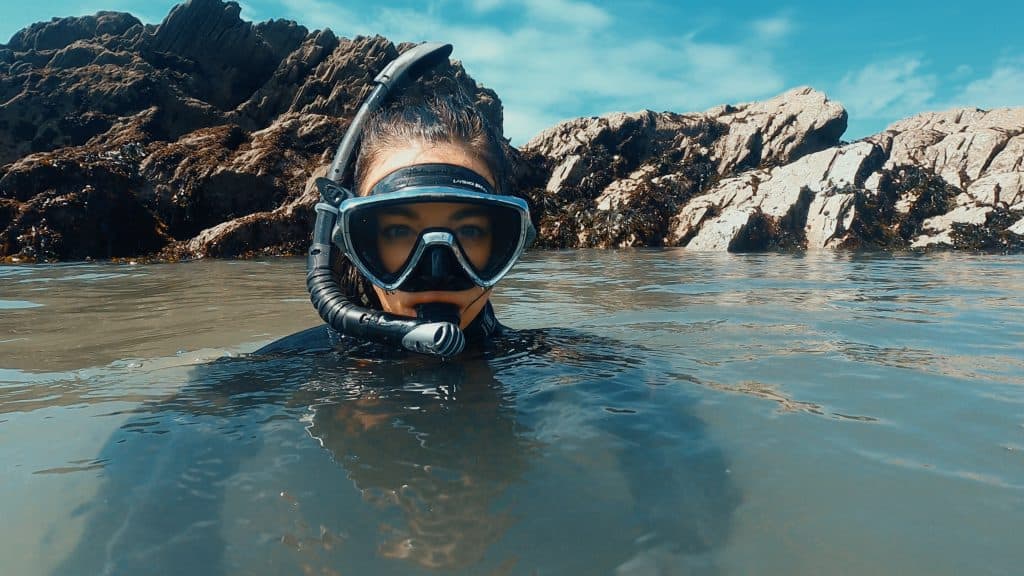 Tusa are recognised in the dive industry with the Tusa Freedom and Paragon also being mask favourites – check out my guide on the top Tusa masks.
MOST POPULAR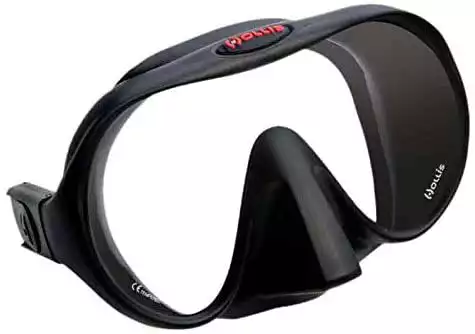 Hollis M1 Mask
Pros:
Very comfortable

Excellent field of view

Close fitting so suitable for freediving too

Robust design
Cons:
Can't say I have a reason to avoid this one!
Check Price at MDS
Check Price at Scuba.com
We earn a commission if you make a purchase, at no additional cost to you.
There's a reason why many experienced scuba divers rave about the Hollis M1.
The low-volume mask has a large field of vision, making the perfect combination. You will enjoy peripheral vision with so much to see with low-volume masks of this type.
I have also had friends with facial hair who opted for this mask. Due to the soft silicone mask skirt and comfortable design, it is the perfect scuba mask for beards. It boasts a double-feathered skirt which brandishes a super-soft and practical design.
The close-fitting design offers fantastic comfort; find out more about the frameless mask with my Hollis M1 review.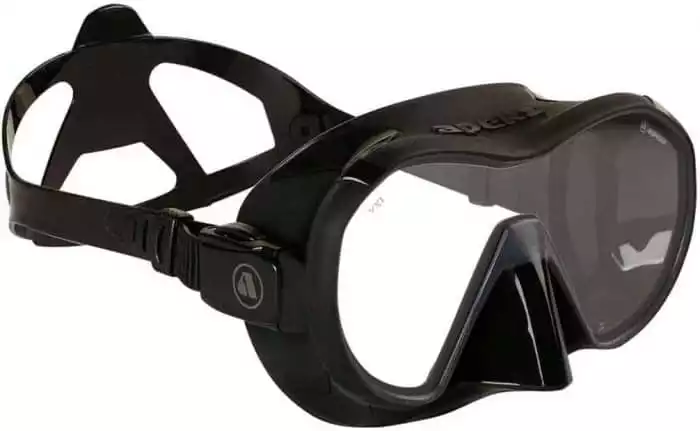 Apeks VX1 Mask
Pros:
Very comfortable

Extremely easy to clear - a good one for beginners

Close fitting so suitable for freediving too

Comes with a sturdy carry case
Cons:
None - just give it a go!
Check Price on MDS
Check Latest Price on Scuba.com
We earn a commission if you make a purchase, at no additional cost to you.
The Apeks VX1 flew under the radar for a little while but it's now being rightfully celebrated as a top scuba diving mask.
You can trust this dive industry leader, Apeks has created a lightweight, frameless, low-volume mask that is easy to clear and ideal to travel with.
Enjoy this scuba diving mask on your travels – with small, light mask being easy to fit in your luggage. It also has pure cut lens adding to visibility with no distortion.
This mask is perfect value for money and it comes with a differently shaped mask strap with both a silicone and neoprene mask strap option zipped away in a protective case that's included.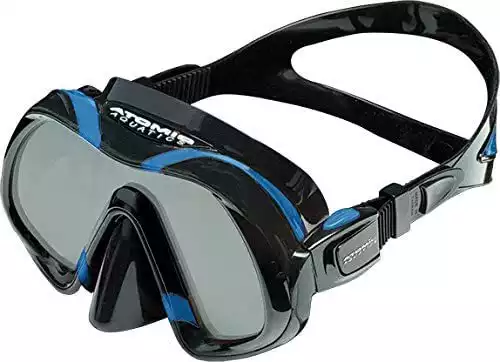 Atomic Aquatics Venom Mask
Pros:
Fantastic design in simple colour patterns including black red

Frameless offering excellent comfort and fit

SuperWite glass UltraClear lens provides excellent vision

Doesn't leave a pressure point outline around your face after a long dive
Cons:
The Atomic isn't the cheapest mask around!

Heavier than most masks
Check Price on MDS
Check Latest Price on Scuba.com
We earn a commission if you make a purchase, at no additional cost to you.
The Venom is another frameless mask and it's another comfortable fit.
Frameless masks are often lightweight and seamless to wear. This Atomic Aquatic version is one of the single lens masks. But it uses Atomic's "Wicked" technology lens allowing in 96% of the available light, subsequently providing better vision.
This scuba diving mask is one of the low volume masks with a Gummi Bear Seal and Schott Superwite UltraClear glass lens.
The skirt and low-volume design ensure no leakage.
Check out this Atomic Aquatics Venom mask review – where I delve a little deeper into the lens and features of this mask.
Here are some honourable mentions that I have reviewed in full but they didn't quite make it into our top 5 list:
Although they didn't make it into my top list, it can often be down to preference or what you're looking for in a mask. 
Plus, some of these could be arguably be the best scuba diving masks.
I urge you to check out some of these scuba masks before making a choice.
Best Scuba Masks for Small Faces
Lots of the best scuba diving masks I have listed cater for all face shapes, but here are some masks more specific to those with narrower faces:
Oceanic Micro Shadow

Scubapro Mini Mask
Each of the above have been carefully created especially for those scuba divers with smaller faces.
Best Scuba Masks for Large Faces
If you're worried about a mask fitting your face shape, then you can find masks for larger faces below:
The best masks to fit bigger faces have a large nose pocket and lots of adjustability – this often comes down to the mask strap.
Double Lens Masks vs Single Lens Masks
Single-lens masks come with one lens, whereas double-lens masks have two lenses separated above the nose pocket.
Single lens masks are easier to defog and have a great field of vision. Double lens masks have a lower internal volume and are easier to have prescription lenses installed.
It's worth trying both versions of masks to see which is most comfortable. Dual lens masks are easier to clear with the lower volume.
Low Volume Mask vs High Volume Mask
A low volume mask sits closer to your face and is easier to clear – whereas some divers feel claustrophobic in low volume and prefer a mask that's not as close.
Many scuba divers opt for low volume masks because they take less air and are easier to clear. They offer a comfortable design and better vision. But some divers feel claustrophobic and opt for a high volume mask with more room.
Low volume masks are better for deep diving and have less drag. The difference for recreational divers is minimum but those that freedive or deep dive will select the low volume mask over others.
What To Consider When Buying a Scuba Mask
There's lots to take into consideration when picking out the best scuba mask, here are some of the features to look for:
Find adjustable straps that are comfortable to wear. You will be able to find neoprene and silicone mask straps.
Most scuba mask straps have two points of alteration. Find a mask that's simple to adjust and feels comfortable.
There's no need to over-tighten the straps, this is a common mistake from beginners. If you pick your mask strap correctly it will be easy to adjust.
Mask skirts are an important aspect of scuba masks – they are usually made from super soft silicone.
It's great to find a skirt that fits your face nicely and ensures no leakages. You will often pick between black or clear skirts, they don't make much difference or any to the field of vision.
Ultimately find a good mask with a reliable and soft silicone skirt.
Believe it or not, I have been asked if there's a scuba mask for people with big noses. 
A nose pocket needs to sit nicely on your face and it's dependent on the shape of the mask and how it fits – hence why you should do your due diligence and make sure that if you buy online, you ensure that you have returns. 
Decide on the ideal volume with either low volume masks or high volume masks. This is a preference – but many divers go for low volume due to the panaromic view and ease of clearing.
The window of view is a big one – you are able to pick from lots of great masks. Pick out masks with panoramic view or a greater field of view.
Frameless masks are single lens masks with one window.
There are all types of lens to choose from, with different colours and clarity. The tempered glass ensures no distortion. A single lens mask also offers a wider view. Fourth Element have customisable tempered glass lens.
There's also mirrored lenses that are anti-reflective.
Frameless Scuba Masks vs Framed Masks
There are now lots of frameless dive masks available and they are famed for have super low-volume, improving the field of vision and being lightweight.
They're comfortable but some divers prefer framed masks, try both and simply pick out which one is most comfortable to you. You can pick from either a frameless mask or framed mask.
A mask frame is down to what is most comfortable.
Scuba Diving Mask for Glasses Wearers
If you wear glasses then you have two options when it comes to scuba diving:
Wear contact lenses

Corrective lenses installed in your dive mask
You can check out some of the best prescription scuba diving masks. There are lots of masks that are easy to install prescription lenses.
Is There a Difference Between Scuba and Snorkel Masks?
Yes there is!  Snorkel masks are not built to withstand pressures that are experienced at depths of scuba diving.  
Scuba masks are made from tempered glass which are designed to withstand the higher pressure the deeper you go.  A mask with tempered glass has been through a special process and undergone treatment from heat and chemicals. When you are purchasing a scuba mask, make sure you look for the "tempered glass" note, sometimes found on the lenses themselves.  If in doubt, ask!
Do not go scuba diving with a snorkel mask – it is likely not to have been made with tempered glass lens!  Diving with a mask that is not using tempered glass lenses is extremely dangerous and could lead to a serious accident. I talk more about this in my blog, the differences between snorkeling and scuba diving.
Is There a Scuba Mask That Doesn't Fog?
There's been a recent introduction of the Pro Tidal Mask that I had the pleasure of trying, this mask does not fog. I was sceptical when trialling it but it really doesn't fog. I am intrigued to see how it ages and whether it will be hard to treat over time.
I will continue to update you with my progress on the anti-fog dive mask.
The last thing any of us want to do is spend our hard-earned money on an uncomfortable mask.
That's why it is integral to do your research and maybe even pop into your local dive shop to try on different options to find the right scuba mask.
The scuba mask market is an overwhelming place, there's lots of information and mid-range dive masks – I have made it easy for you – to pick out the best scuba masks.
Choose the best scuba mask for you, whether that's a framed mask, frameless, low volume or otherwise – as you can see there's plenty of choice and there's a dive mask for everybody.
Check out other important scuba equipment with some of my reviews:
Recent Posts