Tusa is one of the most recognised scuba diving brands and their Tusa Visio mask even made it into my top scuba masks. 
If you have spent any time at all looking for a top scuba diving mask or two, there is a very good chance you've come across TUSA. 
TUSA, in my opinion, is one of the better scuba diving mask manufacturers operating right now – with their technology largely focusing on improving vision, durability and glare protection in scuba mask design all around.
What Are the Best TUSA Diving Masks?
MY PICK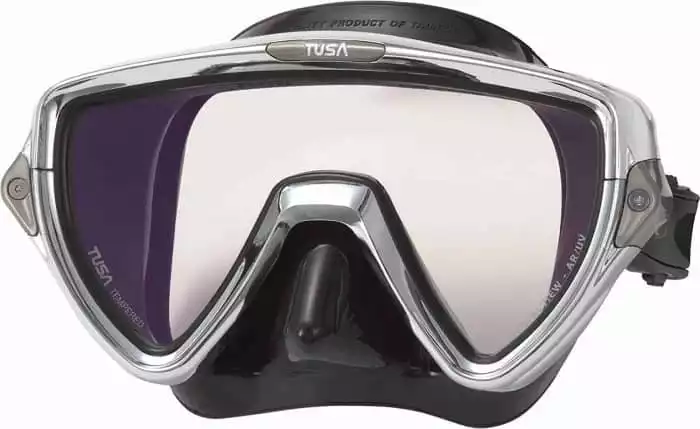 Tusa Visio Pro Dive Mask
Pros:
Seamless design

Comfy skirt

Fits variety of face shapes

Colours, contrast and quality are enhanced unbelievably underwater

100% protection from harmful UVA & UVB rays
Cons:
Not compatible with prescription lenses
Check Price at MDS
Check Latest Price at Scuba.com
We earn a commission if you make a purchase, at no additional cost to you.
If you have read my previous blogs, you'll know that I am a big fan of TUSA's Visio Pro. I was first introduced to this model whilst working out in Thailand and it catapulted me into another level of underwater experience! 
The Visio Pro combines top design and build quality – both of which TUSA is well known for. The Crystalview Optical Glass with its anti-reflective and ultraviolet treatment makes colours "pop" underwater. Yet it does not sacrifice light transmission and vision either at the surface or underwater. This is why the Visio Pro will always be a winner to me and why I'm one proud owner of this mask. Find out more by reading my full TUSA Visio Pro review.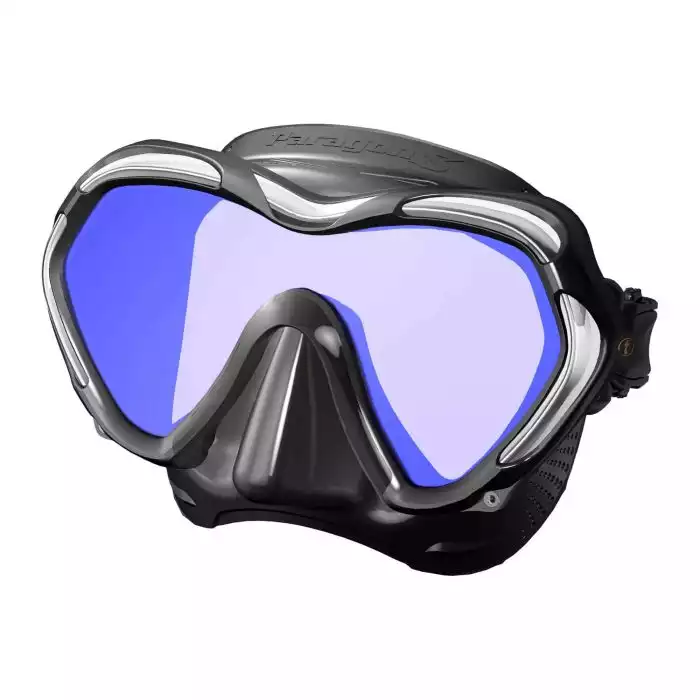 The Paragon S is a single window scuba mask that's most famous for its UV lens treatment – protecting you from glare and reflective light while diving and swimming. You'll get the best in CrystalView optical glass technology with this mask, too, and it's also got a robust tri-mix frame – making it one of the most durable masks I've ever tried. The Paragon S pretty much does it all, but it's made for vision and durability over comfort.
Interested in learning more about this spectacular mask? Take a read of my full Tusa Paragon Mask review.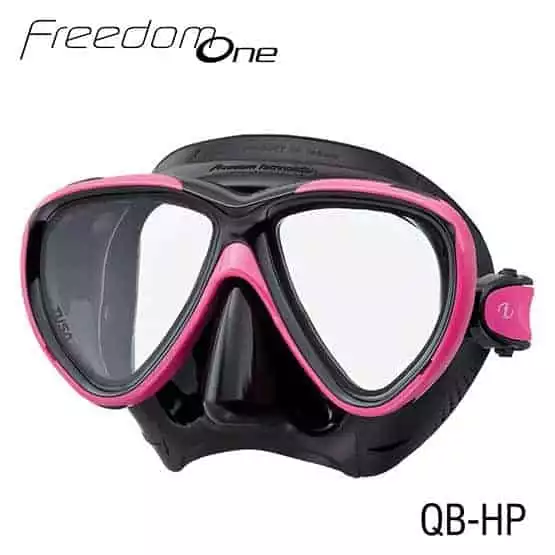 The Freedom One Pro tends to be one of the most popular dive masks from TUSA across the board. The basic Freedom One is one of the top masks in the line on its own, but the Pro adds CrystalView, AR and UV protection. It's really easy to buckle and adjust, and the famous Freedom technology is built in. It's a two-window mask, and you'll find it comes in all kinds of nifty colours!
Due to it's popularity amongst divers of all levels, I gave the Freedom One a full review, which you can read here.
BEST FOR PRESCRIPTION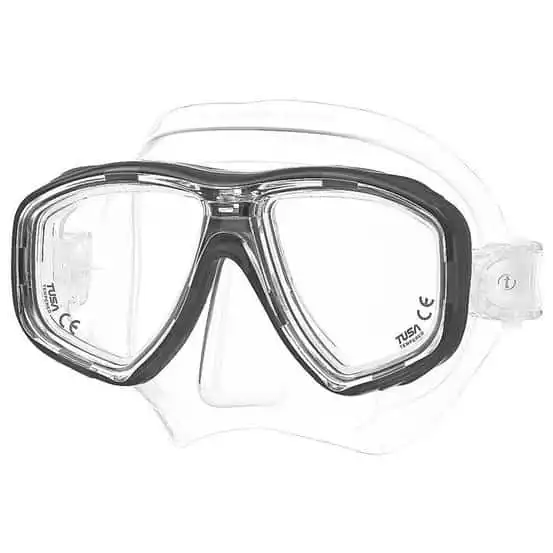 The Freedom CEOS Pro uses much in the same way of technology and style as the Freedom One, and that's not much of a surprise! This diving mask readily accepts corrective lenses, and it's probably best known for being pretty affordable (compared with the wider market). You still get the benefits of the quick adjust buckle, the 3D fit, and an amazingly low profile.
This mask made it into one of our favourite masks for glasses wearers.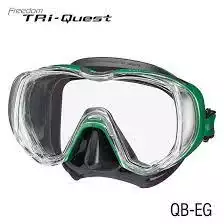 The Freedom Tri-Quest is an award-winning scuba mask that really makes your field of vision the main aspect. This diving mask takes on the same technology as other Freedom model masks, while expanding the field of view to a whole, single window, and a reduced frame. This is a great touch that helps to make sure you know what's just around the corner! It's also very easy to adjust, and is one of the most affordable TUSA masks.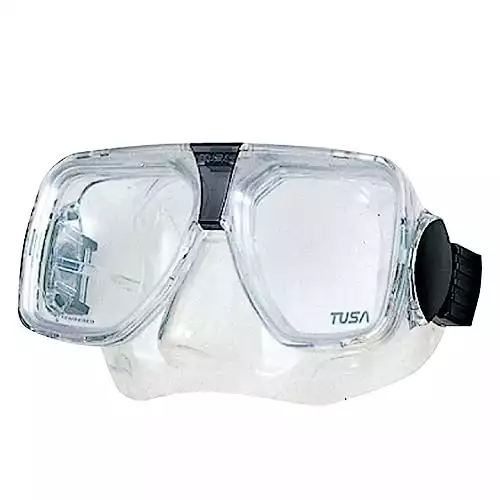 Tusa Liberator Plus Scuba Mask
Pros:
Very comfortable fit overall

Fantastic wide front vision

Double feather edged skirt – water tight and comfortable on the skin

Corrective lenses available for those struggling to find appropriate masks

Great performance and a good one for newbies
Cons:
Doesn't come with UV or AR protection

Some divers may find it to be a cheaper build than most

Not the nicest looking mask – but that could just be my opinion!
Check Latest Price on Amazon
Check Latest Price on Scuba.com
We earn a commission if you make a purchase, at no additional cost to you.
Based loosely on the first handmade mask TUSA ever produced, the Liberator Plus is a two window diving mask that's firmly in TUSA's entry level or budget range. That said, it's still very low on the volume and can still take corrective lenses if required. For those of you who really care about colours, there's four to choose from! I have to be honest though, this isn't my favourite looking mask from the TUSA line – it's a bit too square for my liking.
That said, if you are interested in finding out more about the Liberator, you can check out my full Liberator Plus mask review!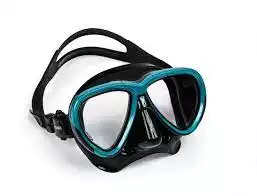 The striking Intega face mask is developed specifically to fit any face shape – how many dive masks can seriously do the same? It's one of TUSA's newest scuba masks, leading the way with their Freedom dry technology and the ability to take on corrective lenses. It's comfortable, flexible and protective – and it comes in many different flavours, whether you want it in black silicone or standard fit.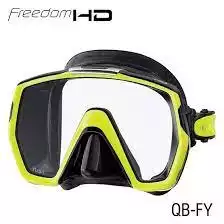 The Freedom HD is one of the newer Freedom technology mask models, and with this one window option you also get a rotational buckle for ease of adjustment. I really love the field of view with this model – and it's one of the easiest TUSA dive masks to adjust and secure. Again, fans of a wider colour palette – there's more colours to choose from here than most TUSA masks.
The Freedom HD is quite a hefty mask and, although provides a good fit, it can feel a little a large on smaller faces.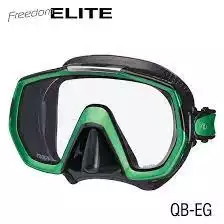 Similar to the Freedom HD, the Freedom Elite has more looks and colours, and also provides 180 degree buckling. It's fitted with a round edge skirt and a design that should allow you to lower the pressure on your face throughout your dive. Again, the Freedom Elite is very easy to adjust, and it arrives at a reasonable price.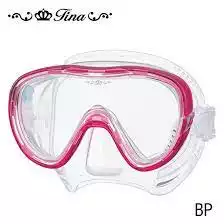 A firm favourite amongst female scuba divers and snorkelers alike! 
The TUSA Tina comes with style at its forefront, though it still benefits from Freedom technology and a wonderful low profile. It's a pretty little mask. You receive one window in this mask for a panoramic view, and the added touch to this mask is the fancy little personalisation on the side. This certainly appears to be the lifestyle option for anyone looking at TUSA scuba masks.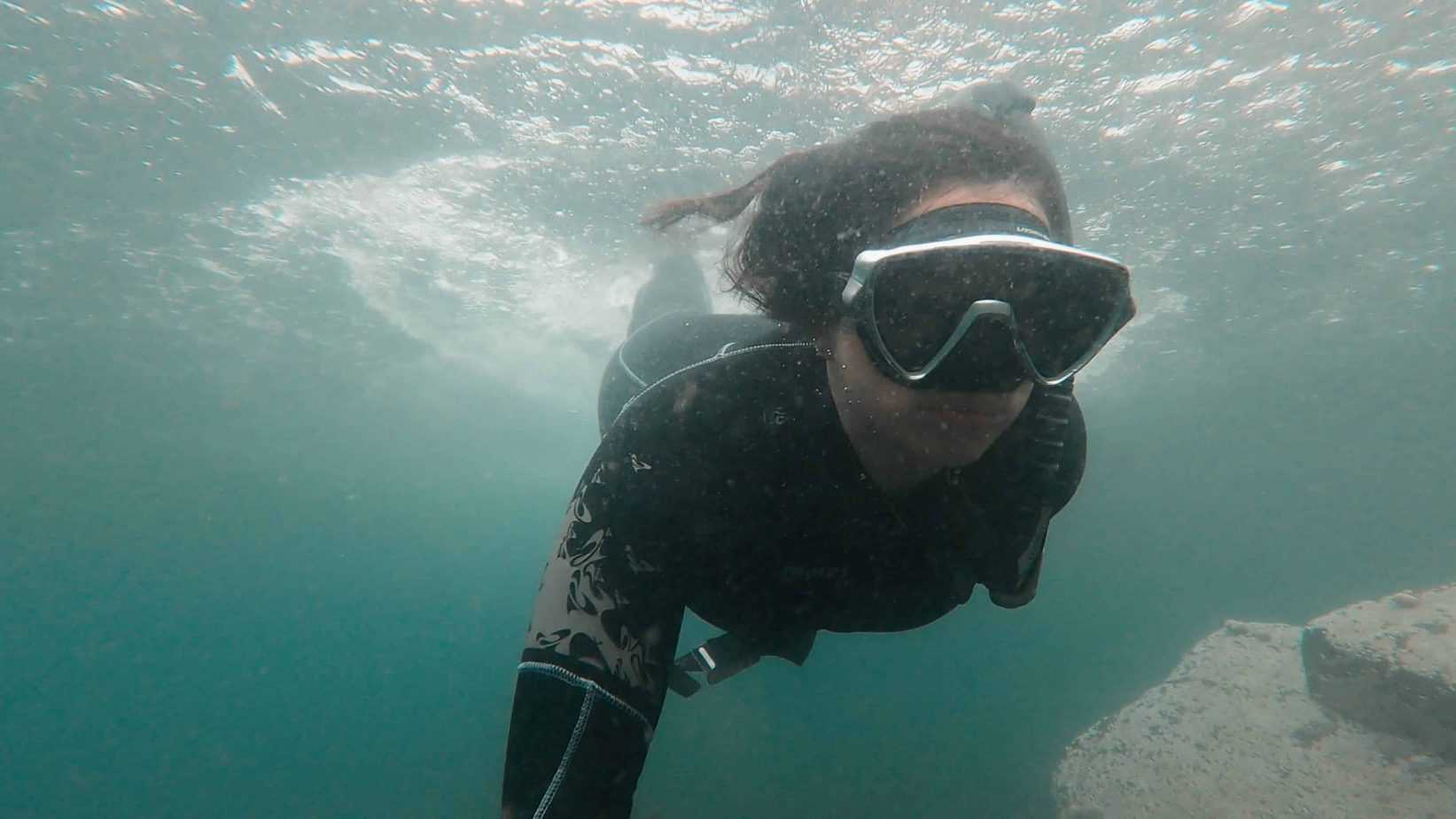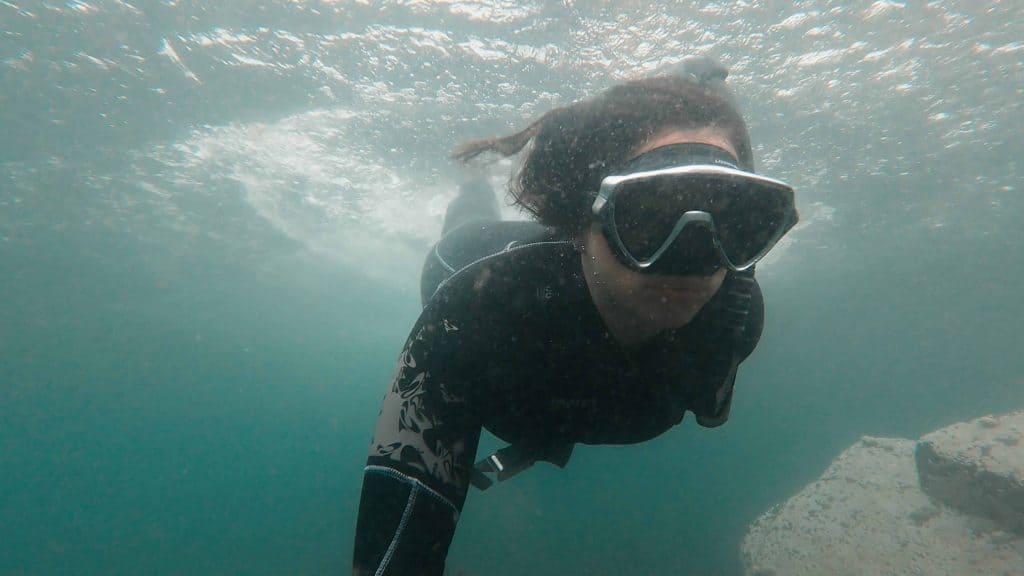 As it turns out, TUSA has been into scuba diving masks and other diving equipment for a very long time. While you may know them best for their Freedom model masks, TUSA has actually been designing and producing diving gear for over 70 years. The brand started life in Kazuo Tabata's garage – and look how far they've come since the 1950s!
They're based in Japan, but actually have manufacturing premises all over the world. There's a chance your TUSA dive mask will come from the US, Australia, or even the Netherlands.
TUSA is proud to be innovators and disruptors in the scuba mask market. This is mainly thanks to the fact that their dive masks were the first to include crystal silicone mask skirts. What's more, they are scuba equipment manufacturers with genuine passion for always improving. Rest assured, it seems like TUSA is always going to have a brand new mask or two for you to enjoy, no matter the season.
TUSA's line has expanded massively since they released their original liberator model – and they are now a huge competitor against the likes of Aqua Lung and other global brands.
Is TUSA a Good Scuba Brand?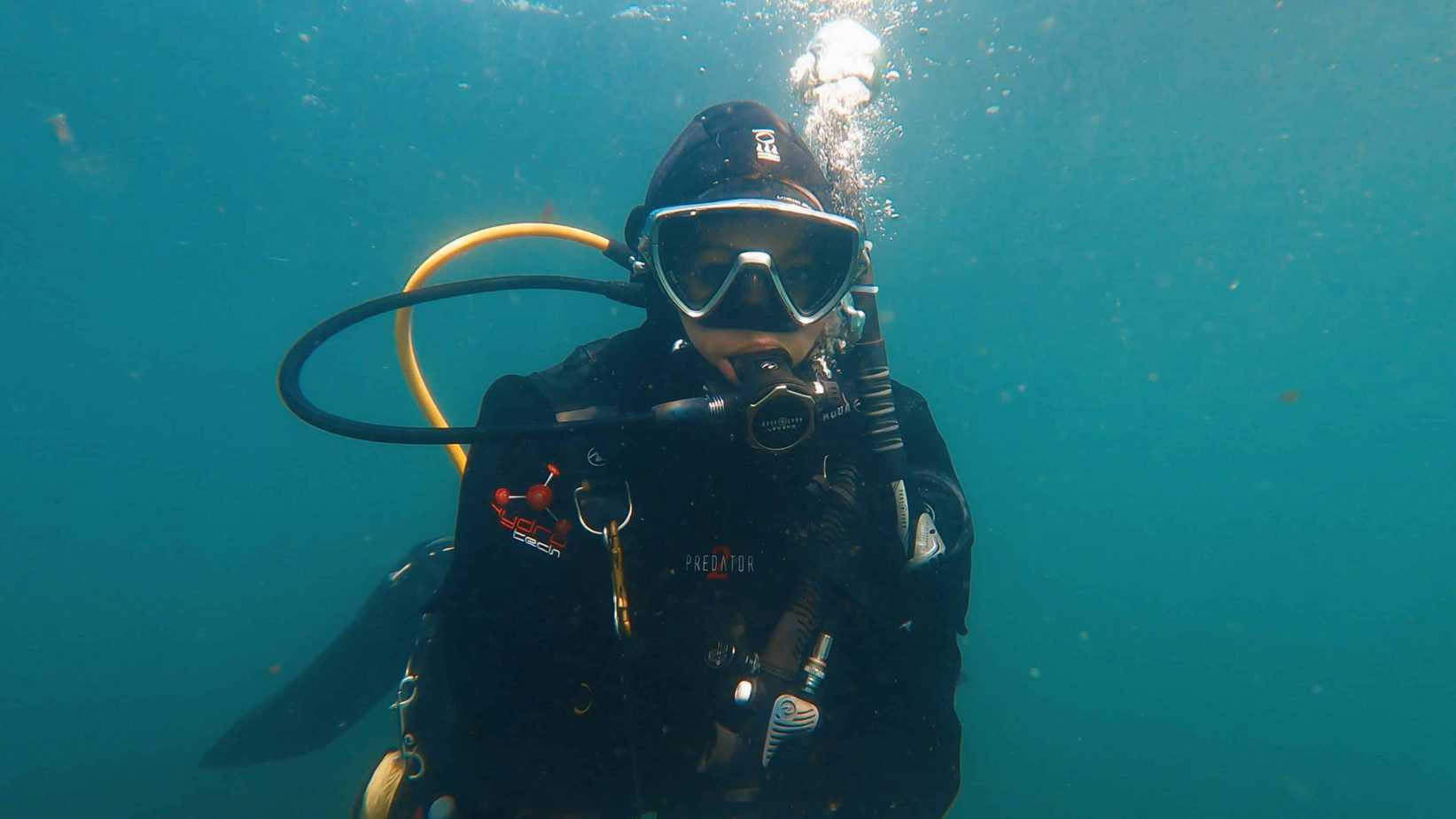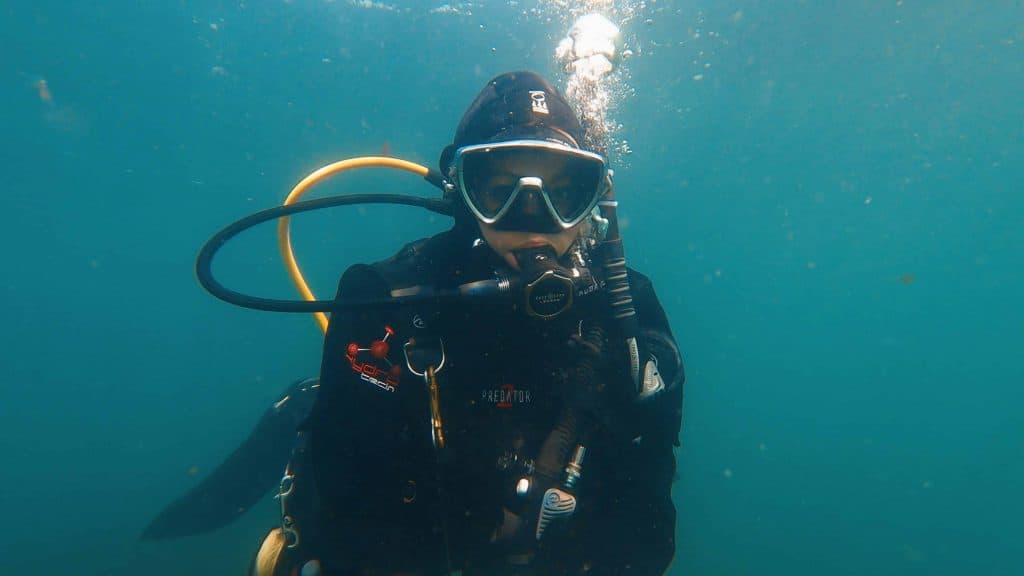 Beyond their pioneering mask skirt designs, yes – TUSA is more than just a good dive mask brand. Take a look at some of their brilliant reviews. They are widely regarded for producing some of the best scuba masks on the market for sheer comfort alone, however, they have also turned heads through their dive shop for their UV and AR protective coatings.
Whether you are looking for a frameless mask, a two window mask or simply something with a mask strap that won't snap back, TUSA has a huge variety of solutions to fit all kinds of face shapes. You'll also benefit from what they call 'Freedom' technology in some mask options – these tend to be premium end dive masks for build, design and ongoing performance.
If it's a full face mask you're looking for then you could communicate with dive buddies with ease – check out the full-face scuba masks that I have recommended. 
Is it Worth Buying TUSA Dive Masks?
TUSA's fantastic diving engineering has made them one of the go-to brands for any diver. I'm one of those divers – TUSA technology really helps me to see where I'm going in lower light conditions, and beyond that, their strap technology always ensures for a perfect fit. At the same time, I don't think I've ever seen so many vibrant colors from one line of mask producer. The colour you pick is a personal preference, of course – but based on the finest materials, years of engineering and their wider range of other diving equipment, I can confidently say TUSA is a great pick.
Not yet sold on TUSA? Don't worry! There are plenty of other well respected brands that have released some great masks.
Take a look at what I think are the best scuba masks! 
Recent Posts