Enjoying a Maldives liveaboard is a bucket-list mission for many divers but it's an expensive prospect with lots of choices.
The Emperor Serenity is the most luxurious and exciting cruise in my opinion but there are many other premium liveaboards available, find the one that's tailored for you. 
RECOMMENDED LIVEABOARD AGENCY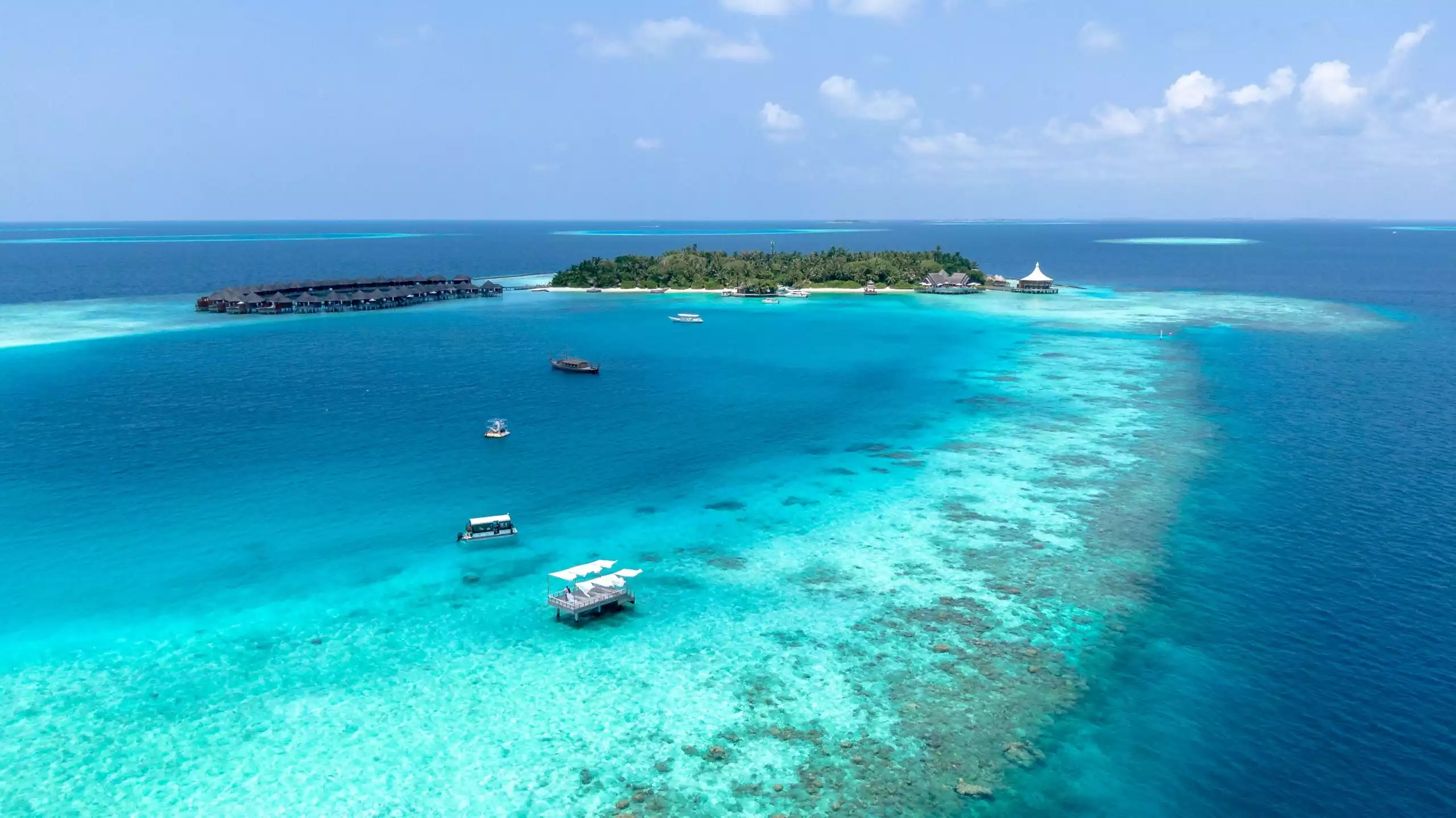 Best Maldives Liveaboards
Dive, sleep, repeat… You get the chance to live and breathe it with liveaboards in Maldives.
Here are my top Maldives liveaboards in 2023 (I recommend picking one from my top 6 choices that best suits you):
MALDIVES LIVEABOARD LUXURY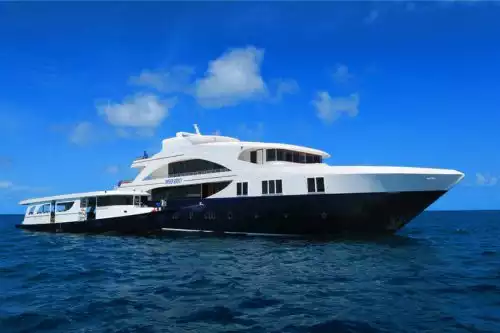 If you're looking to explore the Indian Ocean in style, then you'll want to opt for the luxurious Emperor Serenity.
The Emperor Serenity has been designed to ensure divers can experience the best of Maldives. You can dive over 10 times in less than three days. 
Maldives even has the word dives in it, could it be any more apt? You will get sight of manta rays, tiger sharks, whale sharks and more.
You will also be able to enjoy underwater pinnacles for experienced divers with drift dives.
This amazing boat stops off at all the sought-after dive locations, making it the number one choice. It is easy to book and you'll love the interior of this classic liveaboard. 
Some customers have been bemused with the lack of night dives, but this is often an obstacle for all liveaboards in the area, when they can, they do offer night dives (conditions permitted).
Embrace a personalised lavish experience on the Scubaspa Ying, that extends further than just scuba diving.
Rightfully named, this boat provides you the chance to enjoy massages, freshly squeezed juice, the jacuzzi and a private beach.
The staff here are attentive and constantly work on ensuring your comfort – offering 5-star service.
One joy of the ocean is that you never know what you will encounter, but you can be almost certain that you'll pass a shark or manta ray or two.
Make the most of the full-time spa therapists, you're bound to return home refresh and revitalised whilst nurturing yourself with care and your biggest passion, I encourage at least a week to make the best of this yacht.
No. 3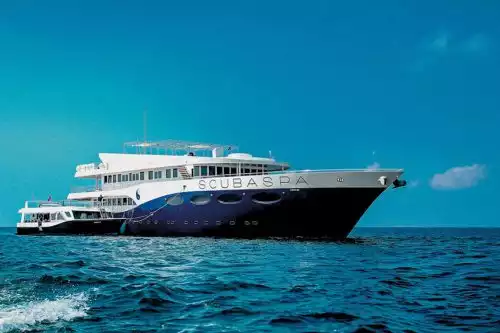 Sister ship of Scubaspa Ying, the Yang provides a heaven with Asian spa therapy.
This is a different version of the aforementioned boat. The Scubaspa Yang is a spa holiday with luxury that can be enjoyed by both divers and non-divers alike. If your partner's not too keen on attempting the world beyond the waves, then they can sit back and relax during the day.
Beach visits, kayaking, stand-up-paddleboarding, BBQs and fishing can all be enjoyed. As well as embracing the dive camaraderie you can make the most of some beautiful dives sites in Maldives.
There have been many spottings of grey reef sharks and other majestic sea creatures during these liveaboard trips.
No. 4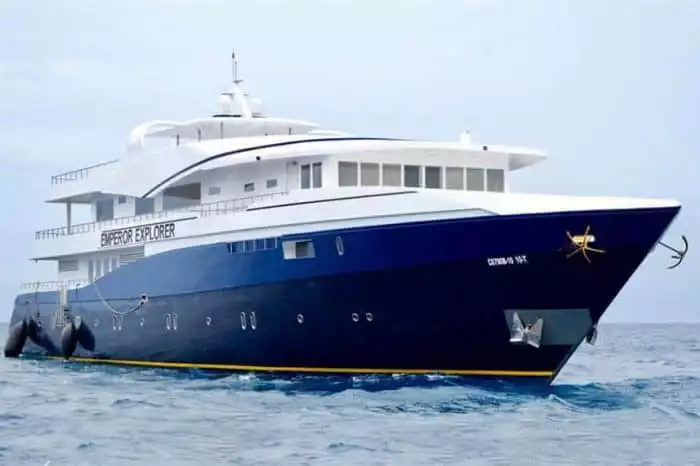 The fabulous Emperor Explorer is a scuba diving leviathan, offering a huge 42m of living and sailing space! It freely welcomes up to 26 people across 13 different 13 cabins, with private areas and individual AC. There's several relaxation areas and an open terrace for you to enjoy from scuba dive to scuba dive.
This highly popular Maldives liveaboard provides scuba divers with access to world class dive sites across the Male Atolls, offering amazing chances to dive with local manta rays across seven spectacular days.
The Emperor Explorer offers all newbie and experienced divers could demand, a diving holiday complete with nitrox and equipment you'll need on the go.
No. 5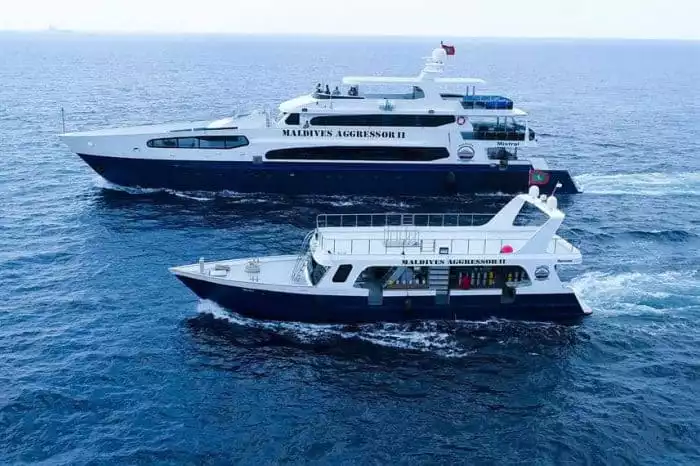 The Maldives Aggressor II is one of the best-loved liveaboards in the Maldives, largely thanks to its focus on sailing through the marine paradise of the atolls – there are some truly magnificent creatures to watch across dive trip to trip, and with private staterooms and AC available, you can always be sure of a relaxing rest on the back of each Liveaboard trip.
The Aggressor II sails across the year, making it more than just a seasonal visitor. There are three different itineraries to choose from, and you also have access to equipment and nitrox – with spare kit, camera tables and more available to use.  The night dives are not to be missed!
Check out gorgeous whale sharks, wrasse, manta rays, parrotfish and more – these are the best dives for animal lovers!
MALDIVES LIVEABOARD BUDGET PICK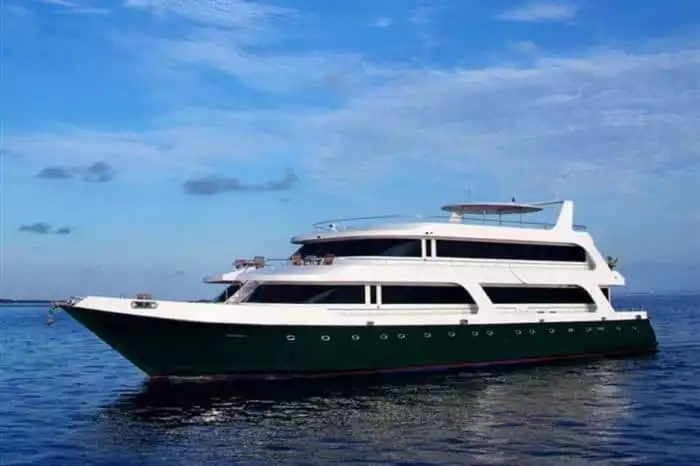 This is the liveaboard Maldives budget option – that still delivers world-class cruises and is by no means cheap when compared to other destinations.
Any diving trip on the Emperor Leo promises to be an interesting one, and whether you are taking in the biodiverse dive sites around the North Male Atoll or towards the deep south, this is one of the best liveaboard diving experiences in the Maldives to give you the 'greatest hits'.
With 12 roomy, airy cabins available, the Emperor Leo also serves as one of the comfiest and luxurious dive boats for its pricing – which is amazingly reasonable! There's ample room to sunbathe and relax in between your diving adventures, too.
This also happens to be one of the top Maldives liveaboard trips for dive safaris – if you're especially enamoured with the reef sharks and other elasmobranchs of the Indian Ocean atolls, there is a lot to see and enjoy.
No. 7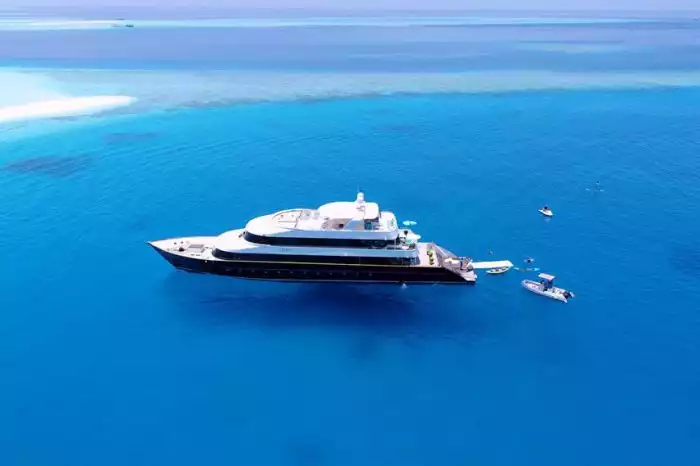 The Azalea is a perennially popular Maldives liveaboard that gives you the chance to dive across the stunning Male Atoll, Baa, Ari Atoll and more – great for swimming amongst some truly spectacular wildlife.
One of the big selling points of the Azalea has to be the amazing jacuzzi on board, too – and there's lots of dining space, as well as roomy, relaxing cabins. This is a fairly large boat but only welcomes 16 guests across 9 cabins – making it a fairly private experience, too.
The Azalea crew is experienced and attentive, with guides to help you snorkel and even explore nearby land, too!
No. 8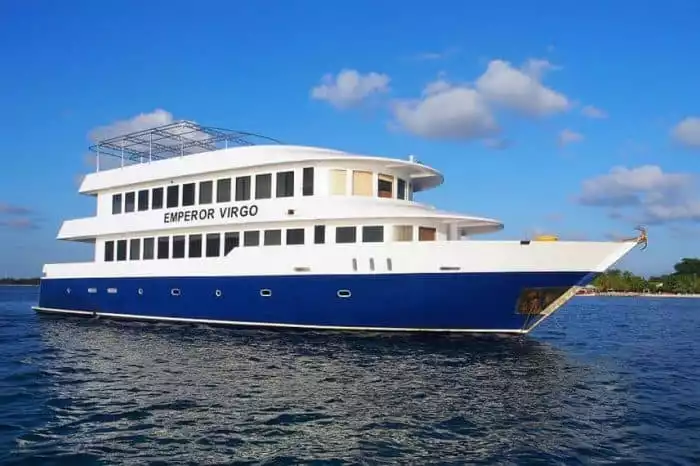 The Emperor Virgo is a fantastic example of a great Maldives liveaboard that provides a huge amount of space to a handful of divers lucky enough to get on board! Offering upper and lower decks, the views are amazing – and yes, there's private AC in each cabin.
Welcoming 18 guests, the Emperor Virgo boasts a separate dhoni so that you can get ready for drift dives and more off the boat itself. Diving in the Maldives on the Emperor Virgo will also give you access to the south central atolls and more besides.
Food and drink on board the Emperor Virgo is delicious and exclusive, too – and there's lots of space to stretch out and relax.
Nitrox is free to certified divers and guests
Full board available
Flexible dive insurance
Education available from guides
Sails all year round
No. 9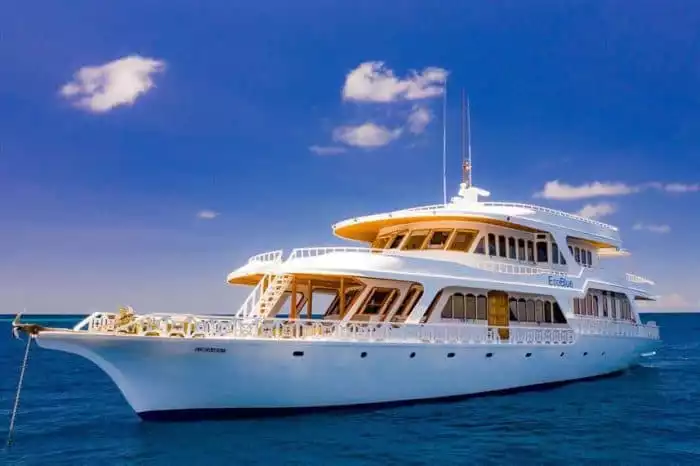 The Eco Blue is an absolutely wonderful liveaboard that focuses on sustainability. Offering scuba divers and snorkelers the chance to see whale sharks, manta rays and reef fish up close, guests will also be able to take a cruise to enjoy paddle boarding, kayaking and more.
Diving in the Maldives has never been more eco-friendly (hence the name!). With sustainable products and facilities on board, and education on marine conservation engrained into their practices, it's a great trip to take if you want to give a little bit back to the planet.
The talented liveaboard crew on board the Eco Blue will also provide you with two diving trips a day, with diving itineraries generally extending up to 14 nights.
In my opinion, every liveaboard should aim to be as environmentally conscious as the Eco Blue.
No. 10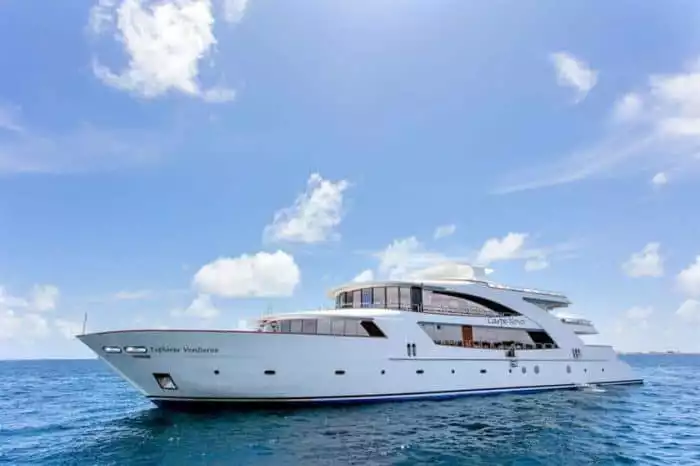 The Carpe Novo is an enormous three-deck yacht that remains bigger than most liveaboards, and it's certainly the largest in its fleet. There are 12 cabins with space for 22 guests, and there's even provision for single divers and guests if you're going it solo.
Boasting a brilliant dive crew, scuba diving with the Carpe Novo takes you across several of the big atolls, with the chance to spy curious creatures such as hammerhead sharks in the Maldives crystal clear waters.
This yacht also comes with a handy dhoni where you can suit up and store things away – and there's an amazing bar and al fresco dining zone available if you need to take a load off.
When to Dive in Maldives?
The best time to dive in Maldives is between January and April. The season for liveaboards lasts from November through to May.  However, some dive liveaboards in the Maldives such as Azalea run throughout the year.
What Water Temperature Can You Expect?
Temperatures of the water remain at 28 degrees (82 Fahrenheit) throughout the year and reach 32 degrees (89 Fahrenheit) in lagoons.
It's an amazing dive for all, from absolute beginner divers to more experienced, the water temperature remains hot all year round with an average temp of 29 degrees.
Most of the top liveaboards in Maldives visit all of the famous dive sites. 
Here are some of the dive sites in Maldives and locations you may visit:
Maaya Thila
Nassimo Thila
Kandooma Thila
Rainbow Reef
Cocoa Thila
Alimatha Jetty
Banana Reef
Manta Point
Hanifaru bay
Other remote atolls
South ari atoll 
Baa atoll
Marine Life in the Maldives
You won't be short of fish life in the Maldives – you will find an array of sharks and mantas. 
Here are some of the big fish, pelagic species and other marine life you can expect to see:
White Tip Sharks
Eagle Rays
Hammerheads
Manta Ray
Whale Shark
Dolphins
Turtles
Octopus
Lobsters
Maldives Liveaboard Including Flights
No Maldives liveaboards include international flights but there are three liveaboards that include the price of local flights via seaplane – Emperor Serenity, Emperor Virgo and Emperor Voyager.
How Long Should I Book For?
You can book an excursion for 3 days, 5 days or a period of your choice. Most divers opt for the previous, being able to enjoy up to 10 days in 3 days or over 15 in 5 days. 
Other Liveaboards You May Like
Recent Posts