"Maldives is a Paradise for Divers and is one for the Bucket List"
Looking to enjoy an unforgettable liveaboard experience? 
Maldives is a prestigious location celebrated by many tourists.
But Scuba divers know it for the beautiful seas, paradise beaches and opportunities for diving spots. 
Add to your repertoire of diving accolades by ticking experiences off the list, unique dive spots that will last a lifetime.
You can expect the sight of reef sharks amongst many other sea animals. When booking a dive in Maldives, it's important to ensure that you pick the right location and the perfect season.
Read on to find out the best Maldives Liveaboard experiences and when to visit them, you can check out the prices and how easy it is to book a dream experience.
You won't believe some of the things that I found when researching on a luxury liveaboard, read on for everything that you need to know.
Best Maldives Liveaboards
Pictured: Emperor Serenity & Bar/Lounge
Imagine this, you wake up and dive in the beautiful blue sea, dive again in the day, dive again on the night and then repeat. That's right, you get chance to live and breathe it.
The Emperor Serenity has been designed to ensure divers can experience the best of Maldives. You can dive over 10 times in less than three days. 
Maldives even has the word dives in it, could it be any more apt? 
It really couldn't and not because its name but the ocean is gorgeous and the beaches there are stunning. 
This amazing boat stops off at all the sought-after dive locations, making it the number one choice. It is easy to book and you'll love the interior of this classic liveaboard.
Visits all of the best Maldives sites

Luxurious communal bar and lounge

13 Cabins

26 Divers 

Controlled Air Con
Gear Rental & Equipment
En-suites
Pictured: Emperor Serenity & the Deck's Jacuzzi
Embrace a personalised lavish experience on the Scubaspa Ying.
Rightfully named, this boat provides you the chance to enjoy massages, freshly squeezed juice, the jacuzzi and a private beach.
The staff here are tentative and constantly working on ensuring your comfort.
One joy of the ocean is that you never know what you will encounter, but you can be almost certain that you'll pass a shark or manta ray or two.
Make the most of the full-time spa therapists, you're bound to return home refresh and revitalised whilst nurturing yourself with care and your biggest passion, I encourage at least a week to make the best of this yacht.
Visits the most famous Maldives spots 

Includes a stop-off at a private beach

4 Decks- Sun, Leisure, Dive & Observation

Jacuzzi at top of deck with amazing view

19 Cabins

40 person capacity

Controlled Air Con

Gear Rental
Pictured: Scubaspa Yang & Beach Destination
Sister of Scubaspa Ying, the Yang provides a heaven with Asian spa therapy.
This is a different version of the aforementioned boat. The Scubaspa Yang is a spa holiday with luxury that can be enjoyed by both divers and non-divers alike. If your partner's not too keen on attempting the world beyond the waves, then they can sit back and relax during the day.
Beach visits, kayaking, stand–up–paddleboarding, BBQs and fishing can all be enjoyed.
Visits the best Maldives spots 

Lots of beach stop-offs and snorkelling in lagoons

4 Decks- Sun, Leisure, Dive & Observation

Jacuzzi 

19 Cabins

40 person capacity

Controlled Air Con

Gear Rental
Full Maldives Liveaboard Guide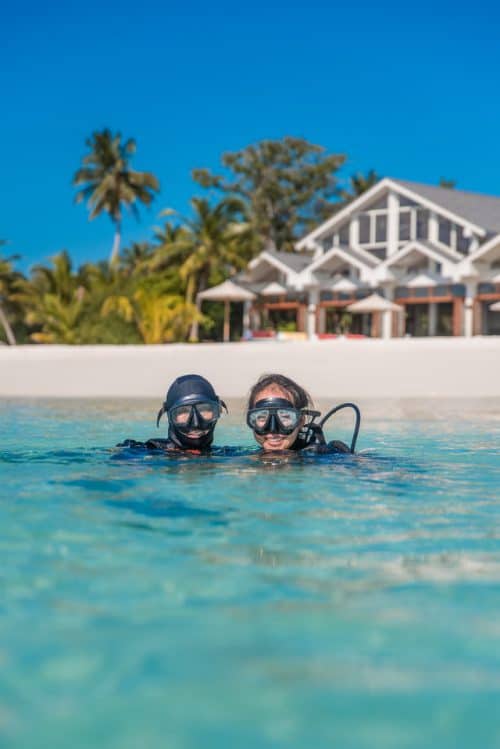 Hoping to embrace the best diving holiday in Maldives?
It is a tantalising destination that has layers to it. It's far more than a mere dive location, travellers from around the globe aspire to check out many of the sandy beaches and blue seas.
I take a look at reasons to book a liveaboard and the best way to gauge the seasons in Maldives, I was surprised by the length of the seasons and water temperature, read on to hear more.
Why Book a Maldives Liveaboard?
Booking a liveaboard makes it easy and cost efficient.
You won't need to worry about the hassle of booking individual dives or forking out on travel. Instead this type of package ensures an all in one experience, you still get to participate in sight-seeing, restful beaches and snorkelling, experience it how ever you prefer. 
Maldives Liveaboards differ from many other locations, the reason for this is that they aim their packages at non-divers too. It's a chance to capitalise on lavish settings.
I urge you to click on the price check links above, as you'll also get a lot more info.
When to Dive in Maldives?
The best time to dive in Maldives is between January and April. The season for liveaboards lasts from November through to May.
What Water Temperature Can You Expect?
Temperatures of the water remain at 28 degrees (82 Fahrenheit) throughout the year and reach 32 degrees (89 Fahrenheit) in lagoons.