Galapagos Liveaboards are some of the most idyllic experiences a diver could enjoy with over 20 dive options a week.
It can get confusing when trying to scout out the best dive sites and the top liveaboard boats, that's why I have sifted through them and reviewed the best boats available.
Read on for everything you need to know before booking your once in a lifetime experience in the sought-after islands of Galapagos.
You can learn more about why liveaboard trips are one of the best ways to dive in my full guide to liveaboards!
Which Galapagos Liveaboard to Choose? (Quick Look)
Visit the Islands and Thriving Sea Life with a Liveaboard, these boats are the easiest way to visit the best Dive Destinations!
Galapagos Liveaboard offers scuba diving cruises that visit Galapagos National Park, Bartolome Island and more. Enjoy stunning marine life including sea lions, reef fish and whale sharks when you book the Humboldt Explorer, Galapagos Master, Tiburon Explorer or Galapagos Aggressor.
Galapagos is located off the West Coast of Ecuador, in South America and is home to some of the most precious dive sites in the world. 
Diving in Galapagos is an unforgettable experience and it comes with lots of options. Enjoy this amazing country and all of its wildlife. Known for the diverse sea animals that roam the proximity, many divers are now taking to the scuba spots and the best way to do so is to embrace the Liveaboards in Galapagos. 
The Darwin and Wolf Islands are remote and the only way to visit them is via the Galapagos Liveaboards that we have listed.
Why not take a visit to this beautiful country? I have pinpointed the best dive trips and the best time to scuba dive in Galapagos. 
Not sure if diving in the Galapagos is the perfect location for you?
Why not start off by reading my blog on where you can find some of the locations for best diving liveaboards for more of a steer?
RECOMMENDED LIVEABOARD AGENCY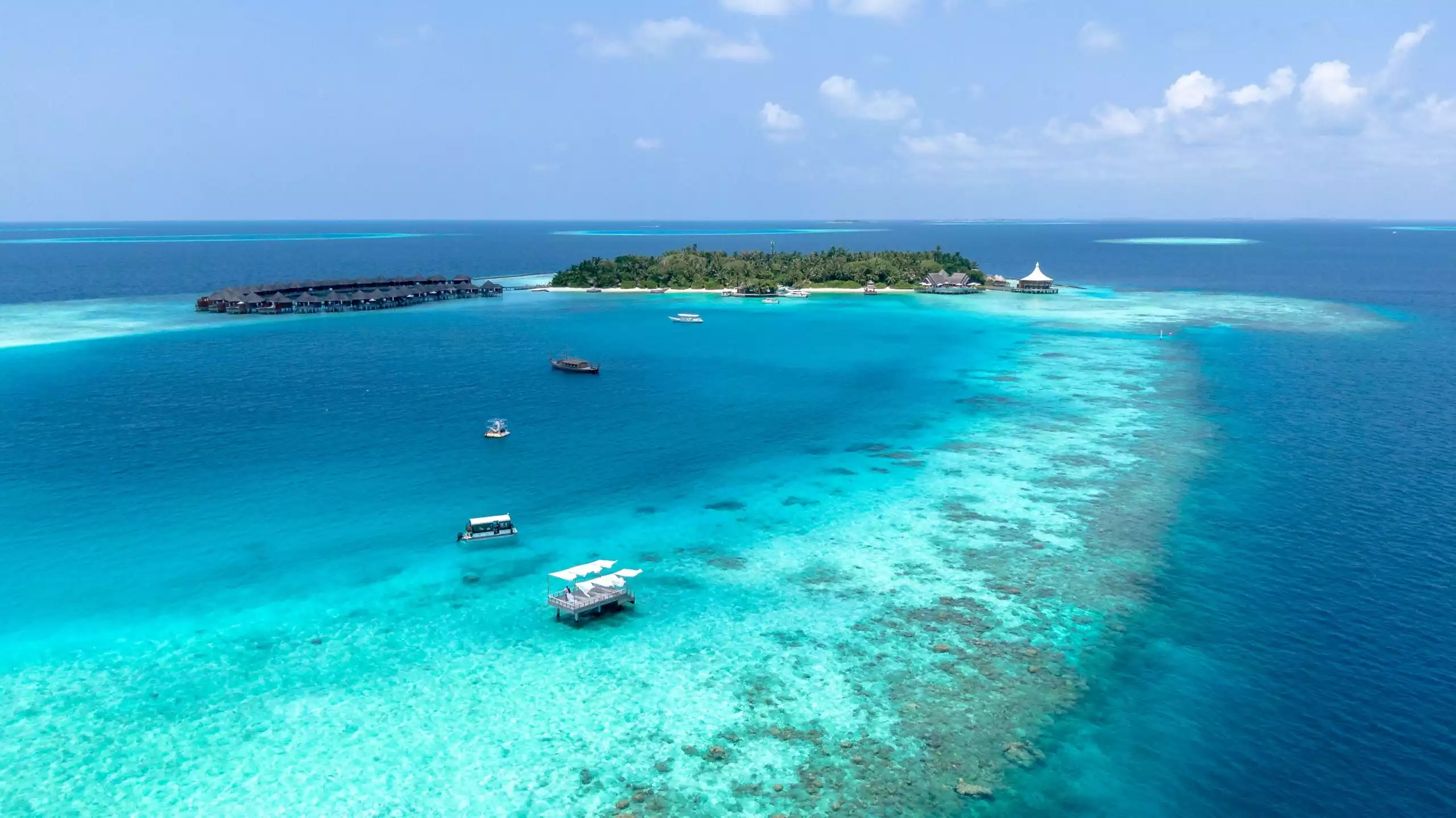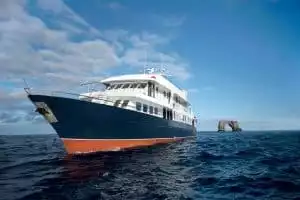 The Galapagos Master is an aptly-named Galapagos liveaboard diving trip, offering you all the dining, living and diving services and standards you'd ever demand from an exclusive trip to the heart of the region. This huge cruise is built with divers in mind, meaning that you'll have plenty of storage for your equipment and chances for you to fill up your tanks and visit the Galapagos Islands.
This magical dive trip is one to remember – with it offering plenty of dive experience, as you probably noticed from the above Galapagos Liveaboard Comparison Chart, this is my pick.  
There's four chances per day to dive into the best-loved, crystal clear waters the islands have to offer. You'll set sail from San Cristobal, and will have plenty of chances to unwind at the onboard cocktail bar at the end of a long day of swimming into the depths. You'll also have plenty of chances to explore the stunning Wolf and Darwin islands, San Cristobal and other beautiful dive destinations. It's perfect for those divers really looking to get the best of the region.
Enjoy 7 nights diving in the Galapagos with this luxury cruise, you will be able to accumulate 18 dives in some of the world's most prestigious spots.
Use the link to Liveaboard.com for the full liveaboard itineraries.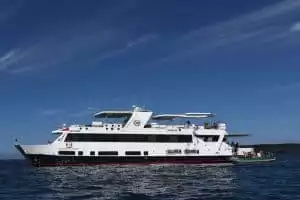 The Humboldt Explorer is a brilliant pick for a diving trip for you to explore the Galapagos islands from – with Wolf and Darwin, as well as the central archipelago, likely to appeal to anyone keen to see a whale shark or two. This is definitely a Galapagos dive liveaboard which is built for wildlife lovers, meaning that there's always something curious to spot beneath the glistening waters.
The Galapagos liveaboard diving experience here is great and is one of the most affordable eight-day excursions you'll get from scuba diving across the Galapagos islands. This well-stocked 33m vessel offers plenty of equipment storage, as well as opportunities for you to rent equipment and gear whenever you might need it. Visit Seymour Island and take a diving trip to the North Male Atoll. 
You can also visit Cousins Rock located at the North East coast of Santiago Island.
What's more, the boat is nice and roomy, with 8 double rooms and an attentive crew waiting to help you during your journey. Great to relax on as well as to explore the full Galapagos dive sites from, this is one of my top aqua liveaboard diving picks without question.
Make the most of the UNESCO world heritage site during this trip with the chance to explore protected dive spots. This cruise allows 16 guests, between 18 and 20 dives and you have the option of an en suite bathroom.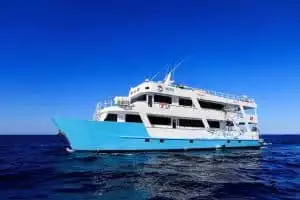 Aqua Liveaboard
Pros:
Extremely affordable trips across the best of the Galapagos islands​

Ideal for spotting marine life under the waves as well as across the surface​

Available for short trips of at least three days​

Great for spotting Galapagos sharks, sea turtles, sea lions and much more​
Cons:
Perhaps the least modern-looking boat on the list​
Check Price at Liveaboard.com
Check Price at DiveBooker [FREE DAN DIVE INSURANCE]
We earn a commission if you make a purchase, at no additional cost to you.
Aqua is a hugely popular cruise offering you the chance to explore the Galapagos islands with full comforts of the best of the liveaboard experience. Roomy, airy and with plenty of opportunity for you to stretch out and relax, Aqua will also take you to some of the best-loved dive sites and locations across the whole of the Galapagos. Not sure where in the Galapagos islands you'd like to travel to first? Aqua's itinerary is varied and will take you to the best hotspots so you can sample the most famous dives.
With a full diving area and nitrox available, this is a cruise that's built for those looking to dive Galapagos at their leisure. It's also replete with dining suites and a helpful crew, meaning that whether you are taking on the Galapagos liveaboards for the full scuba diving experience, or just to kick back and relax for a while, Aqua has you covered.
Do take advantage of the brilliant prices. It's rare you'll get this good a dive in the Galapagos without paying a fair bit more!
Enjoy excellent diving with strong currents but the chance to catch a glimpse of whale sharks and other beautiful reef sharks.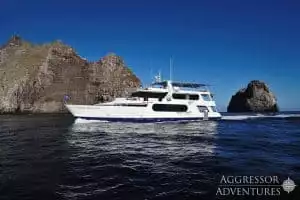 The Galapagos Aggressor III has a fantastic name, and a truly fantastic experience to back that up, too! This 32m vessel will take you across some of the most crystal clear dive sites across the Galapagos islands, offering you plenty of opportunity to spy local sharks and other marine life. The luxury experience can't be understated – there's indoor saloon features, full onboard jacuzzi, fully catered facilities and even internet throughout. But why would you be wasting your time on the internet when you have all that wonderful water and marine life to explore?
Thankfully, the Aggressor III gives you plenty of excuses to just get out and dive. The full diving suite here will give you ample space to refuel and even private locker room, meaning that you can always keep track of your dive gear from trip to trip.
As all good liveaboard diving experiences in the Galapagos islands, this cruise will give you the chance to explore the islands of Wolf and Darwin, before circling around to give you the full tour of the highly visible waters. It's a little more expensive than most of the choices on our list, but for the perfect luxury liveaboard diving experience, you really can't do much better.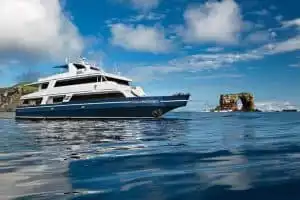 Last but absolutely not least, the Galapagos Sky is a mammoth luxury vessel built to show you the best dive sites Galapagos has to offer. Cruising the most popular islands at a pace that even novice divers will be happy to acclimatise to, you'll get the chance to dive amongst and spot eagle rays, giant manta rays and sea turtles. From the comfort of your own luxury cabin, you'll also be able to suit up to take on a day of spotting sharks and exploring the wider islands.
Sky offers some of the most chilled-out diving Galapagos really has to offer. Its luxury build and cabins will likely offer a spectacular choice for cruise lovers, too! There's lots of entertainment on board, which means that you really feel like you're sailing via home away from home.
Few liveaboards give you the same luxury and diving opportunities that Sky manages – and if you ask me, it's well worth the price of admission.
The biodiversity across the Galapagos region never ceases to amaze me. It is a bucket list destination for divers all over the world. Liveaboards in the Galapagos are often considered as the best in the world by experienced divers!
Stats on Galapagos Diving
Water Temperature: 60°F – 83°F (16°C – 28°C)
The Gear You Need: 7mm wetsuit with hood, 1.5-2mm gloves with reinforced palms
Underwater Visibility: 40 to 100 Foot

Skill Level: Intermediate to Advanced
What Animals to Find in Galapagos?
Keep your eyes peeled for various sea animals and other wildlife including:
Giant Tortoises

Playful Sea Lions

Iguana

Galapagos Penguins

Sharks

Manta Rays

Mobula Rays

Silky Sharks

Galapagos Sharks

Whale Sharks

White Tip Sharks

Hammerhead Sharks
What Animals Did Darwin Discover on the Galapagos Islands?
Galapagos Islands is famous for fuelling the Darwin Theory of Evolution through Natural Selection. 
During his time in the country, the unique animals that roamed the land and pacific ocean sparked his curiosity. Endemic species were discovered across the islands and that ignited plentiful studies in the region.
Animals in Galapagos includes the likes of fur seals, sea lions, giant tortoises and sharks. The fearless nature of these cherished animals sparked initiative from Charles Darwin. 
You can visit shore excursions such as the Charles Darwin Research Station, the country celebrates its connection with Darwin and also have the Darwin Islands named after the late genius.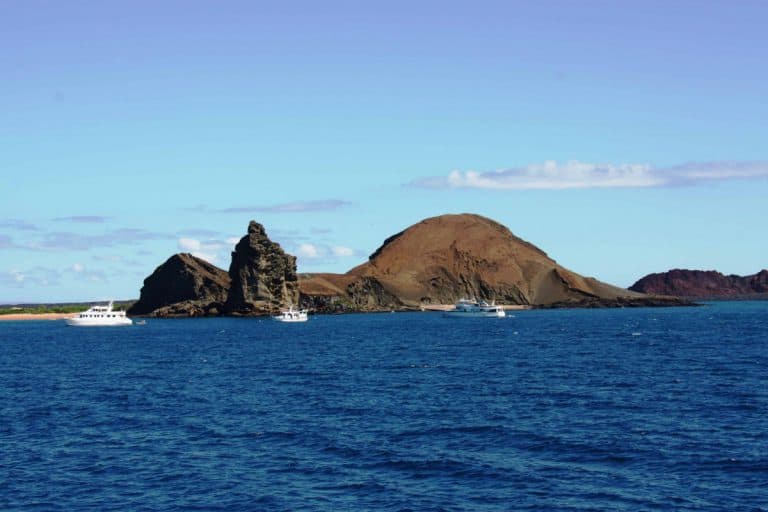 As you can imagine, Shark Point is full of – wait for it – sharks. It's a little way off Wolf island, which means most the liveaboards on this list, if not all of them, should drop you off near here.
However, a word of warning – the visibility isn't fantastic here compared to the rest of the dives across the Galapagos islands, meaning this is probably going to be an adventure best suited to experienced scuba divers. Take a look if you've a few years behind you.
Location: Close to Wolf Island
Species: Mainly Galapagos sharks and dolphins
Daphne Minor is another dive site that's likely to be popular with experienced swimmers and scuba fans. It's a nice, smooth dive, pretty clear, and it's easy to get to via Santa Cruz. If you're looking for eagle rays, the area is absolutely awash with them.
Therefore, again, if you are a confident diver and don't mind taking the time to swim through milder currents, your prize here is going to be a wonderful ray habitat that's never likely to be overly fierce.
Location: Close to Santa Cruz
Species: Eagle rays, manta rays, sharks
Cape Marshall is a firm favourite with plenty of divers in the region, and that's largely thanks to the fact that the rock you'll find as you scuba down is truly magnificent! Ancient and rugged, you should get plenty of visibility into the best of what lies beneath the water, too. It's a real treat for anyone looking to explore some of the wider watery expanses across Galapagos.
Location: Isabela Island
Species: Sunfish, marbled rays, hammerhead sharks
Cousins Rock on the North East coast of Santiago Island is a little piece of heaven and is recognised as part of the volcanic islands that are available around the Galapagos Islands. 
If you love a dramatic drop then this rock will have you in awe, as you begin to descend you will be presented with incredible views.   
Location: Santiago Island
Species: Giant manta rays, red lipped batfish and lots of sharks
Fernandina Island is home to flightless cormorants, giant rays, marine iguanas and sea lions. There are lots of animals on the youngest island. It's part of most liveaboards in Galapagos, making it simple to travel to and from.
It is less than a million years old and is volcanically active, this is a must-see and the feeling of being around this location is magical.
Location: Westernmost Island
Species: Marine Iguana, Flightless Cormorants and Sharks
The main reason to visit the beautiful Galapagos Islands is for the diverse marine life that it's known for, during your dives you will set sights on majestic sea creatures such as sea lions, ancient tortoises, iguanas, manta rays, marble rays and 30+ species of shark.
Of course, one of the best reasons to go diving in Galapagos – whether you travel from San Cristobal or elsewhere – is to take a look at the marine life. While there are plenty of interesting sights on land – such as the majestic, ancient tortoises – it's out at sea where you'll find some of the wildest sights the area has to offer.
It's also a beautiful hotbed – literally – for rays and sharks, meaning do tread water carefully if you're a novice. 
Why Go on a Galapagos Liveaboard?
Galapagos is a scuba diving haven with crystal clear waters, stunning marine life and lots of unique dive sites. Many divers visit Darwin and Wolf Islands that are exclusive to liveaboards only and cannot be accessed by anyone outside of cruises. Look out for manta rays, vast shark species, whale sharks and turtles.
Galapagos is one for the bucket list and there are numerous reasons it is celebrated. With so many different dive sites and places to see, the only way to make the most of it is via a Galapagos liveaboard. This way, you will get to socialise with like-minded divers, enjoy rare species and also check out lots of different wish-list locations.
What is the Total Cost of Galapagos Liveaboard Trip?
The price of an 8 day and 7 night trip comes to around £4500/$5974 but if you book early and keep a lookout, it's possible to find 37% off on Liveaboard.com and the prices vary between each boat. The prices depend on whether you pick a luxury boat or something more affordable. 
If you're trying to save cash then it's worth signing up to the e-mail updates, I have found many bargains in doing this, they also cut prices by 25% if they have a space left on a last minute deal.
Best Time to Dive Galapagos
The best time to dive Galapagos for scuba diving is between December and May.  Between December and May is the warm season with a water temperature of 23 and 25 Degrees Celsius, if you prefer warmer water then this is the ideal climate for you. 
If you want to visit Galapagos during Whale Shark Season then you'll want to use the Galapagos Master liveaboard between June and November. 
It is also a busier time of the year with divers and plenty of manta rays. You can make the most of the sharks and rays that surround the dive sites, the rays are often attracted to the plankton that's blooming at this time of the year. 
You will also spot mating marine iguanas, schooling hammerheads and blue-footed boobies during this season.
Another popular time of the year is June to November. It's not as busy due to the water being colder than other seasons, it falls to temperatures of around 20 degrees celsius. During this time there will still be a diverse list of animals including sharks, manta rays, silky sharks and marine iguanas around the islands.
Is Diving in the Galapagos Worth It?
Diving in Galapagos is a once in a lifetime experience and one that all scuba divers should look at enjoying. You could discover a number of sites and wildlife including hammerheads, turtles, rays, sea lions and more. 
There's a diverse range of sea life that will have you in awe, if you're looking to book a Galapagos boat trip then use the specialist liveaboards that we have listed such as Galapagos Master or Humboldt Explorer. 
Don't miss out on an unforgettable diving holiday, there are options for those on a budget and also luxurious liveaboards.
If you want to book the best Galapagos liveaboard, then follow these easy steps:
Read through the boats that I have listed, they are in order- showing the best first.
You don't need to commit, but you can see the full details by clicking the "Check on Liveaboard" button.
Take a look at the available dates, the rooms and the destinations.
Simply, check the terms and conditions, once you're happy you can pay your deposit or settle it in one. 
Galapagos Liveaboard Reviews
Is Galapagos Part of UNESCO World Heritage Site?
Galapagos Islands are part of the UNESCO World Heritage and is under some of the strictest protection. 
For that reason you can expect pristine conditions. Galapagos has been studied for its wildlife for a long time and has even been used in several case studies. Recognised threats to their thriving natural world is the chance of invasive species, increased tourism and illegal fishing. 
Other Liveaboards You May Like
Recent Posts