Mexico is a hot-spot for the best dive sites – the problem is it can be hard to find the best dive operators to dive with and also fit all of them into one holiday. That's why I have found all of the best Mexico Liveaboards for you, find out everything that you need to know with this article.
Mexico remains one of the most popular spots in the world for diving sites, offering incredible experiences all year round. Ideal for non divers as well as for those who have been scuba diving for many years, you're deep in the heart of the Pacific Ocean, meaning you'll have access to fantastic spots such as Guadalupe Island, the Socorro Islands and Cabo Pulmo.
Which Mexico Liveaboard to Choose?
Liveaboards in Mexico bring you closer to the great white sharks and crystal clear waters filling the Sea of Cortez, the Gulf of Mexico, and all along the Pacific Coast
Mexico's waters and dive sites are also well known for getting you up close and personal with some of the most spectacular marine life in the northern hemisphere. Whether you're new to scuba diving or want to see the Whale Sharks swimming across the Pacific, why not consider booking onto liveaboards in Mexico?
A Mexico liveaboard will give you a great opportunity to experience the best of diving in Mexico without having to worry about getting back to dry land. There are plenty of Mexico liveaboards out there, so I've gone to the effort of lining up some of the absolute top rated – from Cabo San Lucas to La Paz, make sure to take a close look at my guide to liveaboard diving below before you dip a toe in the water.
Not sure if diving in Mexico is the perfect location for you?
Why not start off by reading my blog on where you can find some of the best diving holidays for more of a steer?
RECOMMENDED LIVEABOARD AGENCY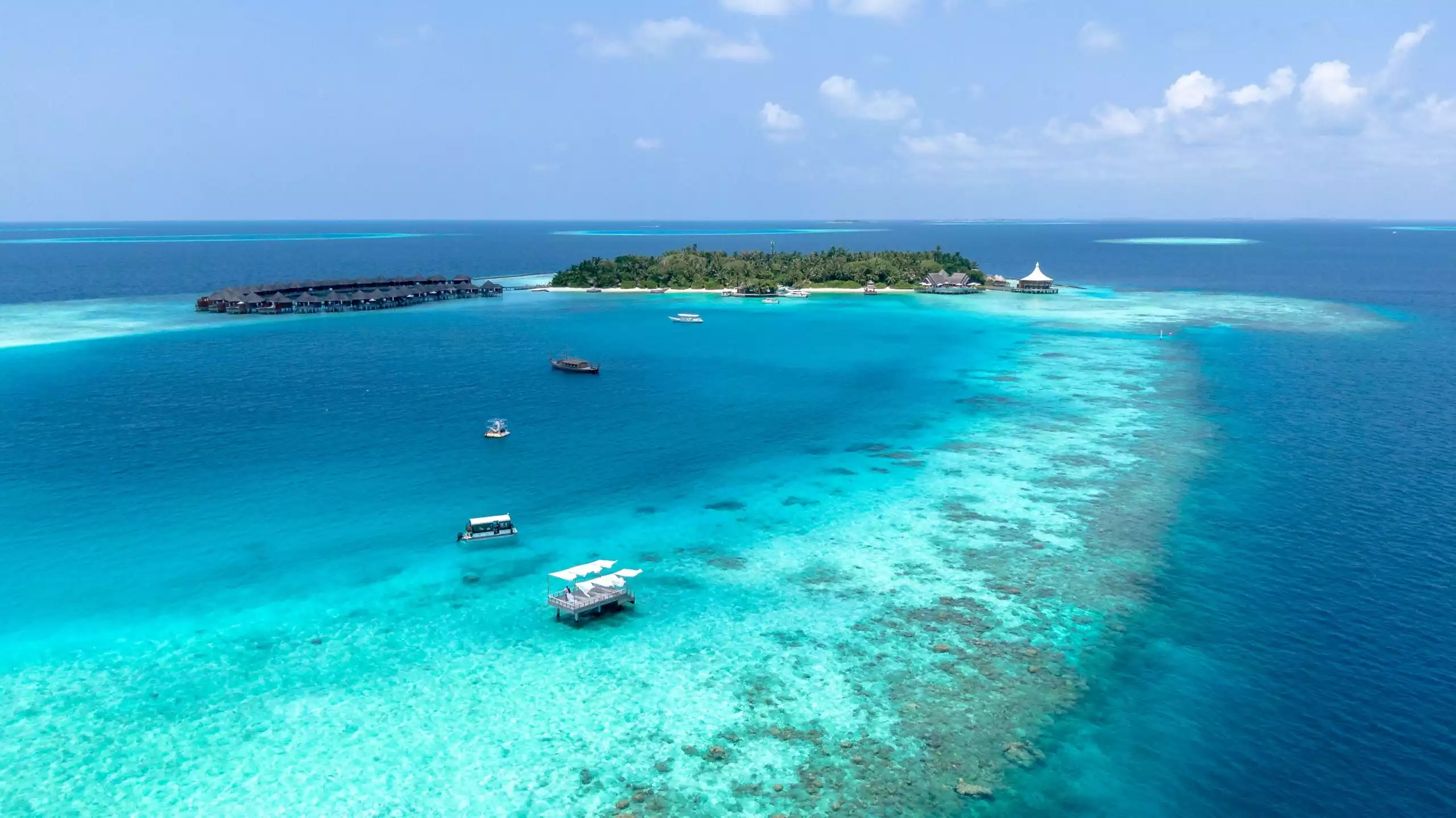 The absolute best liveaboard diving in Mexico includes the following options: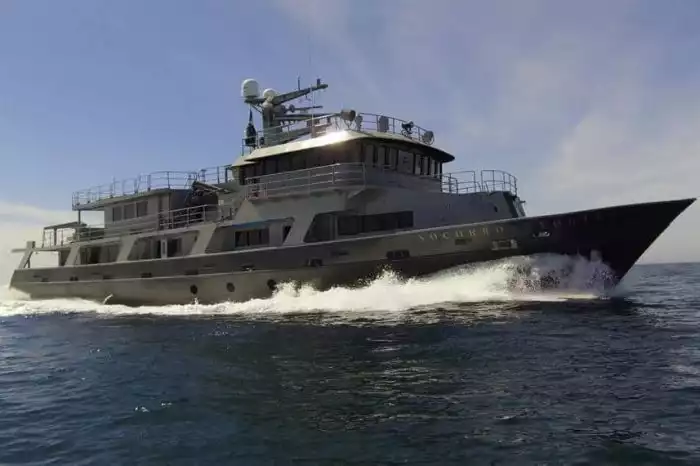 Socorro Vortex Liveaboard
Pros:
Exceptional living standards​

Ten night bookings available​

Takes you deep into the heart of the Socorro Islands​

Dining room and bar​

Extremely safe and secure vessel​
Cons:
More expensive than most​
Check Price on Liveaboard.com
We earn a commission if you make a purchase, at no additional cost to you.
The Socorro Vortex is an absolute leviathan of a Mexico liveaboard, taking you for a week and a half around the glorious Socorro Island dive sites, and with room for up to 14 people to stay on board. This is one of the best liveaboards in Mexico.
You benefit from free nitrox and a selection of comfortable rooms while you explore a handful of amazing dive destinations around Guadalupe and Socorro. The dive deck is state of the art, and you'll have a choice of one of seven rooms, with luxury beds and en suite bathrooms provided.
Even better is the fact that this world class sea faring vessel once served the Canadian Coast Guard – so you know you're getting on board a liveaboard you can trust.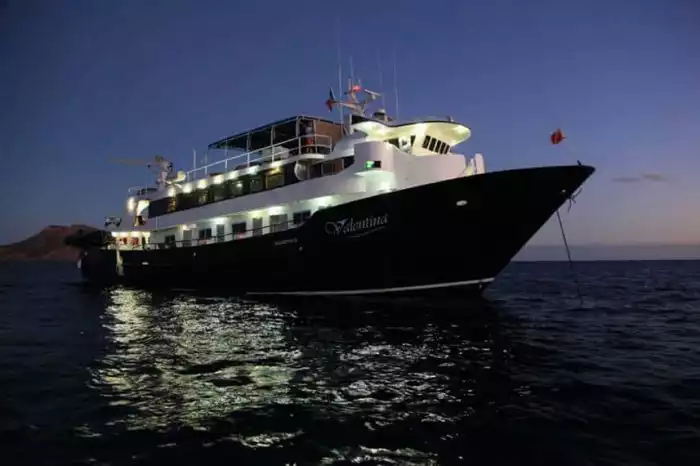 Valentina is a lovely Mexico liveaboard providing expansive space for up to 20 people in one trip, offering the best dive opportunities across the Sea of Cortez. You'll be able to dive across the Sea of Cortez from August to November, whereas diving across the Socorro Islands picks up after this season, heading into May.
The crew here is extremely helpful, and with sun deck and full nitrox available on this boat, you'll be able to get into a bit of relaxation as well as to start learning more about how to manage your dives. In fact, the diving education service here is fantastic, with gear for you to hire from trip to trip at affordable rates.
In my experience, the best liveaboard trips are those that support you across the whole of your adventure – the food and drink here is also amazing with a full board, and you'll be able to take in the glorious Baja California Peninsular both in and out of the spray.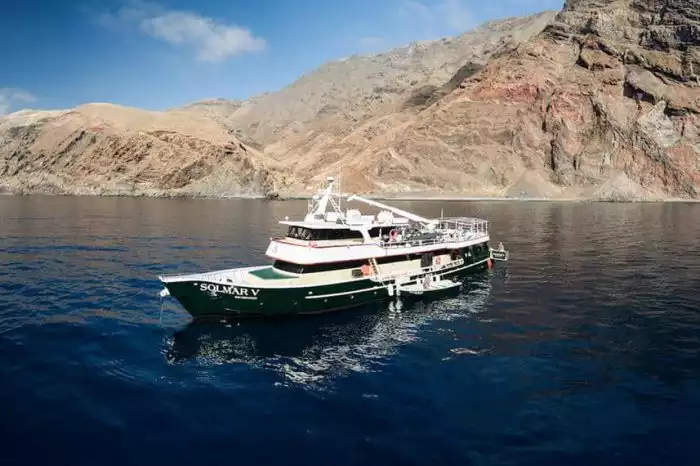 The Solmar V is a spectacular boat that specialises in trips around the Socorro Island dives and Guadalupe all year round. This vessel is truly massive – there's space for up to 22 people across the luxury rooms here, meaning you will always have space to stretch out. This Mexico liveaboard will give you the chance to dive and swim with sharks, humpback whales and dolphins galore. It's also amazing for photographers, with a dive deck offering camera mount facilities.
Solmar V offers full diving facilities, meaning all you are really going to need is your dive insurance and some experience! The dive tender is amazingly easy to use, and the luxury comforts here will definitely help you settle in.  Be warned, there is no internet on board – but hey, it's always good to disconnect from the real world once in a while!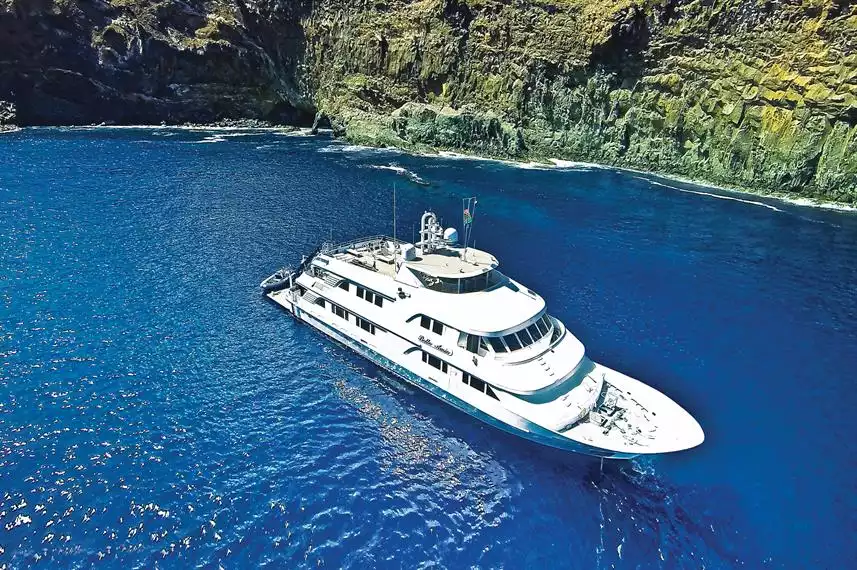 The Nautilus Belle Amie is one of the best liveaboards in Mexico purely for the fact that it was built for purpose. That means you can expect a brilliant dive experience from the get-go, with everything you need to get into the water and out again.
This truly massive Nautilus ship offers an incredible 32 guest charter, with the chance for you explore the Socorro Island marine life from November to May/June. If you really love your sharks – there are plenty of species to spy out here! You'll also have the chance to see more sharks out in Guadalupe, when the Belle Amie tours the region from July to November.
There's tons of nitrox as well as a big sun deck and diving unit to ensure you get off to the best start. You'll also be able to brush up on some photography skills here with training before your dive, too – you can't expect that from every Liveaboard!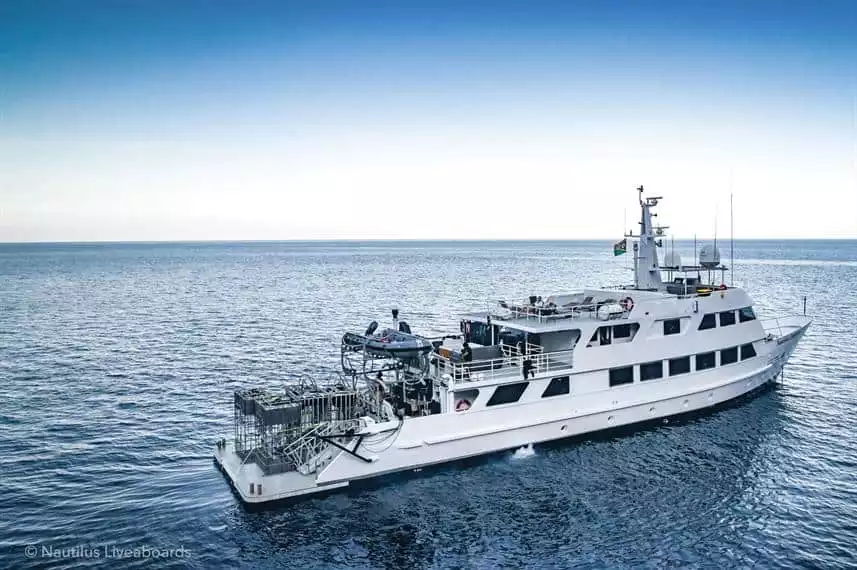 The Nautilus range of liveaboard diving ships remains one of the most popular the world over, and this Mexico speciality is one of the safest – it's got a certificate that's usually reserved for some of the biggest cruise liners on the planet. It's a custom-built boat that's 35m long, and which gives 25 guests the chance to explore the best of Socorro and the Guadalupe Islands.
This is a custom-built diving vessel, meaning it is designed with diving in mind – and has an incredible hydraulic crane and deck for cage diving. Want to get down deep with great white sharks, or to explore the local islands and meet manta rays? This luxury ship has it all.
The crew offers exceptional support and you can expect to settle down in one of 13 different luxury cabins during your stay. There's even a hot tub and a bar, too – as well as a video editing suite!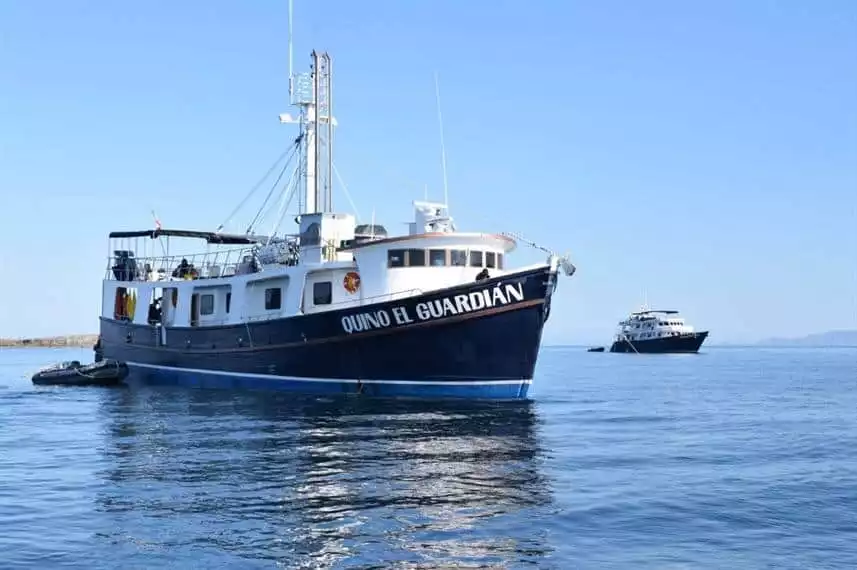 The Quino el Guardian really does give the nautilus range a run for its money, with 25m of luxury cabins, set up to serve 16 divers who want to explore the gorgeous Sea of Cortez. Want to get up close and personal with humpback whales, dolphins and rays? Maybe you fancy taking the time to dive across the Sea of Cortez to spot whale sharks. The boat will take you all the way out to Baja California, too, making it one of the most diverse diving vessel experiences across the whole of Mexico.
Diving from the Quino el Guardian tends to be a fairly exclusive experience. It's often very busy across the year, and there are limited spots – meaning if you really want to get down and dive the Cabo Pulmo, you're going to need to get in there quick.
Full food and drink service is available here, with one of the biggest scuba diving decks available on liveaboards in Mexico.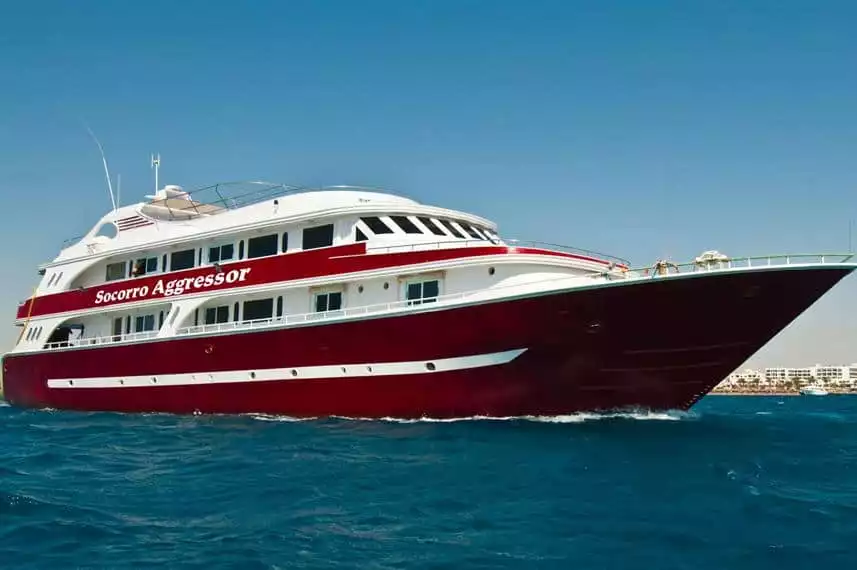 The Socorro Aggressor, as its name suggests, is another liveaboard that takes you deep into the heart of the Socorro Islands and the Guadalupe Island diving scene, meaning you'll be able to spy hammerhead sharks, humpback whales, dolphins and more on-deck. Why not take the time to set up cage diving in Mexico here while you're at it?
Offering 13 different rooms, there's also air conditioning throughout, meaning you'll be able to settle in comfortably after a day of shark cage diving! The Aggressor is a luxury vessel that gives you access to Guadalupe Island diving from August through to October, and whale sharks and rays are easy to spot across Socorro from November to May.
With nitrox available, and with a friendly welcome to non-divers, the Aggressor is a holiday experience that's sure to appeal to divers of all experiences while visiting Mexico.
What Animals to Find in Mexico?
If you're keen on getting into dive sites that boast some brilliant aquatic life, then Mexico is always likely offer you a dream dive or two. From San Jose del Cabo to Baja California, you'll find a wide variety of big fauna beneath the waves. Here are just a few creatures you're likely to see swimming around the Gulf of Mexico and beyond.
Manta Rays
Sea Lions
Whale Sharks
Hammerhead Sharks
Humpback Whales
Great White Shark
Mobula Rays
Elephant Seals
Why not try and spot them all from a comfortable liveaboard?
Is Mexico Good for Diving?
Mexico isn't just good for scuba diving – it's incredible for water lovers of all backgrounds. From the west coast, to San Diego and the Guadalupe Islands, you're diving into some of the most biodiverse waters in the world. In fact, there are UNESCO spots here regarded as some of the most biologically important waters on the planet.
As with anywhere else on the planet, there are dive sites here that will vary in terms of difficulty and experience. However, Mexico is famously welcoming to novice divers, making it a superb spot to start diving in North America.
What I especially love about the Pacific Coast and Mexico as a diving paradise is the fact that you can easily dive in the waters here all year round. That's why you will find more than a liveaboard or two offering space to guests and divers from August to November for some experiences, and October to July for others. Some boat trip arrangements last all year!
When Should I Dive in Mexico?
As liveaboards and boat trips run all year round across Mexico and the Pacific Ocean, it's easy to assume that you'll be able to take a few guests and explore the marine diversity whenever you choose. However, the best time of year to explore Mexico and its dive sites will largely depend on what you want to see!
The waters here can get very hot – up to 29C in some cases up in Cortez – meaning that you're going to need to be aware of almost sizzling waters if you're diving across Mexico – you won't be needing a 5mm wetsuit that's for sure. Therefore, whether you want to scuba dive and swim with rays, or go out in search of whales or sharks, there will be points in the year when you can expect a better all-around experience as the weather will closely influence the environmental conditions.
My advice would be to check out diving experience across Mexico through the liveaboard options listed here, and to make sure you know what to expect. As with all dive experiences out in Mexico, always make sure you have liveaboard facilities that speak to your experience level, and that you have enough to cover park fees as and when they come up. 
Why Choose a Mexico Liveaboard?

A liveaboard gives you a fantastic chance to explore the wonderful depths of Mexico's waters – you'll be able to get diving into corners of the Pacific Ocean that are otherwise impossible to get to.
What's more, you'll be in great company with other scuba diving enthusiasts, as well as have access to luxury cabins and dining facilities. It's much like a cruise experience for divers – everything is covered and catered to, and you'll have the extra bonus of being able to dive easily into the finer waters of Mexico.  Still unsure as to what to expect on this type of trip? Make sure you check out my ultimate guide to liveaboards to learn much more! 
Mexico liveaboard options are often very popular – particularly as these waters are so welcoming all year round. Mexico remains a popular choice for novices. However, you'll also find that Mexico liveaboard services also provide you with plenty of equipment and services that will appeal to experienced divers too.
Want to get diving around Mexico without the hassle and stress? From San Jose del Cabo to San Diego, La Paz and beyond – a top liveaboard will allow you to start marking off those logged dives across Mexico without you needing to spend days searching for the best shops or dive spots.
Other Liveaboards You May Like
Recent Posts