Thailand boasts some beautiful dive sites with a variety of tropical marine fauna and best of all, they are very accessible.
Ever been diving in Thailand before? It's a wonderful holiday destination that's always worth exploring – but did you know that some of the best sights can be seen out scuba diving? I'm lucky enough to have spent hundreds of hours beneath the waves surrounding Thailand and trust me, it does not disappoint! I was first introduced to scuba diving on Koh Tao but hundreds of thousands of people visit the coast of Thailand to dive each year. It has been some of the best diving I have ever experienced.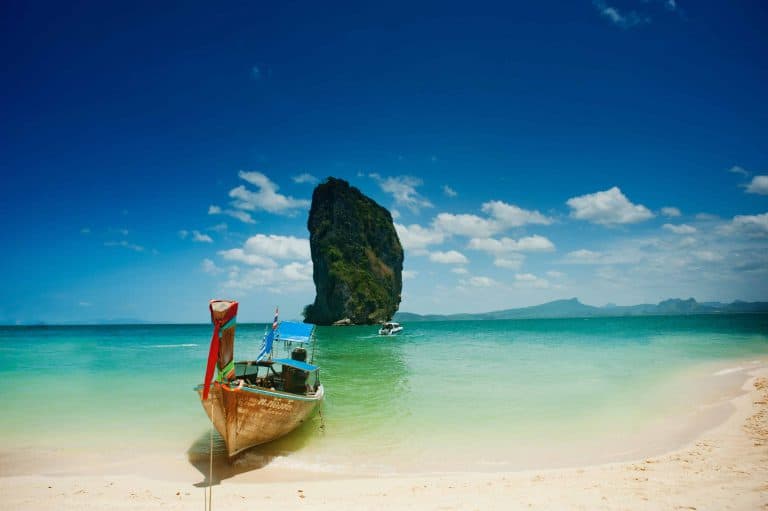 Thailand scuba diving is growing ever more popular with beach seekers, swimmers and novice divers alike, and there are plenty of great reasons for this. Not only is it a wonderful hotbed of whale sharks, leopard sharks and more besides, you'll find stunning, clear waters and some of the best dive sites just waiting to be explored.
What dive site opportunities are available in Thailand? Find out below.
Best Dive Sites in Thailand
Koh Dok Mai (Intermediate, Phuket / Phi Phi)
Koh Lipe (All Levels / Tarutao)
KohRacha (Immediate / Phuket)
Andaman Sea (All Levels / West Coast)
Hin Muang and Hin Daeng (Experienced / Koh Lanta)
Similan Islands (All Levels / Similan National Park)
Sail Rock (All Levels / Koh Tao)
Chumphon Pinnacle (Experienced / Koh Tao)
Krabi (Advanced / Ao Nang)
Richelieu Rock (Experienced / Similan Islands)
Thailand has something for everyone, whether it's relaxation or adventure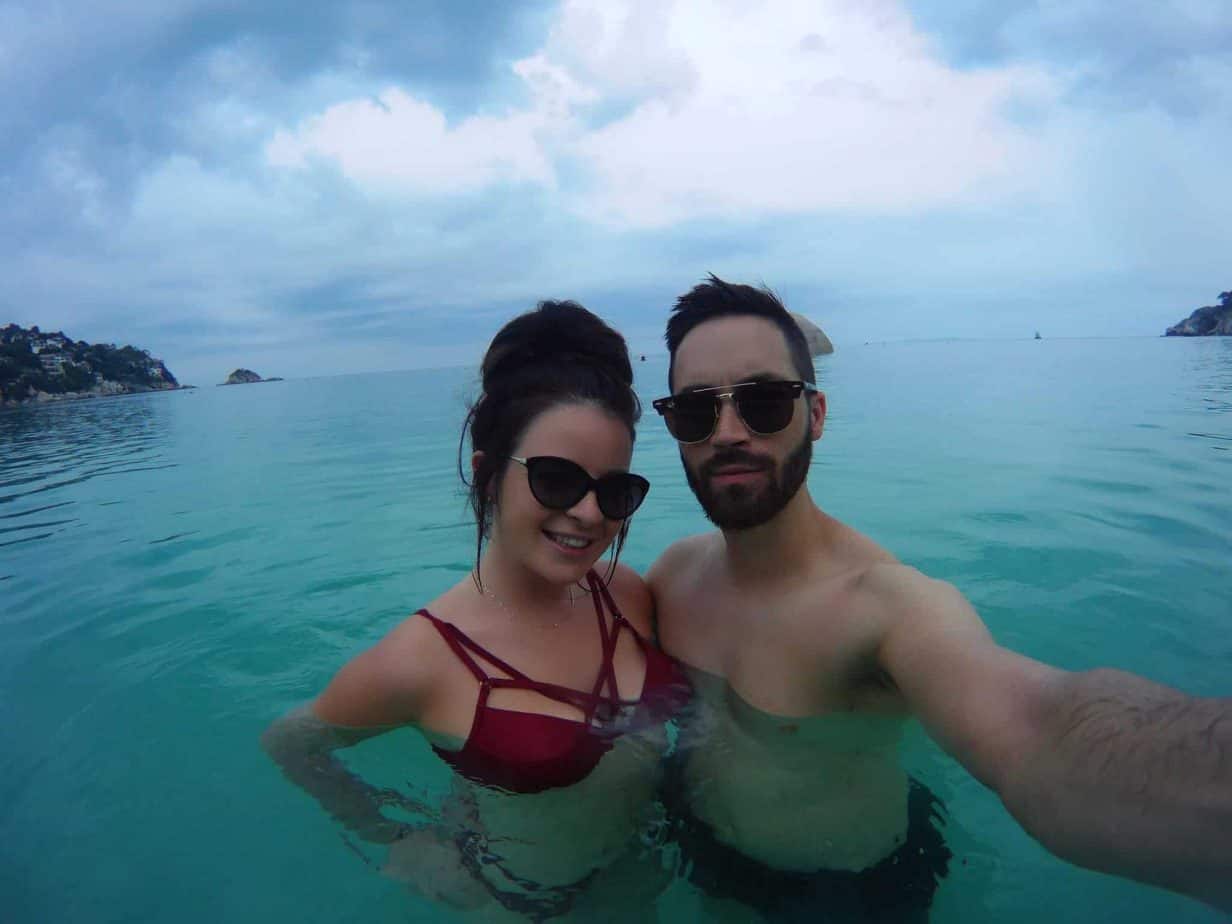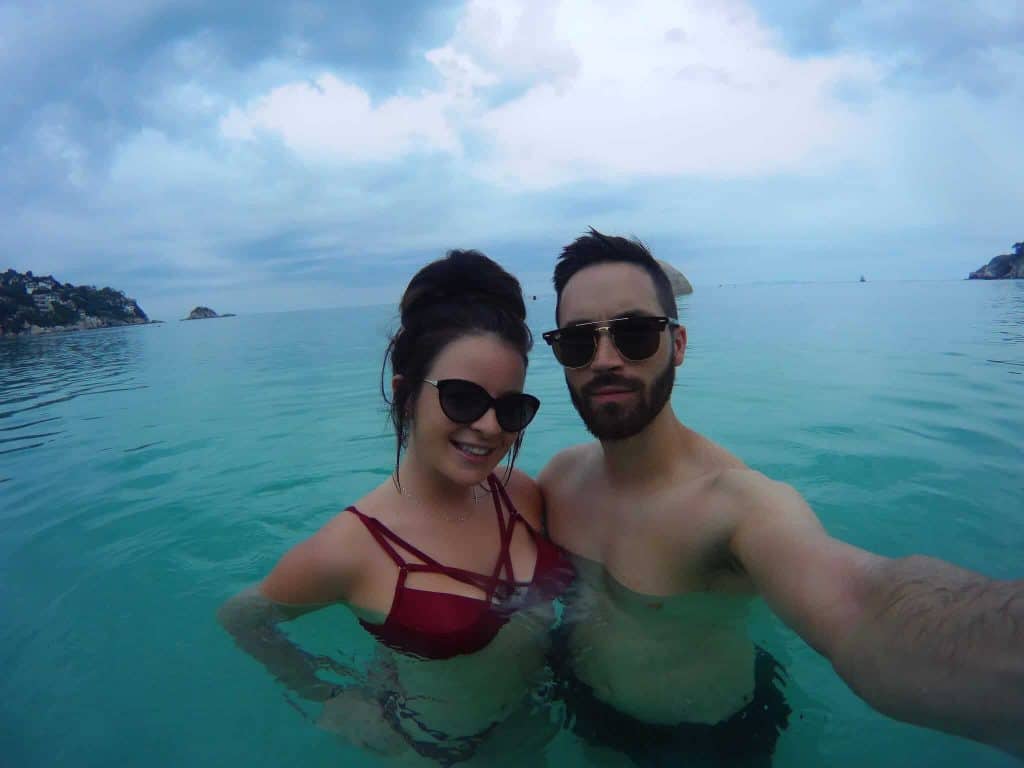 Looking to explore the waters of Thailand in closer detail? I've done the legwork for you and have found some spectacular sites which are popular with divers of all levels. I've made a point of marking which sites are likely to work best for which divers, too!
Thailand's exotic dives are not just for experienced divers, but also for those explorers and holidaymakers looking to get close to local marine life. With a wonderful marine national park scene out here, there is lots to see.  The National Parks are highly praised and as with any dive location, please treat the marine life with utmost respect, don't touch anything and leave behind nothing other than bubbles.
Here are my top ten best dive sites in Thailand.
If marine life means a lot to you, the fantastic dives available at Koh Dok Mai are really going to be at the top of your best diving bucket list. A beautiful location offering some of the most healthiest reef diving in Thailand, Koh Dok Mai is home to moray eels, leopard sharks and all kinds of macro life.  Keep an eye out for the impressive variety of nudibranchs!
This walled dive is one of few brilliant dive sites in Thailand which offer just as intriguing day dive experiences as it does at night.  Watch the world around you change as soon as the sun sets with some night diving. There's lots of great swim throughs here, too.
If you're anywhere near the spectacular Tarutao National Marine Park, you will likely want to take a dip out towards Koh Lipe all year round. It's one of the most interesting scuba diving spots for colourful coral, interesting rock formations and more.
In fact, the experience makes up one of up to 20 dive sites around Tarutao, meaning if you're looking for variety, come on in!
Koh Racha is a little more laid back compared to some of the other dive sites on this list, but that's no bad thing. Just south of Phuket, you'll be able to spot rays, anemone fish and even barracuda swimming by.
Koh Racha also doubles as a wonderful beach holiday spot, meaning I strongly suggest you take the time to chill out here for a while, too!
There's just too much to see out along the west coast of Thailand – and while I'm going to highlight one or two of the best sites in particular along this stretch a little further down, it is perhaps worth taking a trip to the Andaman Sea for your entire holiday.
The Andaman Sea is absolutely rife with tropical marine creatures, meaning that if you've always fancied dipping into dive sites replete with whale sharks and gorgeous coral trails, this is likely to be a hotspot for you.  Suitable for both beginner divers and advanced divers, if your diving in Thailand you have to make time for diving in the Andaman Sea.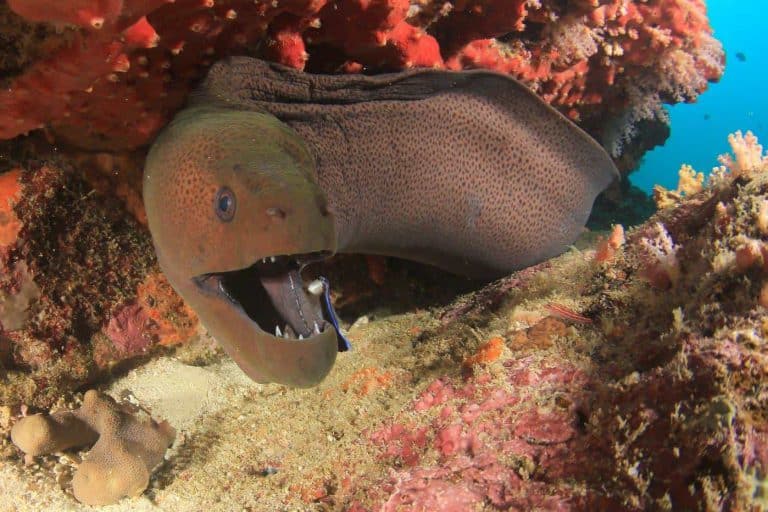 Not too far from Koh Lanta, Hin Daeng and Hin Muang offer some fantastic chances for you to spot leopard sharks. However, one of the big appeals to diving at Hin Muang lies in the fact that it's replete with stunning walls and underwater swim throughs. This experience can be a little intense, meaning if you're an experienced diver, this is likely going to appeal to you first. There are some strong currents to be aware of around here. Diving in Thailand has never been more vibrant – it's a real thrill.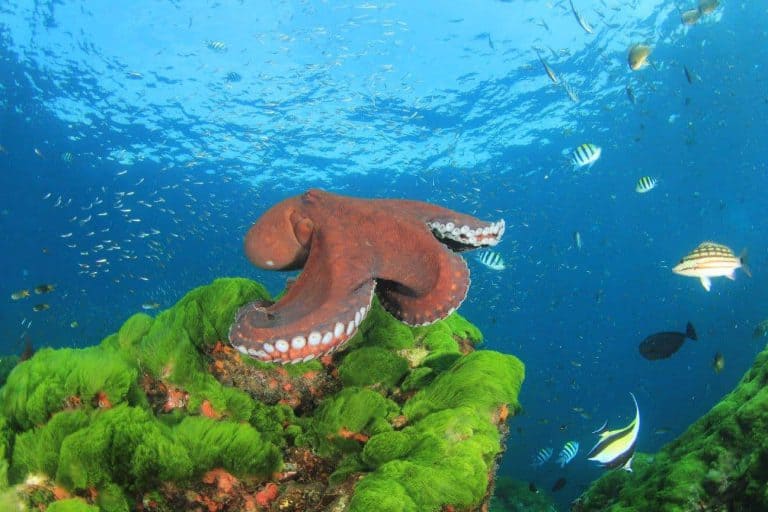 The Similan Islands offer plenty of stunning dive sites and marine life spotting opportunities. They are particularly easy to explore if you are already taking a look around the Similan National Marine Park.
There are up to 20 different sites for you to explore while scuba diving in Thailand here, meaning that if you're taking a break from the Gulf of Thailand and fancy taking a look at some of the deepest dives with easy liveaboard access, the Similans might just give you what you're looking for.
This is where I went on my first liveaboard and if I'm honest, it impressed me a lot. The life here is so diverse, it really felt like a pristine environment.
Sail Rock is likely to appeal to anyone looking to explore underwater rockery and walls, and trust me, that's more exciting than it sounds! It's full of giant moray eels, batfish, baraccudda, and trevally.  If you keep your fingers crossed during your safety checks, you may even see one or two whale sharks (like I did here!!).
This tends to be a popular site for those looking for rare whale shark sightings – particularly amongst diving school operators who want to bring the best dives to their students as soon as possible in their diving journeys.  So it can be a busy dive site, but if you go with a good dive operator, they will know the best days and times to take you.
Chumphon Pinnacle doesn't just have a great name, but it's also the site of some of the most colourful fish this end of the Gulf of Thailand. While beautiful to look at, the Pinnacle might provide a bit of challenge. It tends to be a popular choice all year round for those learning the ropes of diving.
That said, once you know your way around the best dive sites in Thailand, do make a point of dipping in here, as you'll be sure to remember all the vibrant colours, as well as the array of crabs and crustaceans.
Like Sail Rock, it can get very busy here, which can make your experience a bit less enjoyable!
Krabi is a popular province towards the south of Thailand, hugely popular with divers looking for some of the more adventurous experiences the country has to offer. Scuba diving may never have been more epic – in Thailand, at the very least! The site is well known for its wreck and its reef dives, meaning that there tends to be something for everyone. However, as the area can be a little too rugged for some people, make sure to take your diving a little slowly if you're a beginner.
Krabi is also a beautiful province to visit to explore what the land has too. If you like hiking, make sure you check out the Tab Kak Hang Nak Hill Nature Trail with its breath-taking viewpoint!!
Richelieu Rock is one of many stunning diving locations across the Andaman Sea, and it's rife with beautiful fish schools.  I'd probably say it's one of my favourites.  It's also a really good dive if you're looking to spy rays, as both manta and eagle rays call the area home. If you're lucky, you might just spot a whale shark or two – but this is one of the best locations for diving to see some of the smaller creatures and critters of the Thai deep.
However, do make sure to be careful if you'd like to explore this horseshoe – as it tends to get a bit fierce. It's one of the best diving sites for experienced scuba divers.
Is Thailand Good for Scuba Diving?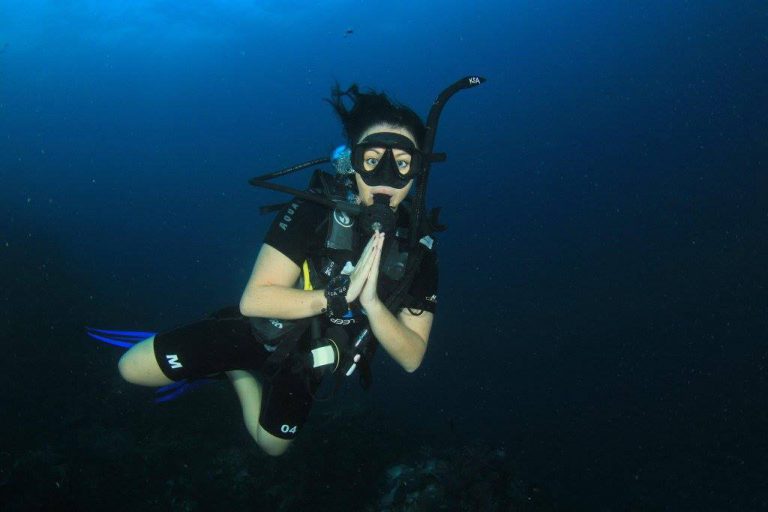 It's not just good, it's great – there are lots of different dive sites scattered all over the coastlines.
From the Gulf of Thailand out towards the Andaman Sea, Thailand is truly lucky in the sense that it offers such a wide variety of diving experiences due to its wonderful climate.
Not only that, but the clear waters herewill always give way to some truly spectacular marine life. You'll be able to take a good dive to see reef sharks up close, as well as manta rays, eels, seahorses, whale sharks and more. You only have to take a look at a few photos and videos shared online to see how spectacular the region is for diving – no matter your skill level. Scuba diving and it's marine life are just two of the things that are the reason I have spent so much time there.
However, and I will come to this shortly – do make sure you have the right qualifications to explore some of Thailand's best-known and best-loved dives.  Some of the dive sites that offer the best diving can be challenging.
Where is the Best Diving in Thailand?
The Gulf of Thailand and Andaman Sea undoubtedly offer some of the best diving sites that the country has to offer. However, it's all down to taste and experience level, too! Some prefer the dives out at Koh Samui, while others will take to Khao Lak for their regular dives. The fact is, there are going to be specific areas and times of year when you'll be able to spot certain types of wildlife.
Do make sure to check out further reviews on specific regions and areas of Thailand to dive into. If you're keen to get closer to reef sharks and other vibrant fish in the region, why not book a liveaboard and take advantage of some day and night dives?
Which Qualifications Will I Need to Dive in Thailand?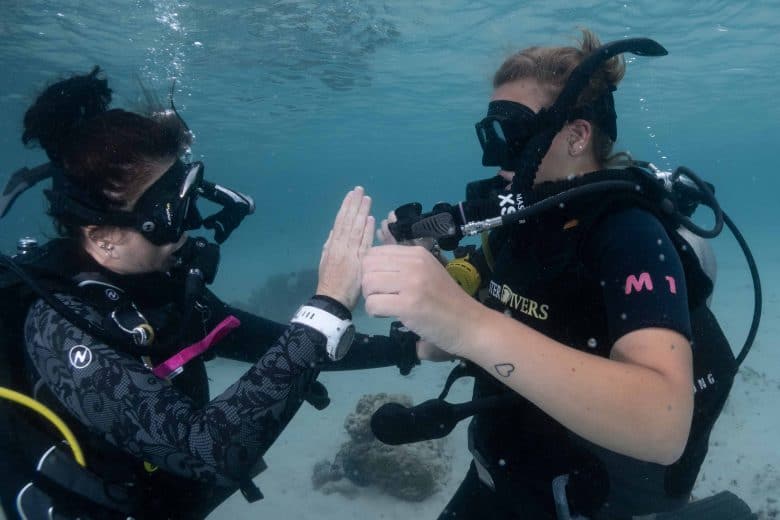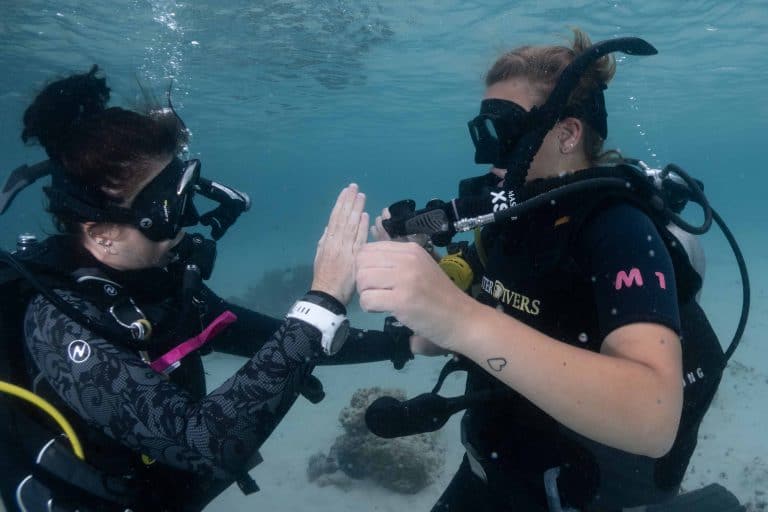 Thailand is a brilliant place to learn to dive.  There are many dive centres across all the hotspots listed above, but make sure you do your research beforehand and do not settle for the cheapest dive school.
If you can, visit a few different dive centres and speak to the staff.  There are some great centres in Thailand and there are some not so great (and some that really, really aren't that great), so go and get a feel before you book anything.  If you are a beginner, you may find it helpful to read my what beginners should know about scuba diving blog!
For those already qualified to dive, PADI also recommends that you take a look at their Drift Diver, Deep Diver, Wreck Driver and Enriched Air courses.  These courses can help open up so many further opportunities to explore the country!
Does Thailand Have Sharks?
Yes – sharks can be found in Thailands waters!  Unfortunately, their numbers have dropped significantly over recent years.  This is quite worrying, as everything else we see whilst diving rely on a healthy population of sharks for their own survival.
However, if you go to the right spots, you'll find the waters to be home to leopard sharks, reef sharks, whale sharks and more. You'll be able to see them all from the comfort of a great liveaboard, too.
How Much Does it Cost to Scuba Dive in Thailand?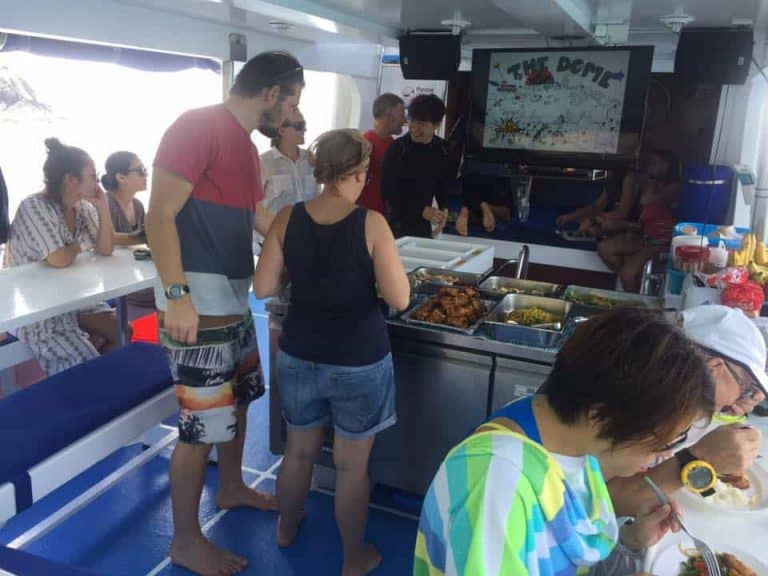 The cost of diving in Thailand isn't as expensive as you might think, and can vary quite a lot from dive centre to dive centre.  I have to say, one of the best courses I did, the PADI Advanced Diver course, I did whilst enjoying a holiday on a liveaboard. It was such fun and I met some great people on board.  Oh, and the array of food was amazing!
The opportunity to explore some remoter dive sites and continue my education at the same time was what appealed to me.  Thailand liveaboards are not that expensive either! Stay tuned for my next blog where I will check out the best liveaboards in Thailand.
You'll have access to food, accommodation, and diving equipment.  You can even enrol on courses if, like I did, you want to keep on learning. Make sure to compare and contrast my best picks before you head to Thailand.
When is the Best Time of Year to Dive in Thailand?
You can dive in Thailand all year round, but there are times of year when you are more likely to see specific marine life.
However, the peak season for diving tends to fall between autumn and spring on the west coast and spring and winter in the Gulf. That said, you're unlikely to see whale sharks out in the Gulf of Thailand, for example, until the autumn/winter at earliest. Most dive centres acorss the Andaman coast close down during the summer as the monsoon season makes heading out to sea extremely difficult.  That said, if you really want to make the most of diving in Thailand, the best thing to do will be to visit in off-peak season.
Thailand is an absolutely gorgeous corner of the world which has to be seen by everyone at least once if possible. From its sparkling beaches to its intriguing mainland culture, you'll also find some of the most stunning dive sites out towards the Andaman Sea and beyond.  I fell in love with Thailand over twenty years ago, and it will always hold a place in my heart. 
You can find out more about my relationship with this special country here.  If I could only visit one part of Thailand, I would chose the Gulf of Thailand for some of the best diving all year round.  This is also the ideal place to spot Whale Sharks and I would encourage anyone to visit Koh Tao to spot these species of shark.
Thailand is full of surprises. Make sure to book onto a PADI course or two to make the most of diving in Thailand, and do book a liveaboard to explore the depths while spaces last!
I spent over 9 months on Koh Tao and prior to that I was living on Khao Lak for over three years. If you want more information about traveling and diving Thailand, feel free to drop me a message on Instagram. 
Recent Posts