The Big Eyes Evolution has been around for some time, remaining virtually unchanged, proving its popularity amongst scuba divers of all levels.
As the name suggests, the Cressi Big Eyes Evolution mask promises to offer a huge field of vision and extremely low internal volume. Those are big wins for most scuba divers – and this tends to be a big winner in general with the wider market. The Big Eyes Evolution was in fact my very first dive mask, purchased back in 2009 when I joined a local BSAC club whilst a student at the University of Derby! Boasting an exclusive patented Cressi system, it's one of the most flexible masks out there.
Much of the design of this mask has remained the same since I first tried it 14 years ago. But – is the Cressi Big Eyes Evolution mask likely to be the best choice for you and your diving adventures? Let's take a closer look at what you can expect.
Why Buy The Cressi Big Eyes Evolution Mask?
For a start, it's all in the angle the mask rests on – this is an incredible Cressi patent, and it offers an inverted tear drop shape. This all means that you actually get to see a lot more below you – there's much less of a seal or skirt that potentially blocks your view. In addition to this, the Cressi Big Eyes Evolution also promises exceptional softness and comfort – the double injection technology alongside the drop shape Cressi patent really add up to a great little package.
You'll also find that the Cressi Big Eyes Evolution mask has more thank raked lenses 0 this mask is made with a headband that also boasts double injection, meaning the elastomer should last even longer than you might expect.
You'll also be glad to know that you can wear prescription lenses with the Cressi Big Eyes Evolution – meaning that's even more visibility down in the deep.
Not sure if the Big Eyes Evolution is the mask for you? There are a lot of great masks on the market at the moment, so it can be hard to choose. You can get a good steer by checking out my best scuba masks review!
Unboxing the Cressi Big Eyes Evolution
As soon as you set eyes on this mask you can tell that much thought has gone into the design to keep ip it high performing yet lower priced.  It's not that heavy and the plastic frame can look quite flimsy at first.  Upon closer inspection you can tell that this is all part of the design and actually ensures the mask provides optimum function.
The lens is angled at 15 degrees and extends over the cheekbones. This increases downward visibility by more than 30%. The downward visibility boost you get from the raked lenses is absolutely one of the biggest selling points – the Cressi Big Eyes Evolution mask remains one of the most elaborate and best-performing diving masks the company has ever produced. The manufacturer offers extraordinary and unprecedented comfort – and having tried on a few Cressi masks in my diving experience, as an all-around mask, Cressi Big Eyes Evolution really doesn't disappoint.
The inverted drop shape Cressi has led with here is truly fantastic – do keep in mind that this is an excellently priced mask, suiting even the smallest of budgets. The technology and build on board here will ensure that your Cressi Big Eyes Evolution will weather years and years of diving to come.
This is a great mask for any type of dive, and with the open angle the mask operates at, you can be sure that you're able to see more below you than ever before.
Other Scuba Masks That You May Like
Check out some of the other scuba masks that I've reviewed.
There's not actually that much I can say that goes against the Big Eyes Evolution mask! It's one of very few scuba masks that I don't have cons as well as pros to discuss. It's well-priced, it's rigid and durable, and its vision field really does go unmatched. It's also built from a material that offers extraordinary protection which will perform for years if you take care of it.
The mask also allows for the lenses to be replaced with prescriptive lenses, which is a bonus for anyone that wears glasses. For more information on prescriptive masks – make sure you check out my snorkel masks for glasses wearers blog.  Don't worry, this includes scuba masks too!
Of course, not everyone will cope with the same fits and mask styles, meaning that I highly recommend you take a look at reviews, and do try this mask on yourself before making a decision. You might find that the mask can pinch – though in my experience, it's been one of the most comfortable fits.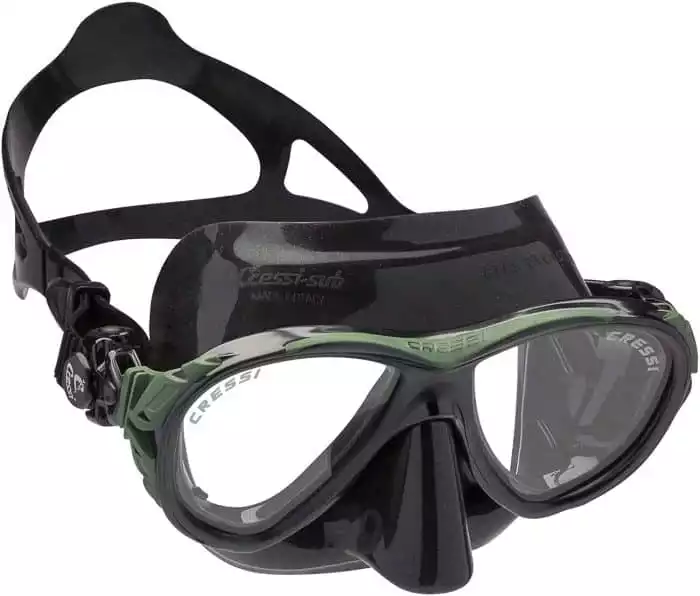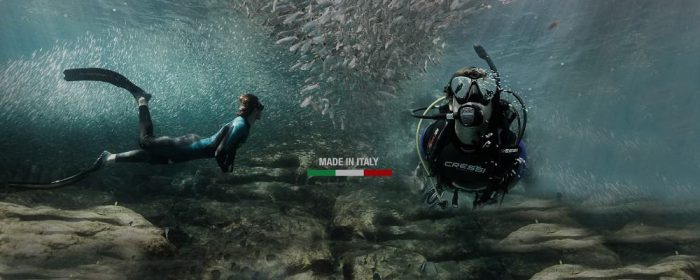 The Cressi Big Eyes Evolution is a revolution in diving mask manufacture. At the price, it is one of the comfiest and one of the best for field of vision. This stunning mask really does have to be tried on to be believed. The Cressi Big Eyes Evolution crystal clear viewfinder is just the icing on the cake!
If you're already a big fan of the brand or want to upgrade your Cressi mask, Cressi Big Eyes will likely be a great model to leap onto.
Great choice for new divers
Brilliant price
 Excellent field of view 
 Frame not as sturdy as other masks
Recent Posts