A dive knife is an important part of your essential scuba kit. If an entanglement happens, you need to be prepped. 
In fact, in some countries, it is a legal requirement to carry a knife or line cutter with you on dives.
Searching for your ideal knife can be meticulous, read on as I find the best dive knives for each type of diver.
List of Best Scuba Knives
Find all of my favourite scuba diving knives and find the best one for you. There are lightweight, blunt tip, serrated and other options.
Aqualung Argonaut Dive Knife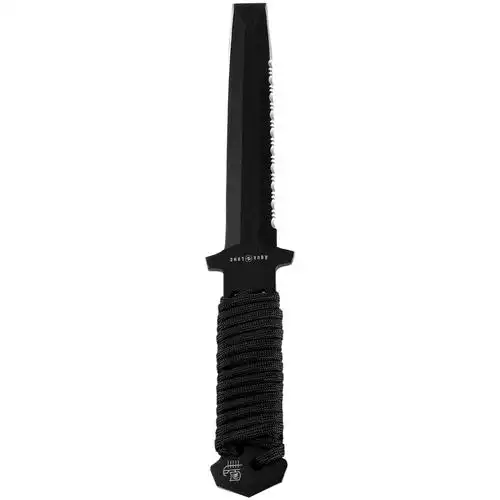 This is the top dog of all dive knives, built to withstand tough use and last many years. The Argonaut is one of Aqualung's best selling knives, carefully moulded out of a single piece of titanium.
Once the butt, handle hilt and blade have been created, it's then coated with a beautiful black EDP, followed closely by a process of sharpening and laser etching. It's an impressive little masterpiece.
It's comfy to hold when in use as the handle is wrapped in strong paracord and tied off with a 5 inch leash.
Not only do you get the knife, there is a handy tactical tool within the handle which is ideal for hammering or crushing. It's even got hidden hex wrenches underneath the wrapping.
Aqualung have created a simple yet functional dive knife available in either blunt tip or spartan tip, made from high rust resistant titanium. You'll never need to buy another dive knife again.
Tusa X-Pert II Dive Knife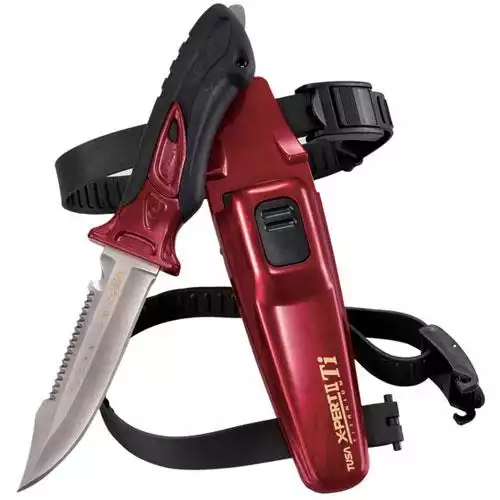 The X-pert II dive knives are a handy bit of kit, it's almost a multi functional tool rather than a knife.
It has smooth and serrated edges and is available in either chisel or pointed tip blade, along with a built in line cutter.
It often takes a bit of time to work out the best place to securely and safely fasten a knife on your gear, but Tusa have built the X-Pert II with two leg straps which is an ideal, easy to reach location.
The blade is built from stainless steel and has a handle with counterweight to ensure the most efficient cutting action.
However, if you're looking for titanium dive knives, Tusa has developed this model in titanium blade too.
Best for Beginners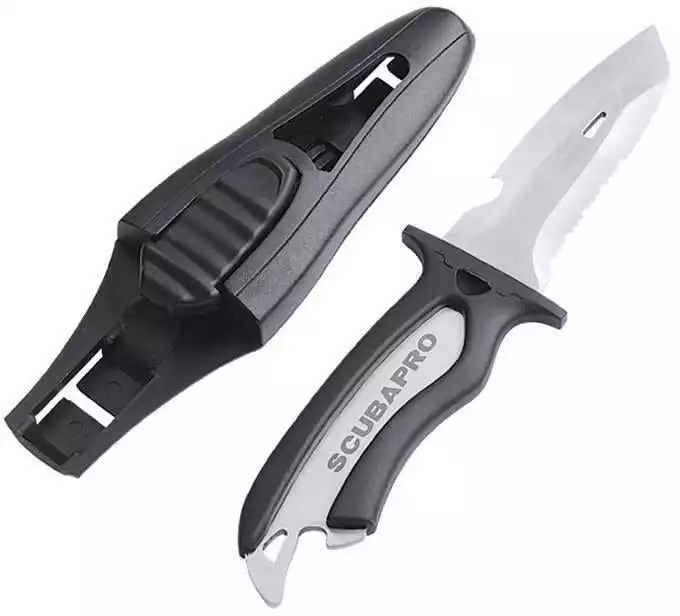 Available in both stainless steel and titanium blades, the Mako knife is ideal for new divers looking for a diving knife.
The blade is 8.5cm long with a smooth edge, serrated edge and line cutter. I like the locking mechanism to this one, it feels safe and secure, but sturdy at the same time as being easily released with one hand.
It's great to see that the knife is also compatible with Scubapro BCD's that have the knife grommets already fitted.
There's even bottle opener on this one, but please wait until after your dives before cracking open an ice cold beer!
If you are looking to build your scuba gear, then you can start here:
Best Budget Option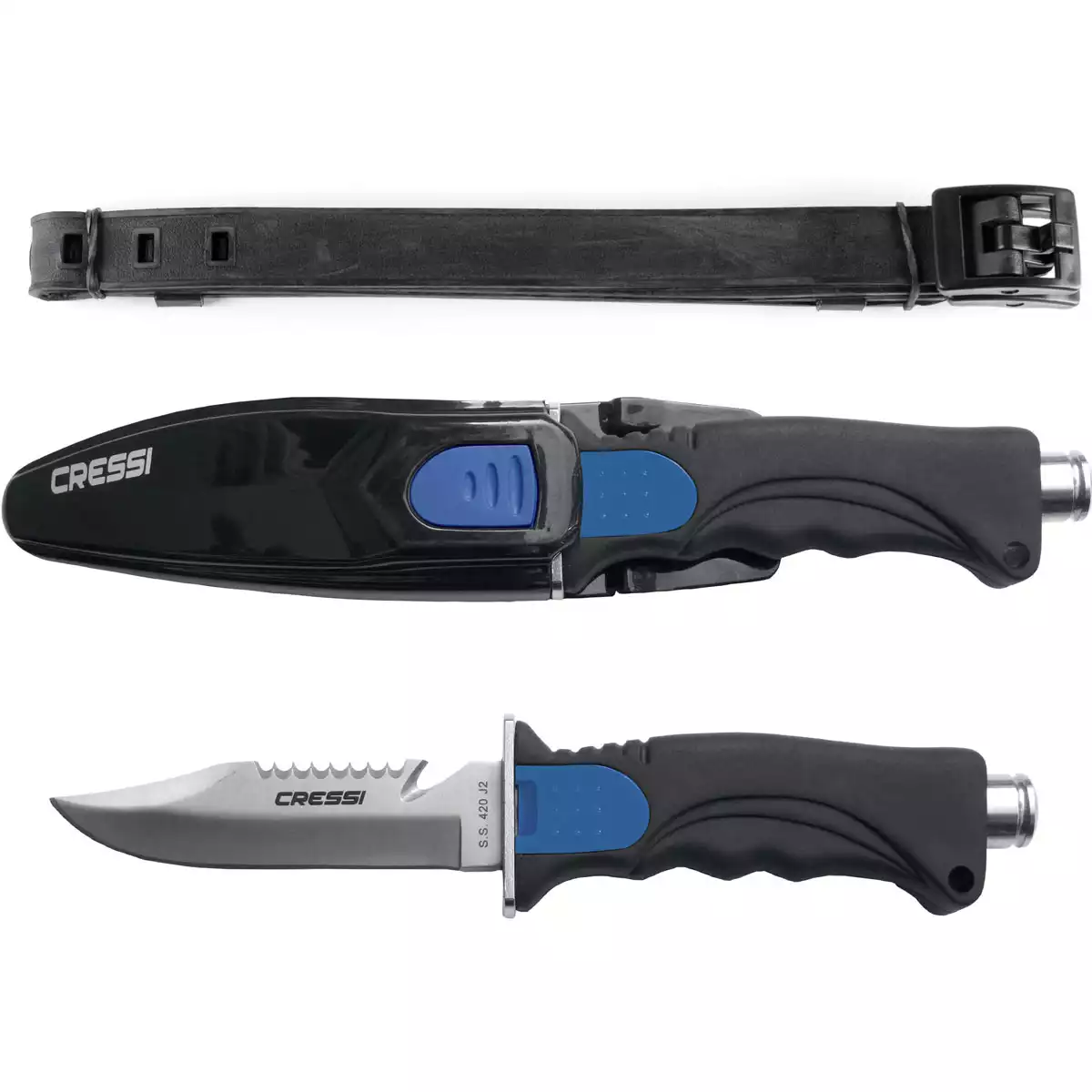 The Cressi Skorpion is a popular dive knife, with one smooth edge blade and the other serrated edge, it's a dive knife that does the job.
It's handle design is extremely comfy, with it's anatomical shape and soft material that offers a secure grip.
It's a lightweight knife, weighing in at only 200g with a blade length of 110mm. It is easy to deploy, with a spring push button integrated into the sheath of the knife.
This is another good user friendly and budget friendly option for divers.
Atomic Ti6 Titanium Dive Knife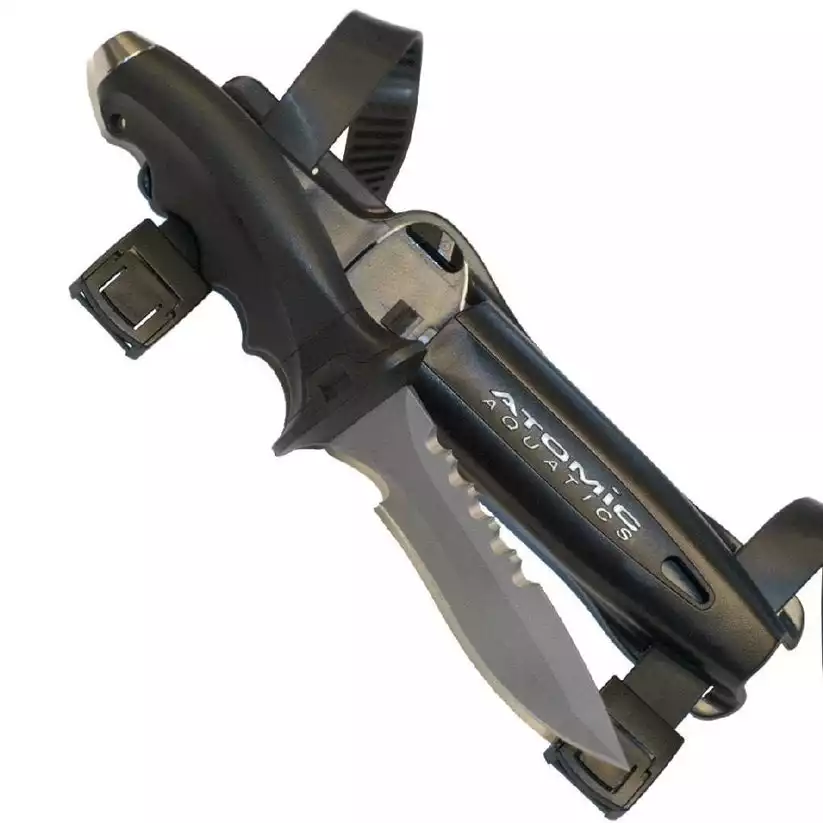 Around a similar price range as the Tusa X-Pert II, the Ti6 takes dive knife technology one step further with it's full tang design and ergonomic handle.
This means the knife can be disassembled when cleaning, ensuring that every little piece can be cleaned properly, avoiding build up of rust and corrosion – a great addition to .
The full tang design also allows for much better stability and leverage. This is because the blade runs from the tip all the way to the base of the handle. A great choice if you are going to be using the knife a lot
You can choose between a blunt tip or a pointed tip style depending on your needs and preference. Which ever design you choose the lockable sheath will keep you and your gear safe from accidents when not in use.
Scubapro SK-21 Dive Knife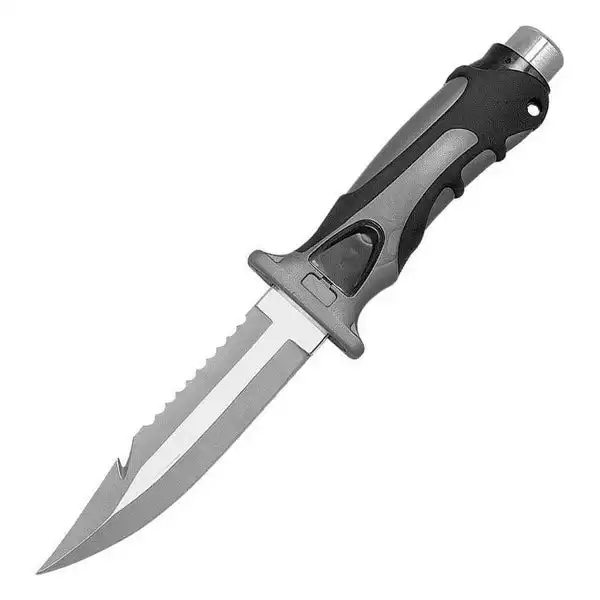 Scubapro SK-21 Dive Knife
Pros:
Multiple Mounting Options

Super Safe Locking Mechanism

Removable Pommel For Easy Cleaning

Good For Cutting Larger Objects
Check Price on MDS
We earn a commission if you make a purchase, at no additional cost to you.
The SK-21 from Scubapro is a straight tip stainless steel knife that has multiple features. The 12cm pointed blade has a straight edge on one side, with a serrated blade on the other for thicker objects such as when cutting rope.
A couple of centimetres down from the tip of the blade, you will find a small line-cutting notch. Line cutters offer much more efficiency when handling super strong fishing lines.
The SK-21 comes with a lockable sheath. This sheath has a rather impressive safety feature built in to its design. When you push the button to release the blade, you will have to pull the blade over two small notches in order to release. This is a great way to prevent accidental release.
At the base of the knife you will find a stainless steel pommel. This could be used to hammer small objects if you needed. The pommel is also removable to allow you to clean out any salt water left over inside of the knife.
Best For Tech Diving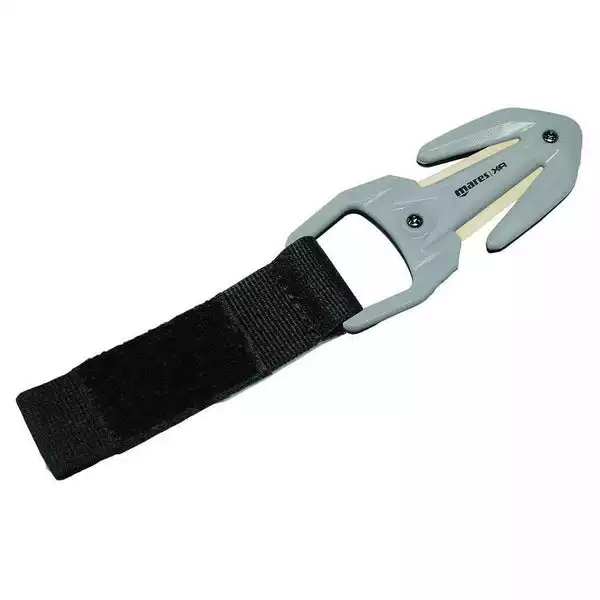 The Mares XR line cutter range is available in both titanium and ceramic blade materials. Both materials offer far superior durability against corrosion when compared with stainless steel alternatives.
The design of the line cutters helps to prevent injury because you cannot access the blade while in use thanks to the protective guard coverings. line cutters are handy tool when removing fishing lines efficiently with no risk of injuring yourself or your dive buddies.
To stow the Mares XR line cutter, you simply slide it into the robust nylon cordura pouch and clamp down the Velcro. This line cutter mounts horizontally or vertically over the webbing of your BCD.
The small, lightweight and compact size make the Mares XR line cutters a great primary or backup dive knife.
Where Should I Store My Dive Knife When Diving?
The traditional place to store your scuba diving knife is on either your leg or ankle. Many divers store the sheath on the inside of the ankle.
There are multiple factors to consider when considering where to store your new dive knife. It depends on the type of knife you have and how it relates to the equipment you are using.
Some larger knives with sharp tips come with leg straps. While smaller line cutters have webbing attachments and are best used alongside a harness style BCD.
Another factor will be whether or not you are wearing gloves and depending on the thickness of the gloves, storing your knife in an easy to access place is important and in case of entanglement, you should always be able to reach your dive knife with both hands.
Is a Dive Knife Necessary?
Scuba diving knives are a diver's lifeline and should always be part of the essential dive kit.
Around 99% of the time when diving, you wont need to use your dive knife. A dive knife is a piece of safety equipment. They are primarily used to help yourself or your buddy in the event of an entanglement or to release things such as fishing lines and nets that get caught of coral reefs.
Despite what you may see in the movies, we don't have a dive knife to fight of dangerous marine animals. So just because you are diving somewhere there are no sharks, doesn't mean you don't need a scuba knife.
When scuba diving in any area, you should have this piece of safety equipment with you.
What is the Difference Between Titanium Dive Knives and Stainless Steel Dive Knives?
Titanium and stainless steel are the two most common materials you will come across when choosing the best scuba diving knives. Generally, a titanium blade is more expensive but this is because they are far more corrosion resistant. You can now even get ceramic blades and they are completely impervious to rust and corrosion.
A stainless steel knife is still a good option for most divers, but they are less corrosion-resistant and will require thorough fresh water cleaning after each dive to help it resist rust.
If you are going to be doing lots of diving, then you may be best investing in a titanium blade. However, if you prefer a budget option, then a stainless steel blade is also a good option. Just be prepared to clean it regularly and don't forget about it in your BCD pocket.
Should I Get a Blunt Tip or a Sharp Tip?
When deciding between a blunt tip and a sharp tip diving knife, you should consider the benefits it will give you depending on the type of diving you are doing and your experience.
While it is tempting to go for the biggest blade length and sharpest knife you can find, it is not always necessary, and a sharp tip can sometimes be dangerous in the hands of an inexperienced diver.
A blunt tip can be a much more practical and a safe option if you are only using your knife for cutting fishing line occasionally. A knife also doesn't have to be sharp or blunt in the traditional sense. Try and make sure you get a knife with both straight and serrated edges. A line cutter can also do the job.
When searching for the best dive knives, whatever your preference is, make sure you consider choosing a knife with comfortable grip that you can always reach and deploy when you need it.
Recent Posts