Whether you're new to diving or are versed in buying advanced dive computers, finding the one dive computer that's best for you can be overwhelming.
A dive computer is an integral underwater lifeline and is regarded as one of the most important aspects of your essential dive equipment.
I have been hard at work to make your job easier – effortlessly sift through my list and find the best dive computer for you.
A diver computer is an essential piece of kit, but which one you chose to buy depends on your individual dive needs
No. 1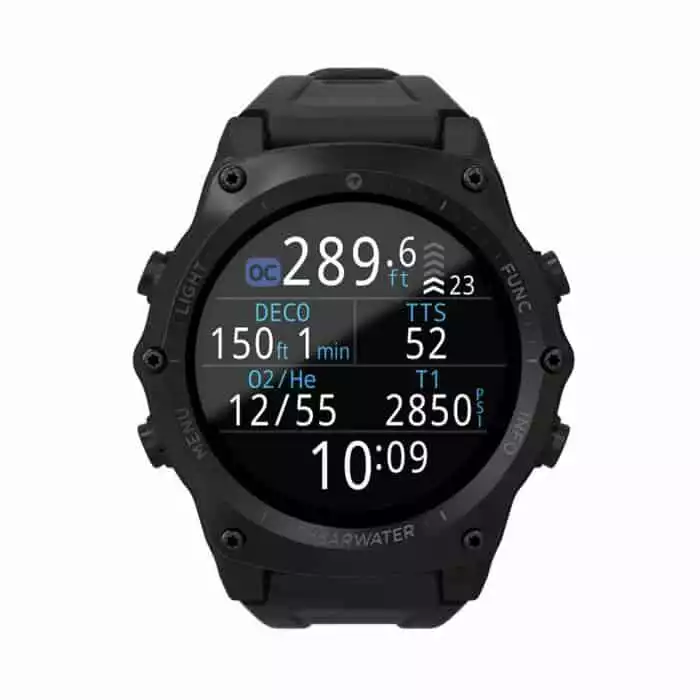 Shearwater Teric Dive Computer
Pros:
Easy to navigate and easy to read with its four-button operation

Charge anywhere and anytime with wireless charging

Highly customisable with a vivid colourful AMOLED display
Cons:
Not for divers on a budget
Check Price on MDS
Check Price on Amazon
We earn a commission if you make a purchase, at no additional cost to you.
The Shearwater Teric dive computer is the number one choice for many technical divers. Not only is it a stylish wrist dive computer, but it also comes with optional air integration, GF99 readings for gradient and SurfGF to evade decompression sickness.
This is my primary dive computer, and something simple but integral is the dive computer's screen display and its brightness.
The amount of customization options available for the dive computer is on another level, and it is designed to work with Air, Nitrox, Trimix as well as CCR.  For a watch-sized computer, the functions are incredible. You can add up to two wireless transmitters to monitor gas consumption and recharge the battery whilst on the go with wireless charging. 
The sleek and strong design is a winner in all areas, with its quality shining through,this is a real scuba and freediving computer rather.
I've written an in depth review of the Shearwater Teric – give it a read to find out more about the 50 hours of battery life that it offers.
Best For: Technical divers
Modes: OC REC (3 gas nitrox recreational), OC TEC (multi-gas,trimix decompression computer), CC/BO (closed circuit fixed PPO2), Gauge, Freediving.
Max Depth: 200 metres
Air Integration: Yes
User Replaceable Battery: Yes – wireless charging
BEST FOR MULTISPORT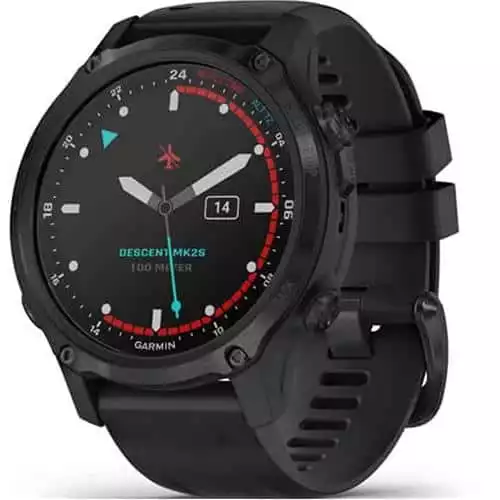 The Garmin Descent Mk2 comes in different shapes and sizes with the Garmin Mk2s (my favourite of the three), Garmin Mk2 and Garmin Mk2i.
The Garmin Mk2 is the standard model whereas the Mk2S is for smaller wrists and has a smaller display, Mk2i on the other hand is the model with air integration.
The Garmin Mk2 is a fitness watch combined with a dive computer, incorporating lifestyle, fitness and diving together. 
It has a clear display, GPS that clearly marks dive entry and exit points. It also keeps all of your data in the impressive Garmin Dive app. 
It has a long battery life with up to 80 hours.
For a bigger and more in-depth review, head on over and check out my Garmin Descent Mk2S review. 
Best For: All levels
Modes: Air, nitrox, free, gauge, watch
Max Depth: 100 metres
Air Integration: No – but check out the Garmin Mk2i for this!
User Replaceable Battery: Rechargeable
Best for dive compass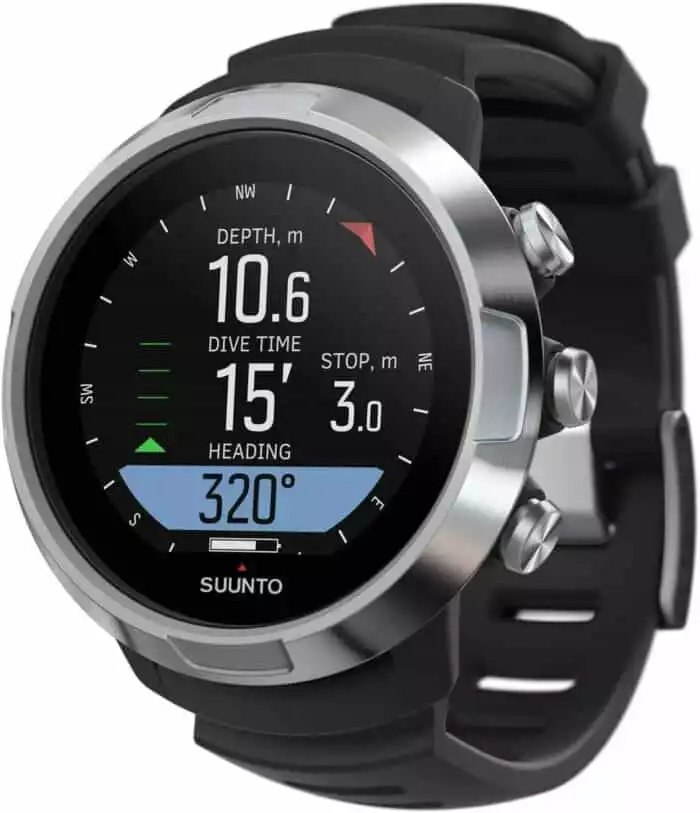 Suunto D5 Steel Dive Computer
Pros:
Easy to set up​

Suitable for all levels of divers from beginner to advanced​

Powered USB port to re-charge battery​

The colour screen is easily one of the most impressive on the market for its price
Cons:
No replaceable battery, any battery issue requires their service
Check Price on MDS
Check Price on Scuba.com
We earn a commission if you make a purchase, at no additional cost to you.
With the watch sized, colour screen and stylishly designed Suunto D5 dive computer you will be turning heads everywhere you go, below and above the water.  It has 3 – button interface and allows users to customize what they see in dive mode on up to 4 screens that can each easily be accessed with the touch of a button.
It has all the technology of a larger wrist mounted dive computer but packed into a small watch style design, without compromising on the beautiful colour screen that can be read in all conditions.  The straps can also be changed easily allowing for further customisation.
You can make the optional purchase of the Wireless Tank POD Transmitter to receive cylinder pressures along with breathing rate on the screen display.  There is no doubt that Suunto have opened up a new era to dive computers and recognised them as not only an important tool to have underwater, but as a sign of a diver above the water. This is a diving computer that looks well placed on entry level divers and experienced alike. It certainly is one of the best dive computers that I have tried.  I even wrote an in-depth revew on the Suunto D5.
Best For: All levels
Modes: Air, nitrox, free, gauge, watch
Max Depth: 100 metres
Air Integration: Yes
User Replaceable Battery: Yes – rechargeable
Best budget dive computer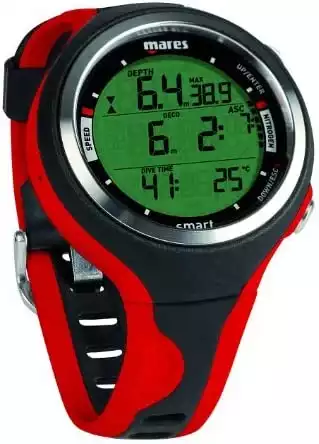 A super compact and lightweight dive computer that is adored by many.  This is the best dive computer for divers on a budget. Its sporty design makes it look at home on your wrist above and under the water and is a dive computer suitable for novice to advanced divers worldwide.  
The way this dive computer lays out the information avoids any complication or misunderstanding.  It has a dual button interface that makes it easy to scroll through the menus pre, during and post dive.  The sections on the screen split the information nicely so that the data can be easily accessed.
In short, this dive computer is simple to use, does what it says and is amazing value for money, placing it at the top of the game for best budget dive computers.
Like the sound of this computer, but you'd rather air-intergation? Check out my Mares Smart Air review.
Best For: Entry level to Intermediate divers
Modes: air, nitrox, free
Max Depth: 150 metres
Air Integration: No
User Replaceable Battery: Yes
Best Dive Computer for New Divers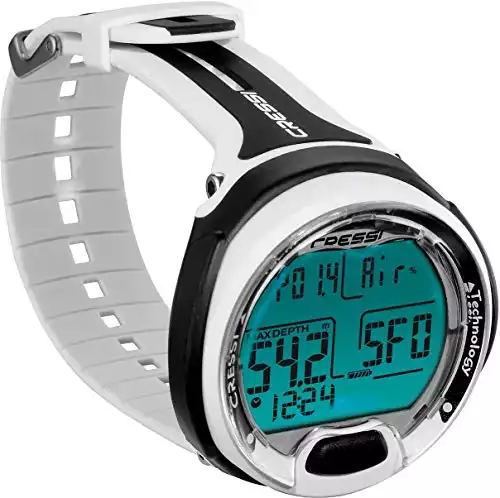 One of the most unique features of the Cressi Leonardo is the algorithm that is utilised.  Developed by Bruce Wlenke, the Cressi RGBM Algorithm has been specially adapted, offering safe decompression diving.  This makes this dive computer ideal for divers who often do repetitive dives and those looking to do liveaboard holidays.
Find out where it made it in our list of best dive computers for beginners.
The computer boasts a single button interface that is surprisingly easy to navigate the menu, showing on a clear display, even in low light conditions.  Divers using the Cressi Leonardo can choose to set audible alarms that alert to important information. It is one of the best dive computers for new divers.
This is another computer which benefits from user changeable battery feature ensuring that maintenance costs are kept to a minimum as there is no need to send off to a service centre.  Not only that, the battery life is indicated on the screen so that you can plan for your next battery change.
I put the computer to the test in my full Cressi Leonardo review of 2023.
Best For: Entry level to Intermediate divers
Modes: air, nitrox, free
Max Depth: 150 metres
Air Integration: No
User Replaceable Battery: Yes
GREAT AIR INTEGRATED COMPUTER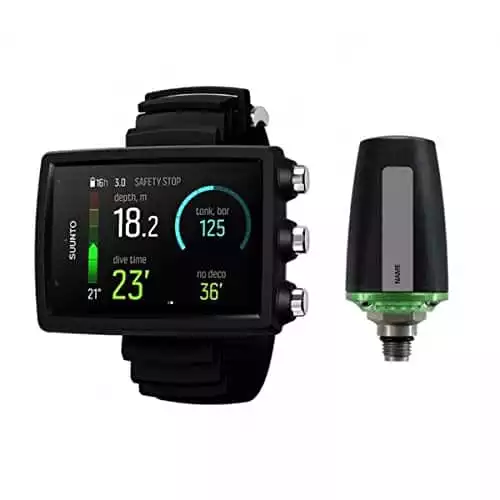 Suunto EON Core Dive Computer
Pros:
Strong composite casing

Divers can connect up to 10 Tank PODS which makes it ideal for tec divers​

You can customise your own computer screens that are easy to scroll through during the dive​

Very clear to read at depth
Check Price on MDS
Check Price on Scuba.com
We earn a commission if you make a purchase, at no additional cost to you.
The little brother to the Suunto EON steel, and it's one of the best air-integrated dive computers on the market, the Suunto aCore Eon is a compact version which keeps the impressive colour screen yet is mounted into a composite frame.  The buttons for the EON Steel were placed on the front of the body but the Core sees them on the side.
With its re-chargeable lithium-ion battery that can last 10-20 hours per charge, and its Fused RGBM algorithm that allows for air, nitrox, trimix, gauge and CCR, this is a brilliantly reliable option for the more advanced divers reading this.  It can also connect to multiple PODS for air integration which allows for a much easier way of reading information whilst diving.
For more info on this all rounder, take a read of my bit more detailed review on the Suunto Eon Core.
Best For: Advanced and technical divers
Modes: Air, Nitrox, Gauge, Trimix, CCR (Fixed Point)
Max Depth: 80 metres
Air Integration: Yes
User Replaceable Battery: Yes
Best console dive computer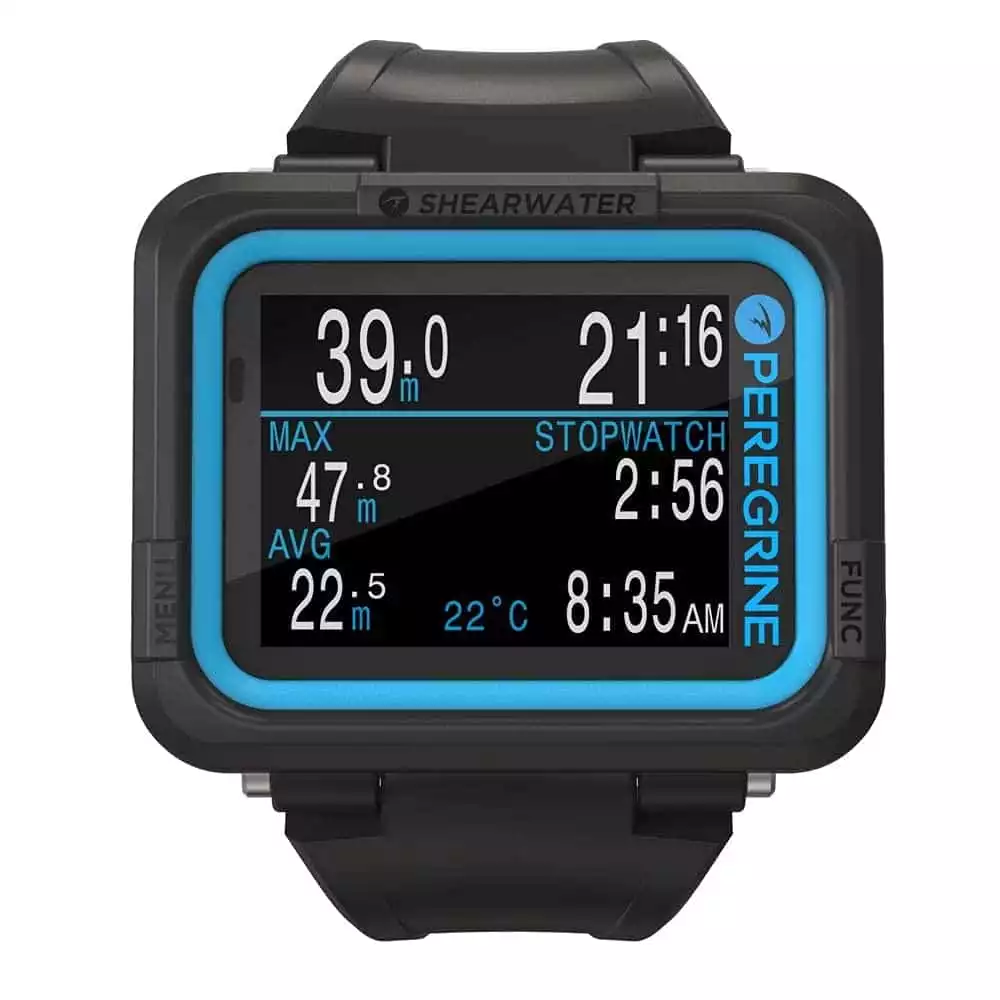 Easily the most rugged yet sleek dive computer in the industry.  However, along with its ruggedness comes its reliability.  We all know how important it is that our dive gear is hardy, and Shearwater are known for building the most hardiest of computers for divers that dive a lot.
It is fitted with a bright screen that is easy to read and individually customise.  The buttons are brilliant and super easy to use even whilst wearing thick gloves.  It's one of the best dive computers for the money, particularly if you are looking for a console style display.  In fact, I urge you to take a read of my in depth review on the Shearwater Peregrine to find out more!
Best For: Recreational Divers
Modes: OC Rec (3 gas nitrox recreational), Air, Single-gas Nitrox, and multi-gas Nitrox modes.
Max Depth: 120 metres
Air Integration: No
User Replaceable Battery: Yes
Great dive computer for beginners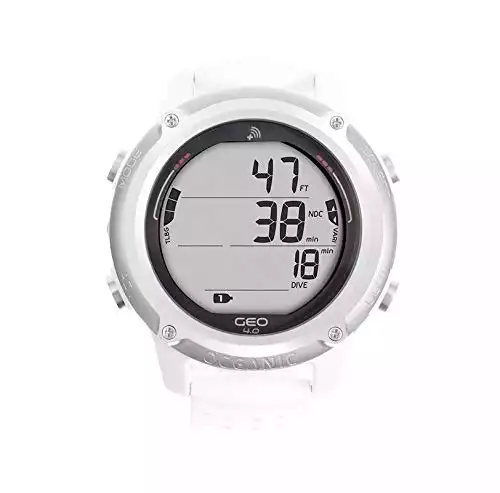 The Oceanic Geo 4.0 dive computer is one of the most impressive recreational dive computers that can be used every day as a wristwatch. It's a sporty style with modern-day features such as Bluetooth compatibility, allowing divers to link their Geo 4.0 to their smartphones or tablets via the DiverLog+ App for easy storing of dive data and dive profile.
Divers can choose how their dive profile will be by taking advantage of the Dual-Algorithm function, allowing a better match to your buddy's computer. If you are a regular recreational diver, this computer is a good investment and has all the functions and modes that you will ever need to use including the seamless intuitive interface that helps you resurface safely.
There are a total of 5 different colour straps available so that divers can personalise their own look and remain stylish.
Best For: Intermediate – Advanced level divers
Modes: air, nitrox, gauge, free, watch
Max Depth: 100 metres
Air Integration: No
User Replaceable Battery: Yes
No. 9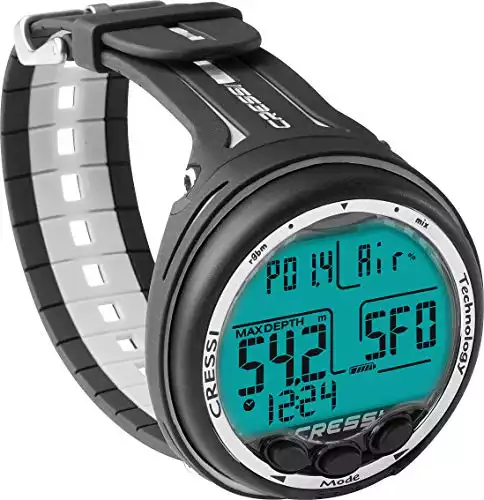 An ideal computer for new divers that are looking for a travel companion as much as a dive computer.  The Cressi Giotto is lightweight and compact yet hardier than its predecessors.  Like the Leonardo, the Giotto is a beautifully conservative computer that uses the RGBM based upon the Haldane model and is ideal for divers that are going on multi day dive excursions.
The high definition screen displays large, clear digits against a back-lit screen that can be easy to read even in the lower visibility waters. The audible alarm helps alert the diver to important data showing on the screen ensuring that safety is in its best interest.
The screen is larger and the motherboard has been enhanced so that the computer is energy efficient and serves a long battery life.  The Giotto has two buttons to navigate through its features unlike the Leonardos' one and it also allows for gas-switching between two nitrox mixes during the dive. Another best dive computer for recreational divers that wish to venture a bit into the world of nitrox.
For more on the display and whether the Giotto is ideal to travel with, you can read my more-detailed review on the Cressi Giotto.
Best For: Intermediate divers
Modes: air, nitrox, gauge
Max Depth: 100 metres
Air Integration: No
User Replaceable Battery: Yes
user friendly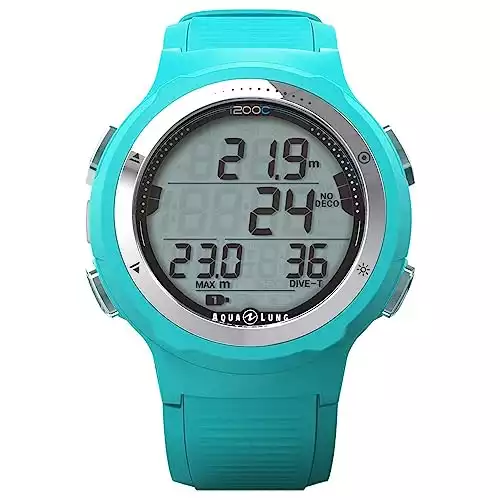 The Aqualung i200c is perfect for new divers with its easy to follow navigation system that can set the dive computer into one of the four operating modes that are offered.  It is commonly used within scuba diving schools for students because of its ease to understand, reliability and acts as a great introduction to the world of dive computers. 
The high visibility LED screen works nicely at deeper depths and the computer comes with some very handy safety features including audible alarms to help avoid rapid ascents and other dive limits.  For new divers that are looking to progress into diving with nitrox, the i200 has a nitrox mode that upon setting the gas mix, will change its algorithm to suit.
Best For: Entry Level Divers
Modes: air, nitrox, gauge, free
Max Depth: 100 metres
Air Integration: No
User Replaceable Battery: Yes
How Much Should I Spend on a Dive Computer?
A dive computer is one of the most expensive aspects of your scuba diving equipment and they vary from £250/$300 to £1200/$1300. The amount you should spend on a dive computer depends on how often you dive and what type of diving you do.
Newcomers to diving who are unlikely to use a computer more than a few times a year can go for a budget pick – they are still reliable and come with various dive modes.
You won't be surprised to find that the computers that top the list are some of the most expensive options.
Dive Computer for Multiple Gas Mixes
The Shearwater Peregrine, Mares Genius, Suunto EON Core, and the Garmin G1 dive computers are the best options for multiple gas mixes.
Multiple gas mixes allow you to enjoy more dive time at depth, different scuba divers have different setups, if you wish to switch your gas mixture to suit the type of diving you're doing then you will want to get a dive computer that enables you to use multiple gas mixes.
Air Integrated Dive Computers
Air-integrated dive computers such as the Suunto Eon, Suunto D5, ScubaPro G2 and the Suunto Vyper Novo dive computer all enable you to keep track of your air without the need for the Submersible Pressure Gauge (SPG).
Not all fully featured dive computer options come with the option of air integration, and it's certainly not required but some scuba divers prefer counting on their computer alone and like to be alerted when they're running low on air.
Shearwater dive computers are some of the most celebrated in the industry but as you can imagine, they're not cheap. The good thing about scuba diving is that there's plenty of choice and lots of trusty dive brands.
Other ideal dive computer brands include Mares, Suunto, Cressi and Aqualung.
Garmin have also introduced themselves to the dive market – and they've used their outdoor expertise to their advantage. Garmin is now a recognised dive computer brand even brandishing their own Garmin dive app.
How to Pick a Dive Computer
Finding a good dive computer requires patience and research – but I'm here to make it that little bit easier, having gone through the process myself on several occasions.
Here are some of the things you should bear in mind:
User Friendliness
A user-friendly interface and buttons that are easy to use underwater with gloves on is a must for me.
This includes how clear the screen is, how easy it is to navigate from one mode to another and how simple it is to process the buttons – I prefer buttons that aren't too small and have some feedback when you click them down.
Alerts
Different dive computers come with their own style of alerts, some colour code your air, so when you see red you know it's important. Other computers such as the Shearwater Teric dive computer vibrates on your wrist, letting you know when you need to take notice.
Screen Clarity
Screen clarity is imperative especially for divers that enjoy wrecks, caves or night dives. You want enough light and clarity underwater.
This can sometimes come down to personal preference as well – as you may prefer a certain computer display over another.
Digital Compass
Lots of computers now come with a digital compass and they can come in very handy – you may not be leading dives when starting out or feel that you need a compass but it's always nice to have and as you progress you may utilise the digital compass features more often
Everyday Wear
You can now embrace various designs and use computers for more than mere diving geniuses – you can also enjoy them as a watch-style dive computer.
A wrist dive computer tells you the time and Garmin have lots of other fitness features that can be used by all.
Dive Logging
One of the most valuable aspects of a dive computer is that it will log your dives. 
A number of the top dive brands provide fascinating and insightful apps, such as Suunto which even offers the chance to engage with the community. I was also impressed with the Shearwater Cloud and the Garmin Dive app.
Many of the apps utilise the Bluetooth connectivity to send the dive log to your phone.
Air Integration
Wireless air integration isn't required for everyone, but you may prefer to monitor your air via the dive computer. 
Some computers can even monitor up to three tanks at once – an impressive element to some of the fully featured dive computers. 
Dive Modes
Dive computers come with multiple dive modes – this can include a freediving mode, air, nitrox and trimix.
What is the Best Entry Level Dive Computer?
Recent Posts