Ever thought about diving in Scotland before? Believe it or not, there are plenty of fantastic marine creatures for you to spot up in Inverness and beyond. I can't guarantee you'll get a good look at the Loch Ness Monster, but what I can guarantee is that there are some great liveaboard options opening up in Scotland right now.
If you're looking for dive experiences closer to home, or want to take your diving step by step as a beginner, there may be no better way for you to get started. Take a look at my new guide to Scottish liveaboard experiences below, and be sure to book now to beat the rush.
"One-stop booking with a liveaboard makes the entire experience effortless and more enjoyable."
Not sure if diving in Scotland is the perfect location for you?
Okay, so not everyone is a cold water diver! If Scotland doesn't tickle your fancy, why not start off by reading my blog on where you can find some of the best diving holidays for other beautiful options?
Best Scotland Liveaboards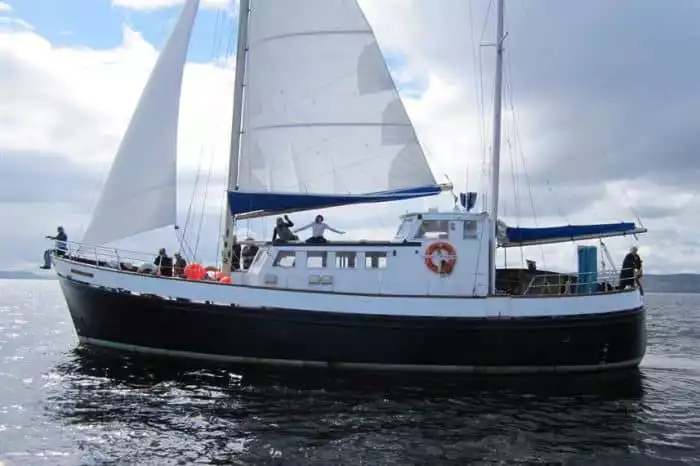 Seahorse II Cruise Ship Liveaboard
Pros:
Flexible cruises for up to 12 days available​

Fantastic ex-ferry vessel​

Nice and comfy for 11 people​

Great for spotting dolphins, sharks and more​
Cons:
The style of cruise and vessel might not appeal to everyone​
Check Price on Liveaboard.com
We earn a commission if you make a purchase, at no additional cost to you.
The Seahorse II is a great little ferry experience which was actually once a Norwegian fjord cruiser. Therefore, you can immediately expect it to be one of the best boats built to traverse the wild waters of Scotland!
This humble diving boat experience brings you closer to local porpoises and sharks across the Hebrides. This end of the country is truly stunning, and despite being a smaller live aboard option than many you will find in tropical climates, Seahorse II still offers wonderful cabin space, al fresco comforts and all mod cons.
You'll even be able to explore Loch Ness – but again, I'm promising nothing as far as monsters are concerned!
Not only that, but if you're a fan of the odd tipple, you might well want to take a look around a few whisky tours after a day of diving. Head north for a diving holiday experience that's truly unique.
Room available for up to 11 people
En suite cabins on board
Wildlife and island tours available
Air conditioned saloons
Kayaks available
Considering other dives in the UK?
I pick out my top UK dive sites in this article and tell you why.. Click to read some of the place you never knew existed and how to visit without the need to book.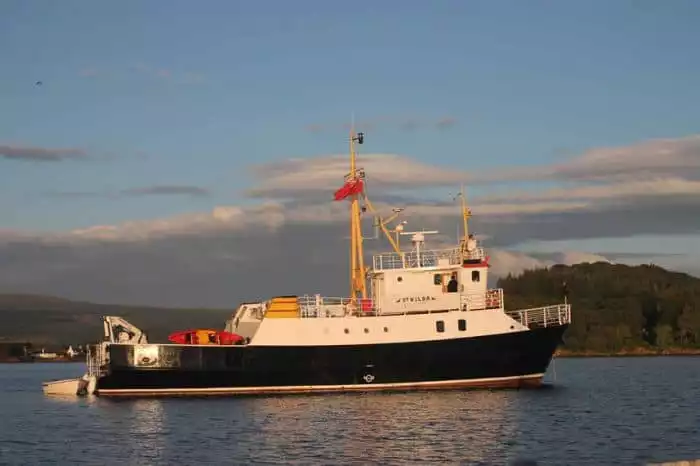 St Hilda Cruise Ship Liveaboard
Pros:
Authentic tall ship design​

Choice of 7 and 11 day journeys​

Basking sharks, dolphins and eagles close by​

Great vantage point for hiking journeys and holidays too​
Check Price on Liveaboard.com
We earn a commission if you make a purchase, at no additional cost to you.
St Hilda is a spectacular, authentic sailboat experience that's actually built into a tall ship. Welcoming up to six people on board, there's still plenty of room to sit back and relax, as well as to enjoy delicious meals at your leisure.
However, the fantastic diving opportunities across the Scottish islands are what you'll want to pay most attention to. Get up close to some of the unspoilt Scottish islands as far north as the Isles of Skye and Mull. Take a wildlife cruise or two across the inner Scottish Hebrides, and do make sure to spy those beautiful basking sharks and you trail the communities across Iona and Staffa.
This is a cosy boating and diving experience which is likely going to appeal to you during your search for the best new Scottish seafaring experiences. Get up close to marine life, and live on board a traditional vessel that's full of all the mod cons you'll ever need.
Available for up to six people to use
Ideal for experienced divers looking to explore the Scottish islands
Food and drink available on the boat
Sun deck on the boat
Great boat for families to use
Why Go Diving in Scotland?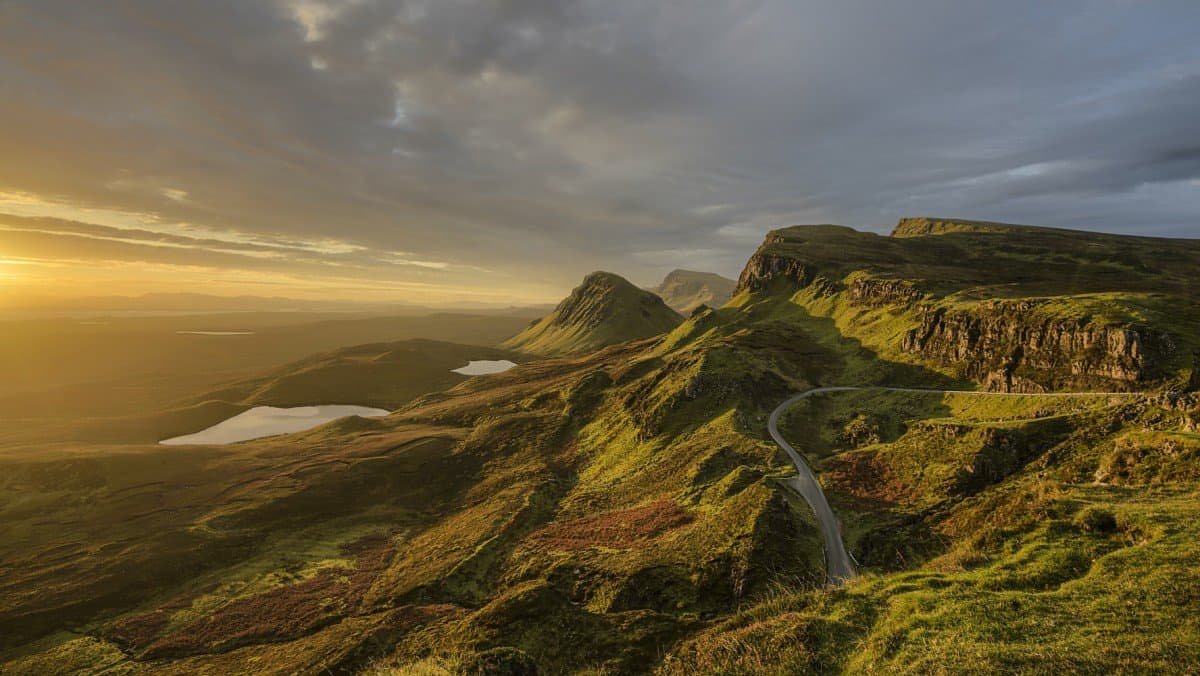 Scotland's incredible islands stretch up into the north and are hugely unspoilt!
They are home to some truly magnificent wildlife as you travel further up towards Iceland. That means you're going to see plenty of sights which might well be new to you – porpoises, sharks, maybe even a whale or two if you're lucky!
Dive trips across the Scottish islands are likely to appeal to anyone keen to see more of the rugged landscape and wild waters the country is so well-known for. By choosing the right boat, you'll also be able to explore one or more lochs in the region.
There is more to the Scottish landscapes than its mountains and lochs, however. The waters up here can be chilly, but do make a point to search for boats which will keep you warm across your travels.
If you're new to cold water diving, or are thinking about giving it ago – then a massive kudos to you!! It can be challenging but it opens up a whole new element to scuba diving. You can read more about what it's like (and why I love it) in my reasons to cold water dive blog!
Why Should I Book a Scottish Liveaboard?
Scottish liveaboard experiences are truly magnificent, in that you'll have somewhere comfy and cosy to stay while exploring dive sites across the Hebrides.
The Scottish diving scene is likely to be a little different to what you might expect in eastern or tropical locations. However, that really doesn't make it any less fascinating. You may even find that you get chance to learn more about tradition and heritage on the mainland, too, such as via historic cities in Inverness and beyond.
A Scottish boat trip could give you the best chance to see some of the most beautiful creatures the local waters have to offer. However, again, things tend to be a little chilly, and maybe even choppy – so make sure you have a qualification or at least some experience before you head on a Scottish diving holiday.
How Do I Book a Liveaboard in Scotland?
Easy – follow any of the links I have listed here in this guide, and you will get the chance to take a closer look at available cruises, destinations and other options.
I've made it easy for you to compare and contrast between the best cruises available right now. Why not make a point of trying something new, and having a search around some of the best boating holidays and experiences available
Simply take a look at the links I've provided and be sure to have a think about what you'd like to see and do up in the Scottish deep. Use my other guides, too, to find the perfect dives across the UK!
Do also – as always – make sure you have plenty of practice and, where possible, a qualification to help you with new and interesting dives!
Recent Posts