Cuba is certainly one for the bucket list and the most exciting way to travel their dive sites i via the Best Cuba Liveaboards. 
Despite neighbouring islands enduring overfishing and bleached corals, this country is known for pristine conditions, diverse species and a healthy coral. Dip under water and visit the marine life, Caribbean Reefs and some of the most amazing scuba diving.
That's because of the stringent laws and regulations that protect the marine. 
There are different dive spots that scuba dive enthusiasts should not miss that offer lots of marine life, black coral and . The best way to explore is often a Liveaboard due to national parks such as Gardens of Queen otherwise not granting access. We'd recommend checking the best liveaboard below, although you can still enjoy other dive spots without the necessity of a ferry or regulated liveaboard holiday.
We believe the best way to dip your dive gear into the Caribbean sea is via the perfect Cuba diving holiday, hence why we've reviewed Cuba's most prestigious below.
Find out the most exciting and efficient way to visit Gardens of Queen and Bay of Pigs.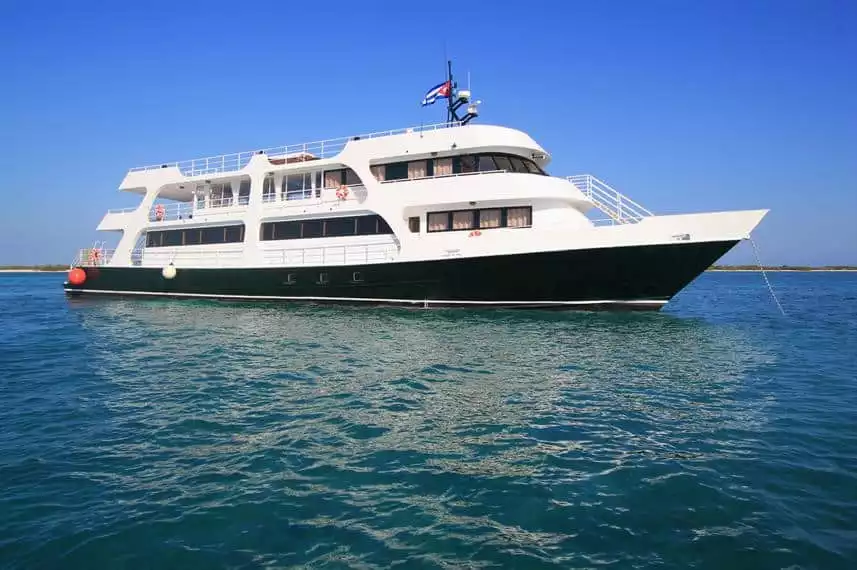 We like most, love the lavish Avalon ii. It stops off at all the best dive spots in Cuba including the sought-after Gardens of the Queen. The ferry boasts three decks that all offer something different. The top deck showcases a jacuzzi and a space to lounge in the sun. In total there are four lounges and plenty of places to chill in-between dives when you're enjoying coral reefs, reef sharks and liveaboard diving.
The best way to make the most of this Cuba Liveaboard is to enjoy 7 days and 6 nights. 
Visits Gardens of Queen
4 Decks
Jacuzzi
Lavish bar
10 Rooms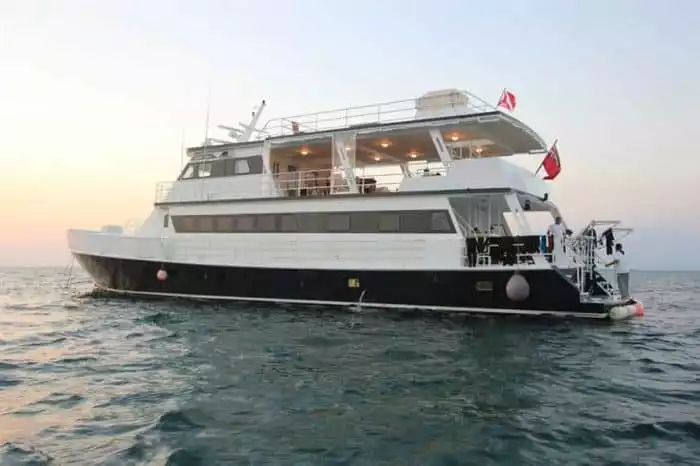 Avalon I Liveaboard
Pros:
It visits Jardon De La Reina​

Has a jacuzzi​

Mixture of food​
Cons:
There's a newer version of this ferry service (Avalon II)​
Check Price on Liveaboard.com
We earn a commission if you make a purchase, at no additional cost to you.
If you want luxury but you want something equally as affordable, then the Avalon 1 is is your pick for a dive trip. It's a cheaper version than its successor and it still visits the likes of Jardines De La Reina during this Cuba Liveaboard.
It also has four decks and boasts a jacuzzi for all of the divers. The boat has been designed to offer great entertainment and places to relax when you're not scuba diving. The cuisine comprises of Italian, Cuban and Western food. 
Visits Gardens of Queen
4 Decks
Jacuzzi

A bar

8 Rooms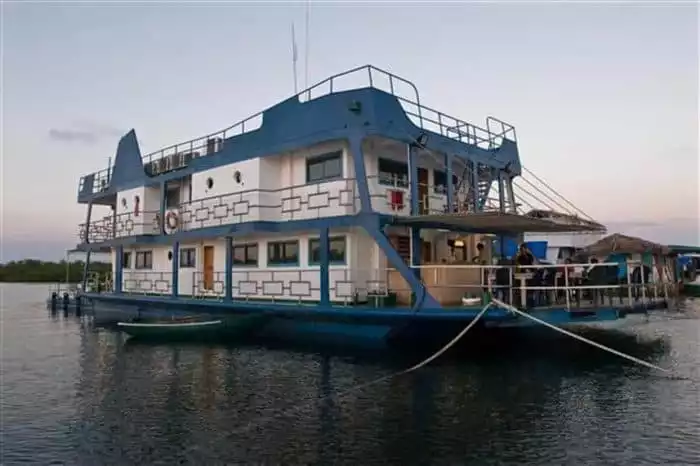 A total of 21 divers are able to enjoy this dive boat, which is certainly a unique one! It is permanently moored in a protected channel and at 34 metres long is more of a floating hotel than a boat. In fact, this is the best liveaboard for those of us that get seasick!
 It's a tighter squeeze than its counterparts, it sleeps 3 people per cabin. Although this ferry is an older design, it's super-comfortable and visits the most-sought after locations. 
Want to enjoy 3 appetising meals a day and a Cuban Cigar beforehand? This is your place, it's a hotel on water. 
Visits Gardens of Queen

Multiple Decks

Sun Lounge
"Marine Protection and Laws Have Ensured That the Sea in Cuba Remains Healthy and That They are not Affected by Overfishing."
Jardines de la Reina Marine Park
Also known as Gardens of the Queen, this is one for the bucket list. It is a protected area that's governed. No commercial fishing is allowed at this spot and it means that you will be privy to enjoying depths with sharks, sea snakes and colourful fishes.
Many visit to see the diverse range of healthy sharks and the incredible visibility that the location is blessed with.
* This dive site is only accessible by liveaboard.
Location: It is off the southern coast.
Species: sharks such as reefs, hammerheads, black tips, leopards and silkies. Sea snakes, turtles, snappers, groupers and more.
Visibility: 100 feet/30 metres
Temperature: 84 °F (29 °C)
You'll never forget the day that you visited the Bay of Pigs. Despite being famous for the Americans failed invasion, divers know it for very different reasons. It is the home of a shipwreck that makes for incredible discoveries.
You can relish other scuba diving there with a wall and 17-species of coral plant in the area. Simply kit up on the beach and enjoy the beautiful diving that's available.
Advanced divers should be sure to check out Punta Perdiz or the Jaruca wreck.
Location: Southeast of Havana. (North of Cayo Largo)
Species: 17-species of coral plant. Diverse fish.
Visibility: 164 feet/50 metres
Temperature: 84 °F (29 °C)
Jardines del Rey and Cayo Coco
Locals are proud of the conservation efforts and rightly so. They've preserved this area, one look at the coral reef and you'll be astonished. It is the number one spot on the Northern Coast and has garnered quite the reputation. 
As well as being a diver's spot, it is also ideal for snorkellers too. Prepare for crystal clear waters, Angelfish, Parrotfish and schools of tarpon.
Location: Northern Coast.
Species: Angelfish, Parrotfish, Tarpons & Spadefish.
Visibility: 100 feet/30 metres
Temperature: 82 °F (28 °C)
This one's reserved for advanced divers that have experience. The Spanish war dating back to 1898 still has remains. The wrecks are there to be seen although the rough seas mean that you should be advanced and carry out research beforehand. Check you're comfortable before visiting.
Location: Mouth of the harbour at Santiago de Cuba.
Species: Varied species.
Visibility: 100 feet/30 metres
Temperature: 82 °F (28 °C)
If you're searching for luscious beaches and some of the most incredible diving sites then Cayo Largo is the place for you.
Find reef fish, sharks, turtles and other thriving marine life. Cayo Largo showcases a long list of amazing diving locations.
Known for turtles and lots of thriving animals above the surface, this destination attracts divers. and non-divers alike. The perfect tourist area and if you are hoping to dive then check out the Avalon II for options to visit this spot 
Location: Canarreos Archipelago.
Species: Turtles, Reef Fish & Sharks.
Visibility: 100 feet/30 metres
Temperature: 73-86 °F (23-30 °C)
What You'll See on a Cuba Liveaboard
After reading through the various dive sites, you will be able to grasp the variety that's available in the beloved nation. You can visit Garden of Queens for just about every shark you can imagine, or you can visit walls and wrecks at other sites.
Best Time to Dive in Cuba?
Fortunately, it's a place that you can embrace all year round. Nonetheless, here are some important details about the best time to scuba dive.
Best sea conditions during the dry season, which is November to April
If you visit during May, June or July then hit up the Southern Coast for favourable conditions
Hurricane season is from June to October in the Northern area.
Cuba's water temperature remains hot all year round, offering the perfect dive conditions. The water has a high of 30.2°C and a low of 26.4°C.
Here is a chart showing the Cuba water temperature by month.
Not sure if diving in Cuba is the perfect location for you?
Why not start off by reading my blog on where you can find some of the locations for best diving liveaboards for more of a steer?
Or you can always find out more by reading the best diving in Cuba.
Still confused as to what a liveaboard is? Head on over to my ultimate liveaboard guide to learn more!
Which Liveaboard to Choose?
We have listed the best Cuba liveaboard options at the top of this page. I only believe in Liveaboard.com and not the hundreds of lone rangers that provide a service.
This company are professional and guarantee luxury. 
There are many reasons to travel the Caribbean Sea by cruise. For divers, it allows a chance to see several dive sites all in one experience. As divers, we're not as interested in land activities that will distract us from what we love. 
Plus, it's important to remember that Gardens of Queen is the main attraction and it can only be accessed by liveaboard members.
Enjoy all of the caribbean reef, marine life and sharks during a dive trip of a lifetime- we have helped you pick out the best Cuba Liveaboard and have also checked out the best dive sites such as Jardines De La Reina.
How to Book a Cuba Liveaboard
Booking your dream dive holiday has been made easy, follow these steps:
Scroll through the options I have presented on this page.
When you find one you like, click the button. Don't worry you won't be committing to anything.
You will be able to then check details, dates and rooms on Liveaboard.com.
When you're ready, look at the T&C's and leave your deposit to secure a space on the luxury boat.
Jardines De La Reina Liveaboard Reviews
Discover people's reactions to Jardine De La Reina and the liveaboard experience in Cuba.