A beautiful little mask that has the best of both comfort and low volume. This is a favourite across the world of freediving as well as scuba.
Aqualung's range of low volume mask fittings for scuba diving have grown more and more popular over the years – and there are plenty of great reasons for this! In this Aqua Lung Micro Mask review, I'll take a look at why this is the best mask for newbie divers and more.
If you have already used Aqualung masks before, then you may know what you're getting into. However, as always, it's worth reading up on the specifics! Let's dive into what makes this such a great mask for scuba diver and freedivers alike.
Perfect For: Scuba divers and freedivers looking for a fantastic diving mask that maximises peripheral vision - this is a top mask that allows you to see more of your view without having to lose comfort.
Unboxing the Aqualung Micromask
Even looking at the Aqualung Micromask face-on demonstrates that this is perhaps the lowest volume fitting the company has ever produced. With two viewing windows, there's an impressive amount of clarity.
Unlike other masks, it's clear right away that this model offers a kinder fit to the face. Trying on, it fits perfectly to your main contours while reducing the internal volume. Smoothness around the facial contours not only makes for a comfy fit, it also helps to expand the field of view. We were seriously impressed with this compact comfort.
Other Scuba Masks You May Like
The main positive to take away from the Aqua Lung Micro Mask is that it's extremely fit-efficient. As mentioned, it's streamlined to general facial recesses, which means it is always nice and easy to remove. It also means that free divers can expect a wider field of vision, with your ocular range extended. The low profile fit here, too, also means it's the perfect mask for efficiency during free diving. It will naturally mold to your face – from nose piece to facial skirt.
As mentioned, if you are looking for something that not only morphs to natural facial recesses, but which also helps to improve your vision while free diving, you may well have a new favorite mask in this model. That's beyond the fabulous tempered glass lenses, too.
The low internal volume and ocular boost really does have to be tried to believed – the diving community has taken to this mask not only for the pinch free fit, but also the great field of view. Ideal for free diving with marine life, there's no longer the need to move your eyes up and down for the best vantage point. Most masks don't go so specialist in this regard. Thanks to the low volume, your eyes are very close to the lenses – it's a really compact design that's really genius!
Beyond the super low volume and ocular orbit lenses, the Aqualung Micromask is superb with regard to ease of adjustment and management on the go, even when wearing gloves. There's a push button function that allows you to move the double joint buckle fittings in and out as and when you need to. Therefore, it's a misconception that the Micromask is only ever going to fit smaller faces – small face or large face, while small and slow profile, this mask is always going to be versatile to your needs.
If you are not sure if the Micromask is for you, make sure you take a read of my full list of the Best Dive Masks Review for more of a steer.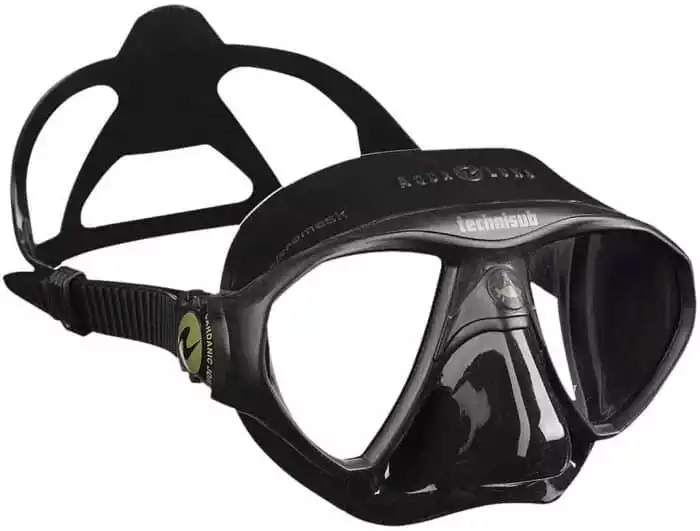 We were really impressed with the way the micromask sits with such comfort when worn. I tested it with my friend who has a different shaped face to me, both of us had no problem creating a smooth seal with it aligning perfectly with our natural facial recesses.
The low volume and counterposed push button activation are a treat. The straps are quick and easy to adjust, even when wearing our thick gloves. I always find that masks with cardanic joint buckles are the ones to go for, and Aqaulung does this well. It makes adjusting the strap buckles up and down so easy. And for the low volume, well, it makes it almost feel as though you have nothing on your face.
I do like this mask. I can see why the skirting is clear, to increase that range of vision, but clear skirting are never my first choice. Then again, clear skirting is great for beginners and with it's low volume and ease of clearing, this may be the perfect first choice mask for new divers!
Other Scuba Masks That You May Like
Check out some of the other scuba masks that I've reviewed.
Incredibly low internal volume but excellent peripheral vision – brings you closer to the action
Low profile design can reduce drag, and improves stability
Cardanic joint buckles strap securely no matter your face or head size
Extremely comfortable frame, fits naturally to your natural face recesses
Very affordable to the new freediver
Perhaps not the most technical mask to wear – what you see is what you get
Not compatible with prescription lenses. 
Recent Posts