Everyone wants to breathe safely underwater and the diving regulators allow you to do this.
As a scuba diver, and in my opinion, your most important pieces of kit are your regulator, mask and computer. Purchasing a regulator may just be one of the most important purchases of your life.
It's no small investment and, as with any equipment, it really helps if you have tried it before you splash out the cash. Before you do that, take a read of the important information below.
My Top Scuba Diving Regulators
The function of the scuba regulator is to reduce the high air pressure within the scuba cylinder to match the ambient pressure surrounding you, thereby enabling you to breathe comfortably. I've shortlisted five brilliant regulators suitable for all types of recreational divers.
Best for Environment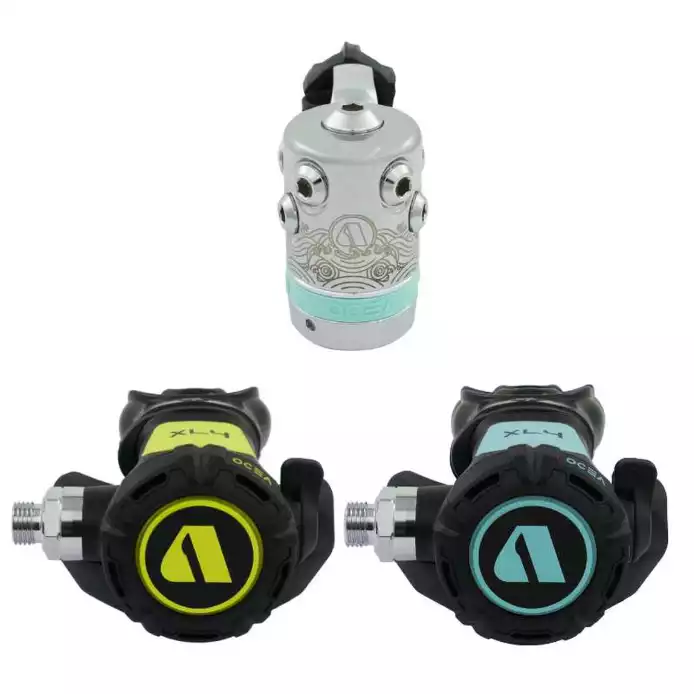 Introducing the Apeks XL4 Ocea regulator – a revolutionary bit of dive equipment that prioritizes eco-friendliness in its manufacturing process – . The set is made from recycled materials and a new type of bio-plastics, and the factory where it is produced is powered by solar energy.
Apeks has set a new standard by creating the most environmentally-sensitive regulator in the world. The XL4 Ocea utilizes lead-free brass that can be recycled indefinitely and helps remove approximately five times its weight in plastic from the environment – one of the first brands to explore this, see why I said revolutionary?
The XL4 Ocea's first stage is based on the well-known and reliable DS4 platform, which features an over-balanced diaphragm design in a compact 1st stage that is suitable for both cold and warm water dives. With 2 high-pressure ports and 4 medium-pressure ports, this regulator offers versatility in its usage, whilst simultaneously satisfying even the most eco-conscious of scuba fans.
Specifications & Features
Best for Cold Water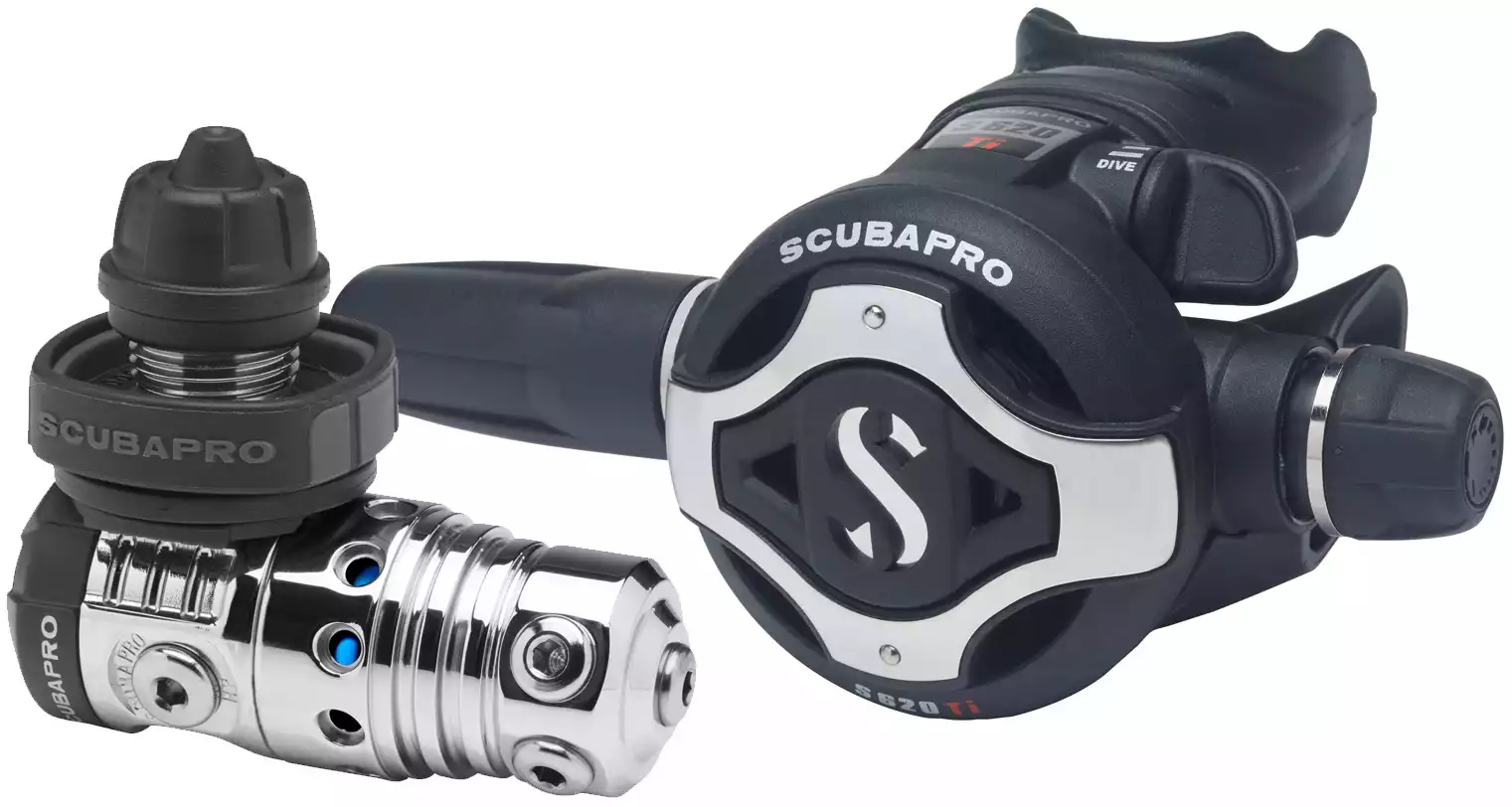 The Scubapro Mk25 EVO S620Ti/S270 Regulator Set brings together a high-performance first stage with an air-balanced second stage for optimal diving. With exceptional resistance to freezing, superior inhalation sensitivity, and immediate air delivery, the MK25 EVO provides excellent high performance which is a great choice for a cold water scuba diver.
Additionally, the titanium inlet tube is lightweight, the large purge button improves water circulation, and the exhaust tee boosts performance and directs bubbles away from the diver's line of sight. Regardless of water temperature or other environmental conditions, this regulator system is a top choice for scuba enthusiasts.
The S620 Ti brings forward some of the best features of SCUBAPRO's famous S600 and enhances them with a modern, upgraded design that reduces work of breathing by 37% compared to the S600. Its compact and lightweight size is due to the use of the same-sized diaphragm as the S600.
Specifications & Features
Best for Beginners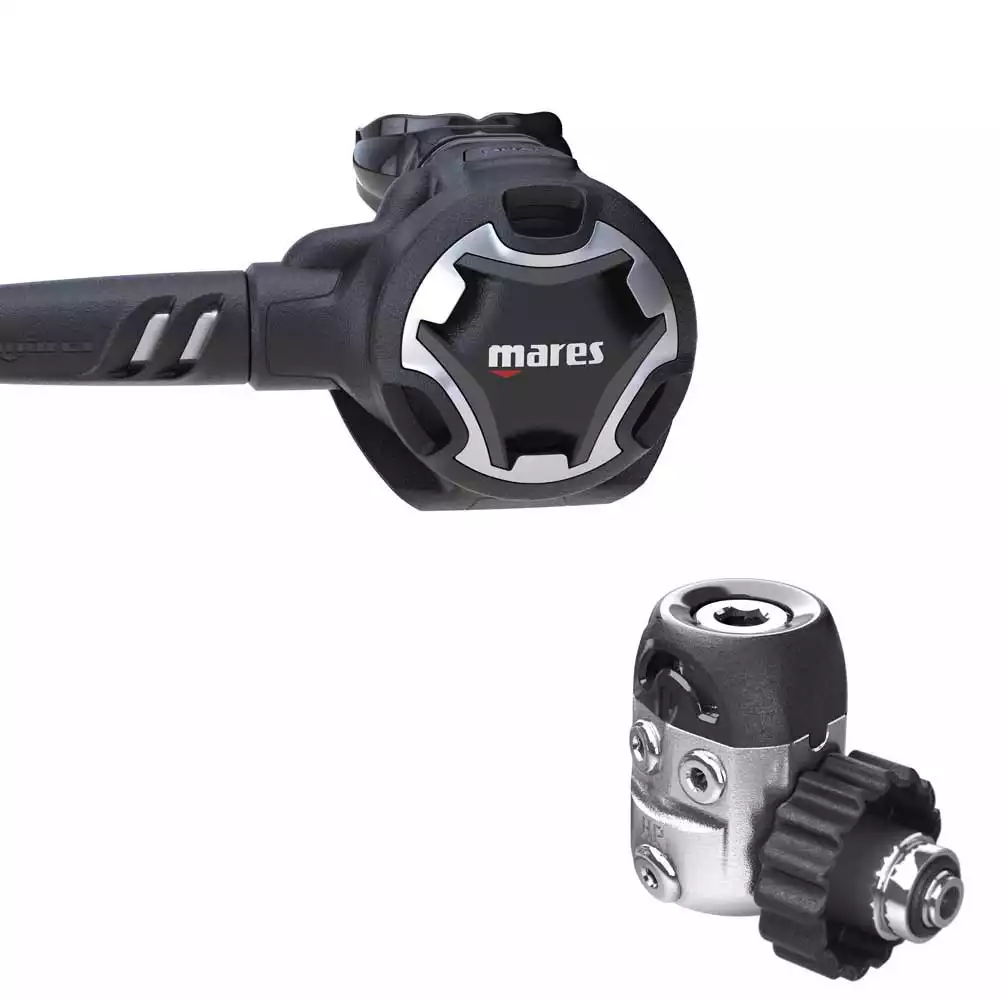 The Mares Rover 15X is a compact dive regulator that offers a blend of exceptional performance and affordability. It is an excellent choice for novice divers and those who frequently travel and require a reliable and easy-to-carry regulator. Mares hit the nail on the head with this one.
The Rover 15X boasts several innovative features, including the all-new ACT valve coating, which enhances the regulator's durability. The Dynamic Flow Control technology optimizes gas flow, while the Vortex Assisted Design ensures a comfortable and smooth breathing experience at all depths.
Additionally, the mesh grid design of the second stage is perfect for diving at dive sites where current is expected, helping to prevent free flow.
The Mares Rover comes at a great price too, so could also be a worthwhile purchase on a budget. This regulator is an ideal option for those new to diving and who aren't keen on renting equipment while on vacation but also do not want to invest in an expensive regulator set.
Specifications & Features
Best for Travel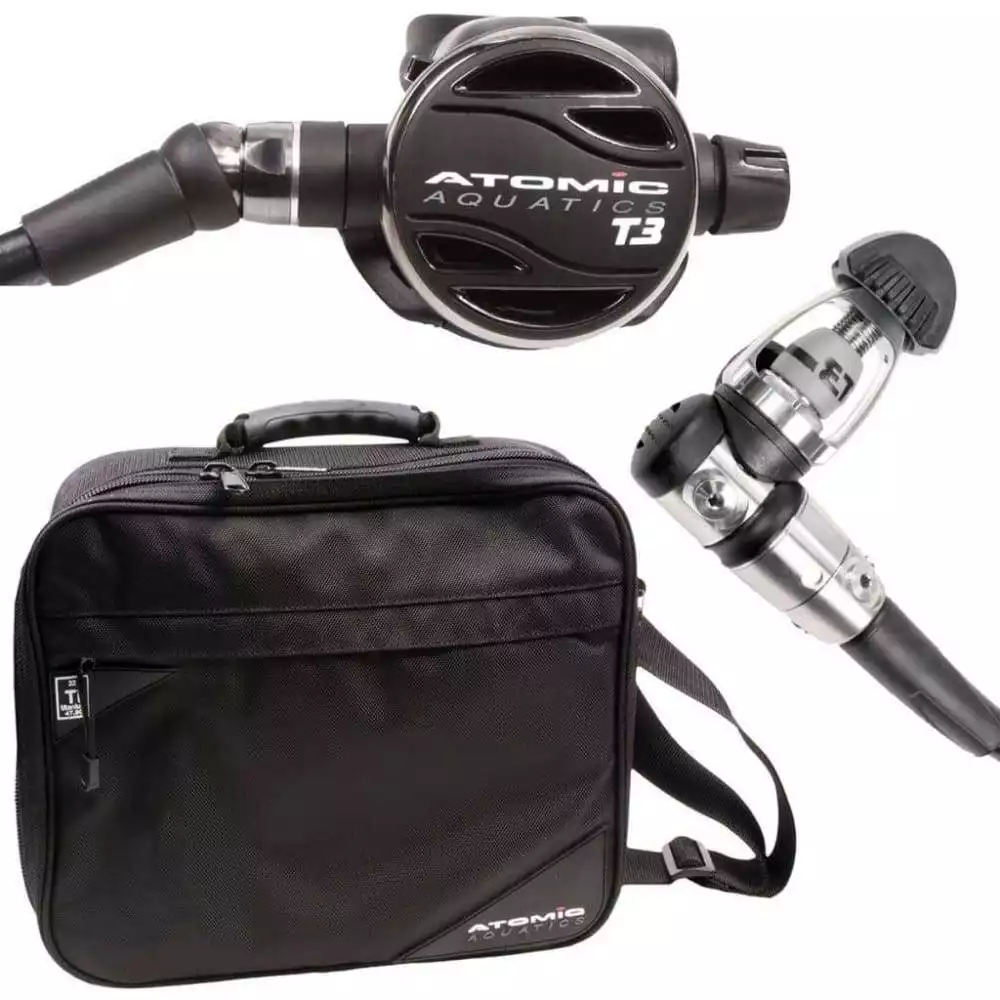 By far not the cheapest of the bunch, but this is the perfect travel buddy for your dive adventures.
The first stage components are precision-machined from solid bar Titanium, making it one of the lightest, high performance regulators on the market. It makes it resistant to corrosion and extremely strong and bound to last you a lifetime.
It is also one of the smoothest regulators to breath from that I have tried. The first stage has an innovative Atomic Jet Seat piston tat eliminates intermediate pressure creep, maintaining performance and reliability. The T3 is environmentally sealed, so it's another one on the list that's great for cold as well as warm waters.
The second stage features more Atomic innovations such as the Seat Saving Orifice which helps prolong the regulators performance, resulting in a longer period between services – this reg can last three years (or 300 dives, whichever comes sooner) before it needs servicing again!
Couple that with a lifetime warranty and you've got yourself an impressive bit of kit, worth every penny.
Specifications & Features
Best for Budget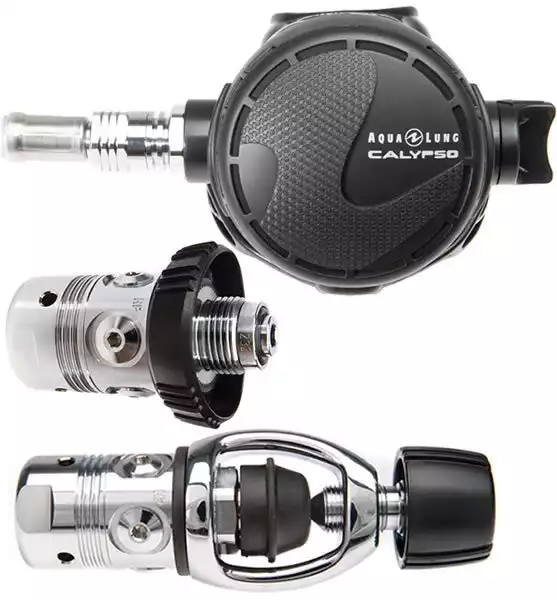 Aqualung Calypso
Pros:
Great value for money

Easy to maintain
Cons:
Not suitable for cold water diving
Check Price Scuba.com
We earn a commission if you make a purchase, at no additional cost to you.
Aqualung never fail to deliver. In fact, did you know that they were the first brand to design the venturi found now on many primary regulators?
The Calypso is a compact, lightweight regulator which is commonly sighted in dive centres across the world thanks to its durability and dependability. This is what also makes it a great choice for entry level divers on a budget, looking for a high performance regulator easy to maintain.
I would only recommend this for use in warm waters – it's unbalanced and is not environmentally sealed. However, you can add the environmental seal into the set up aftermarket.
Specifications & Features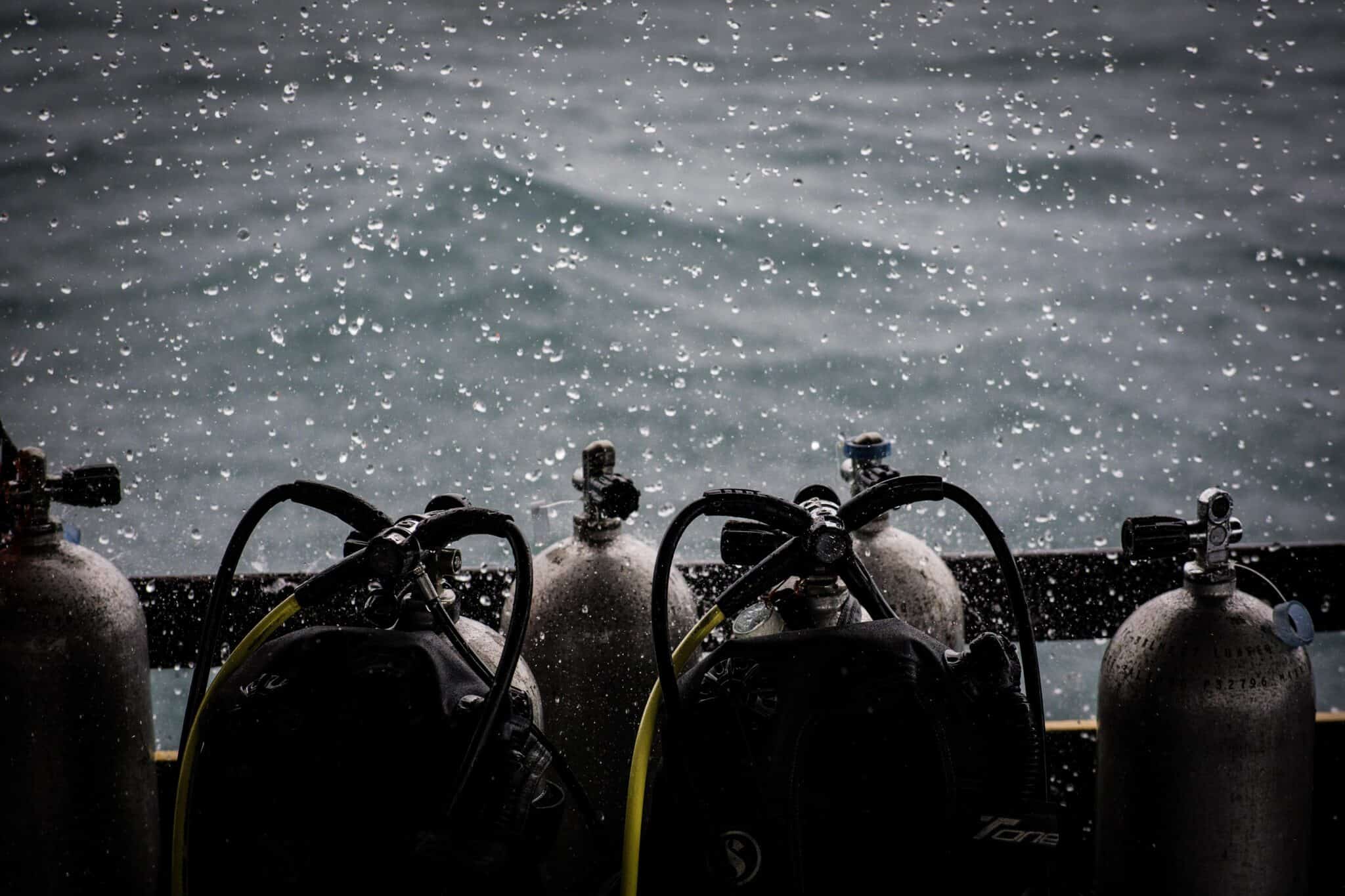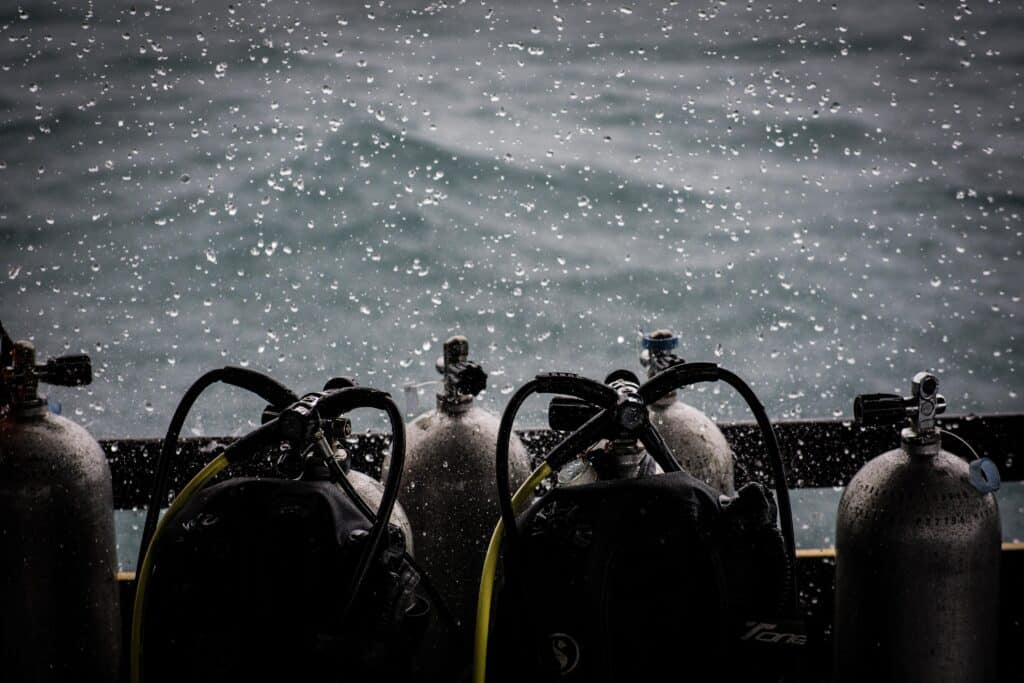 One common question you will get when talking to your local dive shop about purchasing a regulator is "Would you like DIN or A-Clamp?".
Let's start by saying you can dive with either but there are a few differences worth noting before you make that choice.
Initially, the yoke valve, also known as the A-clamp, was the norm in the industry. However, the arrival of the DIN valve from Europe changed the game. Technical divers embraced it because of its improved safety and the option of increased tank pressure – a working pressure of 300 bar.
DIN valves are continuing to grow in popularity, even amongst recreational divers. Their first stages are much smaller and lighter which make it a preferred choice for divers that travel a lot.
The yoke valve has a clamp set-up to hold the first stage onto the pillar valve. It puts an A-shaped frame over the cylinder valve, which is then tightened by a knob-handled screw, pushing the first stage against a sealing o-ring on the face of the tank valve. These types of valves can handle a working pressure of up to 232 bar – a normal cylinder pressure for most recreational divers.
On the other hand, the DIN valve has a sealing o-ring inside the first stage. The male thread on the DIN valve screws into the tank valve, securing the o-ring firmly in place.
Which one you chose really comes down to personal preference. Consider what type of diving you wish to do and, if in doubt, speak to your local dive shop – they often have a large range of regulators to view and test!
Can I Use a DIN Reg on an A-Clamp Tank?
Most tank valves nowadays have removable inserts, making them suitable for both DIN and yoke valves. However, if you find yourself with a DIN valve and only tanks with valves that accommodate yoke valves, you can get screw-on adapters that temporarily convert a DIN valve to a yoke valve.
What to Look for When Buying a Scuba Regulator
Whether you're a UK diver or warm water Red Sea diver, I've made a list of considerations to help you purchase the perfect regulator for your dive journey.
This is part of your life support system underwater, so I wouldn't advice buying a second hand regulator that looks bruised and battered. You may strike gold and come across a second hand gem, but don't let price be the main factor to influence your purchase. Buy the best that you can afford but it is worth noting that even budget regulators these days can offer good performance.
I would always opt for balanced regulators. They deliver that extra help at depth and a bit of resistance in the shallows, ensuring that your breathing is nice, consistent and comfortable.
Unbalanced regulators breath slightly harder at depth and when running low on air, which isn't always ideal, particularly for new divers.
If you are looking to progress your diving experience and venture to deeper depths or brave the planets cold water environments, definitely pick up a balanced regulator.
Any regulator you buy will perform well on providing you with the air you need, so there is no need to worry about not getting enough air. However, individual perception can play a role in this.
A lot of new scuba divers often feel as though they are unable to get a good amount of air. This can sometimes simply be down to shallow, quick breathing, a common (but not ideal) habit in many new divers. This can soon be overcome by breath work practice, learning to use long, slow breathing underwater.
Most regulators have the ability to increase or decrease the amount of air flow on your primary regulator – known as a diver adjustable venturi – a handy feature to have.
Your alternative air source can have a different spec, it doesn't need to be the same as your primary as it will only be used in an emergency. It may be worth picking an alternate that has a higher breathing resistance to reduce the risk of free flow.
A standard configuration generally sees a shorter primary air hose and a longer alternate. This is to ensure that you are streamlined in the water but can effectively deploy your octopus in the event of an emergency.
The hose set up for tech divers, and even recreational divers diving on a wing and back plate set up will differ – here it is the primary that is shared in an out of air situation, with the rescue diver switching to their alternate which hangs on a bungee cord around their neck.
Don't let configuration worry you too much though, your set up and hose lengths can be easily adjusted on any regulator.
Look for a regulator with two first stage high pressure (HP) ports. This can be useful, particularly if you are looking at linking up an air integrated dive computer alongside an analogue depth and air gauge.
Cold Water or Warm Water Diving?
As touched on above, if you are looking to do more cold water diving, it is worth a closer look at balanced, environmentally sealed diving regulators.
Most scuba diving regulators can be used in warm water, but not all can be used safely in cooler waters.
Cold water diving brings extra environmental and physiological pressures and it is so important that you are geared up adequately. For example, cold water regulators are designed to reduce the risk of the internal bits icing up. Warm water regulators are not designed to cope with reduced temperatures.
Opting for an environmentally sealed regulator ensures that water and debris cannot enter the first stage during the dive thus preventing ice crystals forming on crucial internal components.
When I dive in the UK, sometimes in 4 degree celsius waters, I am confident that my balanced regulator can handle the conditions.
How Much Does a Good Scuba Diving Regulator Cost?
The prices of regulators vary quite a bit. You could pay anywhere between £200 – £2000. The price you pay will depend on the materials used and the features it includes.
Those using some of the more hardiest or cutting edge materials, additional ports and other features will add significant cost to your purchase.
But remember, there are budget friendly regulators on the market. Just because they don't cost as much as others, doesn't mean they won't deliver on performance. All the above are tried and tested thoroughly to ensure that you have that important access to gas required to breathe safely underwater and keep you alive.
Recent Posts