Have you ever considered diving in the Bahamas?
The beautiful Bahamas attracts people from across the world due to its true beauty and thriving dive sites.There is a lot to explore- including the huge barrier reef, wrecks, blue holes, drift dives, massive drop offs and wall diving. 
No wonder it can be quite a daunting task to plan what to see and how to see it. 
Looking for a bit of direction? Read on to find out more about the best diving in the Bahamas…
Best Diving in Bahamas
| | | | | | |
| --- | --- | --- | --- | --- | --- |
| Name | Perfect for | Location | Depth (ft) | Temp  (°F ) | Link |
| Andros Wall | Intermediate | Andros | 6,000 | 75-80 | |
| Shark Buoy | All Levels | New Providence | 82 | 75-80 | |
| Sugar Wreck | All Levels | Grand Bahama | 20 | 75-80 | |
| Current Cut | Experienced | Eleuthera | 60 | 75-80 | |
| Tiger Beach | Beginners | Grand Bahama | 100 | 75-80 | |
| The Washing Machine | Experienced | Exumas | 55 | 75-80 | |
| Deans Blue Hole | All Levels | Long Island | 98 | 75-80 | |
| Sapona | Intermediate | Bimini | 50 | 75-80 | |
| Bimini Rd | All Levels | Bimini | 4,000 | 75-80 | |
| Conception Island | Experienced | Long Island | 45 | 75-80 | |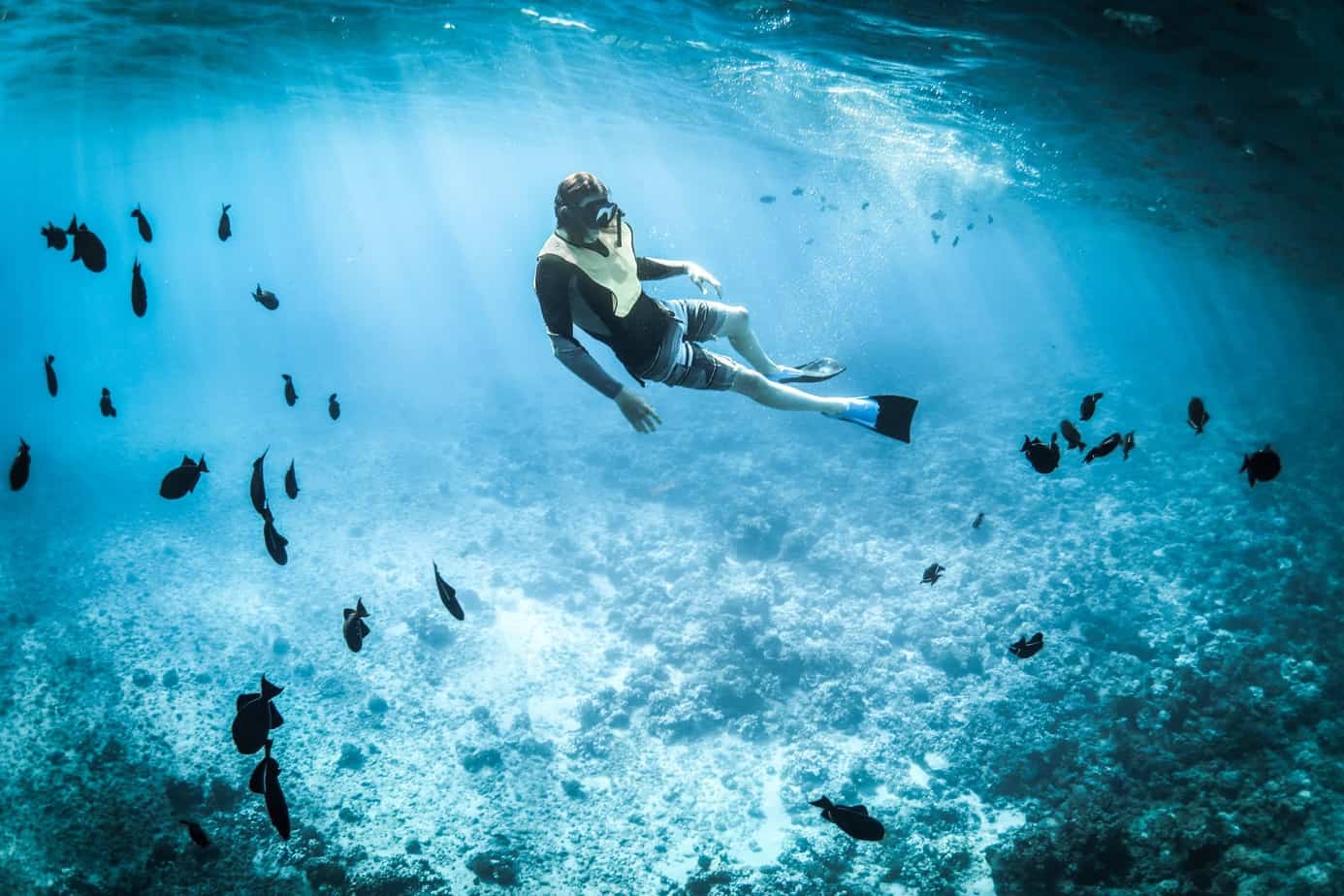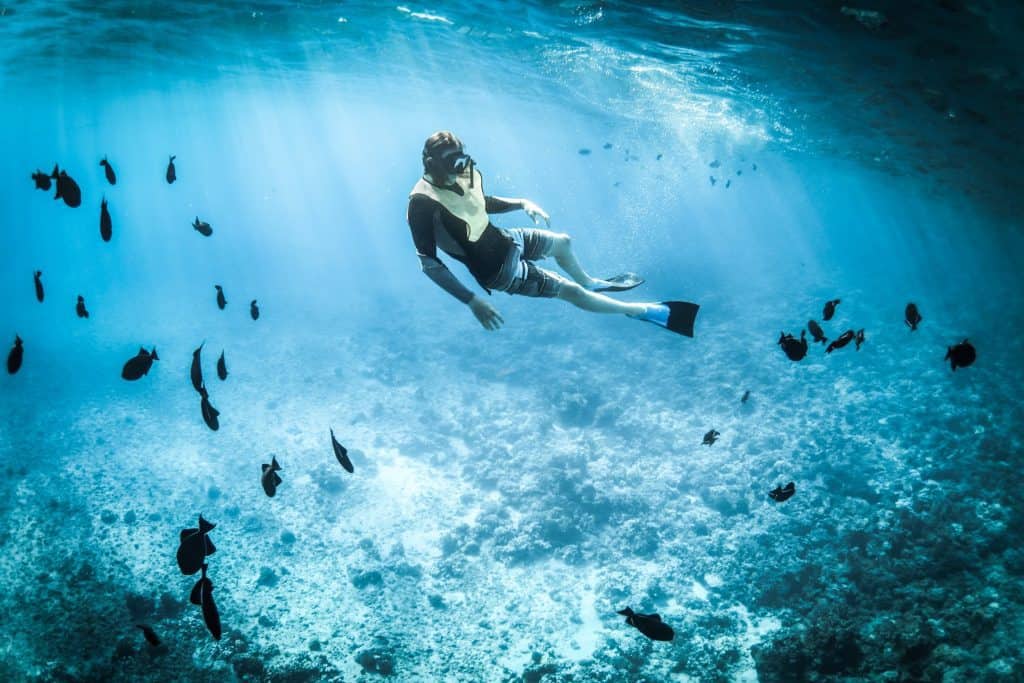 The quality of diving should come as no surprise, the country has been taking action to protect its marine life since the late 1950's. 
In recent times we have seen the introduction of the Shark Sanctuary.  And of course, we all know that an area where sharks flourish, is an area that everything can flourish in. 
Sharks here are now protected by law, the Bahamas is only the 4th country in the world to establish shark protection of this kind.
You will be able to revel in reef fish, bull sharks, shark diving, the third largest barrier reef and a whole load of great diving!
with over 200 dive spots and 700 islands, over 70% of visitors go by liveaboard.
Top 10 Dive Sites in Bahamas
If you wish to scuba dive Bahamas, then check out the must-visit spots. Ranging across 600 miles from North to South, there is a lot to see. Divers could return here year after year and visit new sites, never becoming bored with what the country has to offer. 
Scuba divers that love shark dives will have a whole array of choice with Bahamas being one of the best underwater world habitats for many beautiful creatures.
Here are the best dive sites in Bahamas.
Ranked as the number one wall dive in Bahamas, Andros is a must-see! 
It offers variety ranging from wall dives, wrecks and blue holes.  The wall itself runs to depths of 6,000 feet and it can be split into two dive sites – Over the Wall and Edge of the Wall passed the Tongue of the Ocean.  Not only do Caribbean reef sharks make regular visits to the wall, but smaller marine animals do too. This includes squid, sea bass, angelfish, butterfly fish and groupers. One thing's for sure, you'll be surrounded by a highly biodiverse environment.
Shark Buoy, New Providence
For a seriously unique experience, Shark Bouy is an hour's boat ride from New Providence, the capital island.  
In the middle of the ocean all you will spot is a large yellow buoy which attracts lots of marine life.  Divers from all over the world flock to this site to witness the feeding of sharks. It takes place over two tank dives- the first allowing to watch the gathering of over 20 Silky sharks. The second is to watch the feeding itself.  Look out for dive schools that offer the PADI AWARE Shark Conservation speciality to enhance your experience.
Sugar Wreck, Grand Bahama
If you are into a bit of maritime history then this wreck is a must for your bucket list.
It is an old sailing ship that sank grounded many years ago whilst transporting sugar.  This wreck dive is ideal for beginners as it lays in just 20-feet of water and boasts an amazing variety of fish from snappers, wrasse and parrotfish to its local Loggerhead turtle.
In contrast to sugar wreck, this is one for the more experienced divers.  This drift dive is created through a fast and strong current in a 100-yard-wide cute with water moving up to 10 knots, this dive is usually finished in just ten minutes!  Whether you plan to dive or not- it's well worth a visit, purely to witness the mesmerising colours and beautiful surroundings.
Tiger Beach, Grand Bahama
Hidden away approximately 20-miles off the coast of Grand Bahama Island is a beach that has grown to become world renowned.  As the name suggests, Tiger Beach offers divers the chance to witness the majestic Tiger Sharks in their natural surroundings.  If you are an avid photographer or simply in awe of the beauty of sharks, this beach will not disappoint.  The crystal clear waters bring in numerous shark species alongside the Tigers- including Lemon sharks, Caribbean reef sharks, Hammerheads and Nurse sharks.  Tiger Beach is a true reflection on the protection and its positive effects on the marine ecosystem.
It is one of the most scenic dive sites in Bahamas, it has a beautiful blue,  lots of coral reefs and reef sharks, plus, it also has a sandy bottom.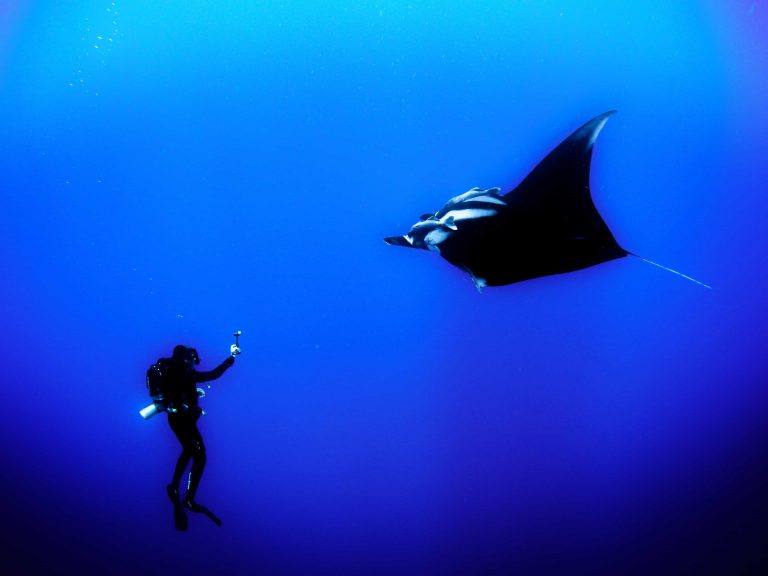 The Washing Machine, Exumas
Yet another unique drift dive that the islands have to offer. The Washing Machine is in the Exumas Cays and is a sought-after location diving enthusiasts. It sends divers to speeds of 3 knots through a small cut and off a ledge before making a hard left turn.  The name's derived from the movement of the water, during the dive. The drift and speed causes divers to swirl head over heels.  It's recommended that divers have previous drift diving experience before taking this one on. Even though the average depth of this site is only 17 metres, the current can be a bit overwhelming for some!
Deans
Blue Hole, Long Island
Want to know what it's like to see 202-metres of depth?
 Deans Blue Hole located in a bay west of Clarence Town on Long Island is one of the worlds deepest blue holes known.  In fact, this is also a great place for non-divers to visit. It is surrounded by a stunning beach, a beautiful walk, a rocky path and a viewpoint. You can enjoy this location and everything it boasts whether you're a diver or not.  It is often freedivers that flock to this dive site, with the Vertical Blue Free Diving Competition held here each year. 
Inside the hole, visibility is a nice 15- 30-metres. There is never any swell or waves inside the hole making it a suitable site for snorkellers and beginner divers.
Another one for those of you interested in wrecks and history, Bimini has several wrecks including Spanish galleons, a WW1 wreck as well as sinkholes and reefs making it an ideal location for novice and experienced divers alike.  In particular, the wreck of the S.S Sapona has an interesting history since its build shortly after WW1 from being used to store alcohol in the prohibition era to being used as a bombing target during WWII.  It now sits in 15 just a few metres of water and acts as a beautiful home to many different fish species.
You can enjoy shark feeding at Bimini with lots of hungry hammerheads waiting for their food.
Also known as the Bimini wall, this wall starts at 15-feet and drops to an impressive 4000-feet. Providing divers with a mystical experience- some tales that reveal that it may have been a man made formation. Believe it or not- some expedition leaders claiming that it may even lead to the lost city of Atlantis.  One look at the road does make you question the origin of the path. It resembles a paved road with tightly spaced, evenly shaped blocks.  Aside from the road itself, some divers are lucky enough to see dolphins frequent this area, which some people say are the spirits of the Atlantians!  Whatever you believe, the Bimini Road is an impressive and mysterious place. Ideal for snorkellers and divers of all abilities.
Conception Island Wall,
Long Island
A little trickier to reach than the other dive sites mentioned here. Conception Island Wall is pristine and untouched location, that I'd say is one of the best places to dive in the world. Divers can witness the beauty of the dramatic and colourful wall that is covered in sponge and coral formations. It starts at 14 metres and boasts amazing visibility all year round.
Not sure if diving in the Bahamas is the perfect location for you?
Why not start off by reading my blog on where you can find some of the locations for best diving holidays for more of a steer!
The Bahamas is a country made up of hundreds of islands, yet only about 30 of them are inhabited.  It can be tough to get around each and every site. You won't want to miss any of these top islands either- as most of them will be on your list.
The best way to reach every dive site in Bahamas, is to do it via a Liveaboard trip.
However, if you do not fancy the idea of a Liveaboard and are looking for  more freedom (and have the cash to do so) then flying to different locations is a possibility. There are 23 domestic airports that keep the islands well-connected.
Best Time For SCUBA Diving in Bahamas
The country is an all year-round holiday destination, yet the marine life, in particular the sharks do tend to vary seasonally. Ensure you know what you are aiming to see and why you are booking a dive holiday in Bahamas, before booking.  June through to October is considered the hurricane and rainy season. However, it is not a monsoon season will significantly change plans. Fewer tourists plan their trips during the mentioned time.
November to May sees warm and dry conditions and is typically the Bahamas high season for tourism.   If it is sharks you are looking for then this is the best time to visit. Expect to see Tiger Sharks at Tiger Beach from October to January. Look out for the majestic Hammerheads present at Bimini from December to March.
Recommended Diving Certifications for the Bahamas
There is a style of diving for everyone here, not matter what your preference.  Ensure you are well prepared for your trip by getting one or more of these PADI Speciality Courses under your (weight) belt.
PADI Deep Diver
PADI Drift Diver
PADI Wreck Diver
PADI Aware Coral Reef Conservation
PADI AWARE Shark Conservation
The Bahamas offer some of the most intimate and close up encounters with sharks in the world.  The diversity of sharks found within the Bahamas is spectacular, all can be seen dependent on location and season.  From the Oceanic Whitetip to the Hammerhead, Tiger shark to Bull shark, Nurse sharks to Silkys, surrounded by warm water with amazing visibility, there is no question why avid shark fans flock to this part of the world to witness the power and beauty of these apex predators.
Want to learn more about diving with sharks? Have a read of an article I wrote on diving with sharks and the effects of eco tourism here.
Recent Posts