Thailand is a wonderful diving destination and I was lucky enough to dive on a daily basis at the land of smiles.
Whether you're looking to explore Richelieu Rock, the Gulf of Thailand or other Similian Islands Liveaboard Diving then be sure to read on as I break down the Best Thailand Liveaboards in 2023.
South-East Asia is home to magnificent marine life, you may be lucky enough to find whale sharks, manta rays, seahorses and miles of stunning coral. 
Liveaboards are often the best way to check out multiple dive sites and with the sheer volume of things to see, it's best to follow a liveaboard itinerary and spend a full diving holiday in unforgettable dive destinations. 
If you're searching for crystal clear waters to enjoy at your leisure then-popular locations such as Similan Islands, Koh Tachai and Hin Daeng will appeal to you.
You will be offered a million liveaboards during your holiday BUT ensure that you use a trusted and world-reknowned company for booking a liveaboard
Best Thailand Liveaboards
Not sure if diving in Thailand is the perfect location for you?
Find a full guide on Liveaboards and all of the best destinations using my help. You can find a full pack list, destinations, the service and more using the ultimate liveaboard guide.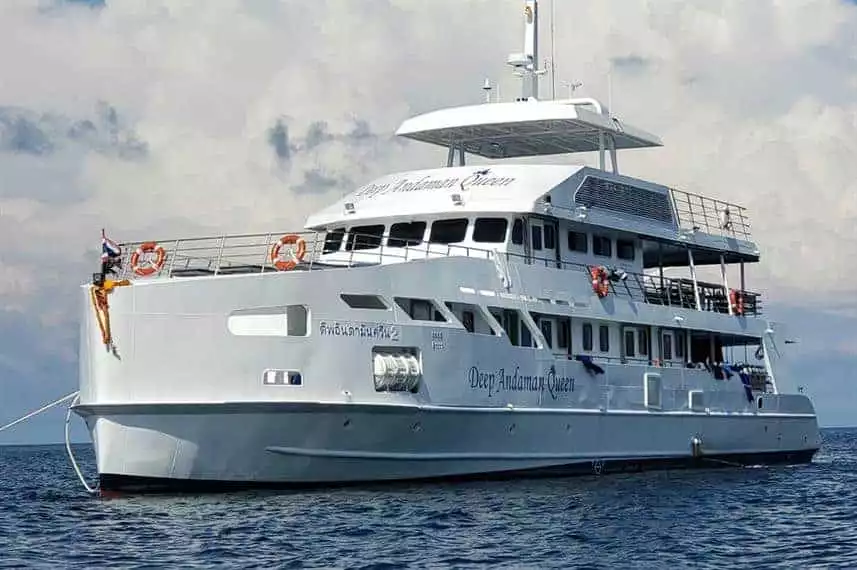 The Deep Andaman Queen is a much-loved Thailand liveaboard service which has been part of the Thai diving scene for many years. In fact, it's undergone something of a renovation in recent years. As such, it's now one of the biggest and most luxurious boats offering diving fun across some of the country's fantastic scuba diving spots.
The Deep Andaman Queen travels across the stunning Similan Islands, taking you to Koh Bon, Richelieu Rock, Koh Tachai – great for spotting rays, sharks and more. And, as you'd expect, this well-known cruise also checks out the Andaman Islands and its famous dive spots.
The crew on board at the Deep Andaman Queen works incredibly hard to offer you the best time and access to the best dive sites across the Similan Islands. Take time to relax in roomy cabins with full dining suites, and all the diving support you'll need to get closer to local marine life.
When checking out the Thailand liveaboard trips, it's well worth looking for a dive site or two that you really want to visit and ensuring that your liveaboard boats are schedule to visit.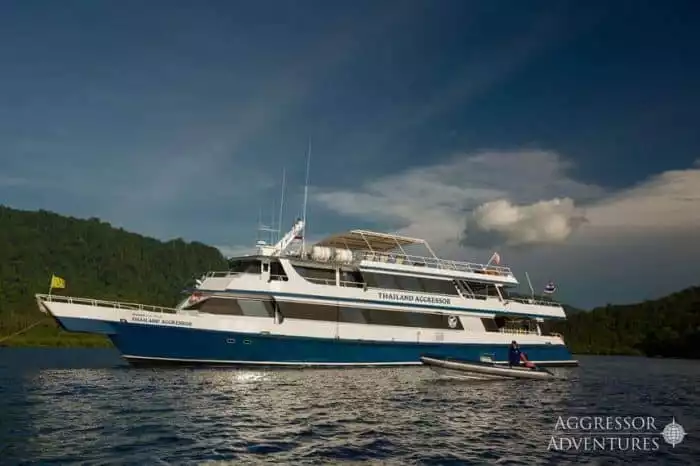 More expensive than other Thailand liveaboards on this list the Thailand Aggressor is a truly massive Thailand Liveaboard, offering scuba diving convenience for experienced divers and deep sea novices alike. You'll have fantastic access to the North Andaman Sea throughout the year.
As a truly huge Thailand Liveaboard at 35m, this incredible scuba diving experience offers plenty of space for up to 16 guests, as well as five optional dives throughout your days on board. When you're not busy taking the time to spy leopard sharks, reef sharks and manta rays, you'll be able to kick back and relax in your own roomy, luxury state room.
This Thailand liveaboard experience is likely to be more expensive than the other choices on my list. However, this is understandable – you only have to look at the extensive diving options and luxury suites available to understand you really get what you pay for. And in this case, it really is one of the best.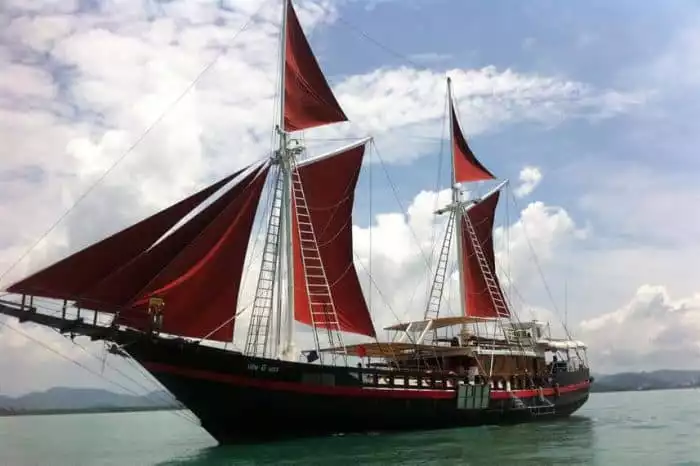 Hop on board this incredible liveaboard built like a traditional sailboat! The Phinisi is a classic liveaboard option which will take you across some of the best-loved dive sites that the Similan Islands have to offer. Comfortably welcoming up to 18 guests on board, this spectacular liveaboard offers full dining suites, in-room air conditioning, and an experienced and attentive crew. There are dive guides available on this Similan Islands liveaboard, too, meaning that if you are relatively new to scuba diving, help is always going to be on hand.
You'll have access to plenty of diving storage, as well as equipment and shaded deck launches for when you need
them. What I really like about the Phinisi is that it's one of the best diving experiences that you can customise. There are several dives off this liveaboard which take place each day, and you'll be able to tailor your dive holiday between four and ten nights as you desire. There are also plenty of cabin options you can tweak best to fit your budget, too.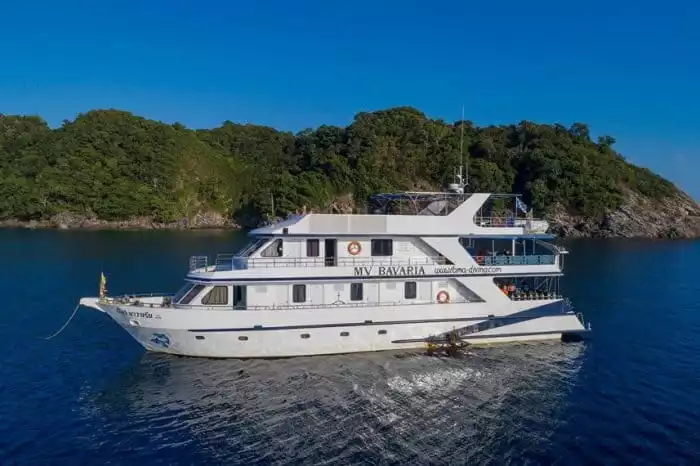 The Bavaria liveaboard is one of the most intriguing scuba diving holiday options available for people visiting the crystal clear waters of Thailand. It's a vessel which was actually built by divers, meaning that you already know you're looking at a custom boat that will attend to your scuba diving needs.
Beyond that, this liveaboard travels to some of the most stunning locations and diving sites across the Andaman Sea and beyond. You'll have the choice to explore the colourful Similan Islands, Richelieu Rock, Koh Bon, the Surin Islands, and even the hidden Mergui Archipelago – a rare treat for anyone who may have been on Thailand liveaboards before.
You can also check out the Shark Point and more with a scheduled diving trip to Koh Phi Phi. 
Of course, you can also expect a lovely, welcoming stay on board the vessel itself, with a full crew and instructor team. You'll also find there's lots of equipment to hire, and you can even arrange for a massage or two after a long dive. Why not?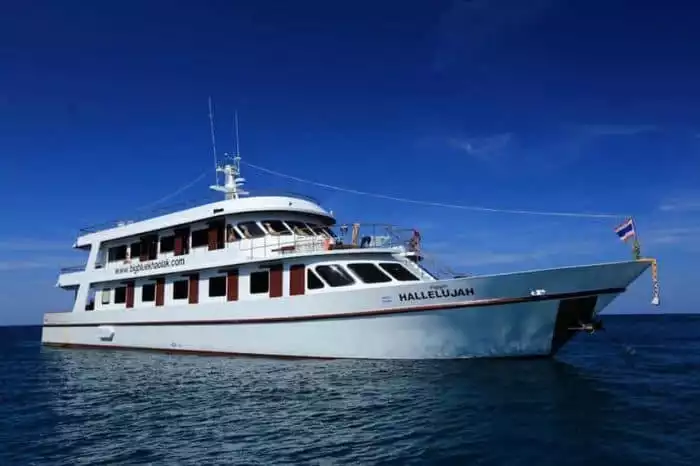 Hallelujah Liveaboard
Pros:
Great for watching whale sharks and manta rays

Lots of space available​

Small group diving​

Tours Koh Bon and the beautiful Similan Islands​​
Cons:
Ship design is a little dated​
Check Price at Liveaboard.com
We earn a commission if you make a purchase, at no additional cost to you.
Hallelujah is a superb Thailand liveaboard, offering tours around the best of the Similan Islands while ensuring you are comfy and well air-conditioned when you come back from your dives. There are luxury cabins available here, and what I especially like is the fact the holidays on board are largely charged at a flat rate. They might be a little more expensive than some of the other liveaboard options in Thailand, but are well worth taking advantage of.
This is a truly massive liveaboard! It easily welcomes 25 people, and has a huge array of entertainment and relaxation options. Therefore, you're likely to have plenty of room to stretch out after a long day of scuba diving.
Hallelujah also benefits from having amazing dive staff! The friendly, English-speaking crew won't just make sure you have everything you need for your dive trips, they will also make sure they are clean, ready and prepared for you when you next dive down through Elephant Head Rock, for example!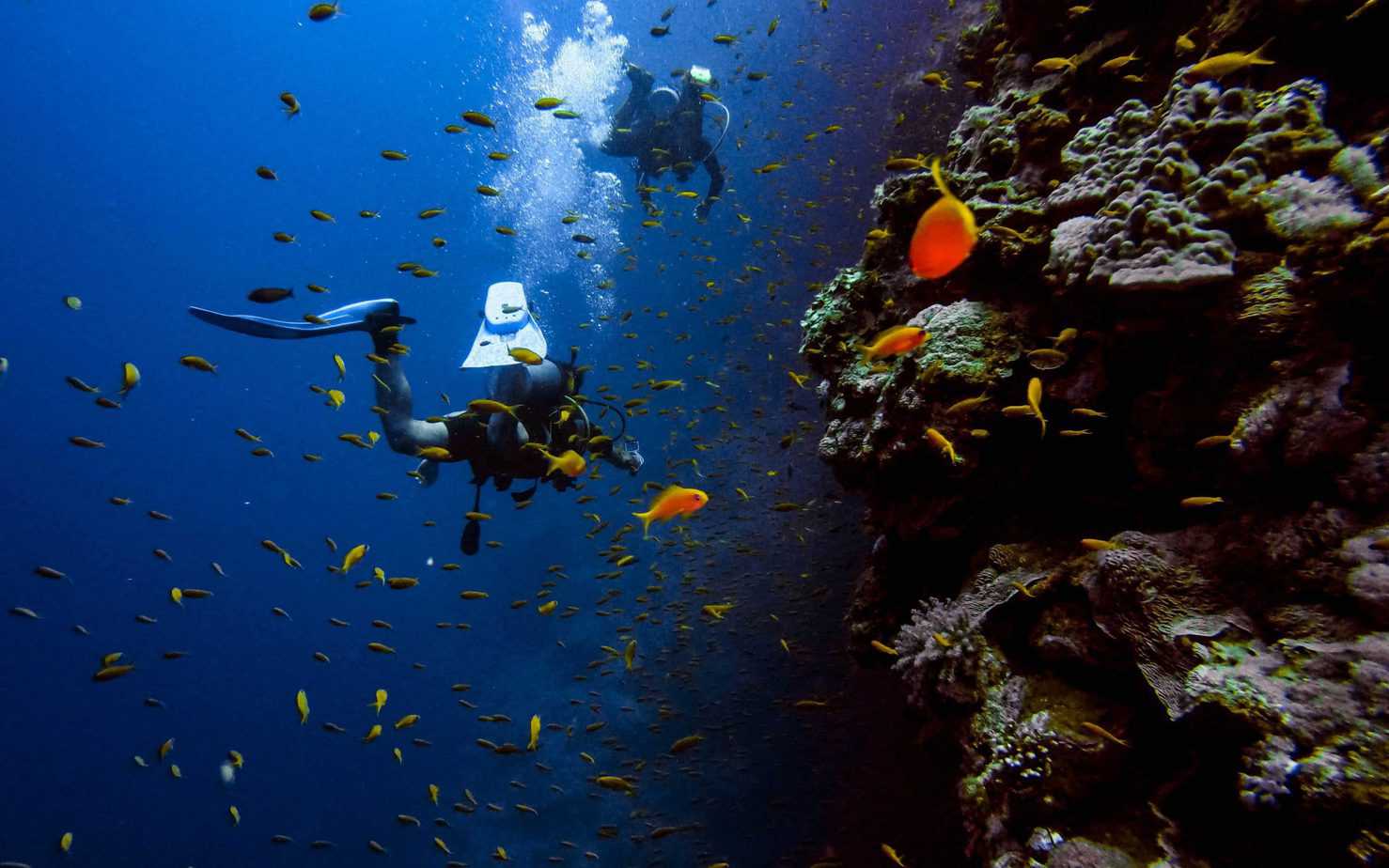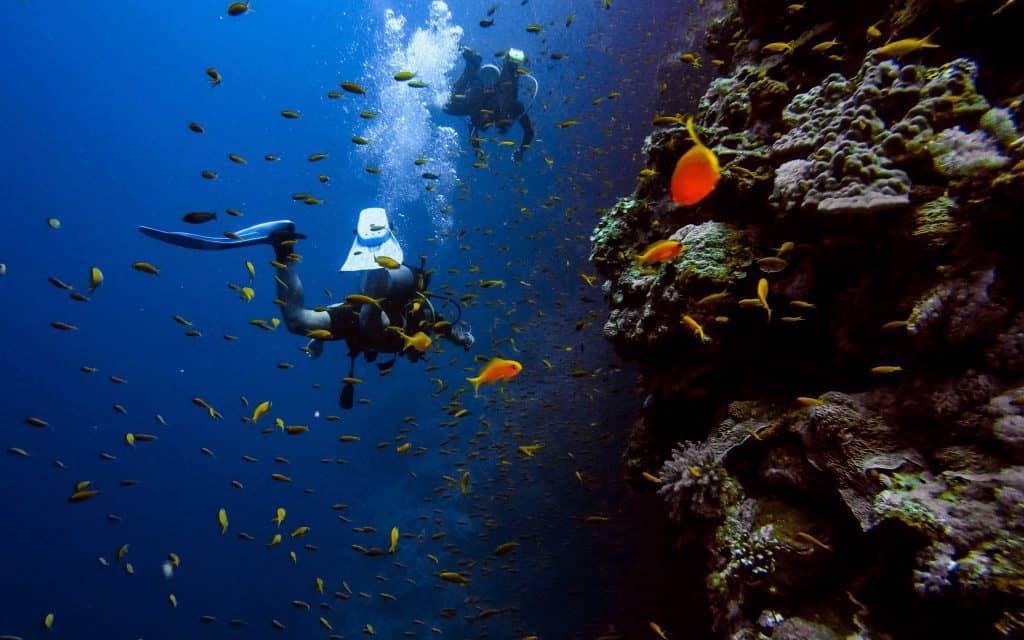 If you're keen to take a look at the Gulf of Thailand or the best diving sites the Andaman Sea has to offer, do make a point of checking out my full guide to the best diving in Thailand. It's a great accompaniment to this rundown of Thailand liveaboards – all in the name of finding you the best time while on dive trips out east.
If you're still reading this and unsure as to what expect on one of these trips, make sure you take a read of my guide to liveaboards to learn more about why these trips are incredible!
In the meantime, here is a quick selection of some of my favourite dives to wet your appetite.
This is a great dive location if you're looking to see leopard sharks up close and personal. However, it's also likely to be a great spot for exploring some of the most complex and visually stunning underwater swim throughs. However, do make sure you have a competent dive leader down here with you and that you do so with a bit of experience behind you!
Location: Koh Lanta
Species: Leopard sharks
Visibility: 30m+
Temperature: 27-30°C
You may well have noticed that some of the best Thailand liveaboard options on my list take you across the Similan Islands. That's no accident! These wide open waters take you up across the Andaman Sea, where you can spot all manner of sharks and rays. There's also the Similan National Park here for you to explore, too. Make sure to book a liveaboard Similan Island bound if you want to see some of Thailand's most stunning undersea landscapes up close and personal.
Visit Surin Island, Koh Bon, Koh Tachai, Richelieu and other famous dive site options.
Location: Close to Surin Islands, Andaman Sea
Species: Sharks, rays
Visibility: 20-30m
Temperature: 26-28°C
Visiting the East coast for a dive or two? You're going to want to tour the best that the Gulf of Thailand has to offer. Chumphon Pinnacle should really be towards the top of that list, particularly as it's home to all manner of colourful species! It's a diving experience which is likely best suited to divers who have been in the game for some time, however.
Get on board a Thailand liveaboard and experience it all with a dive team.
Location: Gulf of Thailand
Species: Fish schools, crabs, coral
Visibility: 10-20m
Temperature: 20-28°C
Note: Watch out for the thermocline at 18-20 metres accompanied with a drop in visibility and temperature!
Are There Any Similan Islands Liveaboards?
Most Thailand liveaboards visit the Similan Islands as it has popular dive sites. All of the liveaboards mentioned in our list are all Similan Islands Liveaboard Diving Trips, this includes:
The Deep Andaman Queen
Thailand Aggressor
The Phinisi
Bavaria Liveaboard
Hallelujah
There are plenty of sought-after places to visit in this area with Similan & Surin Islands, Similan & Koh Bon and there are also other locations visited by the Similan Islands liveaboards.
Do I Get Free Dive Insurance?
Dive insurance is not included in the liveaboard booking and you will be responsible for purchasing your own. This is quick and easy to do online, some liveaboard boats will ask for proof of you insurance policy. 
In some cases you may receive free dive insurance with the trip but this is rare. It will also be an additional add-on with some operators. 
How Much Does a Thailand Liveaboard Cost?
Thailand liveaboard diving ranges from 20,000 Baht to 60,000 Baht for a 5-night trip. This is a lot for your money, with the country hosting the most affordable liveaboards in the world. Most liveaboards depart from Khao Lak or Phuket, Thailand and visit the Similan Islands. 
Liveaboards will vary in price and it's worth ensuring that you opt for a trusted operator. 
If you're concerned about prices and want to know more, then read my full article on how much scuba diving costs.
Why Book a Liveaboard in Thailand?
Liveaboard diving in Thailand is convenient, comfortable, affordable and fun. There's lots of variety. Liveaboard options across Thailand will take you to some of the most stunning dive sites across the Gulf and the Andaman Sea. What's more, you can sail across it all, and dive whenever you want to, from the comfort of some truly luxurious cabins.
Liveaboard diving in Thailand will vary depending on the cruise company and the trails you take. Therefore, it's really worth comparing the best options available before you make a firm choice. Some will take you to from Khao Lak to the Similans, others as far as the Mergui Archipelago. Use my list as a launching pad and see what you can spot!
Thailand Water Temperature
Thailand's water temperature remains hot all year round, offering the perfect dive conditions. The water has a high of 30°C and a low of 27°C.
Here is a chart showing the Thailand water temperature by month.
What Are You Waiting For?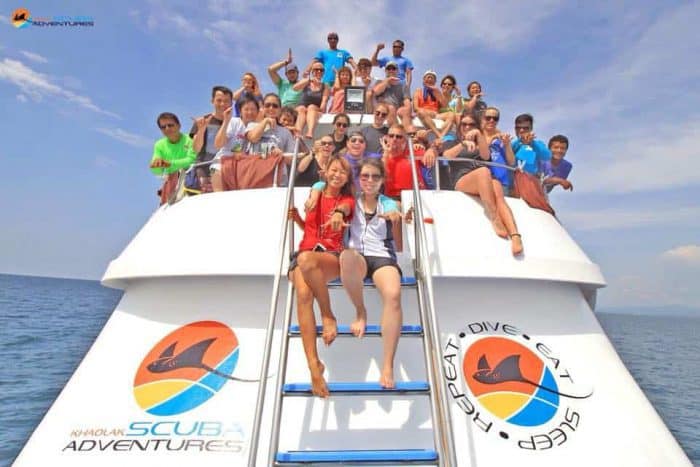 From the Similan Islands to Khao Lak, Thailand and its diving sites are waiting for you to explore them. Why not book a liveaboard?
It's like a cruise holiday, but with the added bonus of you being able to explore the local depths and watery wildlife along the way. Be sure to check out my top picks above, and once again, do read my full guide to the best Thailand dives.
My personal favourite are over in the Andaman Sea.  The Similan Islands blew my mind and I was lucky enough to jump on one of the great liveaboard diving boats the area has to offer.  I have heard that the Surin Islands are well worth a visit too.
Thailand is one of the best places to experience your first scuba diving liveaboard.   I can guarantee you will have the best time exploring the Andaman Sea and Gulf of Thailand, all from the comfort of your own air conditioned room.  Rolling out of bed in the morning (and into the water) has never been better!
Other Liveaboards You May Like