This mask made my Best Scuba Masks review – now I'm going to tell you why I was really impressed with this bit of equipment…
The Hollis M1 frameless mask is built to offer purely distortion free vision – and its fantastic clear class window certainly seems to be turning heads in the scuba diving community. Of course, all scuba divers are looking for that perfect field of vision – so what is it about the Hollis M1 mask that really sets it apart from the rest of the pack?
Having tried the Hollis M1 on for myself, albeit in a pool environment, I thought I'd give you a complete lowdown on why this mask might just be the asset you need when it comes to a wider, more comfortable dive. I'm going to be honest and say it…this mask closely rivals my Tusa Visio Pro. Keep reading before you buy any masks – and certainly before you go scuba diving next!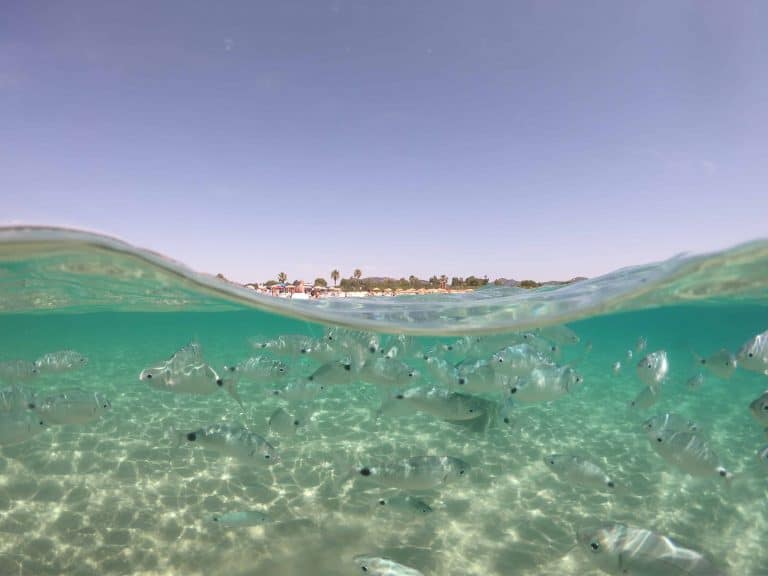 First of all, the incredible balance between low volume and a great field of vision mean you're guaranteed a super clear diving experience. What's more, I love the fact that the silicone skirt on the Hollis M1 is thinner to allow for the clear lens to reach your eyes more easily. Optical quality likely hasn't been more refined – yet.
Very comfortable to wear underwater, the Hollis M1 frameless is likely to fit the average person and the average face, and will handle quite a bit of pressure. What's also worth mentioning is the fact that it is reduced green tint inherent – meaning it already outperforms even the second best mask on the market.
This tends to be a great buy for a free dive enthusiast as well as anyone who loves getting their gear together for scuba. The frameless build is super smooth and will appeal to the average diver who wants to look good. It won't pinch the nose, and it's soft on the face elsewhere, too – with a strap system that's always easy to manage across your dives.
Why Buy The Hollis M1 Frameless Mask?
The Hollis M1's main selling point is absolutely is field of view – it's a great mask just from first glance! Even from looking briefly at the design, you can tell that this is a mask that's got an extremely wide field of vision.
However, there's more to it than just size. This mask fits the bill thanks to its Saint Gobain diamant crystal clear manufacture – and what's more, the lens is made from extremely low iron – a perfect attribute for performance in low light environments That means you can expect a distortion free experience while diving, and that what you see is largely 100% pure ocean life! 
This mask is also made of high quality material throughout, meaning you not only benefit from clear glass and high light transmittance, but also anti fogging, comfortable buckling, and a great seal against water ingress. You only have to check out customer reviews to see more of what I mean.
Honestly? There's next to nothing I can say about this mask that's likely to be a 'con'. It's an exceptional build that really does push visibility to the max. The Hollis M1 frameless is a safe purchase for anyone who is already struggling to see much in the deep, whether that's due to fog, window size, or any other problems I've mentioned.
The Hollis M1 frameless mask is a mid-priced purchase, meaning you can normally expect to pay more than £70 for this kind of visibility. Average customer reviews, meanwhile, advise you won't have to search elsewhere for a better quality mask – so don't just take my word for it.
The Hollis M1 frameless is a line I can really get behind when it comes to exceptional light handling and visibility. Yes – all diving masks are built to give you clarity – but the Hollis M1 mask simplifies it all, instead focusing on scaling back unnecessary features and beefing up the vision.
The Hollis M1 frameless wasn't released too long ago, and it's still competing well with leading masks on the market – if your a fan of the Oceanic Shadow, you'll be a big fan of this one. Give the clear glass a try – check out your local diving store, or post review, be sure to check out Mikes Dive Store. Either way, you'll be glad you purchased this mask – it sets a very high bar!
 Very comfortable
Excellent field of view
Close fitting so suitable for freediving too
Robust design
Can't say I have a reason to avoid this one!
Recent Posts
link to Cressi Giotto Review
Famed for its ease of use, this robust and reliable computer is a pick for many recreational divers. But before committing to this computer, you'll want to hear my thoughts on the dive modes...
link to Best Air Integrated Dive Computers
Upgrading your computer to an air-integrated dive computer can be stressful and costly. It's not an easy task and is one that should be done with due diligence. But luckily as long as...