Fiji is one of the most fascinating diving holiday hotspots in the world. It's great for beginners as well as expert divers, the South Pacific is home to some of the most stunning marine life biodiversity.
Not only that, but many divers love Fiji for the fact that it's replete with so much soft coral and some of the most beautiful dive sites. There are walls and passageways down deep which are thick with corals – and in fact, it's likely you'll see the region referred to as the soft coral capital of the world once or twice!
Therefore, why not head out to Fiji for liveaboard diving? These trips are the best way to explore. If you are new to this mode of travel, make sure you read my ultimate guide to liveaboards to find out more!
The best Fiji liveaboard diving will give you plenty of chances to get deep into the soft corals the South Pacific is known for. What's more, dive down deep enough into the best sites and locations, and you'll likely find manta rays and more local creatures to swim alongside.
Looking for a cornucopia of marine wildlife and stunning coral displays? There may be no diving resort better than Fiji for intriguing sights down deep. Take a Fiji liveaboard across to the islands and be sure to sample the deep, clear waters for yourself.
Which Fiji Liveaboard to Choose?
"One-stop booking with a liveaboard makes the entire experience effortless and more enjoyable."
RECOMMENDED LIVEABOARD AGENCY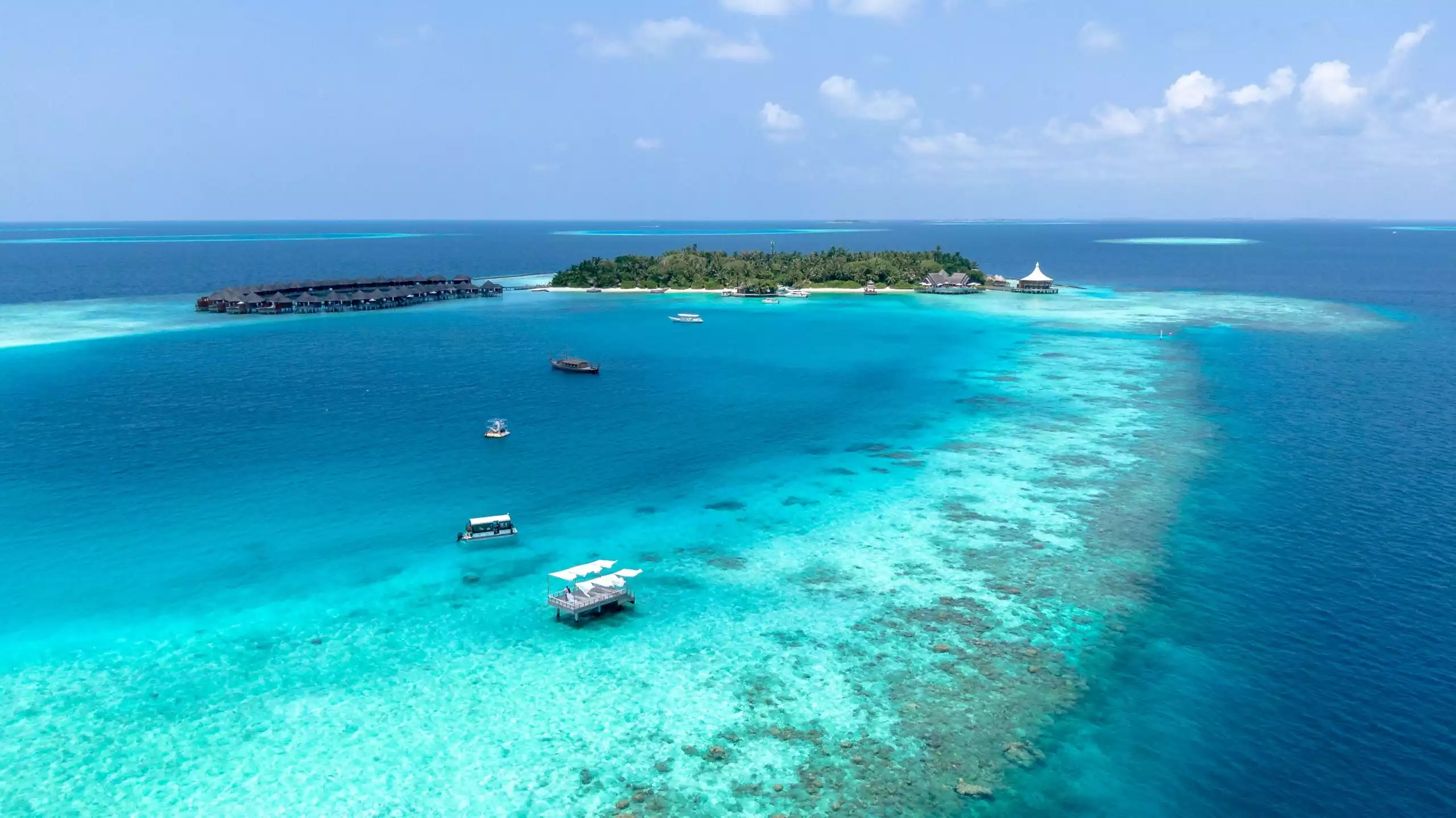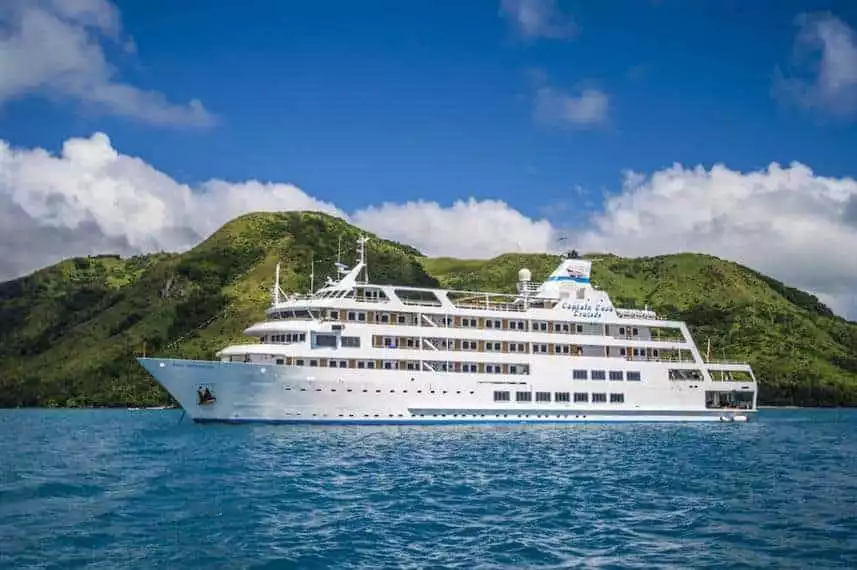 The Reef Endeavour gets you up close and personal with some of the most popular scuba diving sites across islands in the South Pacific. It's a truly massive boat – and maybe one of the biggest cruises of its kind offering liveaboard diving in Fiji.
This resort tends to sway a little more towards general holidaying, but there are still plenty of chances for you to get into diving deep into some of the best loved spots across Fiji. There are normally two dives which take place each day, and what's more, there are even chances for you to take on a night dive or two if you feel up to the challenge.
Accommodation is nice and roomy, and this liveaboard experience really doubles as a luxury cruise holiday. It's a very popular location for non-divers, which means that if you're wanting a holiday that brings together a cruise experience alongside one or two diving possibilities, the Endeavour is likely to be a good spot to book.
64 cabins available
Sun deck
On-board swimming pool
Bars and lounges
Air conditioning as standard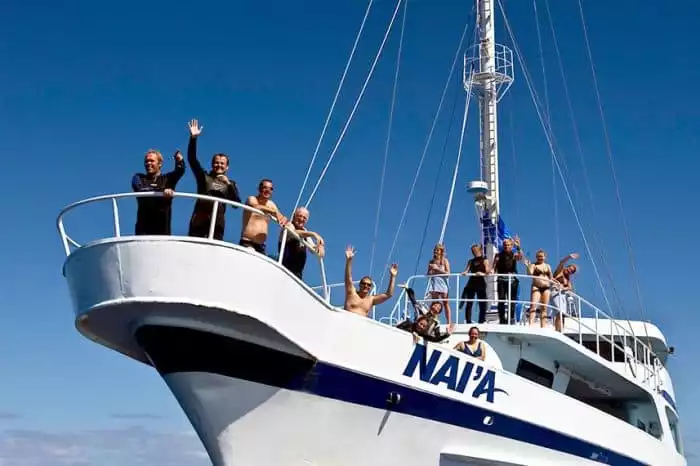 Unlike the Endeavour, Nai'a is a dedicated diving vessel. This is perhaps one of the more expensive Fiji liveaboards available, but you certainly get what you pay for. You'll benefit from experienced, passionate crew members who will help you suit up, lock away and take on some of the best dive sites Fiji has to offer.
Nai'a travels an extensive distance around Fiji and further into the South Pacific, meaning that if you are new to scuba diving in the region, you'll have plenty of opportunities to dive around the variety of islands nearby.
What's really worth noting here is the fact that the diving deck and equipment is top of the line. If you're looking for a Fiji dive holiday that benefits from knowledgeable crew members, all the equipment you need and plenty of access to the best of Fiji's vibrant waters, you really can't do much better.
Room for 18 people
Nine cabins available
Rinse tanks, dive deck and gear storage
Full Fiji tours
Experienced crew – running since 1993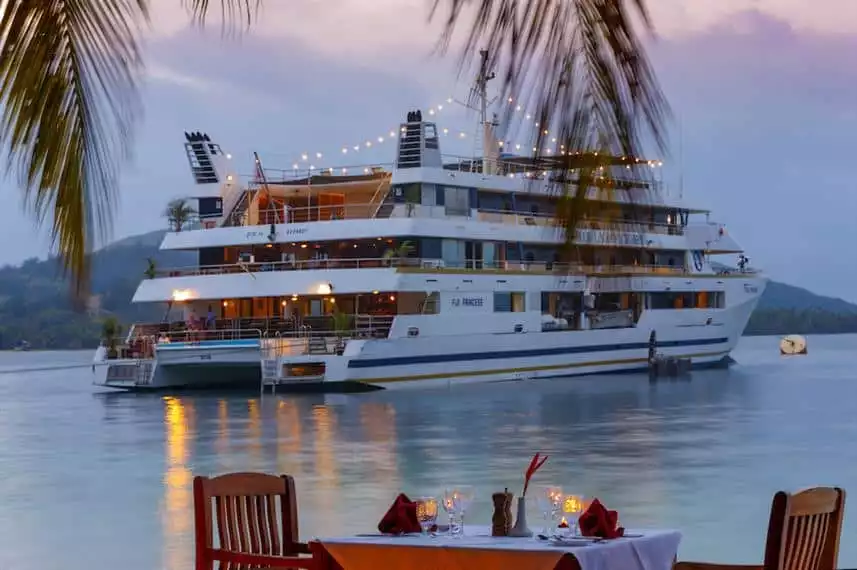 Fiji Princess Liveaboard
Pros:
The ultimate adventure cruise​

Very reasonably priced​

Flexible trips available​

Lots of cabins and tons of space​
Cons:
Not built solely for diving​
Check Price on Liveaboard.com
We earn a commission if you make a purchase, at no additional cost to you.
Fiji Princess, much like the Reef Endeavour, is certainly more of a cruise than it is a diving vessel, but don't let that stop you from taking a look around the best that the islands have to offer. If anything, it's perfectly possible for you to book liveaboards in Fiji and then to dive under your own steam elsewhere.
Offering fantastic luxury cabins, you'll find that the majestic Fiji Princess offers all mod cons and more besides. There's a sumptuous sky deck on board, as well as full spa facilities for you to enjoy while taking a break from diving around the region.
This cruise brings the best of Fijian culture on board, too, meaning that you'll be able to enjoy cuisine and crafts all year round. This is a real all-in-one Fiji holiday experience, though, as stated, you're probably going to need to arrange much of the diving yourself. Not necessarily going to be too hard if you know what you're doing, and when you have access to the very best of the local islands and dive sites!
Welcomes up to 68 people
34 cabins available
Full bar and dining services
Beauty treatments
Traditional experiences
Fiji is a stunning place with lots of biodiversity, weather to get excited about and some unique boat trips for divers...
Fiji are the country with third largest barrier reef and lots of astonishing dive sites. Here are the top Fiji dive sites that I found.
Beqa Lagoon is likely to be at the top of many divers' lists when it comes to exploring the wonders of the Fijian depths. It's thought to be one of the best dive sites for spotting sharks, and I'm not just talking reef sharks, whether – there are likely to be up to seven different species swimming around the Lagoon at any one time! Therefore, if you're a confident swimmer and dive expert, it's worth taking a dip to see both the majestic, fanged wonders – as well as the spectacular soft coral. 
This dive site is the perfect diving destination for enthusiasts of all levels, many liveaboard even offer the chance of dives. 
Dive sites like Beqa Loon offer an array of fish life, white tip sharks and dive destination options.
Location: Viti Levu
Species: Bull Sharks, Tiger Sharks & Coral Gardens
Ever seen an underwater wall of coral before?
Showing off the very best of the soft coral capital, the Somosomo Strait is home to the White Wall and Rainbow Reef – a great way to get up close and personal with some of the most fascinating coral displays beneath the Fijian waves.
The Somosomo Strait is home to perhaps more soft coral than you'll find elsewhere in Fiji, making it the poster boy for the most colourful and curious dives in the region. The White Wall is a very popular dive staple, particularly as it's a 25m dive spot covered in stunning white coral! Do also make a point of visiting the Rainbow Reef, too, which – as you might imagine – is a little more colourful! 
Location: Vanua Levu
Species: Various
Just one of many beautiful Fiji islands clusters which you'll easily find off the Fijian mainland. The Mamanuca Islands offer spectacular dive sites for shark enthusiasts. There are many different types of fish species lurking around here – come on in and take a dip, with the most gorgeous coral waiting to be explored!
It's also home to vibrant schools of tropical fish, meaning that you might just see a few bright and beautiful swimmers you've only ever spotted in tanks before now! 
You will also find lots of hard corals in Mamanuca Islands.
Location: Nadi
Species: Hard Coral, Sharks – and lots of them! Especially the Grey Reef Shark & Reef Fish.
Head over to Kadavu to sample the wonders of the Great Astrolabe. Replete with manta rays, stunning coral cascades and miles upon miles of biodiversity, this Fiji dive spot is absolutely suitable for beginners, and what's more, you'll be able to dive down and spot the burgeoning marine life here all year round. It's an off-island location with more than a few sights to take in. It's likely if you search for Fiji dive photos on Instagram, the Great Astrolabe Reef comes up an awful lot! 
Location: Kadavu
Species: Hammerheads, Grey Reef Shark and Barracuda
Leaving Viti Levu behind for a while, it's well worth departing Fiji liveaboards to explore the marine life at Namena. This popular reserve boasts dolphins, sharks, and keen-looking eels – with all kinds of interesting, rare species roaming within the soft corals and walls.
Close to Savusavu, the Namena Marine Reserve is a very popular spot for newbie divers, particularly as there are likely to be schools and shoals of fish here you simply won't find milling around anywhere else. It's therefore likely to be a great spot for hunting down snappers, garden eels and even dolphins. It's absolutely one of the best bucket list locations you should visit on your voyage to the soft coral capital. 
Location: Savusavu
Species: Sharks, Dolphins, Snappers, Eels
Looking for Fiji's famous barracuda? Bligh Waters perhaps has the best opportunities available across the island. Of course, this dive spot is also perfect for exploring coral and reefs right down to 40m. What might appeal to a lot of people diving from liveaboards in Fiji will be that you can explore this region all year round.
Location: Viti Levu
Species: Hammerheads and Barracuda
Out in Southern Yasawa islands, Barefoot Manta Island tends to be a bit of a jewel in the diving crown – soft corals and sea caves abound here, and what's more, it's a little off the beaten track. This means you're unlikely to find this island dive to be the most popular with tourists. However, that's not a bad thing! You'll actually find – amongst the plethora of manta rays – there are some nice 'starter' dives for novice scuba enthusiasts too. 
Location: South Yasawa Islands
Species: Hammerheads, Manta Ray and Barracuda
Yes! It's great for beginners just getting into diving, and has more biodiverse dive sites than you'll find anywhere else this side of the Pacific. It is also the perfect diving destination for shark diving.
Fiji is known as the soft coral capital of the world, purely for the fact that there is so much of it! The region is incredibly beautiful above and below the water, meaning that it's perfect for divers who really want to feast their eyes on colourful waterscapes and vibrant marine life.
Do, of course, always make sure you have relevant qualifications for diving across Fiji. Practice makes perfect, but full training is better!
How Much Does it Cost to Scuba Dive in Fiji?
The cost of scuba diving in Fiji is between £150 and £300 per night.
This is the amount for a Fiji Liveaboard, which is the best way to see the best dive sites and saves you other expenses or worries. 
However, the price can change depending on the season, as well as on the boat you sail with, and where you wish to go. Make sure to take a look at the links for the liveaboard picks I've listed above for more details.
When is it Best to Dive in Fiji?
Most people choose to dive in Fiji between April and October, the winter season.
However, you may find that it is worth waiting a few months, towards July, when the water is likely to be much cooler, and when you will also be able to see more of that gorgeous coral and marine life the region is so famous for!
Of course, you can actually dive in Fiji and around the surrounding island waters all year through. However, the best time for you will vary depending on where you wish to go. Do make sure to ask opinions of fellow divers and holidaymakers in Fiji, too!
Why Book a Fiji Liveaboard?
Liveaboards are great ways to explore dive sites while experiencing home comforts.
A great liveaboard exploring Fiji will give you access to a variety of diving essentials, including a full dive deck, and cabin rooms where you can relax at the end of a day of exploration.
What's also worth looking for is a liveaboard that offers a full diving instruction team. There are plenty of liveaboards all over the world which offer expert personnel on board to help you explore the deep.
Liveaboard crews will also help you to find your way across some of the more intriguing spots for diving. This will especially be the case if you choose to book on a vessel that's built with diving in mind.
Do be careful, however, as there are some liveaboard options that won't offer diving support or instruction. Be sure to look carefully for the right cruises!
How Do I Book a Fiji Liveaboard?
Booking is easy, simply click on the links I've found for you for the best Fiji liveaboard options available right now.
You'll then have the option to look closer at the accommodation, vessel and its various features. You'll be able to take all of this in before paying, don't worry!
Fiji is absolutely one of the top regions likely to be on any passionate diver's bucket list. If you're keen to see the creatures and coral up close, there's no better way than to book on a liveaboard exploring the islands.
Fiji Liveaboard Customer Reviews
Find out what others are saying about Customer Liveaboards, we use Cruise Critic and Trip Advisor to discover more about the cruises.
Fiji Princess Reviews- Source: Cruise Critic 
Other Liveaboard Holidays That May Also Interest You
Recent Posts