This mask is a fantastic option for those of use who require prescriptive lenses when diving..
Have you ever struggled finding a scuba diving mask that provides you with the perfect vision- simply because you need optical lenses? Mares X has produced a fantastic line of scuba diving masks that you can buy with minus and plus lenses built right in. The Mare X Vision Ultra Liquidskin is a great all-around solution that's simple on the surface, but impressive in the build.
Offering low volume inside and a design that aims to redistribute the pressure exerted on you when you dive and swim, this ultra clear scuba diving mask promises to take comfort and clarity back to basics.
Why Buy The Mares X Vision Ultra Liquidskin Mask
First of all, the big selling point of this Mares X mask lies in the fact that you can strap it on and still maintain your vision through your chosen prescription. It's an amazingly simple design just on the face of things, and while the look may not appeal to everyone, what it does succeed at is offering a low drag design that's quick and easy to take on and off.
Mares Design makes a variety of simplified dive masks to widespread customer acclaim. This particular design makes it quick and easy to get a wider field of vision, whether you're diving with your buddy or in a team.
There may not be too many features to this budget scuba diving mask, but with a simple bi silicone strap for security and comfort, and with a field of vision 20% wider than previous models, you really do get a lot for your money.
Other Scuba Masks That You May Like
Check out some of the other scuba masks that I've reviewed.
Unboxing the Mares X Vision
This is a fantastic budget diving mask for the fit and comfort, as well as for the impressive viewing window. What I especially like about the design and build here is the fact that Mares has brought in small ribs between the frame and skirt for a comfier fit on the whole. It's one of the first things that stand out when you first set eyes on it.
Of course, the fact that you can use this with corrective lenses means that anyone used to wearing glasses or contacts will find it easy to install themselves into the mask! There are also small ribs around nose to relieve pressure as you dive, meaning it's a great mask for longer dives at deeper depths. Mares always tends to score well in categories such as this!
X Vision mask is certainly wider than previous version designs – meaning that if you are already used to their low volume technology, you'll likely get on great. I also love the fact that there are tons of different colours – looks aren't everything, but Mares really does have you covered from a design perspective.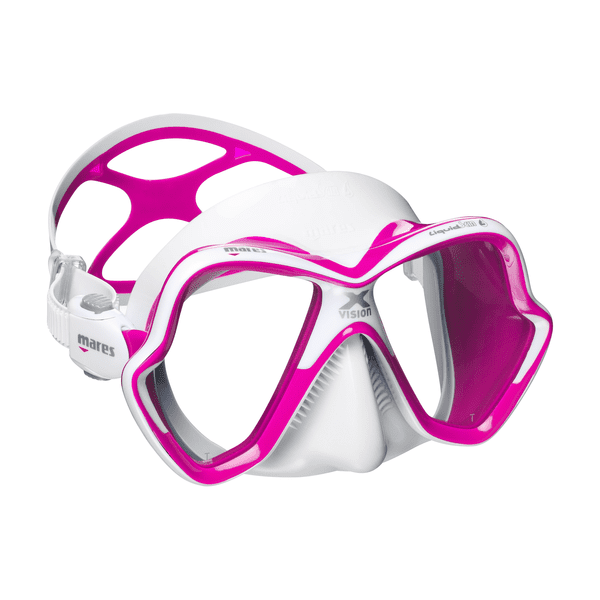 There is actually very little about this Mares mask that I don't agree with – however, comfort around the nose appears to be an issue with some wearers. It's a little tight in the area around the nose, however, this is likely something you can quickly adapt to over time.
It's also a little bit of an odd shape – the new bi silicone strap aside, this is a big, wide mask that can seem a little clunky. However, once you put it on, it's super comfortable, and you immediately benefit from ultra clear vision. It's well worth fitting yourself up for!
This is a well priced scuba diving mask with a field of vision 20% wider than previous Mares options – and while it may not be too heavy on the features, it's a godsend for people with optical lenses who want to get into diving properly.
Definitely worth reading further reviews on if you are interested – just make sure you read more than just the marketing description before you head to purchase!
Very comfortable
Great field of view
Excellent mask choice for glasses wearers
Good price
Might be a little tight on the nose pocket for some
Recent Posts