I've had my eye on this mask for a while, just down to its great appearance. Underwater, it rivals some of the best dive masks I have tried.
Available in one simple size, this diving mask Apeks has to offer provides a number of great features any diver will want to strap on before plunging deep. Famous for being particularly useful during long duration dives, this dive mask is impressively affordable while giving you a clear lens in the most difficult of conditions.
But, does that make me want to buy the Apeks VX1? Let's take a closer look.
My friend had owned this mask for a while and raved about it.  My initial thoughts were around the look of this mask when worn. It's one of the smoothest, smartest looking masks I have ever tried. And it's not too bulky either, the only downfall I found with the frame of my favourite Tusa Visio Pro.
Why Buy The Apeks VX1 Mask?
From the word go, it's clear to see that this is a simple, single lens dive mask with a better seal than most. The Apeks VX1 mask trades mainly off being a low volume mask, with a frameless construction – meaning that you can experience fewer pinching pressure points during long duration dives.
The neoprene strap and quick release buckles with stainless steel rollers will also likely appeal to seasoned divers, as will the lightweight, low volume build on the whole. The whole point here is that the Apex VX1 provides maximum optical clarity.
This is a mask with comfortable silicone skirt fitting and a great UV cut with amber, meaning you'll never find it tricky to clear and equalise on the go.
And it is simply a beautiful looking mask that comes in either black or white frame with a choice of UV cut or pure cut lens.  I purchased the UV cut to use whilst on pleasure dives but for teaching, it is important that I have direct eye contact with students, which sometimes with UV can be tricky. Whichever one you choose, it certainly is one of Apeks better looking scuba masks.
I love the frameless construction – and the fact that the skirt geometry is designed to help reduce those awful facial pressure points. If you've never dived and worn a mask before, you'll soon know what facial pressure points during long stints can do!
This is reportedly a premium surgical grade silicone mask, which, along with the advanced skirt geometry, makes the Apeks VX1 all the more impressive. The field of vision is nice and broad, and the UV cut is likely to support anyone who has trouble with colour correction and vision in the deep. The whole point here is that this mask should provide clarity with no distortion, and for the most part, it does really well.
Easy adjustment makes it nice and easy to take on and off. The neoprene strap and silicone skirt might not appeal to everyone, but the Apeks VX1 really does its best to provide maximum comfort, clarity and endurance. Oh, and the neoprene strap is a life saver for those of us with long hair!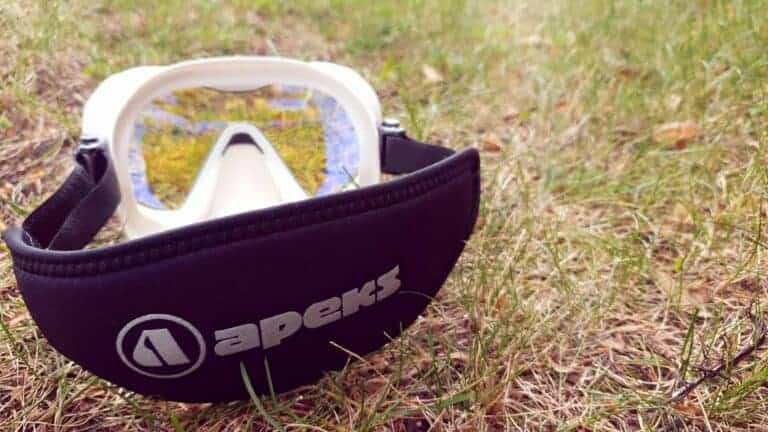 There's very little in the way of negative comments I can make against the Apeks VX1. However, as it is a very well-priced diving mask, you may find other choices out there with more features and more advanced equipment – providing you're willing to shell out more for the masks.
This mask performs very well when it comes to pure, clear vision (it's certainly easy to clear on the go thanks to its low volume) – but any scuba divers will likely tell you that they could improve fit and comfort a little more here – it really is quite personal!
UK based? Head on over to Mikes Dive Store who can give you top quality customer service and the best prices!
The Apeks VX1 is a great low volume mask that really is built to handle the most intensive dives. Easy to clear and equalise, this scuba diving mask is a piece of equipment that should benefit most users. It's also a mask that's amazingly priced, perhaps even half the price of your average high-end Tusa, such as the Paragon.
In all honesty, when my friend leant me this mask to try, I fell in love with it. So much so that I ended up purchasing my own!  When I dive with this mask, I completely forget that I'm wearing one, it sits perfectly on my face with no uncomfortable pressure anywhere.
Perhaps the best budget mask Apeks has produced so far, definitely invest in this scuba diving essential if you're in need of a better seal and some of that advanced skirt geometry. It'll take you far!
 Very comfortable
Extremely easy to clear – a good one for beginners 
Close fitting so suitable for freediving too
Comes with a sturdy carry case
None – just give it a go!
Recent Posts
link to Cressi Giotto Review
Famed for its ease of use, this robust and reliable computer is a pick for many recreational divers. But before committing to this computer, you'll want to hear my thoughts on the dive modes...
link to Best Air Integrated Dive Computers
Upgrading your computer to an air-integrated dive computer can be stressful and costly. It's not an easy task and is one that should be done with due diligence. But luckily as long as...