Scuba diving can be one of the most rewarding experiences – believe me! That being said, no scuba dive is ever complete without the perfect equipment.
The first item on any diver's list is their mask. But, have you ever considered full face scuba dive masks before? A full face diving mask gives you an amazing level of visibility down in the deep – whereas a traditional part-face scuba mask may only give you so much insight into the world around you.
It's thanks to the traditional mask that you can see, navigate, communicate and even breathe easily in the deep – however, thanks to full-face scuba masks, you do not even have to carry around a regulator in your mouth.
In fact, full-face scuba masks have become more and more popular over the years. It used to be that they were reserved for wealthy professionals – check out some of the price tags on full face dive masks going back years!
However, nowadays, it is far easier to find a quality full-face scuba mask without having to spend a fortune. There are multiple reasons why scuba divers love using full-face scuba diving masks, often over regular masks. When it comes to maximising what you can see and who you can communicate with while on a dive, nothing really beats a full face diving mask.
So, let's take a look at some of the best full-face scuba diving masks on the market – then, let's take a closer look at why full-face scuba diving masks are so popular, and whether getting one of your own might be your best course of action.
I'm Katy - author and owner of KatyJaneDives.com, KJD has my name and reputation attached which is super-important to me. Why take my word on scuba diving? I am a PADI Master Dive Instructor with 100s of dives under my belt and a passion for the underwater world.
Top 10 Full Face Scuba Masks Available to Buy Right Now
I caught up with a few divers that have used the systems below, to see what they thought.
Ocean Reef Space Extender Neptune III Full Face Mask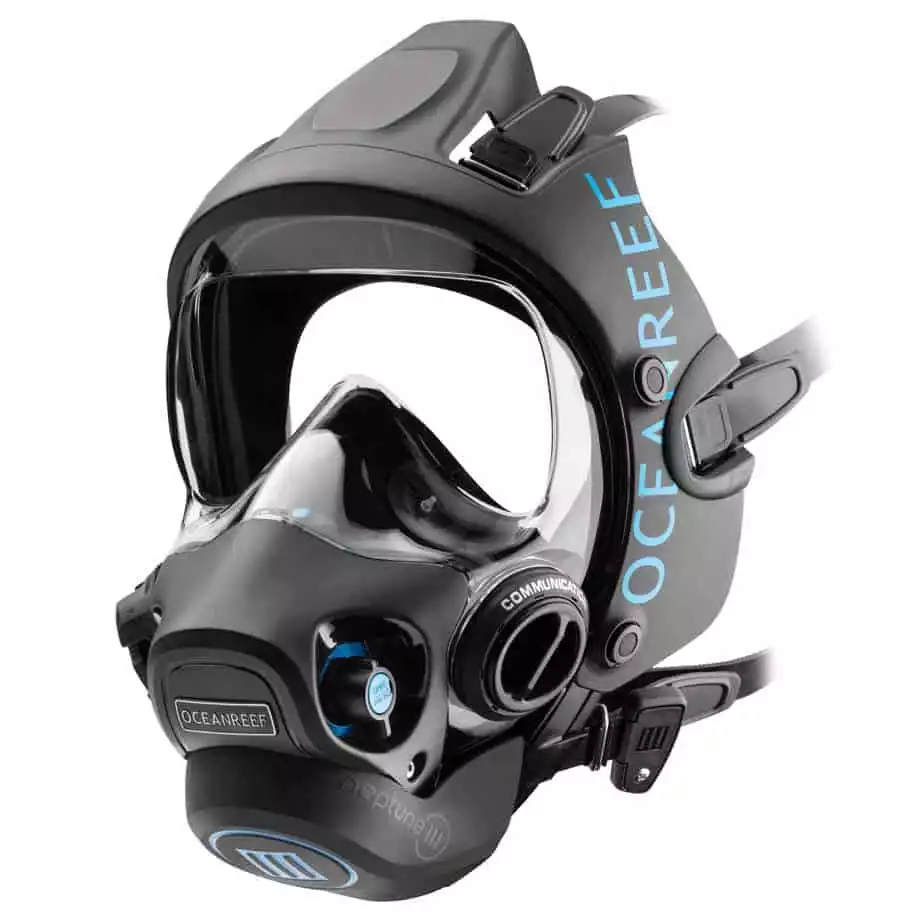 The Ocean Space Extender Neptune III Full Face Mask is currently the most technically advanced fitting of its kind on the market right now, and it's a huge step up from the Neptune II in that it brings forward 20% more in the way of a visual field – more room to see what you're doing!
Thanks to the advanced design, a full face mask has never been easier to remove or put on. It has a one-hand accessory removal handle to help to remove the mask with only one hand as you manage other things around you. It's an amazingly simple full face mask to get used to – the adjustable head straps aren't something you'll get with every fitting.
Additionally, this mask comes with a backpack ready to store it safely between dives – all around a great package.
Ocean Reef Space Extender Full Face Dive Mask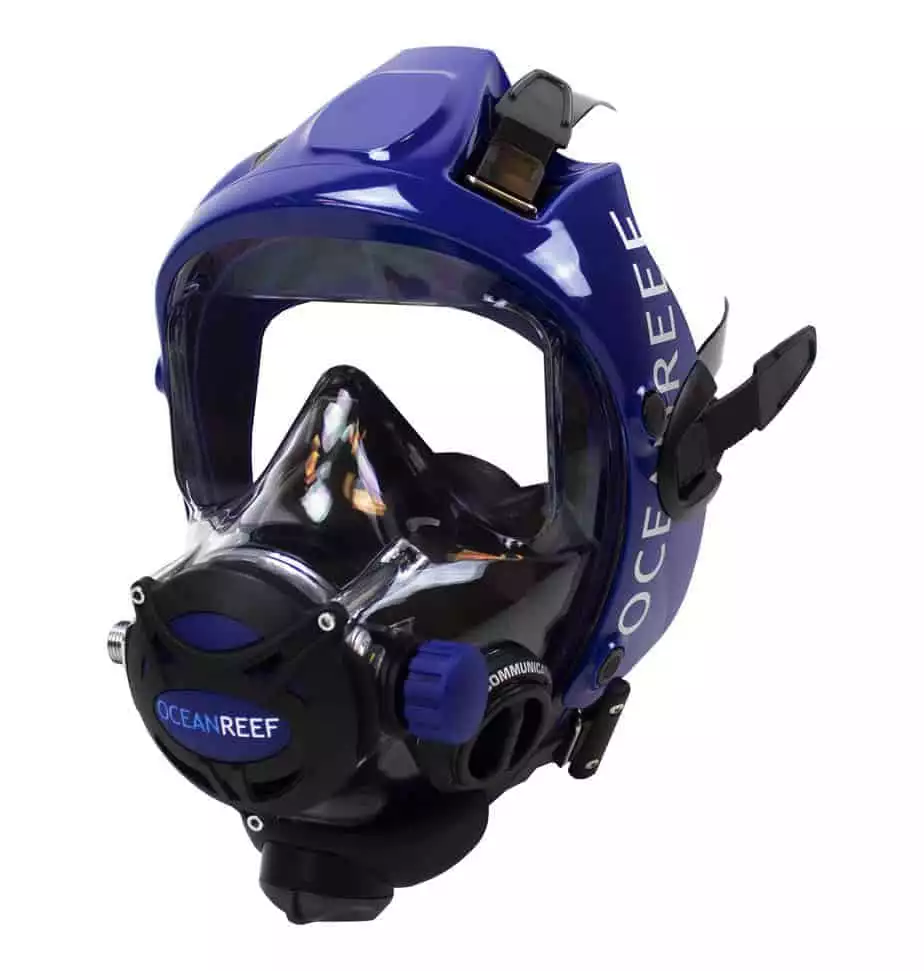 This full-face scuba diving mask is definitely one that is going to turn heads! Not only is this one of the most stylish in the Ocean Reef collection, but it also comes in an array of shades to suit any diver. It is ideal for professional divers, as it comes with a lifetime warranty (under conditions), and is perfect for cold waters. It's actually designed to withstand diving in the deep freeze, making it a bit of a popular choice for full face mask diving in northern waters.
It can also easily fit a communication system, keeping you in touch with your team. It also comes with an integrated second stage regulator – it comfortably fits to the entire face and is a very comfortable mask, though like other full face masks, the weight and bulk will take some getting used to.
Ocean Reef Neptune Space G. Diver Full Face Dive Mask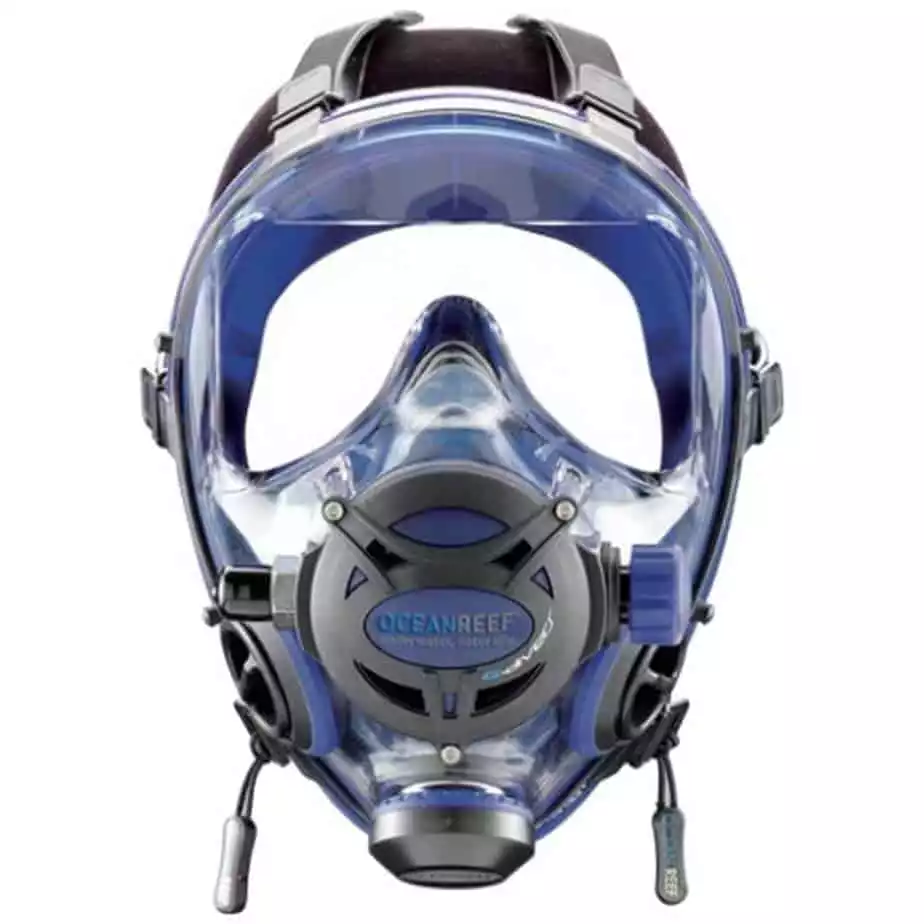 This next Ocean Reef mask is a little more affordable than the others mentioned in this list, but don't let it worry you. This is still a great scuba diving mask! It too comes in multiple colours and in two sizes.
It also comes with an integrated second stage regulator as well as a low-pressure hose. The mask is made from silicone rubber and offers perfect support and comfort during your dive. It has great visibility and does not fog as other scuba masks can do. You can also add a visor light with this mask. 
If you're complete new to full face masks and want to get away from traditional dive mask fittings without breaking the bank, I'd probably recommend this option as a priority. Commercial divers and recreational divers love the Ocean Reef brand for a reason, and while this may be one of their cheaper full face diving masks doesn't make it any less worthy of your attention.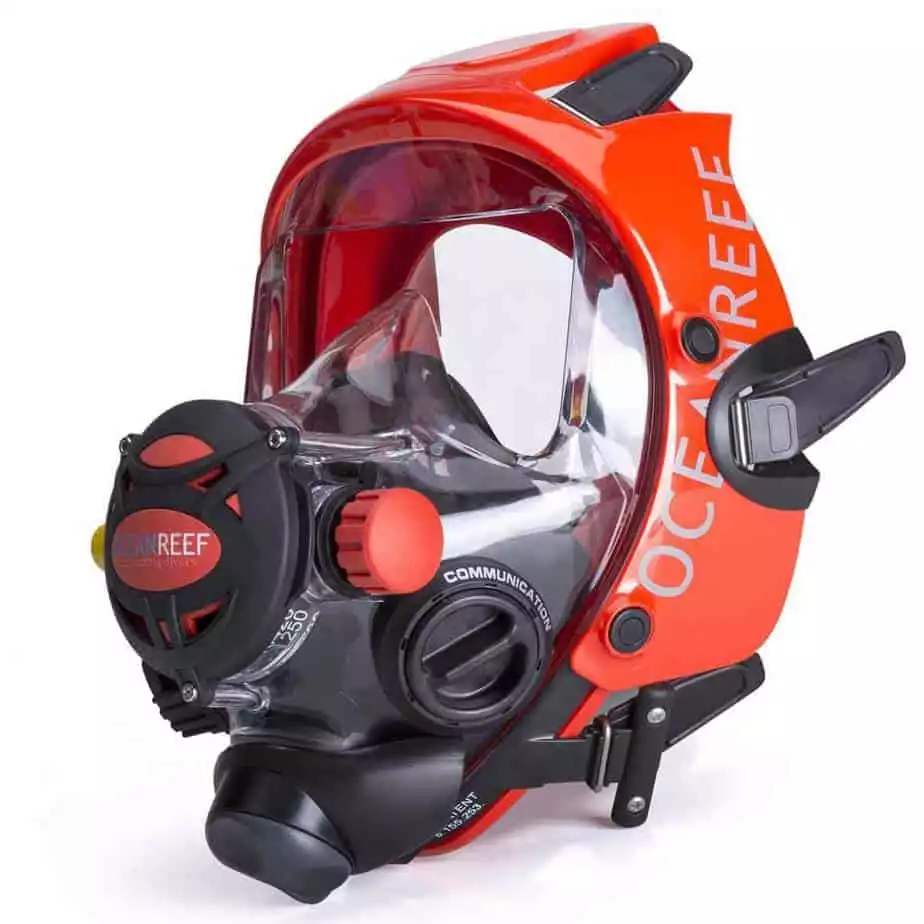 Let's not beat around the bush – the Predator is the most expensive scuba diving mask on this list, but there is a reason why – and it's all down to incredible engineering and visual insight that commercial and scientific divers swear by. It's even used by Special Corps divers – meaning that you really know you're investing in a mask that's at the height of design and engineering.
It is extremely lightweight and therefore far more comfortable than most scuba diving masks of its quality.  It has an easy regulator to use and is made of stainless steel buckles and strong aluminium, ensuring that it is a very durable scuba diving mask. What makes most full face scuba masks safe is the added durability and coverage – and with this particular full face scuba mask, you really are investing in complete protection.
OTS Guardian Full Face Mask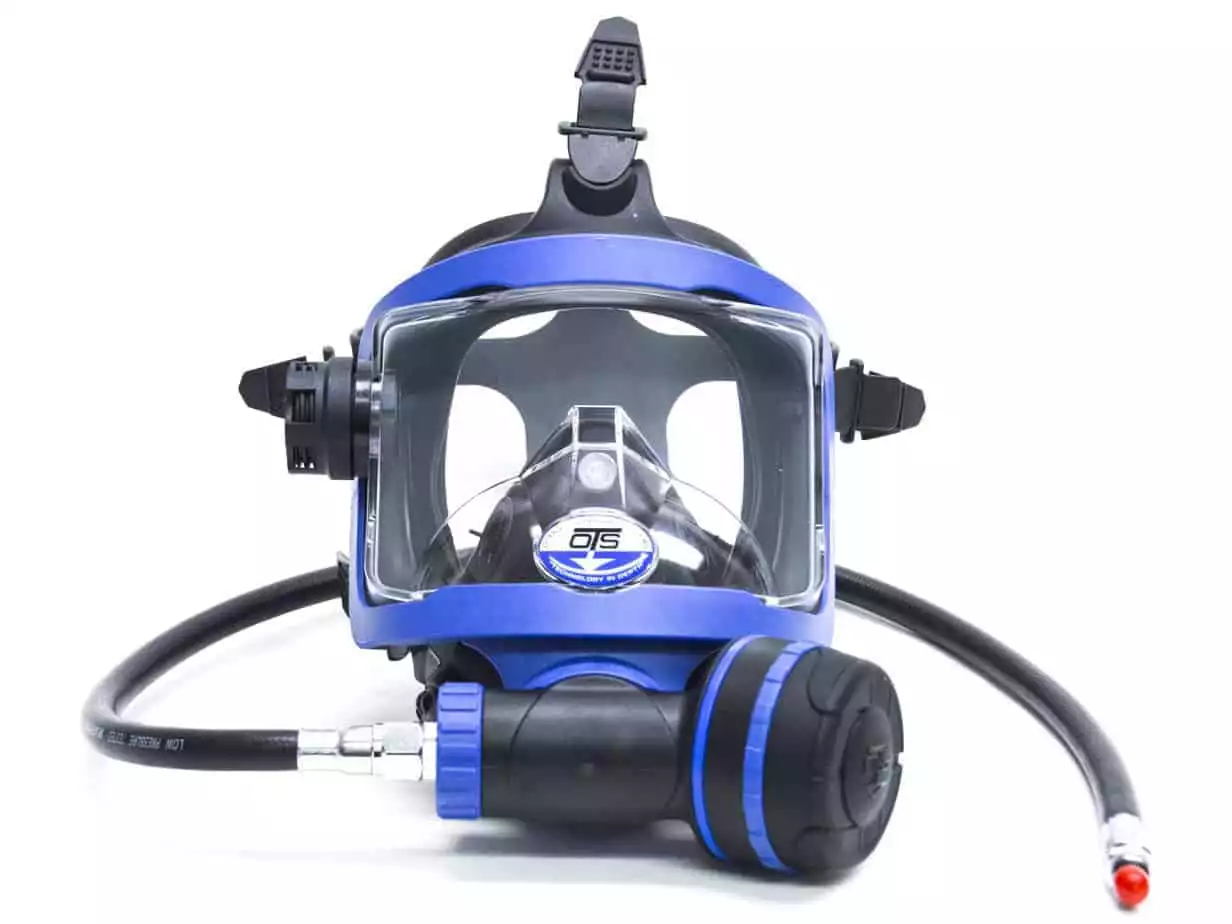 This OTS Guardian full face mask has proven to be a favourite among divers, thanks to its impeccable design. It has a strong double seal which can help you to retain your air for longer and offers clearer communication with other divers. It also has a quick release function, anti-fog setup, and semi-positive pressure. It comes in five colours and is perfect for even very slim faces!
It is more affordable than other models of its calibre, however, there is no denying that its design lacks the sleekness and sheer style of that of full face masks from Ocean Reef – it's your call!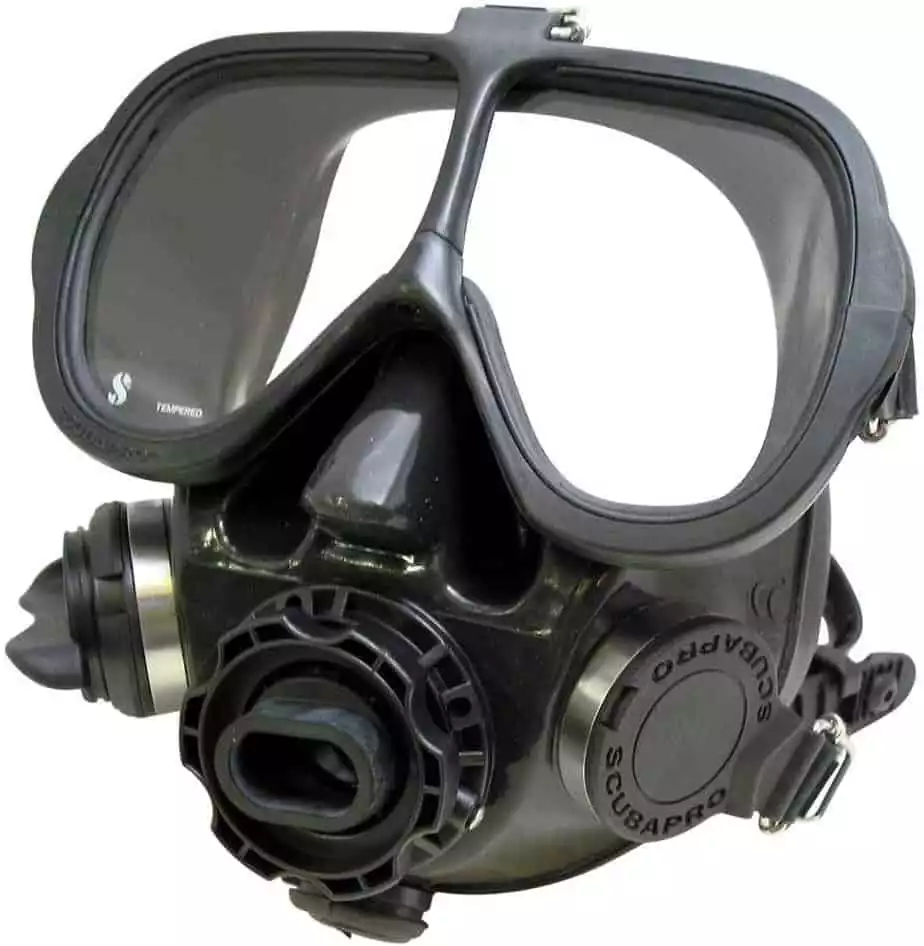 Heading back into the higher-priced full face masks, this Scubapro mask is a professional quality choice with a classic style. Thanks to its impeccable safety features, this mask is even used by military and professional commercial divers.
Some of its best features include chemically resistant silicone rubber, anti-fog lenses, and even separate compartments for the nose and mouth to better manage condensation and build-up. The mask is also perfectly comfortable and easy to adjust, making it ideal for anyone. It is also very lightweight, which makes for better comfort and easier to wear on longer dives.
However, unlike certain modern masks, the visibility is limited to what is in front of you, as the windows do not spread to your peripheral vision. 
Poseidon Atmosphere Mask M Complete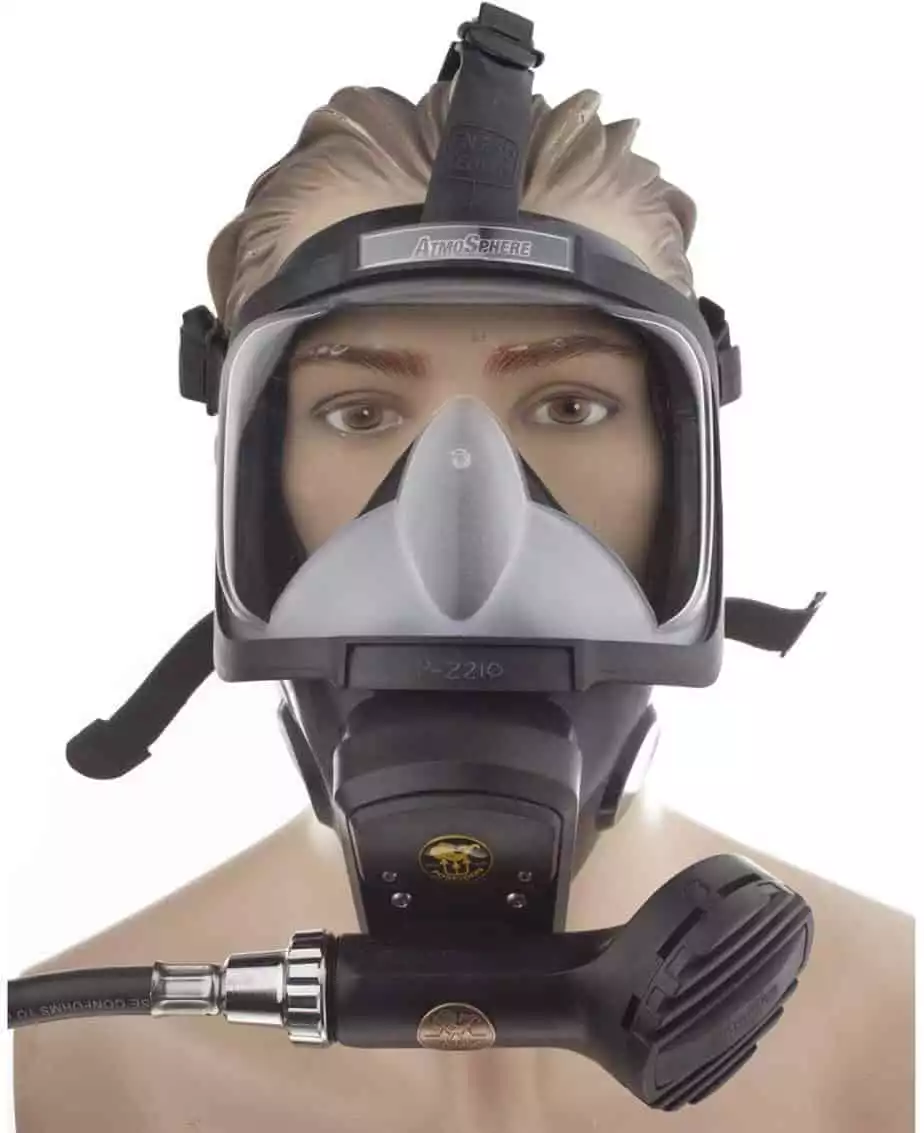 This next full-face mask is definitely not for the faint of heart when it comes to the price – the Poseidon Atmosphere mask has a lot to prove! 
First of all, it is a professional quality mask that is perfect for cold-water diving. It can easily incorporate communication systems and an overpressure system to ensure that you can safely dive through contaminated waters. It is fully adjustable, and the visor is even frosted to avoid having to deal with distorted vision and reflections in the window. 
However, where the Poseidon Atmosphere full face mask really shines is in its regulators. The first stage regulator has an anti-freeze mechanism, and the jet-stream second stage has an upstream servo-valve system.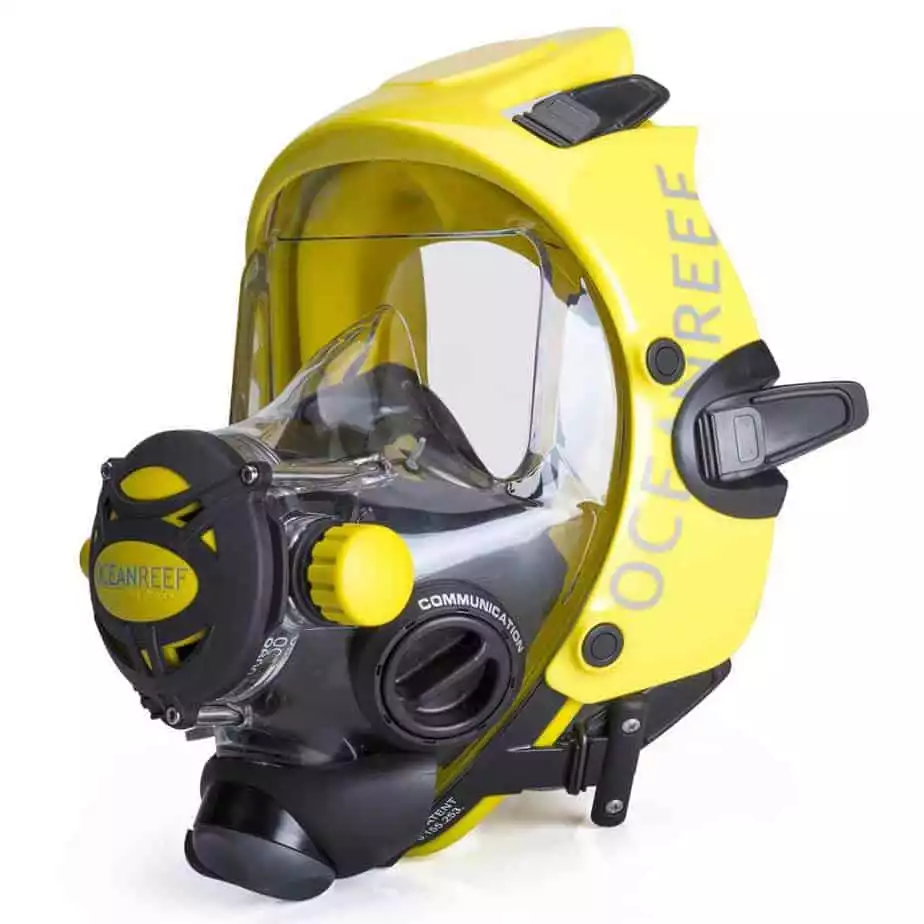 Back to Ocean Reef full face masks, this option has been designed to handle the most difficult conditions. It is made from strong aluminium, stainless steel, and nitrile rubber to ensure that it is lightweight enough while being as strong as possible.
It can handle hydrocarbons, chemicals, oil, and other difficult conditions that commercial (and sometimes recreational divers) can face under the sea! It is excellent for cold-water diving and comes with an integrated regulator. Moreover, Ocean Reef is a well-known, reliable brand that is used by professionals and general divers alike.
This particular mask comes with a free annual service and upgrades for two years! However, you will have to pay quite a significant price for the mask itself. 
Poseidon Atmosphere Mask M with 2nd Stage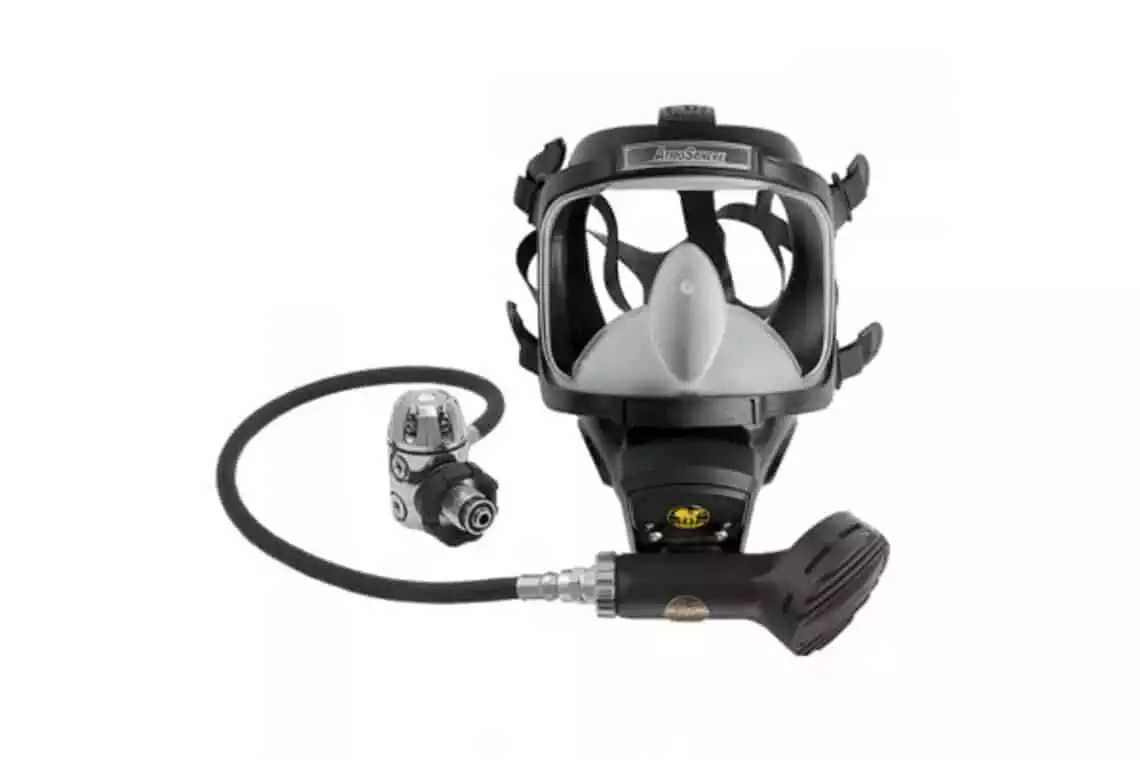 Much like its brother mentioned earlier, the Poseidon Atmosphere Mask M comes with a lot of qualities, including an anti-fog system and an overpressure system. It, too, is fully adjustable and has a five-point adjusting setup. However, it is nowhere near as expensive as the Poseidon Atmosphere Mask M Complete.
This is because the Poseidon Atmosphere Mask M Complete also comes with the 1st stage, whereas this particular one only has the second stage. So, really it all depends on what you need from your mask setup and whether you would prefer to chose your own first stage!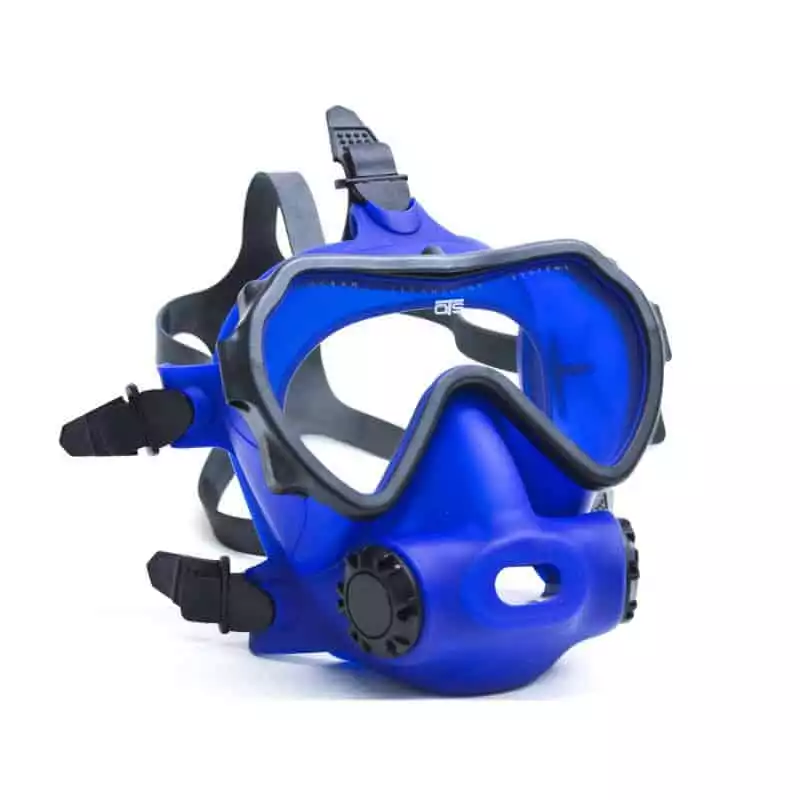 This is the perfect mask for those on a budget, coming in as one of the best value full face options. It comes with tempered glass, great visibility, durable rubber and arrives in either a vibrant blue or a strong black. It is perfectly suited for cold-water diving and is pretty much perfect in its simplicity.
Of course, due to the price, you will have to make some sacrifices, including peripheral vision and the fact that it does not come with a regulator. However, if this is your first full face mask investment, or simply do not have the money to invest in a more advanced mask, then the OTS Spectrum Full Face mask will do the job superbly well on a budget.
Top 10 Reasons to Dive a Full Face Mask/Integrated Diving Mask
As you can see, full-face scuba masks do not have to cost a fortune, and they really do look the part! However, even for experienced divers, switching over to a full face scuba mask system can be quite a bit of an alteration – and what's more, at the price you stand to pay, you're going to want to know that your face mask will weather years of diving to come. I am completely with you – honestly!
However, they are more than just flashy pieces of kit. There are plenty more reasons to invest in a full face dive mask, and here are ten to start you off with.
You get better visibility
A full-face diving mask obviously provides more of a lens through which to explore the deep and shallow waters than the average scuba mask, and therefore offers better visibility.
Now, as you know, diving is all about sight-seeing. It's about being able to witness some of the most incredible, watery wildlife wonders that this planet has to offer. Therefore, the more that you can see, the better. Thanks to full-face diving masks, you will have a better view of the underwater world, which in itself is priceless. That's surely worth the money alone!
Recommended: Snorkel masks with prescriptions
You'll benefit from extra safety
Most scuba divers have had to experience the pain of dealing with a dropped mask at one point or another. It can be quite startling to find yourself in unknown territory, one that is natural for you, and to then lose your sight.
Whereas other masks can be easy to lose – whether by getting too close to dive buddies, poorly adjusting them before going underwater, or simply being knocked against something, full face dive masks have tighter security than traditional masks, often coming with a double seal and multiple adjustable head straps to ensure that they are not as easy to remove and lose. There's no chance of the best full face masks getting knocked aside, either.
Whereas wearing regular scuba masks means that you have to keep a regulator in your mouth, keeping in touch with your dive buddies and crew is a cinch with a full face mask – it's built into the design as a single unit. You can even communicate with those on the boat and anyone else channelled into the same frequency as you. This is easily one of the best aspects of full-face dive masks – the convenience is seriously amazing.
Jaw fatigue can be a nightmare when you're carrying that regulator around in your mouth the whole dive! However, that's pretty much a thing of the past with a full face scuba mask.
Along with the fact that you no longer have to hold the regulator in your mouth also comes the fact that full face masks are far more comfortable to wear. You will no longer have to suffer from the same jaw or dental issues as you do with standard diving masks, which will make diving for longer a little easier and much more comfortable.  Even if you think the average full face scuba mask looks a little scary, you wait until you try one on…
Recommended: Best scuba diving masks
They're amazingly adaptable
A full-face scuba diving mask can be adapted in all sorts of ways to suit all sorts of diving conditions. This makes them far more useful for technical divers and commercial divers, who often dive in varying circumstances, and areas. 
What's more, as you can see from some of my top full face mask picks in this guide, there are some that are specifically designed to withstand colder waters. Whether you are diving for commercial purposes or simply going ahead with a recreational dive, it's safe to say a full face mask is going to support you no matter where you go.
By having your face completely covered, you are far less likely to feel the effects of the colder water. Your head loses a lot of your body heat, so having it completely covered, especially in cold water, is an excellent way of making longer dives more comfortable and to generally feeling more relaxed during the dive.
Full face scuba masks are especially a good idea for commercial and technical divers who often find themselves in cold waters for prolonged periods of time.  What's more, when your head's warm, your body is, too.
There's all kinds of extras and accessories
Full face scuba diving masks allow you to add a lot of extra gadgets and toys that you wouldn't necessarily be able to take with you on a dive with a normal mask. Gadgets such as torches for darker areas, GoPros for great footage capture, extra communication support, etc – you name it.
These are all items that can be fidgety to manage when using a standard scuba diving mask. Again, this would be a wise option for technical and commercial divers who will need to rely on their communication a lot more and will likely need good footage. The extra torch capacity will also make their dives safer, as they often go into dark, cold waters. 
Even recreational divers can encounter dangerous things in the water, from animals to rockery, boats, floating debris, and more. Since a full face scuba diving mask covers the entire face, you are naturally better protected against the things that you could encounter in the ocean. A standard face mask is only going to cover you so much – why protect only half of your face when you could shield yourself completely?
You can enhance your training
By undertaking IDM (Integrated Diving Mask) training or the Full Face Mask Diver course, you will receive a PADI speciality that you can add to your bow. If you are keen to skill up as a scuba diver, or are on route to training up as a technical diver, it makes perfect sense to up your kit, too.
If you are going to invest in this piece of equipment, it is paramount that you know how to use it safely and how to deal with any problems that may occur – take the course!
It's a more comfortable dive all round
Finally, given the added comfort, security, adaptability, secure fit, and communication that make full-face scuba masks popular, you are bound to have a more relaxing dive than you would with a traditional dive mask. You'll benefit from easier natural breathing in full face masks that what you'd expect from standard breathing equipment, too. They fit comfortably, keep your face warm, and give you more to look at – it's an enhancement all the way around.