I've had my eye on this mask for a while, just down to its great appearance. Underwater, it rivals some of the best dive masks I have tried.
Sometimes, the best diving equipment is the simplest – and the Scubapro Solo really does take things back to basics. That's a good thing when you're looking for a single lens mask that puts a comfortable watertight seal front and centre! Of course, you're going to want to look at various features of scuba masks depending on what's important to you.
However, what's instantly appealing about this scuba diving mask is the simplicity as well as the price – and in this review, I'm going to take you through what you need to know about the Scubapro Solo before you buy.
Why Buy The Scubapro Solo Dive Mask?
Boasting a tempered glass lens, this is an easy adjustable diving mask that puts forward an impressively wide field of vision. Scubapro is a favorite among many divers and scuba newbies – and if you really are struggling to achieve that perfect panoramic field and to achieve the perfect fit in equal measure, this crystal clear, double sealed mask aims to change the game.
One of the biggest selling points of this dive mask is the double sealed silicone skirt. I'm not alone in thinking that the best scuba masks need to focus on watertightness and comfort in the main. What's great about the Scubapro Solo mask is that it easily molds to the face, offering a superior fit and comfort levels even pricier dive mask brands can only dream of.
Scuba diving in this mask promises to be an interesting experience – in the best way! Its low volume field of view really will give you tons to see under the water. Simply adjust it to your face to create a unique window on the underwater world. The tempered glass lens should also take quite a lot over years of use, meaning it's a scuba diving mask you won't have to change up too soon.
First of all, the simple design really does impress you from the word go. Its low volume design, frameless single lens design is refreshingly straightforward, and it boasts a massive field of vision. The Scubapro Solo mask already picks up plenty of '5 stars' from customers for that reason alone. Its high comfort, low volume design is evident to see from the outside.
However, it's the double sealed silicone skirt that really impresses me. This dive mask not only has a great field of vision – but the sealed silicone skirt molds around your face so that absolutely no water gets in.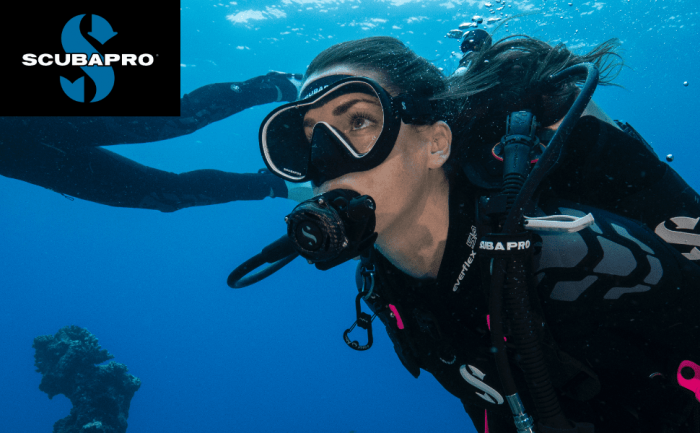 On top of this, you can easily route the non slip strap to achieve the perfect comfort levels – no need for fiddling. Simply adjust buckles to make sure you get the perfect fit (and most head and face sizes will benefit here!). The slip strap with easy adjustment will allow you to easily adjust yourself as you go, too.
The price tag and the design on the Scubapro Solo dive mask will also ensure it's a popular pick for new divers.
This is a budget mask in many senses of the word, and while the crystal clear double sealed silicone does a lot for robustness against water, it might not be the best of the scuba masks available for years of simple resistance. It's easy enough to create a comfortable watertight seal, and the field of view is better here than in your average diving mask.
However, you may well find you need to replace it with another scuba mask sooner than you imagine. Think carefully about whether or not you want to go for something cheap and cheerful first, or to save up your money for a professional, advanced fit.
Mikes Dive Store are one of the best suppliers of dive gear in the UK. They ship worldwide and are super fast and helpful when dealing with any concerns or queries!
The frameless single lense design on the Solo mask really is worth the affordable price tag. However, if you're looking for long-lasting masks, it might be worth taking a look at other related products before you throw your money at this model!
The panoramic low volume field of view really is impressive – and I think the Solo dive mask is absolutely worth looking into if you're a novice, or want to save some money.
Excellent choice for first mask purchase
Huge field of vision
Comfy silicone skirt that seals well
 May not be as robust as other dive masks
Recent Posts
link to Cressi Giotto Review
Famed for its ease of use, this robust and reliable computer is a pick for many recreational divers. But before committing to this computer, you'll want to hear my thoughts on the dive modes...
link to Best Air Integrated Dive Computers
Upgrading your computer to an air-integrated dive computer can be stressful and costly. It's not an easy task and is one that should be done with due diligence. But luckily as long as...