The Paragon is a sturdy mask which provides ultimate underwater clarity.  Tusa have certainly delivered a special piece of equipment here.
If you've read any of my diving mask reviews in the past, you'll know that I really rate TUSA masks – and this seriously tough mask from the popular brand is picking up a lot of interest in the diving community. Therefore, I thought I'd give the TUSA Paragon S a try for myself.  
It's worth a mention that this particular Paragon that I tested, the S model, is a single lens mask.  The original Paragon model is made with two lenses which make it a great option dive mask for glasses wearers.  You can buy a range of prescriptive lenses to suit your eyesight!
You may be familiar with TUSA's Freedom model masks. They are known for their superb comfort and superior frame structure – does the Paragon S follow suit?
Perfect For: Divers who struggle with external, reflected light - or glare, in other words! Sunlight and reflection can often make diving very difficult depending on the mask you're wearing - and the UV 420 lens treatment built in here really counteracts that worry.
Unboxing the Tusa Paragon S Mask
The TUSA Paragon is all about that field of vision – from first glance, it's clear that the focus with this model is the singular window and the optical glass. On top of that, it's clear to see the reinforced Tri-mix frame is seriously sturdy – it packs a punch, not that I'd try it!
While TUSA Freedom model masks feature some of the best mask straps on the market, it's refreshing to see that the Paragon S mimics much of the same technology. Far from offering standard flat mask straps, this diving essential comes with strapping that's tight, durable, and should give you a lot of adjustability.
As always, let's not judge a book by its cover – and take a look at how vision underwater can improve with the Paragon S.
The TUSA Paragon S goes further than most masks in that it offers brilliant UV 420 lens treatment, as well as an AR or anti reflective coating. The lens treatment decreases internal light transferral, meaning you can expect this max to give you the ultimate clarity in the brightest of sunshine. Generally, you can expect better overall vision underwater, and during testing, they seemed to live up to the hype.
You can expect significantly enhanced color, and if you have a prescription, you can arrange for your lenses to adjust to your own eyes if you opt for the original Paragon model. Great news if you already have trouble with vision underwater!
TUSA always seems to do really well on the comfort, fit and durability front, and that's obviously going to be a good thing. The Paragon S combines tough material bumper protection with a dimpled skirt surface. What's more, the design is built to fit the head's natural curvature. Trying the Paragon S on, I can safely say I didn't feel the pinch too much – and the low friction skirt surface does a lot to stop that annoying mask rubbage we've all felt.
The Freedom technology with Fit II – which is TUSA's landmark engineering project – help you to feel that you're safe and comfy no matter how deep you go. In addition to the Fit II Freedom technology, the quick adjust buckle system makes it nice and easy for you to get in and out – and change fit along the way.
What I would say is that beyond the polycarbonate frame (bolted for toughness) and the low light transmission, is that the Paragon S can feel a little clunky compared to other masks and goggles. Even the Freedom model masks feature lighter wearing on the whole. It's not a big concern, but worth noting!
TUSA also tends to do really well when it comes to superior clarity, and thanks to the CrystalView optical glass offered here as standard, there's a lot more to see than what you'd expect with standard glass lens masks. The anti reflective A/R coating is an extra plus, of course!
This is one of the wider scuba mask options you'll find in TUSA's modern line. There's no nose pocket getting in the way, and while you can expect a good level of eye protection from any leading scuba diving mask, it's great to see this combined with a wide panoramic window.
What's also really impressive about the Paragon S is the durability, and the pressure reduction along the way. Comparable to the Freedom One superior frame structure, the Tusa Paragon is a seriously tough mask benefiting from a polyurethane purimax material bumper. And while the silicone mask strap is nice and flexible, the stability ridges and skirt really won't budge.
Not sure if the Tusa Paragon is the right mask for you? You can read my full list of the Best Dive Masks Review for more of a steer on the range of masks on the market!
If you like TUSA, why not take a look at my complete guide to TUSA masks where I look at other top masks from this great brand.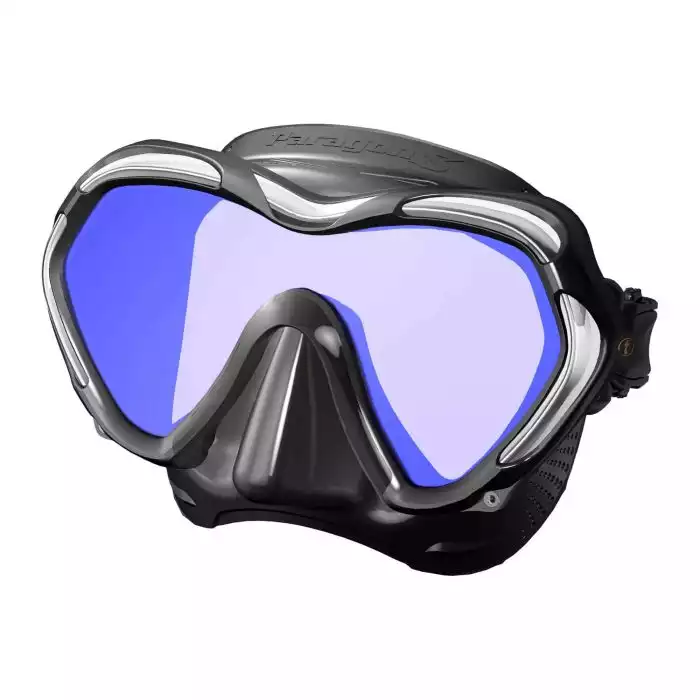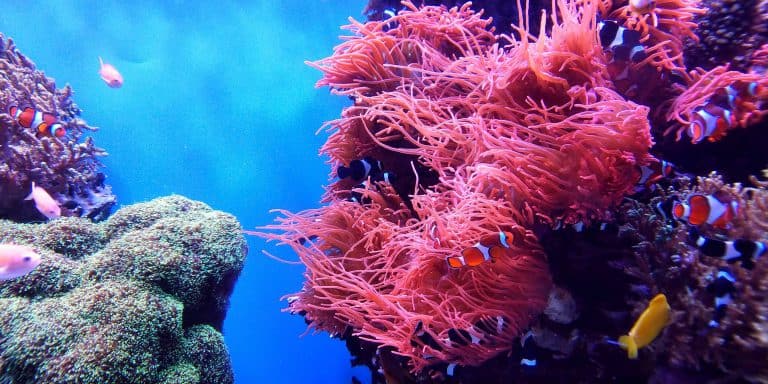 The main selling point – for me and other divers – goes beyond the fitting line and the dimpled skirt surface! The Paragon's UV 420 lens treatment really does lower harmful high energy visible (or HEV) light – and compared to other masks I've worn recently, my vision was seriously improved in taking the Paragon for a test spin. The colour boosting means it's a great fit for anyone looking to explore coral reefs and who want to take on a tropical marine life safari!
With superior toughness, of course, comes a lot of bulk – and this mask can feel a bit heavy at first. However, it's very easy to get used to – and you can trust me on that!  I feel like it is more similar in it's bulky looks as the Tusa Visio Pro, but the Tusa Visio Pro is slightly lighter in weight.
Other Scuba Masks That You May Like
Check out some of the other scuba masks that I've reviewed.
Fantastic Tri-mix frame technology and superior toughness
UV 420 lens treatment is amongst the best on the market
Extremely durable, will weather years of use
CrystalView optical glass makes for amazing visuals
Very easy to adjust and get used to
Can be quite heavy to dive and swim with at first
Built for vision and durability over comfort
Recent Posts