Beginning your scuba diving journey is a truly magical and awe-inspiring period but it can sometimes feel quite overwhelming.
There are lots of essentials required for newcomers and experienced divers alike. I have been there myself, and I'm still updating, maintaining and ensuring I have all the necessary much-needed dive gear.
You can start with my reviews and product round-ups below:
Do I Have to Buy My Own Scuba Gear?
Owning your own scuba gear is not a necessity but if you're hoping to scuba dive more than once I'd recommend that you start adding to your diving repertoire. It's important to be comfortable and wear equipment that fits specifically for you.
When joining liveaboards or pursuing professional scuba roles you will need your own equipment. Liveaboards provide most gear included in the package but I would advise that you take your own dive computer and do not share with anyone else on board. Read on to find out the best way to buy for your budget and where you should start.
When doing a try-dive you will be supplied, most dive shops will provide everything that you need and make sure that they have a size for you. It's worth checking with the shop before booking your dive. Anybody looking to progress further than a try dive should be researching and looking into various equipment.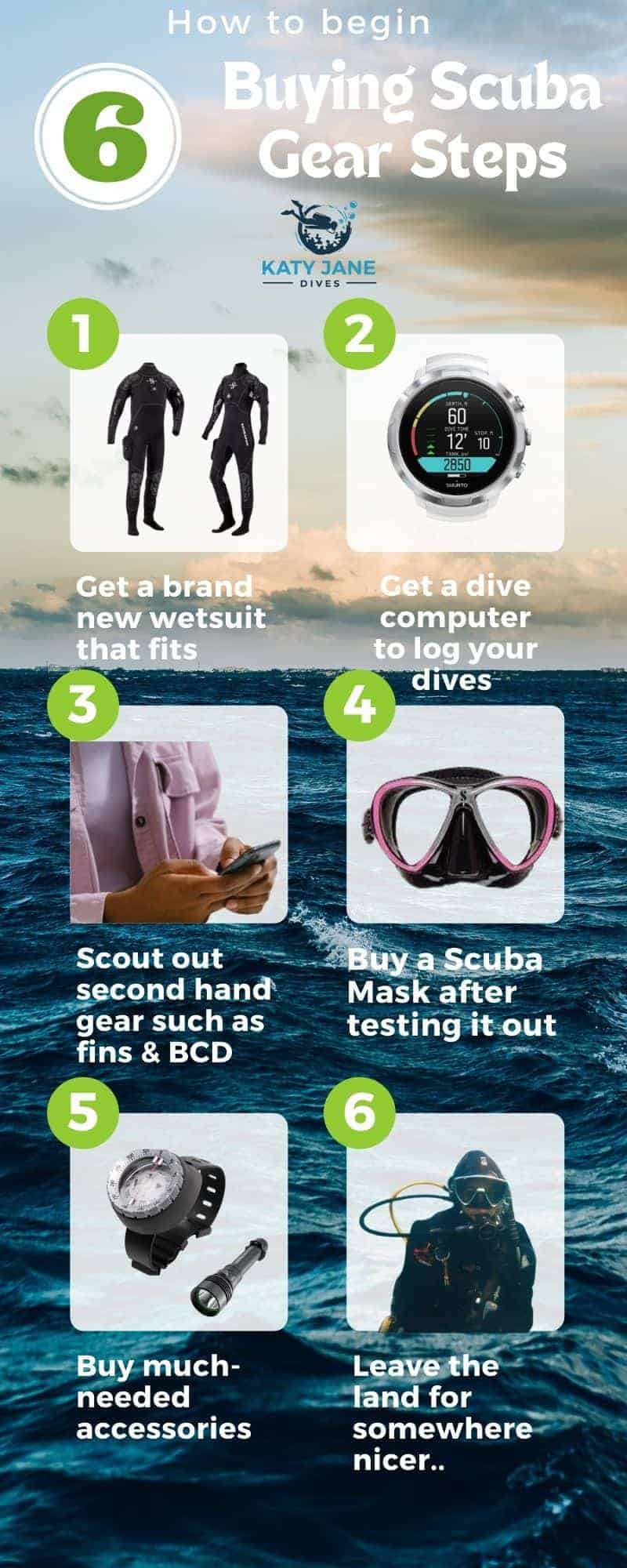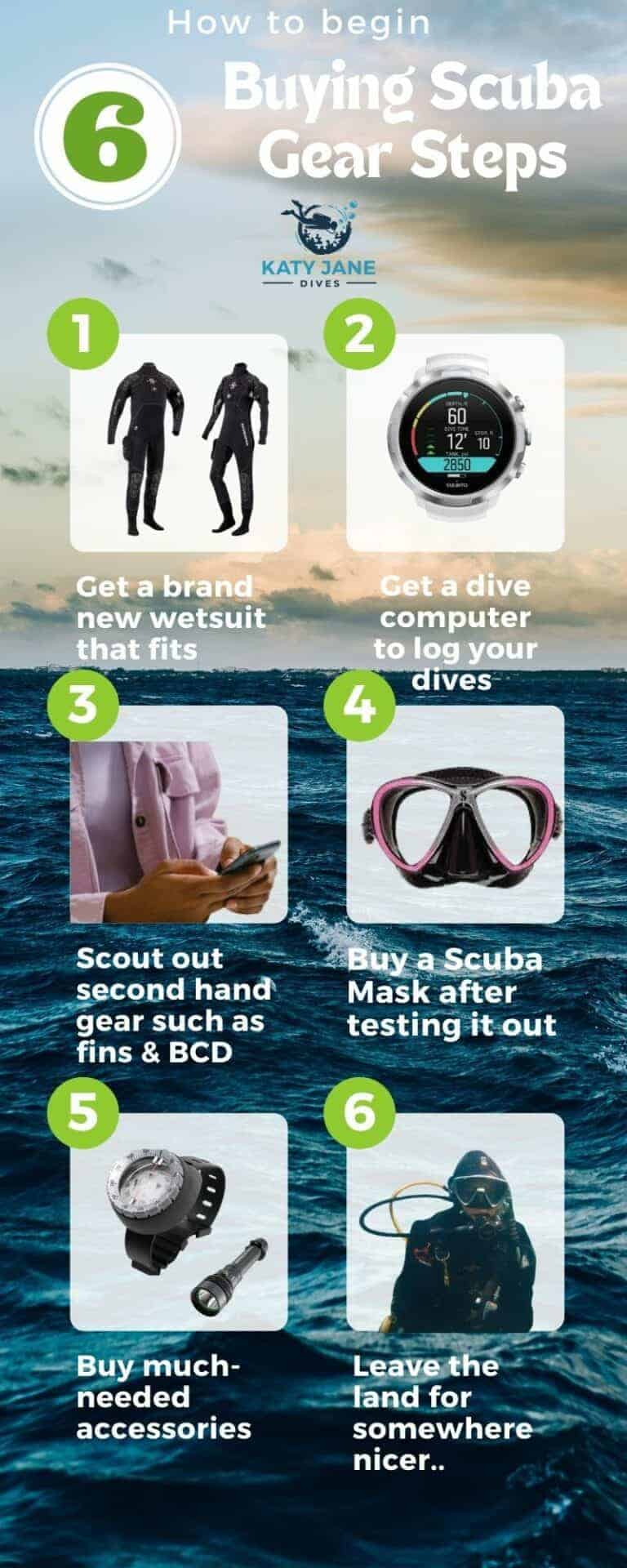 Buying scuba gear is no easy feat, it takes a lot of patience and due-diligence. I have experienced it first-hand, and it doesn't get much easier regardless of your level. 
I'm a PADI-trained scuba diver, a Master Scuba Diving Trainer (Diving Instructor). You can read more about my experience and qualifications on my about page. 
Scuba Diving Gear Essentials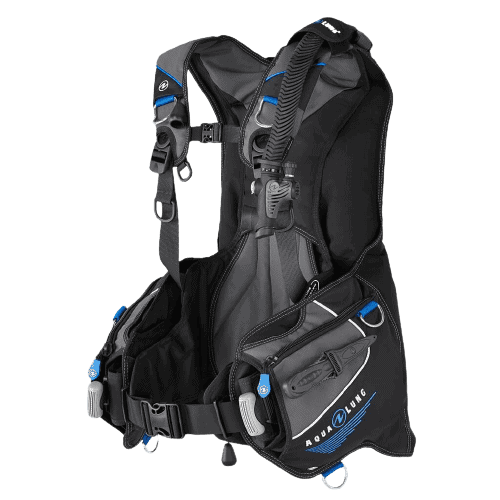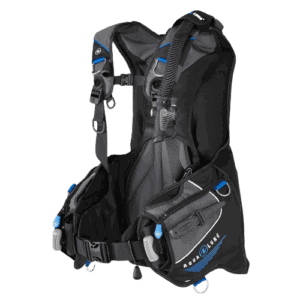 Helps you control your buoyancy – they help keep you afloat at the surface or lower to depths and maintain a certain position.
Everybody, but you can get away with buying pre-owned until you research and commit to your own
A buoyancy control device (BCD) is also known as a buoyancy compensator (BC) or dive jacket and it is essential for all divers. As the name suggests, it's there to keep you buoyant, it is like an inflatable dive jacket that holds your tank.
All BCDs contain a inflate and deflate feature, this allows you to add and remove air in an instance. You will also have pockets on your jacket in case you wish to add weights, flashlights or surface marker buoys (SMBs).
The BCD will help you achieve neutral buoyancy underwater, be sure the BCD fits whilst you're in your exposure suit before you buy gear.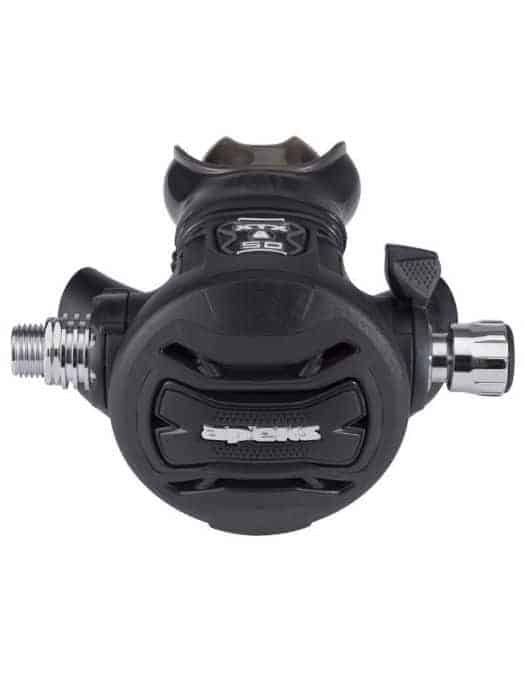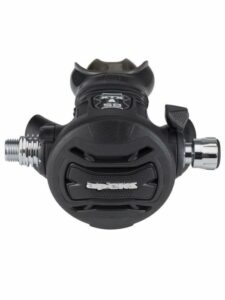 Deliver air from your tank
Every diver, it's an essential although they're easy to rent when diving at a shop
Also known as scuba regs, the regulators are there as your number one lifeline – they provide you with air. Regulators go into your mouth and deliver air from your tank.
It's important to get used to your regulator and should be a priority. It allows you to breathe underwater and there are generally five parts to each reg with a first stage, primary second stage, alternate second stage, low-pressure inflator hose and a submersible pressure gauge.
You don't need to be an experienced diver to know that breathing apparatus is key, after buying the kit you will want to maintain the regs and keep them safe. Regulators take in high-pressure air from your tank and deliver lower pressure air that keeps you breathing underwater.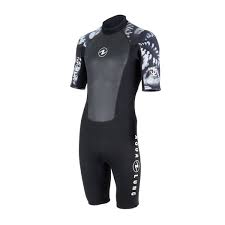 Keep you protected from any abrasions, as well as offering a thin layer of warmth
Usually those diving in hot or warm climates, as you won't be in a drysuit
Wetsuits can keep you warm during a scuba dive, made from neoprene they trap a small layer of water near your body and hold in heat. The thermal features ensure that you can stay warm and pick the right mm thickness to suit the climate.
It's important to make sure they are tight-fit as it allows you to make sure there's not too much water being trapped, keeping you warm during your diving expedition. Buying a new wetsuit is also a must – as it's known that many divers do wee in these suits and although it's nothing a good wash couldn't clean, personally, I like to buy my wetsuit brand new.
It is a gender-specific bit of kit – look for ladies' wetsuits here or you can check out men's wetsuits.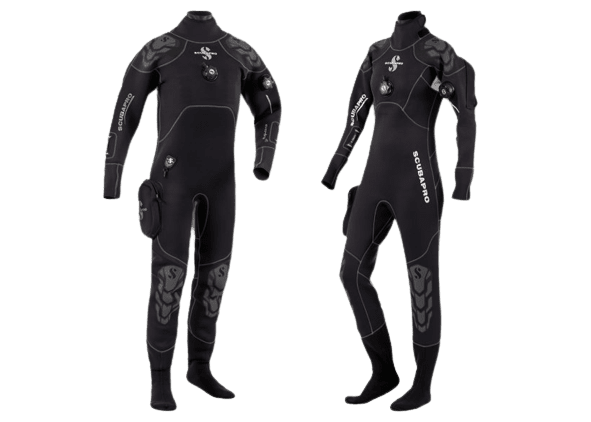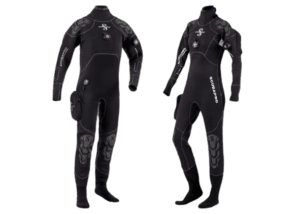 Keep you warm and dry, as well as protected 
A drysuit is different to a wetsuit, the obvious difference being that the previous keeps you dry. A drysuit is a fully sealed layer worn over thermal layers and is mostly used for cold dives to keep you warm and protected.
It's possible to add to your drysuit too – since I came back from tropical diving in Thailand for cold dives in the UK – I have started to add to my cold water dive kit, recently adding screw-on dry gloves. It is also possible to add neoprene boots, hoods and more for exposure protection.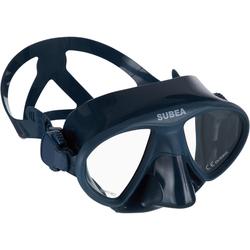 Gives you sight underwater, you want a mask that doesn't leak or feel uncomfortable.
Everybody, it is important to get one that fits well.
Scuba masks are also integral to your scuba diving kit list – they enable you to see all of the beauty in the underwater world. They can sometimes take a bit of fiddling, you may want to try some on for size and check they fit okay. Each mask has a different field of view, some come with tempered glass and you can also get masks with a prescription.
I'd recommend trying on your friend's mask or running into a local dive shop to try masks on before you decide on which one to purchase. If you don't opt to buy one on the spot then check out my recommended scuba masks.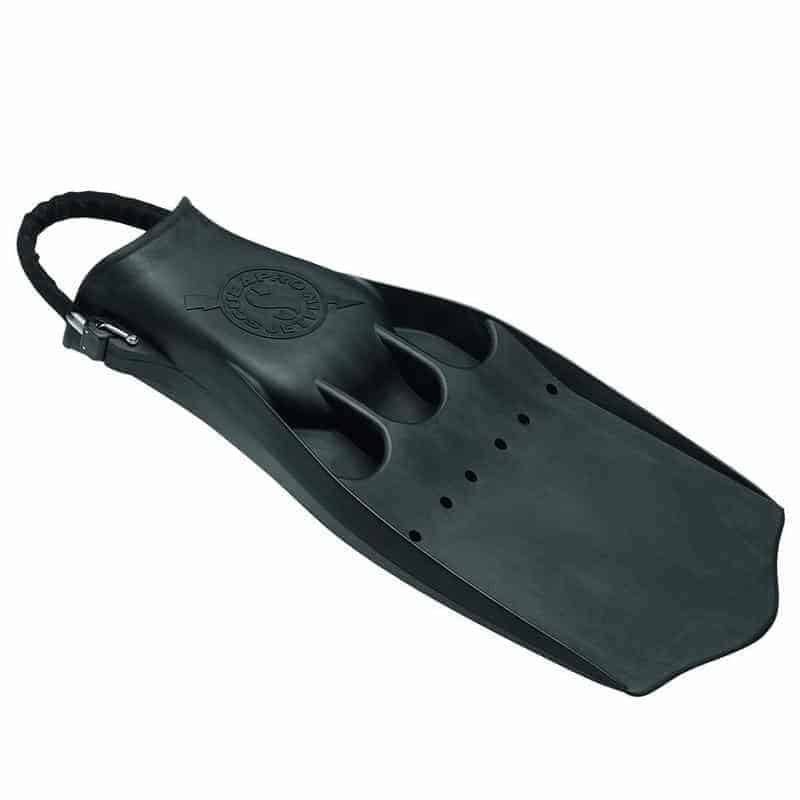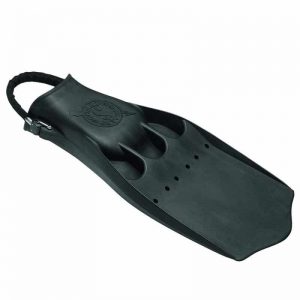 Help propel you, make it easier to move through the water.
Every scuba diver needs fins but you can get away with buying second hand as a beginner until you find a preference for your diving style.
Flow through the water with ease when you choose the right scuba fins – diving fins are another essential, they help propel us underwater and make moving underwater effortless. It can take time to get used to using them.
They come in different shapes and sizes you can't go too wrong on fins – get the right size, read the reviews and with experience, you'll start to discover the best fins that work with your diving style. Check out my full guide and top scuba fin picks, you can look at full foot fins and open heel fins, and select the best for you. As a new diver, it can be difficult to know what to pick when you buy gear, use my advice and diving experience to help you on your journey.
You can often use your diving fins as snorkeling fins too – but in my guide link above, you can find out everything that you need to know.
Some of my favourites include the RK3 fins by Apeks and Atomic Aquatic split fins.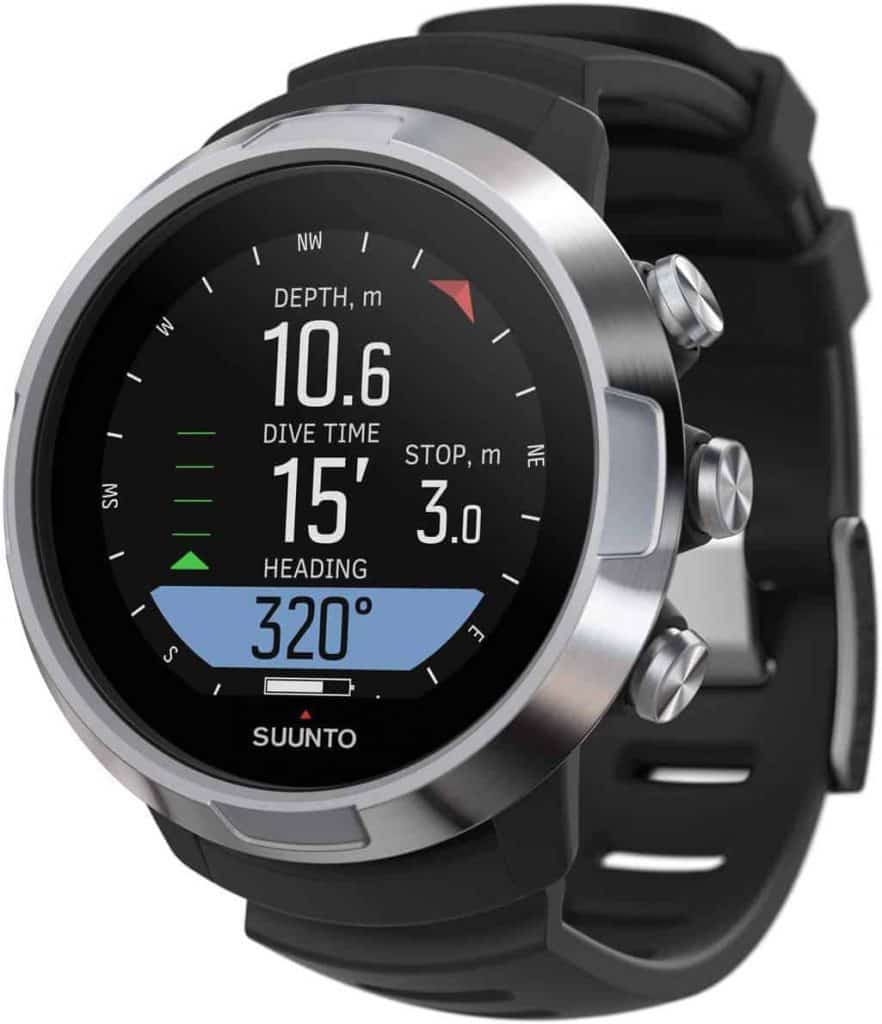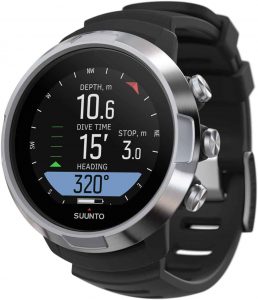 Log your dive, monitor depth and help eliminate the risk of decompression sickness.
Every scuba diver, it's an essential for beginners and experienced divers. 
Dive computers look sleek and stylish but they're an imperative part of your dive equipment – they provide information that ensures your safety. The computer tracks your dive in real-time and tells you how long and how deep you can dive.
Computers have a decompression mode – to ensure that you do not get decompression sickness. It can calculate how much theoretical nitrogen your body has dissolved and how long you can stay at the depth you're at – it's important to use these devices to our benefit. They can tell you when to do a safety stop and also have a number of other settings such as the depth, duration, diver profile, log book and more.
They can also help indicate how much air remains in your tank, this is an option that I have on my Suunto D5.  This is known as air integration.
I am currently using the Suunto D5 and have been for years – be sure to check out all of the best dive computers with my full review and guide.  But I've also been testing out the Garmin Mk2S for a few months now – this is a dive computer but fitness watch too!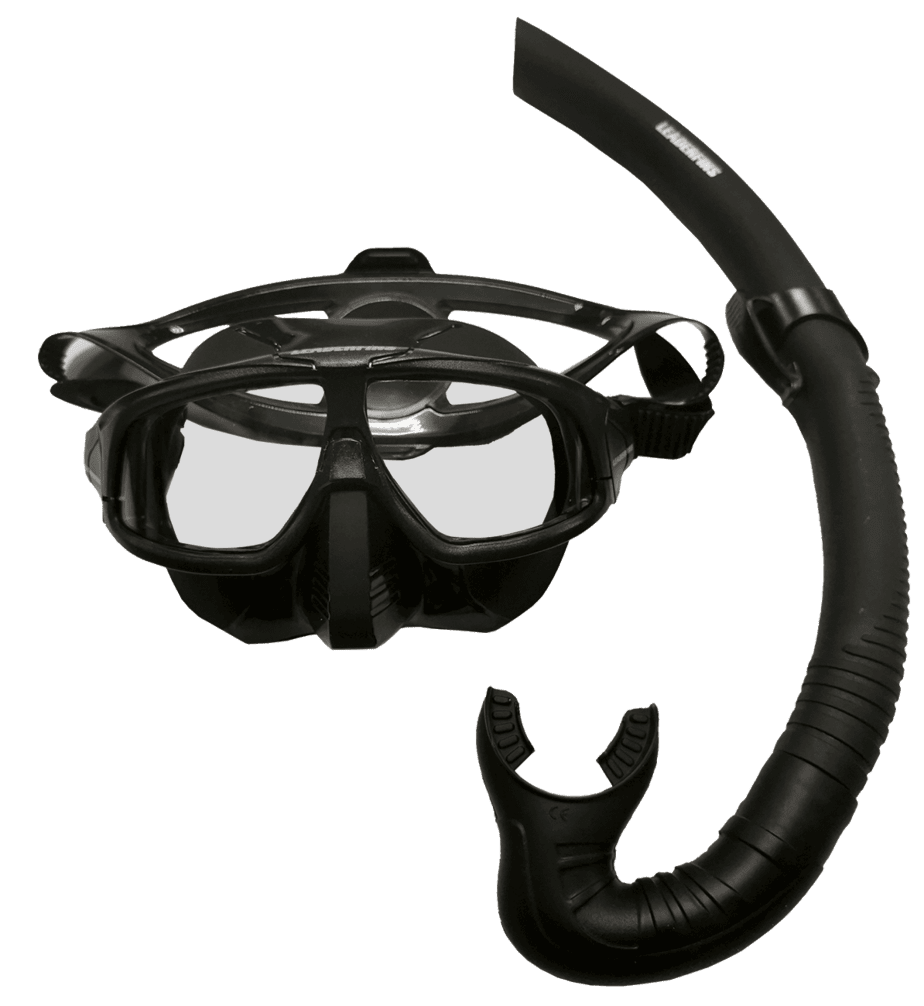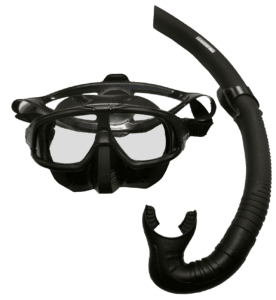 For snorkelling, you can stay at the surface and breathe clearly.
It is not an essential, but it is best practice to always have a snorkel attached to your mask or in your pocket!
This is a great option for you dive kit – to give you the choice of snorkelling – I recommend as you never know when you will wish you had your snorkel/
Snorkels aren't part of the scuba diving kit essentials but I recommend having one in your dive bag, if you're back on the boat and want to take a look underwater, you can enjoy the beautiful sea life from the surface.
They also help a lot when waiting at the surface before or after a dive. If the water is choppy, keep the reg or your snorkel in your mouth, so you have a clear supply of air.
Find all of the best snorkel equipment such as masks, you can even get snorkel masks for glasses wearers.
Dry Robes / Changing Robes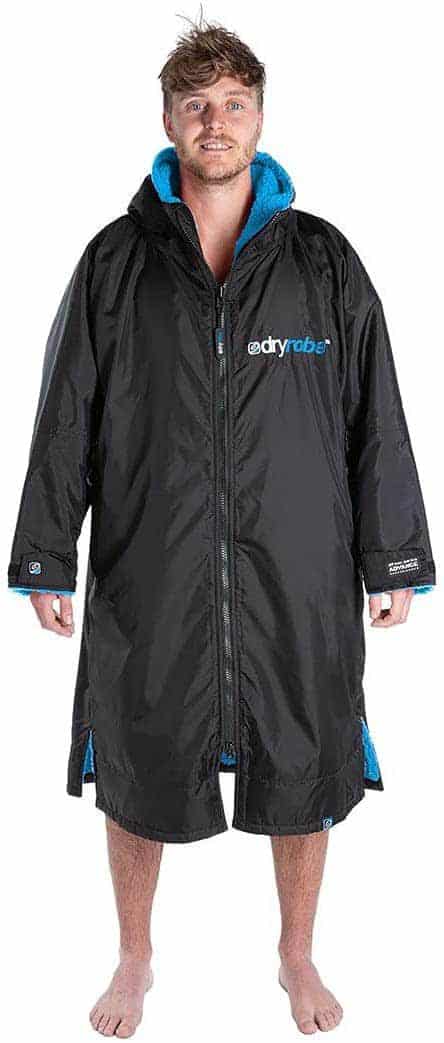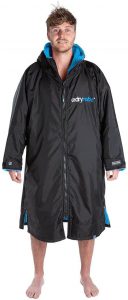 Dry robes offer privacy when changing in and out of clothing plus you can dry with these robes straight out of the water.
Anybody can use a dry robe but they are especially for those who want privacy when changing. Cold water divers often change next to their car. 
Lots of scuba divers overlook the importance of dry robe alternatives, it's more important for cold climate divers with many divers having to change in their car, the car park or from the boot of a car. DryRobe alternatives and DryRobes make things easier, cover up whilst getting changed with the privacy these robes offer, you can also wear them after a dive to warm up quickly. They are perfect for when diving off boats too!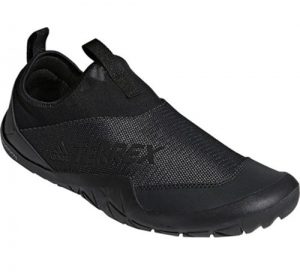 Protect your feet from rocks, in-between dives
Far from a necessity but if you need to get to a boat near rocks or the beach – you may want water shoes
Water shoes for diving can be incredibly useful with them being easy to slip on and off in-between dives. Water shoes should not be confused with scuba boots – instead they're slip-on shoes that protect you from rocks, and pebbles on a beach or they can be worn on the boat on the journey.
Many wild swimmers, surfers, snorkelers, canyoners and other water sports participants also enjoy the water shoes.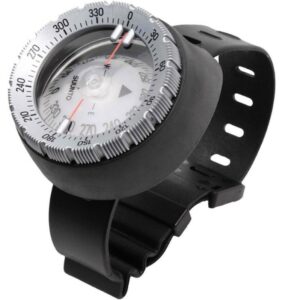 Everybody needs a compass, they are affordable and accessible
Don't know whether you're coming or going when it comes to your own gear? You will now. In all seriousness, the compass is an undercelebrated essential. You don't need me to tell you why, navigational skills are huge when it comes to the underwater world.
Check out my recommendations or speak to other divers about their favourite compass equipment, you want something reliable that's sure to last.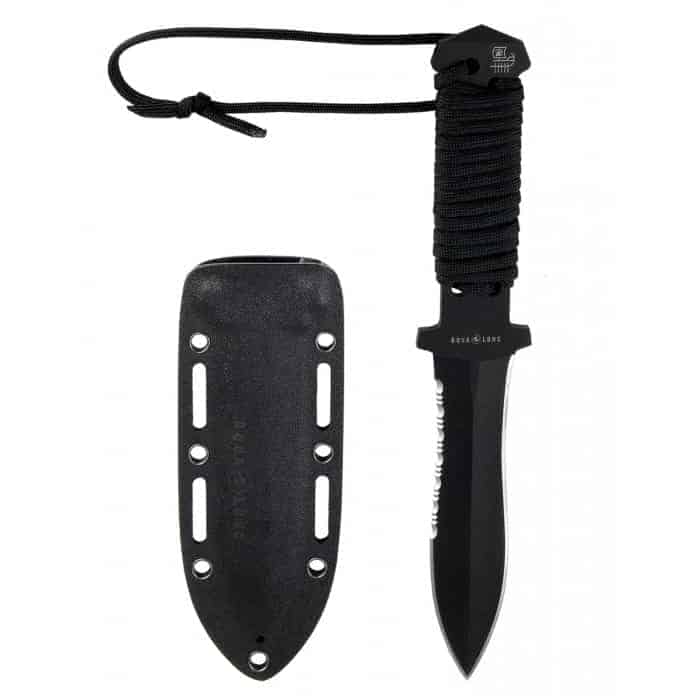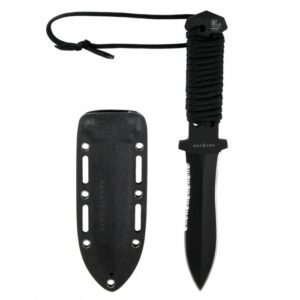 If you became entangled in something, you could cut out of it
It is a fundamental accessory
Knives can cut you out of tricky situations, you may buy one and feel as though it's become redundant tucked away in your BCD pocket – but the truth is, it could come to your rescue at any time. If you're tangled then you may need your knife, they're not always glamorous, it could be a practical task that needs a diving knife.
Cut through a net with minimal effort using a good one too.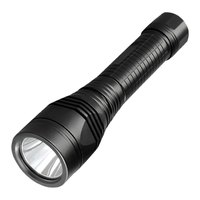 Light up underwater as you'd expect
Night divers and cold water, low light divers, but it's great for everybody to have one even for in day dives
A scuba torch is always handy even when diving in the morning or day. It may be sunny, but you can never be 100% certain about what conditions you may run into. If you're planning on a night diving then this equipment quickly becomes a priority.
Breathing underwater is a bizarre yet an amazing experience but you need all the right tools for such a feat..
Although the following list of equipment isn't a foundation of your kit, here are some other bits of gear you might want to check out.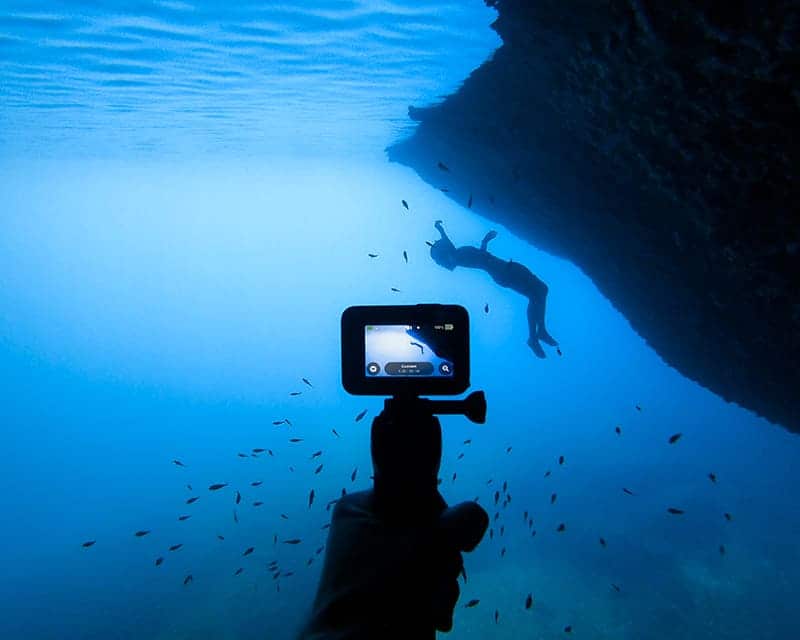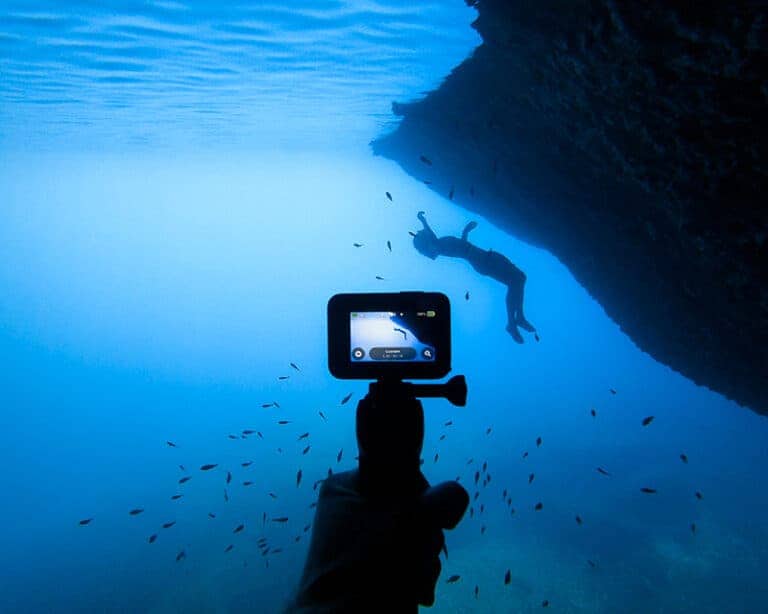 As well as all of the base equipment required as a diver, you will also want to look at other types of dive gear. Think of other fun things you can add to your dive bag such ass underwater cameras.
Boots are not necessarily essential but they can be a valuable addition to your dive gear, get boots to fit underneath your fins. They will keep you protected from any potential abrasions as well as add comfort and they'll also keep you warm in colder water.
How to Ensure Scuba Gear Fits?
It can be difficult to make sure dive gear fits when starting out – all scuba equipment will be different where that's concerned. The best way to make sure your kit fits is to read advice on how to measure up and pick the right sizes for each part of your gear.
If you're worried about buying dive equipment online, then I'd recommend for you go in-store, and find a local shop to try out various gear. Although you will often find some of the best bargains and value for money online, it's still worth checking out what's on offer at local dive shops, getting advice and trying your gear on for size.
Exposure suits are the hardest to fit, they come for all body shapes. It is important to find a dry suit or wet suit that is the perfect fit for you.
Best Place to Buy Scuba Gear
There are different ways to go about picking up equipment, you can buy second-hand gear, buy from a shop or simply purchase online.
Pre-owned gear is significantly cheaper but I'd recommend buying your dive computer new and also getting your own wetsuit and scuba mask.
You can buy second-hand fins, gloves and accessories that could save money. Get more scuba gear with dive weights, a dive knife, a scuba tank and an underwater camera. Check out Facebook groups that trade and sell scuba diving equipment. Make sure it's legit and that you don't leave a deposit if you aren't on a trusted platform.
I's always recommend any equipment that you purchase second hand gets checked out by a professional, or serviced where necessary, before used!
Buying scuba gear online is the most cost-efficient, you can find the best deals on brand new products online. Shopping online has got a lot easier but if you're buying your first set of gear then you will need to make sure you have tried to fit your scuba gear first.
A local dive shop is the best place to purchase, not only will you be supporting the dive community but you'll also be able to try on your set of gear before purchasing.
New divers can get advice in-store and try on the exposure suits. As previously mentioned it is imperative to ensure your suits fit, they will be tight so utilise a size fit guide before buying your wetsuit.
The obvious choice for your first stop for scuba diving gear is the same shop that you received your scuba certification.
Dive shows are a lot of fun – have a mooch and enjoy speaking to lots of like-minded scuba divers. In addition to meeting with similar hobbyists, you will also be able to check out lots of scuba brands.
These brands vary from local to national companies, enjoy the pick of accessories, essentials and tech equipment. You will also find the option to book a dive boat liveaboard holiday too – with options to book your next underwater adventure.
What is the Scuba Gear Cost?
Scuba gear costs anything from $200 to $2,000 – the best way to begin is to start with the essentials such as a mask, computer and wetsuit. Slowly add and accumulate all of your gear. You will need a minimum of $200 for your budget to start your kit but in total you will need over $1,000.
Read on for more on how much scuba diving gear costs. Here's an approximate budget for each bit of kit:
Scuba Mask – $50 – $400

Fins – $50 – £300

BCD – $300 – $1,000

Dive Computer – $200 – $2,000

Scuba Torch – $50 – $100

Dive Knife – $50 – $100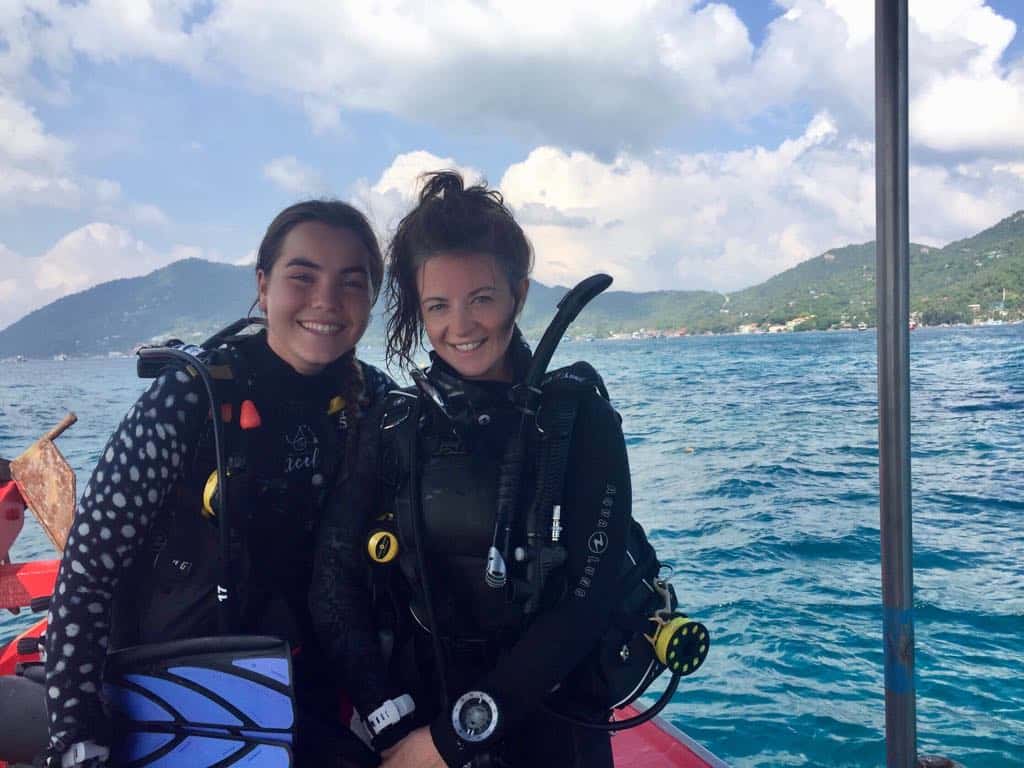 To give you an idea of diving gear that I use, check out the list below. Here's my current diving gear setup, the price I paid and a short review.
Dive Computer – Suunto D5 & Shearwater Teric
My first dive computer was the i200 which was a great one to start out with. It was easy to use above water and could be read clearly below water. I used this computer for about 2 years before I upgraded to the Suunto D5.
I love the D5. It is a smart, all round dive computer that is nice to wear even on non-dive days. The colour screen is great and there are many different customization options available from what data you want shown on the screen to the interchangable wrist straps. You can also purchase a POD transmitter that can be attached to your cylinder, an option not possible for the i200.
I'm now using the Shearwater Teric as my primary dive computer, with the D5 as a back up.  The Teric is fantastic, easy to use and has one of the best displays I've seen.
Fins – Apeks RK3 HD & Aqualung
I have two pairs of fins, one for warmer water and the other for my cold water diving. The Apeks RK3 HDs are the ones I use when in my dry suit, as they are slightly negatively buoyant which avoids the sensation of having "floaty feet"!
My Aqualung fins are also really good to throw in a suitcase and travel with as they are pretty light.
Drysuit for cold climates – Hydrotech Predator II
I am surprised that I don't see this dry suit being worn by other divers that often. It is an extremely well-made piece of equipment that is really comfy and helps keep me nice and warm. I have never had a problem with leaks, and it fits so well. It is a drysuit which has been designed and manufactured in the UK – next door to my local inland dive site!
Wetsuit – Aqualung
Aqualung make some fantastic wetsuits. The 3mm I own is no longer on the market but was part of the Hydroflex range, which you can still get hold of. I'm probably due a new suit next time I head to the tropics and have my eye on the Aqualung Xscape – it's just so pretty!!
BCD/Wing & Backplate
I've recently switched to using a wing and backplate set-up.  I purchased an Xdeep Zen and would not go back!  As I do a lot of cold water diving now, I feel this configuration suits alongside my dry suit.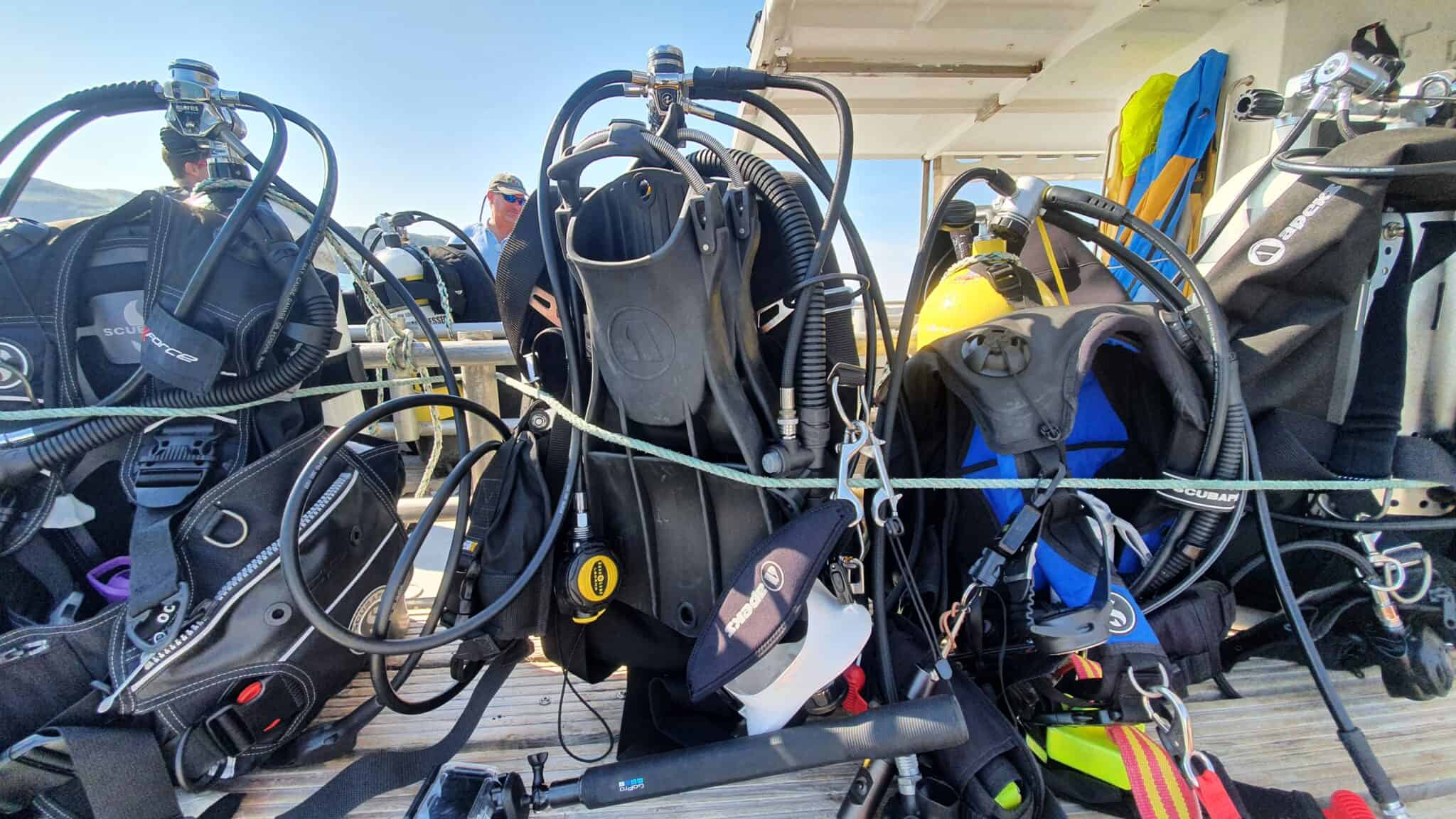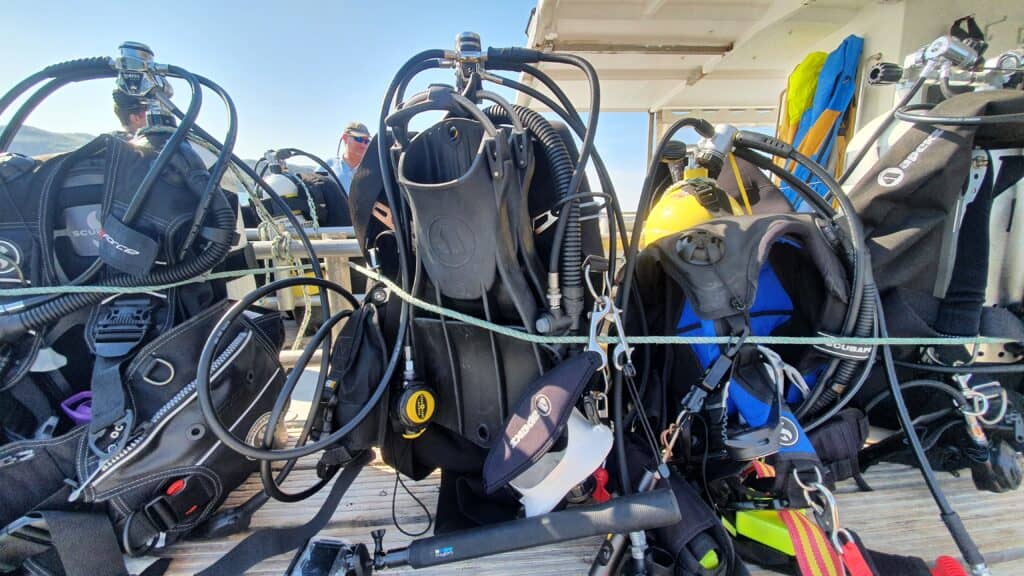 I LOVE buying new scuba gear. Picking up some shiny new dive equipment is one of the best feelings, so take this as a warning – it can become a slight obsession to buy when new scuba diving gear hits the shelves!
What Gear Do I Need for My Diving Environment?
As you can imagine, different types of diving requires different gear. Although the foundations are the same, you will need a mask, fins and computer, some of the specs will vary. Safe diving is number one and different dives will need different gear, find the new dive gear you need with my help.
Here's some of the different types of diving and what you will need to consider:
Cave diving is dark and more dangerous than open water diving. If you've been trained or looking to get trained in cave diving – then you will be adding a dive knife and torch into your essentials list.
Not only that, cave divers rely heavily on their reels. Just like wreck divers, cave divers lay line throughout the course of their dive which keeps them in contact with their surface support and provides guidance back to their starting point.
If you are looking into learning how to cave dive, then you will need a reel specifically for your cave activities, you cannot simply use the reel that you use for your DSMB. Cave reels can hold as much as 200 – 100 metres of line and they need to be visible in dark light, so white tends to be a favourite for cave divers with a gauge of 24 or 36 negatively buoyant braid.
In any type of diving, but more particularly cave diving, it is best practice to carry two or more of those bits of equipment that you could not do without. For example, divers should carry two torches just in case their primary fails. Many divers have two computers too.
Do not try to cave dive unless enrolled on a course with a professional! 
I enjoyed 9 months of diving day in, day out in Thailand. It was hypnotic and one of my favourite experiences to date – although it's hot you will want a thin wetsuit – around 3mm. Other than that, you will be best to get all of the usual scuba gear such as a scuba diving mask, fins, computer and accessories.
The exposure suit for hot climates will be a wetsuit, you won't add drysuits to your list. It is bulky and too warm for these climates.
Something else to take into account, is how heavy your kit is. You don't want a heavy bag, you need to be comfortable carrying it to shore entries and on a plane when travelling. You will want your entire diving experience to be as seamless as possible.
Diving in Cold Temperatures
I have recently immersed myself back into cold water diving, enjoying my spare time diving in the UK. As you'd expect, the water in England is cold to say the least and that's why I have a drysuit, I opted to spend more intitially as I wanted good quality. Recently, I also added screw-on gloves to keep my hands warm.
Something you will be mindful of when preparing for frigid waters is how to keep your body temperature high. Despite an expensive drysuit and feeling warm on a recent dive, my hands were really cold. That's why I decided to add new gloves costing around $200 to my suit, they easily screw on and ensure no water can make it through.
I also have a great thermal undersuit which provides excellent insulation. I have the O'Three PBB eXtreme base layer set.
Conclusion - Getting your Scuba Gear Right
Buy scuba gear carefully, it takes a lot of research but it's worth it. During your first dive trip, I'd say check out the dive centers' equipment, this will help give you a feel for how to find the right gear and how comfortable the different brands and fits are for you. Rental gear can be handy for that reason.
Over time though, you will want all of your own gear. New scuba gear shopping should be fun and exciting, don't stress, just sit back, research, read up on diving equipment or speak to those with more dive experience. Enjoy the process and start accumulating your personalised diving gear setup to suit your preferences.
Be sure to look to buy your essential scuba diving equipment such as wetsuits, a dive computer and scuba diving mask.
Use all of my hard research and experience on this blog to grab the essential scuba gear that you need – I am hoping that all my trial and tribulations make it a little easier for you on your journey!