Egypt is one of the most-visited countries in Africa, and while many people will likely think of pyramids and the sphinx when they first think of traveling here, diving in Egypt is actually incredibly popular! It's not surprising – as the Red Sea remains one of the most amazing diving and swimming locations on this side of the continent.
If you've never considered scuba diving in Egypt before, there's never been a better time to start thinking about setting up a Red Sea liveaboard experience. If you visit Liveaboard.com and take a look at all the amazing Red Sea / Egypt dive sites available, you'll find that you are really spoilt for choice.
People travel from all over the world to dive in the Red Sea. With it's numerous easy to reach dive sites and high levels of biodiversity, you can see why!
Not sure if Egypt and Red Sea diving is the perfect location for you?
Why not start off by reading my blog on where you can find some of the best diving holidays for more of a steer?
The Northern Red Sea is famous for its stunning reefs and colourful marine life, and with hundreds and hundreds of miles of absolutely gorgeous water, you'll likely find diving in Egypt – through a liveaboard trip – to be a life-changing experience in the best possible way.
Why not join fellow scuba divers and start exploring the best dive sites – and marine life such as reef sharks and manta rays – by finding that perfect Egypt liveaboard?
RECOMMENDED LIVEABOARD AGENCY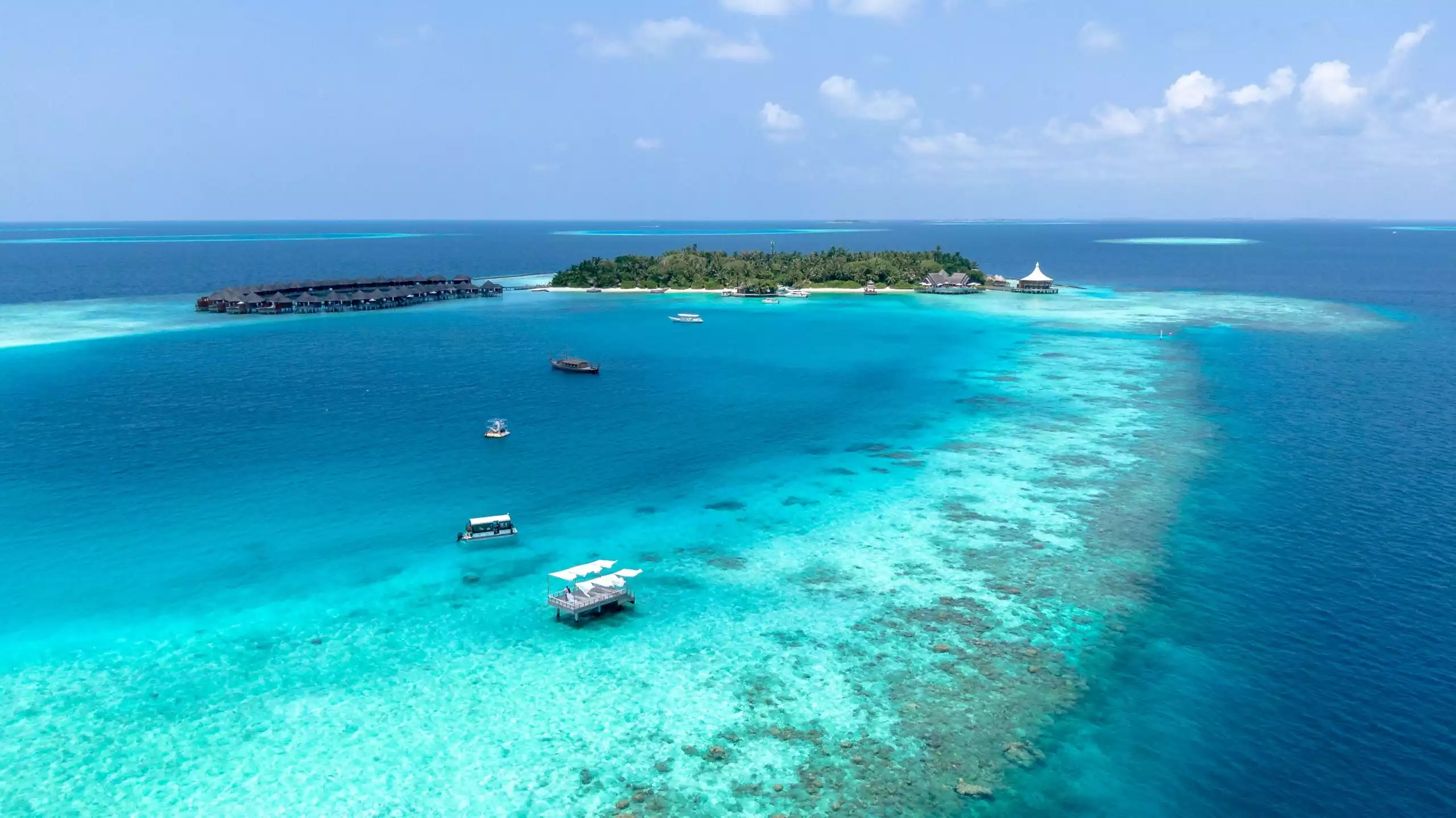 Again, if you head to Liveaboard.com, you'll find that liveaboard diving in Egypt is absolutely massive! With more than 70 different ships ready to set sail and help you dive deep into the Red Sea, I thought I'd help cut down the pack a little and line up my favourites. Here are the best Egyptian Red Sea liveaboards you can book and head out to right now:
Tillis
Emperor Elite
Emperor Asmaa
Blue Seas
Sea Serpent Grand
Snefro Pearl
Seawolf Dominator
Jessica
BEST RED SEA LIVEABOARD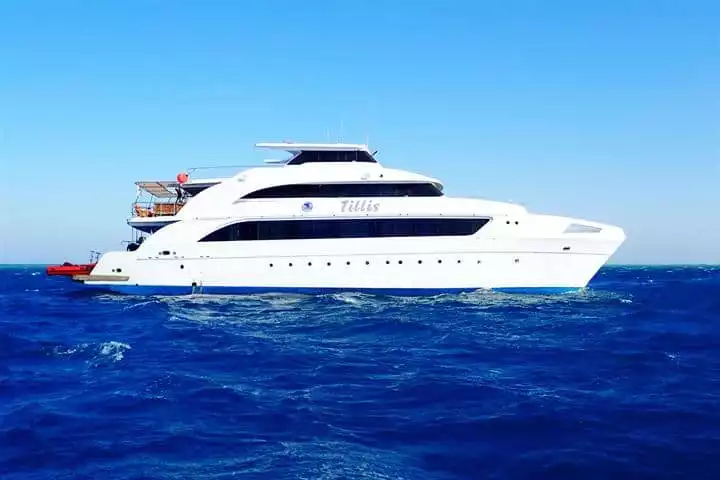 Tillis remains one of the best-loved and top-reviewed liveaboards in Egypt, offering guests the chance to explore some of the most stunning reefs and dive sites across the Red Sea. You'll be able to dive and explore the deep with local hammerhead sharks, and you can get up close and personal across St Johns, Fury Shoals, Brothers and other reefs. If you've never seen a whitetip shark before, now's your chance to take in a whole school of them!
Tillis is a huge boat that offers space for up to 26 guests and which provides en suite bathrooms throughout. The dive deck is impressive, meaning that experienced divers will find this one of the best Egypt liveaboards for getting kitted out with the necessary bits and pieces.
Use the link to Liveaboard.com for the full liveaboard itineraries.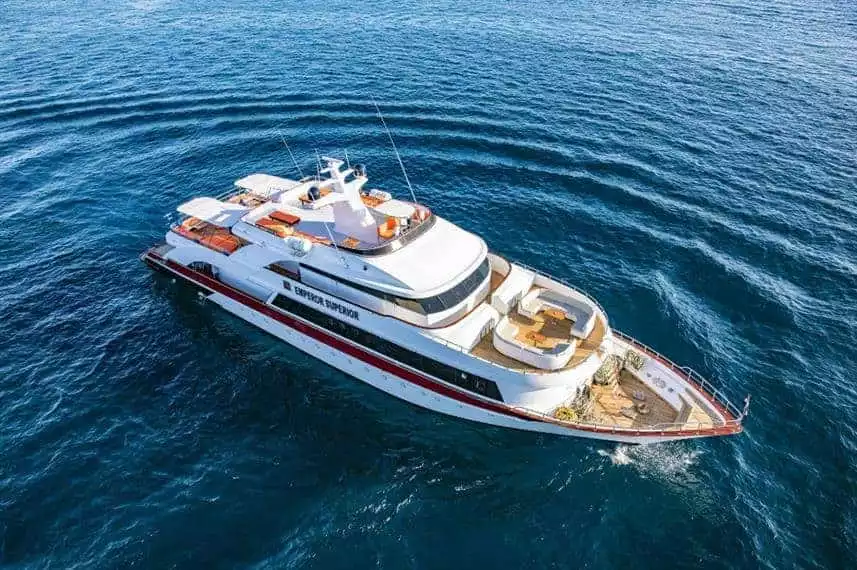 The Emperor Elite promises to be an Egypt liveaboard to put all others to shame – and while you may be looking for little more than a chance to see big fish from an air conditioned cabin, you really do get more than just the simple experience here. Offering a mind-boggling array of diving experiences and diving destinations from across the deep south and St John's, this is absolutely one of the top Egypt liveaboard options for anyone looking to take in the best Red Sea dive sites.
The Emperor Elite has room for up to 26 guests and is completely built for diving – at 38m long, it's one of the biggest liveaboards you'll book across the region, perfect for wreck diving as well as spying sharks and other marine life. Book several nights on this boat and you'll have the chance to experience world class comfort and diving support. What's more, the Emperor was named one of the best liveaboards in Egypt in 2020 – you know you're in for an incredible time.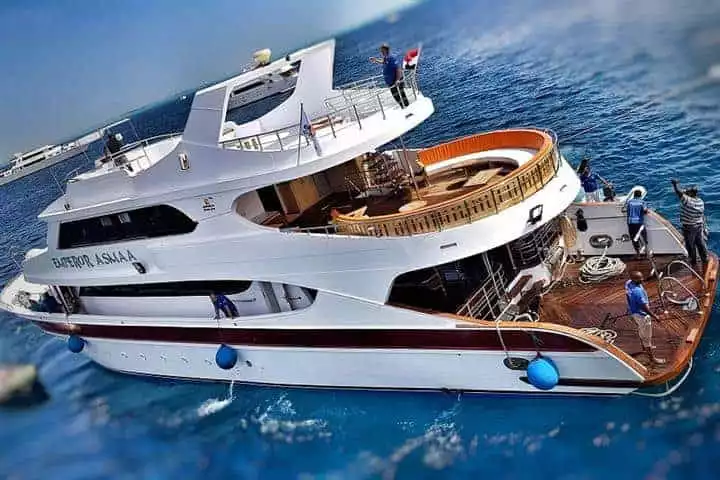 Scuba diving on board the Emperor Asmaa is always a pleasure, and as it's part of the Emperor liveaboard line, you can be sure that you'll be scuba diving into the best of Egypt and its Red Sea reefs. In fact, the brimming itinerary will bring you closer to the likes of the wrecks around the deep, and you'll get to explore some of the best marine parks in the area. Over a seven night stay, you'll have the chance to dive six days across Egypt – a great Egypt liveaboard for anyone looking for more than just a quick dive here and there.
Refurbished within the past few years, this is a 30m vessel that's completely designed and built to offer diving experiences, meaning it's more than just a glorified cruise! Your comfort and buffet food is completely covered on board, and if you need help diving across the best Egypt and the Red Sea have to offer, you'll have access to guides who can support you.
No. 4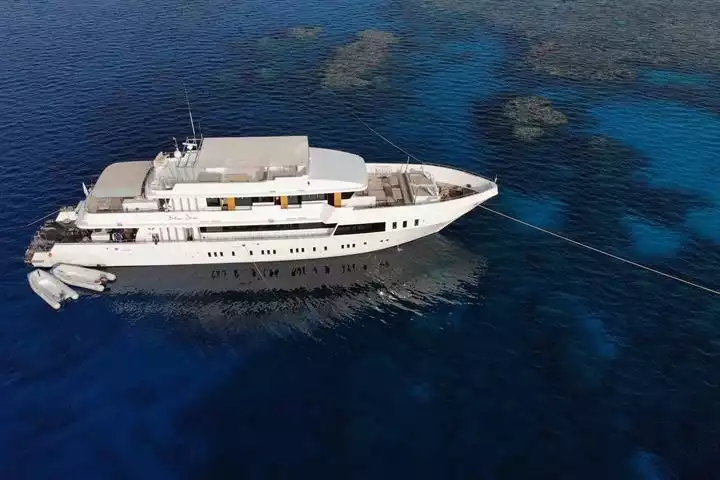 Blue Seas really does aim to offer true luxury in all its liveaboard trips – this is a 37m vessel that strives to combine luxury cruising with diving amenities and access to the best Red Sea dive sites. It's one of the best Red Sea liveaboards not just for its incredible facilities and space, but also for its access to marine parks across Rocky, Daedalus, Zarbagad and more.
21 different dives a week really is an incredible amount of exploration – perhaps not for the faint of heart, but for those looking to really explore the Red Sea as closely as possible, there are few better liveaboard options out there. Yes – air conditioning arrives as standard, but you're going to want to spend as much time exploring the marine park scene as possible!
No. 5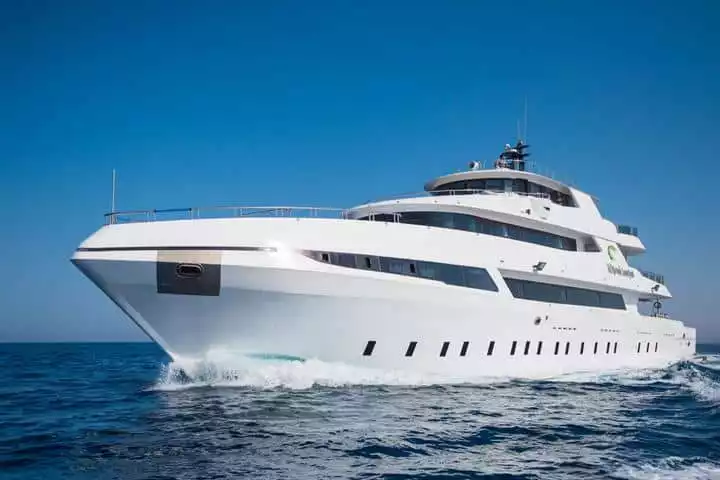 If you're really unsure of the best time to dive into the Red Sea across the year, then the Sea Serpent will be happy to welcome you whenever you'd like to go! Offering air conditioning, free WiFi and all your food and drink provided, this is a great Egypt liveaboard purely for the cruise experience! However, it's the diving where things really count, and this vessel will take you all the way around the Ras Mohammed walls, as well as the marine parks towards the north.
This luxury vessel welcomes 28 divers at any one time, with in-cabin comforts and free nitrox. This is a ship that offers a complete license to explore the Red Sea, meaning it will take you to dive far and wide – across the Ras Mohamed National Park, up towards some incredible wreck dive points.
No. 6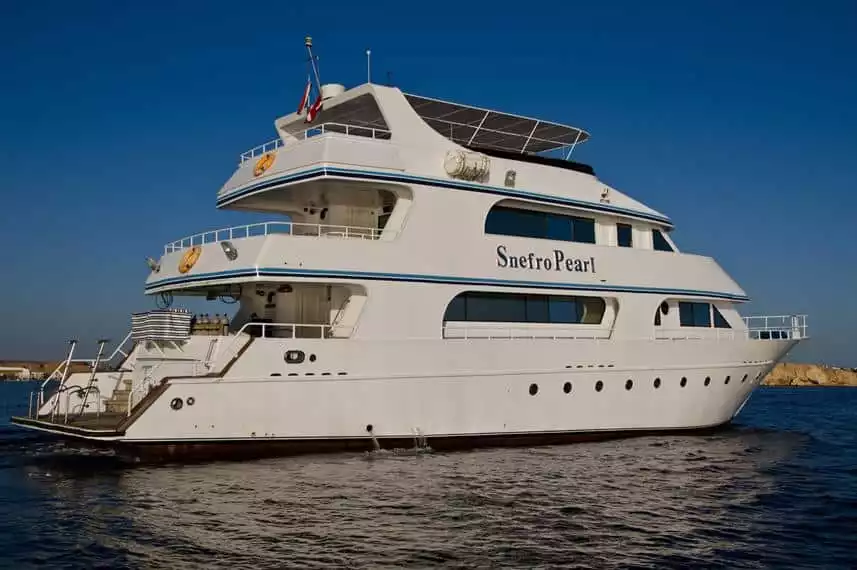 The Snefro Pearl is another luxury liner that strives to combine at sea luxury with plenty of chances for you to explore the marine life across the best of the Red Sea's many dive sites. You can get up closer to the likes of the Ras Mohammed Marine Reserve, Thistlegorn and more – this world class vessel more or less does the whole circuit. If there's an incredible dive site worth seeing in the Red Sea or across Egypt, then you'll likely be able to sample it through liveaboard trips with the Pearl.
The Snefro Pearl boasts an amazing diving deck for guests, meaning there is lots of space for you to kit up and get moving. The staff here is amazingly helpful and will ensure that you have all the room you need to suit up and dive in. The Snefro Pearl is also famous for its incredible on-board cuisine, providing you with some of the best in Egyptian menu standards while you enjoy the country's best dive sites.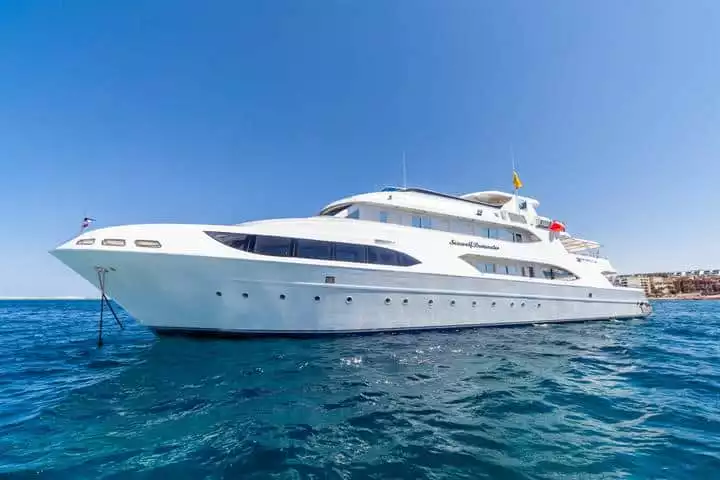 The stunning Seawolf Dominator is a great Red Sea liveaboard that will take you on a brilliant sea safari, allowing you to take in thresher sharks, hammerheads and dolphins – and this boat won't just take you across Egyptian waters, but also those across Sudan, too. The Dominator welcomes up to 24 guests, and offers a full food and drink service on board.
The crew is experienced and attentive, and you'll have the chance to hook up with nitrox when you need to. This vessel serves some of the best liveaboard trips across the Red Sea thanks to its combined luxury and diving convenience. It's honestly difficult to find much fault with this Seawolf boat.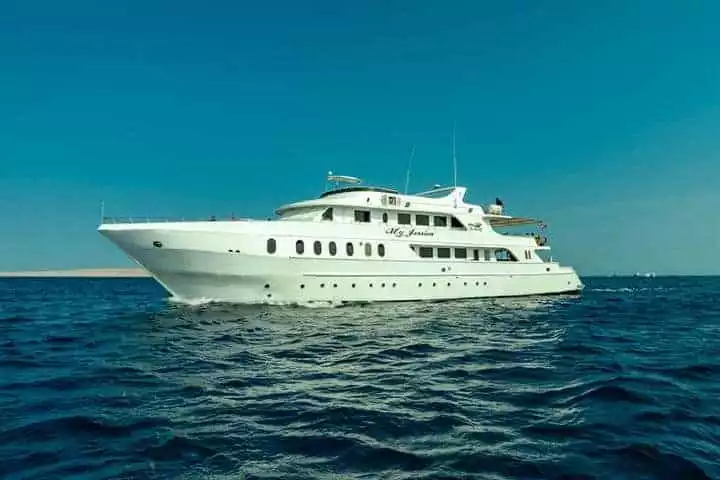 Jessica is a wonderful Red Sea liveaboard that promises to take you into the heart of the marine parks and more around the Red Sea. Over seven nights, you'll have your chance to pick from a huge variety of different diving experiences, meaning if you fancy taking a closer look at famous wreck sites or want to spend your time looking up the local wildlife, this Egypt liveaboard will take you there.
Jessica is a low-price liveaboard with a great dive deck to help divers get closer to whale sharks and world class diving experiences. Up to 30 guests at a time can attend a liveaboard trip here, across 15 different rooms – so unlike some liveaboards in Egypt, you're guaranteed of a double room as standard.
Sea Temperature: 56F to 83F (13C to 28C)
The Gear You Need: All your regular dive kit, but hire equipment is available!
Visibility: 15m – 40m+
Skill Level: Intermediate to Advanced
What Animals to Find in Egypt
Egypt's Red Sea waters are normally home to a wide variety of colourful reef creatures, which means that every one of your logged dives is likely to be full of marine life to spot. Here are just a few critters you'll spot on your next liveaboard trip to Egypt.
Hammerhead sharks
Oceanic whitetip sharks
Thresher sharks
Stonefish
Manta rays
Whale sharks
Seahorses
Dolphins
Manatees
Turtles
Big Brother and Little Brother are two of the most popular reef scuba diving spots in the Red Sea, with the bigger boasting impressive walls and chances for you to explore different wrecks. The Little Brother, however, will be your ideal spot to dive in if you really want to explore the shark schools out in Egypt. Be warned, however, as these dive sites are really only recommended for experienced divers.
Location: Hurghada
Species: Hammerhead sharks, pelagics
Marsa Alam is growing in popularity as a tourist location as well as a fantastic diving spot, again, great for exploring hammerhead legions as well as for taking in some of the most colourful reefs around. It's easy enough to charter a boat or vessel to get out into the water, but one of the best ways to dive in Egypt from here, of course, is to get scuba diving off a Red Sea liveaboard!
Diving is entirely possible and recommended all year round from Red Sea liveaboards touring Marsa, meaning it might just be your best port of call to start off with.
Location: Marsa Alam / Hurghada
Species: Sharks, manatees
Hurghada is an impressive resort that's grown into a brilliant hotspot for divers from rather humble beginnings. Many liveaboards in Egypt head around the Hurghada area, particularly as it's close to brilliant wrecks such as the SS Thistlegorm, great to explore all year round. Liveaboard diving will also likely take you close to Abu Nuhas close by, and you'll likely find many liveaboards in Egypt and surrounding the Red Sea will set sail from here.
Location: Hurghada / Marsa Alam
Species: All kinds!
The Deep South is widely regarded as the jewel in the crown of Red Sea diving – are you really liveaboard diving in the Red Sea without getting close to St John's and the South? One of the best dive site collections for its pure, unspoilt waters, you'll have access to islands such as Zarbagad, and you'll be able to spy all kinds of exotic and continental fish, as well as the odd shark!
It's also easy to get to the famous Fury Shoal from St John's and the Deep South, meaning that this corner of Egypt is likely to be the best for reef lovers.
Location: Close to Port Ghalib
Species: Dolphins, manta rays, sharks, tuna and many, many more
When is the Best Time to Dive in Egypt?
Egypt and the Red Sea tend to offer fantastic diving experiences all year round, which means you will generally find a liveaboard or two operating across all seasons. On the whole, you can expect to see sharks popping up around the summer, but you might get lucky and see them out of season, too.
My recommendation will always be to check with the liveaboard service you wish to travel with. Most will run across the year offering dive deck services, so be sure to check which diving experiences appeal to you the most before you put your money behind any particular liveaboards.
Why Choose an Egypt or Red Sea Liveaboard?
Liveaboards operating across Egypt and the Red Sea offer all kinds of chances for you to dive in and explore some of the rarer opportunities across the reefs. For example, diving experiences across the Deep South are only accessible if you choose to sail far out – meaning you're going to need to get on board a great liveaboard with all your modern amenities.
The Red Sea liveaboard experience is fantastic – some of the boats that sail around Egypt are truly luxury, with an emphasis on huge – meaning you are always sure of a memorable diving experience.
If you are still sat here reading this and thinking "what is so special about this kind of dive trip?" then you really need to check in on my ultimate guide to liveaboards to learn more!!
Yes – diving in Egypt is safe providing that you do so with an experienced team of guides or fellow divers – and providing you re diving within your training.
Some of the waters across the Red Sea are likely to be quite tricky to dive and swim in – so these kind of sites may suit advanced divers better.
Of course, it's always a good idea to have the right dive gear to hand, too. Pick the best liveaboard, and you'll likely have everything you need.
Is Diving in Egypt Worthwhile?
From Sharm el Sheikh to the Straits of Tiran, diving in Egypt really is a wonderful experience. What's fantastic about using a liveaboard yacht or otherwise means you get to experience reefs and marine life galore every day – if you've never seen a white tip shark up front before, now's your chance.
Booking a liveaboard in Egypt might be the best thing you do for your summer or even winter diving. Make sure to click through to some of the best liveaboard options linked above and book yourself a great deal!
Other Liveaboards You May Like
Recent Posts