Dive computers can really add a whole new dimension to scuba diving fun. They're not only great for keeping track of dive time and decompression data, but also for uploading all kinds of dive data when you get back to the surface. In this Suunto Eon Core review, I'll take a look at why this dive computer might just be your best ally when you next head to the deep.
However, as always, there are going to be some drawbacks – so take a look through my thoughts below.
GREAT AIR INTEGRATED COMPUTER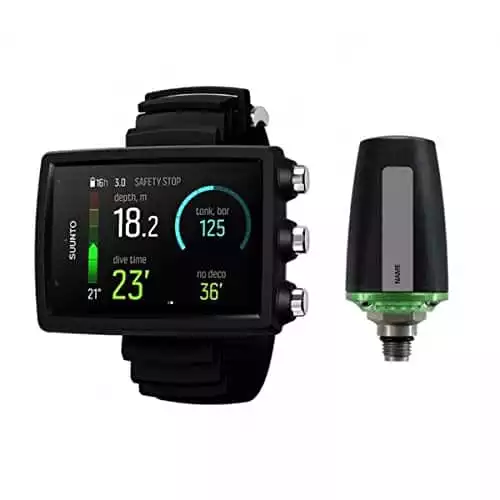 Suunto EON Core Dive Computer
Pros:
Strong composite casing

Divers can connect up to 10 Tank PODS which makes it ideal for tec divers​

You can customise your own computer screens that are easy to scroll through during the dive​

Very clear to read at depth
Check Price on MDS
Check Price on Scuba.com
We earn a commission if you make a purchase, at no additional cost to you.
Not sure if this is the computer to accompany you on your adventures? Make sure you check out my best dive computers of 2023 article to see what else is available.
If you're looking for a strong, basic dive computer, then the Suunto Eon Core definitely does its job. 
The three strong buttons on the side make it perfectly easy to use, even when you're exploring the crystal waters! 
Suunto's already turned heads thanks to its Eon Steel, but the Core is hot on its heels thanks to its ease of use and appealing price tag. For the price, its battery life is also fairly impressive – and you can use the Suunto app to sync up with ease.
What I really like about this dive computer is that you can use it to wireless connect to a Suunto tank pod – making it all the easier to keep track of tank pressure and pure oxygen while you manage your dive profile.
However, be warned – its weight can make it a little uncomfortable at times and pretty cumbersome. It only works as a console style dive computer, not a watch, so it's just for your scuba adventuring. 
Compared to the Suunto Eon Steel, it's a more than reasonable 'budget' alternative.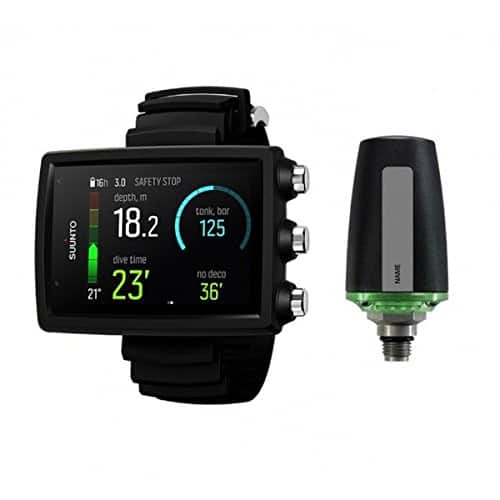 Unboxing the Suunto Eon Core
The Suunto Eon Core has five diving modes, including nitrox, air, trimix, gauge, and CCR diving. However, these are just the standard settings.
The great thing about the Suunto Eon Core is that you can customise the dive modes to suit your specific dives. In total, you can make up to about 10 different combinations if you see fit.
This is a great feature if you switch gases during dives and for technical and professionals who have their own specific requirements.
In many ways, the Suunto Eon Core is a great dive computer. It has a great quality screen with robust, easy-access buttons and comes in a strong casing. It can reach a maximum depth of 492 ft, which beats a lot of modern dive computers. It also has air integration for up to ten gas mixes.
Dive Computers That You Might Like
Check out some of the other dive computers that I've reviewed.
After taking the dive computer as deep as 40-metres, we were thoroughly impressed with the design of this innovative technology. It feels like it's a computer that's been created for divers, by divers. It has little tweaks that make all the difference.
There are four views available per mode. You can easily switch the screens as you dive to get as much information as possible.
As you dive, you'll have the option to choose between three different displays, from big-to-dial type indicators to classical (which is text only).
It notifies you your time at depth and also makes safety easy when off gassing thanks to the decompression algorithm built into the fully featured computer.
Following in the footsteps of the Suunto Eon Steel Black, the Core is certainly one of the strongest dive computers on the market. It will last you for years and is perfectly reliable up to an impressive depth, which is the most important feature to look for in a dive computer. The last thing you want is to worry about your tools not working when you're down below!
The Suunto Eon Core doesn't come with a travel case, so you'll have to take care of that yourself. 
However, generally speaking, it does travel pretty well! As it is quite strong and can be recharged using a USB cable, this dive computer can follow wherever you wish.
The Suunto Eon Core is great for diving over long periods. It charges pretty much like a smartwatch, and one charge can last for between 10 and 20 hours. 
Let's be honest, 10 to 20 hours isn't that long as far as dive computer batteries normally go. However, for the price point, it's a reasonable trade-off. Providing you charge after every dive, it's an asset for the active diver.
It is ideal for those that enjoy diving at depth with its capability to support dives at 150 metres with a rebreather, it also allows shorter ascent times when on repetitive deep dives.
Suunto have nicely integrated dive computers and apps, be it desktop or mobile. It's an easy to use platform that uploads your dive data via wireless connectivity. I find this really helpful, there's no fiddling around with wires after your dive. Just turn on bluetooth, open up the Suunto app and voila, your dive profile and associated data will appear.
Suunto Eon Core Algorithm
This computer uses the Suunto Fused RGBM algorithm. Suunto have worked hard to perfect this algorithm, based on decades of research and testing. You will find this used in a lot of other Suunto dive computers too, including the Suunto D5 and the Suunto Eon Steel.
This particular algorithm is a blend between two previously developed – Suunto's Technical RGBM and the full RGBM. This allowed the realisation of benefits from both algorithms, for both recreational divers and technical divers.
Whether you are a recreational or technical diver, the Suunto Eon Core is definitely worth considering. 
In its quest to suit divers of every level, the software allows you to choose the layout that you prefer, with stacks of data available – a full dive log is at your fingertips, and you won't miss those chunky buttons in a hurry.
Then, your dive data can be easily sent to the Suunto app once you connect to it via Bluetooth, making it easy to keep all of your dive stats with you. 
Suunto customers around the world know that their dive computers are made to be easy to use and reliable, whether you're deep underwater or just in shallow water, having a bimble! 
This compact computer will fit comfortably (albeit a bit heavy) on your wrist and make everything from using dive mode and gas switching between multiple gases to keeping you informed about your gas consumption and your course during the whole dive.
So, on the whole, the Suunto Eon Core has definitely earned its place next to its older brother and is definitely worthy of purchase.
Easy to use and read
Customisable screen 
Customisable dive modes 
Fixed point functionality
Good depth for its price
Wirelessly communicates with tank pod
Digital compass included 
Audible and visual alarms 
Just a dive computer
Heavy (347g)
Relatively short battery life
Recent Posts