Famed for its ease of use, this robust and reliable computer is a pick for many recreational divers. 
But before committing to this computer, you'll want to hear my thoughts on the dive modes and battery life of this device. 
No. 9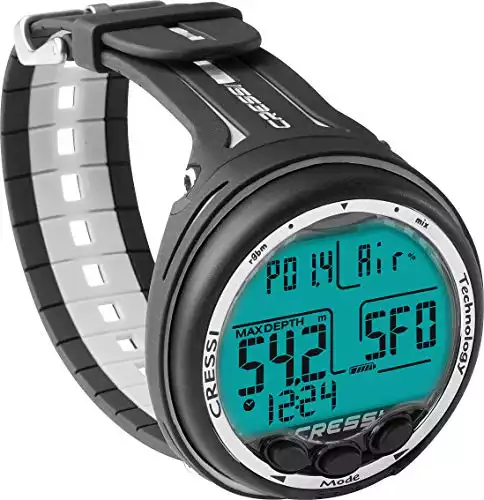 The Giotto builds on the brilliant Leonardo.  Cressi have stepped up the game and integrated a number of new specs to this model making it ideal for new divers.
Find out how this compares to other dive computers here.
The Cressi Giotto dive computer comes in a sleek, thick cardboard box. It is also secured with a cardboard sleeve to ensure its protection during travel. 
The dive computer comes with a hard-wearing strap included. The strap should come in the colour of your choice, and you do have a wide variety to choose from. 
Of course, the Cressi Giotto also comes with an easy-to-follow instructions manual, although it's pretty easy to use. You can keep it for special occasions, but the dive computer is pretty self-explanatory! 
The Cressi Giotto dive computer comes with the standard three dive modes, including air, nitrox dive, and gauge. 
What's pretty special about this particular dive computer is that it also comes in two different console versions! You can either opt for one with a mini pressure gauge, or one with a dive compass.
While it would be great to have both features in one, you do get two pretty solid options separately for a decent price. And, for novice divers who are still getting used to using dive computers, it can be a great way to learn how to master one element without getting overwhelmed with too many functions.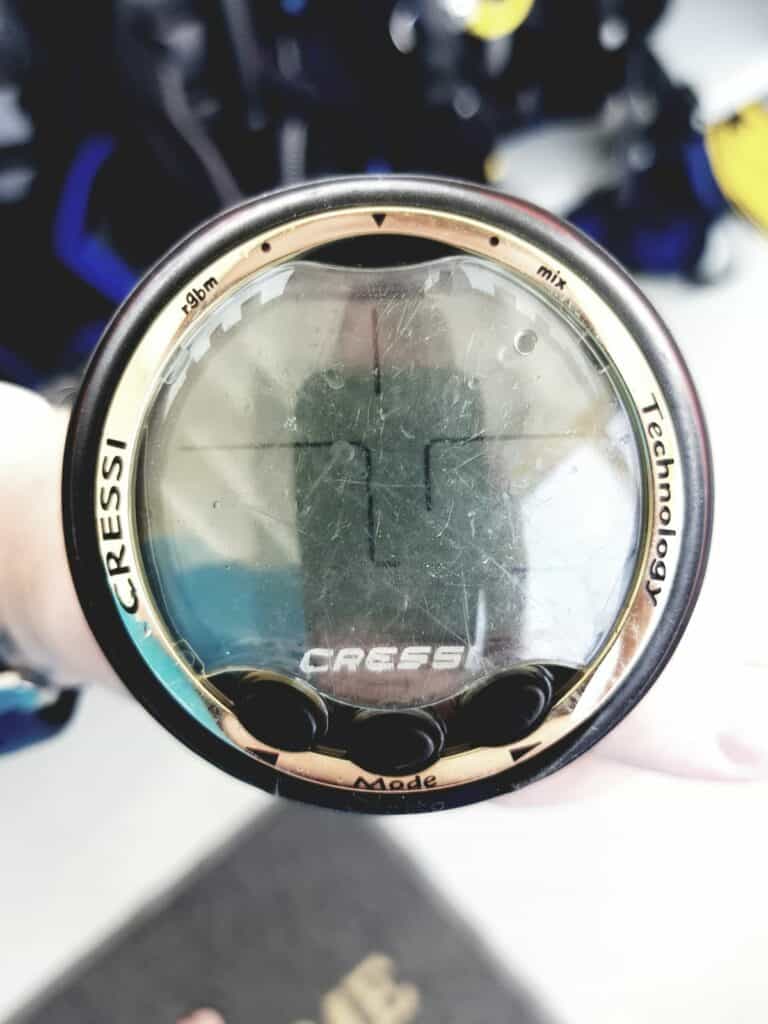 This dive computer is great for those of us who are not too fond of squinting and straining our eyes under the water. 
It is also a mixed gas dive computer, with the possibility for two different nitrox mixes in the same dive.
It comes with a screen large enough to fit all of the information you might need during a dive, and, what's more, the information is perfectly organised and segmented to make it even easier to follow.
This is thanks to its PCD (Priority Compartment Digit display). You can take in the clearly and distinctly displayed data at a glance. Again, this is perfect for beginner divers and experienced divers alike. 
In order to navigate the dive computer, you have three big buttons that are easy to use, even with thick dive gloves on.
However, it does mean that you might want to hold onto that instructions manual to make learning to use the Cressi Giotto dive computer a little easier. This is especially the case for novice divers who are not used to dive computers – it's a great computer if you really want to get deep into the details, but it may take a little getting used to.
Dive Computers That You Might Like
Check out some of the other dive computers that I've reviewed.
The Cressi Giotto is impressively strong, adding a further reason as to why it makes for the perfect first dive computer. No matter how many times it bounces off of the diving platform on the boat or scratches the edges of underwater rocks, you shouldn't have to worry about it getting too much of a knock.
This is great news for recreational divers who want to swim freely without having to worry about keeping their wrists protected.
However, this dive computer also comes with a two-year warranty, should any issues occur. You're safe to take this on multiple dives a year and not have to worry about its physical performance. 
As well as the Cressi Giotto works as a wristwatch, it's not likely to be a gadget that you'll want to have on your wrist at all times. It's fairly clunky in its design, meaning all that dive data might wear heavy on you after a while.
While that won't pose much of an issue underwater, when you're just walking about and going about your day, it can be a bit of a pain to wield. I'd say you're safe reserving this as purely a computerized dive watch, rather than using it for everyday function.
The battery in the Cressi Giotto is surprisingly resilient – of all the features worth raving about, its longevity from charge to charge is pretty impressive. If you head off on around 50 dives per year, you can expect this dive computer to last you for about three years, maybe two if it really goes through a lot! 
However, once the first battery has done its job and it's time to be replaced, don't bother looking for the nearest service centre. The battery is easy to replace by yourself, even if it's your first dive computer.
No. 9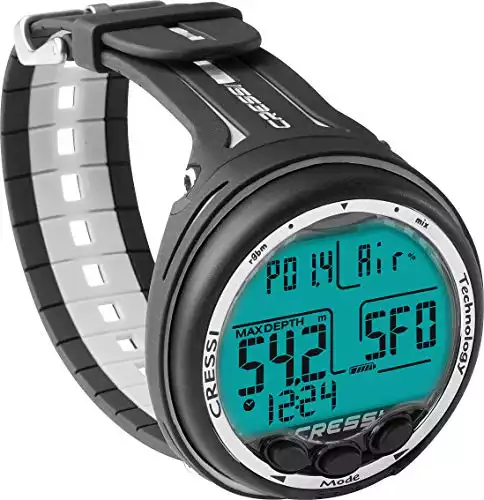 Sadly, no, the Cressi Giotto does not have Bluetooth! While it does have plenty of modern bells and whistles it is lacking in connectivity – meaning you'll need to go the long way around to transfer your dive time and other data to a PC.
Sadly, no, the Cressi Giotto does not have Bluetooth! While it does have plenty of modern bells and whistles it is lacking in connectivity – meaning you'll need to go the long way around to transfer your dive time and other data to a PC.
No, the Cressi Giotto does not have air integration. While it does have plenty of scuba diving features in its favour, it's user-friendly, and is sold at a good price, this is a safety factor that cannot be ignored – especially for divers going out on their own.
Find computers with air-integration using my guide.
As solid recreational computer that sticks to the basics, the Giotto cannot be beaten. Its predecessor, the Cressi Leonardo, was impressive, but Cressi have continued to build on the performance and function and embed the benefits into the Giotto. 
It is still extremely lightweight, easy to navigate (even with three buttons as opposed to the Leonardo's single button) and very easy to read. It is these three features that make it an ideal first dive computer.
Recent Posts