The Mares Puck Pro is the latest computer in the Mares line. It's an upgrade to the massively popular Puck, which is now more than 12 years old!
In this review, I'll be taking a look at why I think this is an entry level dive computer which is well worth the money.
If you read my guides regularly, you'll know that I am always excited about trying a new dive computer for the first time! As I was already impressed by the general Puck, this is a review I was really looking forward to getting into. Thanks to my friend, Jasmine, I was able to get my hands on this computer to play around with in the pool!
So – let's take a look at what the Mares Puck Pro dive computer has to offer, and why it might just be your best choice in a growing market.
Perfect For: Beginners looking for an entry level dive computer with lots of customisation and flexibility. A great dive computer to 'grow' into!
Unboxing the Mares Puck Pro
Straight out of the box, you can tell that this is a dive computer that's got a big display and that it's always going to be easy to read.
What I loved right away about this wrist computer was the fact that it does seem to be so user-friendly, even before you power it up for the first time. You get a big display and single button function.
There's no avoiding the fact that the display on the Mares Puck Pro is about the size of a hockey puck! That, if you didn't know already, is where it gets the name.
You can easily plug in your Mares Puck pro via the USB cable provided, meaning that it's pretty much good to go with a plug in and play interface.
The guidebook you receive is very in-depth and simple to use at the same time. It's really easy to alter and adjust the user changeable settings from the get-go, meaning that if you do want to change your altitude settings or your conservartism levels, you won't have much of a problem. I'll get into the specifics of this Mares computer a little further down.
I love the Suunto D5 that I enjoy everyday use from as it also looks the part, with a sleeker design. Check out my full Suunto D5 review for more on its impressive performance in my test.
On the wrist, the Mares Puck pro doesn't actually weigh you down too much. The size of the wrist computer might suggest otherwise, but it's actually a really comfy fit. I love the fact that as well as being user friendly for new divers, it's also super comfy. And hey, look at all those colours!!!
Some scuba diver veterans might take a look at this watch and think it seems a bit clunky, and a bit over-simple. Yes, that's true to an extent, but if I was starting out diving for the first time all over again, I'd want something like the Puck Pro that I could easily toggle and check at short notice.
There's a lot of talk from pros out there that this dive computer is probably going to fit 'recreational' scuba diving best. I have to agree, but that really doesn't make the Puck Pro inferior to anything else.
Personally? I love the look, the comfort, the ease of use from just glancing at the manual and powering it on. While this probably isn't a dive computer I'd use this far into my scuba diving, I can see why it's so popular.
It's also worthy mentioning that Mares has gone one step further and brought in the Mares Puck Pro Plus, too. It's a bit of a mouthful to say, but this is probably worth you looking at if you want to upgrade from the Mares Puck Pro.
Dive Computers That You Might Like
Check out some of the other dive computers that I've reviewed.
The Mares Puck Pro is pretty impressive on deep dives, meaning you really shouldn't judge this book by the cover.
You can get all the way down to 492 feet before the dive information gives out. In my experience, it tends to work better when giving a dive log in shallower waters.
If you really want to expand your training and dive deep, it might be worth getting a more advanced dive computer. However, the Puck pro is actually pretty capable.
The Puck Pro is fully compatible with nitrox. Not only that, but you can easily switch between air modes with a single button.
The simplicity of this might not appeal to the expert scuba diver, but there's no denying it's useful. I think it responds well on the whole.
There's no actual air integration available here, though – so don't get confused by this before you buy. 
Yes – again – this is an absolutely MASSIVE display, but is that a good thing?
Absolutely. Regardless of what any professional divers tell you, the bigger and clearer the display, the more data you can see at once.
That's why it gets away with being a one button device – it's a bottom timer, dive log and nitrox indicator all in one or two menus. It's really easy to navigate.
Yes – again – this is an absolutely MASSIVE display, but is that a good thing?
Absolutely. Regardless of what any professional divers tell you, the bigger and clearer the display, the more data you can see at once.
That's why it gets away with being a one button device – it's a bottom timer, dive log and nitrox indicator all in one or two menus. It's really easy to navigate.
I think this is a dive computer that's built for newbie travellers, particularly as it gives you all the basics you need so clear and upfront.
There's no reason why you wouldn't be able to take the Mares Puck Pro with you diving anywhere you like, to be honest.
Unsure if the Puck Pro is the right computer for you?
You can read my full list of the Best Dive Computers Review
Mares Puck Pro Dive Computer
User Replaceable Battery
Adjustable Strap
USB Cable
Ok – so let's see what the Puck Pro is like when you actually take it on that first dive.
Is it really up to scratch compared to other dive computers that give a little bit more in functionality?
What makes a simple dive computer like this so popular with divers all over the world?
I literally dove in, albeit a cold swimming pool, and took a look at all the features for you – don't worry!
Yep – it's one of the biggest, chunkiest dive computers you'll ever find.
But that's not a bad thing. The one button functionality and big, bright display is extremely useful when you're diving for the first time.
There's also a nice backlight installed, meaning that you'll be able to use all the features of the Puck Pro even when you're swimming into shady territory.
There are three different dive modes available through the Mares Puck Pro. You can select nitrox, gauge or air mode.
What I really like about using this computer on dives is how intelligent it is pre-dive. It'll know when you're about to hit the water.
Not only that, but you can toggle the dive modes whenever you like. Some people say that divers looking for a bottom timer should switch to gauge, and I have to agree to some extent. Just remember that this won't display you're no decompression limit (NDL).
I think the dive modes available through the Puck Pro give you stacks of accurate information. However, I have to agree with some of the experts and say that if you're scaling a great depth and are really into your technical diving, you will not get all the features you'd normally demand.
Once you start diving, the Puck Pro kicks into gear and will give you details on your depth, your temperature, and will give your NDL stats.
Switching between displays is really easy. Again, it's all thanks to that one push design. Whether you are using it for bottom time or to calculate your decompression, you'll have no problem leaping from one stat to another.
The Mares Puck Pro makes use of the Mares-Wienke RGBM, otherwise known as the reduced gradient bubble.
This means that it calculates up to 10 tissues when it comes to calculating bubbles. In my experience, this means you're looking at a pretty 'safe rather than sorry' system. You'll likely find the same bubble tech in the Suunto Zoop, too, for example. Find out more on why Zoop's software is being touted as the best in my Suunto Zoop Review. 
As it's so conservative, any more experienced divers will probably want to look for greater accuracy elsewhere. I can't blame them, but if I was a beginner diver, I'd want the extra bubble calculation just to make sure I was completely safe.
Otherwise, the algorithm is pretty sound. It overcompensates, but then again, if you're a complete newbie, you're going to need the backup.
The Mares Puck Pro does have a visual alarm as well as an audio alarm, but there's no depth alarm.
For a dive computer that's so safe on the side of the bubble, it's a bit alarming (pun intended) that the watch won't give you a warning when you're going too deep.
If you're looking for the safest dive computers on the market, always check for alarms. Air integration and super conservative algorithms are all well and good, but this is a definite drawback for the Puck Pro.
The Puck Pro wrist device does try its best with a series of features beginners are likely to find useful.
What's especially interesting about the Puck pro is its massive logbook, which is all the more easy to access through the single button control.
Seriously – anyone on their first dive is likely to be overwhelmed by how intuitive this little gizmo actually is. Try not to get boggled by all the computer stats on the one screen. It's easy to read, but you've always got to keep your wits about you!
Yep – yet again, the display is a winner. I can't tell you enough how easy to read everything is.
It does feel a little bit like the Puck Pro is holding your hand. That's one of the only real drawbacks I have to mention. Its display is big and impressive, but experienced and pro divers are likely to want to look beyond that.
Again, the one single button design is a big plus. Even experienced divers and explorers can agree that a one button control is massively convenient at all kinds of depths.
Then again, if you really want a dive computer that's going to give you access to more advanced stats, you will probably want more buttons.
The choice is yours. Personally, I think it's just nice to be able to toggle through everything I need to know about my dive without having to fiddle about.
Mares pretty much runs the game when it comes to diving technology.
They have been around for more than 70 years. However, they are probably better known for their masks!
That doesn't mean their dive computer tech isn't worth buying into.
In fact, if you like the look of the Puck Pro but need a bit more functionality, it's probably worth looking into the Mares Puck Pro Plus. This gives you a bit more tech and functionality for your money.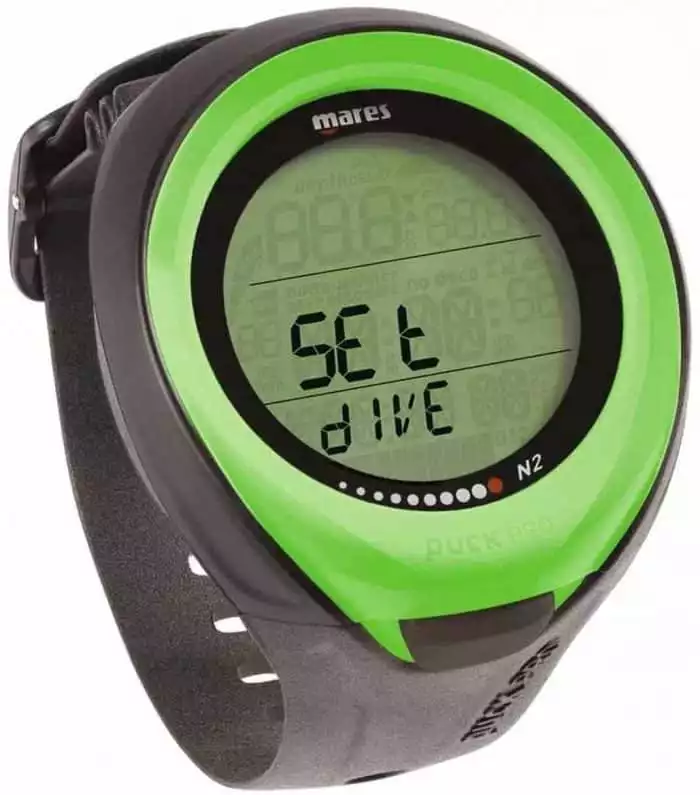 The Mares Puck Pro wrist device is a really solid beginner computer. It's so easy to read, it's almost indescribable.
However, it's lacking in a few essential features which you'll need as you progress in scuba diving.
It's a great watch to grow into, but unless you really want to use it for bottom time or just a basic dive or two, it might be a bit too simplistic.
That said, it's comfy and it does everything a first time diver really wants it to do. I'd definitely suggest you need a depth alarm and air integration, but beyond that, it's a solid entry choice.
If you're looking for a conservative dive computer with a basic button interface, good quality display features, bar graph analytics and a user replaceable battery – as well as a low battery warning indicator – you're looking at a good pick. 
Recent Posts