Shearwater have been on the dive computer scene for many years, so you can be sure that when purchasing their products, you are taking ownership of a piece of equipment that has been thoroughly researched and tested.
It is all about the detail. Shearwater have won many awards, including safety awards, for the design of their products, and we can see that the development of their latest watch style dive computer is no different.
The Teric dive computer is suitable for all dive styles, from recreational divers to technical divers. I've even seen new divers fall in love with this dive computer. No matter where you are on your dive journey, this is one head turning computer to take on the adventure with you.
No. 1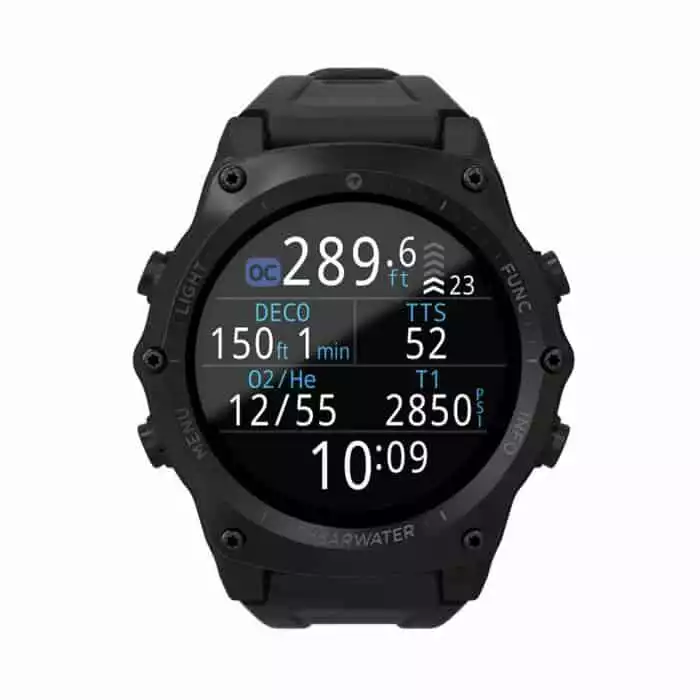 Shearwater Teric Dive Computer
Pros:
Easy to navigate and easy to read with its four-button operation

Charge anywhere and anytime with wireless charging

Highly customisable with a vivid colourful AMOLED display
Cons:
Not for divers on a budget
Check Price on MDS
Check Price on Amazon
We earn a commission if you make a purchase, at no additional cost to you.
The Shearwater Teric Dive Computer has, by far, the best display around. It is simply fantastic, no matter what light you are viewing it in. It's 36mm Sapphire Crystal screen has a full colour AMOLED display leads to an extremely vivid colour display, making it very easy to read underwater.
You can also customise the screens to show the information you prefer, as well as changing the colour of the display and font, choosing from 15 lovely colours. It is easy to do this through the settings function.
You can use this dive computer when not in dive mode, but in dive watch mode instead. Again, customisation is also available here, with a few different watch faces to pick from including digital and analog displays.
I just love when dive computers allow for such a level of customisation. Oh, I forgot to mention that you can also purchase a range of different strap colours to take your customisation one step further!
Unboxing the Shearwater Teric Dive Computer
The lovely team at Shearwater were kind enough to send me a brand new Teric Journeys Edition to put to the test on a few upcoming dive trips. It arrived beautifully packaged in a lightweight but hard case that is perfect for travelling with and keeping the dive computer safe from any damage.
There is little difference between the Teric and the Teric Journeys Edition. The Journeys Edition is said to be inspired by dive helmets and tools used by divers across the years, boasting a beautiful bronze bezel.
Check the price of the Teric Journeys Edition on Mikes Dive Store.
Inside the box, there is everything you need to get started including:
Teric dive computer

Instructions for use booklet

Charging port

Cable for charging port

Strap extension

Screwdrivers to change the strap

Extra strap bars
I love how this dive computer looks. It has a stunningly sleek but tough design which demands attention. Thought has also gone into the packaging, and I am pleased that it has it's own little home that I can keep it safe in!
Quick Look of The Top Dive Computers
Now we've stopped discussing the visual beauty of this dive computer, let's get into the nitty gritty details that we all want to hear about.
The Teric uses the Buhlmann ZHL-16C decompression algorithm with a pre-set recreational open circuit gradient factors and tech or closed circuit bail-out gradiant factors. It's a medium – conservative setting which can be adjusted if this is not what you want.
The fact that these settings can be adjusted helps give the Shearwater Teric Dive Computer a longer life. For example, if our knowledge of decompression changes over the next few years, we can adjust the gradient factors of the Teric Dive Computer to suit this progression in knowledge.
When you are investing in a dive computer, it takes a lot of research and consideration. After all, this is the thing that is going to keep you safe and diving within limits, reducing your risk of injury. I found that these pre-set recreational open circuit gradient factors were just fine for me – diving to a depth of 30 metres gave me a NDL of 14 minutes. I can't see me changing the conservatism of this, not just yet anyway.
The Shearwater Teric Dive Computer comes with all the dive modes you could wish for. It has:
Open Circuit Recreational

Open Circuit Technical

Closed Circuit Rebreather

Gauge

Freediving mode
The dive mode types it provides will suit most divers, from an entry level recreational diver right through to rebreather and technical divers. It's worth noting that I have only tested the Open Circuit Recreational dive mode of the Shearwater Teric Dive Computer, but after speaking to a couple of technical divers that use Shearwater computers, the Teric is a firm favourite across the scene.
It is also air integrated, however, the transmitter is not included with the computer and has to be purchased separately. This doesn't need to be a Shearwater transmitter, any transmitter POD with the code "FCC ID MH8A" can be used. This is really helpful if you have already own a transmitter from previous dive computers – saves you purchasing another!
I'm going to see if I can pick up a transmitter so I can test out the air-integrated functionality and update this review at a later date.
It even made it to the top of my best air-integrated dive computers, but it was a photo-finish, with a close second.
Another function which always comes in handy when out scuba diving, and one which all divers should familiarise themselves, with is the internal compass. The Shearwater Teric Dive Computer has a 3 axis tilt compensated digital compass, which is just superb to use. Like all other data displays, the compass is clear and easy to use. I love how it utilises the vivid colours so you can quickly spot your bearing and your orientation.
Personally, opting for a dive computer which has a selection of user-set audible alarms is a must for all, whether on a decompression dive or not. The Teric dive computer has both audible and vibration alerts that help notify the diver of any warnings, errors and dive events.
These are used alongside the visual warnings which are, like the rest of the display colors, very vivid. The Shearwater Teric uses flashing yellow for warnings that need to be addressed but are not an immediate danger, and flashing red for those warnings that need urgent attention and could be dangerous if ignored. So, if you miss the colourful visual warning because you are too busy checking out the whale shark cruising over the top of you, you will be sure to hear the audible alarms and feel the vibration.
Be aware that when a warning flashes up on the screen in dive mode, it takes up the whole screen and obstructs your dive data until you dismiss it by pressing the menu navigation button. After this, the alert indicator will remain until the condition that caused the warning is resolved.
Compared to some other dive computers that I have tested, the Shearwater Teric Dive Computer is an elegant yet rugid bit of equipment. The strap is made from a durable, stretchy silicone which has been designed to grip a wetsuit or dry suit without moving around.
The extension strap is easy to attach to the main strap, no fiddling around switching straps like some other dive computers such as the Garmin Descent and the Suunto D5.
It's got some weight to it too and feels well made. Although it can be worn as a everyday watch, I don't think my tiny wrists would cope. It would take some getting used to.
Dive Computers That You Might Like
Check out some of the other dive computers that I've reviewed.
Shearwater Cloud Mobile App
The Shearwater Cloud, available on desktop or app for mobile, has two important functions. Along with being a place to store a comprehensive dive log, it is here that you will be notified of any free firmware updates. Do not ignore these updates, firmware in all dive computers should be kept up to date at all times. The updates often include new features and improvements but also address important bug fixes.
It's a nice app, which allows you to reflect on your dives in a clear manner. There's nothing fancy about it, what you see is what you get, but it does the job.
Shearwater Teric vs Garmin Descent Mk2i
Here we have two similar computers in terms of their dive modes and multiple gas mix capabilities – to be honest, there is not much difference when we look at their functionality as a dive computer.
Both have air integration, but the Garmin Descent T1 transmitter uses something different to the radio frequency utilised by other computers – it uses SubWave sonar technology. After speaking to someone who has used both, the SubWave technology helps maintain a stronger connection after the transmitter and the dive computer have been paired up.
However, the screen is much brighter in the Teric. The Mk2i reads fine underwater, but it has nothing on the clarity of the Teric. Of course, because of this, the Teric will need charging more often than the Descent.
Both sit at a similar price, but the Descent is famed for it's ability to work as an activity tracker like other Garmin devices. The Garmin Dive app for mobile is pretty cool as well. If you are an active person who doesn't scuba that often, maybe the Descent is the one for you. If you're more of an avid diver than someone that likes to go for a jog or do some yoga, then pick the Teric.
For more information on the Garmin Descent, head on over and take a read of my Garmim Mk2S Review, a slightly smaller model without air integration (pictured above).
Shearwater Teric vs Suunto D5
There is a big price difference between these two computers. The Teric retails at £1,025 and the D5 retails at around £565, so which one you want to go for will really depend on your budget. They are both colour screen, watch sized computers with integrated Bluetooth and work with either their desktop or mobile apps.
However, the display on the Teric is AMOLED with a higher resolution, which is a bit more high tech than the Suunto D5's MIP LED. When placed next to each other, you can tell that the AMOLED is much more vivid. But that's not to say the D5 is no good. The Suunto is still an excellent choice for those looking for something like a Teric but may not want to pay an additional £500.
Shearwater Teric Battery Life
The factory replaceable battery life of the Shearwater Teric dive computer is around 50 hours of use when the brightness setting of the screen is set to high. This is pretty good compared to the Suunto D5, for example, which has a battery life of around 7 hours when in dive mode (5-6 days if not diving). If you are using non dive modes or are making good use of the compass, it will last a little less.
The wireless charging station is a great little addition to the experience of recharging the battery. It's small enough to pack away into the carry case along with the dive computer, just remember to take the USB lead with you too. It takes me around 1.5 – 2 hours to charge from low battery to full when Quick Charge is enabled. This is really handy if you forget to put your dive computer on charge the night before a dive and need to get some power into it on the morning.
The battery will eventually need to be changed over time, and you will have to contact Shearwater Research or your local Shearwater affiliated dive shop to help with this. However, you have plenty of time, they are expected to last 5 years before it stops charging.
No. 1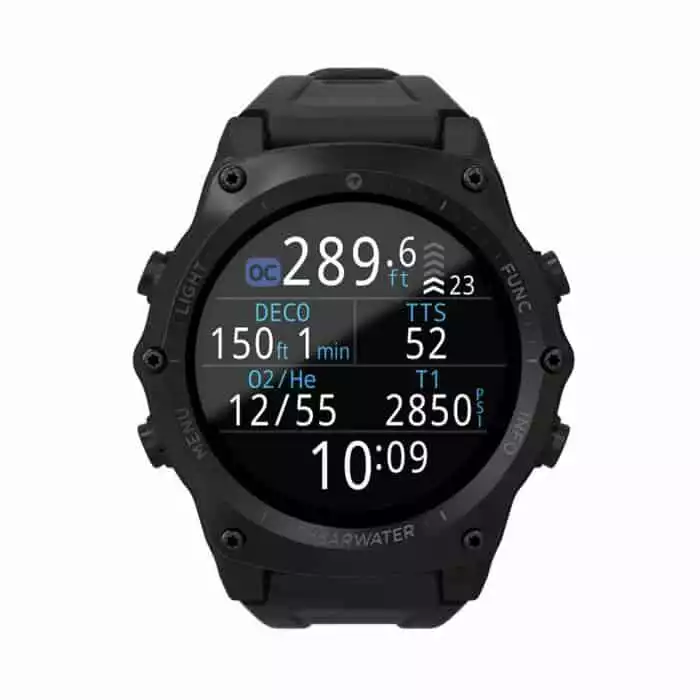 Shearwater Teric Dive Computer
Pros:
Easy to navigate and easy to read with its four-button operation

Charge anywhere and anytime with wireless charging

Highly customisable with a vivid colourful AMOLED display
Cons:
Not for divers on a budget
Check Price on MDS
Check Price on Amazon
We earn a commission if you make a purchase, at no additional cost to you.
Well, what else can I say. This really has kicked all other dive computers out of the water. The Shearwater Teric dive computer is a spectacular bit of kit that I have thoroughly enjoyed diving with. But it comes with no surprise really, bearing in mind the high benchmark set by previous Shearwater dive computers that have hit the shelves, like the popular Perdix and the Peregrine models.
The screen is a pleasure to look at, in fact, I couldn't stop looking at it when I first turned it on.
The wireless rechargeable battery is a wonderful addition to a powerful computer that will keep almost all divers happy. Whether you are into technical diving or will mostly have it set in freediving mode, the Shearwater Teric computer is an all round bad ass dive computer with many features.
I'm going to see if I can pick up a second had transmitter so I can test out the air integrated functionality and update this review at a later date.
The Shearwater Teric dive computer excels in all areas including it's user friendliness, it's toughness and safety features. This is an example of a dive computer that boasts unprecedented capabilities, with it's intuitive controls and the ability change your watch faces and straps to match your style. Invest in a Teric today and it will be by your side for any dive adventure you wish to embark on for a long time.