Diving liveaboards give you a great chance to really appreciate diving. On a liveaboard trip, you get to experience deep sea exploring in a way that you have never experienced it before. Devote yourself to live in and on the water for a few days!
As you can imagine, Australia has some of the most popular liveaboard experiences in the world. We all tend to think of beaches, water sports, and amazing wildlife when Australia comes to mind. Therefore, could there really be a better place for you to experience liveaboard diving?
Quick Look: Top Australia Liveaboards
From the best marine exploration spots in Western Australia to the Osprey Reef and Rowley Shoals Marine Park, there's a lot to explore out here. Thankfully, there are plenty of great liveaboards in the region ideal for taking you around some of the territory's best-loved dive sites.
So, to help you to get a feel of some of the trips that you could look forward to, I've compiled a list of some of my favourite Australian liveaboards, with all of the details that you need to know to make the best choice for you.
RECOMMENDED LIVEABOARD AGENCY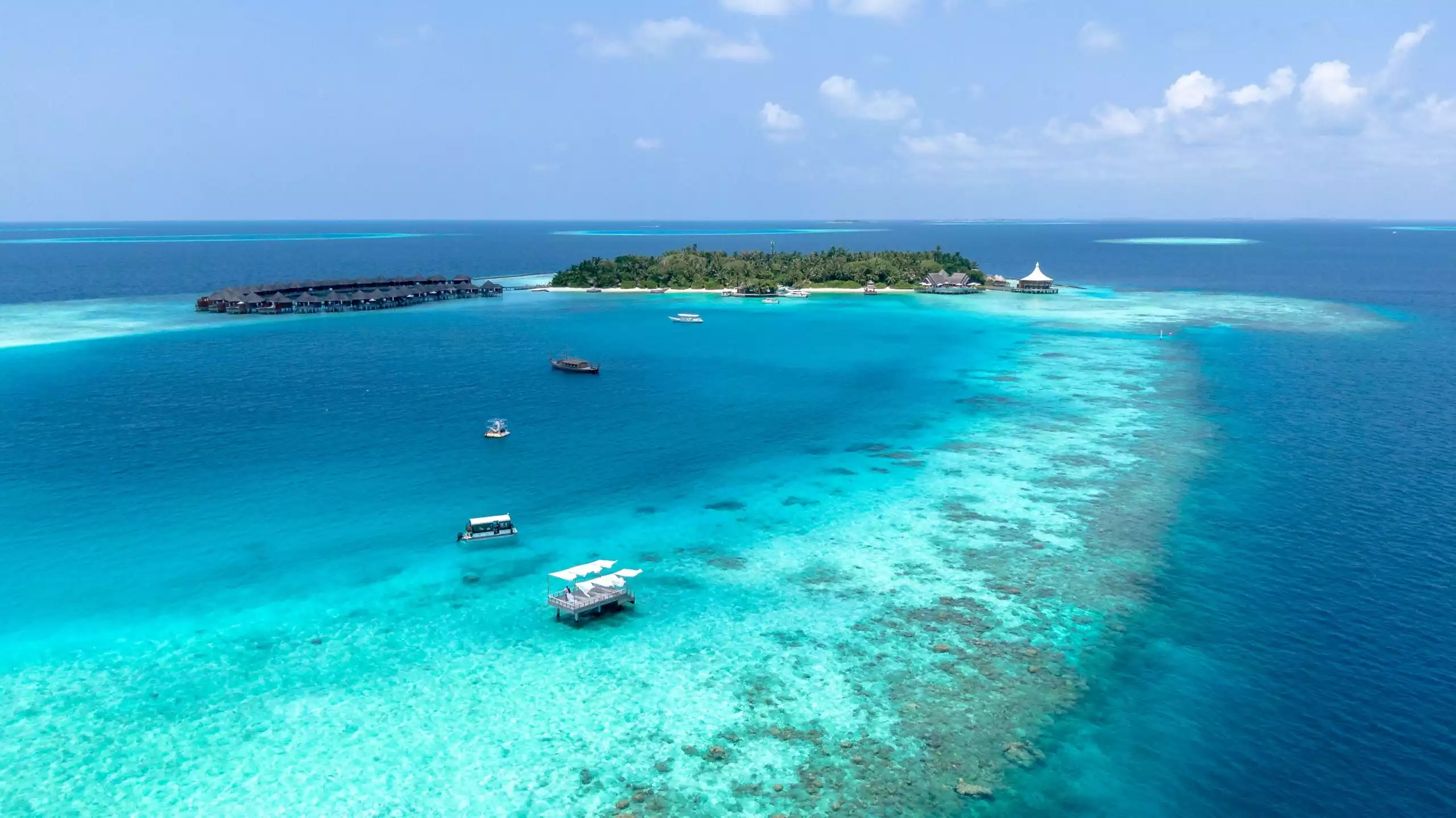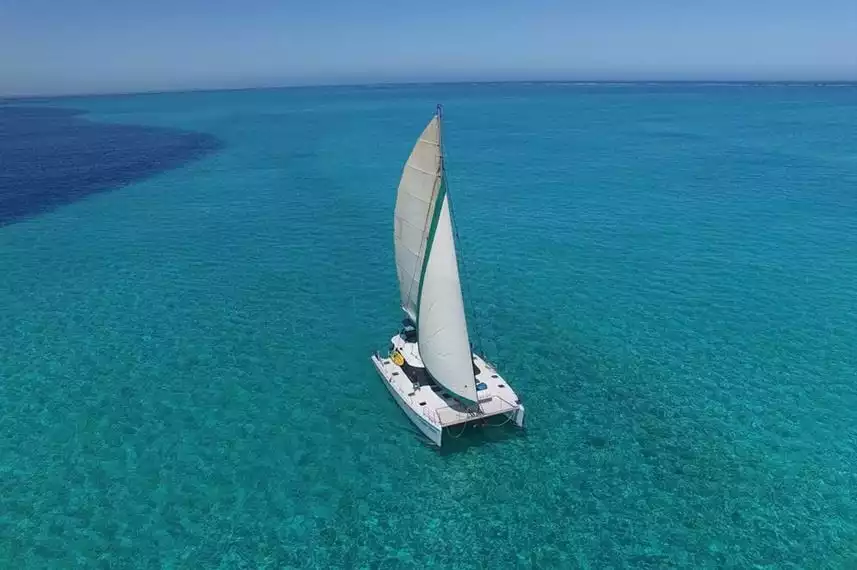 Shore Thing​ Catamaran
Pros:
Catamaran ship for quiet

Exciting trips

Smaller group for more tranquil trips

Kayaks and hammocks available

Varying trip lengths

Beautiful ship

Buffet-style dining to suit any palate
Cons:
This is definitely one of the more expensive liveaboard ships in Australia!
Check Price on Liveaboard.com
We earn a commission if you make a purchase, at no additional cost to you.
The Shore Thing Catamaran is the liveaboard cruise you go for if money is no object and you are looking for relaxation, amazing views and – of course – lots of chances to get out and dive.
The Shore Thing has a perfect rating on liveaboard.com with five stars, and when you get to know this vessel a little better, you'll understand why!
The Shore Thing can host up to ten guests, making it a more intimate and peaceful trip than you would find on some of the bigger liveaboard ships.
You can choose trips ranging from just three nights in length to nine nights, all of which are suitable for both diving and snorkelling, all year round.
You will get to visit the stunning Ningaloo Reef with its crystal clear waters and incredible wildlife, including turtles, manta rays, the coral reefs reef sharks, and even whale sharks and maybe even humpback whales. Of course, for the latter, you will need to pick the time of year perfectly, based on their migration.
There is a bar on board as well as buffet-style dining. There are also kayaks available and stunning cabins with sea views, some of which also have en-suite bathrooms.
So, if you want to bathe on sundecks or lounge on outdoor hammocks that parallel the beautiful ocean below you in perfect tranquillity, then the Shore Thing is definitely the ship for you!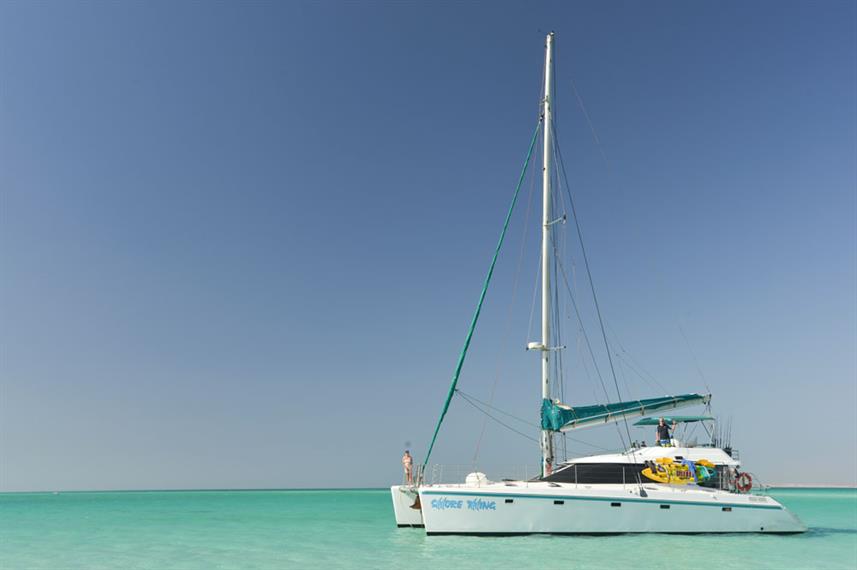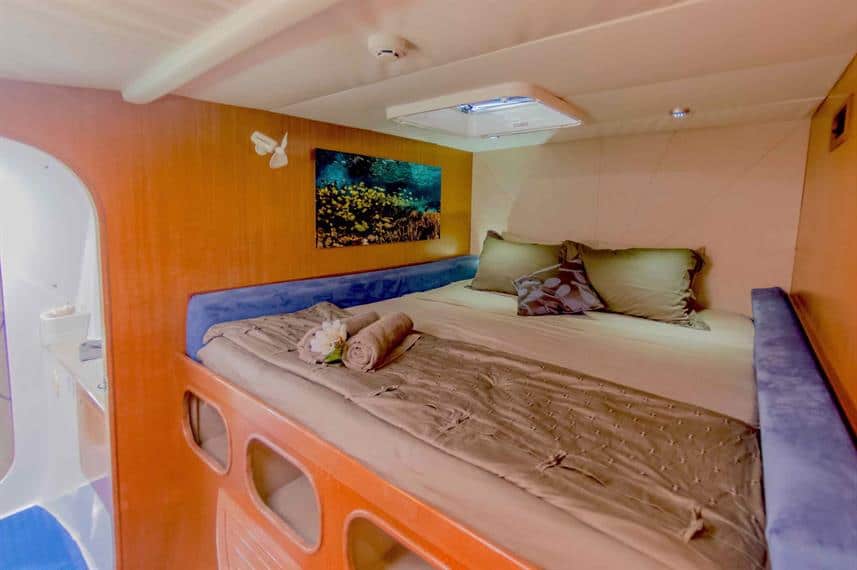 No. 2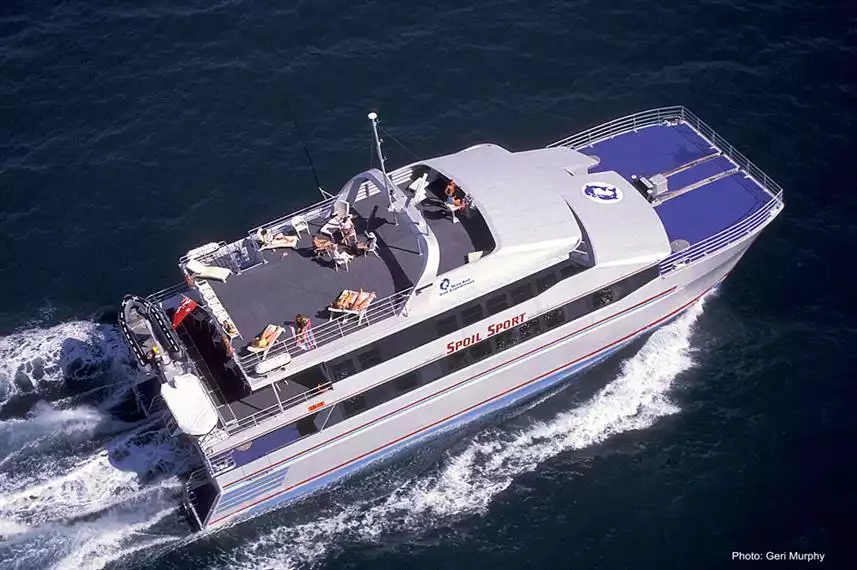 Although the name may make it sound as though it is not so fun, you would be hard-pressed to find a ship more in-tune with at-sea entertainment than the Spoilsport. In fact, this incredible boat is Australia's most-awarded liveaboard.
No matter what kind of sailor you are, the Spoilsport's twin hull will help to ease you into the journey with stability and robustness.
You can choose from four types of cabins, ranging in budget, size, bed capacity, and views. The Spoilsport can accommodate up to twenty-eight people and will take you on various itineraries, including visits to the Coral Sea and the Cod Hole, the SS Yongala wreck, Wheeler, Holmes and Finder Reef, as well as night dives and even a Minke whale trip!
During your stay, you can dine on fine cuisine prepared by the ship's own chef, using only the best fresh produce available.
The trips range from three days to seven days in length, and you will be happy to know that the ship comes with all of the necessary equipment for you to have the safest diving experience possible. You can even rent the onboard diving equipment when you book a trip on the Spoilsport.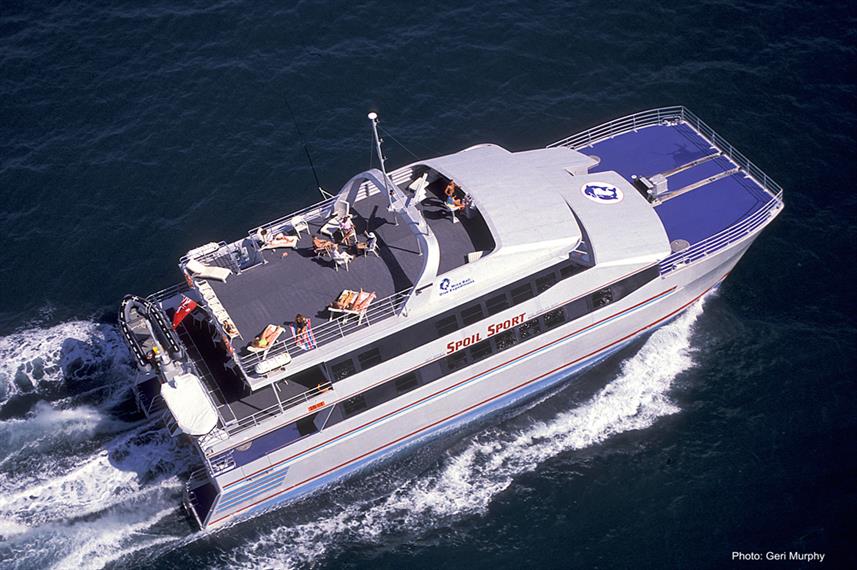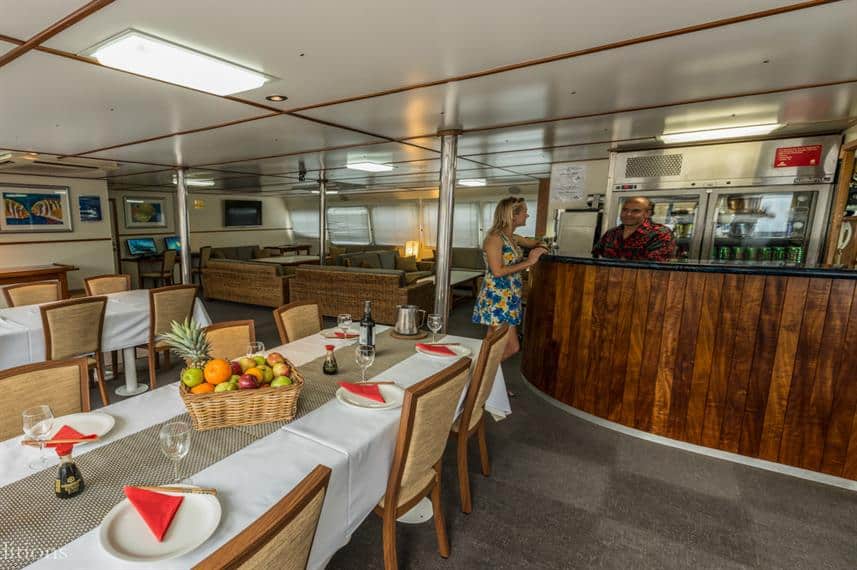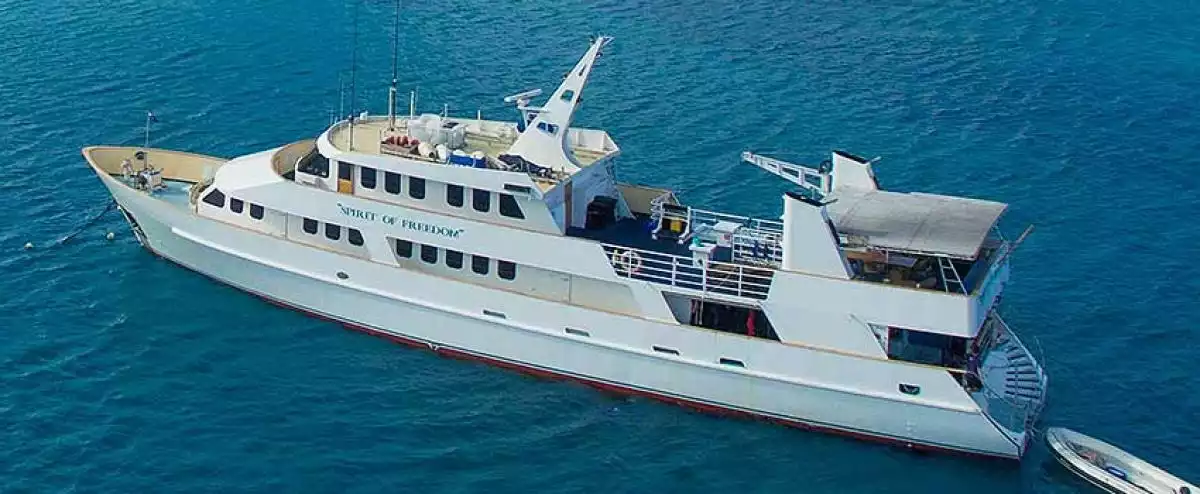 The Spirit of Freedom comes with just about everything you could need on a liveaboard trip! From free WiFi and a spectacular bar to nitrox and ready snorkelling equipment, you're sure of a trip that's fully-stocked for explorations to come.
Although it is not one of the cheapest liveaboard ships in Australia, the Spirit of Freedom definitely brings a lot for its buck. It was even voted the Best Australian Liveaboard by the Australasia Dive Log, both in 2015 and in 2017.
You can choose from three-day trips to seven days trips, all year round. The Spirit of Freedom will take you on tours around The Great Barrier Reef, Coral Sea reefs, and even the Far Northern expeditions. You can even pack lighter for yourself by renting the scuba dive equipment that is already on the ship. Remember to inform the crew that you plan on renting as you book with them!
There are 11 pristine cabins to choose from, each of which has its own bathroom, air-conditioning, and even daily housekeeping.
During your stay on the Spirit of Freedom, enjoy buffet-style dining with something to suit everyone, and with a nice cold beer or a relaxing glass of wine served by the ship's crew.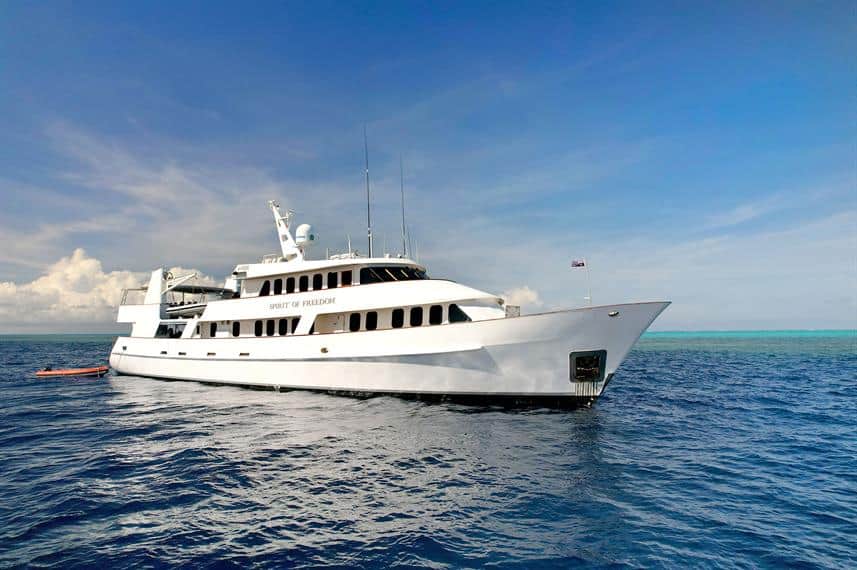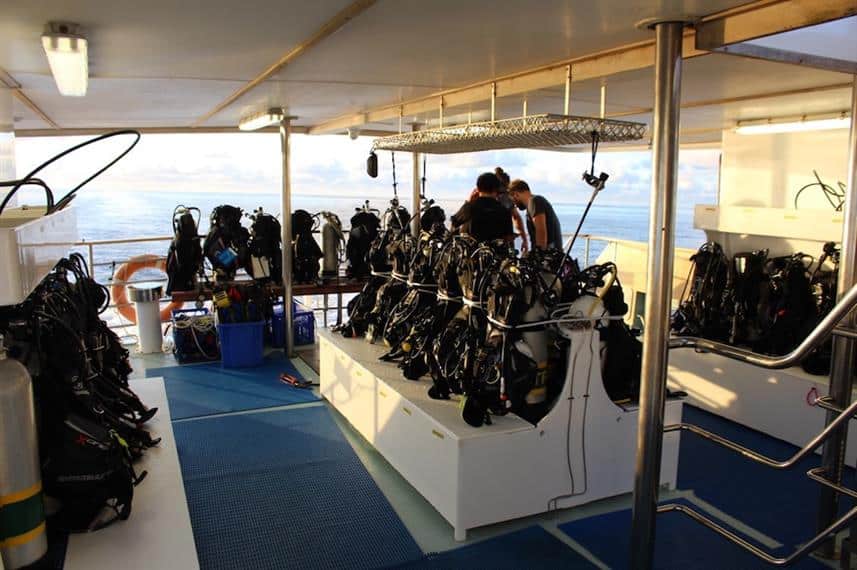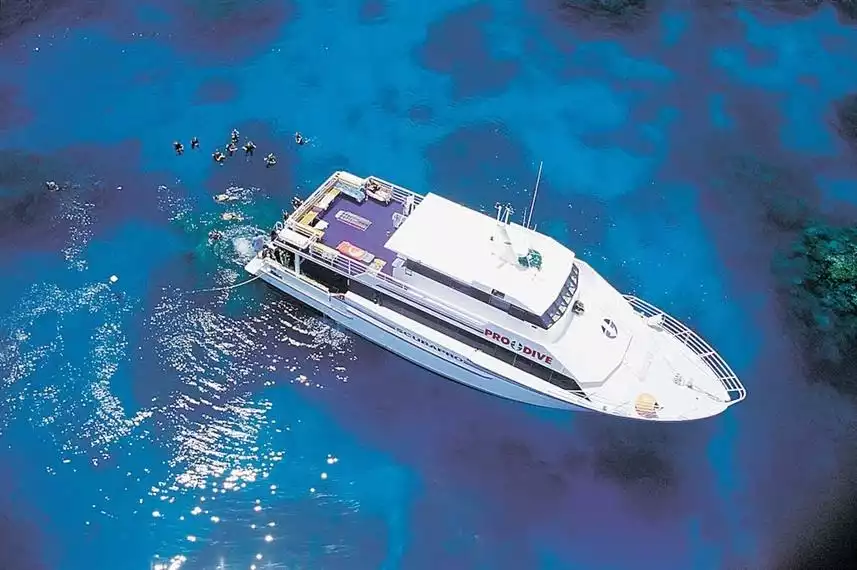 Pro Dive Cairns is known primarily for providing trips that are a little more affordable than some of the other liveaboards we've seen so far.
Pro Dive Cairns has three ships (the Scuba Pro I, II, and III). They are all fully-equipped liveaboards that are perfect for discovering the Great Barrier Reef. There are 11 dives to choose from, including two night dives for extra special views of the Great Barrier Reef and all of its incredible marine life.
There are 16 cabins in total, each of which has air-conditioning, as does the main saloon, meaning that no matter where you are on the ship, comfort is guaranteed. Speaking of the main deck, you can also enjoy both hot and cold breakfast and lunch options, with a set hot dinner planned for the evenings.
The Pro Dive Cairns ships also sail with Japanese-speaking or German-speaking staff on certain days.
However, it is important to note that while the overall price is appealing for the amount that you get on the Pro Dive Cairns diving trips, you will also have to pay an extra $80 per person on your arrival. This extra fee is there to cover the Government Environmental Management Charge, as well as the Port Departure Tax and the administration charges for the booking. So, along with your budgeting for the trip, remember to include this extra fee at the start of the trip!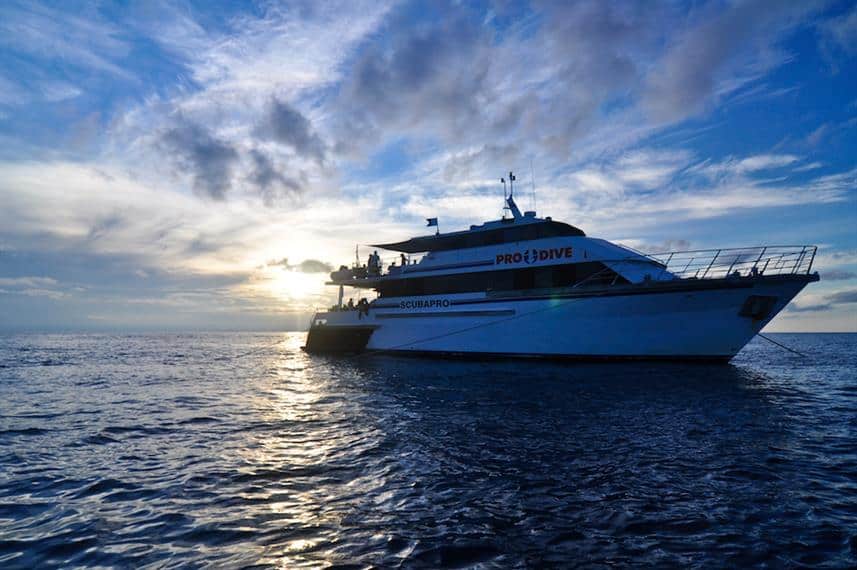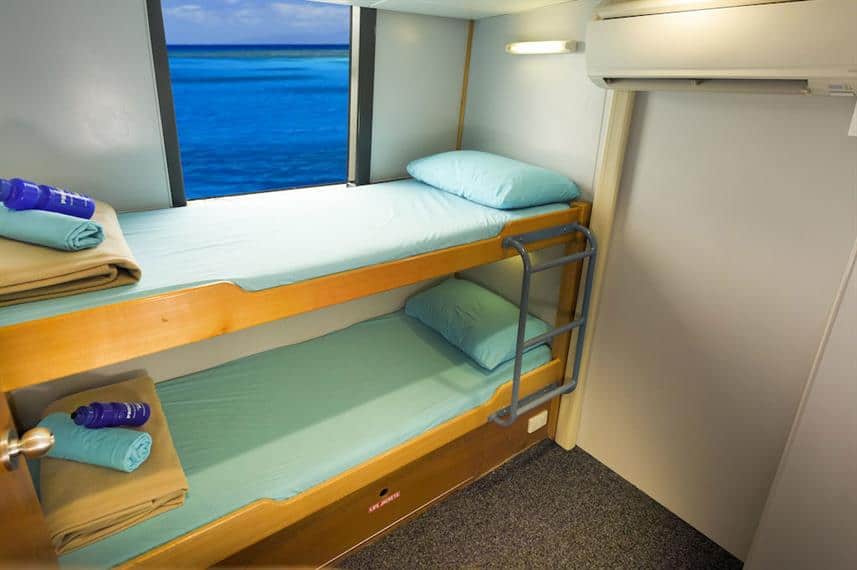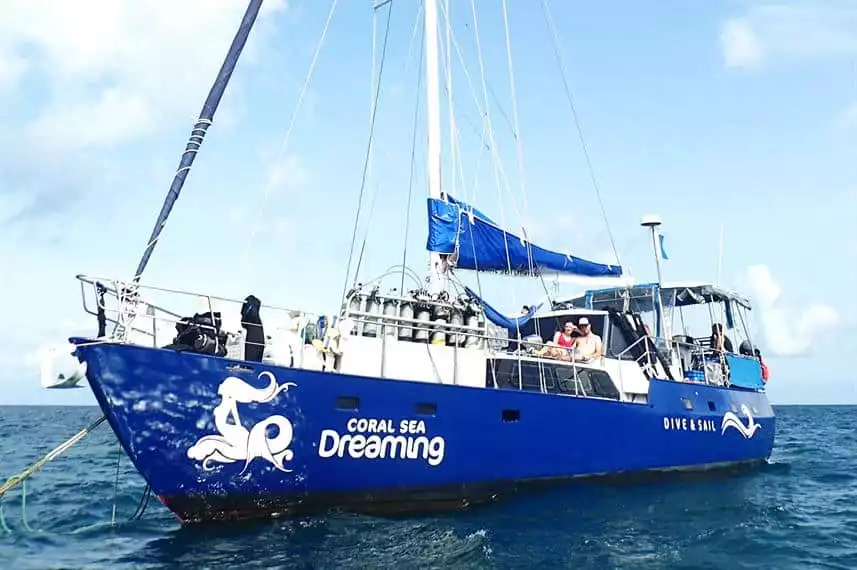 Coral Sea Dreaming​ Liveaboard
Pros:
Affordable price

Welcomes smaller groups

Nine different reefs

Great for all experience levels

Diving and snorkeling gear available on the ship

Variety of meals and drinks
Check Price on Liveaboard.com
We earn a commission if you make a purchase, at no additional cost to you.
Coral Sea Dreaming is another scuba diving service that's aimed at those looking to budget carefully when exploring Australia's reefs. The Coral Sea Dreaming offers a beautiful yacht for a unique experience around the Outer Great Barrier Reef, with great chances for you to explore its abundant life and colourful corals.
The Coral Sea Dreaming has access to nine different reefs, with dive depths varying from one metre to 30 metres! That makes these trips ideal for snorkelers as well as divers at any level of experience and training. Moreover, the ship is fully equipped with both snorkelling and diving gear. However, do remember to notify the ship that you plan on renting gear as you are booking!
The ship has cabins of varying sizes and can host up to 12 people, making it ideal for families or groups that want a more tranquil stay during the liveaboard experience. You can either stay in a private cabin or a shared space – either way, they all have shared bathrooms.
The ship is air-conditioned and comes with set meals with multiple options available – suitable for a variety of tastes and needs.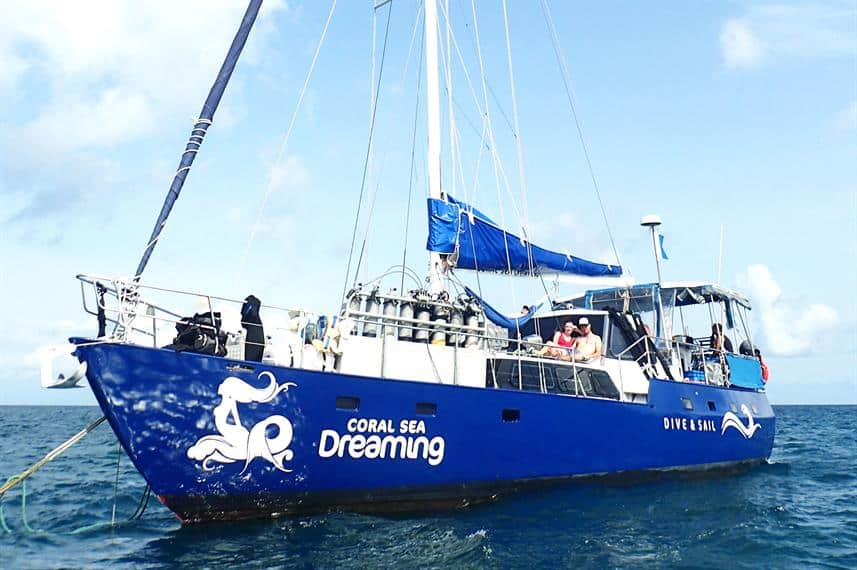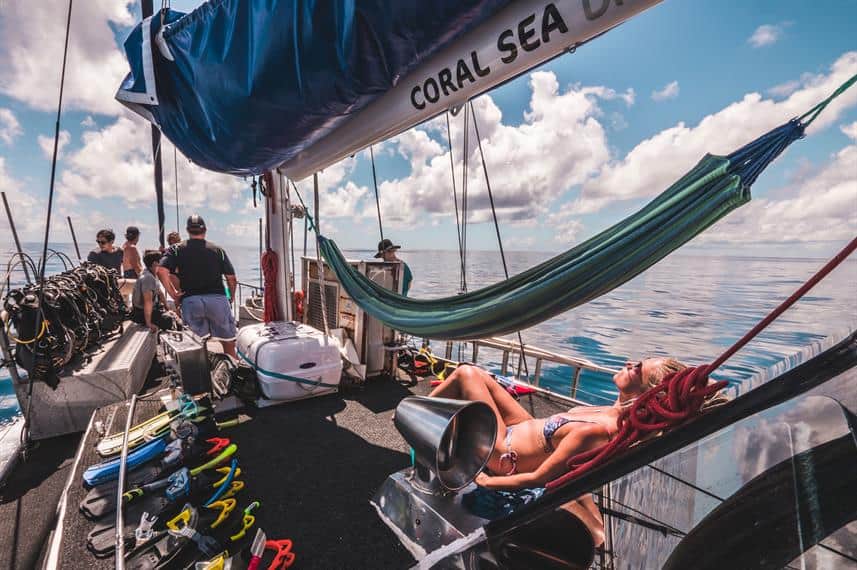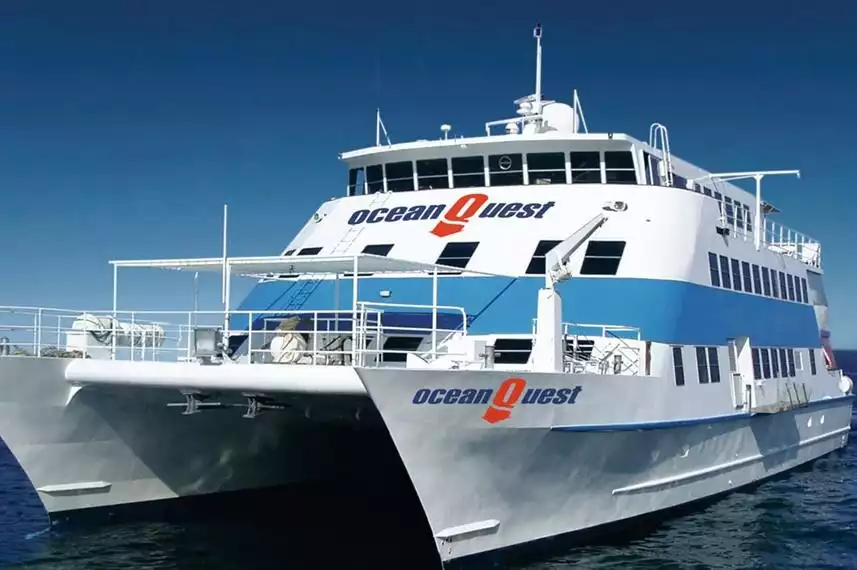 If you like sailing in larger groups, on bigger boats, and taking dive trips in the Outer Great Barrier Reef, the OceanQuest is right up your street.
The OceanQuest has a whopping 22 cabins, each of which has its own air-conditioning and bathroom. The boat is split up into three decks, including a lounge, bar, and dining room. In the dining room, you will meet with your fellow shipmates to enjoy a buffet-style dinner with options for all dining demands and needs.
The ship welcomes divers and snorkelers of all levels and offers five dives per day, including one night dive. In fact, you do not even need to be a diver or snorkeler to come and enjoy this cruise around the stunning Great Barrier Reef!
However, what will surely pique your interest is the night dive (with equipment provided) that allow you to see the reef as you have never seen it before, in fluorescent colours, shining in the night!
In order to get to the OceanQuest, you will be transported from Cairns in a boat, as the ship remains on the Outer Reef at all times.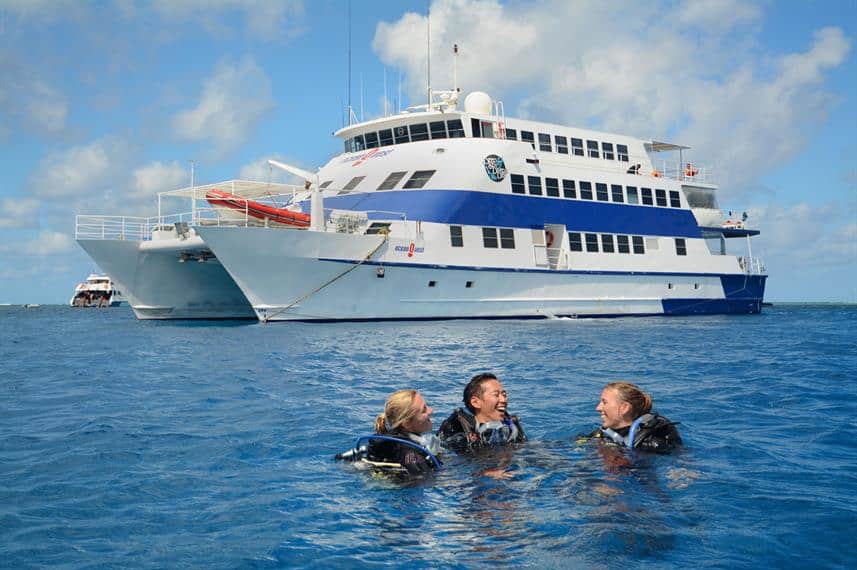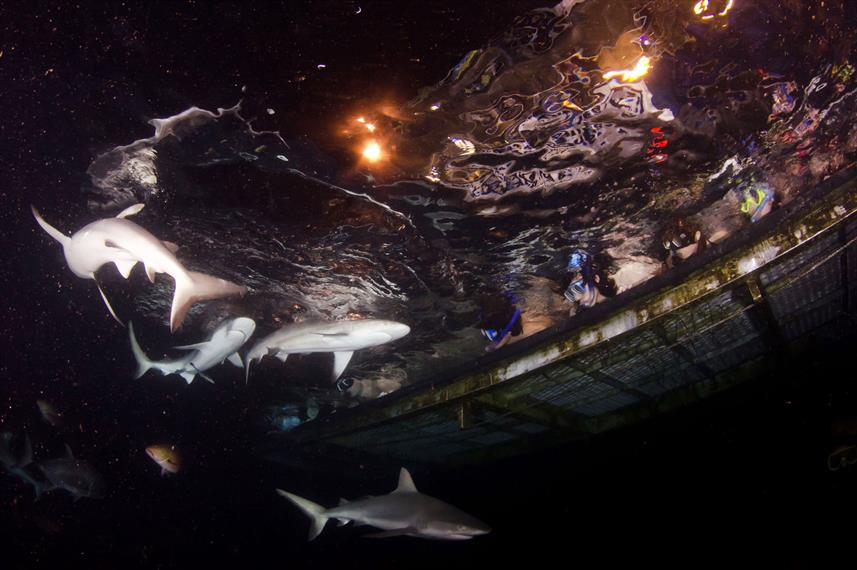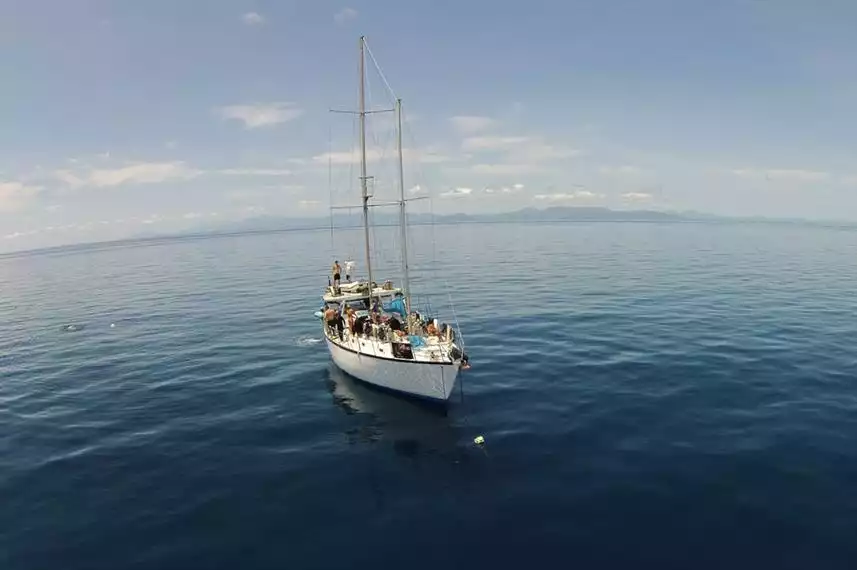 Rum Runner is definitely one of the more affordable liveaboard options in Australia, costing around £118 per day. The ship offers two kinds of trips. You can choose to either go to the Outer Great Barrier Reef or take the time to visit some sharks around the Holmes Reef! However, it is important to note that the three-night shark dive trip is really for experienced divers.
The Rum Runner can host up to 16 people – however, everyone is close-knit on board, so be prepared for a closer cruise than most. The bathrooms are split and shared between men and women. Although you will have meals prepared for you, you will have to bring any alcohol that you want with you, bearing in mind that you will not be allowed to bring any glass onboard.
This ship has been running tours since 2005, so you can rest easy that the crew know exactly what they are doing – and the best places to take you to see some wonderful water life!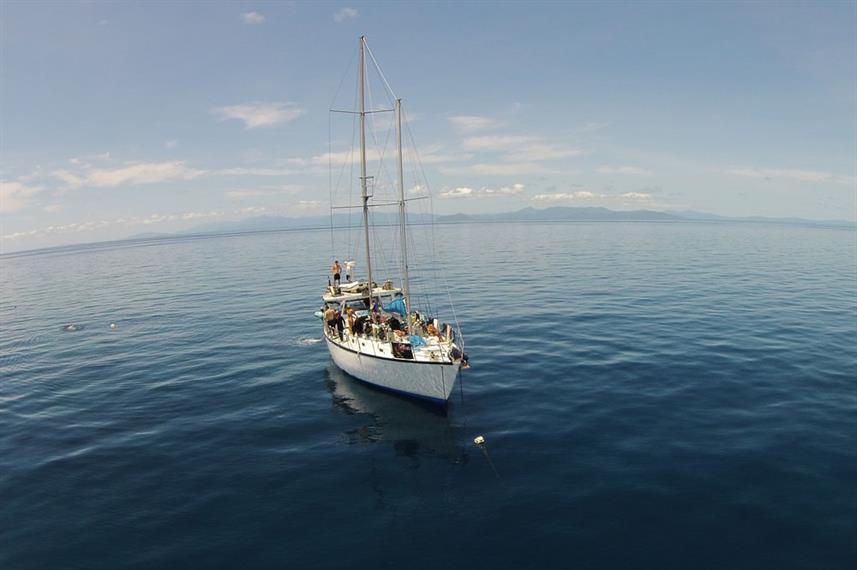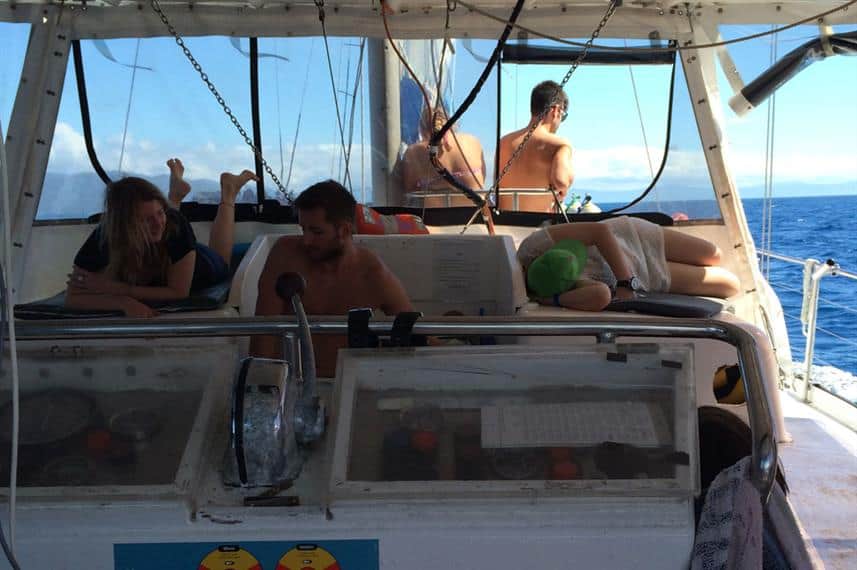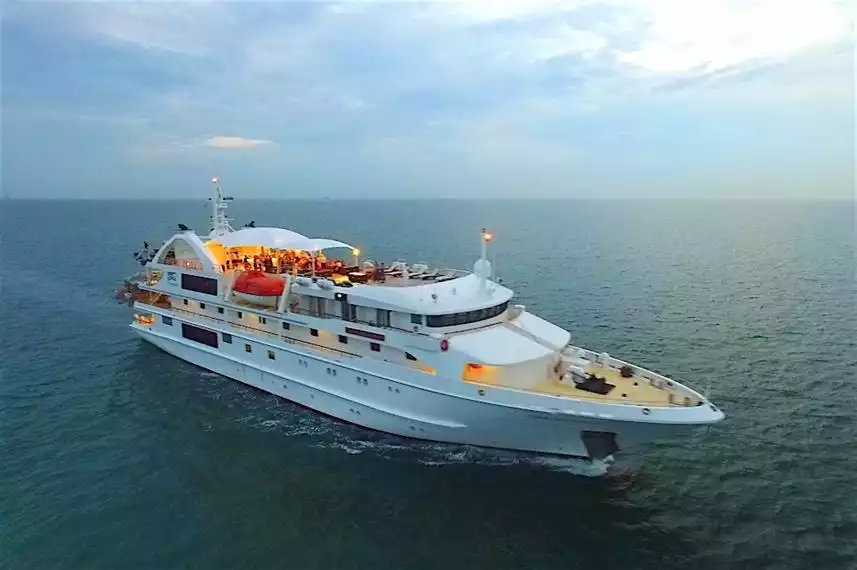 Coral Discoverer​ Liveaboard
Pros:
Excellent diving opportunities

Stunning cabins

Great food

Gift shop

Snorkelling gear and kayaks available

Longer trips than most
Cons:
Very high price compared to the average
Check Price on Liveaboard.com
We earn a commission if you make a purchase, at no additional cost to you.
Finally, let's take a look at the most premium liveaboard ship on our list, the Coral Discoverer. From over £320 per day, you can experience some of the best dives across the corals, along with up to 71 other guests.
Each cabin has its own bathroom, and the ship was fully refurbished in 2016, ensuring that everything inside is modern, stylish and comfortable. Some of the deluxe cabins even have their own private balconies for romantic views during the trip. There is even a gift shop and snorkelling gear as well as kayaks for guests to use!
There are three bars, a common lounge, and plenty of spaces where you can get to know your shipmates. However, don't let that make you think that the Coral Discoverer is a massive ship that won't get you anywhere! It has in fact been so cleverly designed that, despite the fact that it can hold so many people, this liveaboard remains small enough to travel over shallow waters and into narrow passages.
You can choose from trips that cross 11, 12, and 13 days in length, all the way to 25 days, giving you the time to explore and appreciate Australia's wonderful marine wilds as much as possible during your diving adventures.
The ship has a laundry service, housekeeping service, internet, and a full menu with wine provided.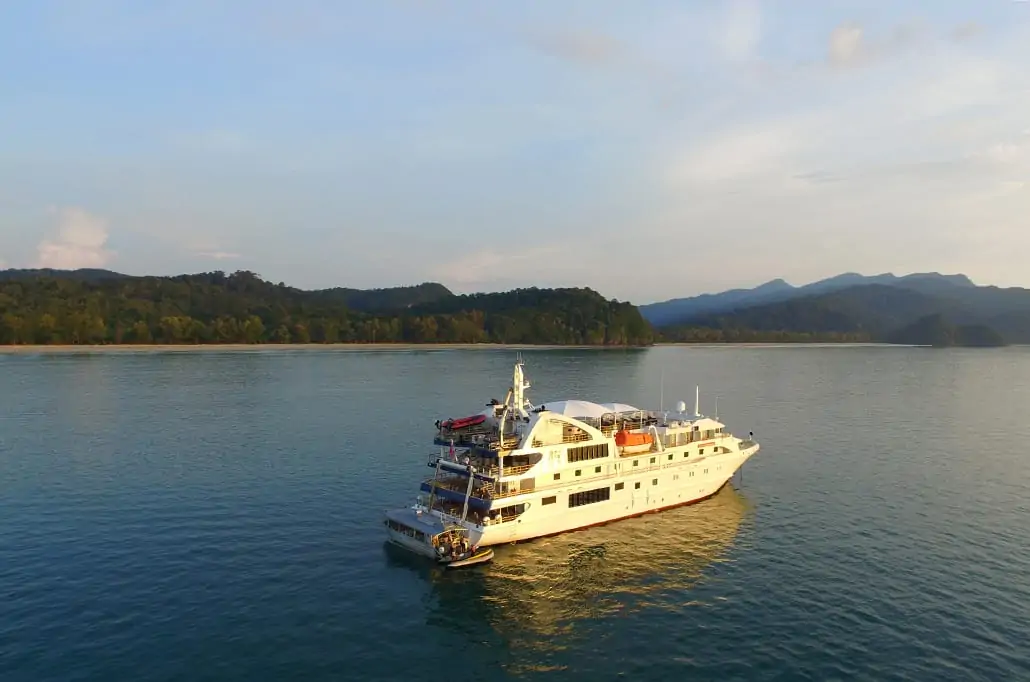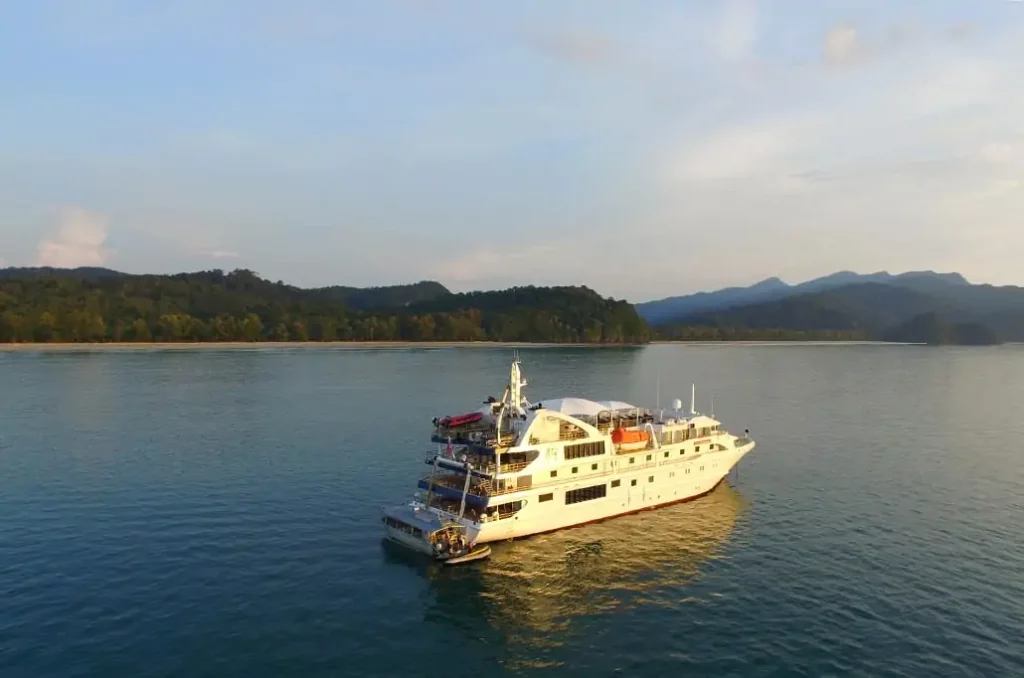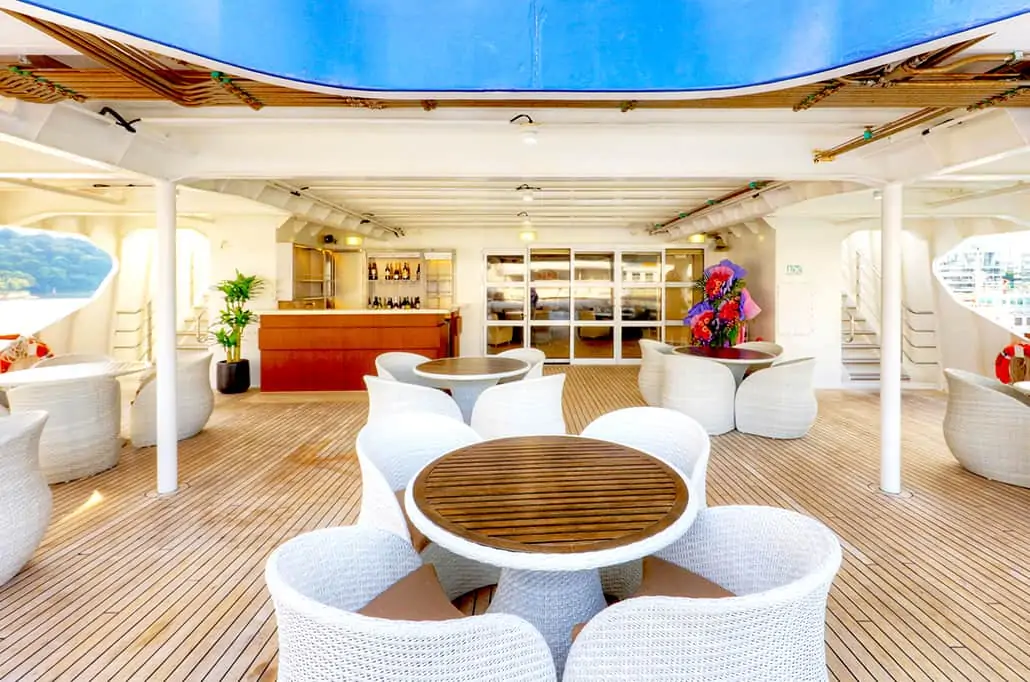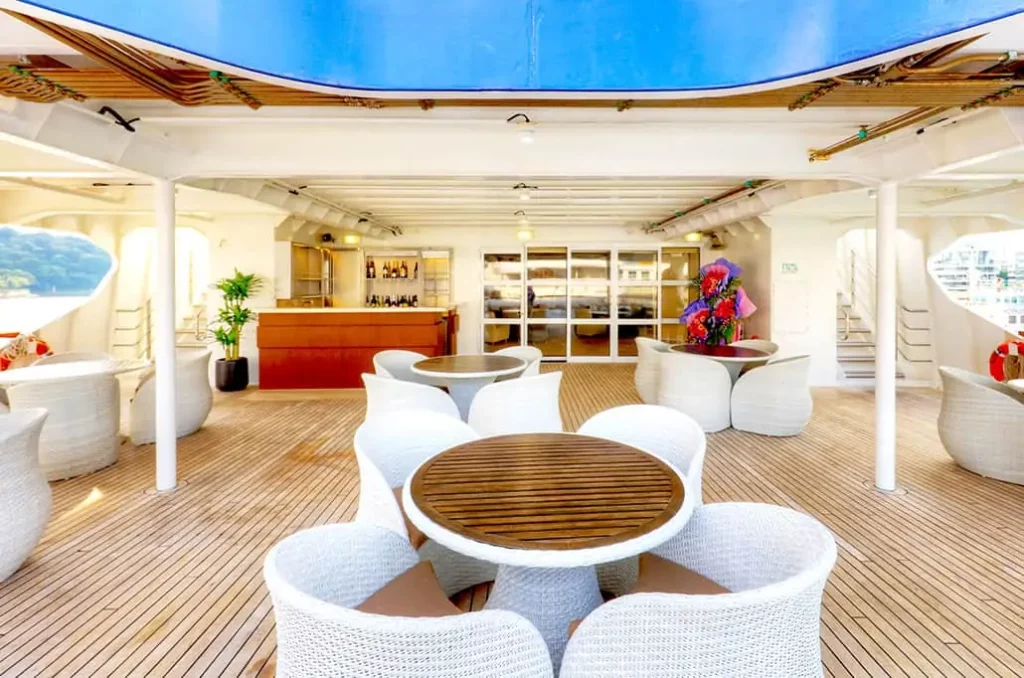 More About Australian Diving
As many scuba divers will tell you, Australia is a spectacular place to start exploring an abundance of marine life and colourful corals. Of course, it's worth remembering that summer diving in Australia will take place during the winter months in the UK – so you may wish to make a scuba diving trip or two around Christmas and New Year!
As you can see, there are plenty of great liveaboards in Australia thanks mainly to the sheer array of complex dive sites available. However, there's a few other bits and pieces you should know about scuba diving in the region before you go. Let's take a look.
What animals can you see when diving around Australia?
As you can imagine, the list of animals that you could come across on your Australian liveaboard trip could go on for days. There's a reason why so many people flood Australia for diving, and it's usually the marine life.
Diving around the Great Barrier Reef and beyond, you're likely to come across the likes of stunning manta rays, whale sharks, dolphins, turtles, clownfish, jellyfish, reef sharks, pristine reef fish and more. In fact, it's a really good idea to take a look at Australia liveaboard videos online so you can prepare yourself for magical deep sea safaris across Western Australia and beyond.
When is The Best Time to go Diving Around Australia?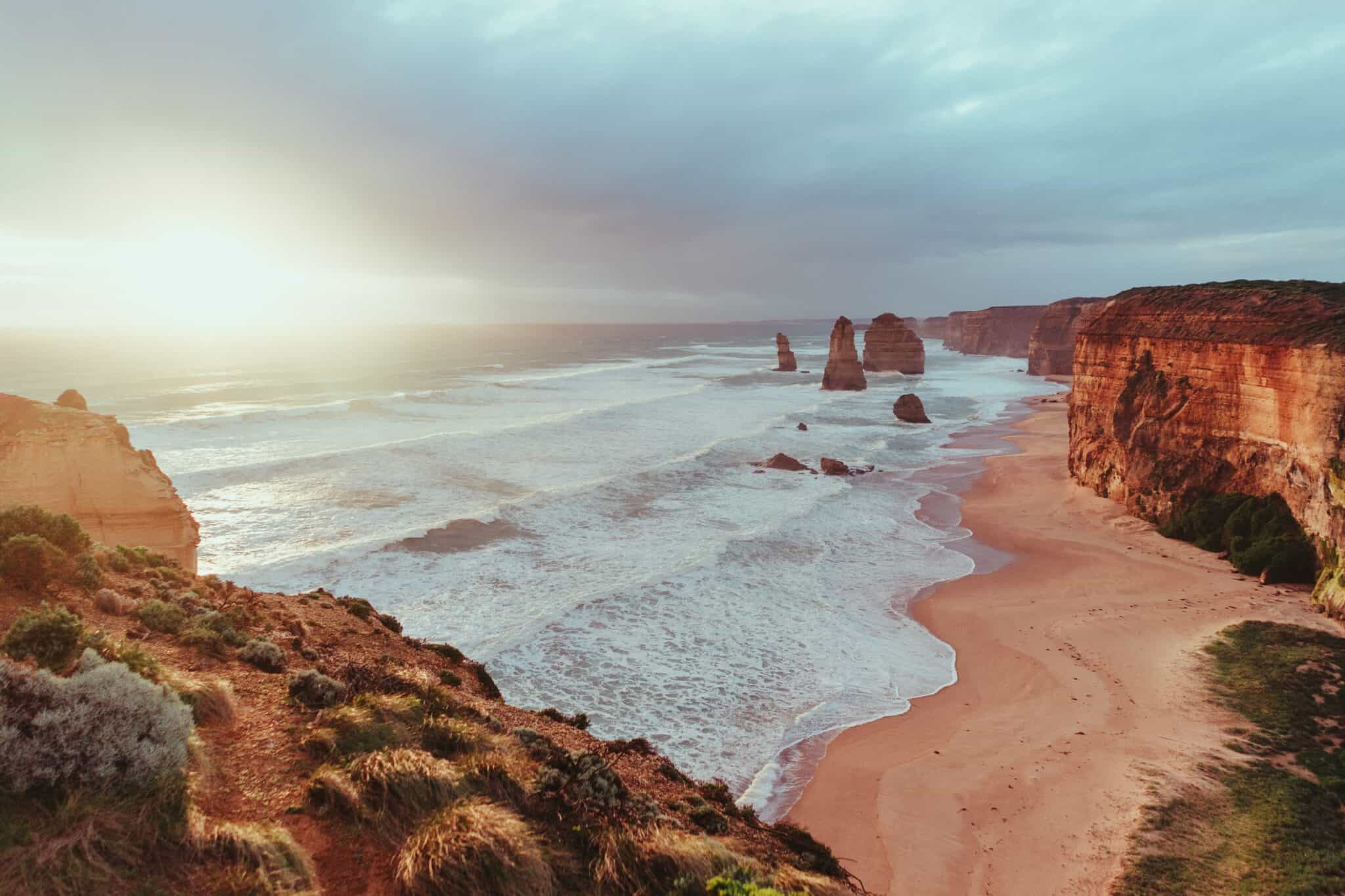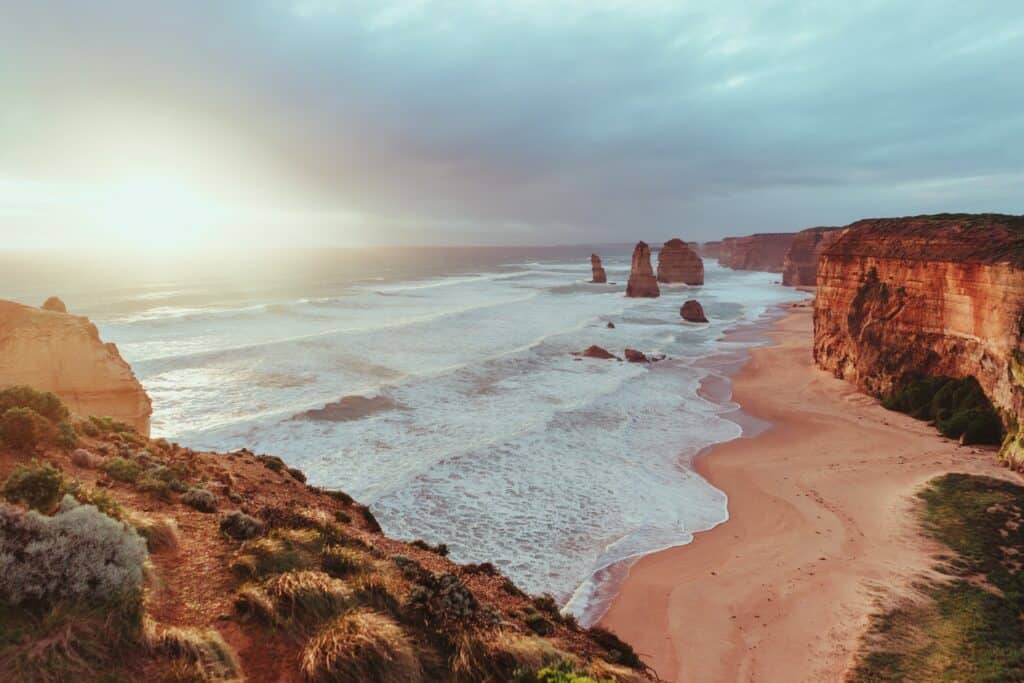 The truth is that with its incredible weather, and varying marine life, there is no general set perfect time to go diving in Australia! A few liveaboards in Australia work all year as they know that they can provide quality scuba diving (many that work with both experienced divers and beginner divers) throughout the year.
Remember, too, that certain animals only migrate in certain areas at specific periods throughout the year. Therefore, the best time for you to visit the various amazing dive sites depends entirely on what you want to see – it's worth planning ahead.
Of course, there tend to be more scuba divers around the summertime, so if you want a quieter trip while you visit the underwater world on your Australian liveaboard, then opt for the outer-season, when fewer people will be visiting and diving.
Many divers opt for the warmest seasons, in order to truly appreciate the diversity of the wildlife in the water at the time, and to deal with warmer water temperatures! Again, remember that the Australian summer is at the end of the year.
What Are Some of the Best Diving Spots in Australia?
If there's something that Australia's got plenty of, it's great diving spots. With the sheer amount of space and vibrant, natural spots to see, even if you go at a popular time, you will find plenty of time to discover the famous dive sites of Australia in peace.
Some of the best dive sites in Australia include the Great Barrier Reef, the SS Yongala Wreck, Ningaloo Reef, Shelly Beach, and the world-famous Ribbon Reefs.
With such interesting and diverse wildlife, you should take the time to visit as many of the popular dive spots in Australia as you can. In fact, many dive operators provide take you across more than just one dive site per day. If you are an experienced scuba diver, the more dives the better – you simply cannot appreciate everything Australia has to offer in terms of diving in just a couple of nights.
Is Diving in Australia Worth It?
Although Australia diving is definitely not the cheapest option for many scuba divers, diving out here remains truly magical – stunning to behold, and with plenty of friendly liveaboards in Australia that you can rely on.
From reef fish and grey reef sharks to vibrant corals and even dwarf minke whales, diving in Australia will provide you with precious marine memories for many years to come – many of the animals you'll see out here are unlikely to be spotted anywhere else in the world.
Why not take the time to really appreciate it by participating in liveaboard diving in Australia? As you can see, there are plenty of liveaboard trips for certified divers as well as novice swimmers and non divers. You get the chance to explore the best dive sites, meet likeminded people, and have a nice, relaxing drink at the end of the day – on a stunning ship sailing across Australia's beautiful waves, while sleeping under the stars. I can guarantee it does feel as good as it sounds!
Recent Posts