Its simple, yet functional design makes it the perfect introductory dive computer. 
If you are starting to dive or are an occasional recreational diver, the Cressi Leonardo dive computer is not to be ignored, its geared around new divers and is simple to work.
Let's take a closer look at what is, in my opinion, one of the top-rated dive computers when considering the budget and ease-of-use.
Best Dive Computer for New Divers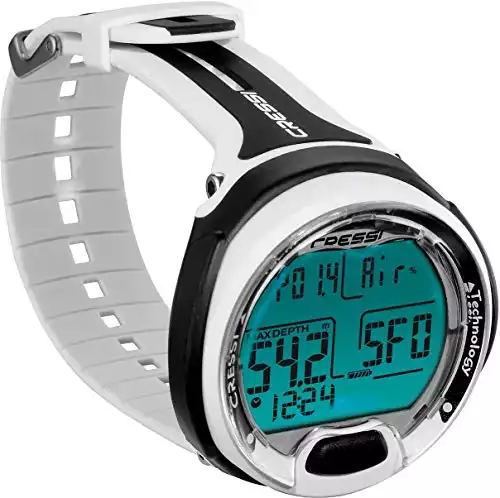 The Cressi Leonardo dive computer arrives in a sleek cardboard box with a fitted, protective cardboard sleeve to keep it safe during travel. 
In the box itself, you will find the dive computer and strap. The strap will come in the colour of your choice.
However, beyond that, there are no more fancy features to look forward to. While many higher-end dive computers come with a travelling bag or protective sleeves, the Cressi Leonardo is pretty straightforward.
To be fair, though, given the reasonable price, there's no need to be greedy, and you do get what you pay for.
Quick Look of The Top Dive Computers
The Cressi Leonardo has everything you would expect with beginner dive computers. It has many features, including three dive modes: air, gauge, and nitrox.
One of the great things about this dive computer is that the automatic air diving mode will turn itself on without any provocation! This feature activates once you've gone below 1.2 m in the water.
The automatic air diving mode comprises 21% oxygen and 79% nitrogen. On the other hand, the nitrox mode will have you diving between the base 21% oxygen and 50% oxygen. But make sure you gain your Enriched Air certification before you start to utilise this function.
The gauge mode has a bottom timer, showing your dive time in minutes and seconds – nice, quick and easy to read. 
The Cressi Leonardo can hold up to 75 hours of diving data, which usually corresponds to about 60 dives. It will also sample data roughly every 20 seconds. This helps to give you the most accurate reading on your dive. 
However, if you want to log your dive data, you will need a separate device. And sadly, one of the downfalls of the Cressi Leonardo dive computer is that that essential device is sold separately. 
But a big point in its favour is that it can be reset after every dive. This is great for diving schools lending dive computers out multiple times a day or general divers wanting to keep their computers clear!  But please, if you are doing repetitive dives, remember to stay well clear of this function….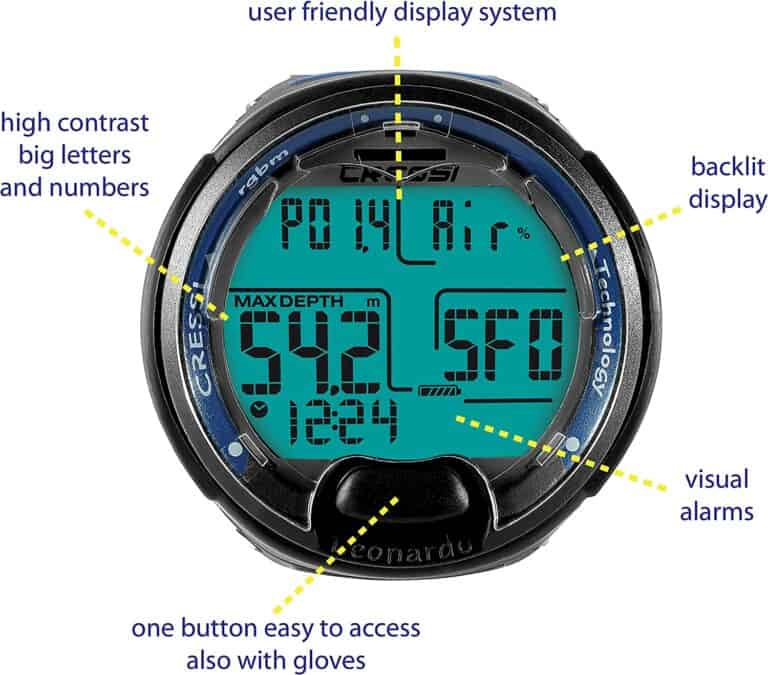 The main screen on the Cressi Leonardo dive computer is a big selling point. It's huge, making it easy to see all the information you could need all at once – from screen warnings to your dive profile, oxygen toxicity bar graph – you name it.
That all includes the dive mode, the depth, the dive time surface interval, an ascent rate indicator, the decompression status, your current depth, the battery status, and even the time. There are also deep and safety stops that appear automatically for any dive that goes farther than 32ft. It's a high-definition screen with excellent visibility and generally good light. 
However, it is worth noting that the backlight isn't too strong. In fact, it's pretty weak, which can be a pain to deal with.  I did struggle with this when giving it a go in my local UK quarry dive site.
On the bright side, the Cressi Leonardo dive computer does have a one-button system. This makes it easy to navigate and is perfect for beginner divers who want to avoid getting lost or confused with their first dive computer.
It also means having to press the same button multiple times in a row to get what you want, but generally, it's no trouble.
Dive Computers That You Might Like
Check out some of the other dive computers that I've reviewed.
The Cressi Leonardo can definitely not be criticised when it comes to durability! You won't be in and out of your local dive shop as this computer is very strong, perfect for new divers looking for something they may knock about a few times! 
And, with what is usually the weak link of dive computers, the Leonardo's straps are seriously tough. They arrive in various colours and have proven to endure all kinds of activity. Although, that's definitely not a reason to go testing the strength too much! 
And, best of all, should your dive computer or strap fail, Cressi offers a two-year warranty that comes with every Leonardo dive computer. I think all scuba diving gear should come with some form of protection – even for the experienced diver, this is a more than reasonable safety net.
Although the big screen on the Cressi Leonardo dive computer does make it easy to read, it's fairly cumbersome. So much so, in fact, that it is not a watch that you would be able to wear every day. It can become uncomfortable after a while and a little heavy when out of the water. 
However, it is still small and easy to travel with, as long as it is in your bag with the rest of your scuba diving gear. 
It's an entry-level dive computer worth the investment for a beginner diver – and it kind of looks like it!
One of the worst things about modern dive computers is that, occasionally, you'll need to swap out the odd battery. At worst, you might have to head back to dive centers and dive shops if your battery's given up the ghost.
That is where the Cressi Leonardo dive computer shines through. You can easily replace the CR2430 battery on your own.
And don't worry, you don't have to replace it after every dive! The Cressi Leonardo's battery lasts for about three years – with the idea that you do about 50 dives per year.
All in all, it's a great piece of kit for the recreational diver – maybe less so for experienced divers, but there's plenty here to keep you diving down for more.
Best Dive Computer for New Divers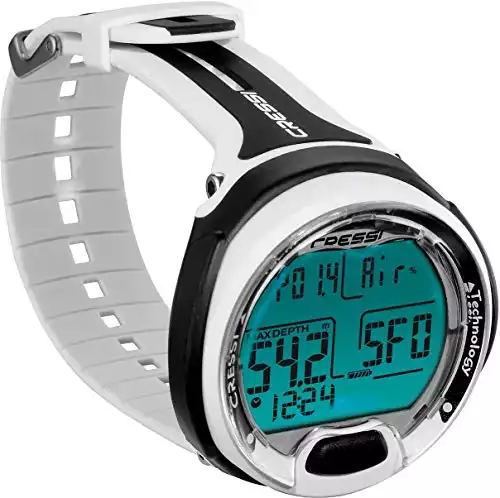 You can find the Cressi Leonardo online for between £160 and £230. This makes it an even more ideal dive computer for novice divers – its low price point makes it a great investment.
Sadly, no, the Cressi Leonardo does not have Bluetooth. This can make uploading your dive data a bit of a pain, but still doable! 
No, the Cressi Leonardo does not have a dive compass. And, for a modern dive computer, this is a noticeable missing feature!
This is a reliable choice if you're a newcomer to the underwater world or don't have a big budget. Cressi is a renowned brand, and this computer is often a go-to. 
A sticking point for those who dive in dark and murky conditions will no-doubt be the display light, if that's true and you want something with more quality, check out the Suunto D5.
Recent Posts