Buying a dive computer is never cheap but the Mk2S from Garmin is one of the most expensive choices, but is it worth it?
The cost means that this isn't a choice for everybody but if you love a stylish watch/computer, that can also navigate you on land, take care of your fitness and health needs and offer one of the best dive computers there is, then the Garmin Descent Mk2s could be a new staple of yours.
A dive computer is a diving essential and this option made it onto my best dive computer list, here's the reason why as I report back on my 30-day test.
BEST FOR MULTISPORT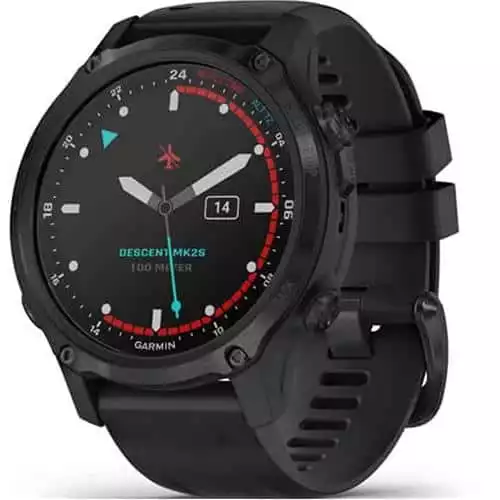 There is something about having everything in one place. As a species, we have grown to love convenience, and this dive computer certainly delivers on that.
The Garmin Descent Mk2s dive computer is not only a dive computer, but also a multi-sport GPS smartwatch too. In fact, it feels like a fitness watch that's been upgraded to a dive computer. You can wear it as an everyday watch, to help you achieve what you want not just underwater but also keep you on track with your general health and fitness goals above the surface.
It shares similar features with the Descent Mk1, but the Mk2S has a smaller and more compact screen.
The Descent Mk2s is a seriously impressive piece of equipment, and combines the two functions so seamlessly in a smartwatch sized design, particularly suitable for smaller wrists.
I was keen to put this product and its features to the test underwater, but also on land. So sit back, relax and let me take you through the wonderful world of the spectacular bit of gear that is the Garmin Descent Mk2s.
Unboxing the Garmin Descent Mk2S
Packaged into a simple and compact grey box, with minimal text creating an elegant look, the Garmin Descent comes with all you need to get started.
Inside the box you'll find the Descent Mk2S, a safety guide, user manual and a USB charging and data cable. As with any new dive computer purchase, please make sure you read the user manual before taking the Garmin Descent Mk2S into the water!
I was also pleased to see that the product includes the extra-long adjustment strap for dry suit diving – an additional purchase required for many other dive computers.
When I held the smartwatch for the first time I was impressed with how lightweight it felt. This model of the Garmin Descent is quite small, and the screen size is not as large as the others. But that actually appealed to me, especially because I was looking for a computer that could be worn as a regular smartwatch. Plus I have small wrists, and I could tell straight off that the Garmin Descent Mk2S would be a comfortable dive computer to wear at depth and on the non-scuba days.
If you are not sure the sizing of the Mk2S is for you, or you change your mind upon receiving your product, Mikes Dive Store accepts returns of unworn and undamaged items within 30 days. 
Here are just a few of the exciting performance capabilities.
The Garmin Descent Mk2S has multiple dive modes that suit many levels of scuba diving and freediving activities, including single and multiple gas modes, gauge, apnea, apnea hunt and closed circuit rebreather.
It really is a piece of kit that will follow you on whatever diving journey you decide to take throughout your life. Just remember its max operating depth is 100m, so if your looking to dive deeper into extreme tech depth, then this won't be for you.
I love how, like the Suunto D5, it allows you to add additional screens for whatever dive mode you prefer which display the fields that you want to see. Customization is always a good selling point, not just on the appearance but for functionality too.
Oh, and how can I forget the most exciting dive feature of them all – the surface GPS capabilities? You can record your entry and exit points with advanced satellite connectivity. This is where Garmin products really come into their own and the technology developed for other smartwatches is seamlessly integrated into this dive computer. I think that in the near future, every dive watch should have these features – it will make the sport a whole lot safer when it comes to the time it takes to rescue lost divers.
The Garmin Dive App is a fantastic addition to your smart phone. Here you can log your dives and review data for up to 200 dives. There is another app packed full of useful functions called Garmin Connect which takes me nicely onto the next section…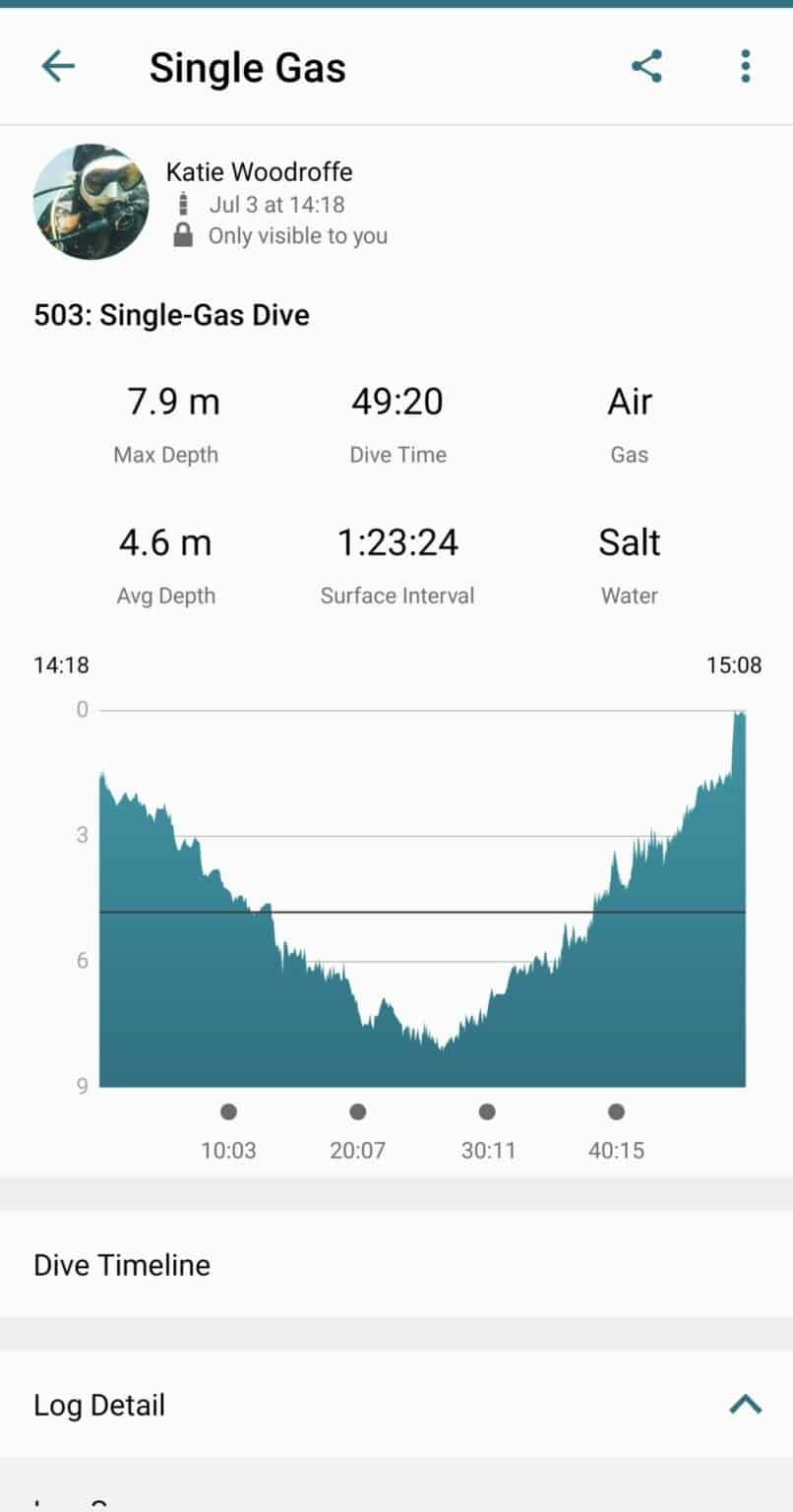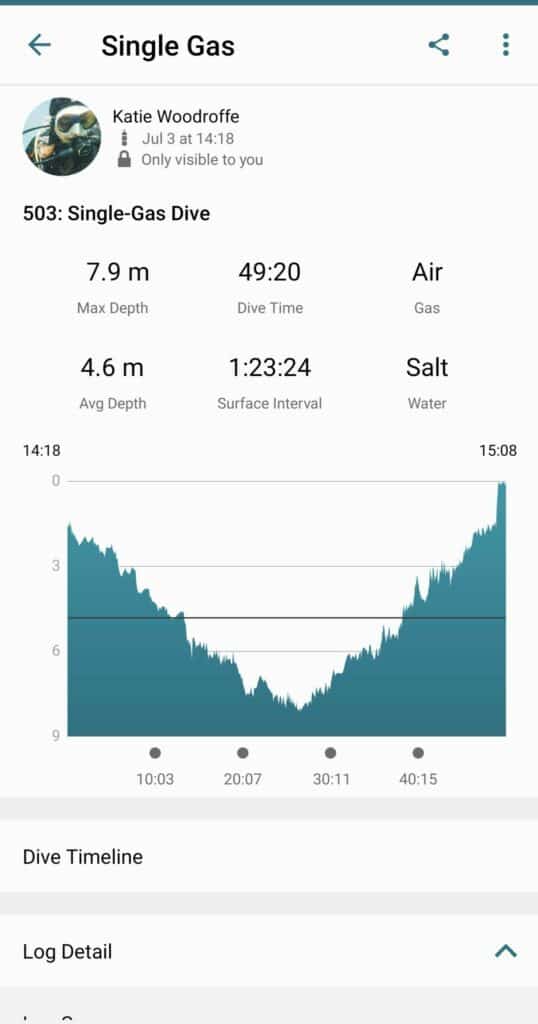 The smartwatch mode on the Garmin Descent Mk2S dive computer is super cool to have. I've never really been a fan of smartwatches, but now I can combine diving and activity tracker all in one, I'm sold.
I've used the watch to follow my heart rate whilst exercising at the gym, used the GPS mode to track my routes whilst kayaking with my local paddlesports club, and even used the Garmin Pay app to buy my weekly food shop.
The watch allows you to record and review your activity across a whole range of sports including trail running, paddleboarding, rowing, indoor and outdoor running, mountain biking, yoga, golf and pilates. There are over 30 sports app and advanced training features already installed for you to try out.
Along with tracking your heart rate, it also tracks your blood oxygen saturation, otherwise known as pulse oximetry and measure your sleep cycles and quality. The Garmin Descent Mk2S dive computer is an all round super-watch and originates from the functions behind the Fenix6.
All the data that the watch collects during its monitoring activities is uploaded to the Garmin Connect app that you will need to install on your phone. Here you will find an array of features and information that you can use to closely follow your health and fitness goals. I love how clearly this info is displayed too, and the day to day summaries it provides are incredibly helpful.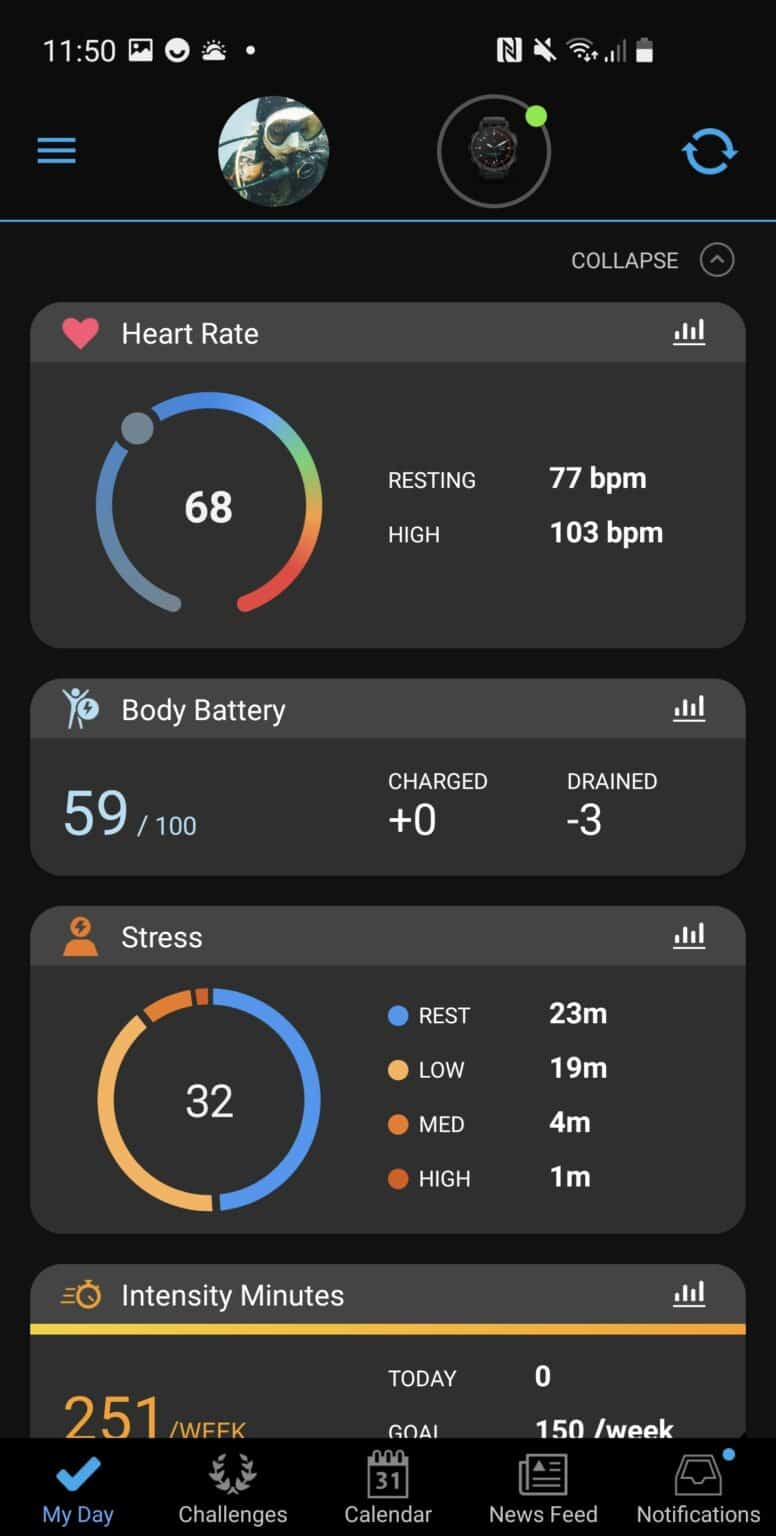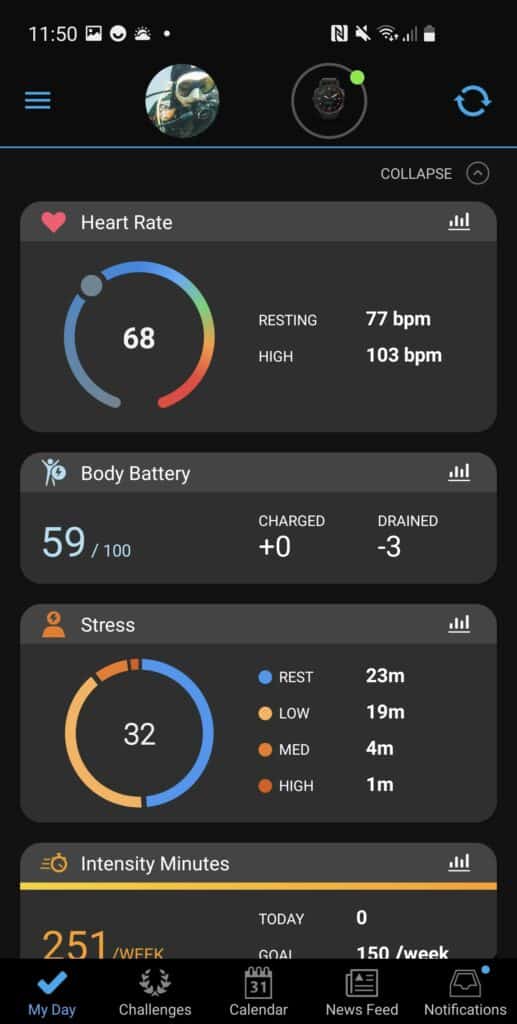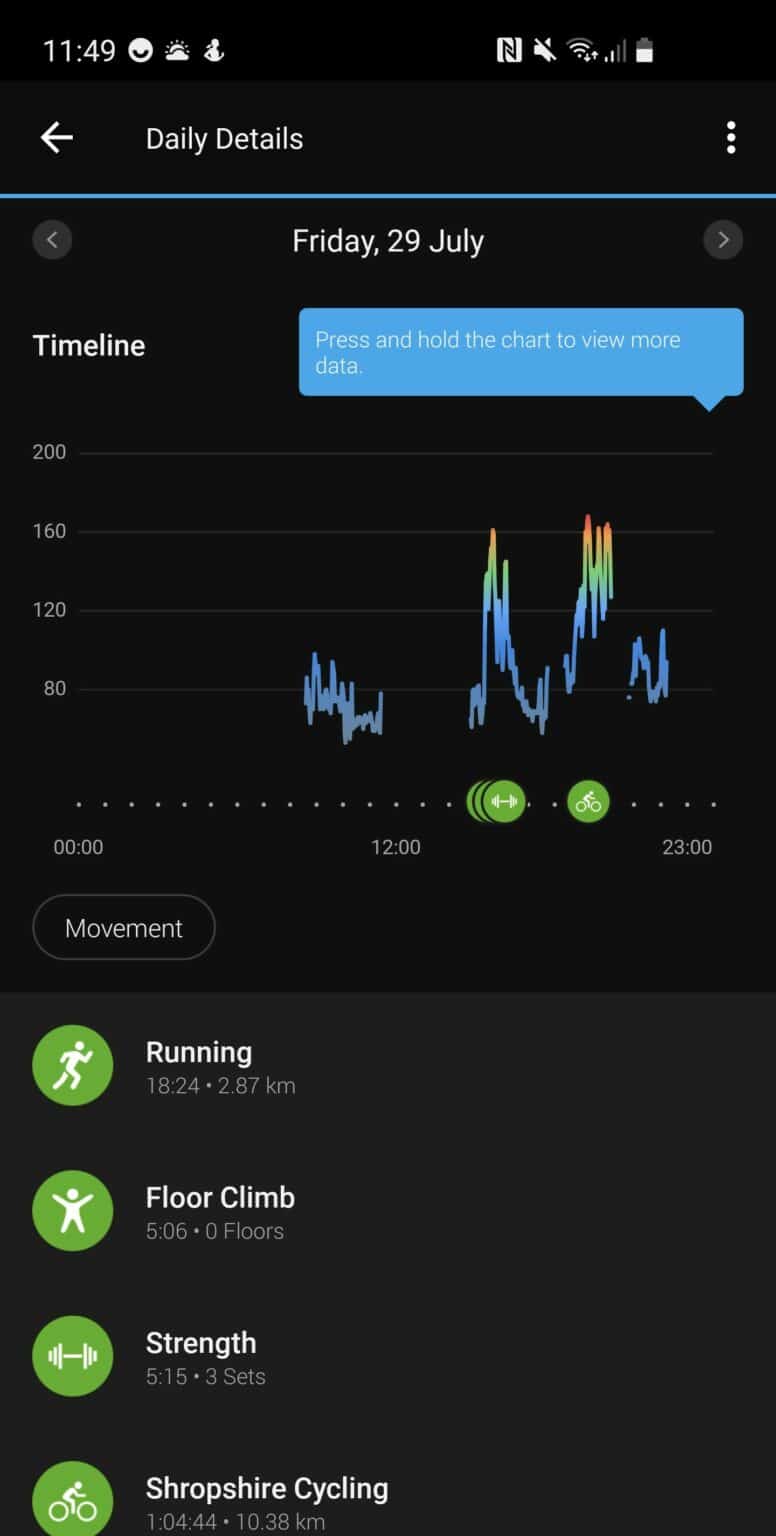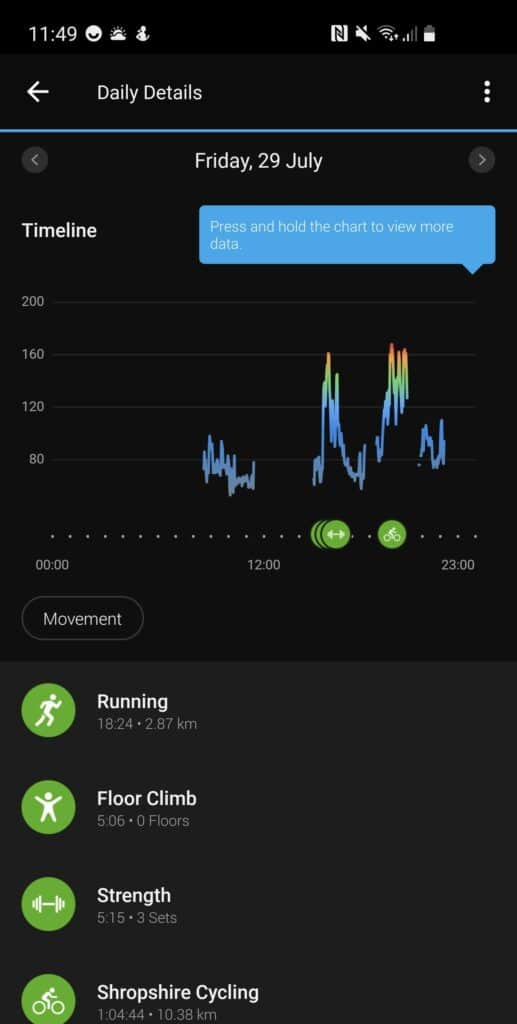 You can track
Workouts (completed and scheduled)

Heart rate, respiration, VO2 max

Intensity minutes

Stress level

Body battery

Sleep

Calorie tracking (you can link this with apps such as My Fitness Pal)

Sleep

Menstrual cycles
The stainless steel bezel wraps around the 30.40mm diameter display. It's full colour, sapphire crystal, very clear to read and I really like how the screen remains on when using as a watch. I think this is down to the Memory-in-pixel (MIP) technology which reduces the LCD power consumption.
The display resolution sits at 240×240 pixels and is still really easy to read even in bright and sunlit environments. Again, the MIP helps the readability as the reflection layer is integrated inside the screen. It's a clever bit of technology that Garmin utilises in most of its current line of fitness watches.
However, if you are used to larger display screens that other dive computers have, then you may be a bit disappointed. To compensate for its smaller screen, the data also reads at a smaller size. It's not a major issue for most, it just may require a bit of getting used to, especially if you are trying it after coming from a console style computer.
Considering it is an extremely light piece of gear, weighing in at around 100g (you can almost forget you are wearing it), it's very sturdy. Although, that shouldn't come at a surprise. Garmin are world renowned company for developing products that can withstand extreme environments, weather that be 60 metres under water, or 6000 metres high up a snow capped mountain.
Rated at 10 ATM for water resistance and with the maximum depth of 100 metres, the watches buttons are also leak proof, solidly integrated into the case, yet easy to use whilst underwater and donned up in neoprene gloves.
The case, weighing in at 41g, is built from fibre reinforced polymer – its solid, but so light. The strap weighs 60g and is made with silicone so combine that with the light weight casing and you have yourself a very comfortable but durable watch.
Taking into account the weight and durability, this is the perfect dive computer to take traveling, but not just on dive trips, every kind of trip. The Garmin Descent Mk2S dive computer is an all round dive computer and wrist watch that you can keep on wearing where ever you decide to explore.
Garmin Descent Mk2S vs Mk2
The Mk2S and Mk2 are virtually the same. However, the Mk2S size is smaller, and designed with lady divers in mind. The Mk2 measures 52mm, whereas the Mk2S size measures 42mm – it may seem like a small difference, but it certainly is noticeable. The Mk2S simply sits that bit closer to your wrist.
Both models still have GPS, sports tracking, music connectivity, and all of the other features that I cover in this review.
Can't afford the one off payment? Head on over to Amazon where you can pick up the Descent Mk2S on a monthly payment plan!
Dive Computers That You Might Like
Check out some of the other dive computers that I've reviewed.
Garmin Descent Mk2S vs Suunto D5
Both the Garmin Descent and the Suunto D5 cover multiple gas dives, offer excellent readability above and below the surface, and are built with Bluetooth connectivity with well-developed smartphone apps to help record and review your dives. As far as dive computers go, they are pretty similar.
However, the Suunto's display is larger, and I feel like it's a bit brighter too, which means it is a little clearer for reading those vital stats underwater and in darker environments.
There's a huge cost difference between the two dive computers. If you are a keen adventurer looking for a dive computer that can join you as a watch to monitor your health and fitness outside of the water, then go for the Garmin Descent Mk2S.
If that's not you, then there is no point in shelling out the extra cash for the Garmin watch, opt for the Suunto D5 instead and save yourself a few hundred pounds.
The battery life of the Garmin Descent is one of the best I have ever seen. Again, we have the MIP display to thank for this. If you are not doing a dive and wearing it as a smartwatch, the battery will last for up to 7 days. This is pretty impressive. You can even switch it to the battery saver watch mode, which extends the battery life to 21 days but takes away the smartwatch mode functions.
The Garmin Descent battery life on dive mode is a massive 30 hours. It's a big increase on other dive computers such as the Suunto D5, which features around 6-12 hours of battery in dive modes.
Like other Garmin devices, it's easy to charge with a USB clip that attaches to the pins on the reverse side of the watch.
Is the Garmin Mk2S Touchscreen?
The Descent Mk2S dive computer is not touch screen compatible. If you're looking for a dive computer that has a touch screen ability, take a look at the Mk2 or the Mk2i. The Mk2i has more options when it comes to air integration too, which is a function that isn't possible with the Garmin Descent Mk2S dive computer.
BEST FOR MULTISPORT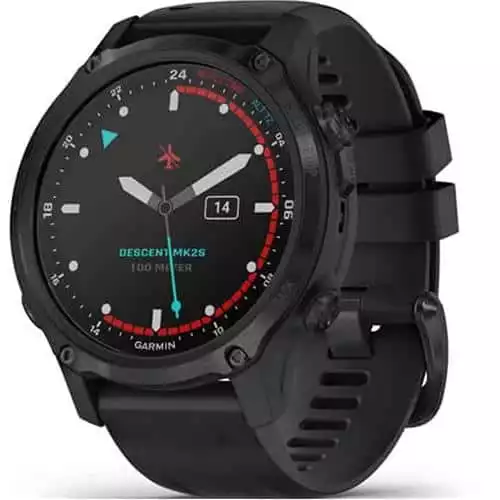 I'm a big fan of the Garmin Descent Mk2S and I feel as though that's because it suits my lifestyle (and smaller wrists) more. Aside from being a diver, I'm an active person outside of scuba too; a regular runner, hiker, gym goer, open water swimmer and kayaker. Therefore I can make use of the majority of the features that this watch has to offer.
It takes me back to the note of convenience that I mentioned at the start of this review. It's a gadget that comes in handy whatever the activity, it is so nice to be able to rely on the watch as a dive computer too and the GPS tracking is the future. Since getting my hands on this watch (big thanks to the awesome people at Garmin for sending me a watch to review!), I have hardly taken it off, and when I do, I do miss it.
The Garmin Descent Mk2S is quite a stylish gadget, and has a range of features to customise, from different coloured wrist straps to the style of the watch face. You can buy it in three colour schemes including the carbon gray DLC that I have, light gold/light sand and a mineral blue/sea foam. There are so many more things that I have not even mentioned in this review, such as the ability to control your music from your phone and the Expedition GPS Activity Mode, that really make this a quality investment.
As a diver, It's a great piece of gear to add to your wider lifestyle and dive equipment, but expect to take the time to explore the functionality and features of the Descent, it's health monitoring capabilities, the GPS tracking and sports tracking. Read the manual and search online, there is a lot of great "how to" guides and reviews of the Descent on the big web.
Recent Posts