The Suunto Zoop Novo has never failed on me when introducing dive computers to students. Clear and simple to use, it is an excellent and affordable first dive computer.
Are you looking for your first entry level dive computer? Struggling to figure out which brands are going to work best for you? You might have already looked at the Suunto Zoop Novo as a viable choice.
Don't worry! There are plenty of dive computers out there, but the Suunto Zoop Novo is easy to read and use.
In this Suunto Zoop Novo review, I'll give you a complete breakdown of everything you need to know about this dive computer, and why it might be best for you.
Perfect For: The Suunto Zoop Novo is one of the best entry level dive computers out there. I've used this with new dive students on many occasions and never had any issues.
Unboxing the Suunto Zoop Novo
Straight off, this is one of the biggest and brightest dive computers around. Large and colourful, it also boasts a pretty impressive 40mm display, which is easy to see even in harsh light.
This is a wrist dive computer which doesn't really look much like a traditional watch, but it's clearly built for the purpose of scuba diving – and as that's what it's for, that's what I will judge it on.
It's really light to handle straight out of the box. However, the build on the display and the general casing is really durable. Providing you look after it well, this should last you for some time.
The buttons are big and easy to use. What's more, you get a nice rubber wrist strap which you can easily adjust if you need to. It's overall very easy to look at, and easier to use.
Some divers might think the Suunto Zoop actually a little too simple on sight alone, but looks can be deceiving. It's an entry level computer, but with easy connectivity via USB cable, simple bottom timer settings and one of the best dive log systems available for the price, Suunto is offering a brilliant deal.
Dive Computers That You Might Like
Check out some of the other dive computers that I've reviewed.
The huge dive log is a definite plus point for the Suunto Zoop Novo. 999 dives or 140 hours is a lot to account for!
What's also really interesting is that you can use the great data storage on the dive computer to look up your deepest ever dives, how long you've spent below the surface, and more.
Thanks to the big, easy buttons, accessing this information is always a breeze. You need never have to fiddle about too much to set this dive computer up.
The display of the Zoop Novo dive computer is one of the simplest I've come across.
This doesn't mean it lacks any of the information you'll find with other dive computers. You can easily see how deep you are diving, your NDL, ascent rate, temperature and more.
If you want to set to dive mode or gauge mode you can, or if you want to switch between air and nitrox it's all at the simple touch of a button. The fact everything is so easy to navigate is a massive plus.
The Suunto Zoop Novo dive computer serves up a pretty conservative algorithm for your dives, which means it operates on a safe rather than sorry basis. That's not a bad thing. Specifically, it uses the Suunto RGBM algorithm.
This means it will offer you a fair decompression prediction that's pretty safe to stick by.
As you can't get air integration with this Zoop dive computer, this might not be as accurate as you need it to be, whether using air, nitrox or otherwise.
That said, this should be more than fine for recreational divers, but any scuba diver going down really deep should probably look for features and functions with a little more to them. Air integration, for one thing, is a must!
The Suunto RGBM altogorithm is a really safe bet. Along with all the data you need for current depth and decompression stop zones, no scuba diver should be without a conservative guide every once in a while. A we all know, it's worth knowing when you might literally be out of your depth and pushing your limits!
Beyond the dive log and the air mode switching, etc, it's worth looking into the Suunto Zoop Novo dive computer for the fact that it's focused on safety.
Specifically, you can use the Zoop's safety stop function which will give you up to 20 feet of warning. This counts down and will let you know when to stop and when to continue your ascent.
What's more, it's pretty easy to use the dive plan functions time and time again. Suunto has made sure that the dive time and air planning is pretty comprehensive.
What can be pretty tricky to get used to is the icons on the device. It's easy to navigate on the whole, but when it comes to decompression diving, you need to be familiar with the new icons that appear. Then again, it goes without saying; always read the dive computer manual!
Lastly, let's talk about the multifunctional features you can access easily from your wrist. Like with any good scuba diving computer, with the Suunto Zoop Novo you'll be able to check the time and set a stopwatch.
However, you will even be able to plan your dives out and set alarms, too, should you need to be informed when you are approaching your maximum depth.
The fact you can easily plug the Suunto Novo Dive into a computer is also a great feature. As one of the big selling features of the unit is the fact that you can store so much log data in one go, it's great to be able to move it across.
Unsure if the Suunto Zoop Novo is the right computer for you?
You can read my full list of the Best Dive Computers Review. If you want something professional then I urge you to read over the feature and apps in my Suunto D5 review.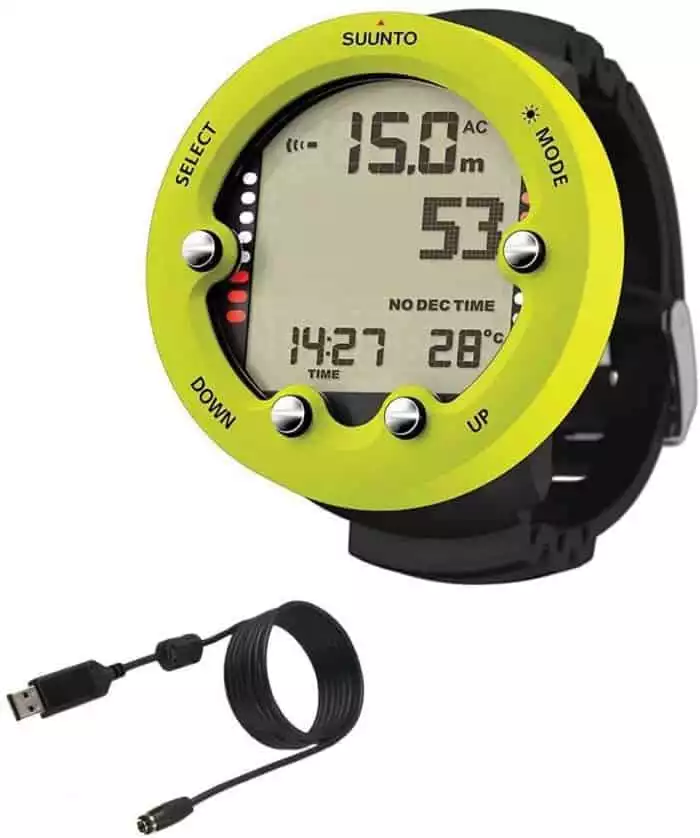 Good for at least 100 dives, the Suunto Zoop Novo dive computer tends to be a good choice for anyone looking to read into their diving history, and for those who are looking for a simply display and ease of access on the move. This is why I feel it is perfect as an entry level dive computer.
The Suunto Zoop Novo is a great little device which is packed full of scuba features most divers will love. Yes, there are some great new dive computers out there which are likely to outdo the Zoop in terms of functions ability or look, but this plucky little unit does still have plenty going for it.
Whether you're one of many divers who like taking stock of their diving stats, want to measure bottom time or plan for decompression, this high depth dive computer should do more than enough to support you.
Suunto is always coming up with new ways to bring great diving support to the masses, too – and the Zoop Novo really does do a lot more than just display the current time.
I hope you've found this Suunto Zoop Novo review worth reading, and helpful in your search for the best dive computer. Choose a device that's comfy, easy to read, and which gives you access to nitrox gas switching, altitude setting, dive data storage and more.
From mode to mode, the display on this model is likely be a big selling point – make sure to check out review after review from users and buyers, too, to get the lowdown on the Suunto Zoop Novo battery as well as the display.
Best entry level computer
Easy to set up
Range of modes
Easy to read digits
Built in back light 
I have heard some report buttons getting stuck
Recent Posts