Upgrading your computer to an air-integrated dive computer can be stressful and costly. It's not an easy task and is one that should be done with due diligence.
But luckily as long as you search for these key features, you'll find the ideal air dive computer. Read on to find everything you need in your air-integrated computer.
You can also check out my top-rated dive computers for all options.
Top 5 Air Integrated Dive Computers
Here's my list of the best dive computer air integration systems on the market right now.
No. 1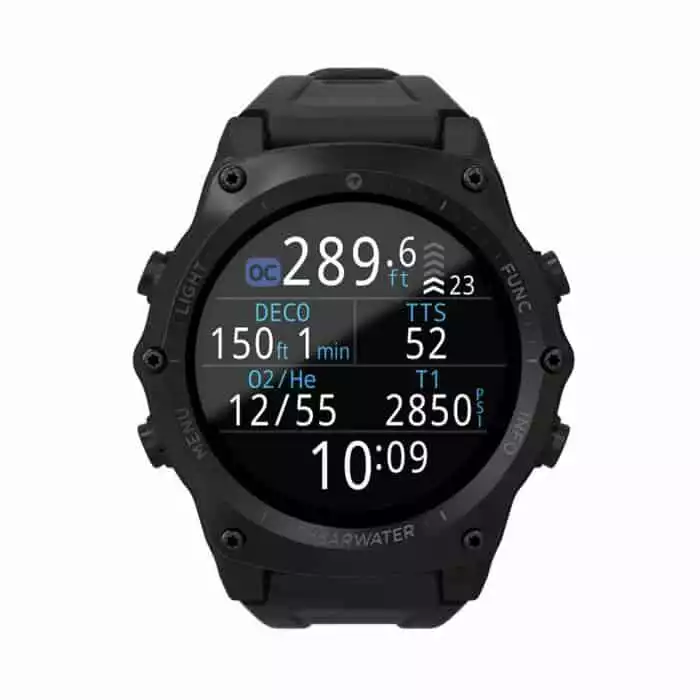 Shearwater Teric Dive Computer
Pros:
Easy to navigate and easy to read with its four-button operation

Charge anywhere and anytime with wireless charging

Highly customisable with a vivid colourful AMOLED display
Cons:
Not for divers on a budget
Check Price on MDS
Check Price on Amazon
We earn a commission if you make a purchase, at no additional cost to you.
Shearwater is synonymous with quality, and the Shearwater Teric is no exception. 
This air-integrated computer has an AMOLED display which is perfect for any-level diver needing a robust, easy-to-read screen. And the strength goes beyond just the digital aspect of the screen.
It also has a corrosion-resistant case, making it perfect for keen divers that spend a lot of time in the deep blue! 
It has a good maximum depth, being able to function perfectly up to 200 metres. 
It also has an easy-to-use four-button interface and can be charged wirelessly. 
The Shearwater Teric is compatible with Bluetooth and comes with an in-built digital compass and five dive modes with multiple gas combinations possible. 
And, just for those extra bells and whistles, this particular dive computer also comes with an emergency torch, automatic log tracking, timers, a stopwatch, and alarms. 
But, in my opinion, it's the wireless air integration here that makes the Teric worth the money. In fact, it's one of my all-time favourite dive computers, great for newbies and advanced divers alike.
Read my full review of the Shearwater Teric. 
Best for: Technical divers 
Modes: OC REC, OC TEC, CC/BO, Gauge, Freediving 
Max depth: Up to 200 metres 
User-replaceable battery: Yes
BEST FOR MULTISPORT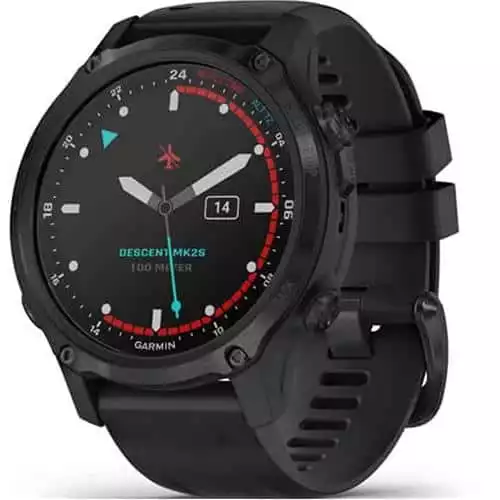 The Garmin Descent Mk2 looks as sleek and modern as you'd hope for from a quality dive computer. It's comfy and lightweight with a 1.4-inch display. This makes it easy to wear as an everyday watch, as well as a dive computer.
However, if colour versatility is what you're looking for, you will have to look elsewhere. The Garmin Descent Mk2 is only available in black.
The Descent Mk2 lets you dive as deep as 100m at a time. While that is perfectly respectable for beginner divers, it is only half of what the Shearwater Teric can reach.
That being said, it beats the Shearwater Teric when it comes to available dive modes. It has six different settings, with single and multiple gas dives easy to configure. It also has extra tweaks such as GPS, ABC sensor, Bluetooth, WiFi connection, ANT+, a heart rate monitor, blood-oxygen monitoring, an in-built compass, and surface MULTI-GNSS.
I have been wearing the Garmin for scuba diving and my fitness goals, there's a few features that surprised me in my Garmin Mk2 review.
Best for: Technical divers
Modes: Freediving, air, nitrox, gauge
Max depth: 100 metres
User-replaceable battery: Yes
BEST LIGHTWEIGHT OPTION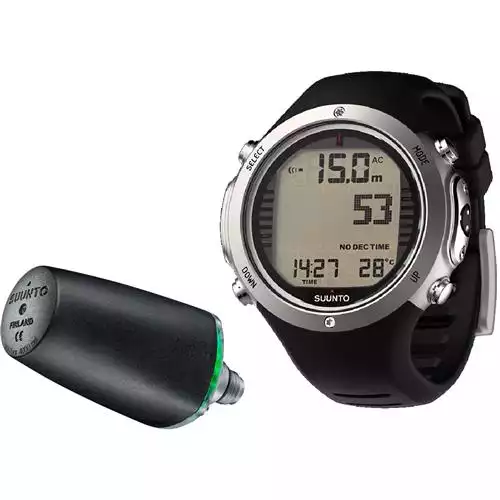 If you don't like having something on your wrist and would rather forget that you have to wear a dive computer, then the Suunto D6i could be the perfect one for you. It is incredibly lightweight, but don't worry; it still has all of the features you might need. 
It has a steel case and silicone strap, ensuring its lightness and protection. 
It is very intuitive and easy to use. Even though it has four buttons, they are labeled, so pretty easy to follow! 
It also comes with an incredibly accurate 3D compass, a built-in dive planner, and a transmitter. It also has timers, alarms, and even updatable firmware.
Best for: Technical divers 
Modes: Freediving, air, nitrox, gauge
Max depth: 150 metres 
User-replaceable battery: Yes
Shearwater Perdix 2 Ti - #4
LONG-LASTING PICK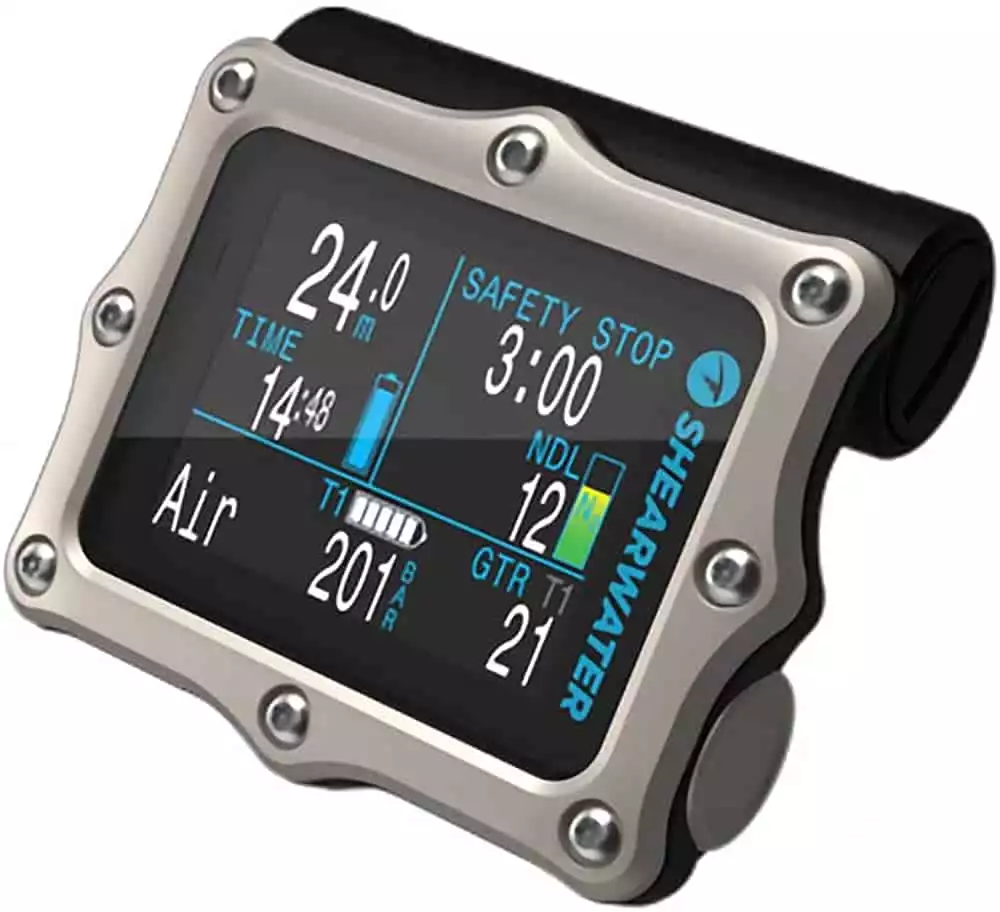 Heading back to Shearwater, the Shearwater Perdix is a wrist dive computer ideal for monitoring many different gas types, as well as capturing days of dive time with ease. Its impressive 1000-hour dive log and 260-metre maximum depth and reasons enough alone to take this dive computer seriously.
The Perdix is one of the best air integrated computers thanks to its maximum capacity for up to four different transmitters. Unlike your average air integrated dive computer on the market, that means you can connect to either air, trimix or nitrox as you wish.
It also comes with four diving modes (including gauge, technical open circuit, recreational, and closed circuit), Bluetooth, and an easy-to-use two-button interface. 
The big downfall is that the battery is not rechargeable. Thankfully, though, you can replace the battery yourself and do not have to send it to a service centre. 
The Perdix 2 Ti is easily one of Shearwater's best-looking and most robust dive computers on the market. It's one of very few dive computers that can support recreational scuba diving and more technical diving at the same time. As such, the air pressure and dive planning features on board will help you grow as a diver.
Best for: Everybody
Modes: Gauge, OC Tec, closed circuit, recreational
Max depth: 260 metres
User-replaceable battery: Yes
Best Budget Air Integrated Computer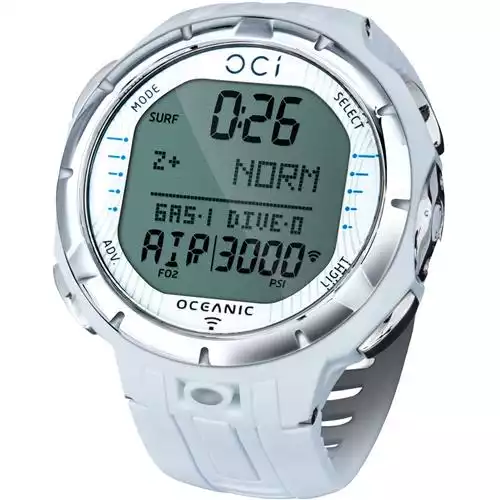 Oceanic OCi
Pros:
Great value for air-integration

Reputable brand

Cheap to repair
Cons:
There are better options for air-integration
Check Price on Scuba.com
We earn a commission if you make a purchase, at no additional cost to you.
The Oceanic OCi is a great air-integrated dive computer for those on a budget. It is an intuitive dive computer that's easy to hear while exploring the deep. The display screen is easy to read, albeit on the smaller side. However, in murkier or darker waters, you may find things a little dim to read – keep this in mind if you want to progress as a recreational diver into much deeper waters.
That being said, it does have an incredible battery life and has all of the dive modes a beginner diver could need, including air, free diving, nitrox, and gauge. You can also log up to 24 dives at once on the device as you wish.
As you'd expect (as it's on this list), the OCi provides simple wireless air integration, allowing you to swap between four different transmitters as you wish. You can even bring on board up to four different nitrox mixes all the way up to 100% O2.
The OCi's also notable for its algorithmic decompression system, meaning you can check multiple tank pressure data at once. You can check all of this data through the free Diverlog+ app, too, to switch between deco and non-deco.
The OCi is well-built and is technically proficient for its size, so don't judge this book by its cover.
Best for: Everybody
Modes: Air, nitrox, free-diving, and gauge
Max depth:100 metres 
User-replaceable battery: Yes
How Do Air Integrated Dive Computers Work?
Wireless transmitters send data regarding the pressure from your air tank(s) to a wireless receptor or receiver in your dive watch. Your wrist-mounted device is then able to show you your current tank pressure.
It will also automatically calculate how long you have left on the dive at your current depth, with your current breath rate and pressure.
Transmitters are usually sold separately from dive computers and are fitted to tanks through air pods. The best air integrated dive computers allow for gas switching, too, if you want to get into decompression diving.
Your air integrated dive computer will have a receiver built-in, meaning it's always ready to communicate with the air pods on your tanks.
Is Air Integration Essential? 
Air integrated dive computers make it easier for you to keep track of the air you have left and the current pressure levels without having to constantly check the air pods yourself. It's not an essential feature, but it can help to make using dive equipment that little bit less awkward.
Using the dive details available on your dive computer, especially the pressure gauge, you can easily make calculations regarding your remaining time on the dive and so on.
That said, this is likely less of an issue for advanced divers. For beginner divers who may need that extra support and reassurance during their time in the water, investing in a watch-style dive computer can help them acclimatise to the different figures they need to remember. You can also check out my guide on entry-level dive computers.
If you're looking to improve as a scuba diver in a short space of time, for example, it's worth finding a dive computer with air integration and that allows for multiple gas mixes. This way, you can start scuba diving at your own pace and then gradually progress to decompression dives and more complex adventures.
It's also important to remember that while figuring out the remaining air pressure without air integration may not be too difficult for a technical diver, it can still be frustrating. A watch sized dive computer on your wrist that gives you all of this information at a glance is likely to be a massive help.
An air-integrated computer can save you time and worry, making your scuba diving that much more fun. That's less time spent worrying about how long you've got left in the water, and for technical divers, it means taking on deeper adventures.
Are Air-Integrated Computers more Expensive? 
The very best dive computers are air integrated – and do tend to be a bit more expensive than standard models. Essentially, you're paying for the extra technology, with key features such as multiple wireless transmitter capability and multiple diving modes.
That being said, nowadays, it's pretty easy to find a full-featured dive computer,with air integration for a great price. In any case, consider the value of a wireless air integration system – even if you only go on one scuba dive a season right now, you'll be thankful of that excellent battery life and dive logs in the long run.
Of course, if it's your first dive computer, you're less likely to want to invest in an expensive computer with advanced features.
Thankfully, you can get a great dive computer for beginners, with air integration and none of the other bells and whistles that can get in the way for a great price. You don't have to take on all the features possible if you honestly don't need them, especially if you're more into recreational diving.
What to Look for in an Air-Integrated Dive Computer
As great as air integration is, it's not the only feature that makes a dive computer great. In fact, even some of the models that do have this feature can fall down in other aspects. If you're keep to look for the best dive computer models with air consumption data at your fingertips, however, look for multiple gas switching and features such as automatic altitude adjustment.
Beyond this, look at some of the simpler features. You should ideally look for a backlit display to ensure that you can see data even in the murkiest and darkest waters.
Having an easy-to-read display can't be undervalued, either. You don't want to have to dart your eyes over every corner of your watch to find the information you need. While some are fairly complex to navigate, most other dive computers are segmented to make it easier to discern the different information.
The best air integrated dive watches support you not only on deep dives, but simpler, shallow dives, too. Always check out what other buyers and reviewers have to say before you make a firm decision.
Of course, other key features such as multiple diving modes, integrated compass, Bluetooth connectivity, dive logs, and excellent battery life never go amiss. If you're just getting started with more complex dives, prioritise an excellent user interface – one that's simple but has only a few buttons to help you navigate your data at short notice.
Are Air-Integrated Dive Computers Worth It? 
Whether you are a recreational diver or more into technical diving, a beginner, or a professional, air integrated dive computers are fantastic investments – and I'm telling you this from experience.
Being constantly aware of your air consumption will make a huge difference to your dives and can help you perform better, keep you safe, and generally make your dives more enjoyable.
However, you shouldn't feel forced into investing in an air integrated wrist dive computer. Even basic dive equipment can be expensive, and not everyone wants to have to invest more into something they don't need. So, yes, if you have a basic watch-sized dive computer without air integration, you'll be fine. It's just a bonus to have this on board in case you want to grow as a diver in the near future.
Recent Posts