Finding the perfect dive computer can feel like finding a needle in a haystack. With stacks of different brands and tons of innovative features hitting the market these days, it's well worth comparing what's out there. When it comes to top-line dive computers, however – is the Shearwater Peregrine worth the money? 
In this Shearwater Peregrine review, I'll take you through what you need to know.
Best console dive computer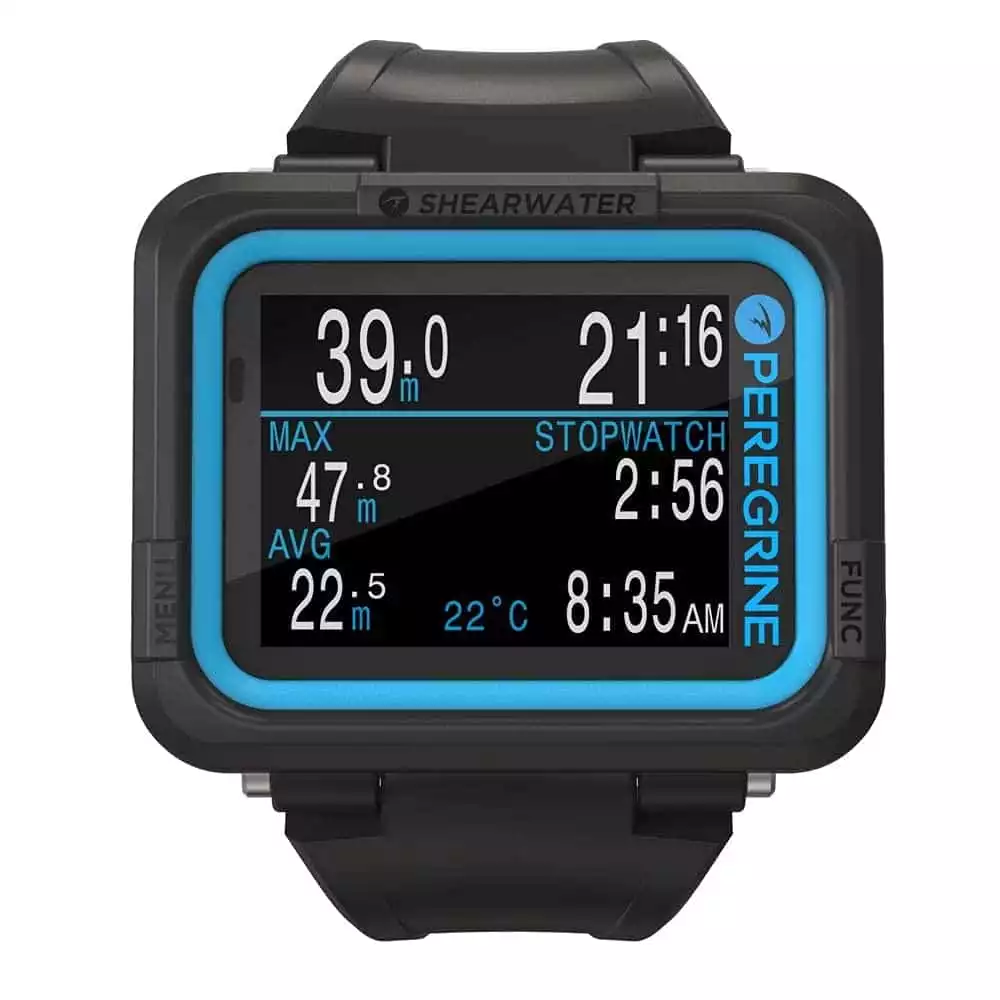 This stylish, intuitive, well-built dive computer is made by a world-renowned company, and it has definitely earned its reputation as being one of the best dive computers on the market. 
Its long battery life, easy-to-read LCD screen, multiple diving modes, Bluetooth, and 390 ft depth rating make the Shearwater Peregrine dive computer one to watch.
Unboxing the Shearwater Peregrine Dive Computer
The Shearwater Peregrine dive computer comes in a simple, easy-to-open travel case that's perfect for keeping it safe on the go
In the box, you'll also find a rubber strap and a set of bungee cords, locking bars (and the tools to go with them), a USB cable and a wireless charger, a few fun stickers, an extra screen protector, and an inspection certificate.
This brand never fail to deliver on equipment that is built to last all conditions with displays that can be seen in the murkiest of waters.
The Shearwater Peregrine is completely customisable when it comes to layout, so you can configure it to suit your diving needs regardless of experience.
It is super-intuitive to use and read, so no messing around underwater as you're trying to figure out its four diving modes.
Thanks to the computer's Bluetooth connectivity, you can easily download your dive logs when you get to shore – in fact, the dive log memory will last up to about 200 hours, so don't worry about rushing back to your PC to get it sorted.
The Shearwater Peregrine has four diving modes, perfect for all kinds of exploration – these include air, nitrox, three gas nitrox, and gauge. 
While it will work on nearly any kind of dive, it is important to remember that it will only go to 390 ft max!
It is very intuitive and easy to adjust whether you're in or out of the ocean blue! If there are any dive plan deviations, you will have no problem adjusting the settings to suit the new changes. This makes it perfect for both everyday diving and technical diving – and beginners and recreational divers shouldn't have much trouble getting used to adjusting it.
When it comes to the Shearwater Peregrine's display, you'll either love it or hate it. It's a little oversized for me, but compared to other Shearwater dive computers, it's one of the most colourful and concise when it comes to data.
The Shearwater Peregrine isn't really a wristwatch device – the outer casing is obviously smaller to fit comfortably on the wrist, but the screen itself is a standard 2.2-inch size. This makes it perfect to take on dives of any kind if you want to crunch that data – but for divers looking for something a bit less clunky, there may be better choices out there.
One of the best things about this dive computer is that it's built to last. From its depth potential and strong casing to its solid buttons and thick screen, it's definitely not a dive computer that you will want to replace any time soon! 
However, despite the suspiciously reasonable price, the Shearwater Peregrine has definitely been made with a diver's lifestyle and adventures in mind, and you will not have to worry about it giving up on you any time soon!
There is nothing worse than having an oversized dive computer for travelling. While the Peregrine dive computer makes for one of the clunkier models on the market, it's still easy enough to manouvre with in the deep. What's more, when you're not scuba diving, it's easy enough to pack away in its carry case.
While a 30-hour battery life is definitely not the longest on the market when it comes to diving computers, it is perfectly reasonable for most adventures. You can expect to keep shuffling through those four dive modes for three or four trips before charging (if not more).
And, thanks to both wireless and cable charging, it's easy to power up as soon as you're ready to take to the water.
Dive Computers That You Might Like
Check out some of the other dive computers that I've reviewed.
Shearwater Cloud Mobile App
Shearwater have a great mobile phone and desktop app that helps you keep track of your dive profile and wider dive log. It's really straightforward to use and is a great way of recording your activity digitally rather than on paper.
It also notifies you of firmware updates – a really important thing that you should not forget about! This will keep your computer up to date with the most recent updates which can include new features and bug fixes.
If you are looking for a dive computer with excellent screen clarity but on a smaller wrist style computer, make sure you check out my Shearwater Teric review
Best console dive computer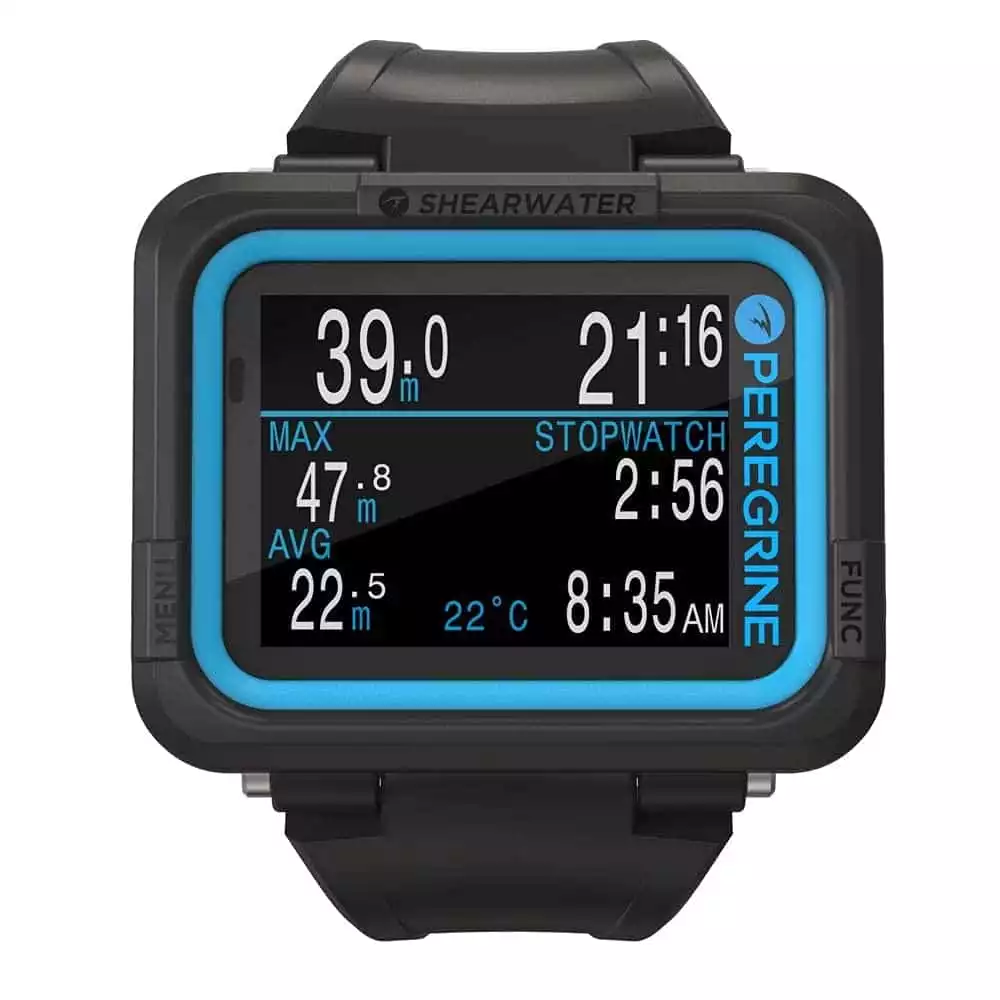 In short, the Shearwater Peregrine dive computer makes your dive time an absolute dream. Whether you do more recreational diving or tech diving, this computer will be your very best friend!
Its intuitive layout makes it easy to read, and easy to use. This means that entry level and experienced divers alike can use it easily and reliably. It's especially recommended for air and nitrox divers thanks to its decompression support and multiple modes.
Shearwater dive computers also come at a very keen price point! In fact, it can definitely be said that they are exceptional value for money – and this very capable decompression computer is no exception.
If you are looking for a dive computer with air integration you'll need to look elsewhere, this simple computer is designed for ease of use. It has four dive modes, large screen, optional colour wrist straps, Bluetooth connectivity, and the ability to upload dive logs with ease, the Shearwater Peregrine dive computer more than ticks the right boxes.