Scubapro Go fins ooze quality – not only are they the perfect travel fins but they also made it onto my overall top scuba fins list.
Scubapro have rectified any worries I had about them trying to please too many divers in one design.
Read on to find out whether these fins are ideal for you, and how Go Travel fins compare to the Go Sport fins.
BEST TRAVEL FINS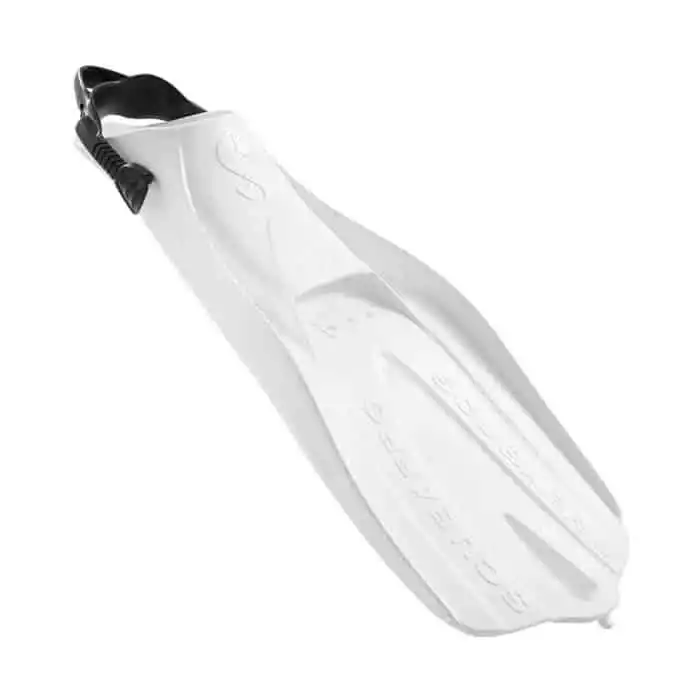 Perfect For: All divers that are searching for a lightweight set of fins that don't break the bank
Upon unboxing the famous Scubapro Go Travel fins, the first thing I noticed was the quality build. 
These fins are deceivingly lightweight, as you'd expect for a fin aimed at traveling divers. But when you see these scuba fins they look robust and well-made yet they only weigh 2.6lbs. 
Created for barefoot use, they're super-comfortable – thanks to the sturdy adjustable bungee strap, the robust frame running down the side and the soft rubber design that sits on your feet.
I do think that these barefoot diver fins are some of the comfiest pieces of gear you'll buy at this price.
Easy to get on and off again, there's plenty to like in terms of the ergonomic fitting (Ergo3 foot pocket). Again, what really impresses me all the more is the foot pocket design and the venting within the fin.
Manoeuvring in the dive feels very free and comfy, though some pro divers might think there's probably more precise fins out there beyond the Scubapro Go. I can tell you for a fact they're right – but has a fin ever felt this good on foot? Yes – there are comfier fins out there, but there's not many that match this level of comfort, and especially not when it comes to travel fins at this price. 
The clue's in the name – they are Scubapro's Go Travel fins. They are not only designed to fit in your luggage, but also to endure all kinds of travelling around.
The Scubapro Go travel fins are built in monprene (which promises heavy-duty use). This means that you're guaranteed to get little wear and tear from this equipment.
I probably wouldn't recommend bending the Go travel fins to the point where they'll break, but if you've ever had problems with scuba diving fins just not lasting the distance, you'll find monprene makes a lot of difference.
Despite being light and compact, they remain strong and sturdy for all of the adventures ahead.
As well as being really compact, a good sign that you're buying a good piece of diving equipment lies in the flexibility.
The bungee heel strap available on the Go travel fins lets you easily transform the product to your own particular fit, with such little issue. I've been able to easily adjust the Go fins to help harness more power and speed too, meaning that it's not always going to be about whether or not they feel good on your feet.
I can't stand struggling to put fins on before a dive! But these were so quick and easy and the bungee strap is super smooth to pull over your heels. They passed my fins test!
As you start to use these Scubapro fins regularly, you are going to want to find your own perfect fit. I think the Go travel fins are particularly good for beginners and those new to scuba diving simply because the product is so easy to adjust and tweak. The last thing you're going to need is a rigid pair of fins you can't customise.
Other Scuba Fins That You May Like
Check out some of the other scuba fins that I've reviewed.
Scubapro Go Fin Bungee straps
Looking for bungee strap replacements for the Scubapro Go Travel fins? You can purchase new straps at Amazon here.
You can see that Scubapro have left no stone unturned, these fins make for the perfect travel companion – and here's a few reasons why:
Easy to replace bungee straps
They have a clip that allow you to clip both fins together
Robust in design
Lightweight
BEST TRAVEL FINS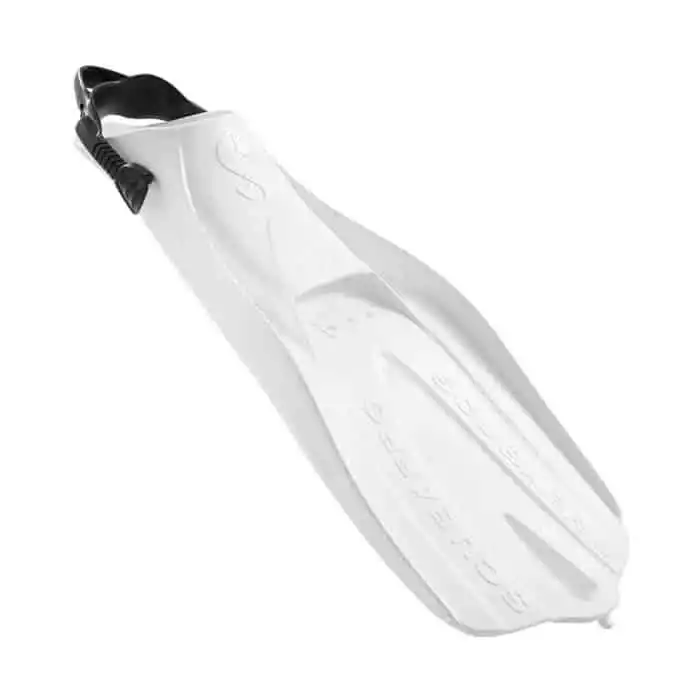 Are There Other Scubapro Fins?
Scubapro are a reputable brand that have led the dive industry for over 50 years.
Find other Scubapro fins below:
Scubapro Go Travel vs Scubapro Go Sport
Scubapro Go have two different types of GO models – the Travel fin and the Sport fin. 
As their name suggests, one is tilted towards the favour of travelling, providing a more compact and robust design whereas the sport option gives you more power and flexibility in different conditions.
Despite the Go Travel being aimed for those that want to add to their luggage, they're not the lighter version of the two options. But they are narrower and easier to fit into your suitcase. The Go Travel fins aren't made for cold temperatures with no option to fit a boot in.
Scubapro Go Fins Size Chart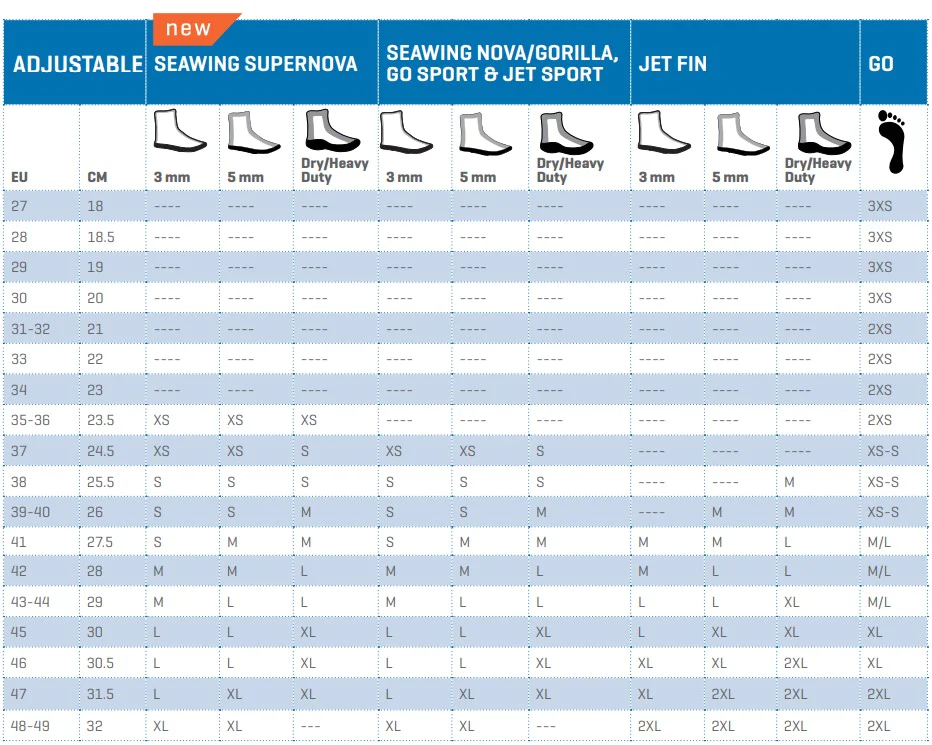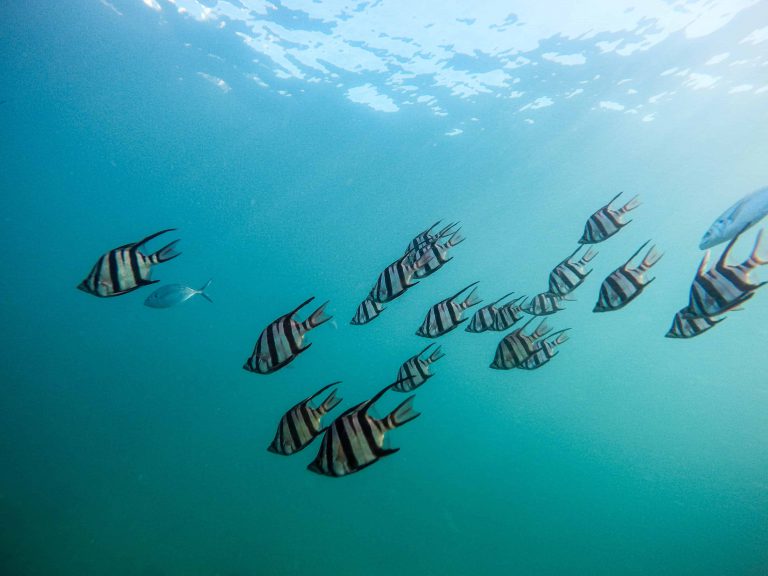 This Scubapro open heel fin product is probably one of your best picks if you just want a quick, comfy travel fin to slide in and out of.
They should give you plenty of use over time thanks to the amazing durability, with the focus on comfort. Once you've used the Go fins for even a short time, you'll probably find them really ease to adjust as you please.
However, while they are light and comfortable, I wouldn't choose these fins for challenging dives where precision and power is required, they aren't always the best in stronger currents.
If you're just getting started in the water and are looking for a small dive investment – even if it's scuba diving equipment that makes life easier for you – I'd recommend these foot friendly products to most divers.
If you're new to diving, the Scubapro Go travel fins package is going to be one of your best picks to introduce you to the water. Many divers swear by Scubapro Go fins, and I can't really blame them. Scubapro have provided us with a great value for money product which I really enjoyed having the chance to review this brilliant piece of equipment!
If you'd like to know more, do always take the time to look at what other divers have to say in review, too. Why not make the Go travel fins your first big dive purchase?
Really light to carry – but durable at the same time
Great for beginner swimming
Different adjustments available
Barefoot fit – no need for any extra footwear
Very affordable – a great investment
Will take all kinds of rough and tumble on the move
Not the easiest to manouvre with if you're an experienced diver
Not great for many tough dives or strong currents
Recent Posts