Are you looking for a pair of barefoot travel fins that will weather diving adventure after diving adventure?
Scubapro Go are known as some of the best travel fins in the industry, they're small, compact and powerful. They're designed specifically to fit in IATA carry-on luggage and are perfect as scuba diving fins and snorkel fins.
These are fins which are well known for being particularly comfortable and lightweight, but does the blade design hold up in terms of power?
In this review, I'm going to test a these popular fins whilst taking you through what you need to know about the Scubapro Go travel fins before buying. 
Perfect For: All divers that are searching for a lightweight set of fins that don't break the bank!
From moment I opened up the Scubapro Go, I could tell I was looking at a pair of fins built for comfort.
That's all well and good – and in all honesty, I'm all for a comfy pair of fins. Scubapro has designed these fins in a barefoot style, which means you can pretty much step into them and start using these fins in the water straight away, not much need for neoprene boots. Nice one Scubapro!
The strapping is pretty durable and there's even venting built into the fin. When you come to use any kind of scuba fin, you will likely start to feel fatigue after a while. These vents even from first glance should give you more than enough support.
These are some really well-made fins which should take quite a bit of wear even when you have to pack them deep into your luggage. What's also really impressive to me is the fact that these Scubapro fins are a lot lighter than they look. They are going to offer little in the way of drag when you actually dive, and they are seriously lightweight to pack.
These fins are amongst the most impressive products and equipment in the ScubaPro line, at least on first viewing. We have to see what the Go Travel fins are like when you actually slip them on.
I do think that these barefoot diver fins are some of the comfiest pieces of gear you'll buy at this price.
Easy to get on and off again, there's plenty to like in terms of the ergonomic fitting. Again, what really impresses me all the more is the foot pocket design and the venting within the fin.
Manoeuvring in the dive feels very free and comfy, though some pro divers might think there's probably more precise fins out there beyond the Scubapro Go. I can tell you for a fact they're right – but has a fin ever felt this good on foot? Probably not.
The clue's in the name – they are Scubapro's Go travel fins. They are not only designed to fit in your luggage, but also to endure all kinds of travelling about.
The Scubapro Go travel fins are built in monprene. This means that you're guaranteed to get little wear and tear from this equipment.
I probably wouldn't recommend bending the Go travel fins to the point where they'll break, but if you've ever had problems with scuba diving fins just not lasting the distance, you'll find monprene makes a lot of difference.
I've been able to take these small yet mighty fins with me on the go in all kinds of luggage. They're still going strong and I will regularly use them in open water, as well as training dives. The light weight might make you think they're flimsy, but this really isn't the case. It is obvious Scubapro have worked hard in terms of design to achieve this.
As well as being really compact, a good sign that you're buying a good piece of diving equipment lies in the flexibility.
The bungee heel strap available on the Go travel fins lets you easily transform the product to your own particular fit, with such little issue. I've been able to easily adjust the Go fins to help harness more power and speed too, meaning that it's not always going to be about whether or not they feel good on your feet.
I can't stand struggling to put fins on before a dive! But these were so quick and easy and the bungee strap is super smooth to pull over your heels. They passed my fins test!
As you start to use these Scubapro fins regularly, you are going to want to find your own perfect fit. I think the Go travel fins are particularly good for beginners and those new to scuba diving simply because the product is so easy to adjust and tweak. The last thing you're going to need is a rigid pair of fins you can't customise.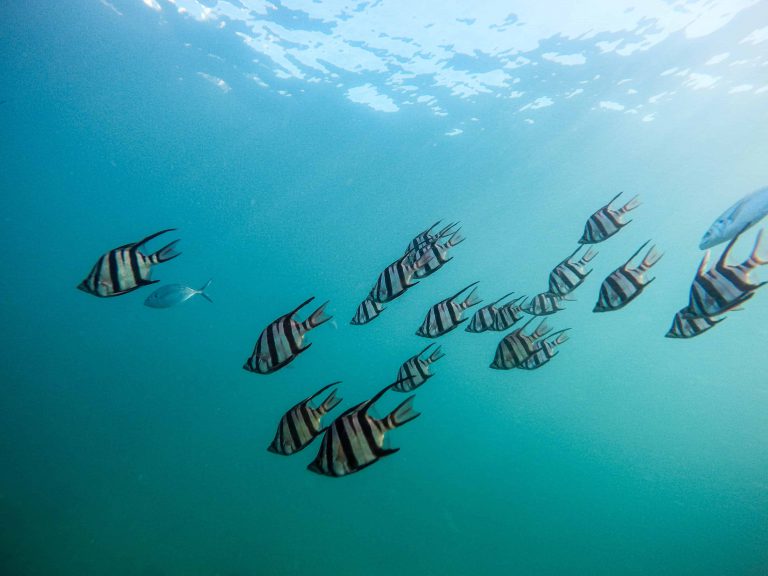 This Scubapro open heel fin product is probably one of your best picks if you just want a quick, comfy travel fin to slide in and out of.
They should give you plenty of use over time thanks to the amazing durability, with the focus on comfort. Once you've used the Go fins for even a short time, you'll probably find them really ease to adjust as you please.
However, while they are light and comfortable, I wouldn't choose these fins for challenging dives where precision and power is required, they aren't always the best in stronger currents.
If you're just getting started in the water and are looking for a small dive investment – even if it's scuba diving equipment that makes life easier for you – I'd recommend these foot friendly products to most divers.
If you're new to diving, the Scubapro Go travel fins package is going to be one of your best picks to introduce you to the water. Many divers swear by Scubapro Go fins, and I can't really blame them. Scubapro have provided us with a great value for money product which I really enjoyed having the chance to review this brilliant piece of equipment!
If you'd like to know more, do always take the time to look at what other divers have to say in review, too. Why not make the Go travel fins your first big dive purchase?
Really light to carry – but durable at the same time
Great for beginner swimming
Different adjustments available
Barefoot fit – no need for any extra footwear
Very affordable – a great investment
Will take all kinds of rough and tumble on the move
Not the easiest to manouvre with if you're an experienced diver
Not great for many tough dives or strong currents
Recent Posts
link to Cressi Giotto Review
Famed for its ease of use, this robust and reliable computer is a pick for many recreational divers. But before committing to this computer, you'll want to hear my thoughts on the dive modes...
link to Best Air Integrated Dive Computers
Upgrading your computer to an air-integrated dive computer can be stressful and costly. It's not an easy task and is one that should be done with due diligence. But luckily as long as...