Are you looking for a great pair of fins that are going to give you more than your average power stroke? The Aqua Lung Express ADJ fins are well-known for being some of the most adaptable, efficient fins for kicking around in the deep, great for non-slip as well as thrust.
But what is it about these fins that really appeal to divers like you and I? Is it the mid foot flex joint? Is it the seamless energy transfer – or something else entirely?
No. 7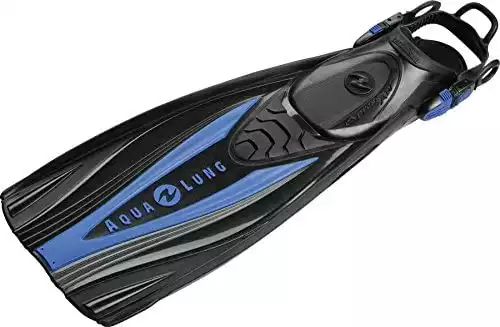 These are open heel fins and are reportedly excellent for using in cold waters, with a simple foot pocket and strap and buckle system to help secure yourself while you kick around in the deep. Let's take a closer look at why these Aqualung Express Fins might just be your perfect pick moving forwards.
The Aqualung fins also made it into my best snorkel fins review. 
Perfect For: Seasoned divers looking for more than a little bit of a power boost at the end of the kick. These fins are reportedly great for those scuba divers who are already fairly strong - but who want a little bit more thrust to get moving.
Unboxing the Aqualung Express Fins
These fins really are great to look at – the Aqua Lung Express line tends to be one of the best-looking on the market for the price, and the Express ADJ fins appear to blend an eye-catching design with incredible precision in manufacture.
From a general feel of the fins themselves, it's clear that the length of fin is going to be more than enough for a strong pair of legs – the anti slip rubber pads on the sole are nice and chunky, great for getting on and off deck.
It's also clear that a strong flex joint is used to help generate a power stroke and releases energy from kick to kick. The fins also boast an ergonomic strap and buckle, and appear to be designed to help push water down the length of the fin tip. It's effectively going to help streamline almost any diver – great news if you are already having trouble moving through the water quickly enough.
A Quick Look at Other Fins
There's one thing you can honestly say about these fins – there's an amazing kick cycle to maximize your movement through the water. The highly elastic armadillo hinge is great for absorbing energy, which you can then release to help push you forward. The thrust here is absolutely incredible – you feel it all the way from the base of the blade through the foot pocket. If speed and movement are what you're looking for, then these fins are going to tick the right boxes.
A common complaint for many divers is the fact that they often lose energy during the power transfer when they kick – however, the Aqua Lung blade absorbs energy to make sure none of your efforts are wasted. This is helped along by the rubber side ribs channel, as well as the mid foot flex joint. The latter of these is great not only for maximising movement, but also for lessening strain on your ankles and toes.
Great Grip on the Surface
Not only can these Aqua Lung fins cut through water like a knife in hot butter, you're always going to find it easy to move around on boat decks. The anti slip rubber pads are fantastically designed and positioned to help keep you steady even when you're trudging around on wet surfaces. Many people looking into the Aqua Lung Express ADJ fins will likely care more about the kick rubber side ribs or the general style – but the fact you get plenty of traction for moving around on boat surfaces is a massive plus.
What I also love about these fins is the fact that they are amazingly adaptable to many different diving boots. The spring strap and the hinge at the base of the fin are very easy to slide into even the most cumbersome of boots. You can get the full foot style fins too, if you'd rather not wear boots. The ergonomic design won't just keep a lid on the dreaded spill over effect, but will also help to reduce any kind of regular strain on the ankles.
No. 7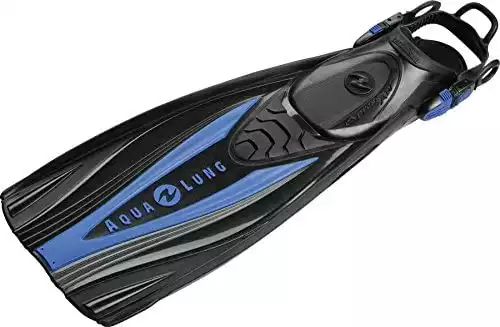 I think the Aqualung Express fins are a great choice for seasoned divers.  
They don't break the bank and are extremely sturdy so I can imagine these lasting many years.  I was also really impressed with the grip on the underneath of the fins, it's a lot stronger than other fins I have tested.  Always handy to have that extra stability when on board the boat, especially in choppy conditions before entering and after exiting.
Do bare in mind that I have only tried the style with fin straps (known as the ADJ), not the full foot fin.  After further searching online, it does appear that the full foot fins are more commonly available than the fins with straps.  The spring straps are brilliant though – Aqualung never disappoint in this area – they are so easy to put on and remove, even with 5mm gloves on.  If you can get your hands on the ADJ then you're winning!
Other Scuba Fins That You May Like
Check out some of the other scuba fins that I've reviewed.
Armadillo membrane is a massive asset to thrust and energy retention
Easy to grip and manage even while wearing thick gloves
Energy from the spill over effect is instantly transferred into extra thrust
Lots of traction for moving around on boat decks
Comfortable foot pocket – easy to slide into different boots and to adapt to
Protects your ankles and toes – even with a big power boost on every kick
Mid foot flex is a brilliant piece of engineering – a true highlight of the Express ADJ
Not the best fins for divers and swimmers with less experience or weaker legs! While there is brilliant energy transfer here – you're going to need to push hard to make most of the thrust.
An excellent choice for cold and temperate water divers – opt for the full foot style if you regularly dive warm waters.