Are you thinking about investing in a pair of Oceanic Viper open heel fins? There are certainly a few great reasons why – and, having tested these fins out in a pool for myself, I can safely say you won't be disappointed if you are looking for extremely lightweight fins that prove to be some of the speediest for scuba diving.
BEST VALUE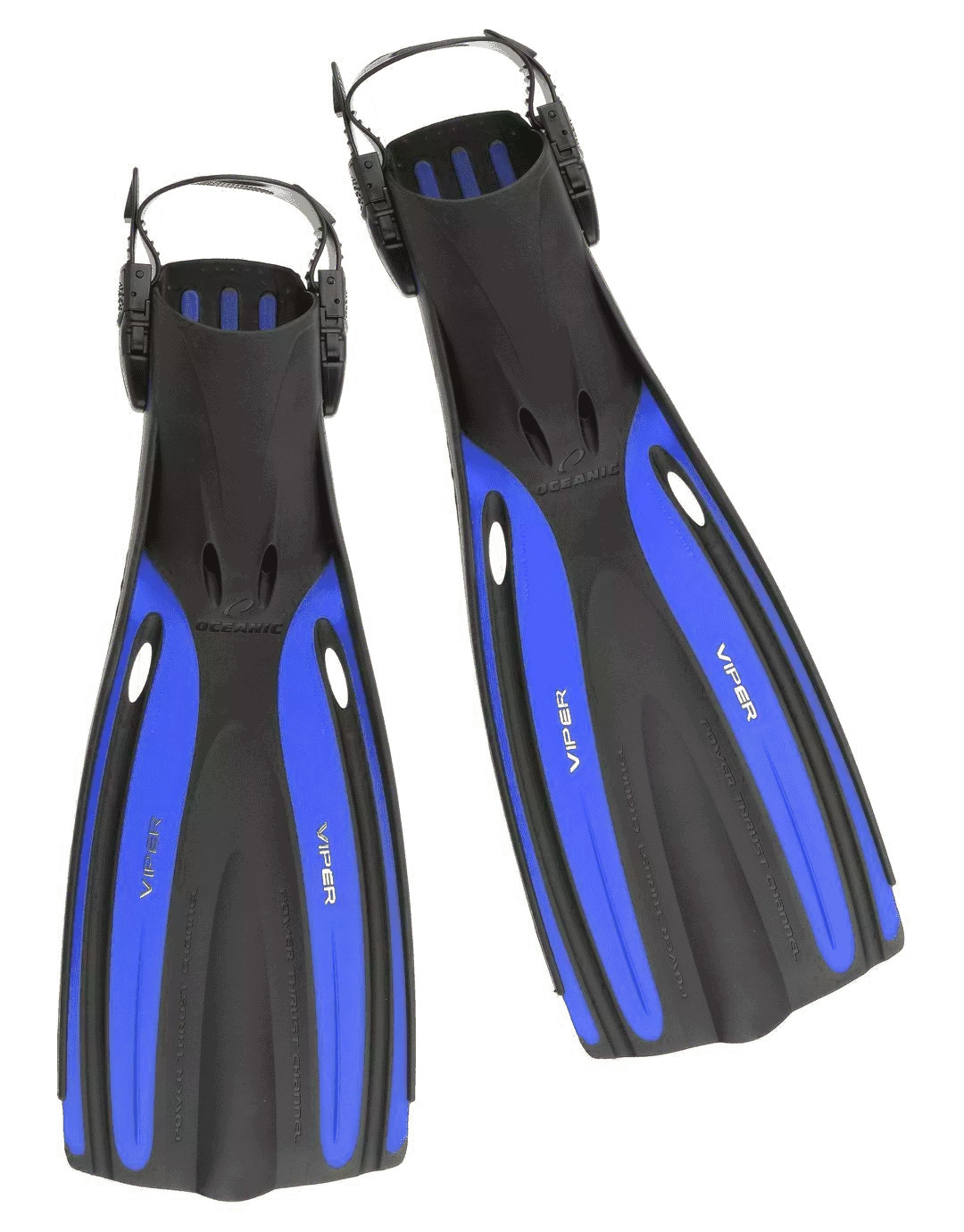 Of course, I've dived with my fair share of different fins over the years, and I thought it only fair to give these Oceanic Viper fins a review. What is it about the Oceanic Viper fin standard that continues to prove so popular with scuba divers all over the world? Let's take a close look at the specs and unbox the fins to see what we're looking at.
They're long, durable and lightweight making them not only perfect for scuba diving but they also make for top snorkel fins too.
Perfect For: Just about anyone - these are fantastic open heel or full foot fins ideal for beginners and experienced divers, looking for a precision blend of uncompromising power and the ultimate comfort. But what does that mean in practice, and what do these fins even look like?
Unboxing the Oceanic Viper Open Heel Fins
Wow – let's be clear, there are few fins out there that look quite as striking as these! The oversized blade design alone helps them stand apart from the pack, but beyond this, you will also find these fins arrive in a variety of stunning colours. Five different ones, in fact – and the neon yellow pair in particular will certainly help you stand out.
These are tough, flexible looking fins, and you'll be able to choose from one of seven sizes when you order a new pair. Beyond shoe size, it's clear to see that Oceanic Viper has designed their landmark fins to offer improved power over other fins that you'll expect at the same price.
You're also likely to find these fins extremely lightweight, size dependent, meaning you won't have to worry about wearing clunky fins in the deep.  The open heel design here is particularly easy to spot, and this should give you extra confidence in their ease of fitting and removal. I don't see any problem with most mainstream boot styles fitting into these fins.
Beyond looks, let's see how the Oceanic Viper open heel find actually work in practice.
The oversized blade and venting work together to create excellent propulsion – the side rails direct water flow away, meaning that you can expect ease of movement and increased thrust compared to other, stiffer fins on the market.
The angle on the blade is great for significantly reducing drag – regardless of your experience or strength, you can expect these great fins to move you through the water faster than most. Great propulsion tends to be something you should expect – and honestly, the increased performance I experienced with these fins is nothing short of miraculous for the price I paid. The vents and engineered channels work together to remove excess water from the equation altogether.
Ease of Fitting and Comfort
Of course, you should also expect the best open heel fins to also provide you with the ultimate comfort and flexibility at the best price – it's not a lot to ask, and thankfully, Oceanic Viper does more than enough to satisfy in this regard. The streamlined foot pocket fits most shoe sizes, though do remember you have a choice of seven if you are ever unsure!
There's a basic buckle and pinch clip system in place here, meaning you can easily adjust these fins to your own comfort standards. The fin strap here is easy to manage on the go and has a ratchet that opens one way.
Not only are these Ocean Viper open heel fins ideal for all snorkeling skill levels, they are light and compact enough to take with you almost anywhere. Pack up your fins and explore the world! Not only is this a wise purchase for sheer efficiency and power, you won't have to struggle for space in your luggage if you are travelling to other countries. Newbie divers will likely be just as glad of the ease of packing and carrying as seasoned scuba divers and snorkellers.
I've tried other lightweight fins which have been a bit too floaty for me. However, these did not have that annoyingly buoyant feel to them!
These fins are a great first choice for new divers or those of us on a budget.  But if you are interested in finding out what else is on the market, you can read my full list of the Best Dive Fins Review.
BEST VALUE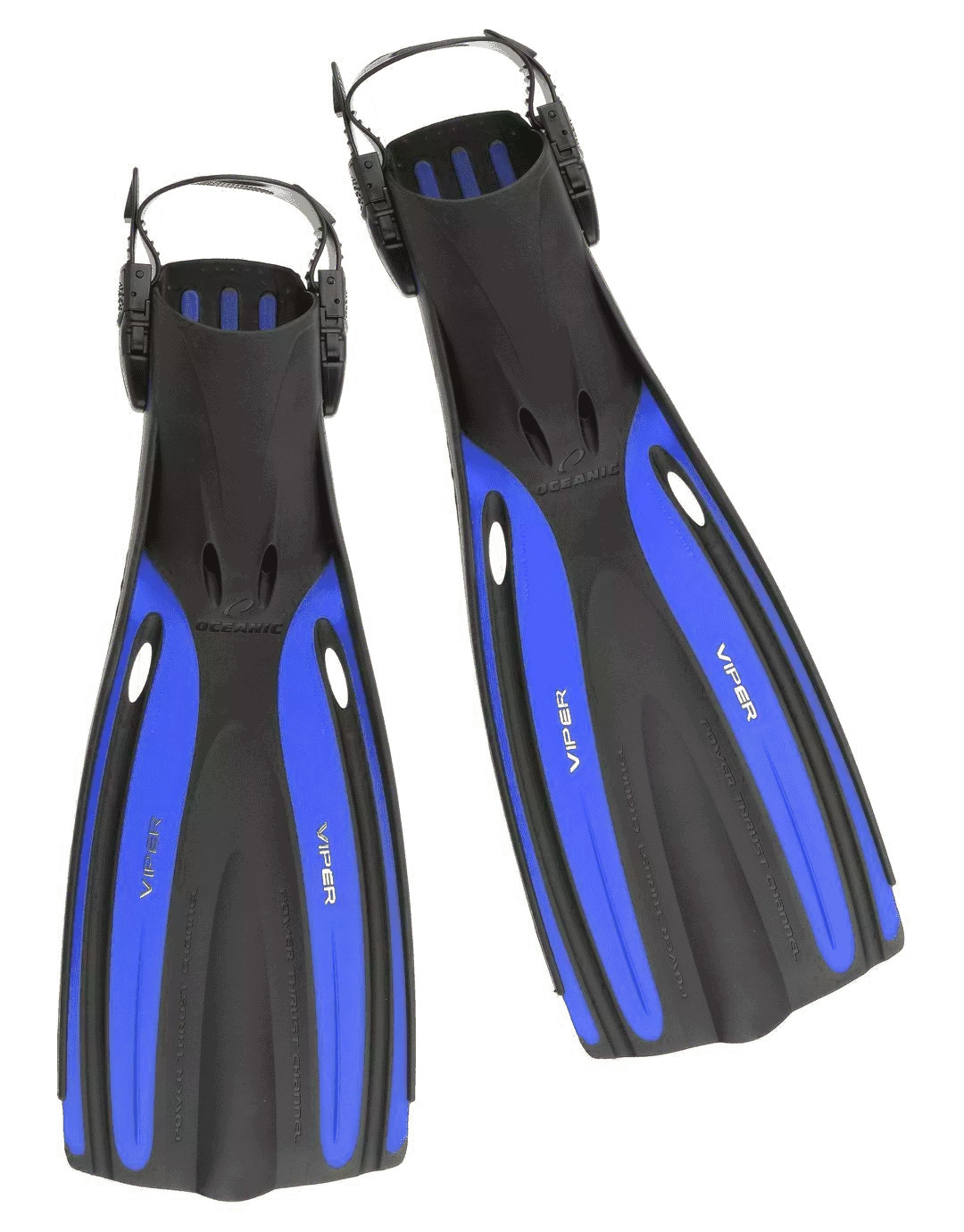 I really like these Oceanic Viper open heel finds. They even made my best scuba fins review, and for the price, well, you cant go wrong. You may not find a more amiable pair of fins or blades at a lower cost, and while some people may think that the features here are less worthy of their money due to the low price tag, you'd be surprised at the quality of your dive if you give them half a chance!
From the brilliant, flexible power thrust channel to the thermal plastic rubber (TPR) composition, to the simple straps and sheer efficiency from dive to dive, I dare you to find a more user-friendly pair of fins at a better price. Many of my students have opted for these as their first pair of fins. They perform well in all areas. I'd recommend them to divers of all skill levels – and they really won't break the bank.
Other Scuba Fins That You May Like
Check out some of the other scuba fins that I've reviewed.
Extremely affordable – great value
Power thrust channel directs water away – less drag
Good propulsion for the price
Available in five different colours and seven different sizes
Power vents reduce stress and allow you to move easier
Not the most advanced fins on the market regardless of materials and design
Recent Posts