The Cressi ARA EBS fin design may be familiar to some scuba divers – it's an update to the fantastic Cressi Frog fins of old! Always easy to get on and off while wearing thick gloves, and offering a superb elastic bungee system, there are plenty of great reasons why the Cressi ARA EBS is proving to be a top pick amongst seasoned and newbie divers alike.
No. 9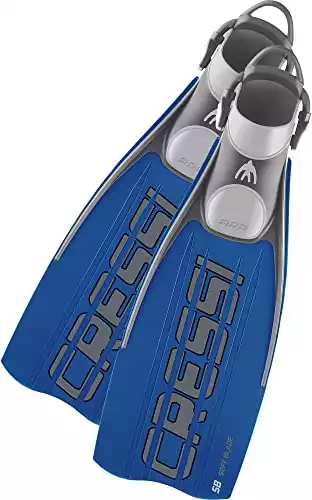 Cressi
Pros:
Durable rubber construction

String straps

Decreases drag
Cons:
Backstraps start to look worn pretty quick
Check Price Latest Price
We earn a commission if you make a purchase, at no additional cost to you.
That exclusive Cressi design is really hard to ignore, and this open heel model has inspired a lot of people thanks to its flexibility and resilience. Having entrusted my diving to Cressi a bit over the years, I thought I'd take the chance to try out these open foot fins to see what all the fuss is about.
Perfect For: Fans of Cressi and scuba divers of all experience levels looking for more power, control and comfort in their dives
Fans of the Cressi Frog standard will love that they get more thrust power from this upgrade. It's ideal for cold water diving in particular, and is designed with the most demanding divers in need of specific support.
Unboxing the Cressi ARA Fins
What can I say? From the vented blade to the fantastic EBS strap, it's pretty clear to see that the Cressi ARA EBS fins are simple yet clearly designed to offer comfort and power. This is a more rigid blade than most, and the bungee strap is extremely easy to adjust for that perfect fit. These fins provide a rigid, robust look without any of the unnecessary frills and fancy features you might from lesser brands.
Of course, beyond the ergonomic design and the highly flexible bungee strap, you'll find that Cressi fins look like they mean business. That goes for both the HB (hard blade) and SB (soft blade) options. However, if you do want your fins to be both practical and eye-catching, these fins come in blue, silver, yellow and black.
But how do the bungee straps and foot pockets actually fare when you put them on? 
Secure and Easy to Adjust
The elastic bungee system that the Cressi ARA EBS is so famous for means that all foot sizes can take advantage of this fantastic design. It perfectly adjusts to your feet and won't require much adjustment at all. It balances comfort with rigidity, meaning that whether you are free diving or are up against the current, this special strap is going to give you comfort and ease of movement. Anyone struggling to find a manageable fastening or a proper fit from a heel strap elsewhere can take special confidence in this design. The comfortable fastening in these fins means you shouldn't have to do much to fit in – making adjustments unnecessary on the go, on the whole.
I'm seriously impressed by the performance from both the blade material and the amazing response. They are streamlined and rigid enough to help provide outstanding stability underwater, and the ARA EBS proves to be a matchless propulsion tool if you are sick and tired of having to push harder to get ahead. These fins work brilliantly with a diver's kicking to get you further, sooner, than other split fin or paddle fin options on the market. Honestly, I don't expect anything less than the best from standard Cressi options, and frankly, the ARA EBS is a bit of a master piece – building on the Frog design from years ago.
These are also some of the best fins for sheer ease of management on the go – yes, I've covered much about the EBS above, but let's talk a little more about how both blade versions work in practice. From the special amply sized slot (really manageable with three fingered gloves or otherwise) to the dive boot friendly foot pocket, this is one of the least demanding fins from Cressi, moreover the wider market. The SB fin is particularly supportive for long dives, more on the exploratory side of things, while the HB fins are great for high hydrostatic pressure and for those more intensive dives.
If you are not sure if the Cressi ARA are for you? Give a read of my full list of the Best Dive Fins review for more of a steer.
No. 9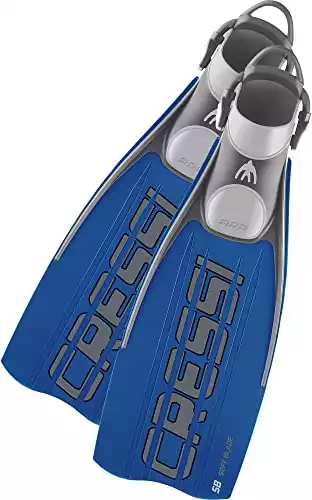 Cressi
Pros:
Durable rubber construction

String straps

Decreases drag
Cons:
Backstraps start to look worn pretty quick
Check Price Latest Price
We earn a commission if you make a purchase, at no additional cost to you.
This Cressi ARA fin choice remains one of the best picks on the market for technical divers and underwater explorers alike. Whether you want to take on some marine photography with the ARA EBS SB, or prefer to go more intensive with the HB, you have plenty of backing with these fins.
The open heel design is amazingly comfy, and its stiff bladed fin tip will ensure you get more power than most – for very little effort in return. This fin stays securely placed on your foot no matter whether it's the first few meters of a dive, or several hundred in.
Other Scuba Fins That You May Like
Check out some of the other scuba fins that I've reviewed.
Amazing patented EBS strapping
Tons of thrust power with very little effort
ARA EBS HB or SB available depending on your diving needs
Will easily fit today's boots no matter your size
Comfortable foot pocket and overall performance
May be a little more expensive than most
No

Full foot fins

model
Recent Posts