Scubapro jet fins have actually been around longer than some divers have been alive! However, that doesn't make them any less useful.
If anything, these are some of the best tried and tested fins on the market, and they are often the fin of choice for professional divers, including those working in the Navy or Military.
BEST FOR BAD KNEES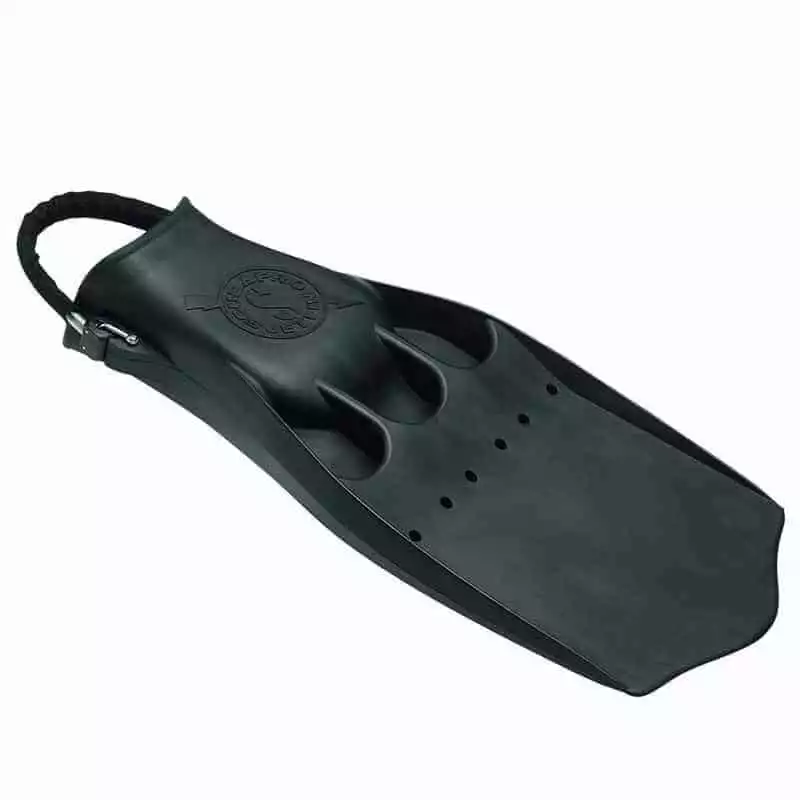 Perfect For: Pros that are looking for excellent propulsion and easy gliding - often used by tech divers, deep divers and professionals.
Unboxing the Scubapro Jet Fin
I've looked at Scubapro fins before, and you can normally tell you're in for tons of durability and flexibility.
What's more, people tend to choose the Scubapro Jet fin for the different designs – and I really can't blame them.
From out of the box, these Jet fins are clearly well-made and very robust. From first try-on, too, you can tell that these are likely to suit many different types of diving.
The blade is designed to ensure that you get as much streamlining as possible, and the vents, of course, are going to help bring down your fatigue.
First introduced over 50 years ago, the Scubapro Jet fins will stay with us for many more years. A hardy, reliable set that do just the job.
This is why, just by looking at the blade on this fin design, I can tell these are going to be a comfy fit.
The only issue I really didn't like with the Scubapro Jet fin blades was the fact that they are a little heavy. The vented design can do plenty to help keep you agile in the water and on the move. However, as you kick back, you may find things a little clunky.
At least there appears to be a quick release function in these full foot pockets, meaning there's not really going to be much hassle in you getting in and out of the Scubapro Jet fins.
Other Scuba Fins That You May Like
Check out some of the other scuba fins that I've reviewed.
I can pretty much confidently say the Scubapro Jet fin will appeal to most divers, for use across almost any type of diving.
The spring strap adjustments will help to lock you into the fin design, meaning that if you are heading out on your first dive, you shouldn't need to worry about anything like your fins flying off at the first kick.
If it's your hundredth dive or more, you'll actually find you like this fin system for technical diving. Scubapro does tend to put a lot of effort into the technical design side of things, and that certainly shows here.
However, it's worth noting that it's the spring strap version, not just the Jet fins with the heel strap, which is going to give you the most flexibility in technical diving. The adjustable rubber heel makes your life easier. Reviews of the Scubapro Jet fins elsewhere suggest that getting the blade on and off is pretty tricky if you don't have that spring strap system in place. Divers, beware!
I really like the fact that the Scubapro Jet fins seem to be built for decades of diving.
Divers of all classes and creeds will likely find the durability of this pair of fins to be amongst the best they have ever tried, and I don't say that lightly. If you are not a fan of the design of split fins, then these are certainly worth a look.
Over my years of scuba diving, I've tried all kinds of fins. The Scubapro Jet fins are so enduring as some of the most popular fins on the market thanks to their sheer durability. You'd probably be able to drop them from a great height and they'd still survive the fall. Not that I would recommend doing that, you'd probably knock someone out.
This pair of fins is built in a solid, singular rubber piece. That not only means they should be able to cut through the water kick after kick, they should also resist everything your adventures have to throw at them.
Comfortable Through and Through
Scuba Pro diving products tend to focus on the comfort side of things, and the Jet fin model is no different.
The foot pocket in the Scubapro jet fins is ergonomic, and comes with a full vented design. A vented design means that you are going to be able to release fatigue and tiredness in your feet easily if you are swimming for a long time. The foot pocket itself is roomy but secure and comfy.
I do like the fact that the Jet fins with spring straps are so easy to manage. It means that you can easily pop in and out of your diving gear without aches and rubbing. Well – rubbing is expected to an extent, but you really won't find the Scubapro jet fins making your diving awkward.
From comfortable foot pockets to easy in and out strapping, I do think that you are likely to get a lot of wear out of these Jet fins, even if the full foot design can be a little on the clunky side in and out of the water.
Great in performance and the streamline shape and blade enhances thrust on the down stroke.
Scubapro Jet Fin vs Twin Jet Fins
Don't confuse Scubapro's Twin Jet Fins with the original Jet fins, they're very different in look, style and performance.
Twin Jet offers a split fin which majorly differs from the initial blade of the Jet fins. 
Split fins are great when it comes to efficiency and are often a go-to for new divers but for anyone looking for more power or strong currents would be better off opting for the original Scubapro Jet model. 
I am a fan of blade over split fins but both have their purpose.
BEST FOR BAD KNEES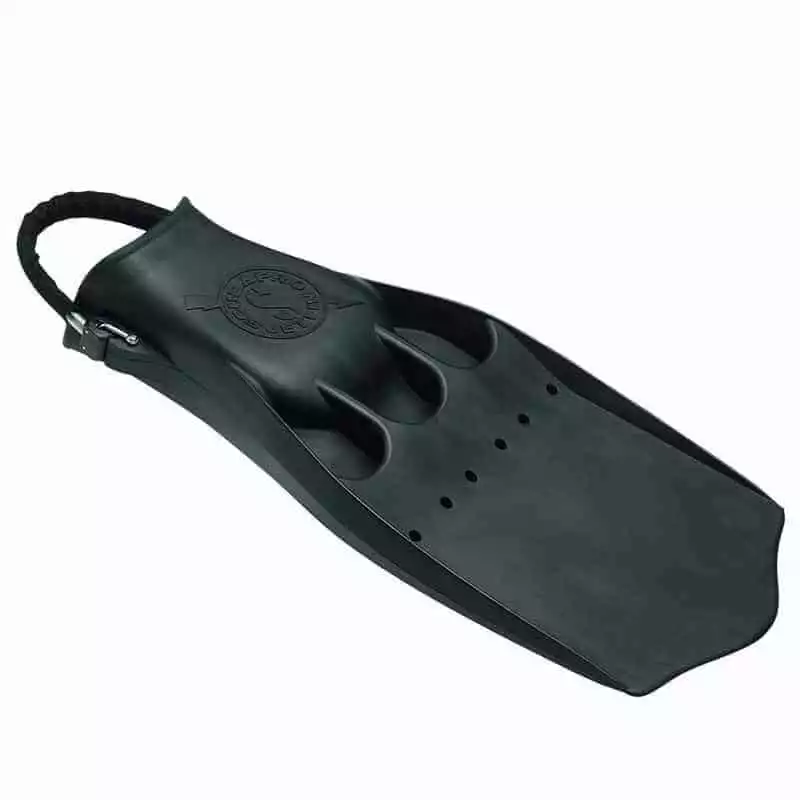 Great for various types of diving and dive adventures
Streamlined blade to easily cut through the water
Most divers should find these fins particularly comfortable
Spring straps on the Jet fins make them really easy to get in and out of – amazing quick release
Very compact – likely to appeal to some divers
Amazingly durable – perhaps the hardiest pair of fins on the market
Proven vented design decreases drag
Can be quite heavy and clunky for some divers
Maybe not ideal for travel, unless you like being weighed down
I think there are plenty of great reasons why many divers see these strong rubber fins as some of the best on the market. They are an interesting size, and they should strap easily to your feet and offer comfort via their foot pocket. Just make sure you look for the new version of the Scubapro Jet fins before you make a purchase.
Available largely in black, these scuba fins should give you plenty of power and thrust when kicking thanks to the great design. Flutter kick and frog kick with power are nice and easy to manage, and as mentioned earlier in this review, I feel whether you're a new diver or have plenty of years in the water behind you, you would likely get a kick out of these Jet fins – pun intended.
Choose the Scubapro Jet fins if you're looking for a versatile, good quality pair of fins to take scuba diving. They reduce drag, increases power, and are super comfy on the feet, when kicking or just enjoying the water.
There's only one Scubapro Jet fin despite many other brands in the industry trying to replicate this classic that's loved by professionals.
Recent Posts