Mares X Stream fins – right out of the box – look as if they're going to be seriously special as far as scuba diving is concerned. Looks aren't everything, of course, but I'd safely guess your average scuba fins don't quite look like these! Of course, Mares fins are well known for their amazing foot pocket technology and their intensive research and design – and yes, it shows.
But would I personally recommend these scuba diving fins for the average diver? I thought I'd take a look at whether or not the Mares X Stream fins have what it takes to outpace traditional fins everywhere.
A word to the savvy – I'm reviewing the Mares X Stream open heel fins with the bungee heel strap for this review.  They have released X Stream's with ABS buckle, however, I'm not a fan of the buckles especially for diving with a dry suit – too much faff!
No. 10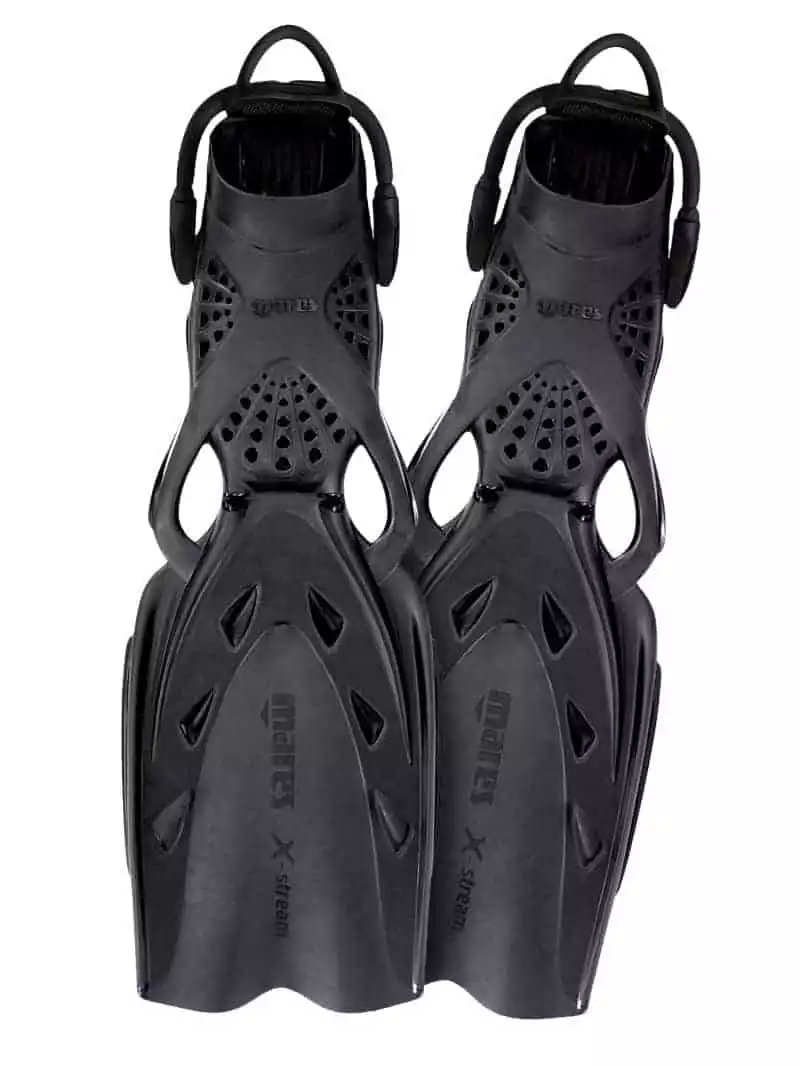 Perfect For: Any scuba divers looking for a lightweight fin that's sturdy, supportive, and easy to get on and off. The lightweight design really lends to the idea that you can take them travelling, too - and little features such as the optimized pivoting blade make these fins all the easier to angle and to harness kicking power.
Unboxing the Mares X Stream Open Heel Fins
What can I say about the look of these scuba diving essentials? They're impressively light weight rick out of the box, and there are a few telltale features that should mean you're in for a dive that's easy to control, and even easier to harness kick power throughout.
Super eye-catching and made from three distinct materials, these fins are light yet tough, and the foot pocket is riddled or perforated to allow for ease in getting dive boots on and off. This is a massive plus – no one likes that annoying sucking effect when you get out of the water!
There's also a super channel that's obvious to see from the Mares X on unboxing. A super channel is a central part to the fin that allows water to streamline down towards the blade tip. That's only ever going to make your dives more precise and more powerful.
The blade construction is firm and striking – Mares is a huge name in the diving industry, and as such, I'd assume nothing more than fantastic results from Mares patents across the board. With these key features analysed, let's take a look at the performance in practice.
The fantastic design to these jet fins means there's less chance of that annoying parachute effect slowing you down, and you can get more power from your kick thanks to the optimized pivoting blade, or the OPB. This all adds to the fact that the X Stream fin will force more water behind you than many other fins, meaning you can move faster and more effectively through the water.
As anyone with scuba diving experience will agree, kicking takes a lot of effort. Your legs can  get tired – and the fantastic light weight and channel thrust means you can minimize fatigue to an incredible result – you can pretty much expect constant thrust and water flow without having to worry about getting tired out too easily. The soft rubber fitting with the durability of the outer fin makes for a comfortable experience. X Stream performance is, on the whole, a standard most other fins should aspire to.
What I really like about the Mares X Stream fins with open heels is the fact you can even get them on and off when you're wearing thick neoprene gloves or similar.  The bungee strap revolutionizes the ease of use.  If you prefer the ABS buckle system, there's a nifty double button release function that allow you to close up your buckles and only ever remove them when you want to. It's a quick release that won't spring open during wear.
Although they may not be to everyones preferred appearance, the X Streams are quite a unique dive fin.  If you want to know how they compare with other fins on the market, make sure you read my full list of the Best Dive Fins Review
No. 10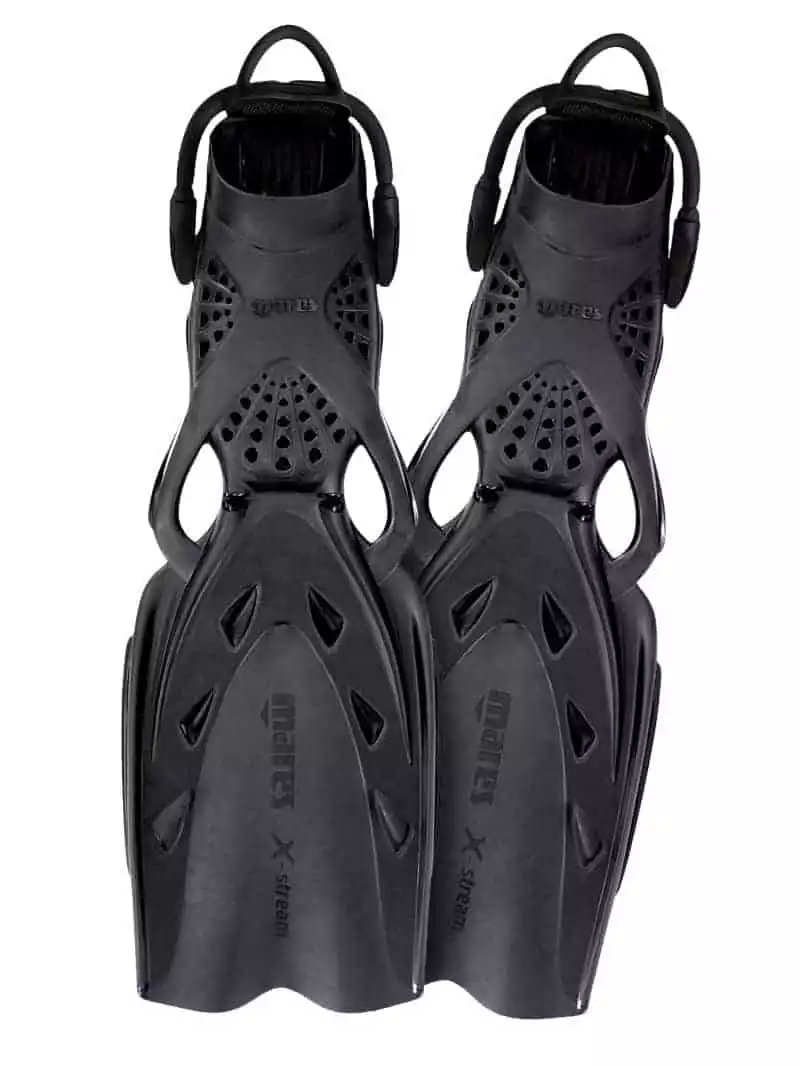 Throughout my Mares X Stream review I've been keen to consider the minimal drag and high comfort you'll get with these fins – they easily open when you want them to, they have perforated foot pockets to ease on and off with dive boots, and there's a real boost to your kicking cycle. There's honestly not a lot I can say against the Mares line in general, and with sixty passionate years in scuba diving behind them, it's clear to see those years have been well spent.
The only real negative to the Mares X Stream open heel fins is the fact that – for scuba diving fins – they can be pretty expensive. However, for easy donning and quick release, you really get what you pay for. You may prefer different buckles and fittings such as spring straps, but I really think the lightweight design and sheer power you get from these Mares are more than worth the price you'll pay.
Other Scuba Fins That You May Like
Check out some of the other scuba fins that I've reviewed.
Really easy to get on and off
You can wear them with dive boots
Very little to no suction effect or parachute effect
Easy to get used to
Easy to always get thrust as and when you need it
Some of the most expensive scuba diving fins on the market