Finding the best fins is crucial if you want to propel yourself properly while exploring. However, it's sometimes tricky to narrow down the best picks, especially if you want to balance comfort with power and control.
It's an essential piece of diving kit that's already getting plenty of great reviews online, and we have to say – we agree with the crowd!  But let's break these fins down and see why they are worth your money and interest.
MOST POPULAR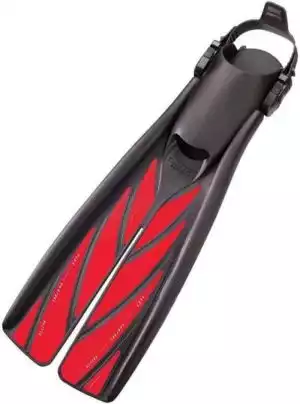 If you're looking for diving fins that are easy to control, comfy to wear, and which won't break your budget, the Atomic Aquatics Split Fins might be the best purchase for you.
Stylish designs in a range of colours
Open heel design
One-hand buckle release
'Patented' buckling technology
Easy fit and removal
Firm plate sole for blade control
You can read my full list of the Best Scuba Fins for professionals. 
There's a lot more to take into consideration that I initially thought, find the best budget, best pro and best for newbies.
Unboxing the Atomic Aquatics Open Heel Fins
Right off the bat, these fins look great.  They're available in a handful of snazzy colours and styles, which means anyone who cares about their scuba aesthetic can easily coordinate.  
It's not easy sifting through the best buyers and that's why I have found the best prices on Amazon. Click and find out more about your new diving staples…
What's also really clear from the word go is that the split in the fin is fairly large.
This isn't a bad thing!  If the marketing on these fins is worth believing, it means that they should glide through the water easier than any other similar kit.  The brand describes the action as gliding as though the fins split into 'wings', which we have to say is fairly enticing!
They are very firm, yet flexible.  That's pretty inspiring, considering we wanted to put them through their paces.  Fins which are too flimsy, or too rigid, are obviously going to affect your overall swimming control.
But how do the fins actually perform when out in the water?  Let's take a look.
Other Scuba Fins That You May Like
Check out some of the other scuba fins that I've reviewed.
Right away, you notice that these fins are super-comfortable.  There is no rubbing whatsoever, and the buckle design allows you to clip in easily without flapping around.  They are very easy to take off with no tightness or soreness, though, obviously, pick the right size!
These fins are built for smooth gliding, and we have to say, they really do the trick.  While you would normally have to put a lot of power in your kicks for propulsion, you really don't need to do much to get to where you want to go.  With that in mind, it can take some getting used to!
We've used fins before which really wear you down after a while.  These fins keep you going regardless of the power you put behind your strokes.  We managed to keep swimming much longer in these fins than we would in other models, and that's largely thanks to the split in the design.
MOST POPULAR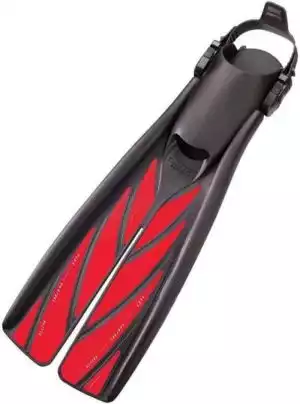 Fantastic design in a range of colours
Split fin design allows for ease of gliding with very little effort
Easy on and off with no rubbing
Lots of different sizes for men and women available
Perfect at a range of depths
Fantastic buckle design keeps you secure without feeling constricted
You'll feel tired less quickly, no matter how hard you push
They aren't the cheapest fins around!
They can take some getting used to if you've worn harder fins a lot
Recent Posts