Are you looking for a new wholesome hobby? Enrich your life with snorkeling and discover a new perspective amongst the underwater world.
A mindful sport that's easily accessible, awe-inspiring and yet simple.
Buying snorkel fins isn't as easy as it looks, lots of newbies to snorkeling end up with fins that rub, don't fit correctly or are more expensive than they should be. Find the best snorkel fins that are designed for snorkeling and are sure to keep you comfortable for years.
Snorkel fins are not a "one-size fits all", it comes down to your preference and what you're looking for – read on for everything you need to know about the best snorkel fins in 2022
Here are all of the best snorkel fins, the top two are aimed at advanced snorkelers and especially those that like to double them up for diving. You can check out options from three onwards for beginners.
If you're searching for the best scuba diving fins then I have a list and analysis especially for that.
Anyway, let's take a deep dive into the top snorkeling fins in 2022.
Atomic Aquatics Split Fins
MOST POPULAR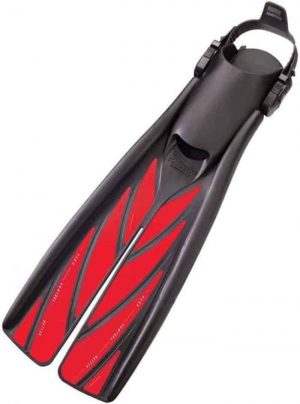 The Atomic Aquatic Split Fins are not only stylish but they scream quality all-round and are ideal for experienced snorkelers.
Atomic Aquatic split fins are my number one pick, not only for snorkel fins but they also topped my top scuba diving fins.
There are differences between snorkel fins and the fins that scuba divers are looking for, snorkel fins should be thin, lightweight, flexible and longer than scuba diving fins. But that's why the Atomic Aquatic fins work for both sports.
Kicking in this pair is effortless, thanks to the split that makes it easy to generate power and helps you conserve energy in the water. The closed heel option for these fins is lighter than the open heel.
These are high-performance fins and not the best choice for beginner snorkelers – they're not cheap either but are certainly the best split fins for snorkeling.
Find out more on why these fins tend to make it to the top of these fin lists with the Atomic Aquatic Split Fins Review in 2022.
Open Heel & Closed Heel Options
No. 2

Tusa are an esteemed brand known by snorkelers and divers alike – their best snorkel fins are these stunning Tusa Solla fins.
These fins double up for snorkeling and scuba diving, they're a little more robust than most snorkel fins but it works well with their advanced technology. Again, these are not on the budget side and are also for advanced snorkelers, beginners can read on for other choices below.
The blades are designed with a thermoplastic polymer, a rigid feature to make kicking in strong currents easier. They also offer a multi-channel, a 20-degree blade angle and ForceLast technology that maximises propulsion and efficiency in this pair of fins.
They come with a newly designed anatomic fin strap (AFS) to offer efficient power transfer, comfort and to avoid your heel slipping or rubbing.
What's more, I found a whole range of different colours! These fins will not disappoint, if you're taking on snorkeling as a long-time hobby or wish to also use these for diving then these Tusa fins are a great choice.
Open Heel & Closed Heel Options
Proprietary Thermoplastic Elastomer (TPE)
Mares Avanti Superchannel Fins
No. 3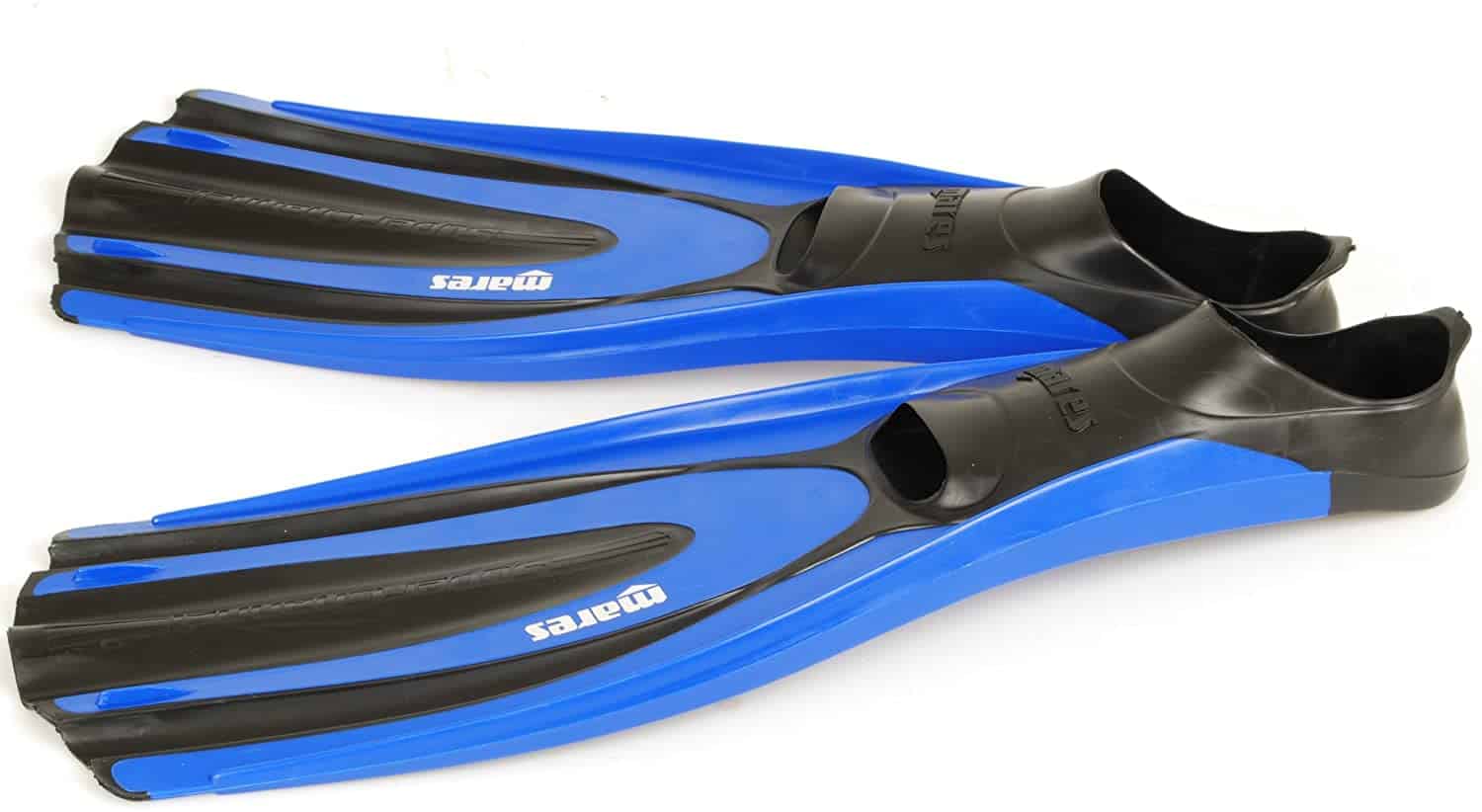 The Mares Avanti Superchannel fins are absolutely perfect for snorkeling, they're great value, long and flexible.
These are the ideal choice for beginners and advanced snorkelers. They come in different colours and are made to last.
They have adjustable straps with an adjustable binding system buckle. The single channel and rails make kicking effortless, when swimming slowly and trying to get a glimpse of marine life, I found these to be great, you can stay steady, quiet and efficient whilst spectating.
Propulsion is also great but not as good as others on the market They're rigid fins for snorkeling and they have the option of both open and closed heel fins. You can use them just like full foot fins by closing the heel strap.
The comfy foot pocket has been designed to allow all foot shapes and you can wear neoprene socks with these fins too.
The longer blades make it easy when surface snorkeling, you can duck-dive at any moment and seamlessly make your way back to the surface.
Full Foot Pocket & Open Heel Options
Tecralene® and Thermoplastic rubber 
No. 4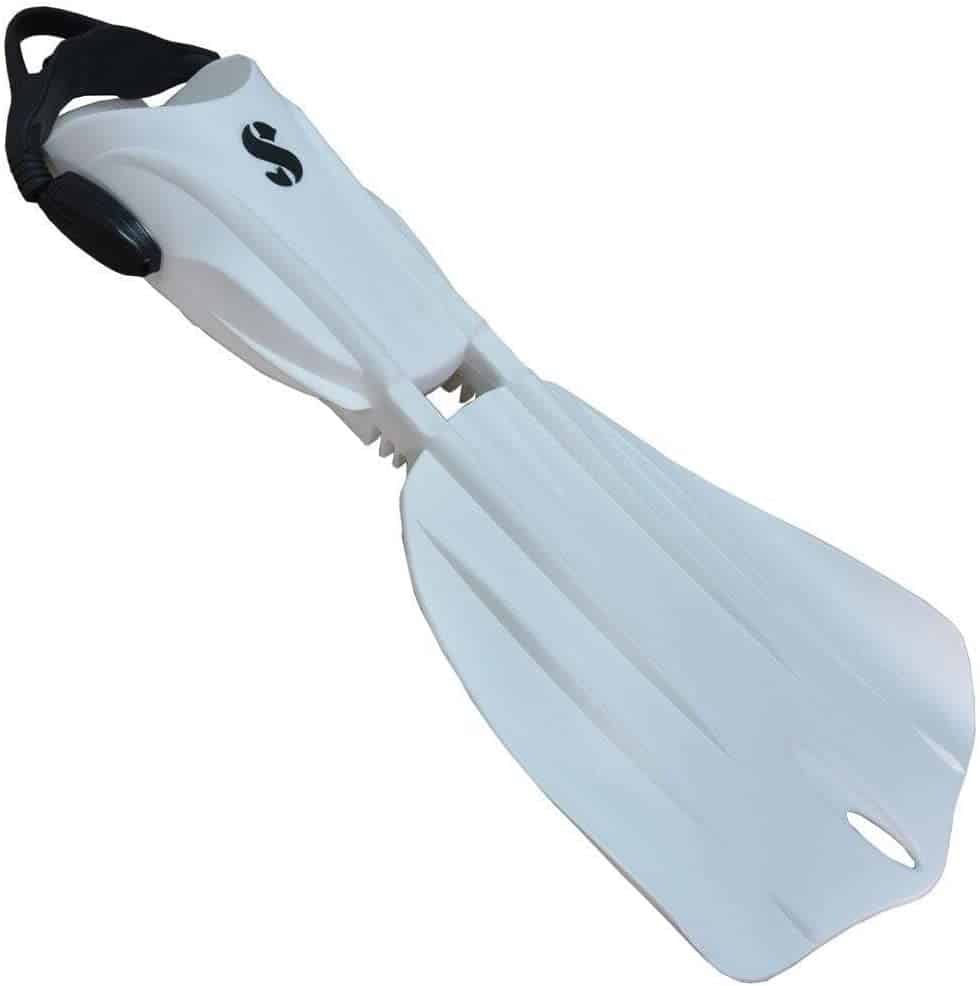 Scubapro Seawing Nova 2
Pros:
Work great against strong currents
Takes strain off your knees and joints
Not too tough or too flexy
Cons:
They're more than snorkel fins, use for diving or freediving too
Check Price on MDS
Check Latest Price
We earn a commission if you make a purchase, at no additional cost to you.
These longer fins are impressive, for some reason I didn't expect to be taken back by these but they feel super-comfortable and are great for snorkeling trips.
If you're looking for full foot snorkeling fins then these fins are a fantastic option, they also have an open heel choice that can be worn alongside dive boots. But I believe these are great for those that prefer a full foot fin.
I'm not a huge fan of the look of these fins but I know they are widely popular for their design.
As you can see from the picture, these fins come with a rare design, a hinge that creates a wing-design and offers more leverage. Pivot and thrust through the water without stress, as you pass your peers and save energy in the process.
They're a long fin, flexible and come with lots of technology. This includes the ergo-fit, monoprene style and the extra hinge.
Find out why many ocean veterans still prefer the Scubapro Seawing Nova 1. 
Ergonomic Foot Pocket & Open Heel Options
Indestructible Durable Monprene®
PRO TRAVEL FINS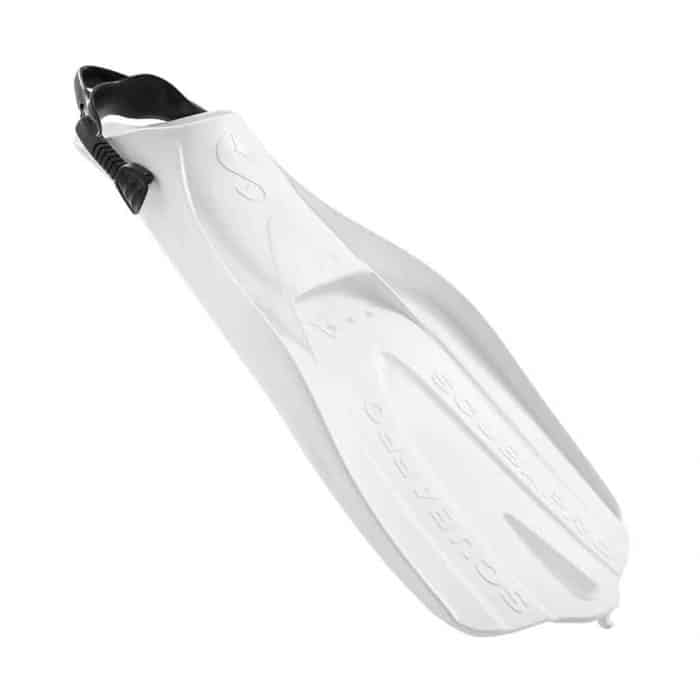 Scubapro are a well-known brand that are known for reliability. They also get straight to the point, there are no cutting corners or attempts to dress things up. As the name suggests – this GO model has been created as the perfect travel fins.
Easily pack these away and disappear on your peaceful excursions amongst your favourite sea creatures. They're everything that they are meant to be – lightweight fins that are short and remain robust.
Due to them being short snorkel fins for travel you will need to apply more energy than you would with some of my top choices.
They're designed to be worn bare foot and are comfortable – they have adjustable straps and can be altered on the fly.
Check out my full Scubapro Go travel fins review and discover why they are suggested as the best travel snorkel fins.
Indestructible Durable Monprene®
No. 6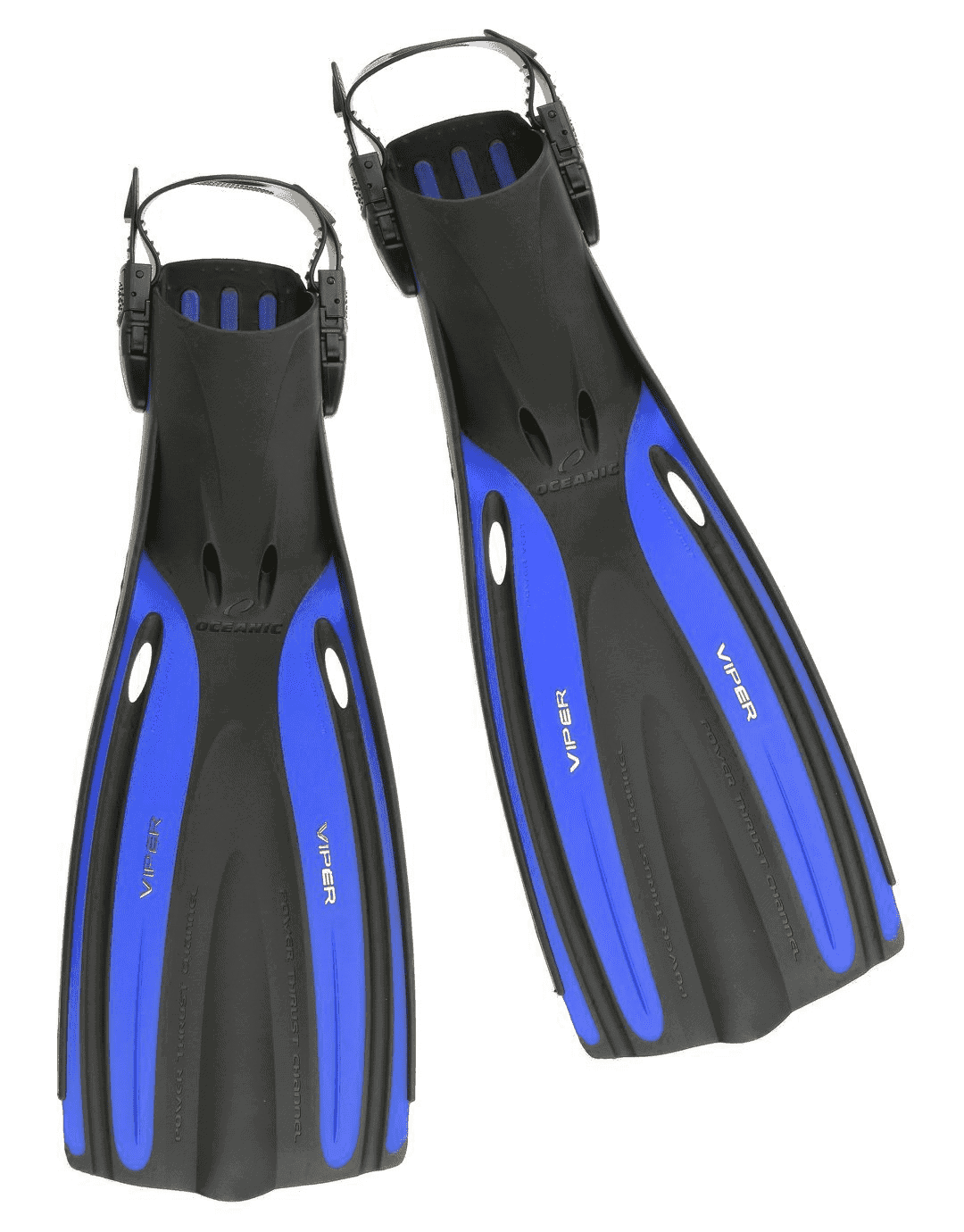 Long fins? Check. Flexible? Check. Affordable? Check.
The Oceanic Vipers tick every box, offering long, flexible fins that are also made to be reliable. They aren't the top-end but they are trusty fins that can be used in a professional setting by an instructor or equally enjoyed by a hobbyist.
A highly elasticated hinge creates a kick-cycle, if you want to speed around in snorkeling fins then you can easily do that in these.
It has comfortable foot pocket and an open heel design. These are the perfect purchase for first-timers.
There's a lot more to these fins and they're a solid choice – they won't disappoint and I explain why in my more in-depth Oceanic Vipers Review, these are the older ones, they're cheaper and still loved by many.
Full Foot Pocket & Open Heel Options
Thermal plastic rubber (TPR) and polypropylene 
No. 7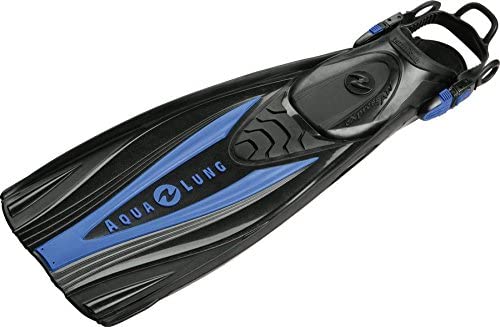 Long fin blades that can be worn with bare feet and enjoyed as traditional long fins for snorkeling.
Aqualung do more than a good snorkeling fin, they offer some of the best in the business. I started off my obsession for diving with lots of Aqualung equipment, they're recognised in the industry and constantly push the envelope.
This open heel fin design makes then comfortable and they have a simple buckle and strap system that can be used in all types of water. The soft foot pocket makes them extremely comfortable.
Read my full take on the Aqualung Express Fins.
Full Foot Pocket & Open Heel Options
MOST FAMOUS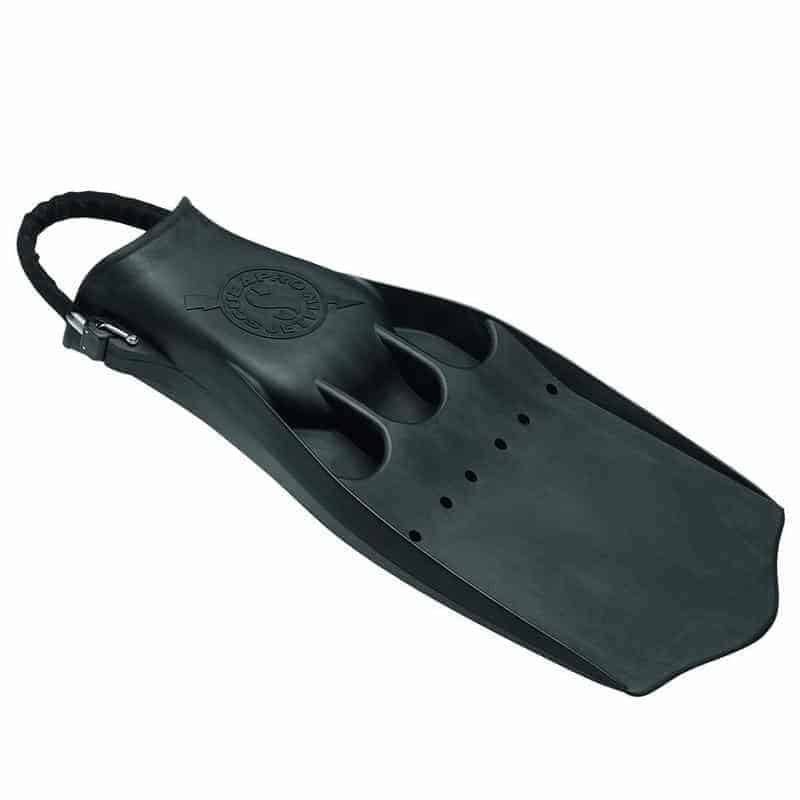 Say hello to the reputable Scubapro brand once again- this time with medium length blades for snorkeling. The Jet fins come with a simple yet stunning design, when there's this much quality, sometimes less is more when it comes to the look.
They are good snorkel fins for experienced divers and are easy to travel with, if you are throwing out your first snorkelling fins and looking for something to last longer, then check out these vented fins.
The vents enhances the down thrust and decreases drag on the up stroke. They also have an adjustable strap and are often referred to as swimming fins due to their ease of use. The water will feel like home in these.
They're on the expensive side and are for somebody who's going to spend a lot of time in the ocean – they are reliable, easy to fit in a suitcase and are easy to adapt to. But they aren't great for somebody looking to do a one-off snorkel excursion.
Easily throw these in a mesh bag and take them with you. You can also wear booties with these if preferred. They are shorter fins but still work great for snorkeling.
These fins could have easily made it to the top of the list but their price and the fact they're not necessarily made especially just for snorkeling is what dragged them down to the bottom of the best fins for snorkeling list. Read my full Scubapro Jet Fins Review here.
Rubber Heel & Optional Spring Strap
Single Piece of Durable Rubber (Monoprene)
No. 9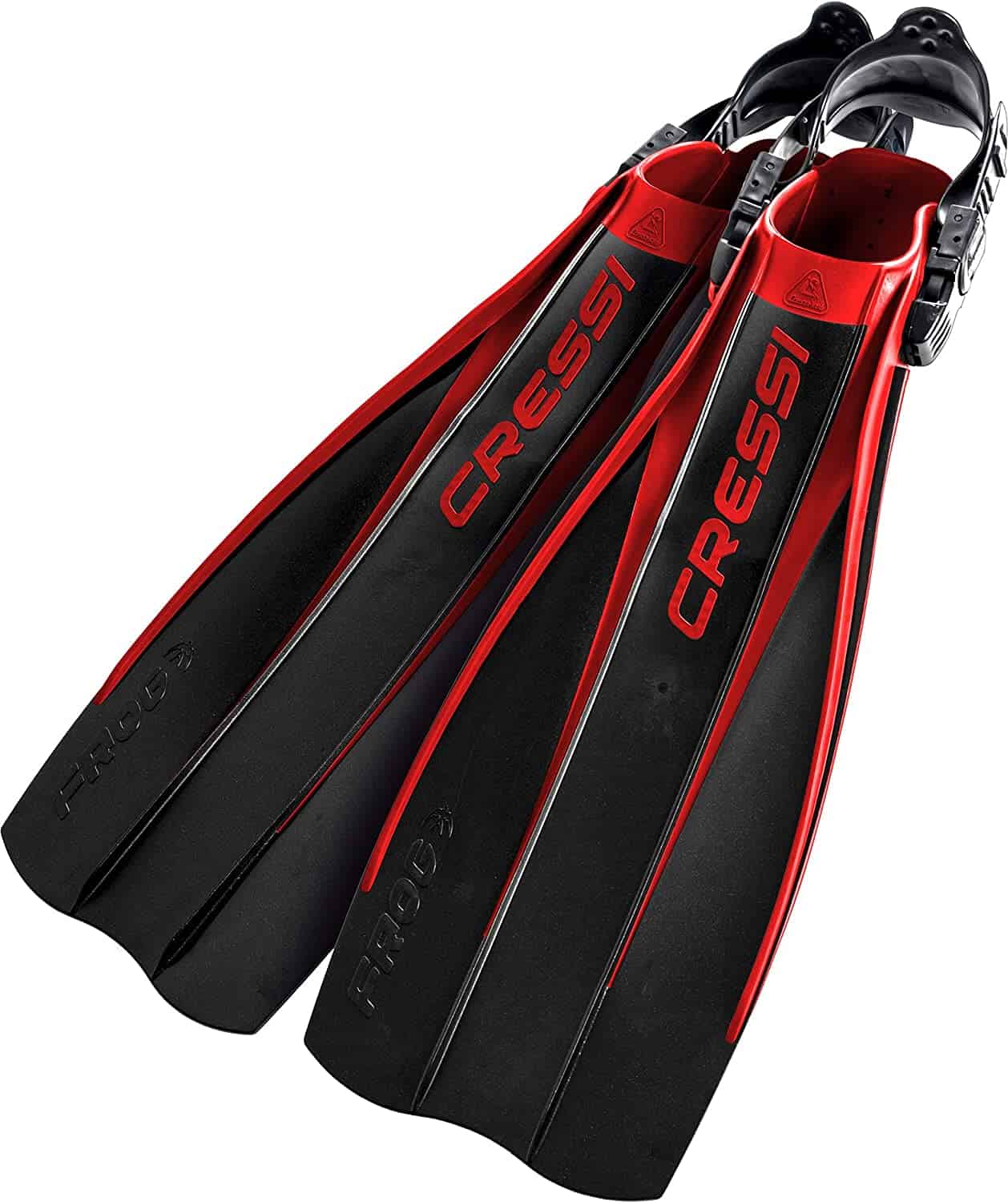 Cressi are another renowned brand in the snorkeling world and they've created the perfect paddle fins for the job.
Their fins are labelled as swim fins for snorkeling and are the right snorkeling fins for those that want to snorkel at the surface, duck dive and use them in different water conditions.
The fin blade has been designed to make it easy to paddle on the surface. They're not the lightest weighing in at 2.1kg but they feel light when on in the water, thanks to their comfortable foot pocket and dynamic design.
They are exactly what you'd expect and will certainly last you. Don't expect them to remain pristine, they get scratched quite easy but most fins for snorkeling do, for me it's more about how they hold up and let's just say this pair are robust.
New Dual Density Techno Polymer, Rubber & Silicone
Tusa Sport Long Snorkeling Fins
No. 10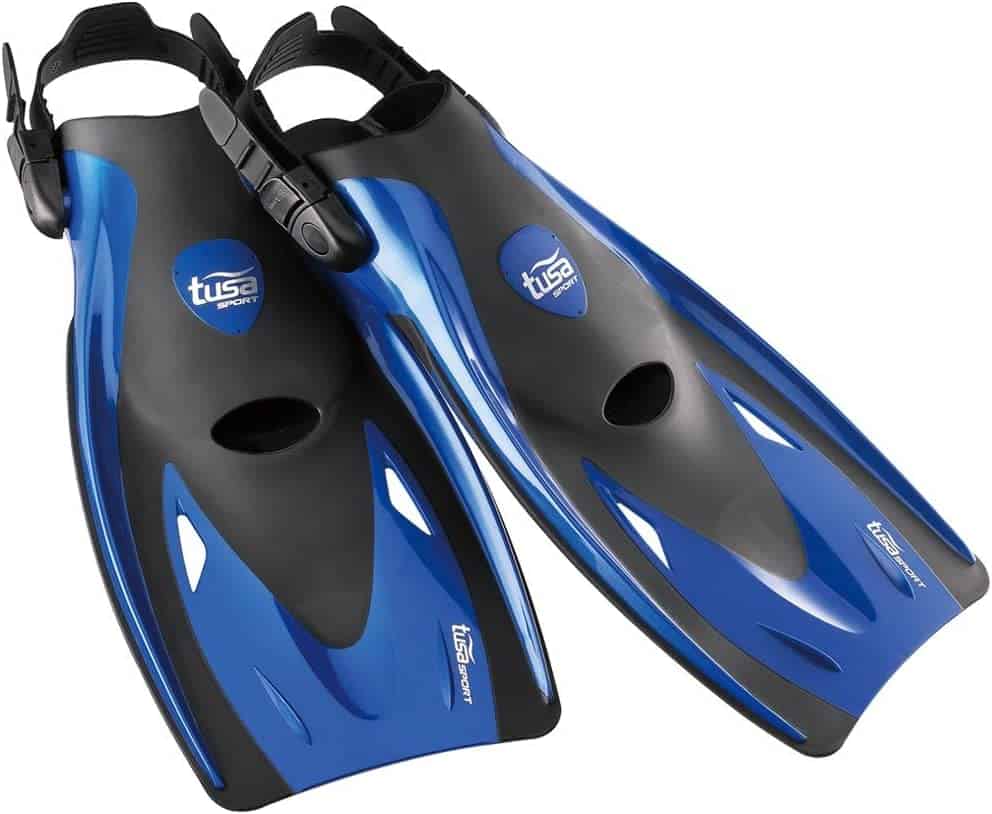 Not a number one choice but they work as travel fins for a beginner that would rather avoid rental costs. They are the longer edition but are still short fins compared to some on the market, ensuring they can easily slide into your bag.
The Tusa Sport are for those that want to quickly grab a pair of their own fins, they come with an adjustable strap and are made by a well-known brand.
These fins are labelled as long but they are short fins, get short swim fins with these fins, they are some of the best snorkel fins for travel that are budget-friendly and great for first-timers.
Soft Pocket & Open Heel Fins
Do I Recommend the Cressi Palau Fins?
I've seen plenty of other review sites listing the Cressi flippers as part of their top choices, I was shocked to find that when trialling these short fins that they're not secure, a poor strap system meant they fall off during a strong current. I do love the brand Cressi, but this particular snorkel fin did not cut it for me.
How Much Should Snorkel Fins Weigh?
Travel fins will need to be light because dive and snorkel gear can tip the luggage over the weight limits and the more lightweight the better. Plus lightweight fins feel great, it's best to aim for between 1kg-2kg when looking for snorkel fins.
How Do I Choose Snorkel Fins?
When looking for snorkel fin blades you'll want to take a few factors into consideration, such as whether you want open heel fins or a foot pocket. Also, whether you want them to be solely for snorkeling and whether you want travel fins.
Here are some things to look for when picking paddle fins:
Open Heel Fins vs Foot Pocket
Open heel fins are strapped up with a buckle or adjustable straps of some kind. They're easy to alter and are comfortable, they can also be used with boots. Some snorkelers enjoy the foot pocket, simply place your foot in the comfortable pocket and utilise the full foot fins feature. In cold water you won't have the advantage of wearing boots with full foot fins.
This comes down to preference, open heel fins are the easiest to adjust on the fly and many newcomers go for this option but those with more experience tend to go for full foot fins.
Some full foot fins are even compatible with neoprene socks.
Weight
Snorkelling is often a hobby for holiday goers, for obvious reasons – meaning that you will travel with your paddle fins and that's why you'll want them lightweight. Aim for between 1 kilogram and 2 kilograms if you're going to be travelling with them.
You will also want fairly light fins that are easy to swim with.
Technology
There's a lot of technology incorporated into fins with the rails, wing-shape, split fins feature and even a hinge. Each product review will explain exactly what the fin specialises in, find out which ones work best for what you're looking for. You will want fins that have lots of power and make moving through water easier. You may also want the best snorkelling fins for being able to propel back to the surface.
Long & Thin for Snorkeling
Although dive and snorkel fins can double up and be used for both – the usual difference is the shape. Snorkel fins are often shorter and more streamlined than scuba fins – they are long to make it easier to duck dive under water.
They are also thin to make it easier to stay at the surface and also have lots of power to propel back to the surface in no time.
How Long Should Fins Be for Snorkeling?
Snorkeling fins are shorter than most scuba diving fins and are around 25 inches (64cm) and come with a foot pocket, to eliminate the need for boots. You may go for less length for ease of travelling with the fins.
The best fins for snorkeling often come down to your preference and where or how you plan on using them.
Difference Between Snorkel Fins & Scuba Fins
There are differences between scuba fins and snorkel fins. Scuba fins tend to be longer fins and come with a variety of technology perfect for the depths of the ocean.
A pair of fins for snorkelling are simple, streamlined and are in a short fin design. They are often open heeled fins for bare feet whereas the best dive fins have a fin pocket or open heels with room for a dive boot to be worn.
Why Do I Need Snorkeling Fins?
If you are enjoying a one-off snorkel trip then you won't need good snorkeling fins and can rent a pair of fins whilst you're there. Wearing fins will definitely add to the experience of snorkeling and having a pair of the best fins will also enhance the activity, as it makes it more effortless and more comfortable.
Use our list of the best snorkeling fins and make the experience one you will never forget. If you're a beginner then you may want to opt for the best value until you know that it's a hobby you want to stick to.
Can I Wear Boots with a Larger Foot Pocket?
Full foot fin blades cannot be used with boots, only open heel fins can be enjoyed with scuba diving boots. Get a pair of fins that suit your preference, get open heeled fins if you are diving in cold water, this will allow you to use them with boots of your choice.