As you embark on your outdoor journey, the Passenger robe could be the perfect companion to your wild adventure, keeping you warm and dry wherever you go.
Passengers offer some lovely colours and recycled material, but they go up against tough opposition with plenty of top changing robes in the market today.
The outer material has been cultivated from 14 recycled bottles. I recently reviewed a Voited outdoor robe that was made from 94 bottles.
CHOICE OF COLOURS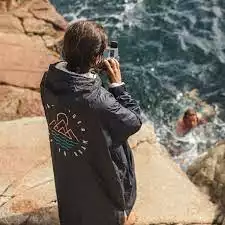 Passenger didn't match up with one of my favourites, the SeaShell Robe, one we belive to be warmer and quick-drying.
Why Do I Need a Passenger Escapism Robe?
Don't you want to enjoy the outdoors as much as possible and not get put off by the cold and wet? Lets face it, we love spending a day in nature but it often can get ruined when you start to pack away whilst soaking wet. This robe eliminates this from happening, keeping you warm and dry with its snug sherpa fleece lining. The warm sherpa fleece feels like a good hug after the long days spent outdoors. It's actually really cosy.
And trust me, you don't want to be the person in the group standing around cold and wet looking at someone all smug in their changing robe with a big smile on their face because they were one of the clever ones. I was in this exact position last year on a boat trip I took out to go see some Blue sharks off the coast of South West Wales.  The conditions out at sea were windy and extremely wet, and I remember envying those that had bought robes with them!
But, it's not a small investment, so you do want to be sure that this sherpa lined changing robe is the one for you.
This super soft cosy and snug robe will help you stay warm and keep you there after a cold dip or big hike. Surely the first thing you opt to do after your favourite activity is dry off, stay warm and take in the fantastic views. It is easy changing in and out of this robe. It will not weigh down your pack as it is a lightweight robe which packs down small for a perfect fit in your rucksack.
I am not going to sit here and tell you it is the best product on the market for getting dry. This robe comes with a PFC free water resistant coating and DWR 80g recycled polyester insulation. 
However, there are robes on the market that are waterproof and windproof, whereas this robe is only water resistant. It is slightly cheaper than some of the other robes, something to consider when purchasing your robe.
What are the Reviews Like?
Very positive! The passenger sherpa robe reviews are a rating of 4.9 out of 5 from 1090 people. People who are into activities such as wild swimming are loving this robe. Loads of people agree that this changing robe is a must for outdoors lovers.
Passenger Sherpa Robe Features
There are lots of brilliant selling points, and I love the range of unique block contrast colours that are available in this robe. But my favourite feature by far is how small it can be packed down – it really is a joy to travel with.
Lightweight robe which packs down small
No one wants more heavy things to carry in their rucksack. This 100% recycled polyester robe reduces the weight massively and makes it lightweight which packs down small. Many other brands on the market are bulky and hard to pack away.
Adjustable velcro on the cuffs
The velcro seal on the cuffs makes it easy for you to adjust. If you want to keep out the cold more you can choose to adjust the cuffs and if you are getting too warm from the warm sherpa fleece then you can adjust them accordingly to help let out that heat. It is always good to have options.
Two front pockes with hand-warming tricot lining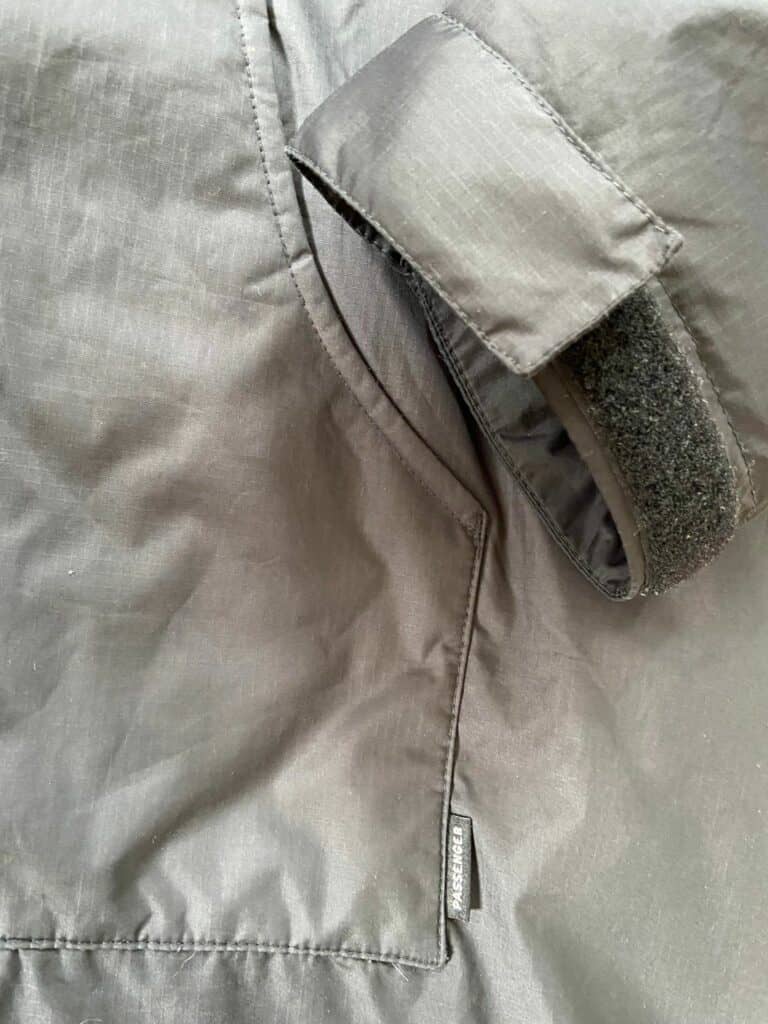 The two pockets with hand warming tricot lining help warm those hands up fast after being in the water or out on the mountains for some time. Tricot lining is known for holding its shape so the pockets will hold their shape as the material ages.
YKK zips throughout with contrast colour zip ends
The two way zip makes it easy for you to get in and out of the robe. The last thing you want to be doing is standing around messing about with a zip, especially in the cold and wet. This zip makes it a quick entry and exit when getting out of the cold.
Other Dryrobe Alternatives
Are They a Sustainable Company?
Great values and an earth-conscious outlook is what sets this company apart. They are built with 100% recycled single-use plastic bottles – 14 recycled bottles to be exact. 
It is also always good to know that you're purchasing a product where the materials used reduces our dependence on petroleum, cuts out the water and air pollution produced when creating virgin materials, alongside preventing unnecessary landfill waste. As a bonus, it is vegan-friendly as well.
However, this is not the only brand on the changing robe market that takes into account their environmental impact.  There are other, more affordable and just as quality brands such as DryRobe and Voited that also use recycled materials in their production process.
Are There any Discount Codes Available?
Keep your eye out on their social media accounts as they will often publish discount codes.  They have free shipping for over £50 purchases and you can get free returns if you do not like the items. 
Next day delivery? Yep, if you order before 2:30pm the day before. Saturday delivery is also available if you order before 2:30pm on a Friday. Before you place any order, do check out the size guide to make sure you are getting the correct size for what you want.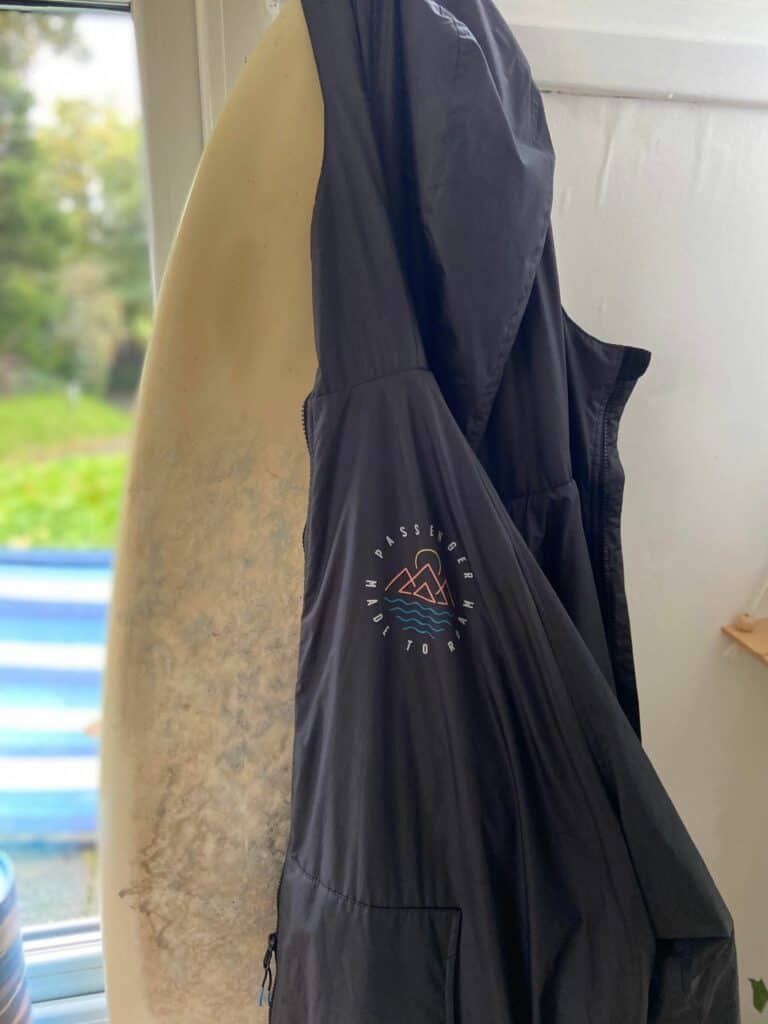 In terms of it's impact on the environment, this robe is second to none. It appears that everything they do is good for the planet, from their branding to their product development. 
Their range of clothing is really nice. I was that impressed with their robe that I purchased one of their fleeces too.
However, if you are after a waterproof robe then you need to look at another brand. Yes, this is water resistant, but you may be looking for more reliable protection from the elements.  
They are a little cheaper than some of the more expensive brands, maybe this is due to the lack of waterproofing. That aside, the robe arrives packed perfectly and ready to go, no messing around. It is easy to order on their website with fast free delivery on the robe.
Overall, I'm impressed with the lightweight materials, the warmth and the colour options – they do stand out from other robe brands.
Recent Posts