Changing robes have become a must-have for outdoor lovers.
But usually you are left with two choices – an expensive robe for over £100 or a cheap knock-off.
I'm thrilled to tell you that things have changed – Gorilla Robes are amongst the best DryRobe alternatives offering a high-quality, affordable and eco-friendly option.
Find out how Gorilla Robes offer a kangaroo pocket for a hot water bottle to keep you warm and more about their recycled material in this Gorilla Robe review.
BUDGET RECYCLED OPTION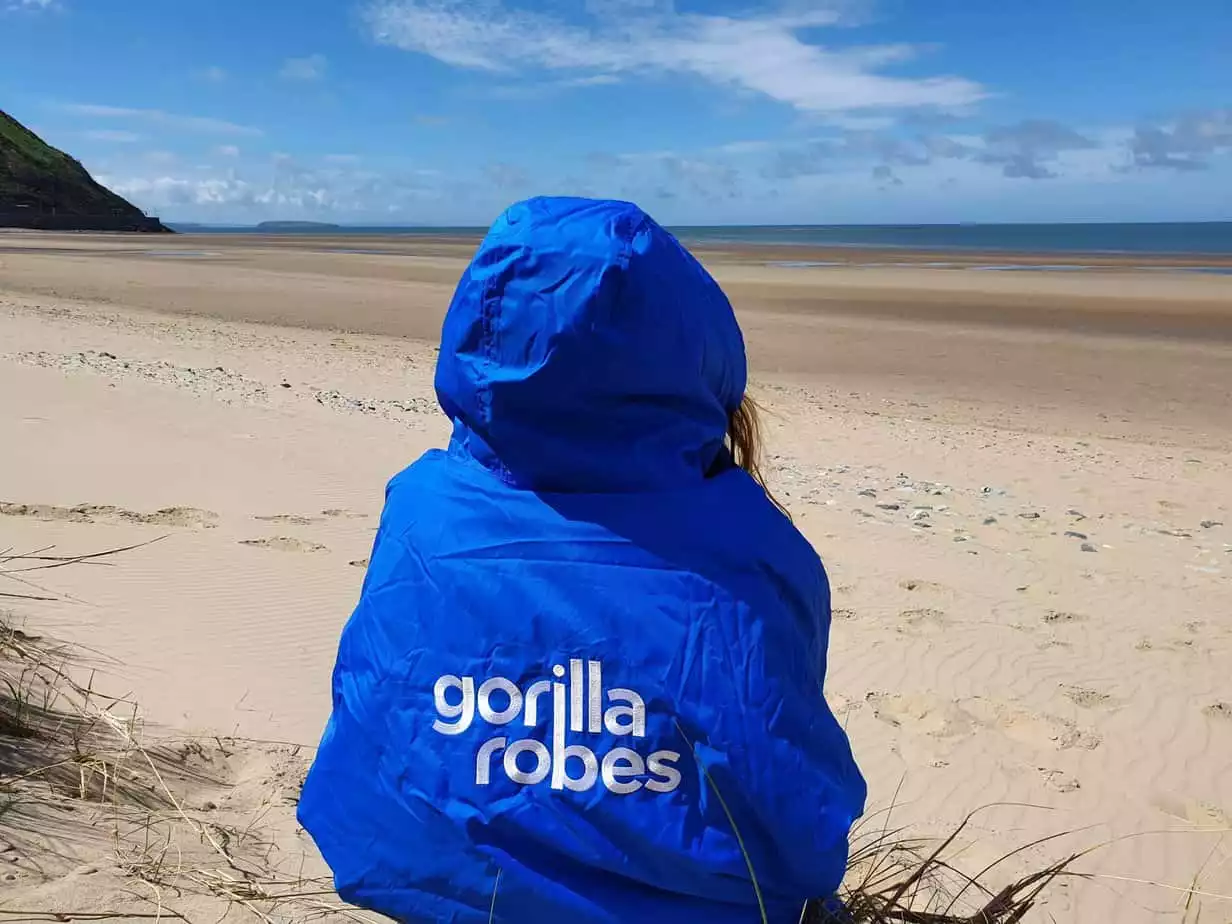 This robe is the best priced robe for those looking to purchase a changing robe made from recycled materials.  
Gorilla Robes are growing in popularity and are often compared to DryRobe, making them the perfect Dry Robe alternative. 
They're both made from recycled material and boast a waterproof and windproof outer layer.
DryRobe is more expensive but during my test, I noticed the DryRobe is warmer and is known for being durable.
The Gorilla Robe has a hot water bottle front pouch, it's also a pullover design that goes over your head and comes in nice colours. Gorilla Robe is the most affordable option made from eco-friendly material. 
When it comes to comparing price and quality, I'd lean towards Gorilla Robes, you get a lot for your money with this cheaper alternative.
Check more details on the dryrobe advance, with our DryRobe Advance Review.
Why Do I Need a Gorilla Robe?
Gorilla Robes is a fantastic DryRobe alternative, offering a recycled robe to keep you warm, dry and comfortable. They're a great brand offering a quality design, what's more, they're a UK-based brand.
You may think you've already got a coat and a towel, but trust me when I say it's not even a comparison. It's crazy how much difference an essential like this can have on your adventures.
This robe is ideal for anybody that loves outdoor pursuits – you can enjoy walks, wild-swims, scuba diving trips and more with the help of a changing robe.
Here are some of the reasons you may want to consider a robe.
I love nothing more than getting outside – it often works as my perfect pick-me-up. 
The issue with living in the UK and the price to pay for some of the awesome hikes and wild swimming destinations is that it gets pretty cold.
This robe has got you covered (excuse the pun) – the soft fleece lining is sure to keep you warm.
Something unique about this robe is that it has a big kangaroo pocket specially made for a hot water bottle – sure to warm you up quickly on a cold da.
Being out in the rain or needing to change out of wet clothes has become an easy task. An ocean dip no longer requires effort – I used to dread getting changed.
Now you can change on the beach without the need to find changing rooms or a toilet – it has a double zip and easy access plus the inside material can dry you even without a towel and there's enough room to move inside.
Hopping on one foot and trying to keep yourself covered from the entire world isn't fun – especially when you're cold. 
Now you can stay covered with this oversized robe – it drops below your knees, has plenty of room to move, a double zip makes it easy to take your swimwear off in privacy and you can do all of this out in the open.
I really can't imagine going back to life without a robe, seriously, it sometimes is the most simple of things that make all the difference.
Gorilla Robes have complete confidence in their quality – offering all customers a 12-month guarantee. This gives you peace of mind on your purchase, offering you a risk-free purchase. 
If you do have any issues then head over to their site and contact them with a photo of your product and any problems you have experienced. 
I've had my blue robe for over 6 months without issues or any signs of wear.
Looking for the little ones?
I feel that robes are perfect for children, giving them warmth and comfort in the great outdoors. 
Luckily, Gorilla Robes have sizes for kids catering for ages from 1 years old to 8 years old. 
Here are the kids' sizes you can expect at Gorilla Robes:
1-2 Years Old
3-5 Years Old
6-8 Years Old
100% Waterproof Outer Shell
The ultra-durable robe made from 100% recycled plastic bottles has taped seams making it completely waterproof and has a windproof outer layer. So, it doesn't matter if you are at the summit of your favourite mountain, you won't be getting wet with these robes.
The outer layer is impressive. It's thick and hardy, you can immediately tell it will last for years. It's not as soft as some of the outer layers seen in other changing robes, but I don't see that being a downfall. You want an outer layer to be tough, you want an outer layer that can take on any conditions and Gorilla Robes outer shell certainly deliver on this.
I've already mentioned that this changing robe is made from Eco Recycled Rip-Stop Nylon fabric.
This robe has numerous pockets with both inner and outer options. There's three outer pockets in total – two side pockets with zips and a front pouch with a Velcro fastening. 
This is handy to keep your phone nearby for the photos you want. But one of the most amazing aspects of their front kangaroo pocket is that you can use this to add extra warmth. 
The kangaroo pouch can home a hot water bottle. This is a unique feature that I am yet to find on other changing robes.
In addition to the outer-pockets, you also get inner pockets with zips for all your valuables.
Most companies offer short sleeves or long sleeves when purchasing a dry robe, but Gorilla Robes only do a long sleeve option. 
However, they have integrated some brilliant velcro cuffs into the design which allows for easy adjustment, so you can make them shorter. It also has extra large shoulder holes, making changing easy. This feature shouldn't be overlooked, these robes are there to make changing seamless and they do just that.
They do also provide customers with a poncho option where the sleeves are a little shorter. However, because it is in a poncho style design it isn't for everyone. Be sure to check out the Gorilla Robes Towelling Robe design before buying it.
The two-way zip on Gorilla Robes gives you the ability to zip up and down from inside or outside the robe. 
This gives you access to the zip with your arms still in the sleeves. This makes changing simple – unzip or zip up while still in the robe.
Gorilla Robes have several colours with blue, black, green and more. 
Here are the different colours available:
Black with red
Blue with grey
Green with black
Red with black
Gorilla Robes Discount Code UK
Try Gorilla10 for a discount on your changing robe – you will get 10% off your already well-priced overcoat.
Returns are free, making it easy for you to return products; use their easy-step process that can be found online.
The robes are available on Amazon but not on Amazon Prime. If you order before 9pm you will get your order shipped on the same day. As for weekend orders they will get shipped on the following Monday. 
You get free 24-hour delivery on orders over £50 and free 48-hour delivery on orders under £50 on their direct website. There is not much difference between ordering on their website and Amazon, both have similar delivery times but it's cheaper to order from their site with the discount code.
BUDGET RECYCLED OPTION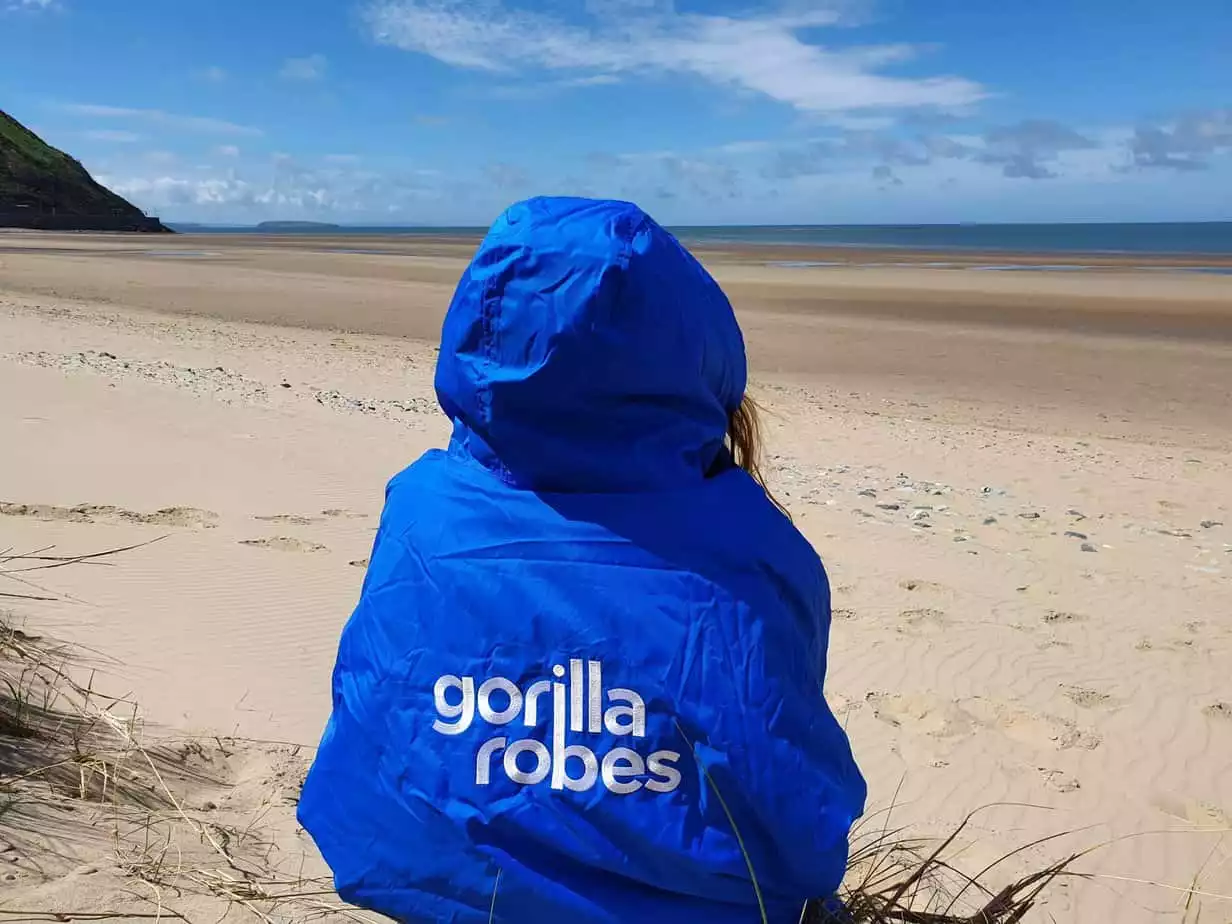 Dry robe alternatives are a game-changed and this is the cheapest recycled robe on the market. If you are looking for a list of other cheaper changing robes, head on over and read my Cheapest DryRobe Alternative article.
It's also the only one to offer a specific pocket for a hot water bottle, something that I've been thankful for. 
Some things to take into consideration are that this is space-consuming and bulky – it's one to throw in our car and use when you won't be required to carry it far.