Time to relax, exhale and descend…
It could be your chance to escape the busy world, and allow relief to sink in with a once-in-a-lifetime Bahamas scuba diving trip.
Excursions of this nature should not be taken lightly, you may be thinking about booking up but are unsure of where to start and what you should be looking for, don't stress – I've been there too. Often these types of diving holidays offer a change in perspective, you'll be telling your friends and family about it for a long time.
Read this Bahamas Aggressor review of 2022 to find out more about the underwater world of the Bahamas Islands and if this particular liveaboard boat is for you.
BEST FOR LUXURY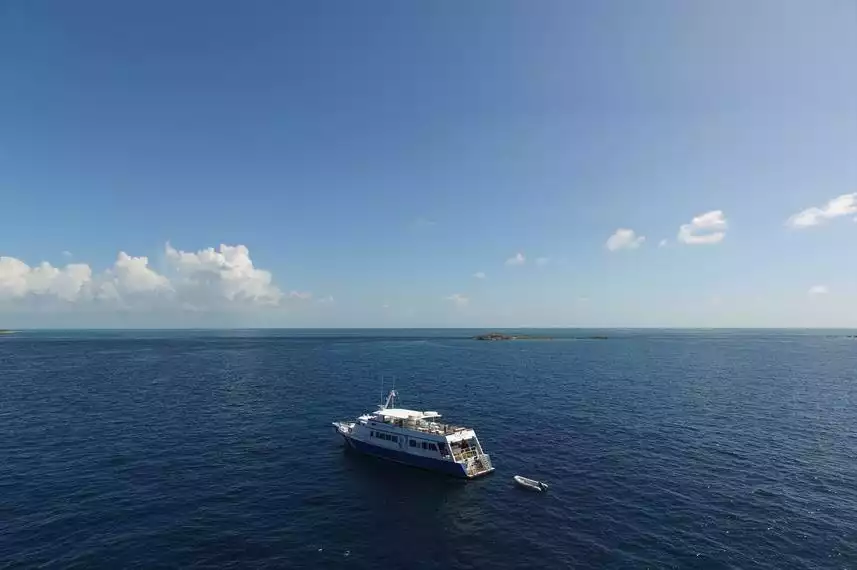 "When you're tired and fed up with everyday life, there's no better way to turn it around other than to explore the waters of somewhere such as the Bahamas."
Bahamas Aggressor Overview
The Bahamas Aggressor liveaboard is a 100ft (30 meters) luxury yacht with plenty of space from the famous Aggressor Fleet.
The boat was built to the Lloyd's Registry and American Bureau's standards back in 2012 and has since been renovated back in 2014.
You'll depart from Nassau before taking on up to five dives each day. Here are some features of the Bahamas Aggressor including the high-quality food, dive sites and marine life that you're likely to see.
You can also check out other liveaboards and see how the Aggressor compares to the best Bahamas liveaboard trips.
One Downfall is how old the boat looks in comparison to some of the modern fleets around nowadays
The Bahamas Aggressor visits a number of sought-after dive sites including Exuma Cays, Southwest Eleuthera, Tiger Beach and Bimini Islands. Enjoy shark diving, blue holes, wreck diving and alley diving in the Bahamas.
No liveaboard is worth your money unless it provides excellent dive locations and that's one of the things you should be check beforehand.
It's no secret that the Bahamas is a bucket-list location for scuba divers, the site at Southwest Eleuthera offers the Lost Blue Hole and Periwinkle Reef.
Also, if you book the Bahamas Aggressor at the right time of the year (generally between September and May) then you can enjoy the highly talked-about Tiger Beach and Bimini Islands. You will be able to browse the itenerary of the five dives a day and discover more about the top dive sites and the opportunity to try the night diving.
Surely this is why you want to come on a liveaboard in the Bahamas, for the exciting animal encounters that you will have underwater. You will get the opportunity to swim with some incredible larger marine life such as hammerhead sharks, bull sharks, and nurse sharks as well as butterfly fish, schooling fish, eagle rays, reef fish, assorted other reef fish, and even a turtle or two.
In the summer months you can visit Tiger beach and swim fin to fin with Caribbean reef sharks, lemon sharks, tiger sharks, and beautiful tropical fish, experiences sure to take your breath away.
After this wholesome experience, you can sit back on one of Bahamas liveaboards deck chairs and enjoy a local beer, iced tea, or one of many refreshing soft drinks on offer.
Get to know other novice or experienced divers when sharing a room with them or book with somebody you know and ensure your own privacy – the choice is yours. The Bahamas Aggressor has six cabins and can accommodate up to 14 divers in total.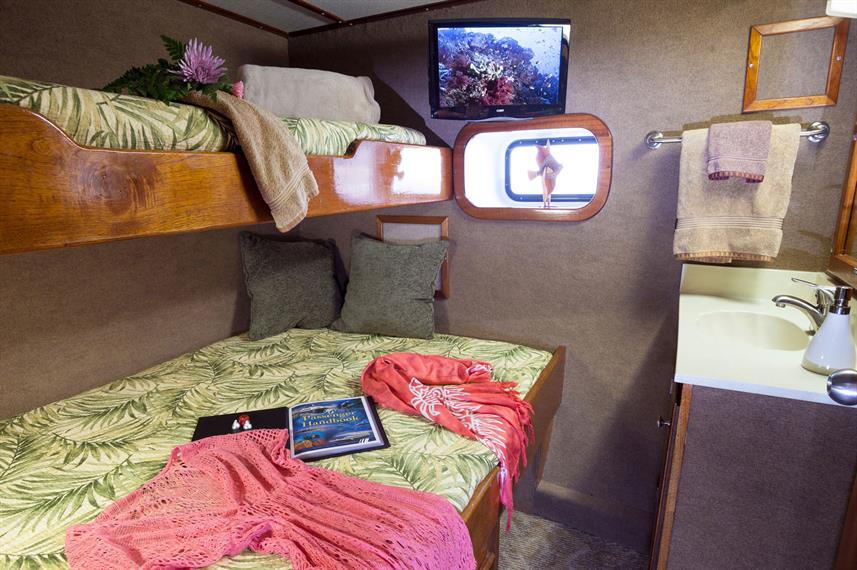 There are different types of rooms, twin bunk style beds, a twin bed and a quad room. You can book double and single berth rooms plus the quad room sleeps four.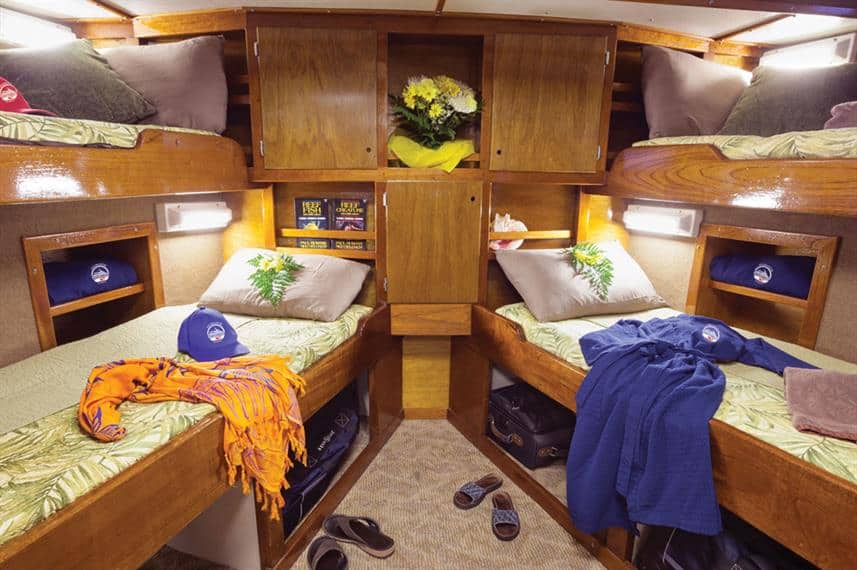 There are televisions in each cabin and en-suite bathrooms. So, it is up to you if want to join the night dive or get an early night. You will get a private head, shower, port windows and more, plus there's an individual climate control, monitor with media player and a hair dryer in some cabins.
If you prefer to keep yourself to yourself then there's every opportunity to do so with your own space but if you're anything like me then you don't want to miss a chance to speak to others who are just as passionate about diving.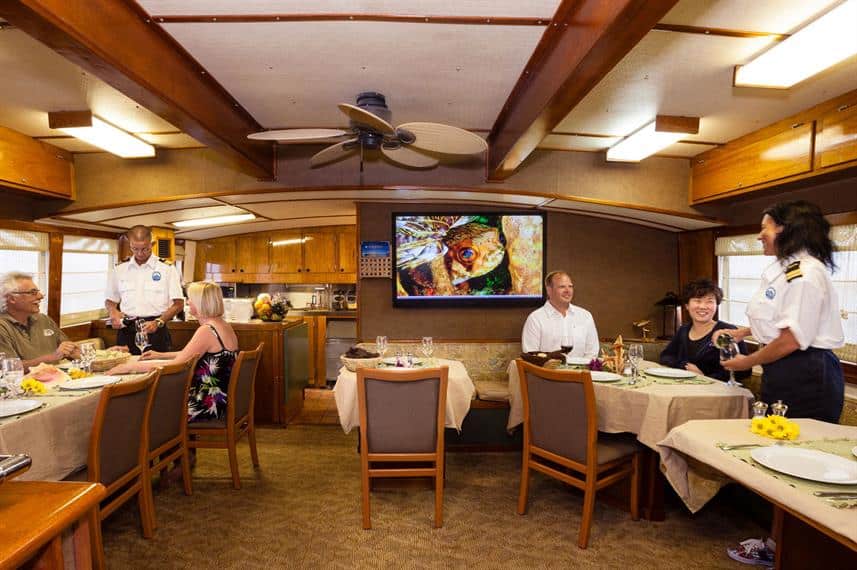 The Bahamas Aggressor has a number of social rooms with an entertainment system, an air-conditioned salon, a cocktail deck in the shade, a sun deck and even a hot tub. Is there anything more luscious?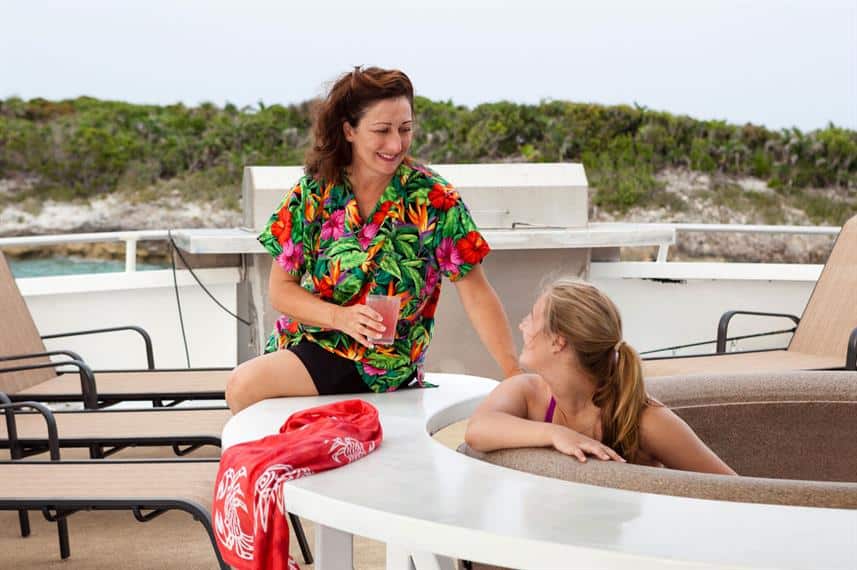 The hot tub is fantastic but there are plenty of options, either in the sun or in the shade and in the company of others or within your private area.
You can control monitor with media player and enjoy watching films of your choice in the communal room.
Bahamas Liveaboard Comparison
How is the Food on the Bahamas Agressor?
Yes, you want to see marine life like reef sharks and hawksbill turtles, but you also want to eat amazing food, no one wants to go away and not enjoy tasty food.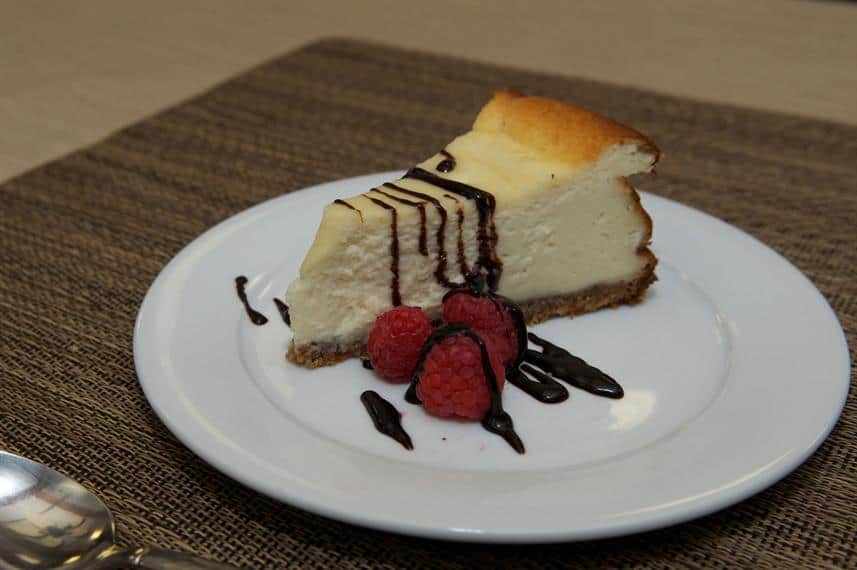 The menu onboard of the Bahamas Aggressor is suited to everyone; there are promising reviews from people who have been on the Bahamas Aggressor liveaboard who have had certain dietary requirements, and the chef onboard has cooked something, especially for them.
There is local cuisine and western food being served on the boat. Fruit juices are served throughout the day and there's free wine with dinner, bonus!
In the day you will be able to help yourself to fresh fruit and other food, such as pineapples, bananas, melons, jacket potatoes and various local meat or veggie options. Trust me, they cater for everyone and the food is something else – check all the reviews; they always go above and beyond. 
What I Love About the Bahamas Aggressor?
There are a lot to love about this yacht – but first and foremost, it has to be the dive sites and the animals that you're likely to see.
But when it comes to what this boat offers over others, it's the amazing food, friendly staff, exciting night dives, the sea park and the lush coral reefs. The boat even has a hot tub if you want to rest and restore in between dives.
They have night diving which is a great addition to the trip as night dives feel a little more adventurous than in the daytime. After a day in the sea park, there is nothing better than sitting back with a local beer in the hot tub, taking in the lush coral reefs and crystal-clear water. The shark dive and particularly the bull shark is one of my favourite highlights of this liveaboard.
I also love that only 14 guests are on board with you as it gives you enough space to enjoy the boat.
You can also check out a similar fleet with the sought-after Bahamas Master, that made it to the top of my list.
Do I need to be a Good Diver for This?
It's recommended that you have done at least 20 dives before booking this trip, it isn't the most technical but it is important that you're comfortable. It doesn't seem the most exerting, but I'd say it's best to be comfortable diving independently although there are staff and professionals to aid you, talk you through the sites and monitor you.
It would be beneficial if you have done some scuba diving courses to enhance your diving skills but this is not a necessity.
Where Does the Bahamas Aggressor Depart?
It usually departs from either Nassau or the West End Northern Adventure departs from West Bimini. You can check out the detail of each specific liveaboard during the booking process, and book to your preference.
The West Bimini port means that you will explore the North and South of the Bimini Islands, each itinerary is subject to vary and you should check the information.
Dive Sites to Visit on the Bahamas Aggressor?
The Bahamas Aggressor liveaboard visits some amazing destinations – it is a great mixture of different types of dives and a whole range of beautiful sea animals.
Here are the different dive sites that the Bahamas Aggressor visits.
On the coast south Bimini, Sapano Wreck is a fascinating dive site with lots of history and is located in a turquoise setting.
It is the wreck of the S.S Sapano that's been there for over 100 years and was used for WW1. You can find out more with my best diving in Bahamas article that reveals another nine options.
It has sinkholes, reefs and is perfect for novices and experienced scuba divers alike. It is also popular amongst snorkelers, thankfully, snorkeling enthusiasts can join most of the Bahamas Aggressor sites.
This dive site flies under the radar, but it is a beautiful wall dive, full of marine life and vibrant coral reefs. The wall dive earned its sweet name with its offshore location and plenty of life.
It's a dramatic wall on a gulf stream and is 65 feet (19 meters) and is for advanced divers.
A spot that has shallow reefs with colorful coral heads. It has a maximum depth of 30ft and the average visibility is 24m.
There are lots of macro life and you'll want to locate them with a flashlight during the day.
Find sharks, turtles, spotted drums, spotted eagle rays and flamefish.
A shallow wreck covered with schools of snappers, angelfish and other majestic species, it is also known as Stingray Wreck.
It's a small wreck that has lots of loggerhead sea turtles. It is a great wreck dive and can also be snorkeled.
Three famous coral heads full of colour, there's a large sandy patch. when you move around the coral heads, lots of fish and marine species of all kinds can be seen. Most reviews will always mention how a Caribbean reef shark swam right past them.
A large patch reef stands out at this dive site, you will get to embrace colorful coral heads.
Nassau is home to many dice sites, blue holes and thriving marine life and coral reefs. Located around New Providence, you can sight eagle rays, turtles, stingrays and old Hollywood move wrecks.
It has a light current and is great for beginners, snorkelers and also makes for a great night dive.
A fantastic wall dive located on the western side of Manta Bowl. It is appropriately named with lots of skip jack tunas that frequent the area.
Whale sharks have been known to follow the skip jacks and for that reason, it's not unprecedented to spot a whale shark.
Tiger Beach is the perfect place for sighting Tiger sharks but there are also other sharks with lemon sharks, reef and many others.
It's another beginner option and can be visited for night dives too. This is one of the most popular dive sites.
Exuma Cays Land and Sea Park
A 176 square mile created in 1958, it is a land and sea park based in Exuma Cays. It is a pristine location with lots to see and can usually on be visited via a liveaboard.
It's a famous site that can be enjoyed by all and there's lots to see on land as well as in the sea, there are Bahamas igunas and many other animals.
What Sharks Will I See on the Bahamas Aggressor?
Nothing's guaranteed but it's almost as good as on the Bahamas Aggressor – you will see a variety of shark species.
Here is a list of sharks you can expect to see during your liveaboard trup on the Bahamas Aggressor:
Caribbean Reef Sharks
Lemon Sharks
Tiger Sharks (on the Tiger Beach)
Nurse Sharks
Hammerhead Sharks
BEST FOR LUXURY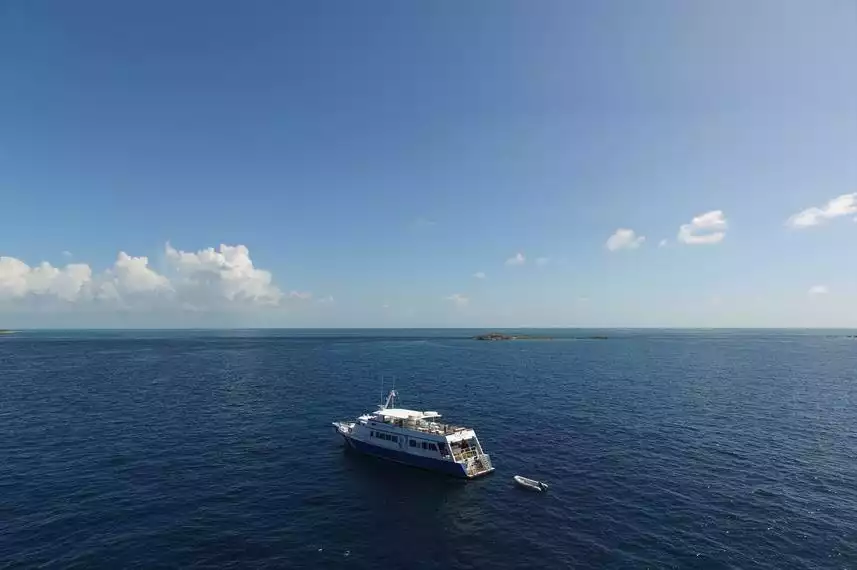 Are you tired and fed up with your daily life? Then explore the waters of the amazing island of Bahamas with other like-minded adventurers on the Bahamas Aggressor. Escape everyday life with stunning scenery and incredible animals is a must.
The Bahamas Aggressor is one of the most celebrated crafts in the region and visits a wide-range of the dive spots often talked about by experienced divers. From the marine life to the dives themselves, it's a fun and awe-inspiring opportunity.
You can dive at Tiger beach with tiger sharks, reef sharks and more. You can enjoy blue holes or dive amongst wrecks. It really does have it all from the species to the types of diving available.
Recent Posts