This trip is one on the bucket list for so many divers across the UK and further afield. It could be argued that this is one of the best seal diving experiences in the whole world, and it's no surprise. It is one of Britain's marine treasures.
If you are looking for some seal action whilst exploring stunning underwater sites within a marine nature reserve that are of high conservation status, then diving with seals at Lundy island should be on your list for next summer.
I've visited Lundy Island twice now, once to snorkel on a Girls that Scuba trip and more recently for a weekend of diving across sites on the West, North and East coasts.
I'm going to take you tahrough the basics, to the more complex, from booking your boat to understanding your surroundings whilst below the surface, so that you can enjoy Lundy Island and all it has to offer!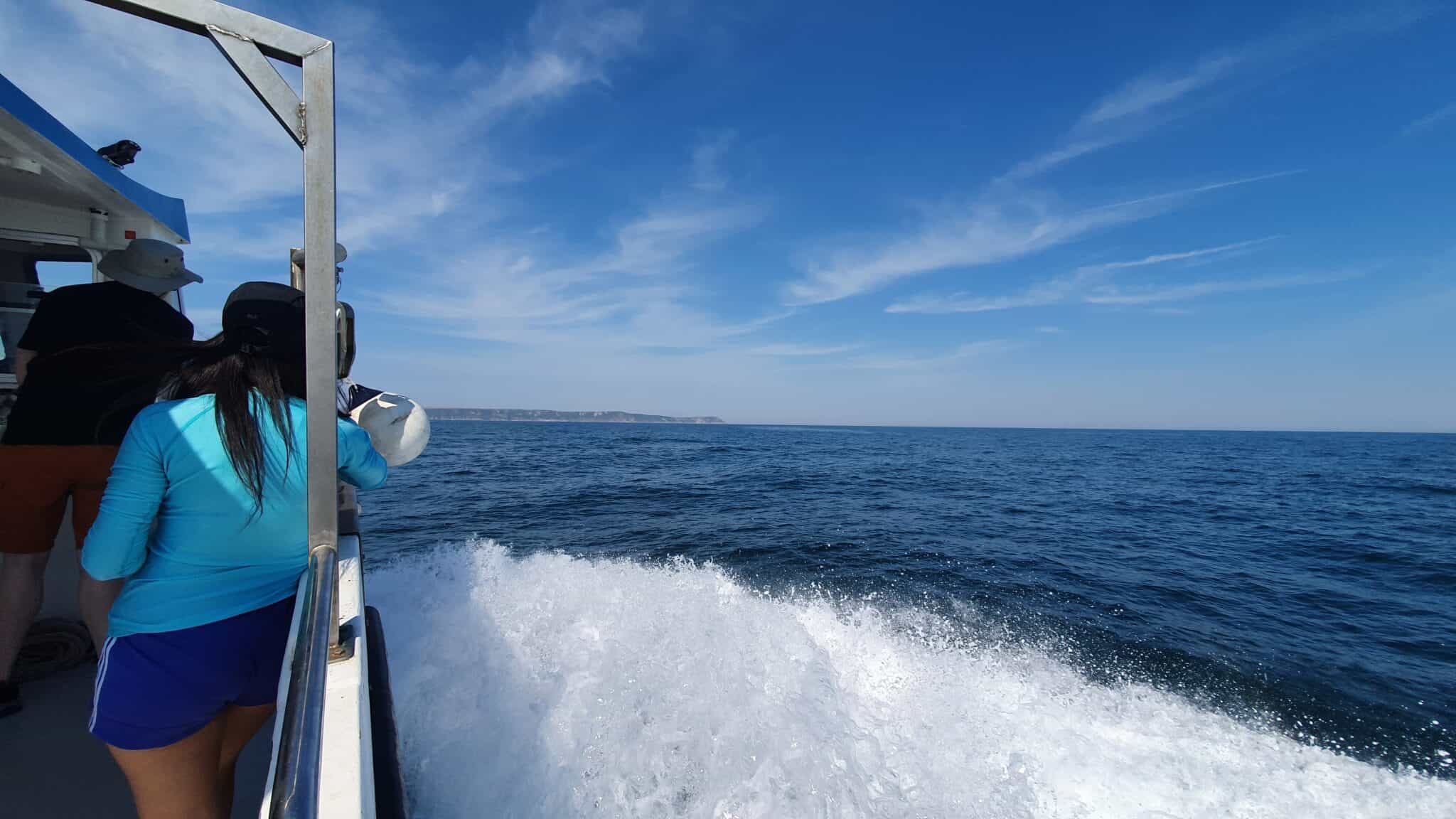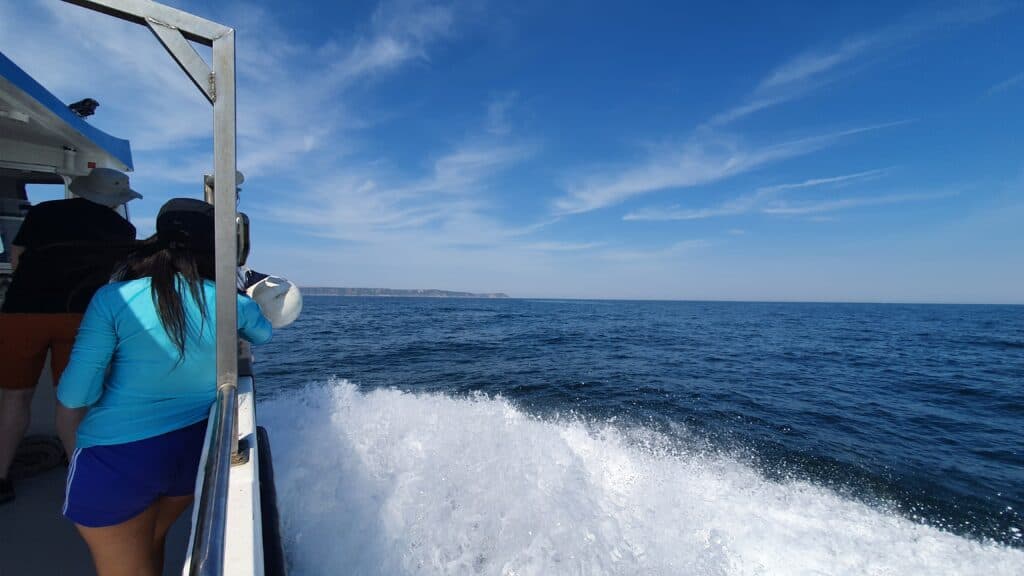 As the name suggests, Lundy is an island. In fact, the name means "Puffin Island" in Norwegian – as it is the home to a colony of Puffins during the Spring months. It's the largest of all the islands within the Bristol Channel, approximately 10 nautical miles off the coast of Devon, accessible from the mainland only by boat.
It takes approximately 1.5 – 2 hours to cross the channel towards the island, but there is plenty to see on the way. The views along this part of Devons coastline are spectacular, and you may even be lucky enough to spot pods of dolphins, feeding marine birds and even the odd sun fish.
There are a number of charter boats that you can book a space on to take you across to the island and to explore the sites. These leave from Ilfracombe harbour, a beautiful seaside town, that is a great place to base yourself whilst scuba diving Lundy. These excursions will last anywhere between 8-10 hours per day, so make sure you bring plenty of water and food with you.
I have used two charters from here, and they have both been excellent and all crew were extremely friendly and professional. My first experience of Lundy Island was with Wild Frontier Charters. They took us snorkelling at a few spots on the East side of the island and the team on board were fantastic at looking after us above the water, throwing tea and coffee at us to keep us warm! They even had a lift on the boat, so no clambering up the ladders when coming back on board. The boat was very new, and in excellent condition, I wouldn't hesitate to book a trip with them again.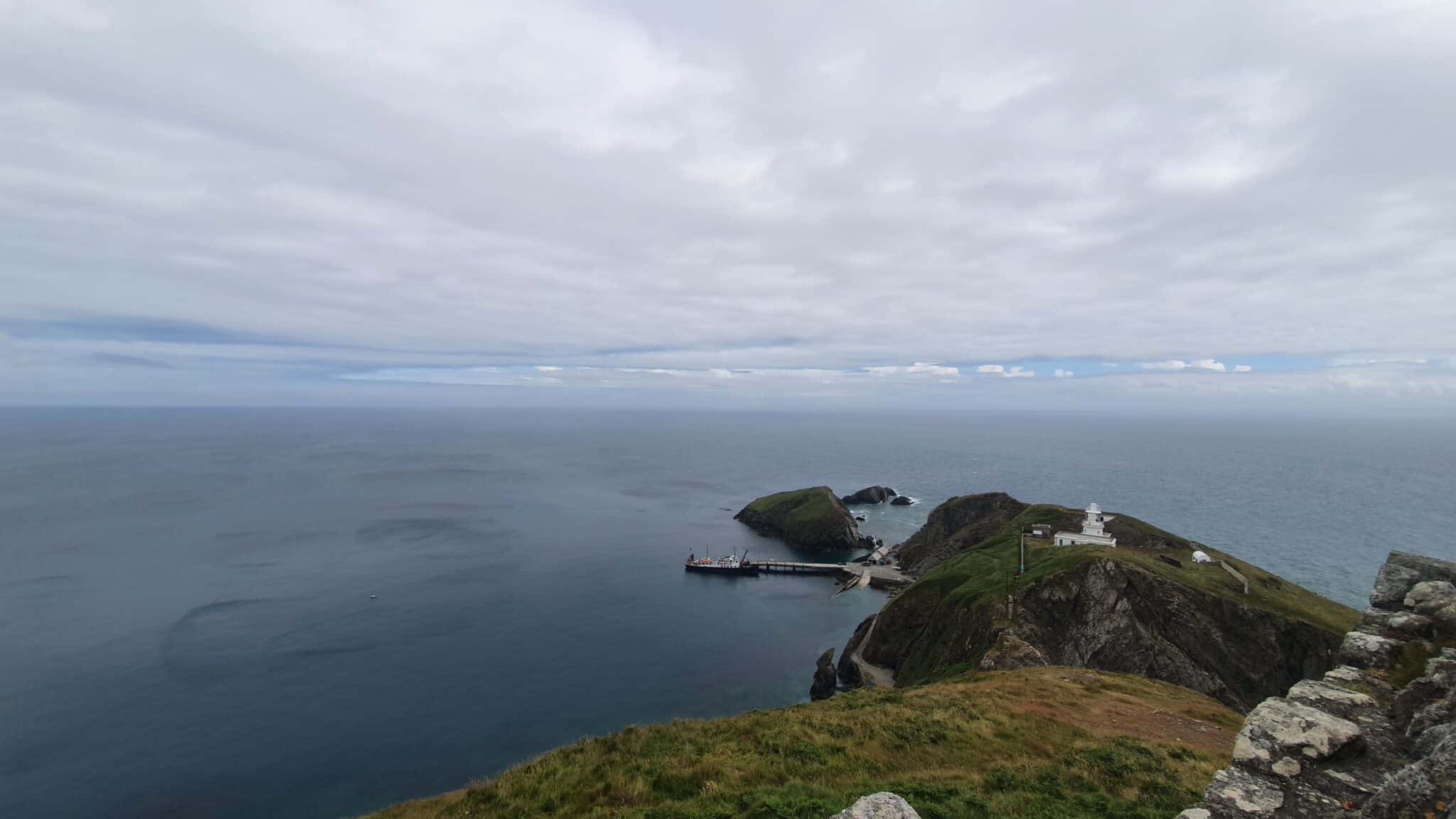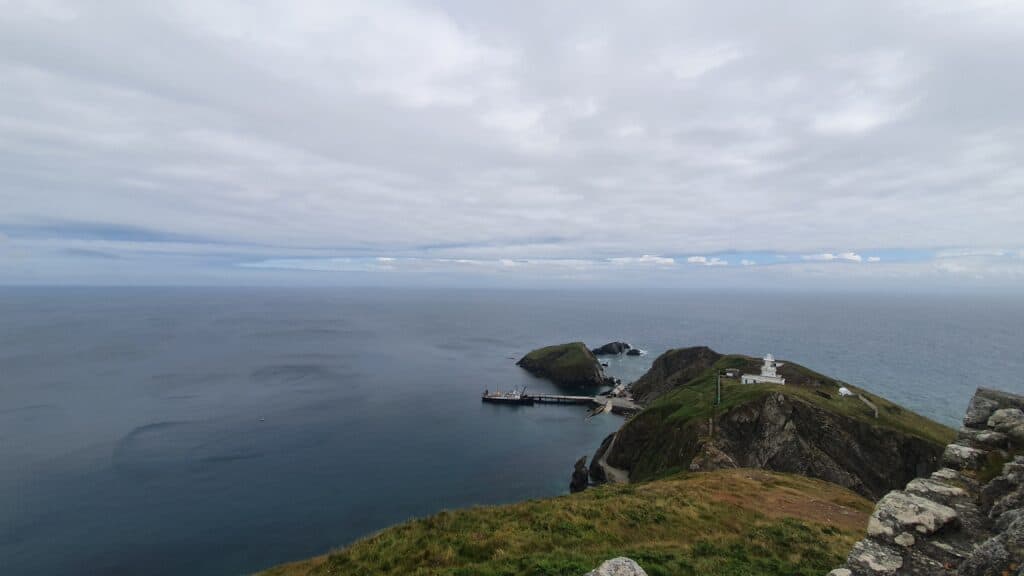 The second charter I've used was with Lundy Diving on board their Barbara B vessel. Another brilliant boat, the Barbara B can fit 12 divers and all of their gear, again with a lift to make exiting the water when kitted up a dream.
I was really impressed with the details that our crew member, Ben, provided when mooring at the sites, delivering the perfect type and quantity of information that any diver should know before entering the water at a new location. He covered a bit of interesting history about each site too. Lundy Island has a long maritime history, and its incredible to hear stories of times gone by. The rest of the information such as key points of interest, site layout, hazards, underwater time, tide movements, marine life and expected behaviour around the seals, were all incredibly important, but explained in a clear, easy to understand manner.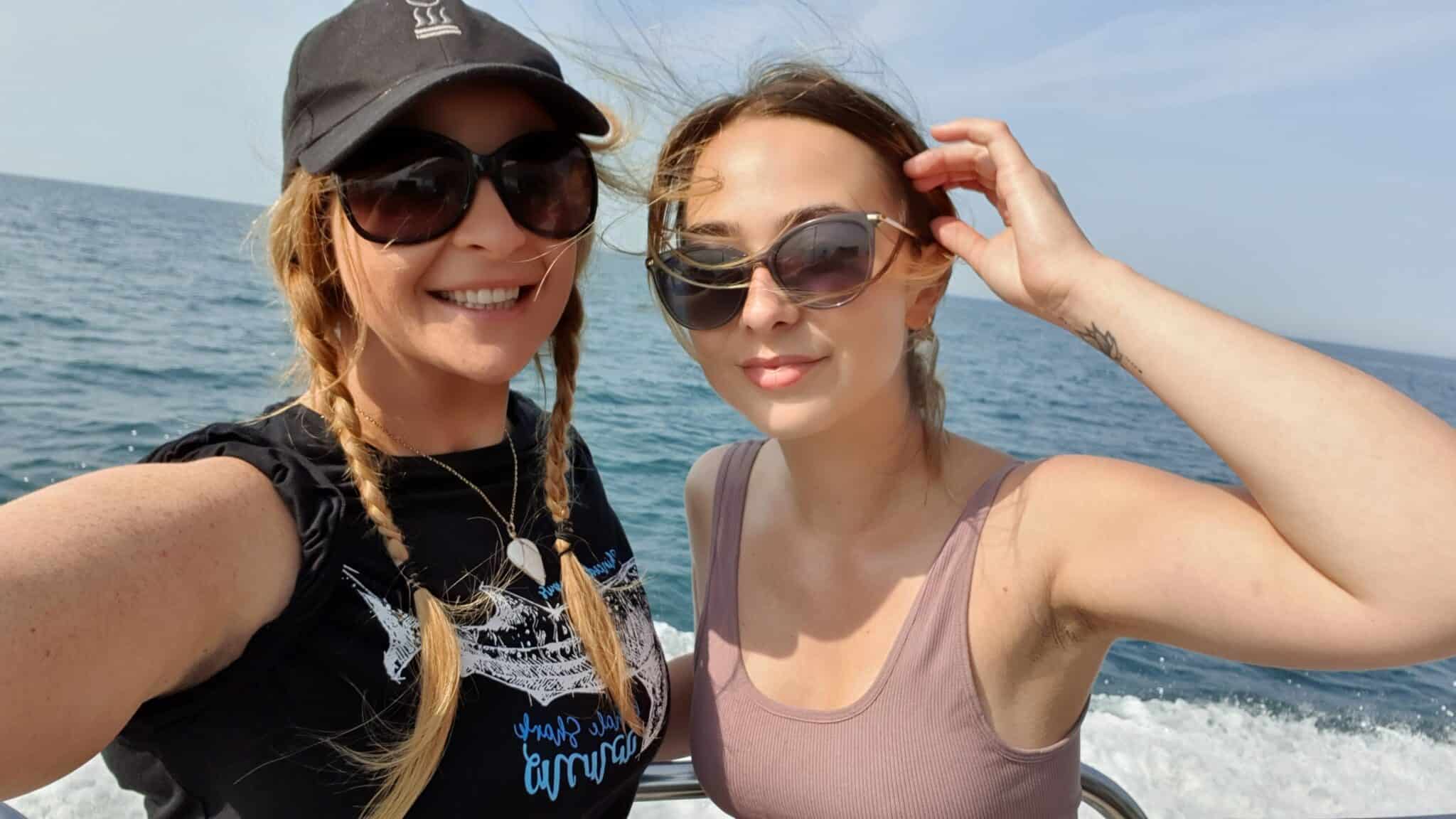 Any charter you book for swimming, diving or snorkelling at Lundy Island needs to be booked well in advance. As you can imagine, these are extremely popular trips. That said, the beauty about Lundy is that it's a quiet place. Only once did we see another dive boat, and they had exited the water before we entered. You can really feel like you have your very own unexplored coastline to enjoy.
These charter boats often leave you to lead your own dive, but if you are not too confident to do this yet, you can always get in touch with one of the local scuba schools and head out on one of their guided trips. Go check out Easy Divers North Devon where you can book day trips with a guided dive, or speak to your local dive school and see if they have any plans to arrange a trip soon!
Bringing Your Dive Equipment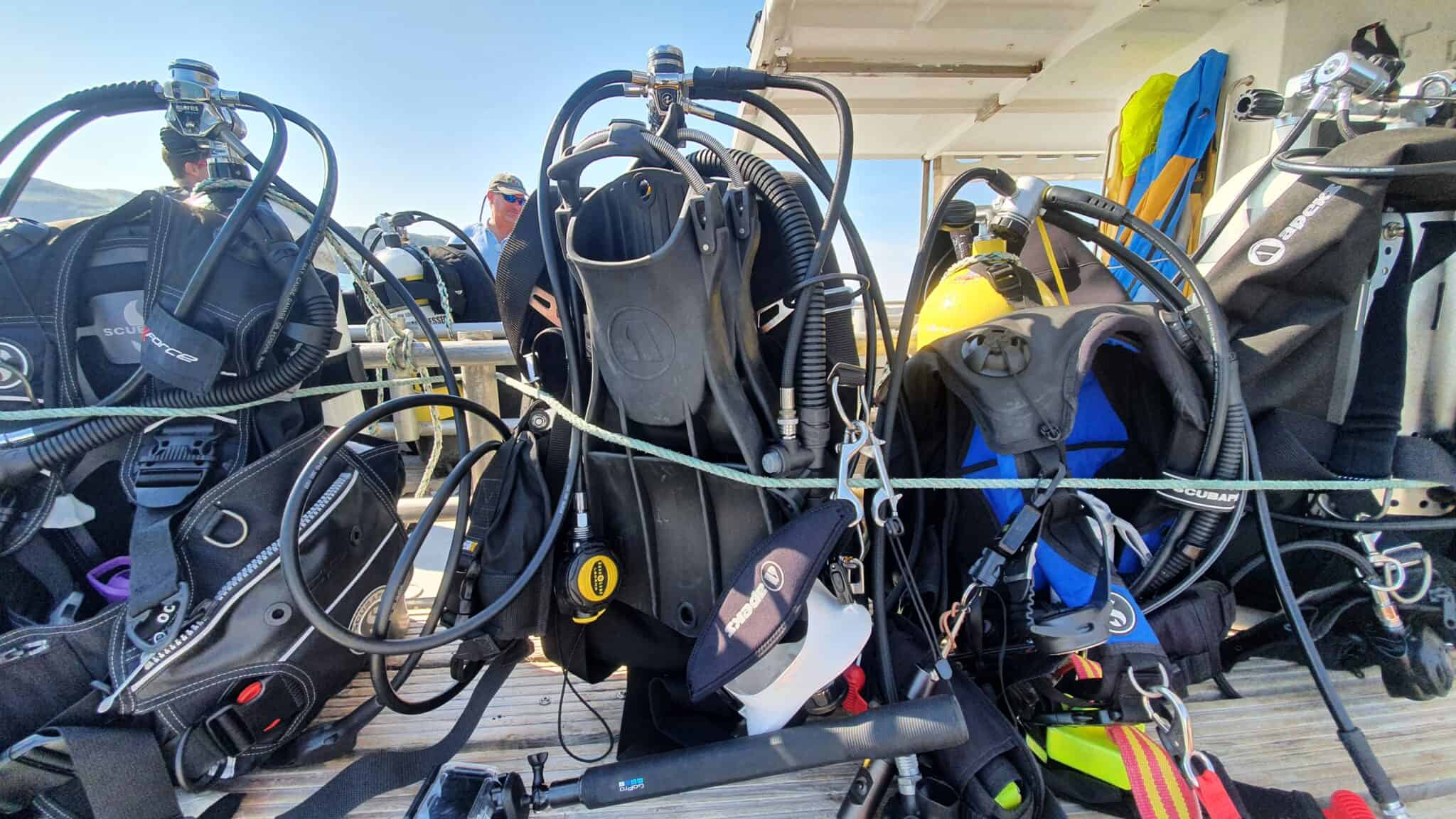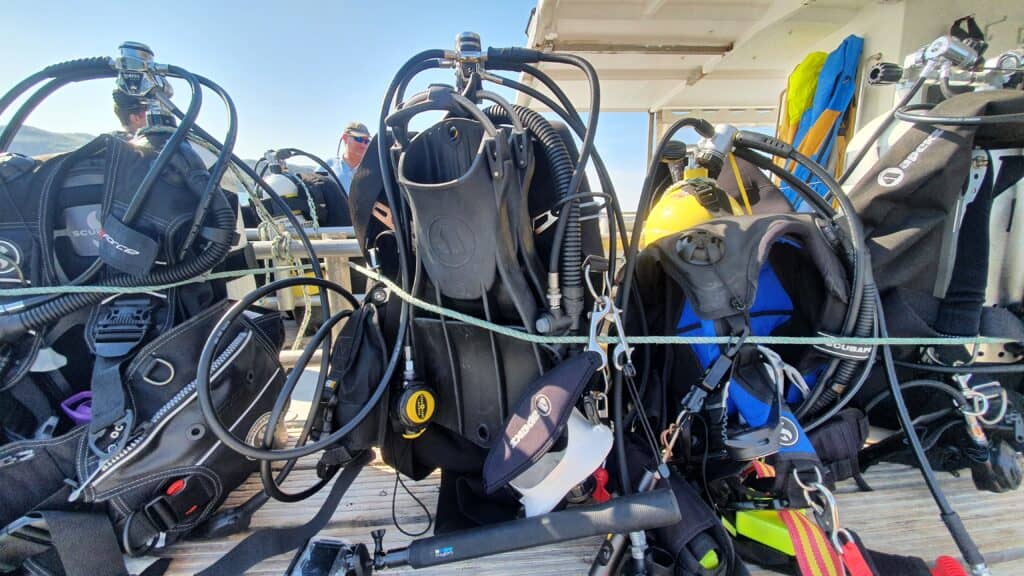 If you book through a scuba school such as Easy Divers North Devon, you can opt for equipment hire. If you are booking onto a charter boat, you will need to bring along all of your own gear. Yes, that includes cylinders, weights and fins.
Diving Lundy Island requires a minimum of Open Water Diver or equivalent, so it is suitable for all. However, if you are recently qualified divers, then you may be more comfortable booking a guide, rather than navigating the site yourself.
Luckily, all the girls that I was diving with had their own dive kit, and we hired tanks from our local scuba schools and took them down with us. But this is difficult to do if you are looking to reach Ilfracombe by any other means than car. More on that below.
If you don't have all your own kit yet, but are keen to join one of the charter boats, get in touch with your local dive school. Many centres will offer equipment hire so that you can be fully kitted out for your trip.
Don't worry if you have not got all your kit yet, it can be quite a task buying dive kit as a beginner – hiring is a great way to do this and test out different equipment!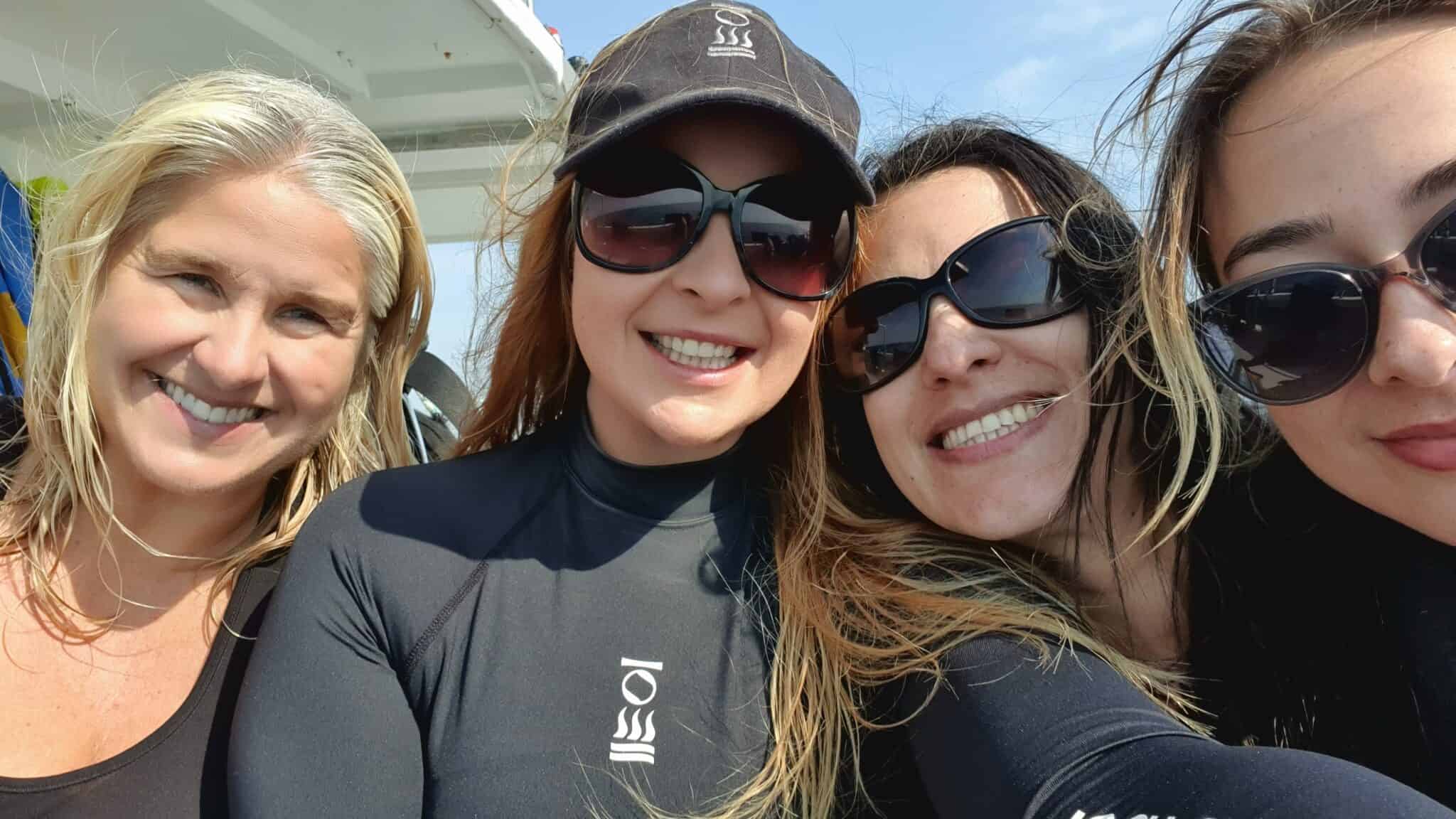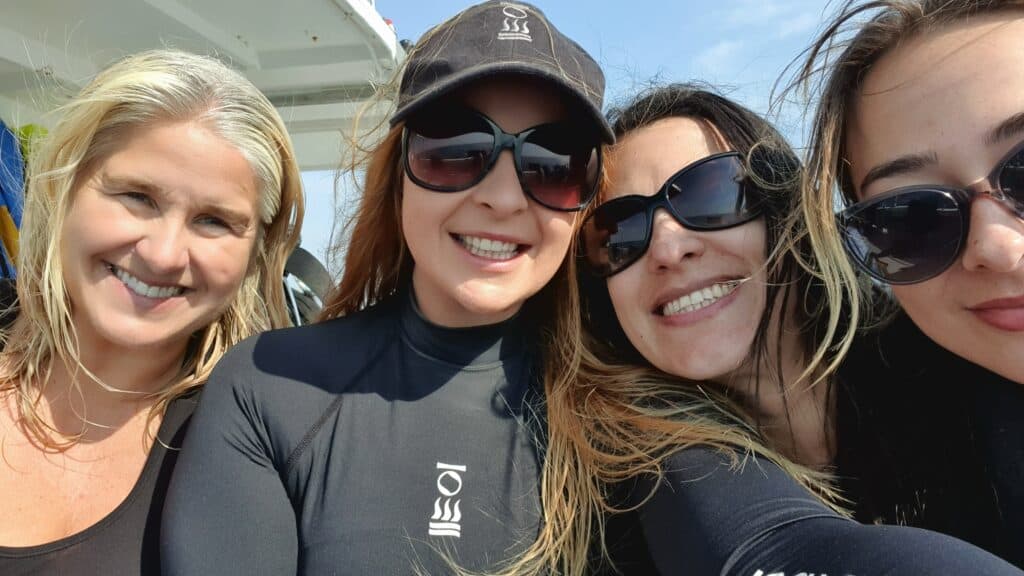 Be aware that you will have to carry your gear from the car park over to wherever your boat is stationed in the harbour, which can vary depending on the tides. There will likely be a lot of concrete steps to walk up and down at low tide – you certainly get your gym workout in here!
If you're diving for two days, you will also need to arrange for your cylinders to be refilled at the end of the first day. We took ours to Ilfracombe and North Devon Sub Aqua Club, who charged £8 per cylinder. Just note, they can get extremely busy especially when other charters are using them too. Be sure to ask how long to it will take to refill and either hang around in the club house with a beer or head off and grab some food and return later.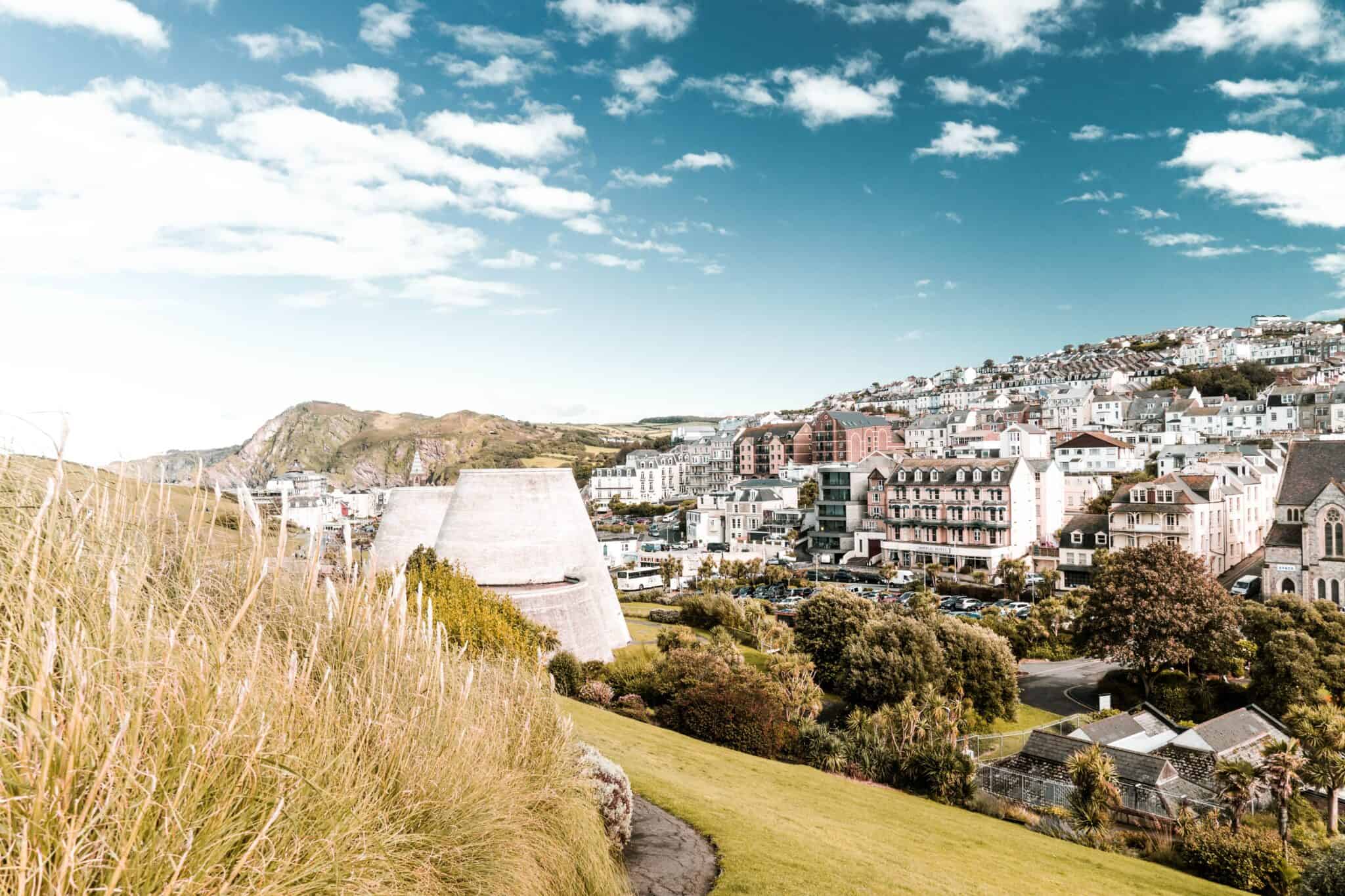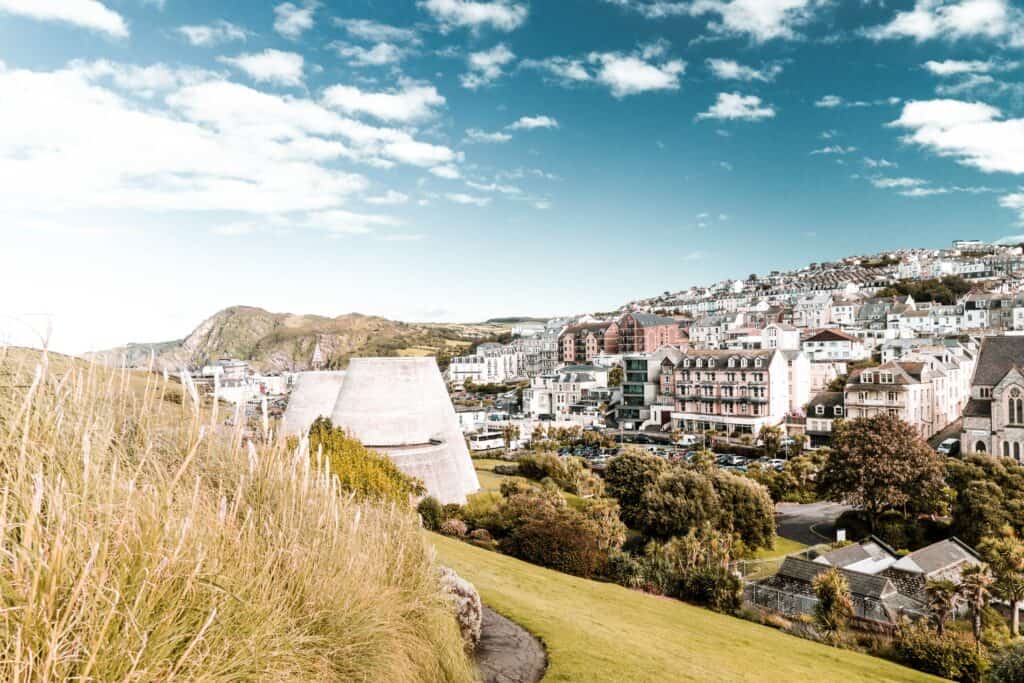 I'm going to be honest, Ilfracombe isn't the easiest place to get to, particularly if you have to use public transport – my friend experienced this first hand. She traveled from London to Bristol via train, and then from Bristol to Ilfracombe via National Express coaches. The main problem was carrying her gear from one point to the next, and then when she was dropped off in Ilfracombe, she was still a 15 minute uphill walk from our hotel.
Traveling by car is most certainly the easiest way. But be aware of the traffic on the motorways, particularly the M5 around Bristol. It was stop start for most of our way down from the North of England!
Whatever route you plan to take, and by whatever means, make sure you give yourself plenty of time and expect to be a longer than what your sat nav or transport schedule estimates – and even more so if it's a weekend or school holidays!
Best Places to Stay in Ilfracombe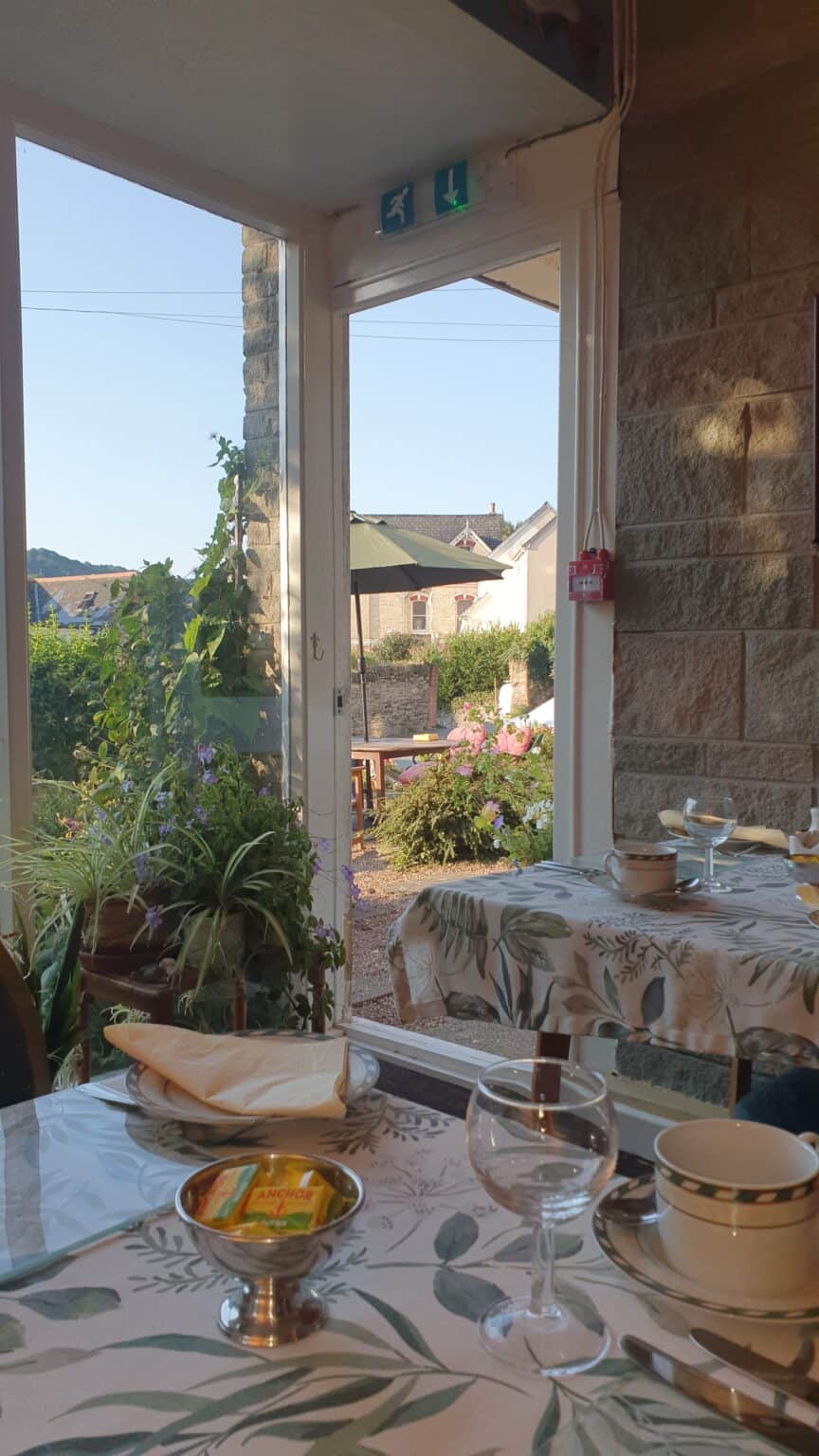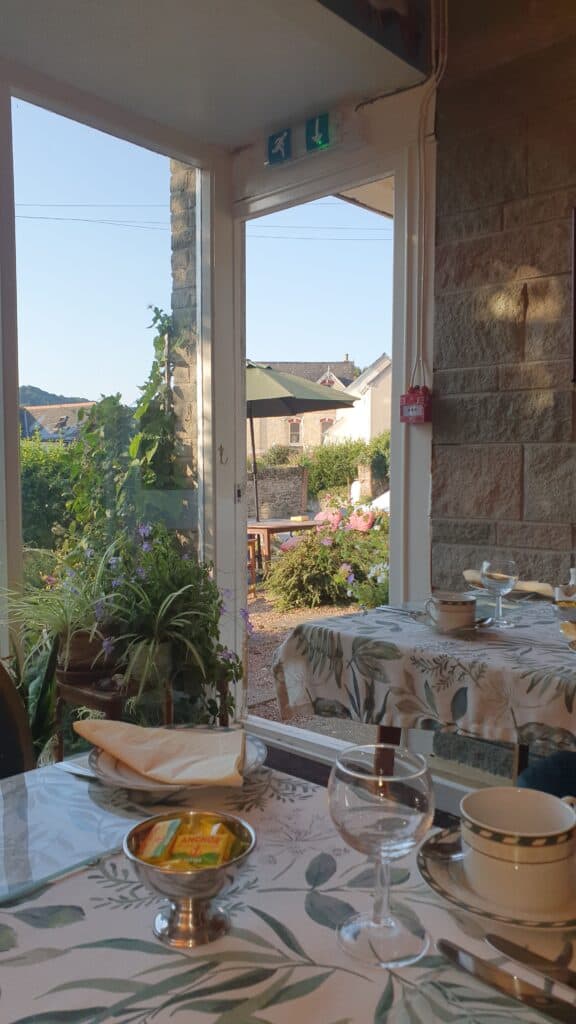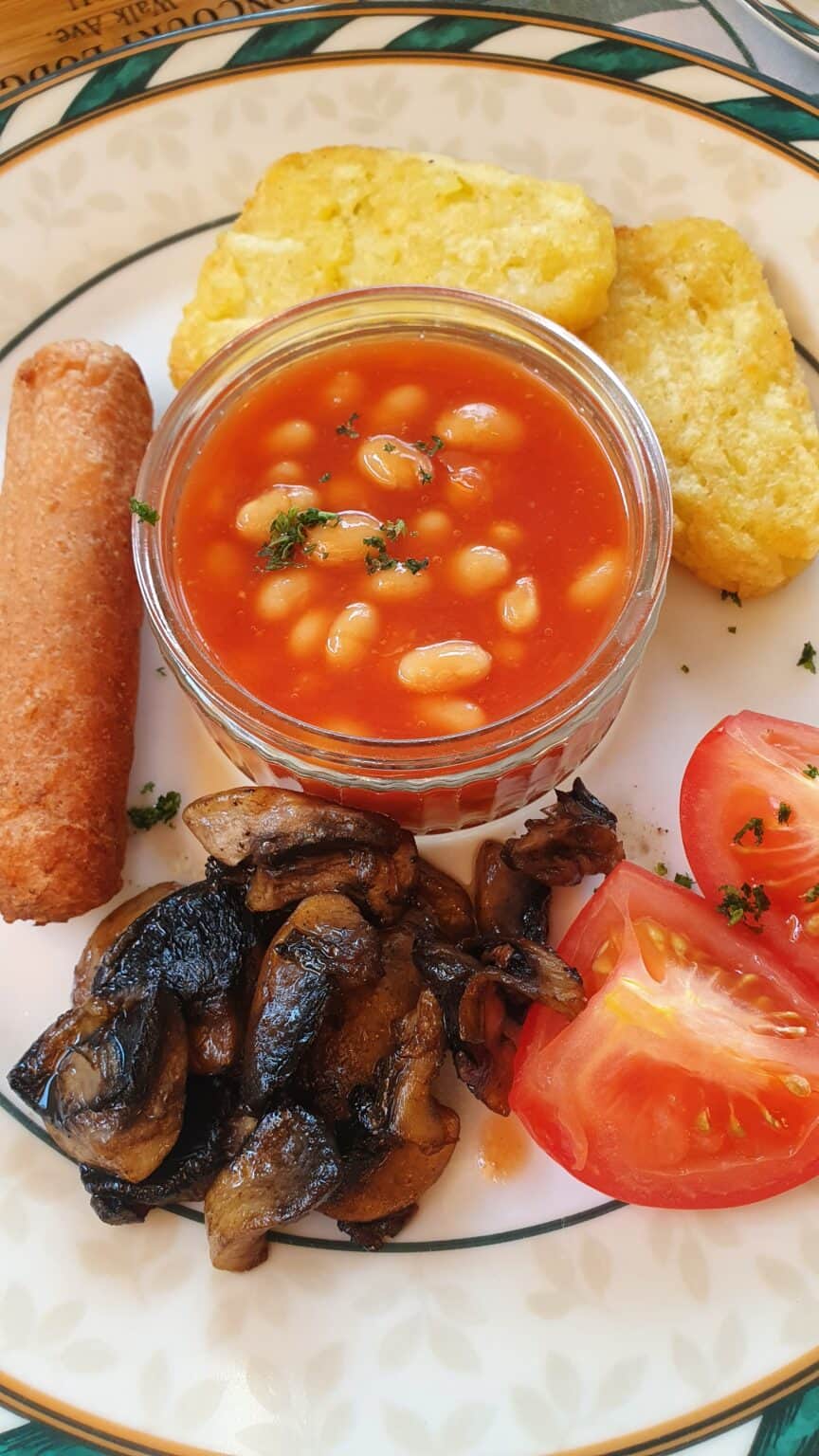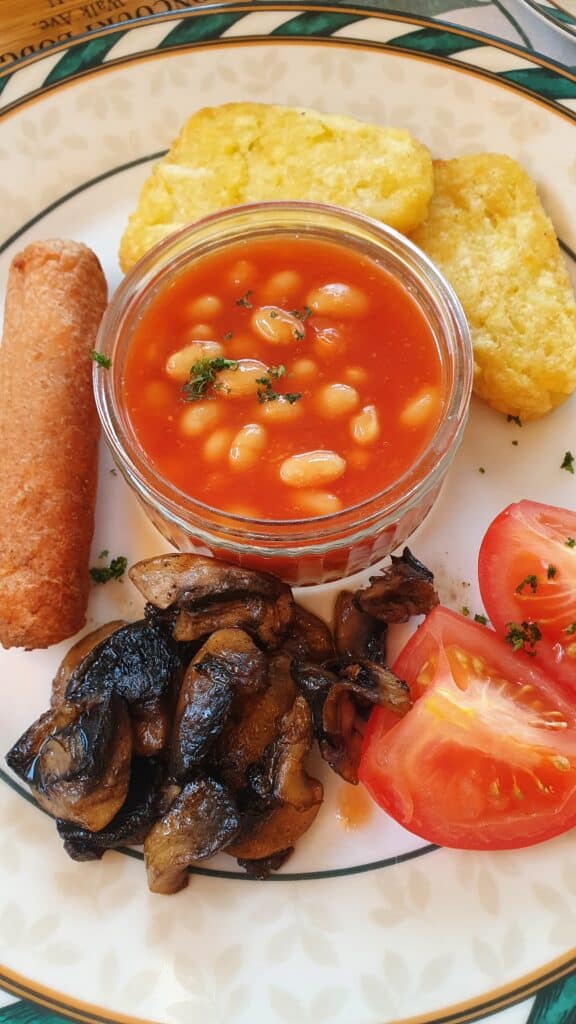 There are lots of great places to stay in Ilfracombe, however, like when booking your scuba diving trip, make sure that you book your accommodation well in advance too.
I've stayed at two very different places on my visits. A hostel named Ocean Backpackers and a lovely B&B called Avon Court Lodge. 
I paid around £30 per night for a shared twin room (£60 in total) at Ocean Backpackers and approximately £42.50 per night for a shared triple room per night (£85 in total based on two people sharing) for the stay at Avon Court Lodge.
The hostel was basic but clean and just what we needed for one nights stay. However, I thoroughly recommend booking Avon Court Lodge if you are looking for a bit more comfort and a lovely welcome. Alison, the owner, was extremely helpful getting us settled in and provided us with an incredible full English breakfast layout on both mornings in a lovely little breakfast room. The breakfast was also included in the price – just what we needed before a long day on the boat!
The only downfall of Avon Court Lodge was that it was a bit further from the harbour than the hostel, which meant we had to drive our cars down and park them at the harbour car park each day. But hey, at least we could park our dive gear close to the boat when we loaded up each morning!
The harbour car park, known as Pier Car Park, is the closest you're going to get to your boat. It's pretty quiet before 9am and there was always plenty of space. A days parking charge here is £11.70 and there are ticket machines to go to once you've parked up. I used the Ring Go app to pay – the car park number on this is 3633.
The Wonderful Wildlife of Lundy Island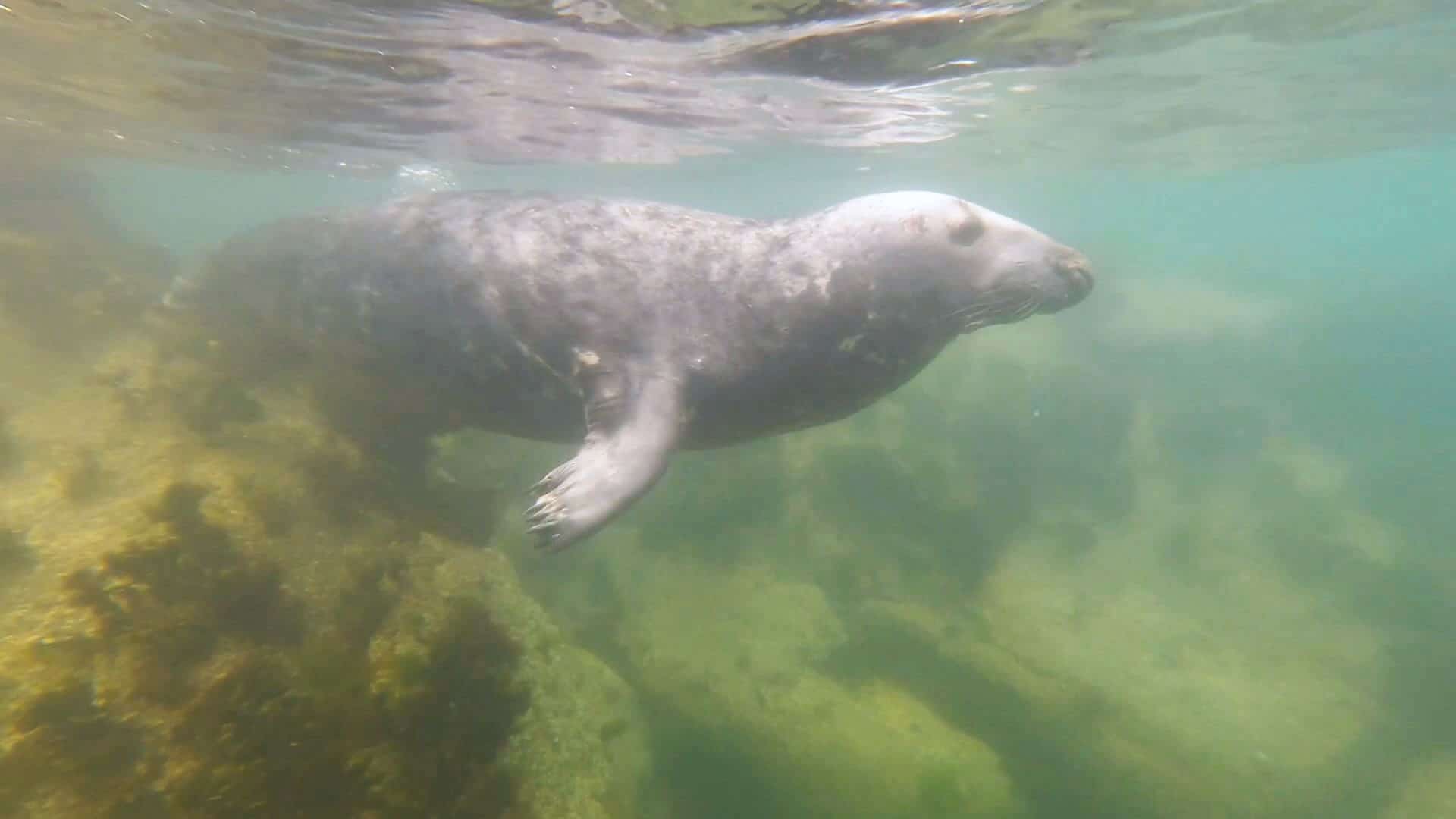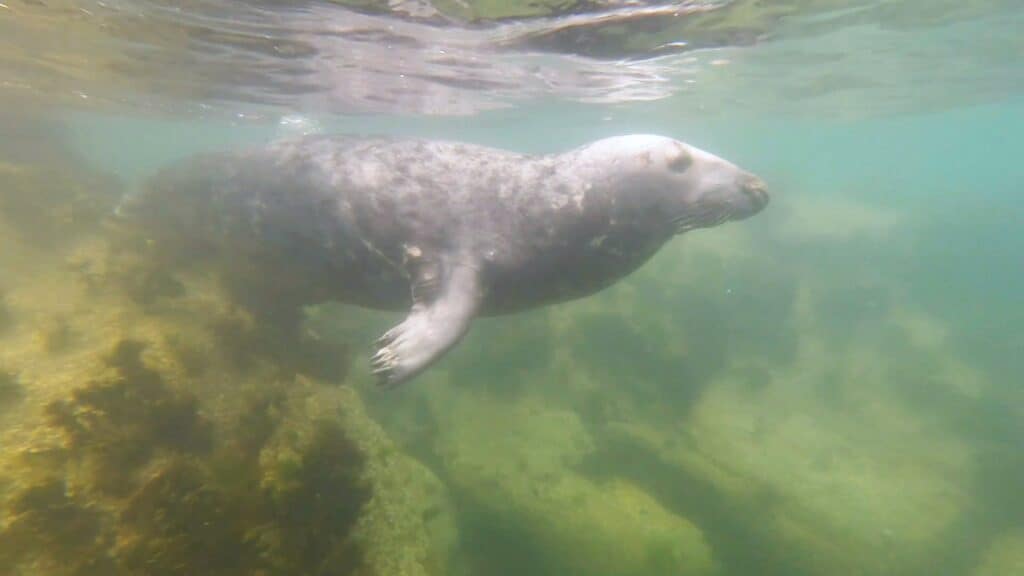 Scuba diving at Lundy Island is extra special. This is because Lundy is the UK's only statutory marine nature reserve, created in 1986, indicating the importance of the biodiversity in this area. The marine life around the island is incredible, with over 40 dive sites to explore.
Divers don't just go here for the Grey seals, divers visit the cool waters for the wrecks, the drop offs, the corals, reefs the numerous species of kelp and other wildlife. It's now a Special Area of Conservation and is well known for it's clear waters, spectacular underwater landscape and vital marine habitats.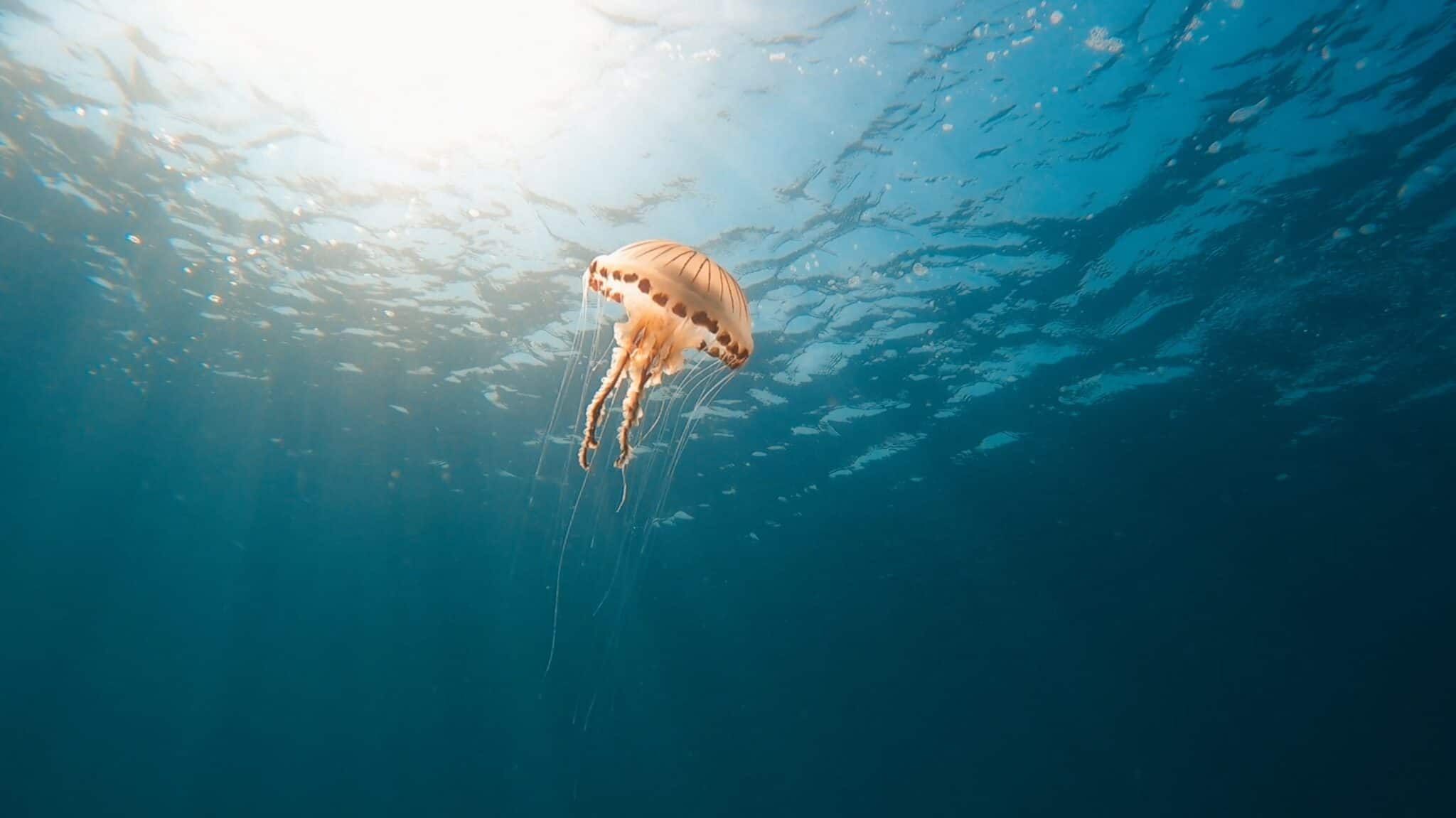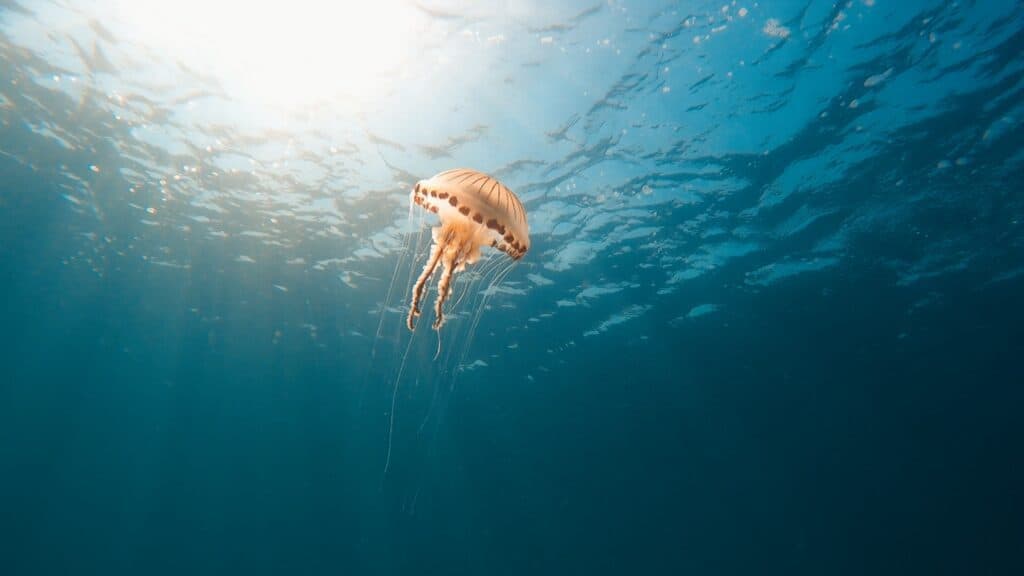 With its north-south orientation, the island acts as a breakwater across the flow of the tides up and down the Bristol Channel. Here, the clear oceanic waters that come in on the gulf stream mix with the warmer waters from the Mediterranean. It's incredibly unique position leads to the incredibly unique ecological evolution that this island is famous for. You could call it a mini British Galapagos.
It's one of the best locations for scuba diving that the UK waters has to offer.
It's not just Lundy that offers some great UK dive experiences, there are plenty of more sites across the country, including many that aren't so popular but just as great.  Head on over to my best diving in the UK blog to find out more.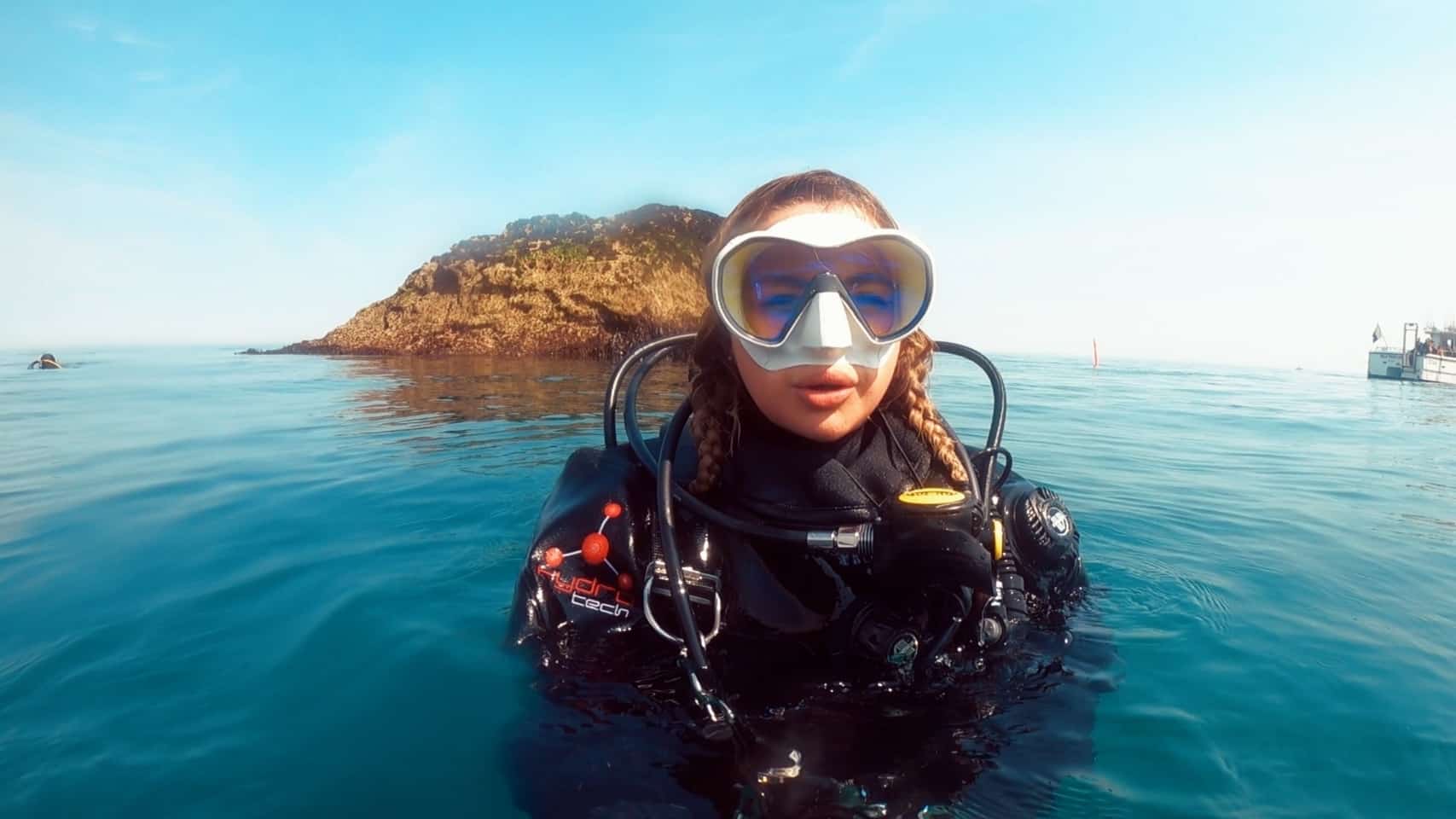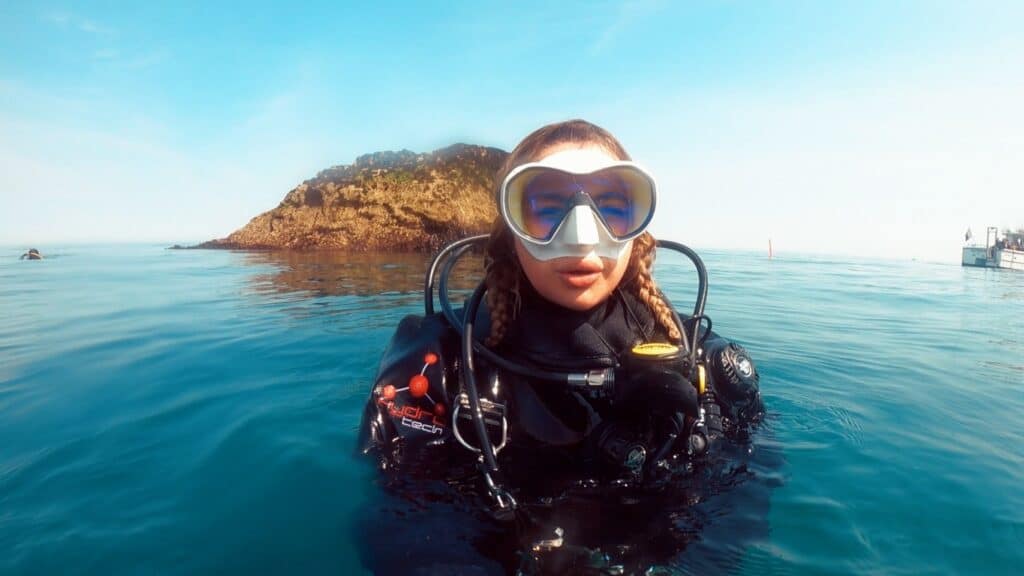 There are a huge variety of diving sites to suit every diver at Lundy Island, no matter what your interest. A lot are shallow and kelpy, ranging from around 8-10 metres. But others present pinnacles and drop off to around 30 metres, some are even deeper. The island is a granite outcrop, which helps create some spectacular views underwater whatever site you choose to visit.
Accessing the dive sites is usually quite easy once you're there. But this will depend greatly on the tide times and conditions. Your dive leader, or charter crew will be best placed to advise on what sites are suitable on the days you go.
We visited:
Knoll Pills

Jennys Cove

and two others I cannot remember the names of!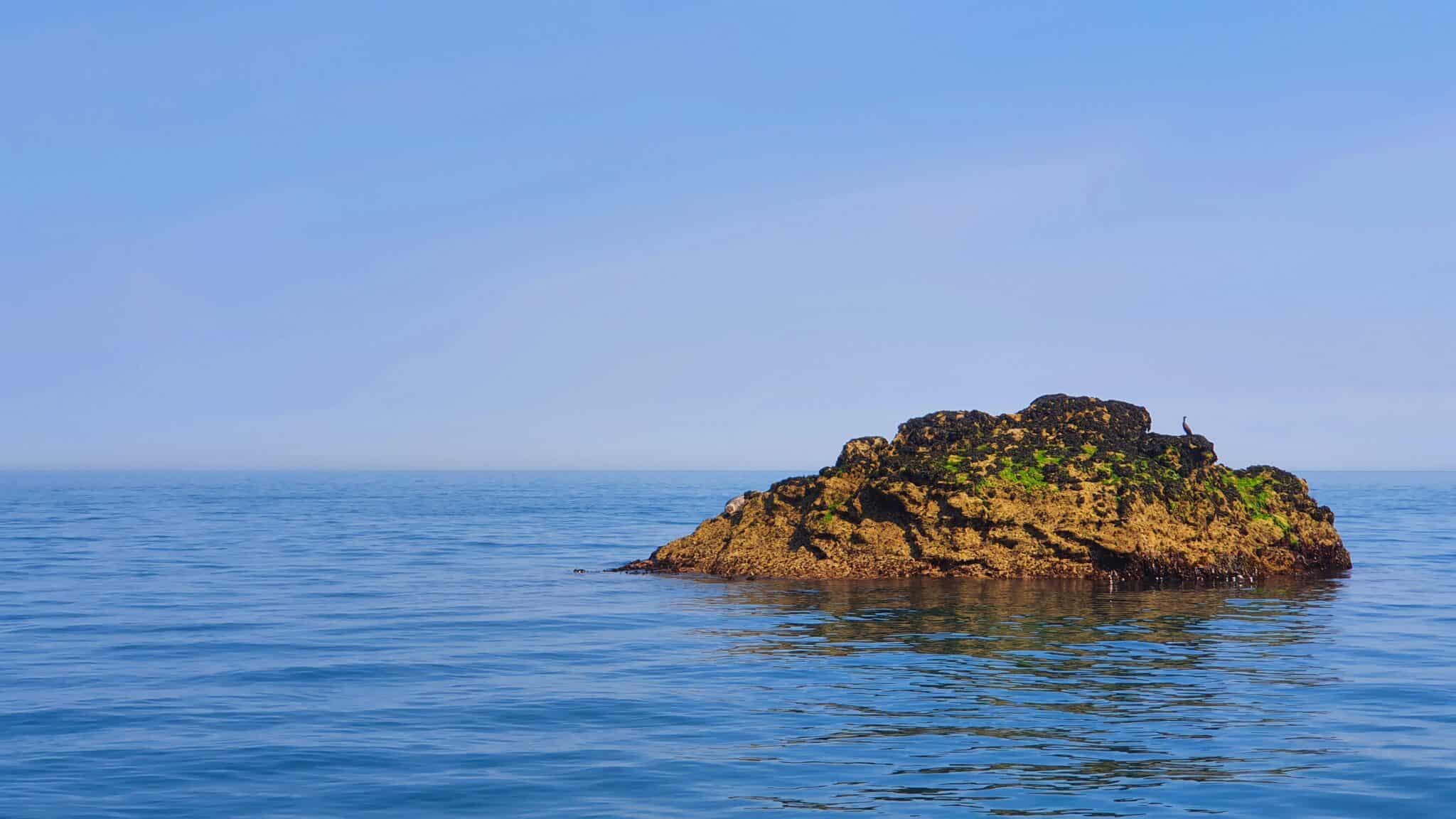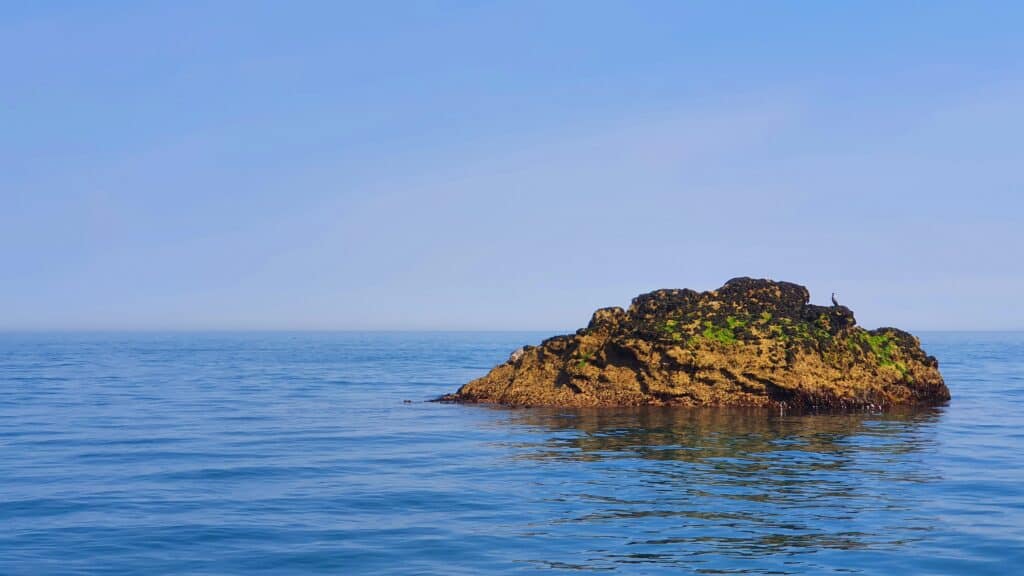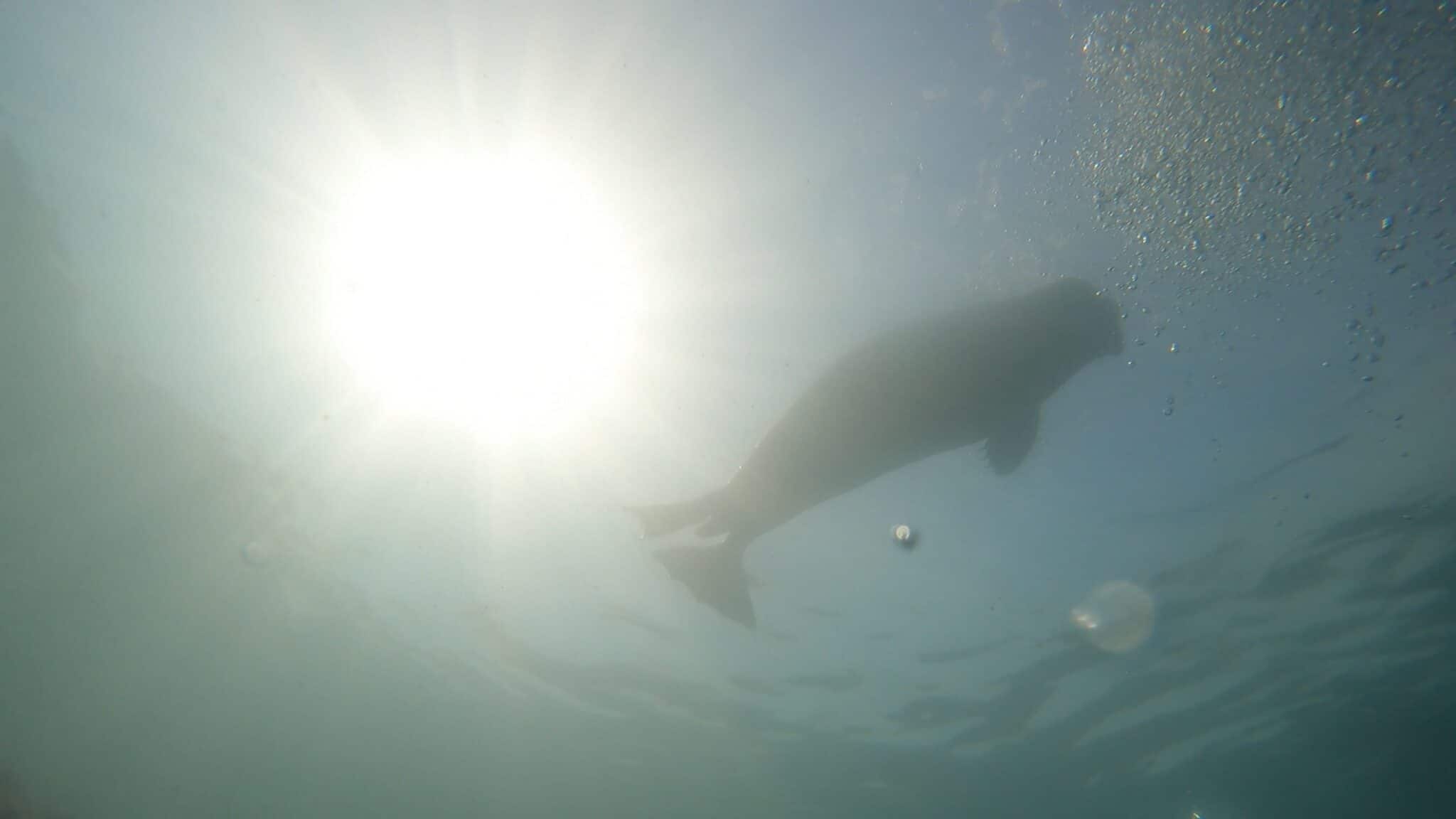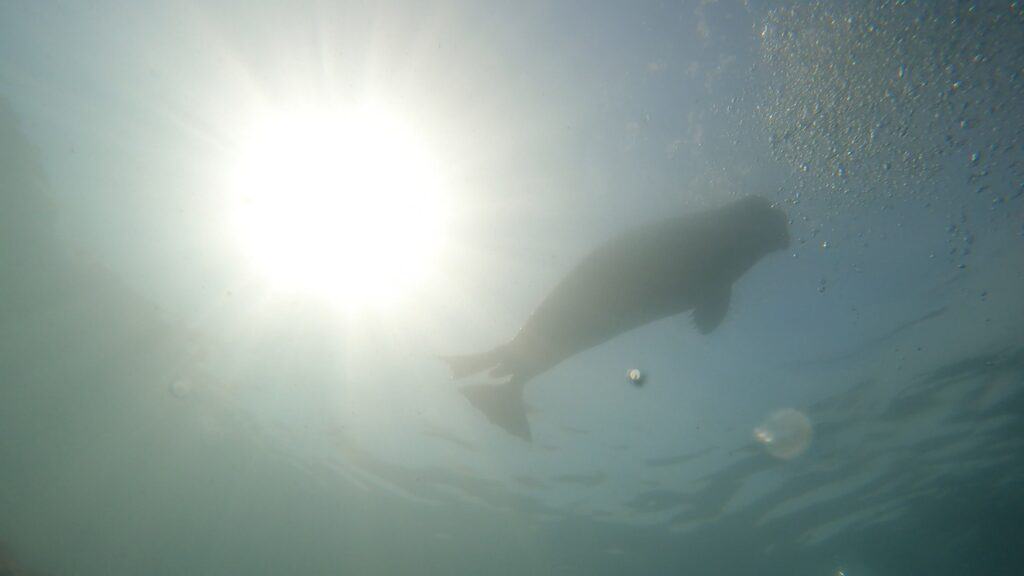 The conditions at Lundy Island are generally pretty good, with better visibility than most other UK coastal sites. But, as nature is incredibly unpredictable, it's not always the case!
My group headed out during a heatwave. Above surface, it was like being out at sea in the Maldives, somewhere tropical and far away.  The water was flat, blue and glassy, something not seen in the UK that often! To be fair, considering the weather had been calm and very hot over the week leading up to our trip, we all expected conditions below the surface to be good. This was not the case…
We had poor visibility the majority of our time underwater, especially beneath 5 metres, with strong currents that were quite exhausting to scuba in. My message here; don't be fooled by amazing conditions above the surface, prepare to be surprised once you start to descend.
Interacting with the Seals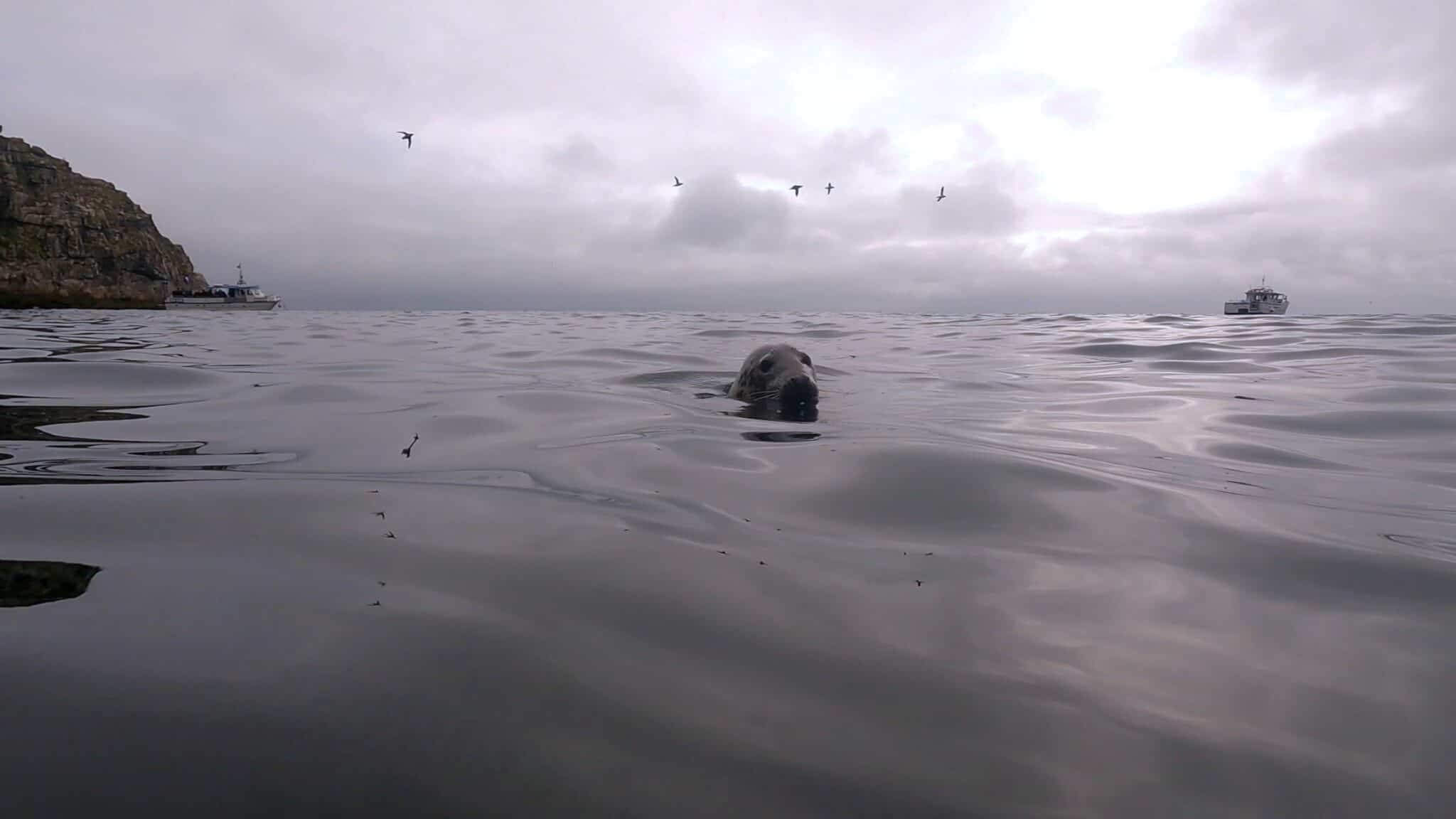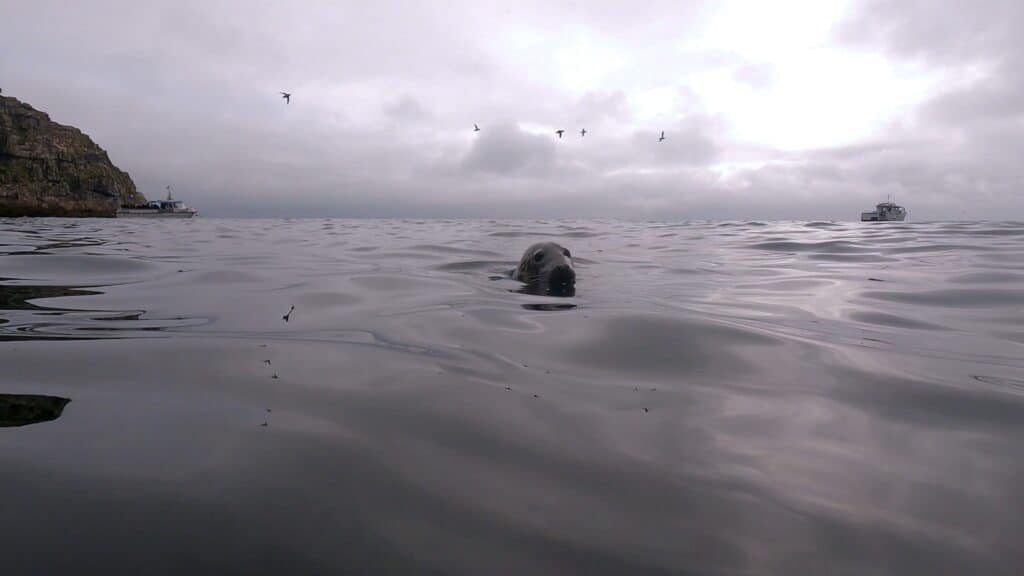 One of the main reasons people visit Lundy is to witness its population of Grey seals up close. They are quite habituated to boats, people snorkelling and divers. The seals are pretty chilled, and often very curious, coming up close to check you out.
I can't stress how important it is to not force any interactions. You will enter their world, their home and this needs to be respected. In actual fact, the seals become more interested in you if you don't give them the attention!
Don't enter or follow the seals into any enclosed spaces, crevices or caverns as you risk causing the seal to feel threatened.
The team on your excursion will let you know the best way of deterring the seals if they get to close for your comfort. This is usually done with a quick blast of bubbles from your octopus.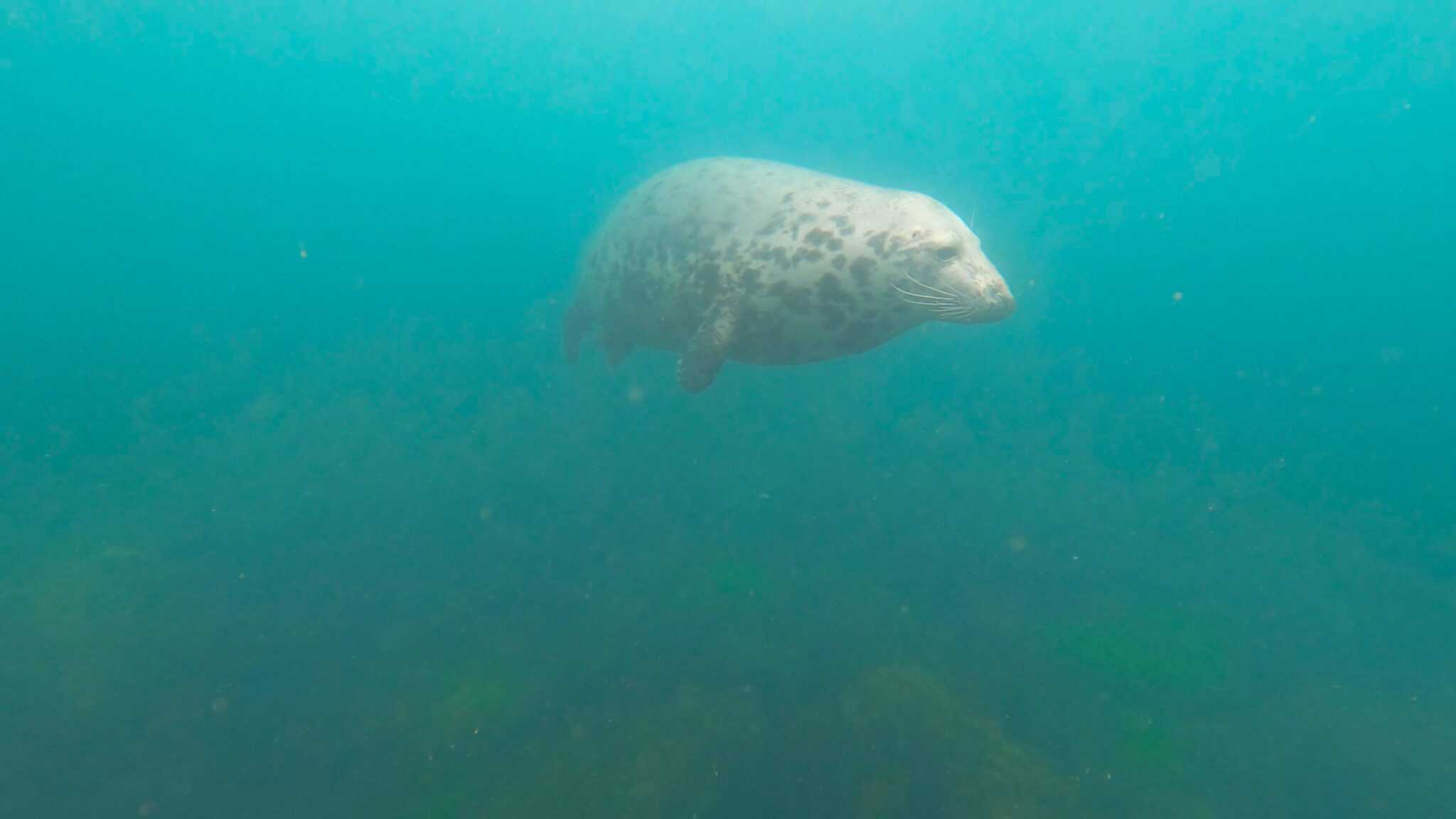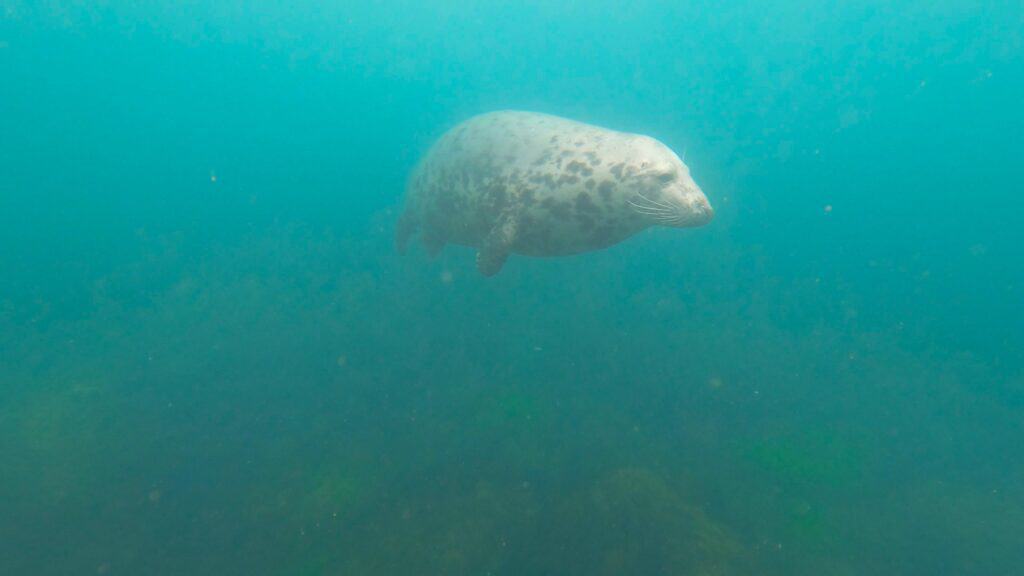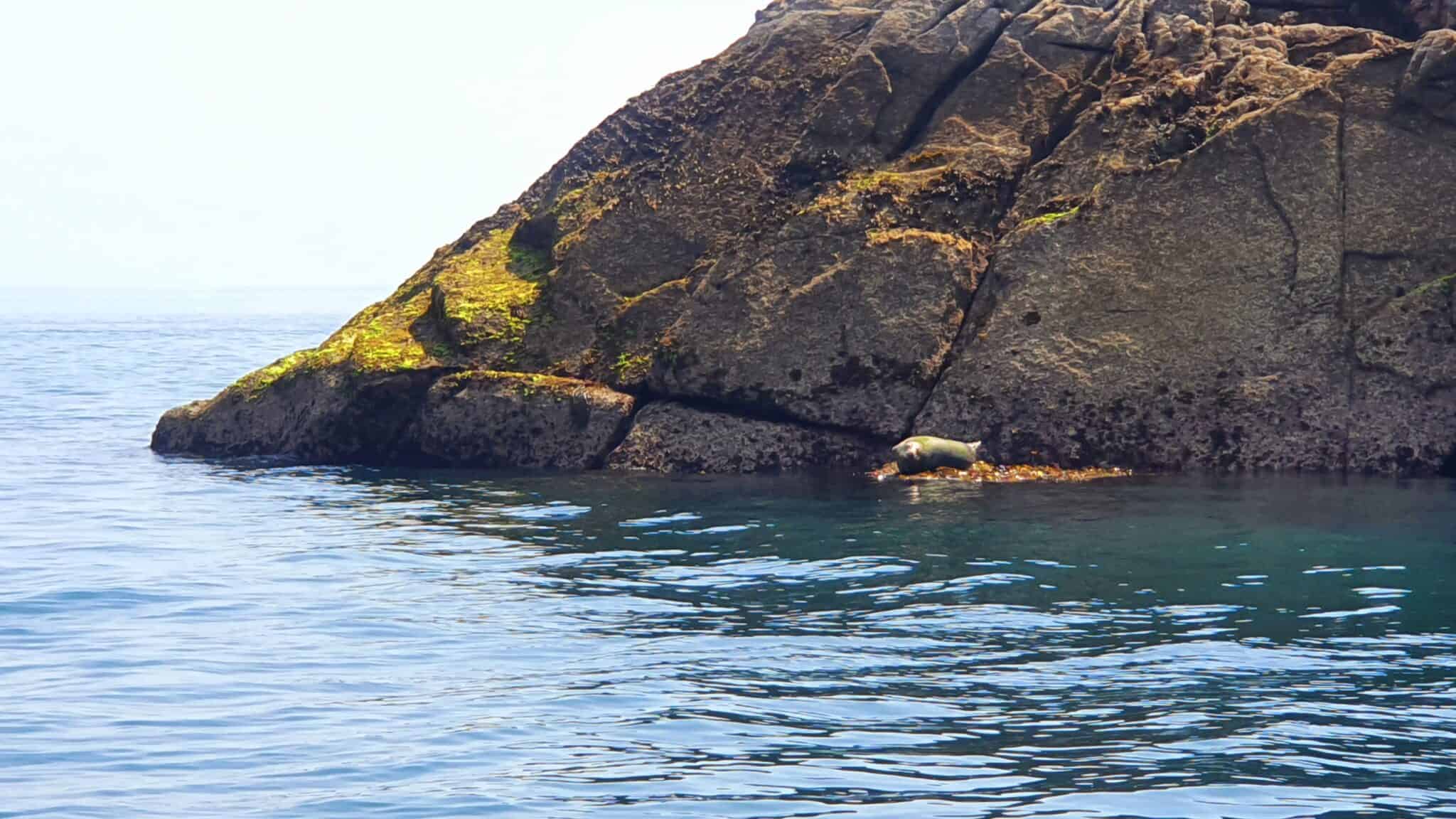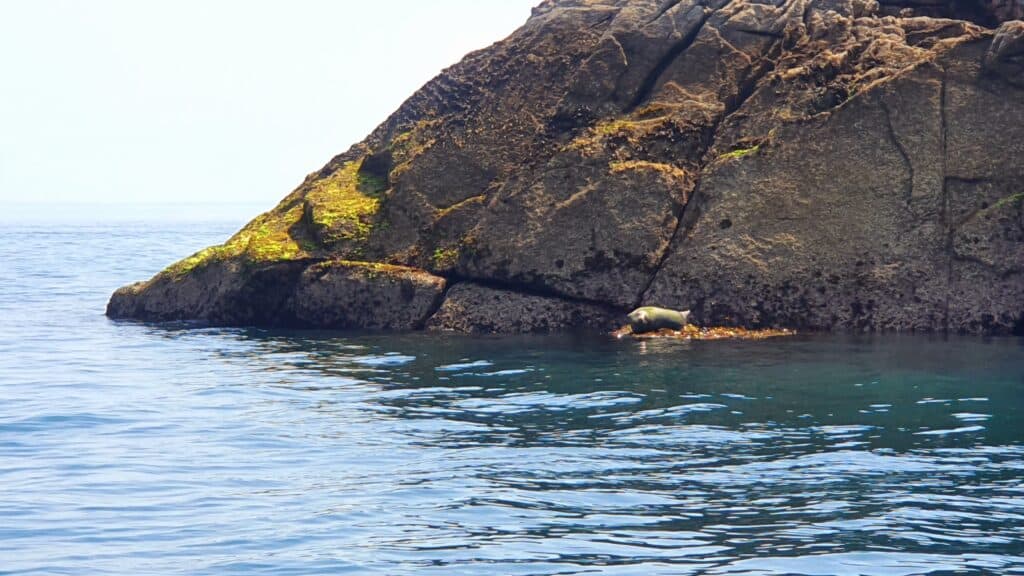 Unfortunately, on my last trip the seals were unusually lazy, spending most of their time on the rocks. Even others onboard that had been many times before said that they had never seen the seals this distant. As I mentioned earlier, we visited the island during a heatwave and it was unusually hot, hitting over 30 degrees celsius during most of the day. Weather like this could have been to blame for the lack of underwater action and the reason they spent most of their time basking on the rocks – but who knows!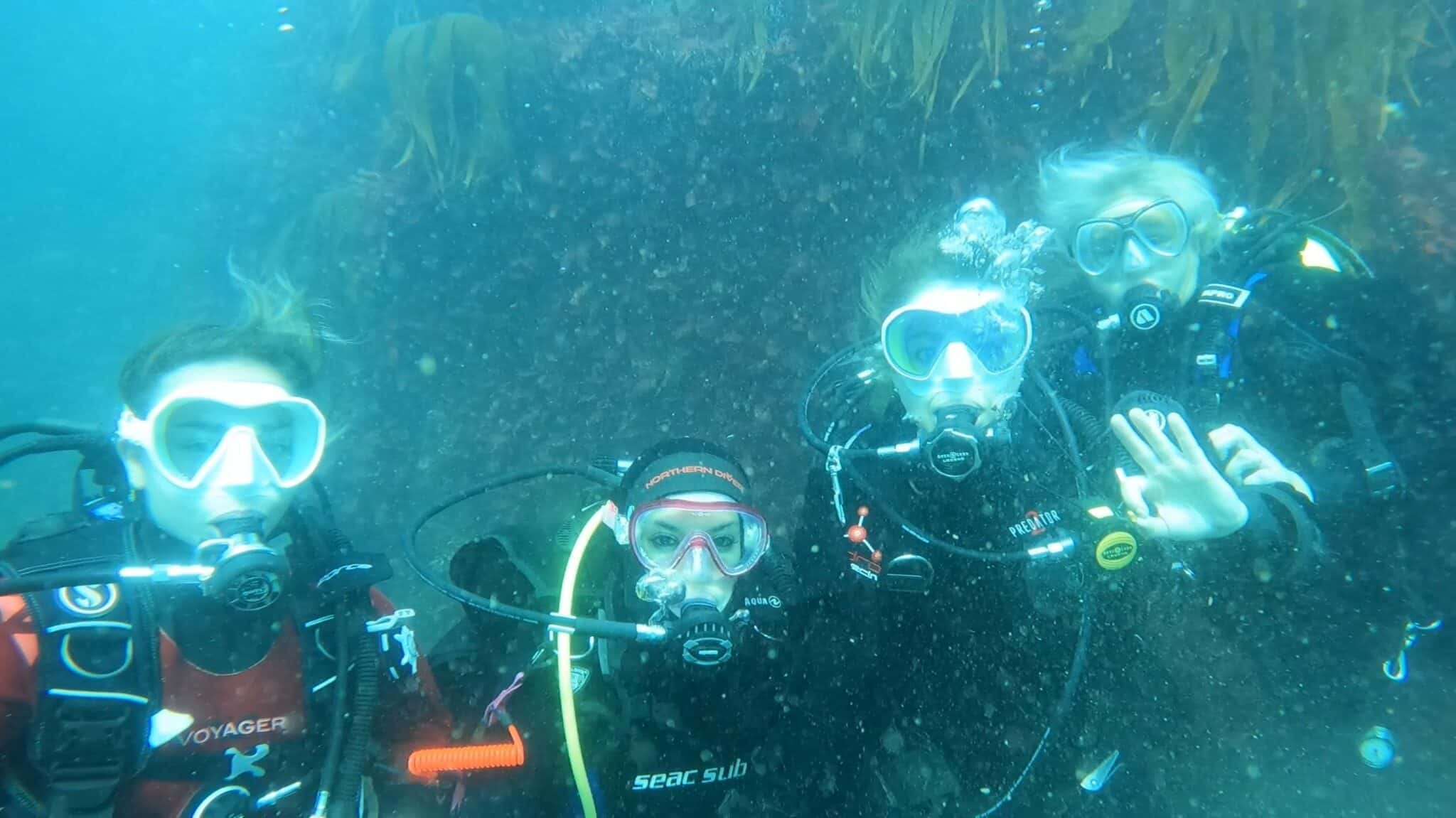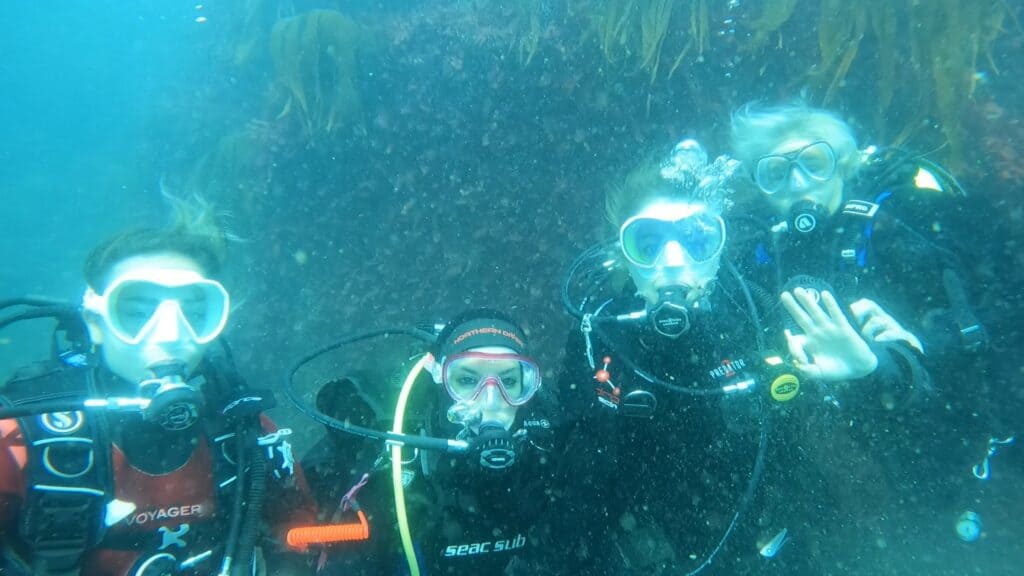 Aside from having low underwater visibility, and lack of sealy interactions, I would not hesitate to book another visit to this wonderful island. It sounds as though we were pretty unlucky with our visit, but at least we had tropical conditions to enjoy at the surface, so it could have been a lot worse!
Plus, I was diving with a fabulous bunch of ladies, who made the visit amazing.   Thank you Kate, Kerry, Andrea and Kayleigh for the giggles, food hunting and company underwater!
Remember to book well in advance, this includes booking your excursion, accommodation and even your evening meals. We had to resort to a harbour side chip shop on both nights as everywhere was fully booked or had stopped serving food by a certain time.
We are so lucky to have this opportunity along our coastline – it's a brilliant experience! If you have any questions, feel free to contact me on social media -Happy diving!
Recent Posts