Avoid this one common mistake that most newcomers make when searching for the best computer for beginner divers. You can also pick out easy-to-use, affordable and respectable models that I've listed.
Find out more about the features that you need to look for in this guide and review in 2023 and how to avoid wasting your money.
Best dive computer for new divers
09/22/2023 04:51 pm GMT
When weighing up your options for the top beginner computer, it's important not to fall into the same trap that most intro divers do. 
Don't look to spend over your budget or complicate things by looking at computers that are too advanced. If you're a newbie then eliminate the likes of the Garmin MK2 and Shearwater Teric and search for user friendly, durable and reputable beginner options.
Best Dive Computer for New Divers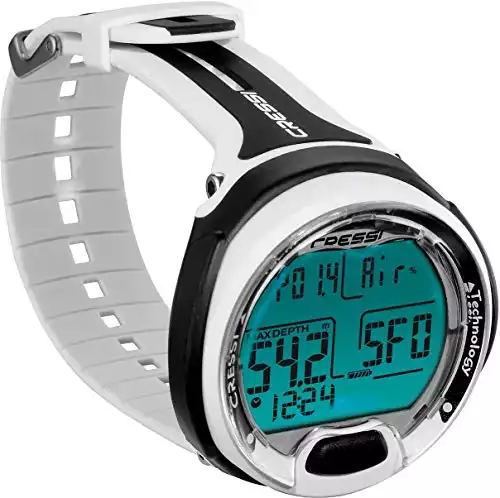 The reputable brand respected by all divers has provided us with the most suited and affordable computer for new divers. 
The Cressi Leonardo was designed with beginners in mind. That's why you'll have an easy time navigating the one-button interface. 
Thanks to the massive 67mm screen and easy-to-use design, you can access everything at a moment's notice. There's a decent backlight for this budget, and you will have no problem seeing murky waters, but it doesn't compare to the top-tier computers.
It has a 70-hour logbook that keeps your diving data safe, and the computer is available in multiple colours.
Take a closer look at my full analysis in the Cressi Leonardo review.
Modes: air, nitrox, gauge
Max Depth:  393 ft
Air Integration: No
User Replaceable Battery: Yes
Best for dive compass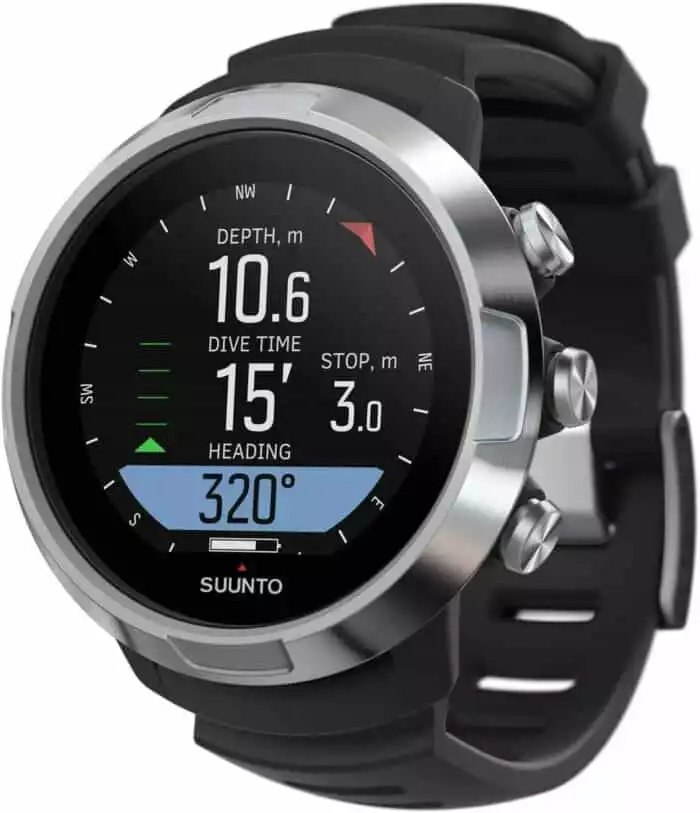 Suunto D5 Steel Dive Computer
Pros:
Easy to set up​

Suitable for all levels of divers from beginner to advanced​

Powered USB port to re-charge battery​

The colour screen is easily one of the most impressive on the market for its price
Cons:
No replaceable battery, any battery issue requires their service
Check Price on MDS
Check Price on Scuba.com
We earn a commission if you make a purchase, at no additional cost to you.
The Suunto D5 is great for beginner divers and experienced pros alike, it's actually sought-after by many experienced divers and was my go-to for years (my ultimate kit list).
It is instantly comfortable to strap on, making it suitable as a dive computer and an everyday watch. It has air integration and can reach up to 328 ft in depth.
A notable feature I think is ideal for beginners is its in-built compass. While it may seem a little intimidating for novice divers, It is straightforward to get to grips with.
Interestingly, you can't always guarantee a compass in even the best dive computers on the market.
The fact this scuba diving assistant arrives with several dive modes, too, makes it one of the most balanced options out there.
Now, where the Sunnto D5 falls short is that it doesn't have a replaceable battery. Instead of swapping it out when the charges run dead, you will have to send your battery to a service centre, which can be a pain. I haven't had to do this as mine (touch-wood) has been reliable even to this day.
However, the Suunto D5 it more than makes up for this with its extensive dive modes, including air, nitrox, compass, gauge, and free dive. 
I share more on how to use the compass and details on the battery in my review on the Suunto D5.
Modes: Air, nitrox, freedive, gauge, watch
Max Depth: 328 ft
Air Integration: Yes
User Replaceable Battery: Not user replaceable but re-chargeable
user friendly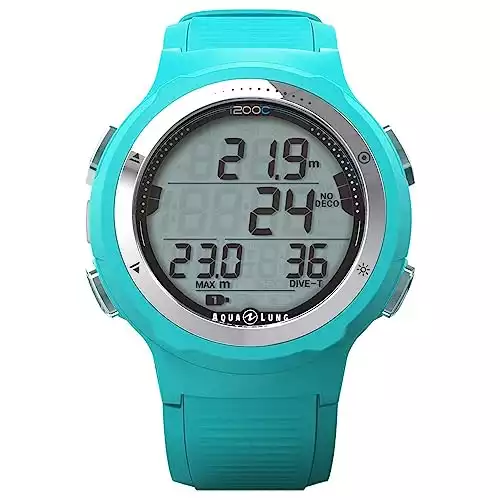 If you're a nervous diver, then the Aqualung i200 could be the perfect dive computer as you get to grips with how the technology actually works. It comes with a fantastic LED alarm light that's easy to spot at any point. That way, you can rest assured that you are always within your dive limits, and you explore the deep blue! 
It also comes with four dive modes, including air, nitrox, gauge, and free dive. You can even switch between nitrox mixes, should you desire to! 
Once your Aqualung i200 runs out of battery, you'll be glad to know that it's easy to change by yourself. As mentioned, this isn't a given for any dive watch, but I think it's a massive asset for beginners looking to find that perfect fit.
It works with Bluetooth, so it's easy to get your dive data when you need it. Sadly, you will have to download it pretty frequently, as the device only holds 20 hours worth of dive data. Just keep syncing it up after your dives and you'll likely be fine.
As dive computers go, this is probably the one that most resembles a normal watch. It's pretty comfortable and suitable for both diving and everyday use. I like it as one of the best dive computers for beginners as there's not much of a learning curve.
Finally, an extra bonus point for this dive computer is that it comes in multiple colours for both the strap and the case. If underwater fashion matters a lot to you, you're spoilt for choice.
Are you interested in finding out more? Yes? Then take a read of my full i200 review.
Modes: air, nitrox, gauge, freedive, gauge
Max Depth: 330 ft
Air Integration: No
User Replaceable Battery: Yes
Great dive computer for beginners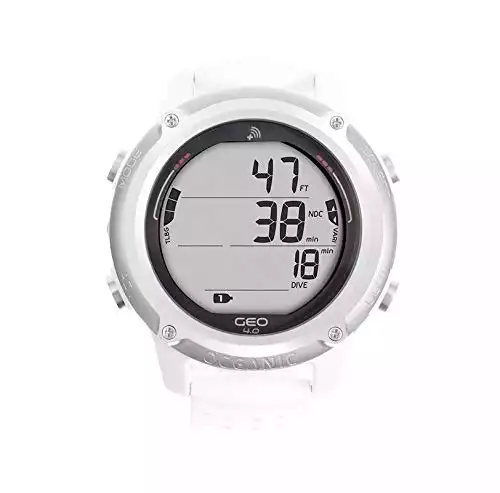 The Oceanic Geo is yet another very easy-to-use dive computer, ideal for beginners who aren't sure how the tech might help them during exploration. It has a one-button interface with four different dive modes: watch, normal, gauge, and free diving. 
One of the best points of this dive computer, specifically for new divers, is that it has a history mode. You can easily see the number of previous dives you have taken, your total dive hours, and the maximum depth you have reached. This is a great way to track your diving and your progress.
If you're set on really improving your skills, the Oceanic Geo outstrips many of the other beginner dive computers for learning on the go. While it's not necessarily the cheapest dive computer on the market, few others give you this much patience and support. I wish I'd used one when first starting to scuba dive!
This particular dive computer also has two kinds of alarm, both audible and visual. This is great for divers of all experience levels, and ensures that you get the message (whatever it may be)! 
Finally, the battery is user-replaceable, and the watch itself has an auto-update system, ensuring you always have the latest version, as you would with any smartwatch. The dive log memory isn't the longest of all the dive computers on this list, but it should satisfy most beginners' needs.
Modes: air, nitrox, gauge, free, watch
Max Depth: 328 ft
Air Integration: No
User Replaceable Battery: Yes
Best budget dive computer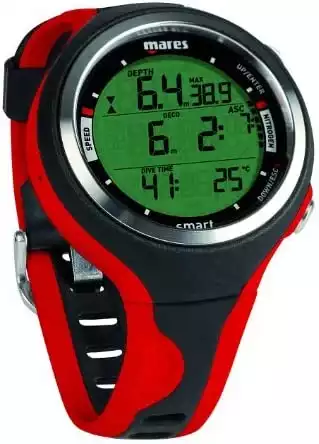 Finally, the Mares Smart is the perfect day-to-dive computer. It's shaped and weighs about the same as a standard watch, making it very comfortable to handle outside the water. Not all scuba diving computers can say the same, so it's already impressive out of the box.
The most interesting feature here for new divers is its scratch-resistant mineral lens screen. This means that no matter how many rocks you may run your hand across, ropes you follow too closely, or knocks you suffer during the day, your screen will remain intact and perfectly easy to read! 
Most other dive computers provide screens that are easy enough to read, but the Mares Smart Dive is one of the most resilient. I'm genuinely impressed.
The screen is divided into three different sections, making it easy to scan and get the information you need at a moment's notice. That's handy in and out of the water.
It has a two-button interface system that shouldn't take you long to get accustomed to, and one of its best qualities is its 40-hour logbook. While that may be a little short for dive professionals, it will more than do for recreational divers.
Modes: air, nitrox, freedive, gauge
Max Depth: 492 ft
Air Integration: No
User Replaceable Battery: Yes
Best Dive Computers for Beginners Reddit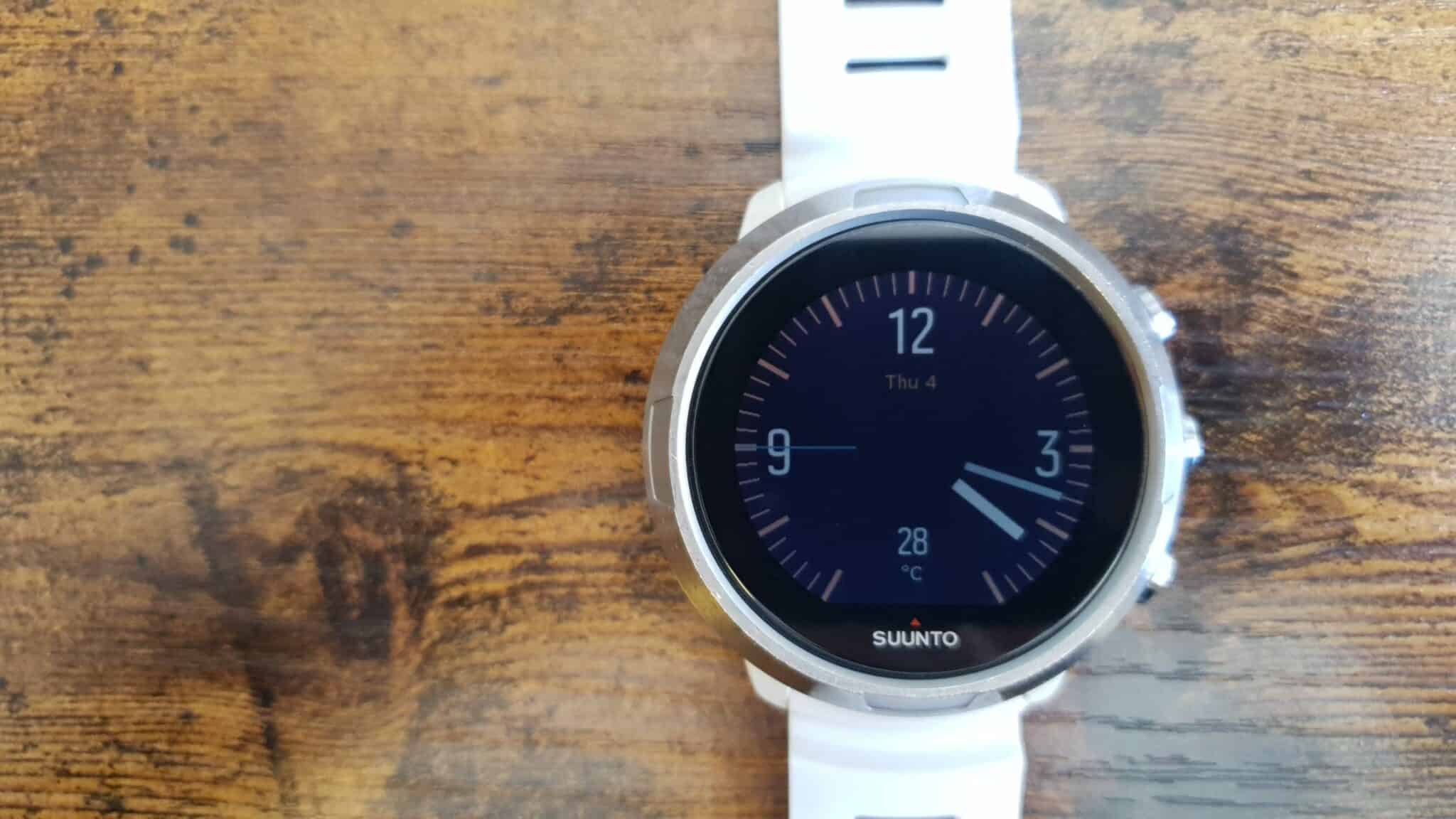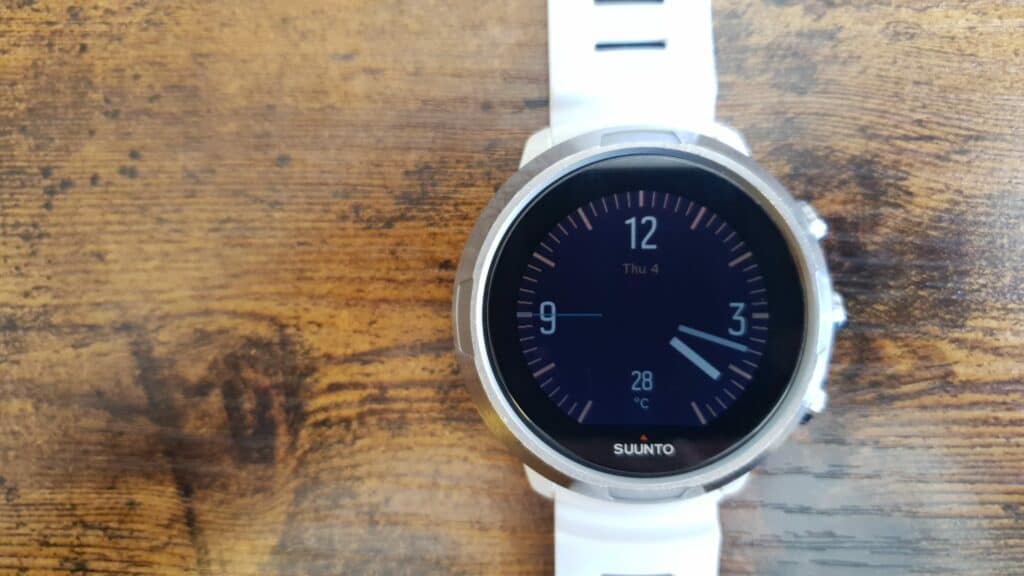 If you check Reddit, you'll see that many beginner divers are big fans of Suunto dive computers. They're inexpensive, easy to use, and generally hit the mark regarding build quality.
The main concern for most beginner divers (as Reddit shows) is the cost of a dive computer. 
While diving is a fantastic hobby (and profession) to get into, it can be expensive. While you may love going on diving expeditions when you're on holiday, it's not the same as actually devoting time to the passion. That's why making an investment such as one of a dive computer can be a little daunting for novice divers. 
However, you don't have to make such a huge investment if you don't want to! In fact, opting for an expensive dive computer straight out of the gate would be a huge mistake. Firstly, it would likely be a waste of an investment if you don't get out to dive as much as you might have initially anticipated.
Secondly, some of the most expensive dive computers tend to have all of the advanced bells and whistles professional and advanced divers are looking for. That makes them pretty difficult to navigate if you're just starting out, and pretty tricky to understand.
I'd seriously recommend you look for an advanced dive computer a year or so after you first start. Reddit seems to agree!
What to Look for in an Entry Level Dive Computer
Though there's no true 'best dive computer for beginners' (as we all have different needs), there are a few dive computer specifications you should look out for if you've never bought one before.
The first thing you're going to want to look for in an entry level dive computer is that it is easy to use (which isn't always easy to spot on the surface). Scuba diving can be intimidating at the best of times, and you need equipment that you can rely on.
However, being able to understand your gadgets is just as important! New divers don't want to get frustrated or worried underwater trying to understand what their dive watch is trying to tell them.
Beginner dive computers don't necessarily need all the features advanced divers are looking for, either. Most of the time, all you'll need is all the basic features beginner scuba divers will require (such as ascent rate alarms, a user-replaceable battery, multiple operating modes, and ideally a digital compass and the option for air integration function).
Having all of this with as few buttons as possible – and a screen that's easy enough to follow – should tick all the right boxes.
As a new diver, the last thing you want to be worried about is the battery in your dive computer. You need to know that your new gizmo will stick with you throughout the entirety of your dive, and that the battery will not need replacing every few months! 
Unfortunately, not all dive computers are so user-friendly. Extra tech and features often come at the expense of battery life, whether you're in freediving mode, nitrox mode or otherwise. Always trust user reviews from people who have taken a computer underwater when it comes to battery life – not just the manufacturer spiel.
The best dive computers for beginners also have a user-changeable battery. That way, when it does become time to change it, you don't have to worry about sending it off to a supplier and having to pay a fortune!
Instead, you can just head to the nearest supermarket or open up an online store on your phone and order the battery you need, when you need it.  There are tons of videos online to guide you through the process too.
As you're exploring the underwater world, it can be easy to get distracted. You can suddenly forget to check the vital information on your watch-sized dive computer, such as your ascent rate, the amount of air you have left, your depth, etc. 
That – unfortunately – could prove fatal. Even a full featured dive computer needs a solid alarm setup to keep you up to speed.
The best beginner dive computers come with visual and/or audible alarms, to keep their scuba diver up to date about any essential information and warn them should they wish to dive deeper or stay at depth longer. You no longer need to worry about cutting things short or making wild guesses, either.
The best scuba diving computers keep all of your important dive data for as long as possible, and let you create a dive profile that's easy to monitor. Your dive profile will essentially show your current depth and no decompression limit, how much time you have spent in the water, your current dive mode, water temp etc.
Again, this ties in nicely with the alarm functionality – it's all about keeping you up to speed on what's happening. If you start getting into technical diving, you'll realise that the more information you have, the better.
Most dive computers can hold your previous dive information, too, giving you ample time to download the dive log for your own personal use. Dive data memory can vary from watch to watch, so be sure to compare.
Dive profile information can also help you to prevent decompression sickness – pretty crucial!
Best Budget Dive Computer for Beginner Divers
For the best budget, full-featured dive computer, your best option is certainly the Cressi Leonardo. It is by far the most affordable dive computer, yet does not skimp on features and detail.
This dive computer design is perfect for novice divers who need something that's easy to read, quick to acclimatise to, and likely to withstand years of use. And, of course, you're looking for a great value deal.
As well as being highly affordable, the Cressi Leonardo competes with the best of the rest to support your dive time.
Best Beginner Computer for Technical Divers
If there were to be one perfect advanced dive computer for beginners, I would be quick to choose the Suunto D5. It has a healthy array of dive modes, is easy to learn, affordable, and arrives with the Suunto stamp of quality. Suunto is well-known and is a popular choice amongst professionals, dive schools, and beginner divers. 
It can reach an impressive depth, arrives with an in-built compass, and actually feels comfy in and out of the water. The tech specs are perfect for advanced diving. Of course, with the Suunto D5, you can easily cycle through multiple diving modes, including the freediving mode, nitrox mode, gauge mode, and switch to air dive mode. It's a dive computer that will grow with you.
First Dive Computer for Recreational Diving
The right dive computer for recreational divers should be comfortable, reasonably priced, easy-to-use and not crammed full with unnecessary features. 
For that, you could pretty much turn to any of the above, including the Oceanic Geo, the Cressi Leonardo, and the Mares Smart. The Mares Puck Pro is also a good candidate to consider (though it didn't make it to my list this time around).
Beginner divers don't need wireless air integration. It lets you keep check of air you have left without consulting the gauge – but it's a bit of an extra tweak.  It is also necessary to get used to reading from your SPG before you look to integrate this into yur dive computer.
If you want to know more about the best air integration watches on the market, I've put together a handy guide you can follow!
The best dive computer depends on what kind of diving you do (professional, recreational, or tech diving), what features you need, whether you want the dive computer to work solely as that or as your everyday watch, too (which many dive computers do), what kind of style you're looking for, and, of course, what kind of budget you have. 
That's a lot to consider. It's also why there's no real contest. Though, if you've checked out some of my other dive computer guides, you'll know there are a few options pretty close to my heart.
Take a look at this article where I review some of the top computers for diving. Until you have a few years of experience in scuba diving behind you, it might be tricky to know what the best-ever computer actually looks like!
Ideally, you should spend around £150-£200 on your first dive computer. As you may know, dive computers can cost well over £500 depending on the make and model. 
For entry-level scuba divers, it can be tempting to opt for the cheapest dive computer they can find. And, while you don't have to spend anything near £500, it's worth investing a little into quality dive watches. 
As you can see from the watches mentioned above, you can get a quality entry-level dive computer for up to £250, which is a good budget to keep in mind for this part of your scuba gear!
Try and opt for brands that you recognise and those that are well-reviewed. There are plenty of 'dive computer for beginners' options out there under manufacturer names that are pretty shady – don't just pay a low price because you're a novice.
Recent Posts