There is no better feeling than getting out of the water after a cold water swim and cosying up inside a changing robe. In fact, there is, add a hot cup of tea to that mix and you've got yourself a perfect de-stressing and mind boosting formula.
Most DryRobe alternatives tend to share similar features. But there is one brand that has stepped up the changing robe game and smashed the next level.
The Vivida all weather puffer changing robe has hit the market with a storm, adding a number of thoughtful features to make you feel like you are cuddled up within a floating cloud. Bliss.
Read on to discover the details in my Vivida Changing Robe review.
BEST FOR LUXURY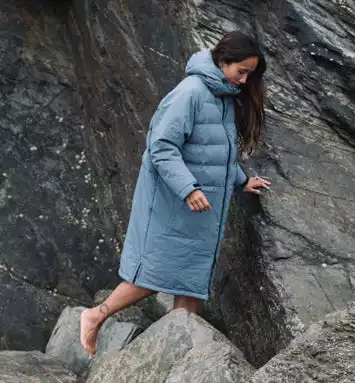 Why Do I Need a Vivida Changing Robe?
If you are a fan of luxury, and appreciate little additions that can make a huge difference, then this robe is certainly for you.
Vivida Lifestyle is a community philosophy and lifestyle built for you supported by many verified customer reviews.
The lovely people at Vivida Lifestyle were kind enough to send me one of their All Weather Puffer Changing Robe mineral blue, which I put to the test in a number of conditions, from snow covered walks to post wild swimming dips and dives.
It is so important to warm up well after partaking in a bit of cold exposure, and the quicker that this can happen, the better. Vivida changing robe has brought together a mix of materials and technology that really complement each other.
The QuiltedCloud synthetic fill insulates the body, replicating the exact properties that would be found in down – ensuring your body is heated quickly. Any droplets of water left on you are quickly drawn away from the skin thanks to its recycled honeycomb fleece. You can guarantee that you are warm and dry within minutes of exiting the water.
There are not many other robes that have these fast acting properties but I would compare this to the warmth that the Fourth Element Tidal Robe provides.
All materials used are 100% recycled materials and meet Global Recycling Standards, made from post consumer recycled bottles. The packaging that the robe was delivered in was biodegradable plastic and recycled paper, so again, their commitment to ensuring the planet is not harmed by their products is evident.
It's also key to give reference here to their longevity. Their moto is "Buy Less, Buy Better". All of Vivida's range is built to last, which is extremely important in an industry dominated by fast fashion and suffering from those negative impacts. It's also one of the reasons why their product range is so narrow. They do not want to flood the market with every possible item of clothing. They would rather spend time focusing on creating the best possible product they can.
They also have an "imperfect collection", a great idea that is utilised by some other brands such as Seashell. These items may not meet their standards, but are still perfectly usable and sold at a discount price. This reduces the amount of waste created that would otherwise end up in landfill.
If you are looking for something a little less of a coat style, make sure you take a look at the original poncho towel changing robe – great for those summer beach days!
I felt really well hidden, and protected from the elements, when changing inside the puffer changing robe. It's an oversized roomie fit that you could size down on if you were not expecting to use it to get changed inside. The sleeves are spacious so you can easily pull your arms inside when trying to change out of your wet swimwear.
The reinforced slide slits help maneuver inside and are also perfect for when you have to step over things, there is no need to pull the changing robe up, the flexibility is built in.
Other Dryrobe Alternatives
You can also check out some of the other changing robes that I've reviewed.
Vivida Changing Robe Features
One of the downfalls of many brands of changing robes is that the product is difficult to transport. Especially when you have that bit of extra distance to hike to your wild swim spot, and the weather is too warm to walk in it. The Vivida changing robe comes with a small and lightweight pack away bag inside the pocket, an extremely handy addition to this versatile robe.
It's easy to fold it up and put inside, a bit like putting a sleeping bag away, so is quick to do in any environment. In fact, one side of the bag material is water repellent, whilst the other side is soft brushed fabric so not only can you use it to carry your wet swimwear home in, you can also double it up as a pillow when your robe is packed away inside!
The fleece lining is something that you don't see often in changing robes. Other brands have opted for a sherpa lining but both have their pros. 
The honeycomb fleece certainly helps keep the weight of the waterproof changing robe nice and light. Sherpa lining can add a significant amount of weight. To be fair, both enable you to stay super warm in some of our coldest winter months. But if it's sherpa lining you are looking for, Vivida do offer an All Weather Sherpa Changing Robe too – again, this is also made from post consumer recycled polyester.
The fleece lining also extends through to a pair of wrist gaiters, strategically placed to protect them from the rain and designed to keep the wrists warm and dry, contributing to your overall body temperature. No other changing robe has integrated this into their design, and I can say for certain that, coupled with the velcro cuffs, it is a game changer!
Lightweight Waterproof and Windproof Shell
As well as the lightweight lining, the robe has a super lightweight outer shell which is waterproof and windproof, perfect for all season adventuring. I love the puffer changing robe style, which I think can be used as a stylish winter coat too.
You can pick from three colours for the shell; mineral blue, fossil grey and aventurine green. All three are lush, but I opted for the mineral blue, which is a bit of a frosty grey mineral blue shade. The fossil grey did tickle my fancy though…
It's a waterproof changing robe and is also windproof, with various layers of technology including Bionic Finish Eco PFC free durable water repellent coating. There's something quite calming about watching the raindrops bead up as they land on the outer shell!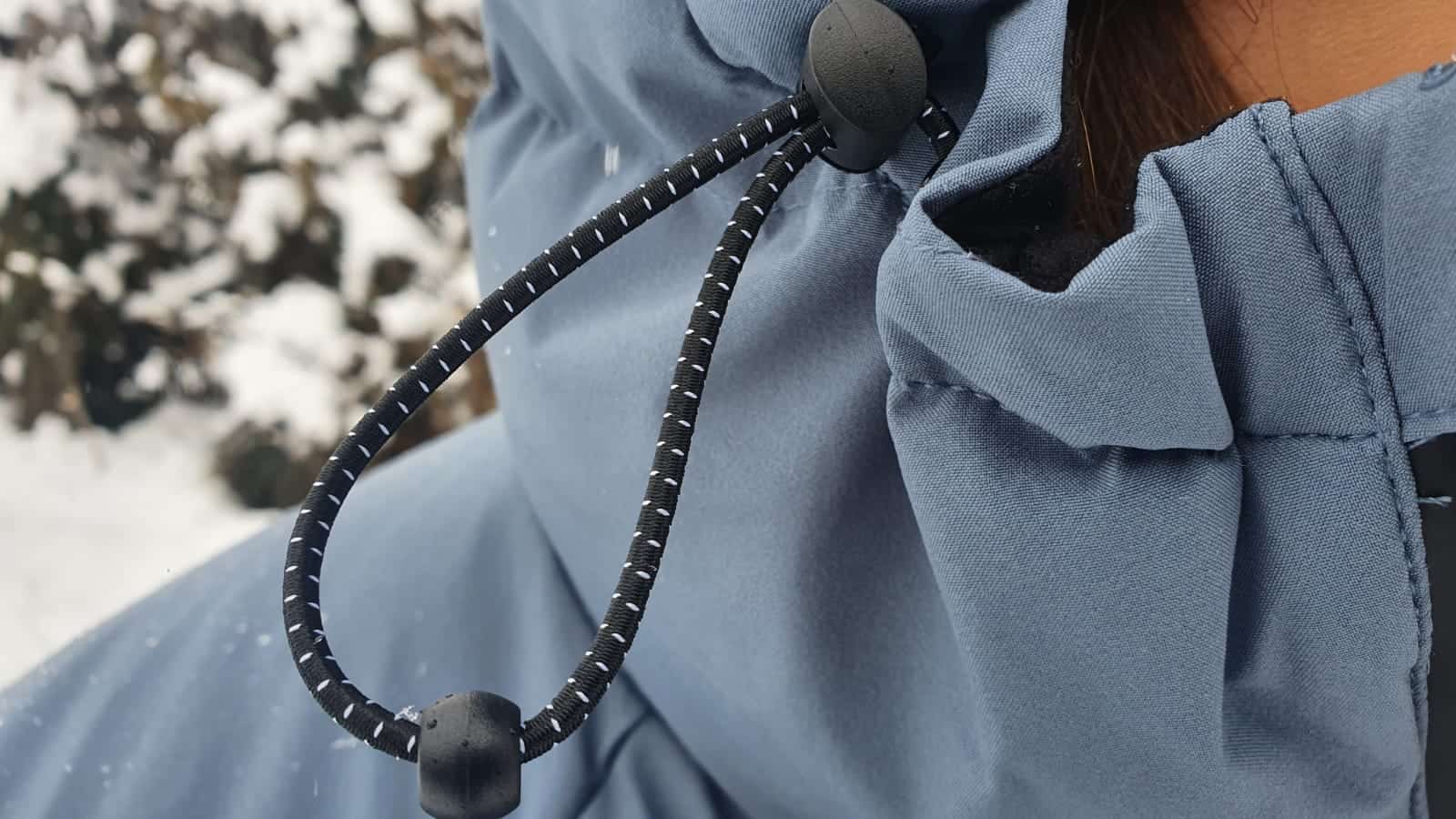 The hood is quite small, but is designed to be close fitting to prevent the elements from getting to your little ears. The drawstrings allow it to be adjusted somewhat, and the lining extends into the inner hood too. They've even built in a draft collar to provide extra protection so that you stay warm.
I love the amount of pockets built into these changing robes. There are;
Two external zipped pockets (hand warmers)

Two external deep patch pockets (on top of the zipped pockets). These are fitted with velcro closure and easy opening tabs.

Internal large stash pocket – this large internal stash pocket also has a bungee clip to attach the pack away bag to!

Internal zipped pocket – great for phone and valuables. They have even included a small key clip to attach your key ring to.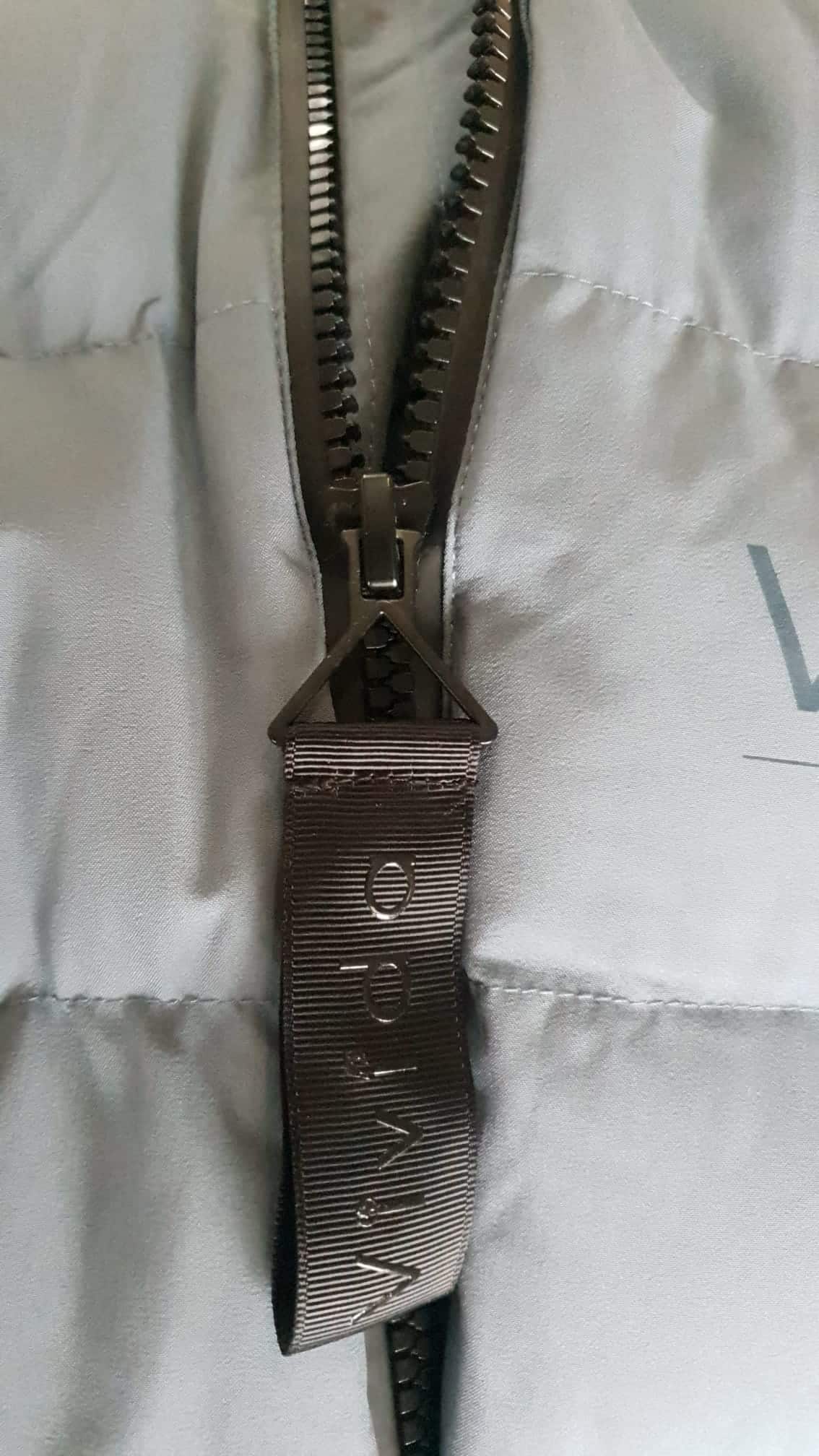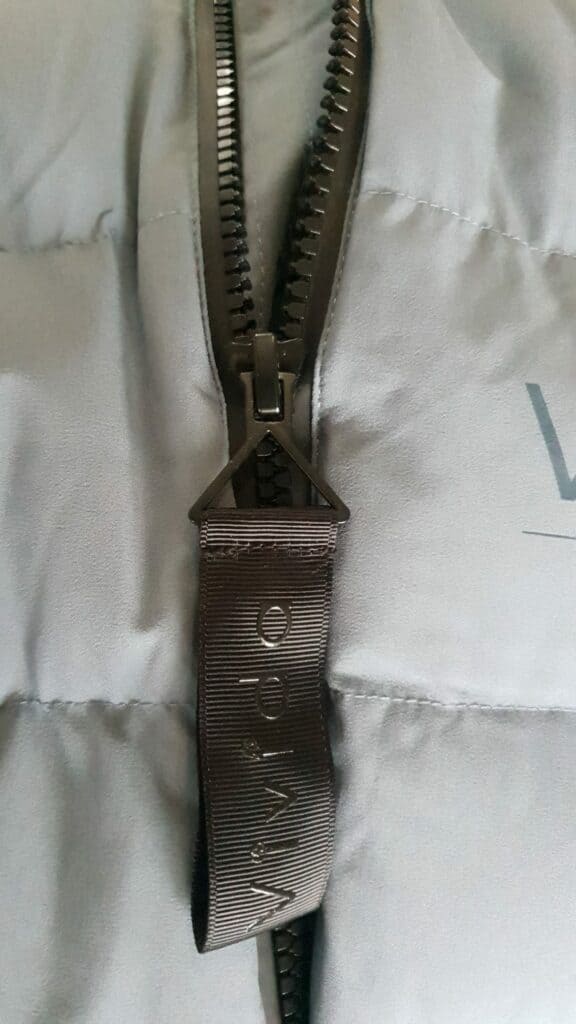 I have to say, this is one beasty zip and one of the sturdiest of all the changing robes I have tested. It is matte black in colour with a very handy tactile silicon gripped ribbon zip-pull.
Of course, like other robes on the market, the zip works two ways so that you can easily access more room when changing. There is also a storm barrier protection behind zip which helps keep the warmth inside, and not escaping through the zip.
Interestingly, one of the features of the zip is a anti-chafe chin guard. Now, it may just be me, but it really irritated my skin when not fully zipped up. Ironically, it felt more "chafe" than "anti-chafe"!
Should I Wash My Vivida Puffer Robe?​
The Vivida changing robe does not require regular washing and will be fine with a simple and gentle brush off with a damp sponge or cloth when dirty. If you've been out on an adventure and come back with a wet changing robe, just make sure you remove it from the pack away bag and let hang to dry, otherwise you will soon spot mould growing.
If your large dirty dog lay on the robe and you have no other option but to throw it in a wash, make sure you follow these few steps;
Wash by hand

Turn inside out before washing, with all zips closed (this will protect the shell and waterproof membrane)

Put it inside a Guppyfriend washing bag – it prevents microfibres from entering the water system.

Use mild detergent

Hang dry
Are Changing Robes Worth It?
As a huge changing robe fan, I can safely say that they are worth every penny.
They help increase your safety after exiting cold water, they replace the job of an old towel, and they can even be worn as coats. I've even used mine as an extra sleeping bag!
You do not have to splash out on the most luxurious one, there are robes to suit every budget and most will do a fine job at making sure you stay warm. If you found this review helpful, make sure you read my Best DryRobe Alternatives review for a good summary of other robes on the market, for all budget levels.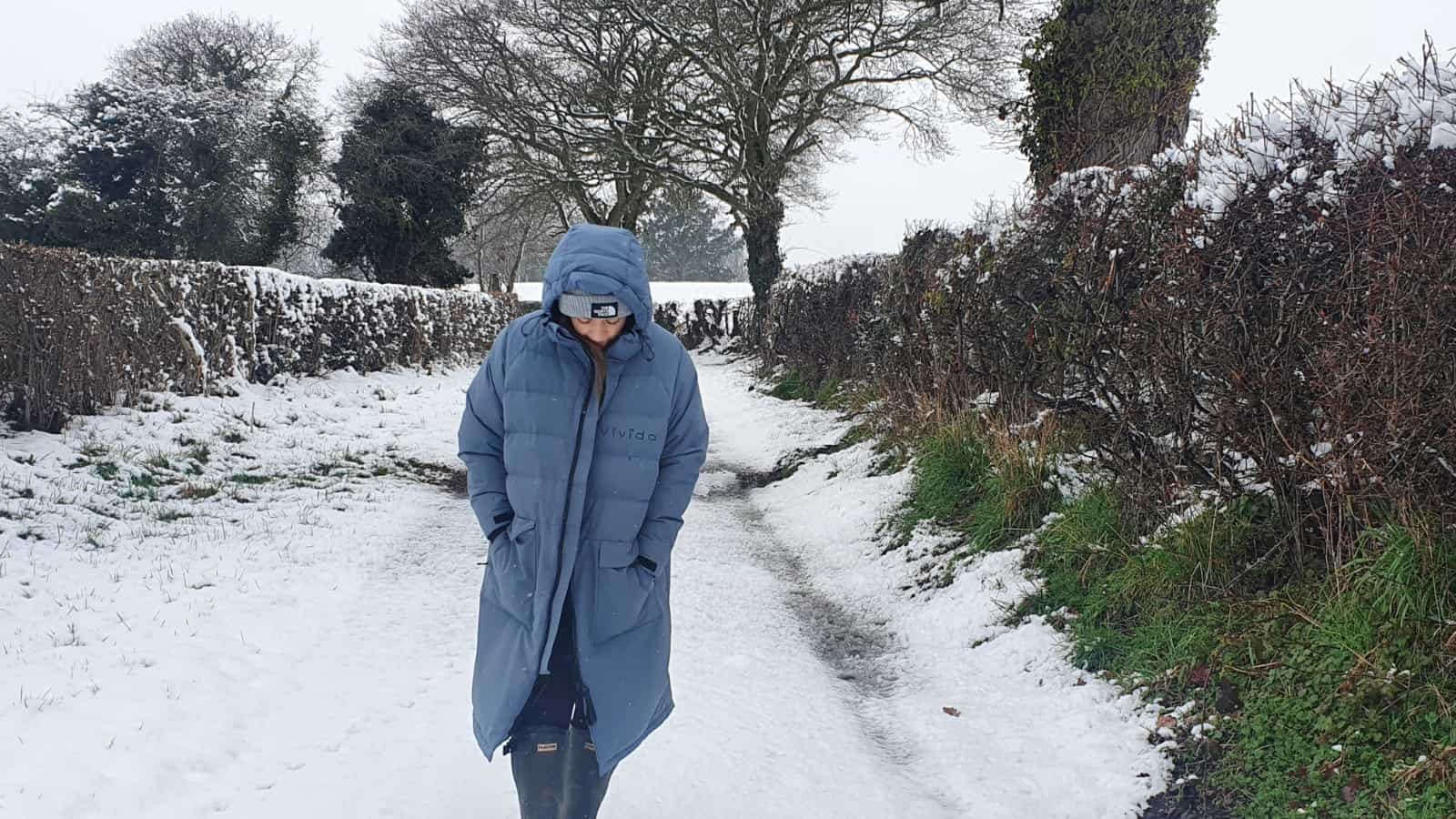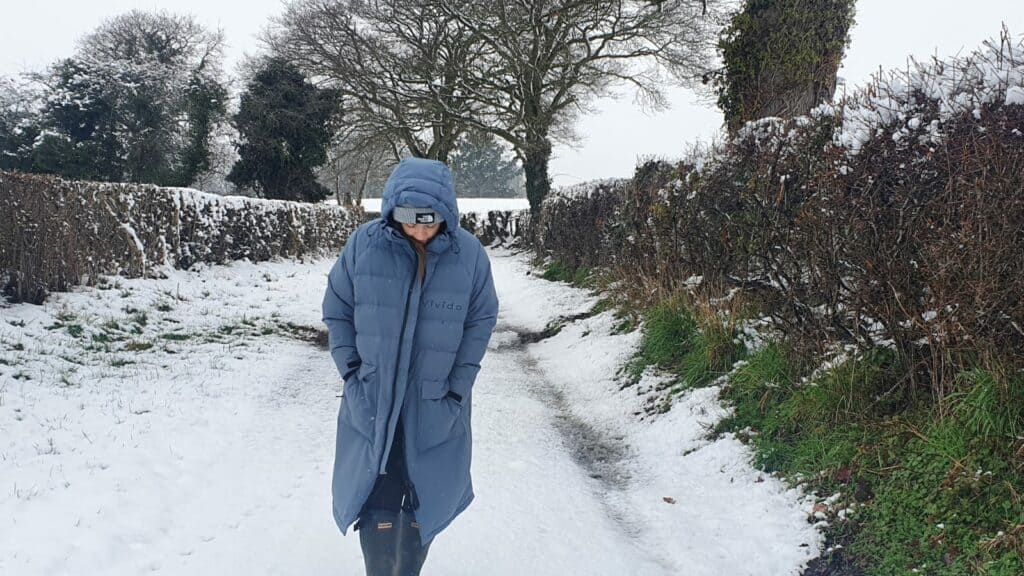 So, okay, it might be the most expensive changing robe on the market, but it lives up to it's price tag. It's a higher end, eco conscious product that has been built to last so, once you purchase one, it's with you for life.
I love that the pack away bag is included and not sold separately; it really makes traveling with the robe a lot easier. No more accessing remote, secret wild swim spots or dive sites whilst trying to lug around a bulky changing robe – the puffer robe makes our favourite adventures easier.