Fourth Element is ahead of the game when it comes to dive wear, and it's made to last with minimal environmental impact. Every bit of kit I have ever bought from Fourth Element has managed to withstand the elements over the years well and are still used today.
I can tell that this new Fourth Element robe will be no different. It is certainly one of the pricier robes on the market, but hold out here, don't let that put you off. If you are someone that spends a lot of time on or in water, then this is seriously a worthwhile purchase.
Let's take a closer look at the Fourth Element Tidal Robe….
BEST FOR SCUBA TRIPS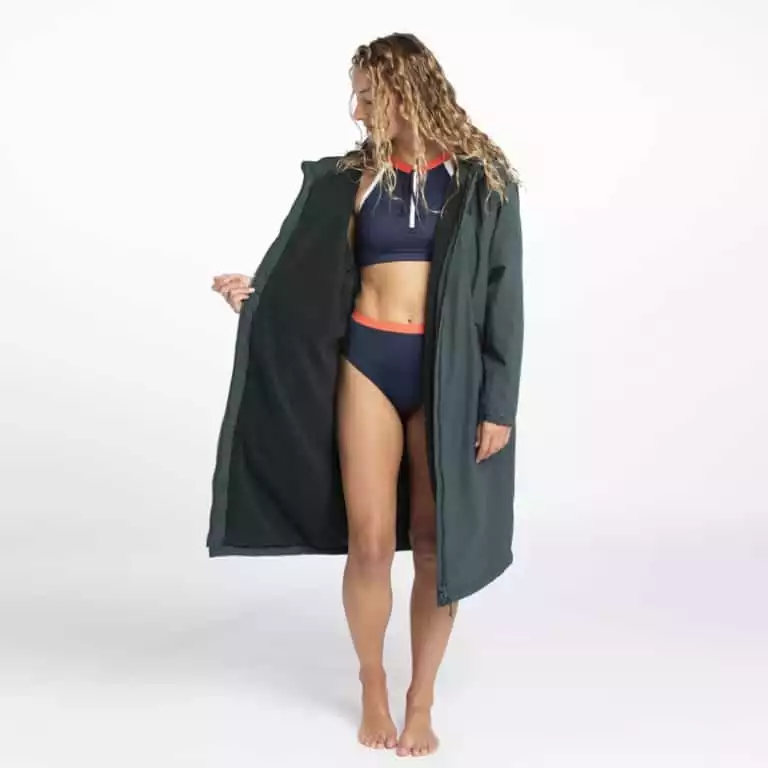 Fourth Element Tidal Robe
Pros:
Recycled materials

100% waterproof with tapered seams

Softest fleece lining

Peaked hood

Hidden toggles for hood
Check Price on MDS
We earn a commission if you make a purchase, at no additional cost to you.
This robe really is special. With the softest fleece lining I have ever felt and materials made from recycled materials, it's in my top 3 for best changing robes
Why Do I Need a Fourth Element Tidal Robe?
Firstly, take a moment to look behind the brand, at their values and ethos. It is clear as day that the team at Fourth Element consider their environmental impact at every stage of their research, design and development process. You only have to look at the rest of their OceanPositive line to see and understand their strong environmental messaging.
They also work closely with incredible individuals in the field of marine conservation to help amplify their voice and status as an environmentally conscious company.  I was lucky enough to work closely with one of their fabulous Ambassadors, Charlie, a few years ago.  Find out more about Charlie in my Q&A with a marine biologist blog!
But I digress, let's get back to the Fourth Element Tidal Robe.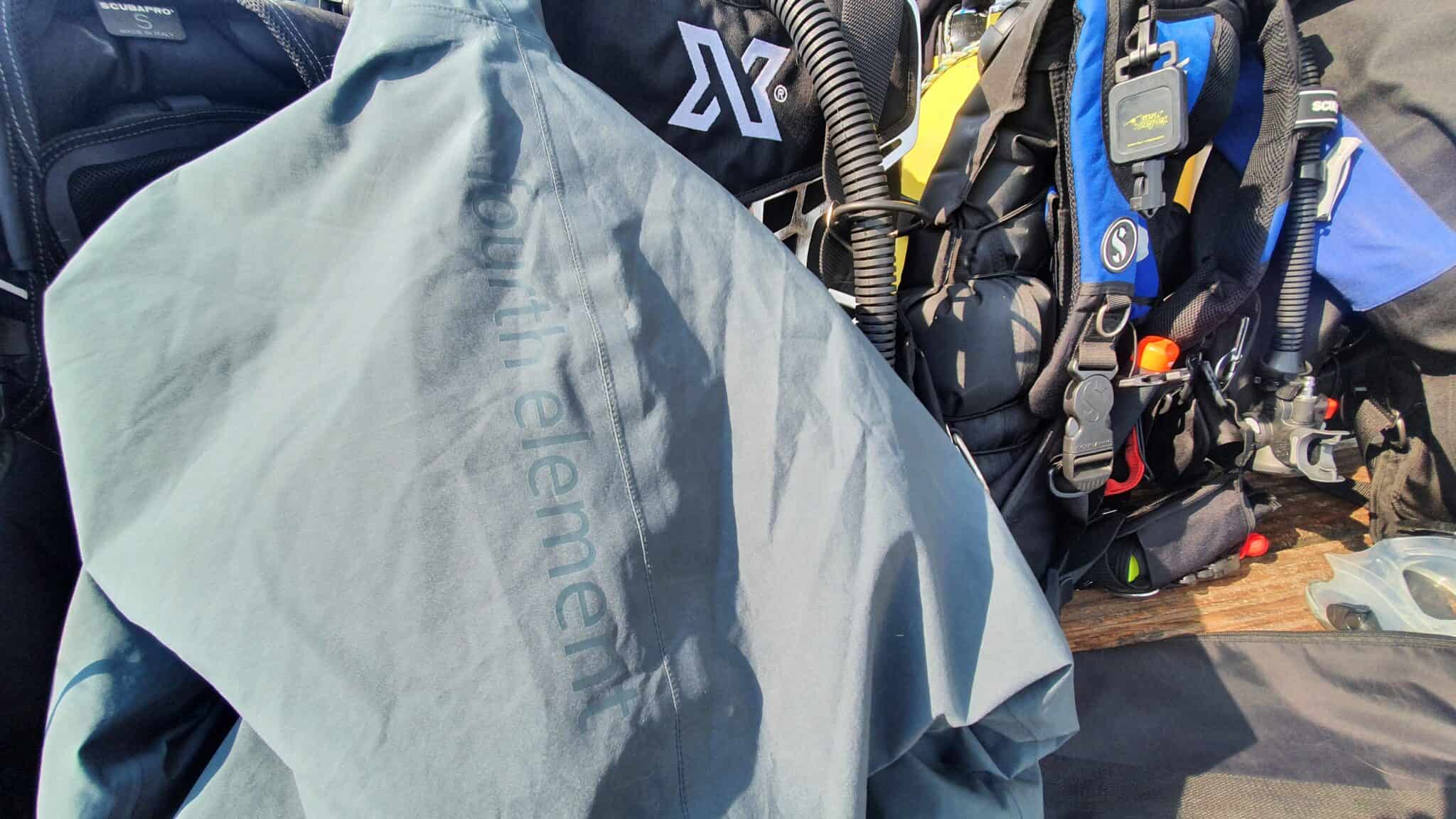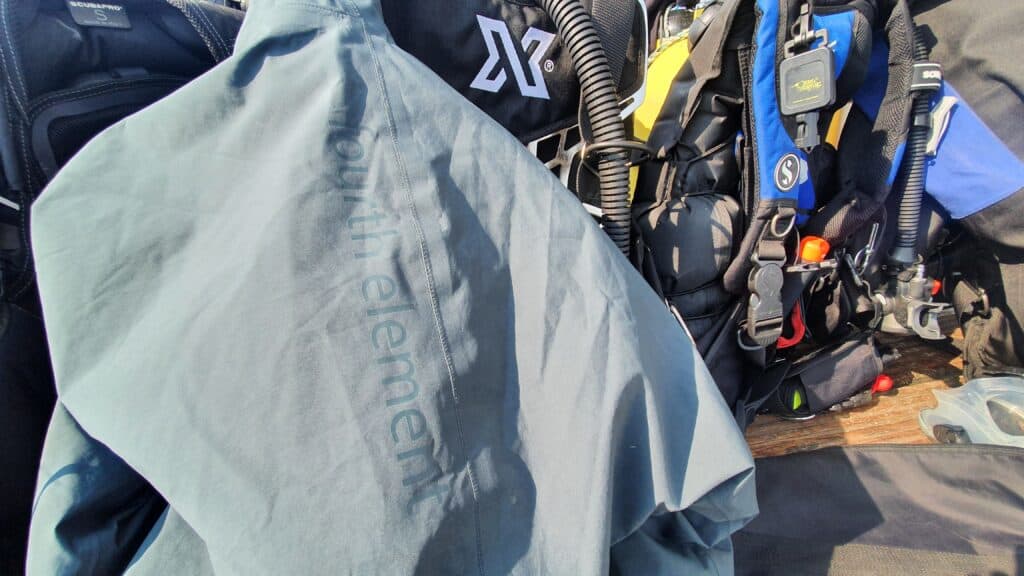 If you're like me, and are never that far away from water no matter what the weather, then you will need a warm, high quality robe that will keep you cosy and protected. It is fully fleece lined, which even stretches to inside the handwarmer pockets. And in all honesty, I have never felt a fleece so soft. The after-swim warmth that the tidal robe provides is another level. I got to take it out on a boat trip whilst scuba diving with seals at Lundy Island, and I can confirm that it stopped the various environmental elements from ruining the trip!
Minimal Environmental Impact
The Fourth Element Tidal Robe makes excellent use of recycled material. In fact, it's impossible to tell the difference between this recycled material and virgin and non post consumer materials. The outer lining of the Fourth Element Tidal Robe feels extremely resistant to heavy use and accidental damage. It's made from recycled polyester from approximately 50 plastic bottles. You can be sure that you are supporting a brand that really cares about our planet.
The Fourth Element Tidal Robe is sized perfectly to allow for ease of changing after a swim or dive. The full zip is a joy to use, and its design means that it doesn't get stuck on any material when used from either the inside or outside of the tidal robe. Its easy-wear internal zip pockets are a blessing, keeping those keys and phones safe whilst you are in the water.
You can also check out some of the other changing robes that I've reviewed.
Fourth Element Tidal Robe Features
There is a nice minimalist feel about this robe whilst still managing to deliver all the features we would look for in such a product.
Probably our favourite feature of the Fourth Element Tidal Robe. It's an adjustable hood with hidden toggles which allow you to change the fit around your face, depending on the weather and protection you require. In fact, I struggled to spot the hidden toggles when I first received the robe – it's a clever little addition.
I really hate when the wind blows into my cold, wet ears, so this was a godsend on the boat after a day diving out at sea.
There's also great detail on the robe with a peak on the hood; although it is minimal, it could help protect your eyes from spray on the boat; it may also keep some sun out of your eyes, although I think it's there to keep water from your eyes.
I'm constantly putting my belongings in random places when I'm getting ready to dive. It's not ideal as I spend a lot of time gathering things together after the dives when I should be relaxing and reflecting on the dive with my buddy.
The size of the internal chest pocket is ideal for a set of keys and a phone, but not much more.
Designed to have an oversized fit, they have provided a good range of sizes to consider when purchasing the full zip tidal robe. I went for the XS because I wanted to use this as a general coat too, so didn't want it to be too large.
Other customers have noted that compared to the Fourth Element Poncho Storm Poncho, it has a slimmer fit – worth baring in mind if you are familiar with this product.
The recycled polyester and warm soft fleece lining compliment each other, but let's not forget about the outer pockets. The lining is exactly the same fleece as the main inner lining, and as I mentioned earlier, it's seriously soft and warm.
This is a must if you are looking for a 100% waterproof robe. The taped seams basically means that the seams are "taped over" with waterproof tape. This ensures that the small holes that are created when stitching the different parts of the Tidal Robe together, where water could leak through, are completely covered.
Couple the taped seams with a waterproof rating of 10,000mm and you can be certain that the Tidal Robe will be your best friend, keeping you dry for many years to come.
Before I get into what's in the package, can we just take a moment to look closely at what it's packaged in? Along with a cardboard outer packaging, this Fourth Element dry robe arrives in marine safe, biodegradable and toxin free packaging that dissolves in water. Made from Hydrophilc Polyvinyl alcohol (PVOH), you can simply run a tap over the packaging in your sink and voila, it's gone. Alternatively, you can recycle or re-use – they are pretty tough bags!
The robe is fully fleece-lined – the inner lining caught my eye (and hand) straight away. From the first touch, you can tell that the warm soft fleece lining is going to be perfect for keeping cosy after time spent outdoors. On the inner lining just under the hood is a internal name label, hand write your name into here so that the robe does not get lost on the boat.
Should I Wash My Tidal Robe?
The full zip tidal robe can be machine washed, but make sure it's on a cold, low setting and do not tumble dry or dry clean, let it dry naturally instead. It's important to protect the materials and really take care of it, especially considering the cost of the robe. You can find out further care details on the Fourth Element website.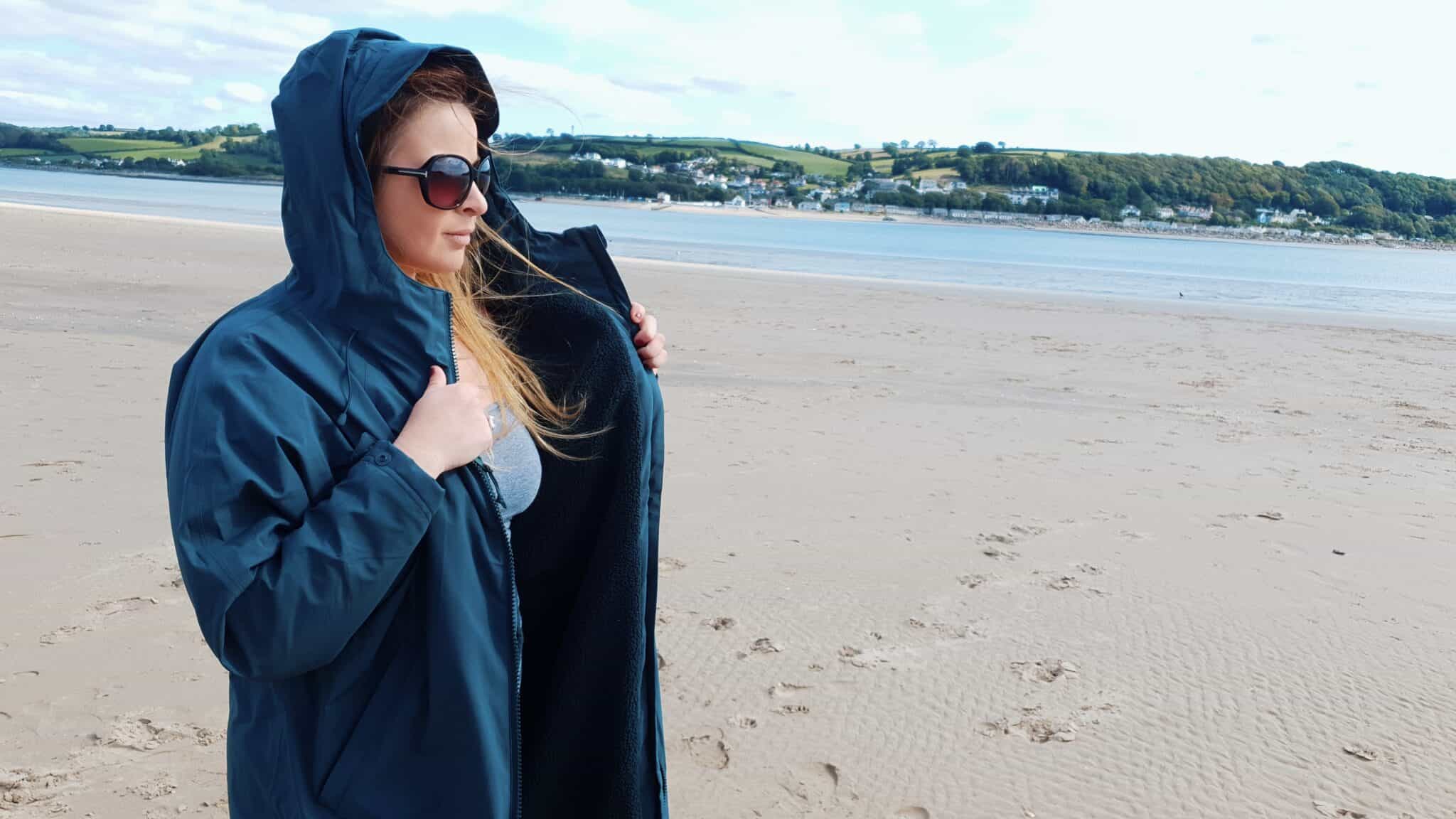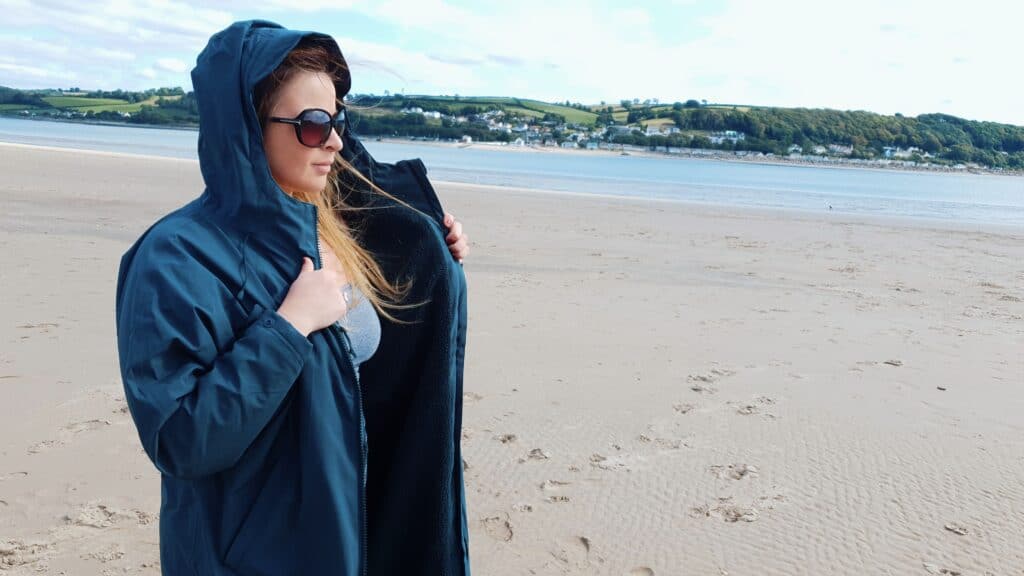 It's no secret that I am a big fan of Fourth Element, from their rash guards, to their masks and now their Tidal Robe. They are a brand that progresses with the time and evolve with the vital need to care for our planet, sitting at the forefront of innovative design.
This waterproof robe sits highly on my best dry robes review. Yes, it's expensive, but this is a product that will serve you well for many years. It is lightweight and extremely warm, and doesn't shout out the branding like other robes on the market. It's minimalistic and discrete but features everything you need for outdoor and water-based adventures. My only negative would be that it would be nice if it came with a pack away bag. Sometimes I just want to roll it up and pack it away into a small space like my dive bag. But hey, maybe I just get myself a Fourth Element dry-sac to solve this!