Changing robes are a game-changer, but most of them are pricey or aren't up to scratch.
Osprey's answer to DryRobe is the perfect solution for the budget adventurer. 
This DryRobe alternative offers a soft-fleece inside, waterproof outer material and excellent insulation from all elements – all at an affordable price.
CHEAPEST ROBE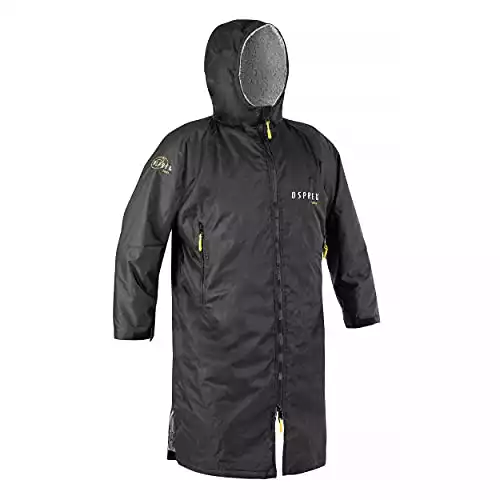 Osprey Robe
Pros:
Incredible value for money

Well-known surf brand

Dries quickly
Cons:
Only one colour

If you are happy to pay a bit more money, there are more environmentally friendly robes out there.
Check Latest Price
We earn a commission if you make a purchase, at no additional cost to you.
06/01/2023 04:34 am GMT
This Osprey Surf robe performed well against others on the market.  Make sure you check out where I placed Osprey alongside other dryrobe alternatives.
Have Osprey Got a Black Friday Sale?
Osprey is already the cheapest quality change robe, but they have offered a further discount, it's not a lot, but it makes this robe the most budget-friendly.
Find the Black Friday Osprey Sale here. 
Why Do I Need an Osprey Changing Robe?
If you don't know by now, I'm a huge fan of changing robes.  They are one of the must have accessories for any outdoor and water sports enthusiasts. And with the quality materials that this changing robe is made with you won't want to take it off. 
Your boss might not be happy when you show up to the Christmas party in the robe.  At least you'll stay warm, hey!
It doesn't matter what activities you love doing –  whether that be water swimming, hiking, or just long walks with the dog – this robe is the perfect companion to help you enjoy more. Instead of dreading the cold, wet and windy weather, you can relish the opportunity to get outdoors more often with this robe protecting in all harsh conditions.
But what makes this robe stand out from all the others?  Without a doubt, this is one of the cheapest robes on the market, but retains the quality of the more expensive brands; it's a close match to the beloved DryRobe Advance, but at a third of the price, it doesn't quite meet the quality, but it's not far off and is affordable. 
Osprey action sports target their products at swimmers, stand-up paddleboarders and body boarders, as well as surf enthusiasts.  Don't confuse them with the hiking and backpacking brands – they are two different companies.
No one likes to be cold, do they? Yes, we now know that there are some great benefits to cold exposure such as improving your mental wellbeing and immune system but, generally, being cold sucks. 
After an exciting day in the mountains or wild swimming in your local river, you want to get warm and dry as quick as you can, right? The Osprey robe is designed with a super soft Sherpa fleece lining to keep you warm and dry as soon as you are done with your activity.
With this ultimate outdoor changing robe, you can change out of your swimming costume or wetsuit anywhere you need to and without flashing everyone. The dry robe will ensure that you can change hassle free and without worrying about who can see you whilst you strip off those wet clothes.
It has two zippers on the main zip, which means you can unzip from the top half or the lower half – trust me, this is a must for any changing robe!
Sizing runs pretty exact. I tried a small, and there was plenty of room to move about inside.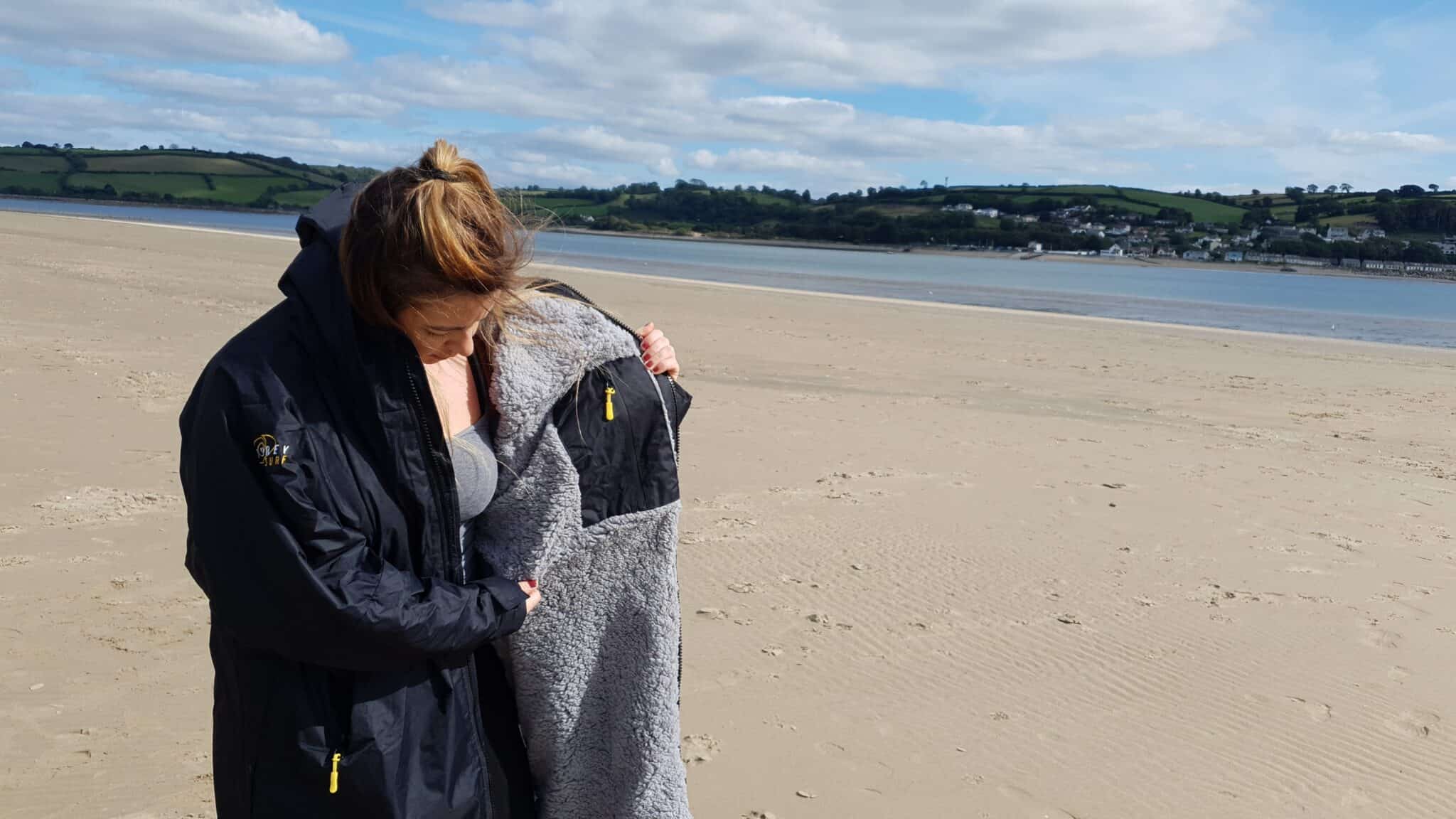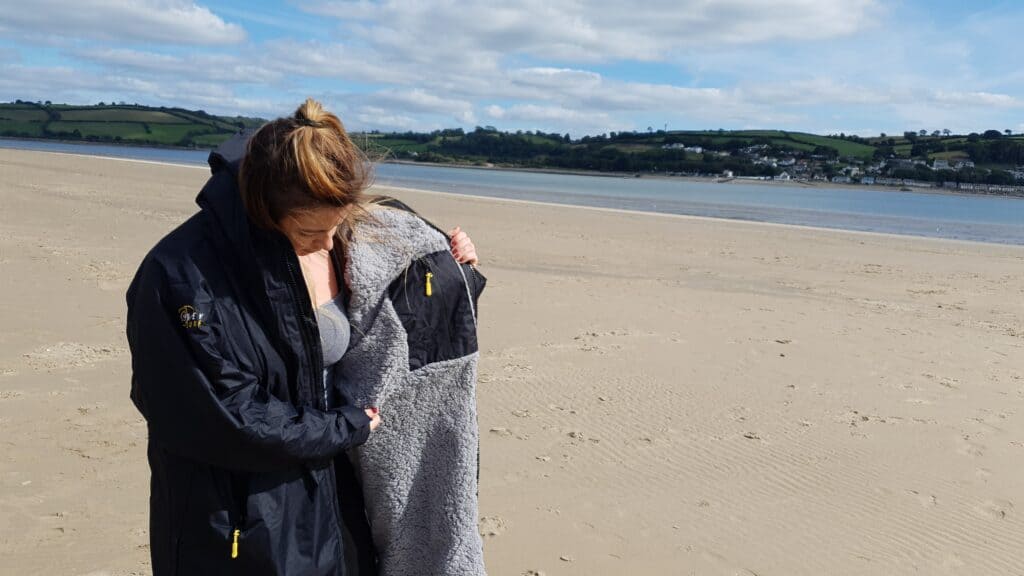 It is all well and good the robe being waterproof, but I know I wouldn't be too happy if the wind was ruining my day.  There's nothing worse than wind. Often in the outdoors if it is raining, the wind is a nuisance as well and you don't want to be paying good money and finding out the robe isn't windproof. 
However, there is no need to worry with this robe – it has it covered on both aspects. The cold breezes won't have a chance against you in this quality product.  I tested it on a relatively windy day and it really held its own well – it's the perfect must have accessory for wet and windy weather!
CHEAPEST ROBE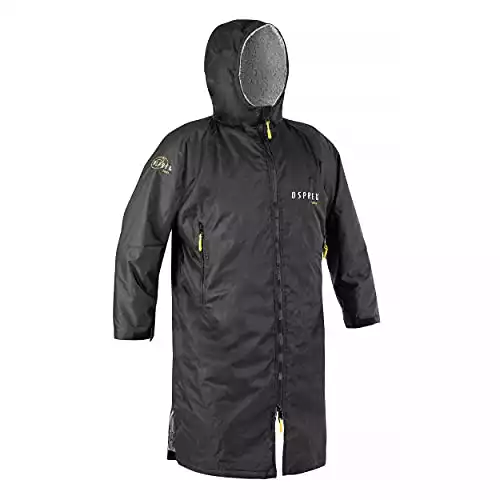 Osprey Robe
Pros:
Incredible value for money

Well-known surf brand

Dries quickly
Cons:
Only one colour

If you are happy to pay a bit more money, there are more environmentally friendly robes out there.
Check Latest Price
We earn a commission if you make a purchase, at no additional cost to you.
06/01/2023 04:34 am GMT
When you order from Amazon, you can return the robe within 30-days if you're unsatisfied.
Osprey Changing Robe Features
The robe has numerous great features including a sherpa fleece fabric inner lining, internal phone pocket, double zip closure, and polyester outer that is waterproof and, as mentioned above, windproof too.
When I tested the Osprey robe out, I was pleasantly surprised to see so many similarities between this and the higher priced changing robes.  Osprey have done very well to bring us a lower priced product but not compromise on the quality.
Sherpa fleece fabric inner lining
This sherpa fleece fabric inner lining makes the robe perfect for colder conditions. You will no longer be dreading the cold as the inside to the robe makes it the perfect companion whilst out doing your favourite activities outdoors. It is made with great quality materials and will have you warm and dry in no time.
The polyester outer shell ensures that you stay dry even in terrible conditions as the outer shell is waterproof and windproof dry. The robe aids with you not having to miss days doing your cold swims and hikes as you can change your costume or wetsuit anywhere you want.
My only comment here would be that many other robes on the market, such as the ones made have taken into account their environmental impact and used recycled materials where possible.  I'm taking a guess that Osprey chose not to follow this route so that they could provide the market with an affordable product.  
I can't miss a mention of the velcro cuffs either.  I feel like this is such a great addition to a long sleeve changing robe.  Without them, they aren't really a windproof dry robe.
You don't want to venture out and not get those pics for the socials. Remember if you don't post it on Facebook or Instagram it didn't happen (just kidding). This robe provides you with the perfect cover to keep your accessories dry whilst exploring your surroundings and you can have your phone handy for some snaps of those amazing views.
The double zip closure ensures that you keep the heat in when getting warm and dry. There is nothing worse than spending your hard earned cash on a product and the zip is useless. The two zips make it easier for you to get in and out of the robe, opening from both the inside and out, which is perfect for when you need to get changed quickly out of wet swimwear.
A downside to this robe is that it isn't eco-friendly or recycled.
If you are looking for a changing robe that is made from sustainable materials, head on over the my Fourth Element Tidal Robe review and Voited Drycoat review.
No. 5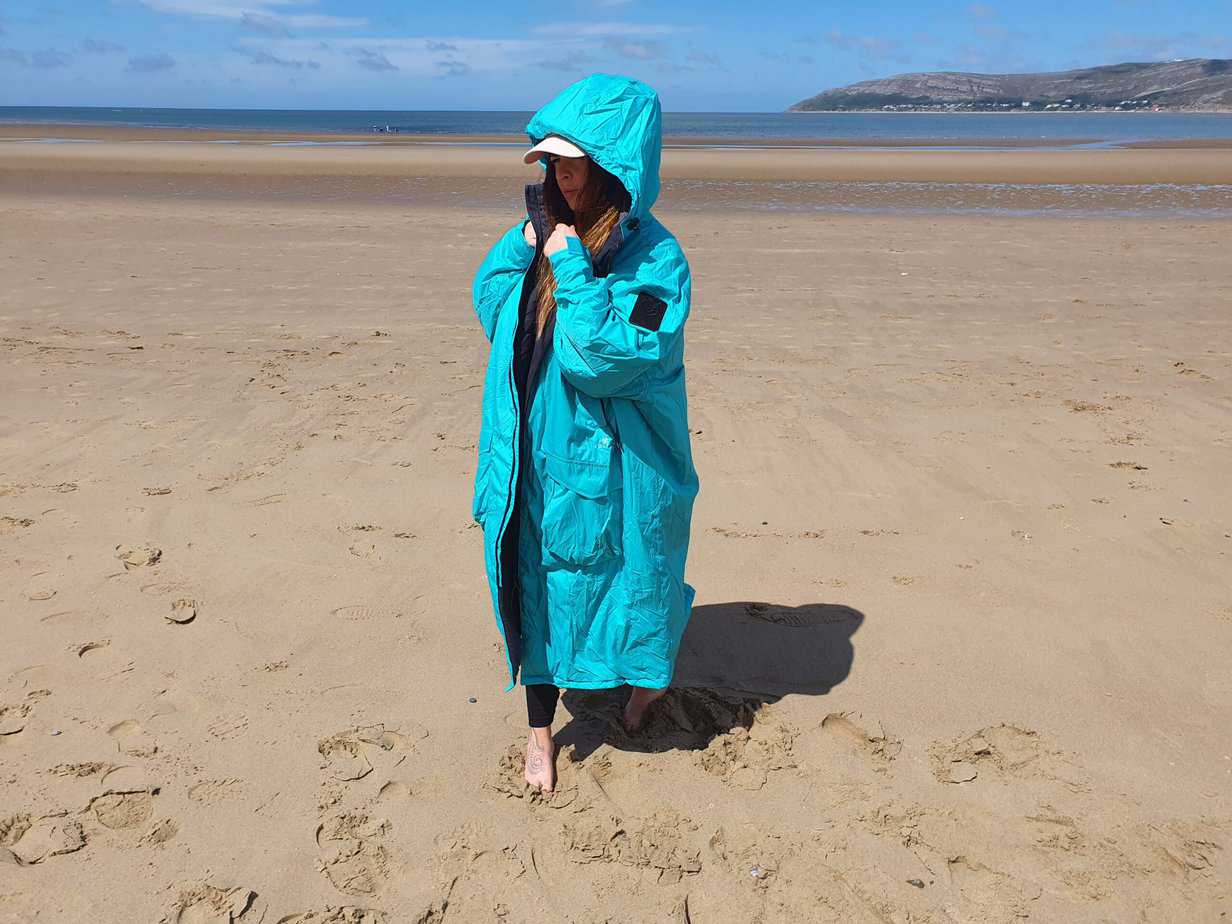 Voited DryCoat
Pros:
100% Recycled Materials

Feels Like a Sleeping Bag

Comes with Pack-Away Pouch
Check Price at Voited
We earn a commission if you make a purchase, use the above "Check Latest Price" button for 15% off your order (this will be automatically deducted at checkout).
BUDGET RECYCLED OPTION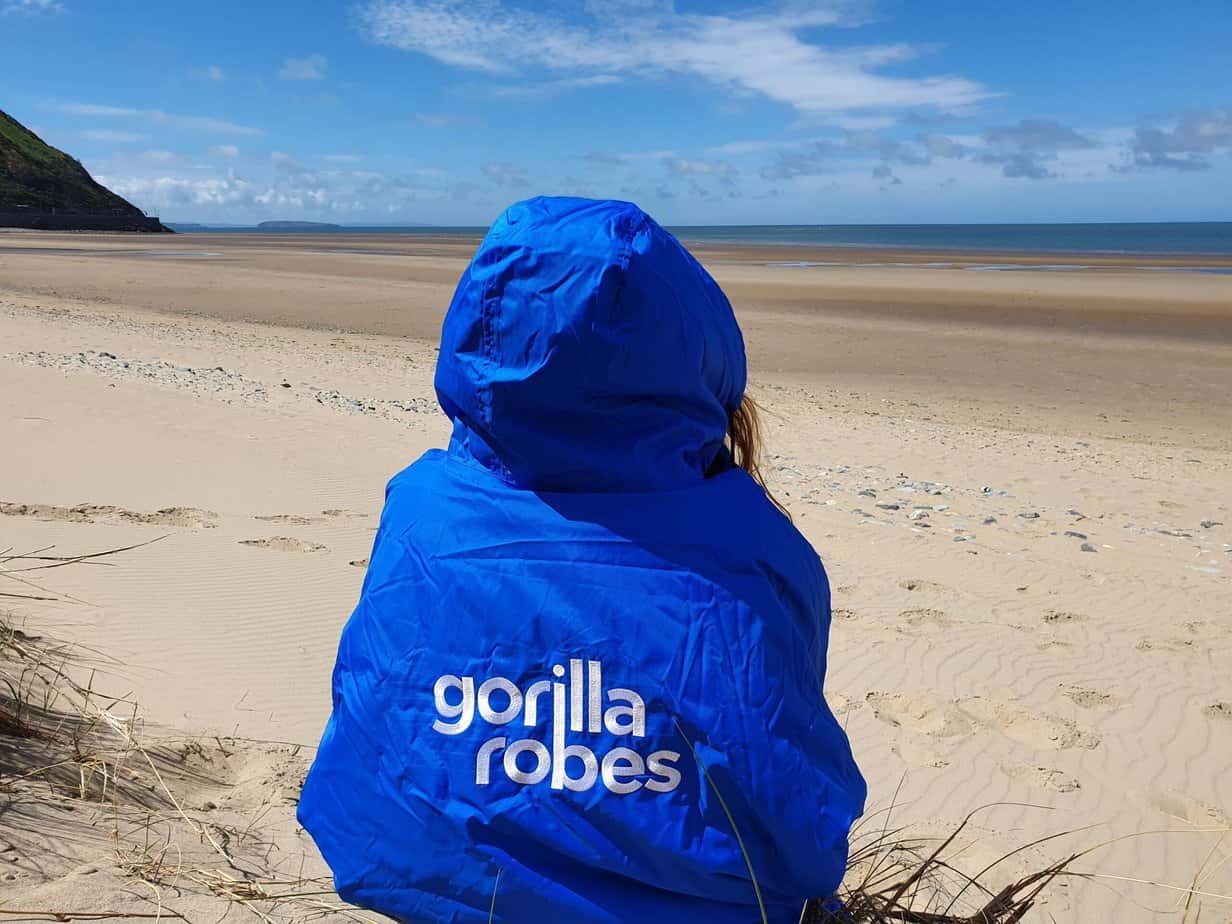 Osprey is a great alternative to the original DryRobe Advance – it's soft, looks similar to one and drys you just as quick.
The Osprey is more than half the price of DryRobe and other competitors, for that matter.
Although the DryRobe beats Osprey by a slight margin across the board, you can't moan at this price; it's well worth opting for an Osprey and saving the extra cash.
DryRobe is constructed from recycled material and is more durable with its quality waterproof outer layer.
Osprey Changing Robe Size Guide
Osprey offer XS, S, M, L and XL sizes in this robe, catering for almost everybody. 
At 5″2 I opted for the small size, and it fits perfectly; they are meant to be oversized as an outer layer. 
If you are an outdoor and water sports lover and looking for a bargain then you need to have one of these Osprey swimming robe – I'm seriously impressed with the quality to price ratio! But before you decide to purchase, make sure you read my Cheapest Dry Robe Alternatives review too!
Not only will they make it easier to get in and out of your swimming costume without everyone looking, the robe is versatile.
My only negative is the lack of recycled materials that have been utilised in other waterproof and windproof robes. 
It's actually the perfect bit of gear that can be used on daily walks or for everyday use – it will come in handy as an extra layer during the winter months. 
Recent Posts